November 9, 2017 at 2:26 pm PST | by Karen Ocamb
HRC ranks California companies high on Corporate Equality Index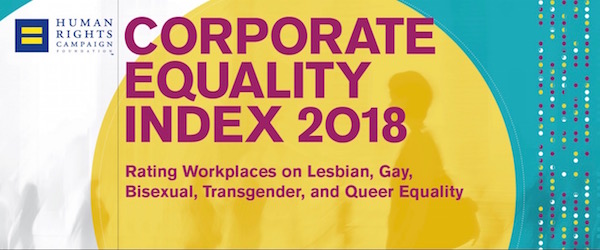 As the nation's largest LGBT rights lobbying organization, the Human Rights Campaign often comes under strong criticism from the LGBT community for its strategic political decisions. But there is no doubt that the nation's corporate decision-makers take HRC's Corporate Equality Index very seriously as they seek the "best and brightest" employees and a loyal customer base.
This is not hyperbole. The governor of Georgia vetoed a pending anti-LGBT religious freedom bill after HRC President Chad Griffin reached out to Hollywood to cease production in the state, followed up by threats to boycott from the NBA and other corporate giants. The HRC threat of economic boycott over the abhorrent anti-LGBT HB2 helped Roy Cooper beat the incumbent Republican governor and the state legislature subsequently voted against the anti-LGBT law, though key provisions of the anti-LGBT law remain.
On Thursday, HRC released its 2018 Corporate Equality Index (CEI) showing that i120 companies in California are among "a record number of the nation's major companies and law firms are advancing vital policies and practices to protect LGBTQ workers around the world."
"This year, a record-breaking 609 businesses earned the CEI's top score of 100, up from 517 last year — a single-year increase of 18 percent. This record sets a new high water mark for corporate leadership over the 15-year history of the CEI," according to an HRC press release. "In total, 947 companies and law firms were officially rated in the new CEI, up from 887 in last year's. The report also unofficially rated 137 Fortune 500 companies, which have yet to respond to an invitation to participate in the CEI survey assessing their LGBTQ policies and practices."
In California, the average ranking for the 120 companies and law firms is 91 with 81 earning 100 points, 15 earning 90 points and above, and 10 earning 80 points and above.
The report spells out its criteria and breaks the ranking down accordingly for a number of different areas such as Automotive, Banking, a slew of Computer-related companies, and Engineering and Construction, etc.
In the latter category is the Los Angeles-based firm KB Home, which received a ranking of 35. The low ranking is achieved by having half-hearted non-discrimination policies and a zero in the category "positively engages the external LGBTQ community." But why would KB Homes need to do any positive LGBT external outreach if it assumes LGBT viewers regularly watch HGTV or "The Ellen Show," which has featured the construction company in the past. More recently, KB Home made news for the anti-gay rant spouted against comedienne Kathy Griffin and her boyfriend by CEO Jeffrey Mezger.
Mezger subsequently apologized after KB Home's board of directors threatened to fire him if he did it again and cut his 2017 bonus by 25%.
It not clear if or how HRC included the incident in their deliberations.
HRC did consider the external factors at work regarding two complaints against Walmart brought by the Transgender Legal Defense and Education Fund before the Equal Employment Opportunity Commission (EEOC). As a result, HRC suspended its rating of the corporate giant, pending remedial action.
TLDEF Executive Director Jillian Weiss noted that the suspension is an opportunity to put companies on notice that their good policies might not be reaching the shop floor. "We hope this will deliver the message to Walmart and others that good corporate policy is not enough. It must be accompanied by strong enforcement mechanisms, or it is mere window dressing," Weiss said in a press release. "TLDEF will continue to bring suits on behalf of transgender people who experience discrimination in employment, education, health care access and public accommodations."
Overall, however, the news is good.
"At a time when the rights of LGBTQ people are under attack by the Trump-Pence Administration and state legislatures across the country, hundreds of top American companies are driving progress toward equality in the workplace," said HRC President Chad Griffin. "The top-scoring companies on this year's CEI are not only establishing policies that affirm and include employees here in the United States, they are applying these policies to their operations around the globe and impacting millions of people beyond our shores. In addition, many of these companies have also become vocal advocates for equality in the public square, including the dozens that have signed on to amicus briefs in vital Supreme Court cases and the 106 corporate supporters of the Equality Act. We are proud to have developed so many strong partnerships with corporate allies who see LGBTQ equality as a crucial issue for our country and for their businesses."