HRC ranks California companies high on Corporate Equality Index
But enforcement may be an issue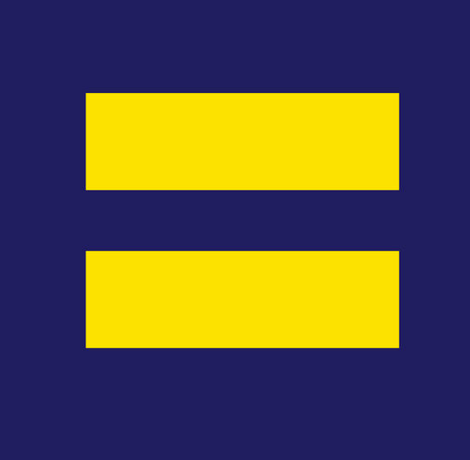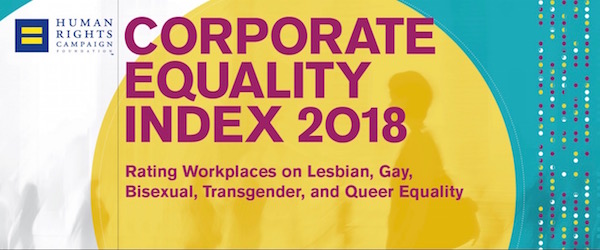 As the nation's largest LGBT rights lobbying organization, the Human Rights Campaign often comes under strong criticism from the LGBT community for its strategic political decisions. But there is no doubt that the nation's corporate decision-makers take HRC's Corporate Equality Index very seriously as they seek the "best and brightest" employees and a loyal customer base.
This is not hyperbole. The governor of Georgia vetoed a pending anti-LGBT religious freedom bill after HRC President Chad Griffin reached out to Hollywood to cease production in the state, followed up by threats to boycott from the NBA and other corporate giants. The HRC threat of economic boycott over the abhorrent anti-LGBT HB2 helped Roy Cooper beat the incumbent Republican governor and the state legislature subsequently voted against the anti-LGBT law, though key provisions of the anti-LGBT law remain.
On Thursday, HRC released its 2018 Corporate Equality Index (CEI) showing that i120 companies in California are among "a record number of the nation's major companies and law firms are advancing vital policies and practices to protect LGBTQ workers around the world."
"This year, a record-breaking 609 businesses earned the CEI's top score of 100, up from 517 last year — a single-year increase of 18 percent. This record sets a new high water mark for corporate leadership over the 15-year history of the CEI," according to an HRC press release. "In total, 947 companies and law firms were officially rated in the new CEI, up from 887 in last year's. The report also unofficially rated 137 Fortune 500 companies, which have yet to respond to an invitation to participate in the CEI survey assessing their LGBTQ policies and practices."
In California, the average ranking for the 120 companies and law firms is 91 with 81 earning 100 points, 15 earning 90 points and above, and 10 earning 80 points and above.
The report spells out its criteria and breaks the ranking down accordingly for a number of different areas such as Automotive, Banking, a slew of Computer-related companies, and Engineering and Construction, etc.
In the latter category is the Los Angeles-based firm KB Home, which received a ranking of 35. The low ranking is achieved by having half-hearted non-discrimination policies and a zero in the category "positively engages the external LGBTQ community." But why would KB Homes need to do any positive LGBT external outreach if it assumes LGBT viewers regularly watch HGTV or "The Ellen Show," which has featured the construction company in the past. More recently, KB Home made news for the anti-gay rant spouted against comedienne Kathy Griffin and her boyfriend by CEO Jeffrey Mezger.
Mezger subsequently apologized after KB Home's board of directors threatened to fire him if he did it again and cut his 2017 bonus by 25%.
It not clear if or how HRC included the incident in their deliberations.
HRC did consider the external factors at work regarding two complaints against Walmart brought by the Transgender Legal Defense and Education Fund before the Equal Employment Opportunity Commission (EEOC). As a result, HRC suspended its rating of the corporate giant, pending remedial action.
TLDEF Executive Director Jillian Weiss noted that the suspension is an opportunity to put companies on notice that their good policies might not be reaching the shop floor. "We hope this will deliver the message to Walmart and others that good corporate policy is not enough. It must be accompanied by strong enforcement mechanisms, or it is mere window dressing," Weiss said in a press release. "TLDEF will continue to bring suits on behalf of transgender people who experience discrimination in employment, education, health care access and public accommodations."
Overall, however, the news is good.
"At a time when the rights of LGBTQ people are under attack by the Trump-Pence Administration and state legislatures across the country, hundreds of top American companies are driving progress toward equality in the workplace," said HRC President Chad Griffin. "The top-scoring companies on this year's CEI are not only establishing policies that affirm and include employees here in the United States, they are applying these policies to their operations around the globe and impacting millions of people beyond our shores. In addition, many of these companies have also become vocal advocates for equality in the public square, including the dozens that have signed on to amicus briefs in vital Supreme Court cases and the 106 corporate supporters of the Equality Act. We are proud to have developed so many strong partnerships with corporate allies who see LGBTQ equality as a crucial issue for our country and for their businesses."
San Francisco LGBTQ+ Police & Mayor pull out of Pride over uniform ban
"For some members of our community, the presence of the police in the parade is difficult given their history with the police department"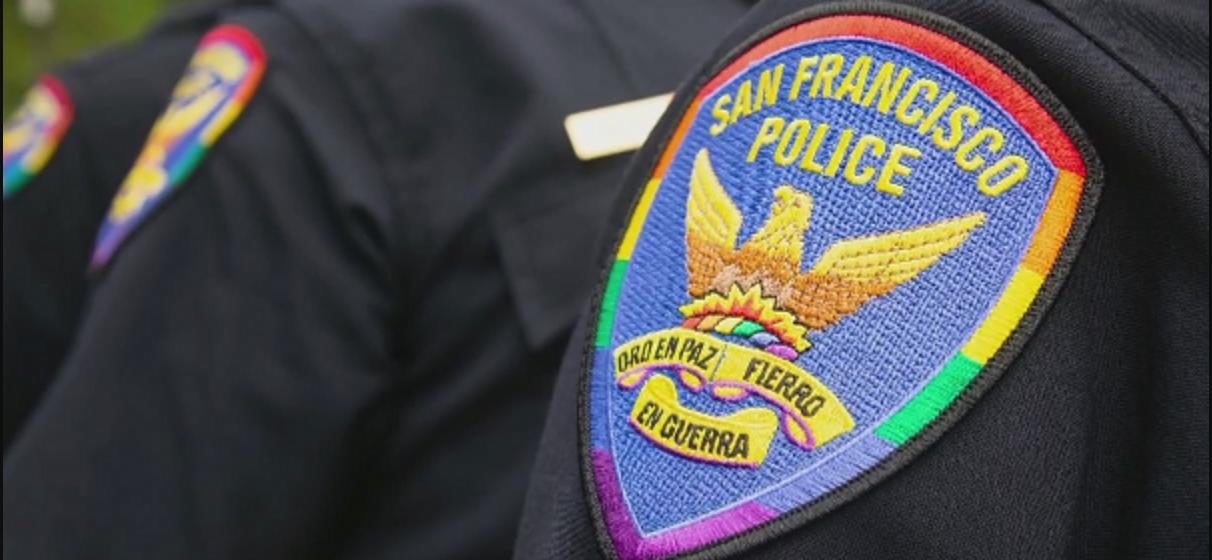 SAN FRANCISCO – San Francisco LGBTQ+ police officers joined by deputies from the sheriff's department expressed disappointment that the Pride committee ruled that the city's LGBTQ+ law enforcement contingents are banned from participating in the Pride parade wearing their uniforms.
"I would really like San Francisco Pride to embrace the values of San Francisco, the values of radical inclusion," Officer Kathryn Winters, of the SFPD Officers Pride Alliance told ABC7 Bay Area. "We want to be able to show the members of our community that there are people just like you who put on these uniforms every day and are out there to support, help, and protect you," she added.
Suzanne Ford, executive director of San Francisco Pride responding to the controversy told ABC7 Bay Area, "We want them to march in the parade," she said adding, "They can march in matching t-shirts that say SF police, or SF County Sheriff's Department, that's fine, but no full uniform."
The division was further exacerbated by the first the San Francisco Fire Department and then the city's Mayor London Breed announcing separately that as a result of San Francisco Pride's announcement they would be pulling out as well.
"I love the Pride Parade, and what it means for our LGBTQ community and for our city. It's one of my favorite events of the year. However, if the Pride Board does not reverse its decision, I will join our city public safety departments that are not participating in the Pride Parade," the Mayor said in a statement.
"I've made this very hard decision in order to support those members of the LGBTQ community who serve in uniform, in our Police Department and Sheriff's Department, who have been told they cannot march in uniform, and in support of the members of the Fire Department who are refusing to march out of solidarity with their public safety partners," Breed added.
San Francisco Fire Department spokesman Jonathan Baxter said that the city's LGBTQ+ firefighters will stand in solidarity with uniformed law enforcement officers. They will not be marching in this year's parade either unless police are allowed to wear their uniforms.
"We need to allow the public to see that our uniformed law enforcement officers are good, they do reflect our community," Baxter said.
SF Mayor @LondonBreed will not march in #PrideParade over @SFPD and @SheriffSF uniform ban. Here's part of the mayor's statement: "…if the Pride Board does not reverse its decision, I will join our city public safety departments that are not participating in the Pride Parade." pic.twitter.com/GelVXaruQL

— Lyanne Melendez (@LyanneMelendez) May 23, 2022
An incident at the last in-person Pride in 2019 when protestors blocked a portion of the parade route and according to San Francisco Pride's Ford the board reacted by creating the new policy excluding law enforcement agencies' personnel in uniform.
"For some members of our community, the presence of the police in the parade is difficult for them given their history with the police department so we want to honor and make sure we protect and make people feel safe," said Ford.
Winters, from the SFPD Officers Pride Alliance pointed out; "Over the years it has been the LGBTQ officers who have really driven reform, improvements, and diversity measures within the department that have made policing better."
San Francisco Pride now joins New York City whose Pride announced last May that it would no longer allow corrections and law enforcement exhibitors to participate in NYC Pride events until 2025. The decision is in accordance with NYC Pride's commitment to create safe spaces for marginalized LGBTQ groups including BIPOC and transgender individuals at their Pride festivities.
Newsom urges more aggressive response to ongoing drought
Governor warned if there's not significant reduction in water use this summer, the state could be forced to enact mandatory restrictions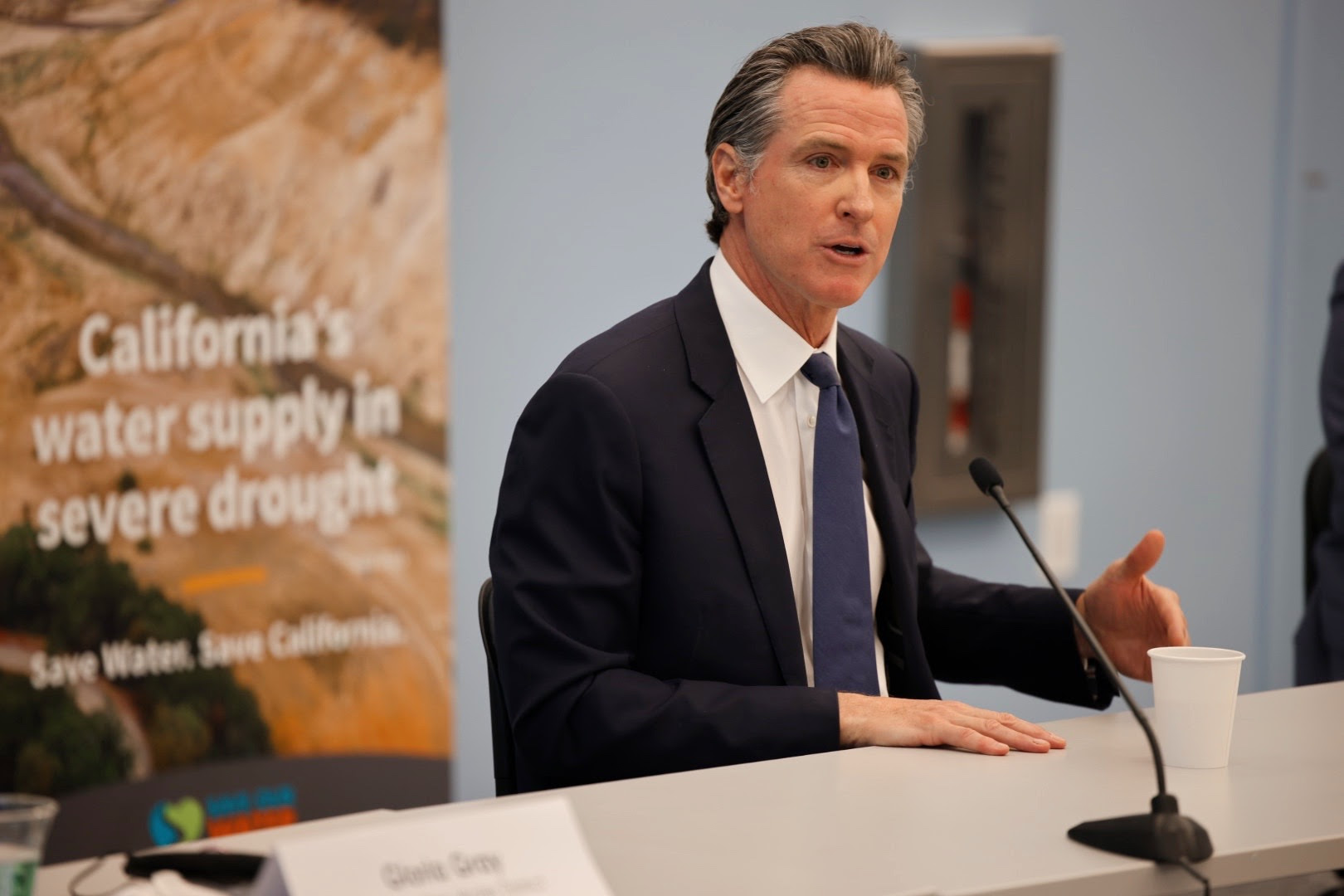 SACRAMENTO – Governor Gavin Newsom convened leaders from the state's largest urban water suppliers on Monday, which cover two thirds of Californians, and water associations imploring them to take more aggressive actions to combat drought and better engage their customers to ensure all Californians are doing their part to save water. 
After the last drought, local water agencies pushed for greater flexibility on water conservation and drought response based on regional needs and water supplies, arguing that tailored local approaches would be more effective than statewide mandates. Governor Newsom has embraced this localized approach, but voiced concerns today given recent conservation levels around the state, and called on water agencies to step up efforts to reduce water use amid extreme drought conditions.
Governor Newsom warned that if this localized approach to conservation does not result in a significant reduction in water use statewide this summer, the state could be forced to enact mandatory restrictions.
The Governor will reconvene these same agencies in the next two months to provide an update on their progress.
"Every water agency across the state needs to take more aggressive actions to communicate about the drought emergency and implement conservation measures," said Governor Gavin Newsom. "Californians made significant changes since the last drought but we have seen an uptick in water use, especially as we enter the summer months. We all have to be more thoughtful about how to make every drop count."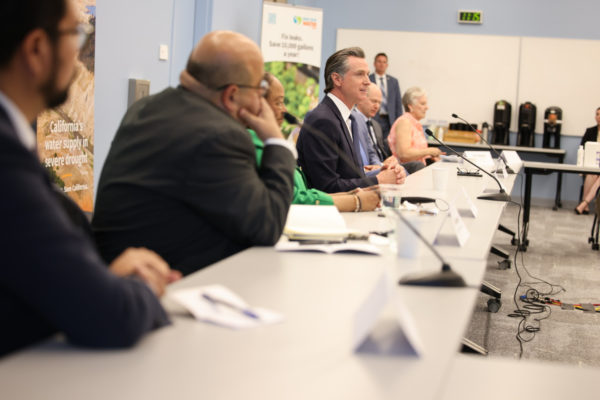 The Governor also called upon local water agencies to submit water use data more frequently and increase transparency in order to more accurately measure whether California is meeting water conservation goals. In addition, the Governor called on local water agencies to increase education and outreach efforts to Californians on the urgency of the crisis.
In July 2021, Governor Newsom called on Californians to voluntarily reduce their water use by 15%. At the end of March 2022 after the state failed to meet its 15% goal, the Governor issued an Executive Order calling on local water agencies to escalate their response to the ongoing drought. Tomorrow, at the Governor's direction, the State Water Resources Control Board will vote on a statewide ban on watering of non-functional turf in the commercial, industrial and institutional sectors as well as regulations requiring local agencies to implement water use restrictions amid the possibility that water supplies may be up to 20% lower due to extreme weather. Currently, local water agencies have implemented restrictions on about half of California's population. If the Board's regulations are approved, every urban area of California will be covered by a local plan to reduce water use.
Banning watering of decorative lawns would save between 156,000 acre-feet and 260,000 acre-feet per year, the equivalent of water used by 780,000 households in a year.
The climate crisis has resulted in the western United States experiencing one of the most extensive and intense droughts on record. January through March were the driest first three months in the state's recorded history, the state's largest reservoirs are currently at half of their historical averages, and the state's snowpack is just 14 percent of average.
The Governor's California Blueprint proposed this year would invest an additional $2 billion for drought response, which includes $100 million in addition to a previous investment of $16 million this fiscal year for a statewide education and communications effort on drought. These investments build on the previous $5.2 billion three-year investment in the state's drought response and water resilience through the California Comeback Plan (2021).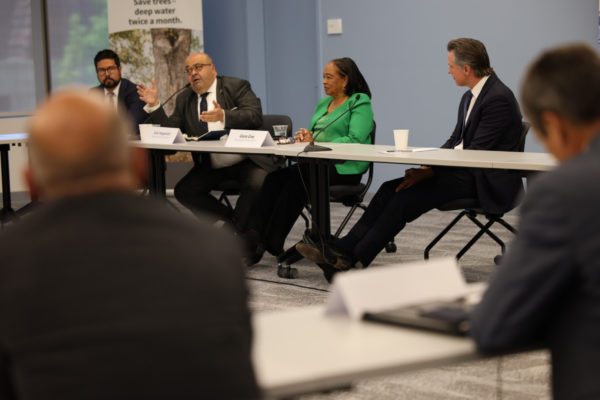 California's master water plan, the Water Resilience Portfolio, is a comprehensive vision to build water resilience containing more than 142 separate detailed actions to be taken by state agencies to ensure that California's water systems can cope with rising temperatures, shrinking snowpacks, rising sea levels and more intense and frequent periods of drought. In March 2021, the Administration released the 2012-2016 Drought Report, which contains lessons learned by state agencies during the last drought.
The state is calling on Californians to take immediate action to avoid a crisis, including:
Limiting outdoor watering – cutting back by even just one day a week can save you up to 20% more water.
Taking shorter showers. Going to a 5 minute shower to save up to 12.5 gallons per shower when using a water-efficient shower head.
Taking showers instead of baths – a bath uses up to 2.5 times the amount of water as a shower.
Using a broom instead of a hose to clean outdoor areas to save 6 gallons of water every minute.
Washing full loads of clothes to save 15-45 gallons of water per load.
More water saving tips can be found at www.saveourwater.com. For the latest on drought, please visit drought.ca.gov.
West Hollywood in brief- City government in action this week
The City of West Hollywood's first annual Pet Week, City also to Re-Open Applications for Guaranteed Income Pilot Project Testing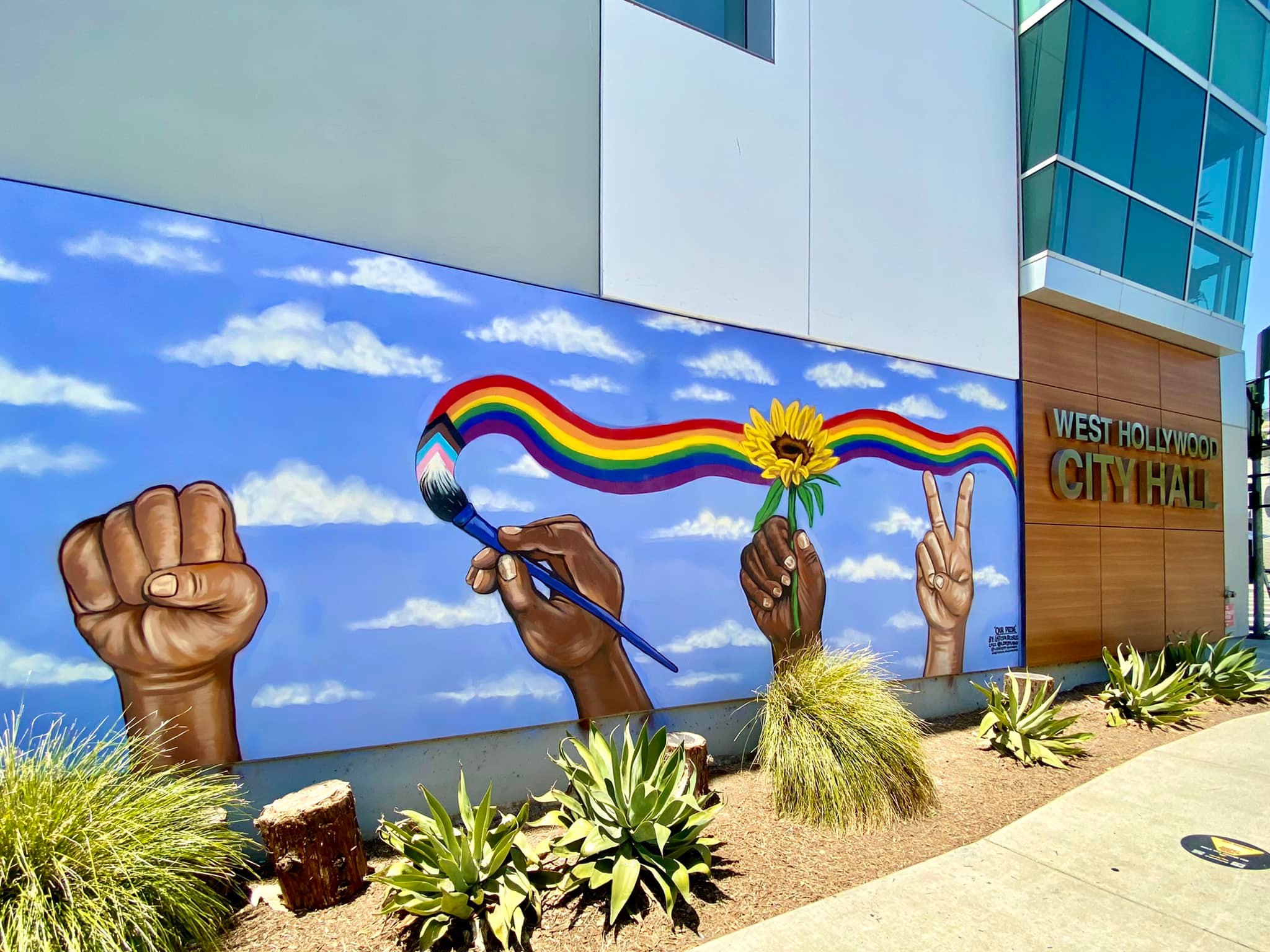 WEST HOLLYWOOD – The City of West Hollywood is pawsitively pumped to host its inaugural Pet Week. Pet Week is an initiative to highlight animal companions and celebrate the joy they bring into our lives.
"I am so excited for the City of West Hollywood's first annual Pet Week, featuring pet-friendly businesses and pet-centered events, like World Dog Day," said City of West Hollywood Mayor Lauren Meister. "Pet Week is an opportunity for us to show our appreciation and love for our companion animals. My dogs, Suki and Sammy, approve!"
"West Hollywood is one of the most pet friendly cities in America," said Mayor Pro Tempore Sepi Shyne. "Many of our residents have beloved animal companions. I am so delighted to have brought forward the initiative with Mayor Meister to create Pet Week dedicated to our beloved companions, which includes an entire day dedicated to felines. My hope is that we as a community learn more about how to care for our companions, celebrate them, and make West Hollywood a destination for visitors who have pets as well."
As part of the Pet Week celebration, the City's Recreation Services Division will be highlighting community members' pets on social media. To join the paw-ty, submit a pet picture and description to [email protected], including a fun fact about them and what they mean to you! Pets of all species, shapes, and sizes are welcome to participate. One day will be designated as "Feline Day" to specifically highlight our feline friends! Follow along @wehorec on Instagram and @westhollywoodrec on Facebook.
As part of Pet Week, the City will be hosting a virtual Pet Week Panel Discussion focused on holistic veterinary care and alternative remedies featuring Dr. Heather Oxford, DVM, MPH, CCRT, CVA and Dr. Lindsey Wendt, DVM, CVA, CVFT on Wednesday, May 25, 2022 at 5:30 p.m. via Zoom.
Register at https://us06web.zoom.us/webinar/register/WN_QWBpx4GgRj-Zw0NyiyCiTQ.
Dr. Oxford is an acupuncture and rehabilitation veterinarian focused on mobile integrative holistic veterinary medicine to improve health, optimize performance, and accelerate healing for small animals. Dr. Wendt is the owner and creator of Crystal Lotus Veterinary Care, which focuses on providing individually focused holistic health care to pets in the comfort of their homes.
Dr. Oxford and Dr. Wendt will be in conversation with City of West Hollywood Mayor Lauren Meister and Mayor Pro Tempore Sepi Shyne where they will discuss several topics, including health and wellness of pets; and holistic care and alternative remedies such as acupuncture, laser therapy, food therapy, integrative medicine, and dealing with separation distress and anxiety. 
The City of West Hollywood is also excited to co-sponsor The Vanderpump Dog Foundation's 6th annual World Dog Day on Saturday, May 28, 2022 from 11 a.m. to 4 p.m. at West Hollywood Park, located at 647 N. San Vicente Boulevard.
"Ruff ruff. Ruff-ruff ruff ruff ruff-ruff Saturday May 28, West Hollywood Park, ruff ruff woof-woof ruff ruff," interpreted Councilmember John D'Amico. "Meow? Grrrrrr. Ruff ruff ruff."
World Dog Day brings together hundreds of people and their furry friends to celebrate dogs for a day of fun and entertainment and takes place during the City of West Hollywood's first ever Pet Week. Admission is free and open to the public; canine companions must attend on a leash. All activities will be outside and socially distanced; masks will be encouraged.
Started in 2016, this family-friendly event will include live performances and DJs; an Adoption Area with adoptable rescue dogs; an Animal Education area; a dog water park; a doggy fashion show featuring past Adopted Rescue Dogs and celebrity judges; a doggy pie eating contest; an amazing raffle with incredible prizes; dozens of exhibitors featuring pet-friendly products and services; plus an array of food trucks for all to enjoy – even celebrity guests!
World Dog Day will be a memorable day of celebrating dogs while raising awareness about global dog abuse, including the Yulin Dog Meat Festival. The Vanderpump Dog Foundation has rescued and adopted more than 2,300 dogs to their forever homes domestically, and hundreds more internationally. For additional information about World Dog Day, please visit www.vanderpumpdogs.org/world-dog-day.
The City of West Hollywood invites canine members of the community and their humans to sniff out a spot and romp around at the City's two dog parks at West Hollywood Park. A small dog park and large dog park are located on each side of the park's basketball courts and each area features expanses of open space with shade trees, small mounds and turf terraces, and water stations. In addition, the City operates the William S. Hart Park and Off-Leash Dog Park located at 8341 De Longpre Avenue.
The City of West Hollywood is often recognized as one of the most animal-friendly cities in the nation and has a long history of supporting measures that promote the protection of animal rights and animal welfare. In April 2003, the City became the first municipality in the nation to prohibit cat declawing. In February 2010, the City passed an Ordinance to address the inhumane conditions endured by "puppy mill" animals by prohibiting the sale of dogs and cats in companion animal stores. In September 2013, the City's Fur Ordinance went into effect, which prohibits retail establishments from selling, trading, distributing, importing, or exporting any fur product.
For more information about upcoming dog events in the City of West Hollywood, please call (323) 848-6460. For people who are Deaf or hard of hearing, please call TTY (323) 848-6496.
City of West Hollywood to Re-Open Applications for Guaranteed Income Pilot Project Testing the Impact of Cash Payments on the Financial Stability of Older Adults on June 17
The City of West Hollywood, in collaboration with nonprofit partner, National Council of Jewish Women/LA, will re-open applications for the pilot project for guaranteed income aimed at evaluating the impact of cash payments on the financial stability and quality of life of older adults. Guaranteed income is a direct and regular cash payment – no strings attached – provided to a specific group of people for a designated time.
In January 2021, the West Hollywood City Council approved an item for the City of West Hollywood to join the Mayors for Guaranteed Income (MGI) network and directed staff to develop a guaranteed income pilot program for West Hollywood, including identification of research, funding, community implementation, and evaluation partners.
There are numerous cities, counties, and private guaranteed income pilots happening throughout the nation. Guaranteed income pilots are a way to test the impact of cash payments, while also providing a service to help financially stabilize community members and learn information to help create future, evidence-based policies and programs.
Beginning June 1, 2022, community members may access www.ncjwla.org/whpgi to learn more. The application will open on the website beginning Friday, June 17, 2022, and will close on Sunday, June 26, 2022.
Applicants Must Reside in City of West Hollywood and: Must be 50 Years or Older; and Must Meet Criteria for Individual Yearly Income of $41,400 or Less
Community members who are interested in applying for the West Hollywood Pilot for Guaranteed Income must reside in the City of West Hollywood, be 50 years or older, and have an individual income of $41,400 or less. The program will be facilitated by the National Council of Jewish Women Los Angeles. People who need assistance applying may call (323) 852-8500, ext. 650, or may send an email message to [email protected].
A total of 25 qualifying participants will be randomly selected from the pool of eligible applicants to receive unconditional monthly $1,000 payments from September 2022 through February 2024.
The move to re-open applications for the pilot project for guaranteed income follows a shift in March 2022 when the City became aware that the pilot, because it was created and supported by a government entity, was susceptible to legal challenges due to the inclusion of LGBTQIA criteria as an eligibility requirement to participate.
The City, with the help of Mayors for a Guaranteed Income (MGI) and the Center for Guaranteed Income at the University of Pennsylvania (CGIR) had originally developed a data-driven guaranteed income pilot that was set to launch in April 2022 and would have been the first LGBTQIA-focused pilot and the first older adult-focused pilot in the nation.
Protecting the rights of LGBTQ community members has been a long-standing mission of the City, and the City has worked tirelessly to identify and address inequities. For years, the City – along with LGBTQ advocates nationwide – has fought for equal civil rights, including the right to marry, the ability to obtain access to spousal protections and benefits including healthcare and pensions, and efforts to reduce/eliminate discrimination in housing and employment.
These hard-earned rights and protections come with other legal consequences as well. Although the City could engage in a legal battle over the contested eligibility requirement, the implications of litigating such a challenge had to be considered. Having LGBTQIA identification as an eligibility requirement for the pilot could potentially violate the California Constitution as sexual orientation is a protected suspect class in the state.
Therefore, the City Attorney, City staff, and pilot partners recommended that the City Council of the City of West Hollywood revise the pilot to include three of the four original criteria (residency, age, and income level) in order to satisfy the legal obligations, protect potential participants, and move forward with a program that serves community members in need of financial support and stability. All applicants from the first iteration of the pilot will be automatically entered into the pool of applicants for the revised pilot.
The City of West Hollywood seeks to test the emerging promise of guaranteed income to help prevent homelessness, support community members as they age in place, and to reduce the stressors of poverty and financial insecurity. In addition, the West Hollywood Pilot for Guaranteed Income seeks to examine impact in the following areas:
Quantitative data to evaluate the collective impact of guaranteed income on different populations;
Capture unique qualitative narrative information to provide greater understanding into the income challenges faced by older adults in West Hollywood and inform the creation of evidence-based policies and programs to better support the health and well-being of older adults; and
Test the concept of guaranteed income to evaluate whether to expand the initial pilot or create new/additional pilots in the City.
The City will engage two nonprofit partners in the pilot. The first is the Center for Guaranteed Income Research at University of Pennsylvania as the research and evaluation partner responsible for creating and administering the research instruments, conducting the randomized selection of eligible applicants to participate in the pilot, collecting/processing/analyzing the data, and providing a report on the findings.
The City's second partner in the pilot is the National Council of Jewish Women Los Angeles (NCJW|LA) as the nonprofit administrator implementing the pilot. NCJW was selected for its knowledge, experience, and understanding of the nuances of guaranteed income. NCJW will be responsible for conducting outreach to the community about the pilot, assisting community members to complete applications, verifying that West Hollywood residency and other pilot criteria are met to ensure the eligibility of each applicant, submitting the completed and verified applications to CGIR for the randomized selection of participants, and notifying the participants selected by CGIR.
25 Randomly Selected Participants will be Chosen from a Pool of Eligible Applicants to Receive 18 Unconditional Monthly $1,000 Payments
They will also conduct onboarding and provide individualized benefits counseling for each participant, manage a storytelling cohort and storytelling activities that complement the research component of the pilot and provide the participants an opportunity to share their experiences in their own voices. In addition, the nonprofit administrator will subcontract and coordinate services with a nonprofit financial distributor (utilizing debit card services) to ensure that funds are distributed to participants in a timely, predictable, and seamless fashion.
Additional information about research and evaluation, as well as pilot partners and pilot funding is available in the May 2022 City Council staff report at https://weho.granicus.com/MetaViewer.php?view_id=&event_id=1357&meta_id=228362.
For more information, please contact Diane Kahn-Epstein, the City of West Hollywood's Strategic Initiatives Program Administrator, at (323) 848-6548 or at [email protected].
For people who are Deaf or hard of hearing, please call TTY (323) 848-6496.