Diana Nyad shares harrowing story of sex abuse by swim coach
Nyad has been speaking out about sexual abuse epidemic for years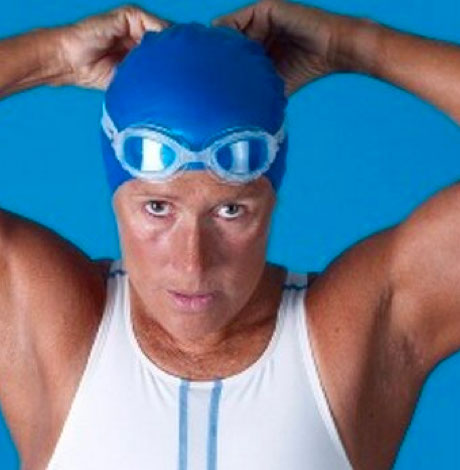 LOS ANGELES- Swimming icon Diana Nyad is out, famous, well-off, and happy. With good reason. Nyad is prime example of the "never give up" spirit, having tried five times to swim from Cuba to Florida until, at age 64 in 2013, she succeeded, as she documents in her memoir "Find a Way."
But Nyad, now 68, is also still haunted by years of degrading sexual molestation by her mentor and swim coach Jack Nelson when she was 14. She's been vocal about it for 46 years – but now, with the publication of her powerful, detailed story in the New York Times and shared on TV shows, people are seriously paying attention.
"Here I was, a strong-willed young athlete. There he was, a charismatic pillar of the community. But I'm the one who, all these many years later, at the age of 68, no matter how happy and together I may be, continues to deal with the rage and the shame that comes with being silenced," Nyad writes in The Times column.
Nyad not only refuses to be silent, she refuses to be nice and polite about being sexually assaulted by her father-figure in 1964.
"I was dead asleep in the master bedroom when it happened. Out of nowhere, he was on top of me. He yanked my suit down. He grabbed at and drooled onto my breasts. He hyperventilated and moaned. I didn't breathe for perhaps two full minutes, my body locked in an impenetrable flex. My arms trembled, pinned to my sides. He pleaded with me to open my legs, but they were pressed hard together. If breath gives us force, that day I could feel the strength in my body from the polar opposite — from not breathing. He ejaculated on my stomach, my athletic torso I was so proud of now suddenly violated with this strange and foul stuff," she writes.
"As he slinked out of the room, I gasped for air, as if I had just been held underwater for those two minutes. I vomited onto the floor."
That first "savage episode" was just the beginning of many years of abuse. "My young world had just been capsized and I was very much alone in my confusion and fear." But, she screamed to herself, "This is not going to ruin my life!"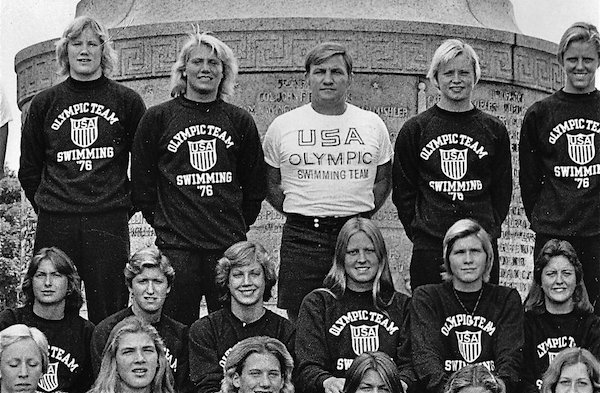 Nyad endured. "I don't paint my youth as tragic, yet I spent every day of my high school years terrified that it would be yet another day that he would summon me after practice, for a humiliating ride in his car or a disgusting hour in the motel down the street," she writes. But the coach warned her not to tell, calling her bitch and other demeaning words. He also "assured me that what we shared was something special, that my life would collapse if anybody else knew, that this was magic between us. Our special secret."
Eventually, at 21, she told a friend about her teenage hell, they cried and her friend confessed the same had happened to her. Then they told the school.
"When we confronted Coach, in front of our high school principal and the school's lawyer, he knelt at my feet and whimpered. He said he couldn't understand why I would falsely malign him this way. The next day he was fired. The principal told me that he had had suspicions, even reports from witnesses over the years, but that he had never caught him in the act," she writes.
Nyad now regrets saying his being fired was sufficient since Coach Nelson, who denied the charges, just went to the next town and was hired as head coach of a major university. "Had I known this man would continue to harm more girls, had I had an inkling as to how deep the imprint of this man's actions would run through the course of my life, I would have immediately pursued a criminal case."
Instead, Nelson became a celebrated coach, making it "into halls of fame and to the top of the coaching pyramid, the Olympic Games. And so is woven the fabric of the epidemic. These often charming individuals are lauded, presented with trophies for their leadership, from the piggish Weinsteins of Hollywood to the unscrupulous parental figures scattered throughout our suburbs. Statistics bear out the astonishing number of sexual abusers among us."
Nyad's call is for victims to speak up, to not be silent, to tell your stories.
Nelson's 2014 obit in the New York Times  notes that among his accolades is coaching the winning 1976 Women's Olympic Swim Team (pictured above). In 1994, he was inducted into the International Swimming Hall of Fame. So far, there have been no calls to have his name removed.
Nyad was on with NBC's Andrea Mitchell talking about the "epidemic" of sexual harassment and abuse:
Anti-Trans activists claim trans women have an advantage at darts
Victoria Monaghan became the first trans woman to ever compete in the WDF World Darts Championship in England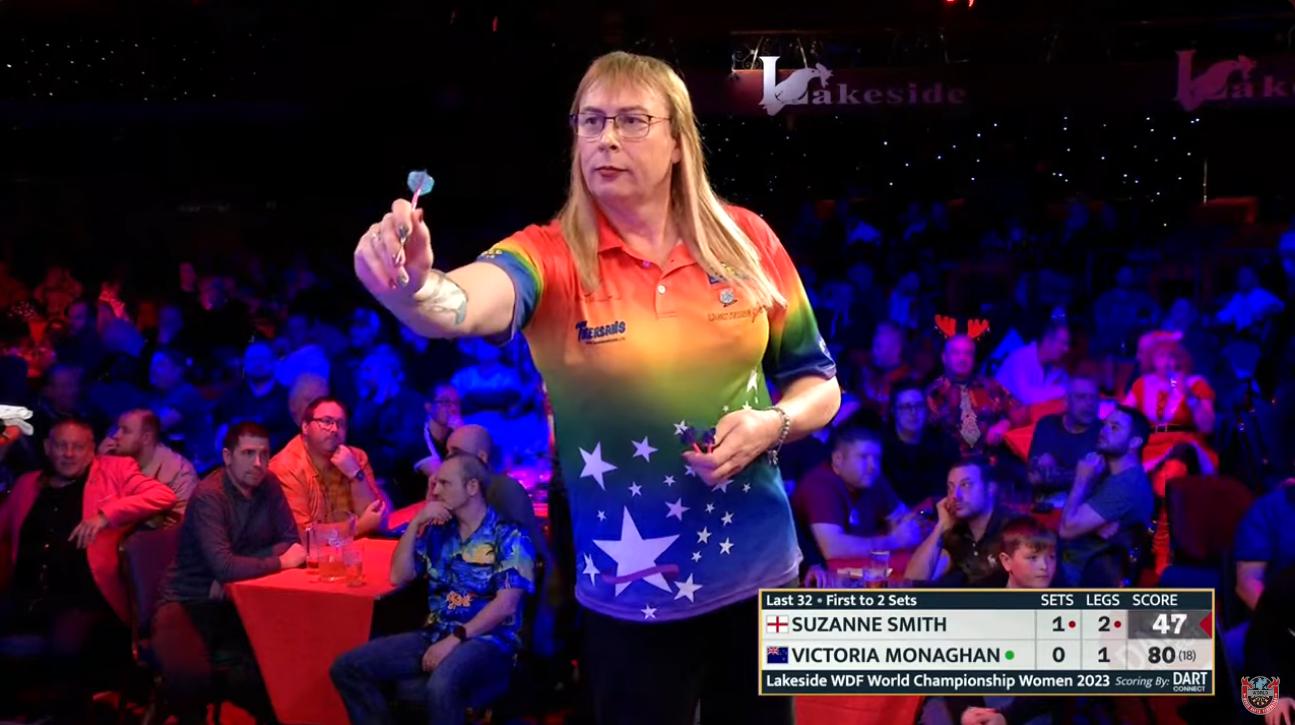 By Erin Reed | WASHINGTON – In recent years, those lobbying for restrictions on transgender individuals have focused heavily on sports. Some of the most influential anti-trans lobbyists in this arena, such as Terry Schilling of the American Principles Project, have stated that sports are an easy way to sell anti-trans policies to people who might otherwise reject discrimination.
Initially, the attacks on sports focused on contests of extreme endurance, such as elite swimming. Lately, however, these bans have entered new arenas. Now, there is a new sport where transgender participation is causing controversy: darts.
On Sunday, December 3rd, Victoria Monaghan made history as the first transgender woman to compete in the World Darts Federation's World Darts Championship. Monaghan, who has played darts since she was 12, mentioned that the New Zealand Darts Council has been incredibly supportive of her participation.
However, recently, after qualifying for the international tournament, opponents of transgender rights attacked her participation. They argued that transgender women should be banned from women's darts, claiming her participation was unfair due to supposed "biological advantages."
Martina Navratilova, a famed retired tennis player known for making anti-trans comments, decried Monaghan's participation, asking, "how the fuck is this acceptable?" The UK-based organization Fair Play For Women, which opposes transgender participation in sports, ridiculed Monaghan for participating, referring to her as a man.
One commentator claimed that trans women had physical advantages such as being able to throwing harder. One of the most outlandish claims, however, came from Dr. Linda Duffy, a sports psychology professor at Middlesex University. She stated that trans women have an advantage due to "cognition and brain structure."
See Dr. Duffy's comments here:
Quickly, however, people criticized the idea that trans women have an advantage in darts. Mark Grimshaw, a UK comedian, noted that the conversation swiftly shifted towards the notion that "women's brains are biologically cognitively inferior to men," ridiculing this idea as blatantly misogynistic.
TakedownMRAs, a Twitter account focused on opposing men's rights activism, also ridiculed the notion that trans women have an advantage in darts. Even some who generally support bans on trans individuals expressed concerns, with one person stating, "okay, this is giving the trans movement ammo."
There is no evidence supporting the idea that transgender women have a biological advantage in darts. Physical attributes such as strength or height are not significant in the game. For instance, one of the all-time best players, Phil Taylor, who is 5'8″, played in a World Darts Championship tournament at 59 years old. Similarly, there is no proof that transgender women possess a "cognitive advantage" over cisgender women in darts.
Recently, transgender participation in sports with no conceivable arguments for any "biological advantage" has come under fire. This is particularly evident in sports like pool. The same group that is attacking Monaghan's participation in darts also targeted a transgender pool player for participating in a pool tournament.
Additionally, transgender participation in chess has recently faced scrutiny from FIDE, the leading international chess organization. FIDE stated that trans women "do not have any right" to compete in women's chess categories.
As for Monaghan, she lost in the first round of the tournament. The woman she competed with, Suzanne Smith, gendered her correctly and stated that it was a hard won game that she was glad to get under her belt. Despite the hate that she is receiving from those who oppose her participation, Monaghan states that this is not the norm.
"Most of the women darts players have been really supportive," she wrote in an article released the day of her match. "and the others are starting to come around."
****************************************************************************
Erin Reed is a transgender woman (she/her pronouns) and researcher who tracks anti-LGBTQ+ legislation around the world and helps people become better advocates for their queer family, friends, colleagues, and community. Reed also is a social media consultant and public speaker.
Follow her on Twitter (Link)
Website here: https://www.erininthemorning.com/
******************************************************************************************
The preceding article was first published at Erin In The Morning and is republished with permission.