November 10, 2017 at 3:19 pm PST | by Karen Ocamb
Diana Nyad shares harrowing story of sex abuse by swim coach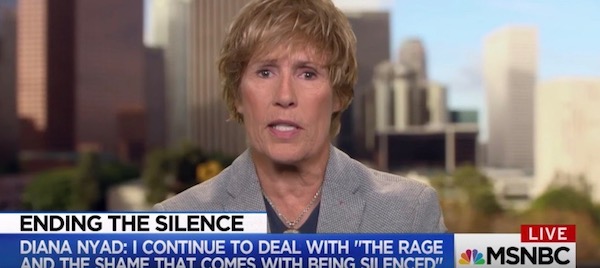 Swimming icon Diana Nyad is out, famous, well-off, and happy. With good reason. Nyad is prime example of the "never give up" spirit, having tried five times to swim from Cuba to Florida until, at age 64 in 2013, she succeeded, as she documents in her memoir "Find a Way." But Nyad, now 68, is also still haunted by years of degrading sexual molestation by her mentor and swim coach Jack Nelson when she was 14. She's been vocal about it for 46 years – but now, with the publication of her powerful, detailed story in the New York Times and shared on TV shows, people are seriously paying attention.
"Here I was, a strong-willed young athlete. There he was, a charismatic pillar of the community. But I'm the one who, all these many years later, at the age of 68, no matter how happy and together I may be, continues to deal with the rage and the shame that comes with being silenced," Nyad writes in The Times column.
Nyad not only refuses to be silent, she refuses to be nice and polite about being sexually assaulted by her father-figure in 1964.
"I was dead asleep in the master bedroom when it happened. Out of nowhere, he was on top of me. He yanked my suit down. He grabbed at and drooled onto my breasts. He hyperventilated and moaned. I didn't breathe for perhaps two full minutes, my body locked in an impenetrable flex. My arms trembled, pinned to my sides. He pleaded with me to open my legs, but they were pressed hard together. If breath gives us force, that day I could feel the strength in my body from the polar opposite — from not breathing. He ejaculated on my stomach, my athletic torso I was so proud of now suddenly violated with this strange and foul stuff," she writes.
"As he slinked out of the room, I gasped for air, as if I had just been held underwater for those two minutes. I vomited onto the floor."
That first "savage episode" was just the beginning of many years of abuse. "My young world had just been capsized and I was very much alone in my confusion and fear." But, she screamed to herself, "This is not going to ruin my life!"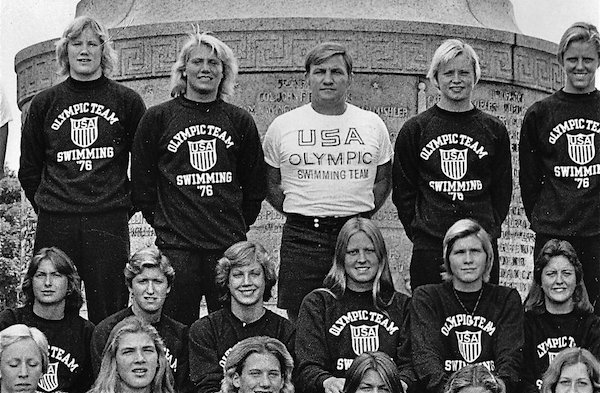 Nyad endured. "I don't paint my youth as tragic, yet I spent every day of my high school years terrified that it would be yet another day that he would summon me after practice, for a humiliating ride in his car or a disgusting hour in the motel down the street," she writes. But the coach warned her not to tell, calling her bitch and other demeaning words. He also "assured me that what we shared was something special, that my life would collapse if anybody else knew, that this was magic between us. Our special secret."
Eventually, at 21, she told a friend about her teenage hell, they cried and her friend confessed the same had happened to her. Then they told the school.
"When we confronted Coach, in front of our high school principal and the school's lawyer, he knelt at my feet and whimpered. He said he couldn't understand why I would falsely malign him this way. The next day he was fired. The principal told me that he had had suspicions, even reports from witnesses over the years, but that he had never caught him in the act," she writes.
Nyad now regrets saying his being fired was sufficient since Coach Nelson, who denied the charges, just went to the next town and was hired as head coach of a major university. "Had I known this man would continue to harm more girls, had I had an inkling as to how deep the imprint of this man's actions would run through the course of my life, I would have immediately pursued a criminal case."
Instead, Nelson became a celebrated coach, making it "into halls of fame and to the top of the coaching pyramid, the Olympic Games. And so is woven the fabric of the epidemic. These often charming individuals are lauded, presented with trophies for their leadership, from the piggish Weinsteins of Hollywood to the unscrupulous parental figures scattered throughout our suburbs. Statistics bear out the astonishing number of sexual abusers among us."
Nyad's call is for victims to speak up, to not be silent, to tell your stories.
Nelson's 2014 obit in the New York Times  notes that among his accolades is coaching the winning 1976 Women's Olympic Swim Team (pictured above). In 1994, he was inducted into the International Swimming Hall of Fame. So far, there have been no calls to have his name removed.
Nyad was on with NBC's Andrea Mitchell talking about the "epidemic" of sexual harassment and abuse: