November 15, 2017 at 9:59 am PST | by Karen Ocamb
America the molested
It started with a joke at a small comedy club in Philadelphia on Oct. 16, 2014, a night that will live in infamy. Hannibal Buress' riff on his disgust for moralizer Bill Cosby was part of his act. "I can talk down to you because I had a successful sitcom," Buress said, mimicking America's once beloved TV dad. "Yeah, but you raped women, Bill Cosby. So, brings you down a couple notches." The joke went viral and scores of women accusers started coming out of the shadows.
A match was lit. Hollywood's "casting couch" was set on fire, inspiring more and more women—and men—from all walks of life to come forward to tell their #MeToo stories. And the stories haven't stopped, pounding away at the pillars of established male privilege, exposing the "normalcy" of economic leverage and alleged moral corruption among "good" men like Bill Cosby, George Takei and Alabama Judge Roy Moore.
And suddenly, the pillars toppled. Fox News media kingpin Roger Ailes and Fox's $100 million TV host Bill O'Reilly were knocked down by irrepressible former Fox anchor Gretchen Carlson. And since the New York Times and the New Yorker exposed numerous victims, massive payouts and secret cover-ups for serial sexual harasser Hollywood mogul Harvey Weinstein, the entertainment industry has been quaking in its high noon boots.
Weinstein's accusers gave birth to the #MeToo movement, shattering the walls of silence protecting closeted gay harassers, as well. Actor Anthony Rapp's allegation to Buzzfeed that "House of Cards" star Kevin Spacey sexually harassed him when Rapp was only 14 ripped off decades of veneers, prompting numerous victims to come forward. Reaction was swift: Netflix fired him from the TV hit and director Ridley Scott decided to cut Spacey out of his thriller "All the Money in the World"— scheduled for release Dec.22 — and reshoot with replacement Christopher Plummer. "I think it's very sad what happened to him," clueless Plummer told Vanity Fair. "Kevin is such a talented and a terrifically gifted actor, and it's so sad. It's such a shame."
A decades-old accusation by former model Scott R. Brunton that gay Star Trek icon George Takei groped him drew a swift denial on Twitter. Takei even blamed the viral accusation on Russian bots because he's criticized Russian President Vladimir Putin's anti-LGBT policies.
But an audiotape emerged of Takei joking with radio host Howard Stern about how he would grab men to "persuade" them to have sex. It sounded to fans like Brunton's story. Takei walked that back quickly, saying he was playing the character of a "naughty gay grandpa"—which he now regrets, saying "the joke was distasteful."
"I want to be clear: I have never forced myself upon someone during a date. Sometimes my dates were the initiators, and sometimes I was," Takei wrote on Facebook. "It was always by mutual consent. I see now that that it has come across poorly in the awkward sketch, and I apologize for playing along with Howard's insinuation. Non-consensual acts are anathema to me and my personal code of conduct, and I would never do something against anyone's will, period."
Politics has also been rocked by the harassment eruptions, enabling women to break their silence at the California State Capitol. State Sen. Pro Tem Kevin de Leon hired outside investigators to look into the allegations against Sen. Tony Mendoza. This follows a "We Said Enough" letter signed by hundreds of professional women who say Sacramento has a culture of sexual harassment.
Women in the U.S. Capitol aren't taking it anymore, either, with past and present lawmakers—including Californians Mary Bono, Hilda Solis, Linda Sanchez and Jackie Speier—speaking out about the secret "creep list" of colleagues with inappropriate behavior. "A lot of it has to do with being in a place where people who have power try to exert it to get what they want," one Senate staffer said told CNN.
After a Nov. 14 House Administration Committee hearing on sexual harassment, Speaker Paul Ryan announced a policy to require anti-sexual harassment and anti-discrimination training for all members and staff. No mention of LGBT inclusion.
The showdown over Alabama Christian fundamentalist Judge Roy Moore, a Senate candidate and darling of the anti-LGBT Religious Right, is drawing attention to LGBT issues, however. At a news conference last week, Moore said, "The transgenders don't have rights," referring to Trump's trans military ban.
But a detailed Nov. 9 Washington Post story on Moore is testing Republicans. Leigh Corfman, 14 years old in 1979, alleges that Moore, then a 32-year-old assistant district attorney, sexually molested her. "Roy Moore is a pedophile," Steve Schmidt said on MSNBC.
So far, five women have accused Moore of sexual misconduct, including Beverly Young Nelson, who on Nov. 13 said Moore tried to force her to have oral sex when she was 16.
Attorney General Jeff Sessions told a House hearing that he had "no reason to doubt these young women." No one asked the former Alabama senator if he knew that Gadsden Mall banned Moore because he repeatedly badgered teenage girls, according to the New Yorker. Speaker Ryan has asked him to step aside; Sen. Jeff Flake says he'll vote to expel Moore if he wins the Dec. 12 election. And now, even big backer Steve Bannon is re-thinking his support.
The ugly moral irony is that they all continue to support President Donald Trump, who has at least 14 accusers. Last month, ThinkProgress founder Judd Legum posted their names on Twitter, including: "8. Kristin Anderson. Said Trump reached under her skirt and grabbed her vagina through her underwear in the early 1990s." That's similar to the "grab 'em by the pussy" behavior Trump confessed to Access Hollywood's Billy Bush. "And when you're a star, they let you do it. You can do anything," Trump said on tape.
Perhaps Trump meant it as a joke. But no one's laughing now.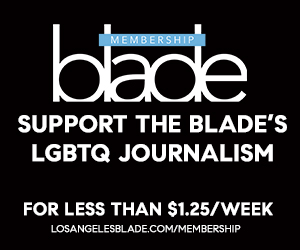 Sign Up for Blade eBlasts