November 23, 2017 at 8:00 am PST | by Karen Ocamb
Mark Thompson: An Ancestor Rises Up And Shouts
I met my best friend Mark Thompson almost 25 years ago at a book reading for Gay Soul, a subject he focused on when he was editor of The Advocate magazine and in several books on gay culture. I started to cry listening to Mark talk about gay people as two-spirits, third genders, visionaries of the heart and trailblazers. "Gay" was not about who you slept with—it was about your soul.
Gay is a way of being in the world.
I had little exposure to what it meant to be gay except for hooking up or fantasizing about having a lover. That evening led to gay consciousness and gay soul becoming a vital part of my life's work.
Mark loved to walk through the Descanso Gardens in the San Gabriel Valley. We met there and walked and talked for hours. Mark felt that Walt Whitman expressed "gay soul" best poetically in his Calamus series, speaking about the adhesive love that certain men shared and how that was the true democracy. He also loved Plato's Symposium and the higher love of certain men that went beyond marriage or family.
Mark also loved Harry Hay, the founder of the modern gay movement, and his idea of gay men carrying a subject-subject consciousness in their relationships with one another and with the world—a kind of consciousness opposed to the dominant subject-object consciousness which, literally, objectified relationships and the world, seeing it all as something to be used towards an end.
Those talks and a meeting between Mark and Don Kilhefner germinated the idea for "Rise Up And Shout," an LGBT mentoring program. Mark and Don felt the best way to teach gay consciousness was through the mentoring of young people and the recognition of their creative talents.
Teachers, directors, therapists and community leaders met with LGBT youth over the course of a year in workshops designed to bring out their authentic voice and then present that voice on stage.
Initially, youth showed up with headshots and agent contact information, only to find that "Rise Up And Shout" was more interested in creative gifts than specific talents, more interested in authenticity than performance, and most interested in that special, unique gay voice that inspired much of the creativity in these youth.
Before his unexpected death in August 2016, Mark handed this project over to me, and I produced four "Rise Up And Shout" events, along with a documentary film that aired on the Sundance Channel in 2008. The experience also yielded a book of letters between the youth and elders of "Rise Up And Shout," aptly titled Letters To Young Gay Men after poet Rainer Maria Rilke's Letters To A Young Poet. The book won entry into this year's Lambda Literary Festival, where it premiered as a play. The play is currently being reviewed as a possibility for Highways Performance Space's roster for next year, and continues to seek a publisher.
Mark's mentorship should live on.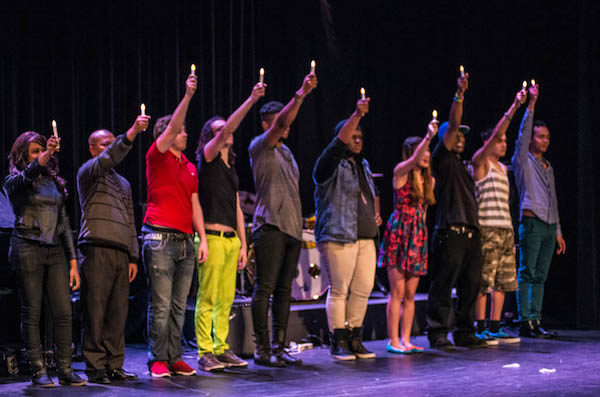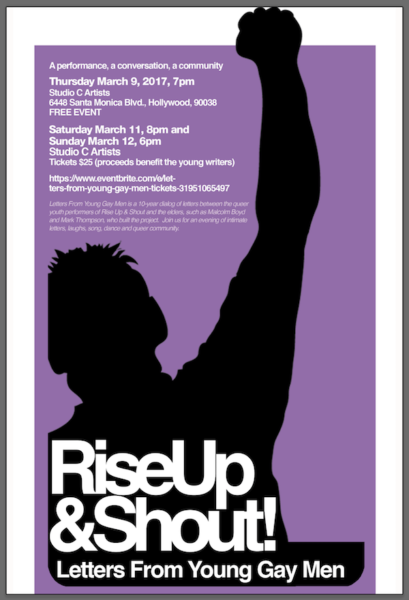 Consider this exchange with a young "Rise Up And Shout" performer:
Dear Mark:
Your last letter illustrating your view on gay sexuality and drug use really made me think about something that I have to remind myself of everyday. You beautifully wrote, "I'm glad that your better angels didn't get their wings fried or you wouldn't be the amazing artist you are today." Thank you for that encouragement. You triggered a very significant affirmation that I live off of sometimes. No drug in the world can give me the high that I get while I'm performing.

I'm an artist. Always have been. From ever since I can remember I had a crazy and fun imagination. I would create worlds of castles and demons, portraying heroes or 'damsels in distress'. Playing, drawing, and dancing constantly.

I've pursued performing pretty much all my life. It is my passion. My work. My reason for being.
Mark writes about authenticity and finding solace after his husband's death:
Dear Derek:
The failure of success means feeling successful enough inside to always risk being a failure. This is what we should hope and pray for. This is how we become authentic people. And, maybe, if we are lucky, we glimpse at the wisdom of our own old soul like my husband the Reverend Cannon Malcolm Boyd did one evening in Hollywood in the 1950s when he left success as Mary Pickford's producer and decided to enter the seminary. He threw away the glitter and gold and all previous assumptions about the importance of those elements in the world to succeed at being "a failure" many times, over and over again to the end. He was the most successful person I ever knew.

Recuperating in Palm Springs after Malcolm's death, Mark found comfort in the words written by a "wise queen," Jersey Shore:

"I come from Hollywood. I know how it works. I just have to sit back and watch you fall. It's a huge shame you must destroy others along the way. I think that is what bothers me most….Shame on the people who are foolish enough to go along with the ride….I would rather be a happy and true person than someone who wants something that will not be what you thought it was. It never is. Step outside the box and look in, then you will see the truth. The truth will set you free."

As artists, Derek, we strive to avoid the usual clichés. Perhaps what I'm saying to you today seems the hoariest of them all. But this is the truth: the only truth worth listening to. Take it from the mouth of babes in arms in transit.

Love always,
Mark