November 30, 2017 at 9:51 pm PDT | by Rebekah Sager
Previewing West Hollywood's AIDS Monument
In just a scant couple of years, West Hollywood will finally have an AIDS monument.
Titled "STORIES: The AIDS Monument," it is meant to embody the bittersweet history of a city originally created to protect the LGBTQ community, and one also profoundly impacted by the viral epidemic that brought it to its knees.
Foundation for The AIDS Monument executive director, Michael Ferrera says the monument's mission is more than just remembering the people who died, but also a representation of a movement that received its civil rights.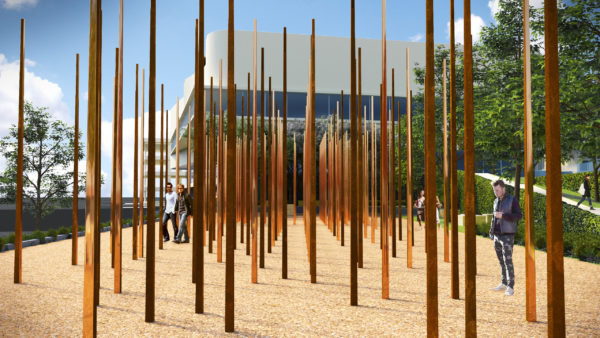 "STORIES" was designed by Australian artist Daniel Tobin, of Urban Arts Project.
"Tobin is well-versed in insinuating art into a community with a message and a mission to create social change in some way," Ferrera told the Los Angeles Blade.
"His design has been adopted, and now we're in the middle of a formal design which includes getting community feedback and engagement. We don't want to build a monument that doesn't resonate with the community," Ferrera added.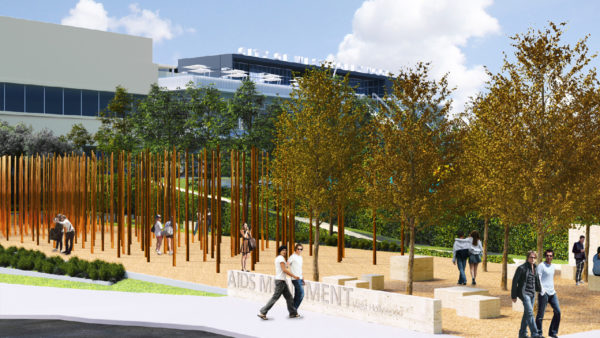 According to the Foundation for The AIDS Monument website, "STORIES" will memorialize the devastation of AIDS on the nation and will honor the courage of activists, caregivers and community leaders. Visitors to the site can upload memorials, including written stories, videos and images of lost loved ones.
"The piece is intended to tell the world that you can't let another disease get out of control because you don't like the people who're getting it," Ferrera says.
Over the next year and half the design process will be worked on in conjunction with the city. In 2018, UAP will begin to fabricate the elements to install the monument in West Hollywood Park. It will sit where right now the auditorium and pool are. Those will be raised, a platform will be built, and the piece should be in place by the end of 2019.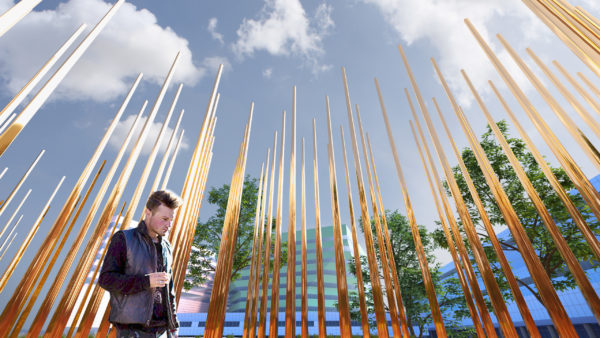 West Hollywood and Foundation for The AIDS Monument also hired a company called Wondros. Wondros focuses on story collecting and was brought into the process to identify the important stakeholders — the movers and shakers in the HIV/AIDS world and people in the community who are providing HIV/AIDS services today.
Wondros goes through a process called 'ecology mapping,' in which they use the stakeholders to learn who the other opinion leaders are, and who might want to express ideas about the project. Then they bring themes out of what they learn, and record them for the artist, so he can change or adjust the design accordingly.
Ferrera says a couple of ideas have already emerged from the ecology mapping that hadn't been thought of prior.
"We're thinking of adding 'sound-scaping,' so that when viewers walk into the monument they'll hear voices or music to help enhance the experience; or possibly choosing quotes from notable West Hollywood citizens who died of AIDS," Ferrera says.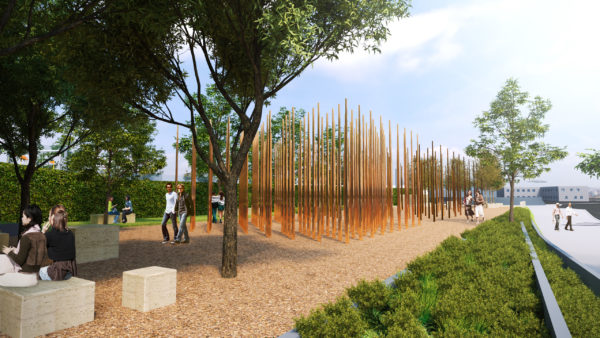 Ferrera says his desire is that the monument represents the entire region of Los Angeles, and includes a diversity of stories and demographics.
"I want the young generation not to get HIV unnecessarily, because we know how to stop the spread as long as they're in treatment, they have the information, and they understand that every right they have today was earned by those people who fought for the rights and for people with AIDS."
Many of the most prominent AIDS services aren't necessarily located in WeHo. The Los Angeles LGBT Center, the largest LGBT organizations in the world offering treatment and doing research is centered in Hollywood. The Black AIDS Institute is located in Westlake, and there's another AIDS memorial in Los Angeles called The Wall Las Memorias, located in East Los Angeles.
Los Angeles has an estimated population of 3.9 million people. Since the epidemic began 31 years ago, about 31,000 individuals have been diagnosed with AIDS, 13,000 of them still are living.
In 2016, 36.7 million people were living with HIV worldwide, and 1.8 million people became newly infected with HIV — 160,000 are under the age of 15. About 4,932 people will become infected with HIV each day—roughly 205 every hour.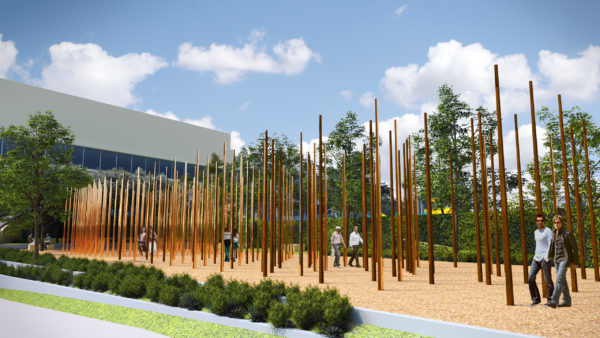 "I came to WeHo to come out when I was 25 years old. The city embraced me and gave me everything I needed to work on becoming a healthy gay man. I met the guy who I ended up marrying, and we were married for 23 years. Within a month after saying our vows, he found out he was HIV positive. We thought he was going to die.
"This monument represents the people who embraced people like me and gave us the opportunity to feel good about ourselves and to feel positive. This horrible and traumatic experience came upon us, and WeHo was a warm and accepting family with unconditional love. The monument is a tribute to that," Ferrera says.