AIDS Diary, October 16, 1992
Remember their names: William F. Chafin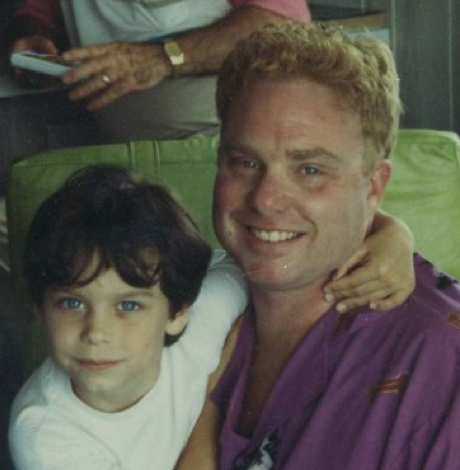 I wrote this stream of consciousness diary entry the morning my best friend died after suffering AIDS related complications in October 1992. It's really hard to believe it was 25 years ago.
I rummaged through some old papers tonight and found a partially filled diary that I had forgotten about. What a different time.
I leafed through it and realized it covered the period of time when so many of my friends were dying of AIDS. One page was filled out thoroughly and it turned out to be a vivid reminder of the darkness we lived through. It's filled with details that stand in such contrast to the changes we enjoy today. The page captures the experience so common to a generation of LGBT people and allies who became so motivated to change the world.
As I reread it for the first time in many, many years, I wondered how young people could possibly understand or appreciate what we went through and how hard we had to fight. I actually found myself somewhat bitter about it.
A proper memorial should seek to tell a person's story and capture their personality. This is not that. It's more like article meant to revive an emotional life many of us have chosen to forget and to memorialize our pain,
Bill would be horrified by the relapse of our culture with the rise of the alt-right and the Orange madman he already knew to be insane. It would have been unimaginable.
Were he still alive today, he would be an ardent proponent of PrEP use and access. And he would be, as he was then, an advocate for people of color and transgender people.
He was not only one of the most influential people of my life, he had a massive impact on all of his friends and his community. Together Bill and I launched America's first gay glossy newsmagazine (it later became a newspaper that continues to publish today, Gay City News in New York); he funded ACT UP and Community Research Initiative on AIDS, AmFAR, GLAAD, HRC and so much else. But his heart, above all things, was the most extraordinary thing he possessed.
I still love you, Bill. And I think of you all the time.
I can't think of you with out thinking of Amanda Rubin, who introduced us, knowing we'd love one another as deeply as we did.
I know this article and my diary entry does not really capture who you were, but that's for you and me. That's our secret.
I still love you. Thank you for being in my life and thank you for continuing to influence it. You gave me gifts I will never lose.
Thank you
October 16, 1992
Last night we let Bill go.
We decided last night it had to end and we did what we had to do to help him.  I made sure he was clean and comfortable and that his favorite music was playing. Dead Can Dance. The neighbors must have know what was up. No one said a word about the music blasting through the night, until at least 5 am.
I swear he loved it.
He knew when I opened the window.
Don't ask me how I know he knew.  He had been unconscious for about 4 days now. Our relationship has been energy for a long time now.
It's cold outside and the silk white curtains rippled when we opened the window near the head of his bed. At one point it caught Bill's eyes and Deborah, his sister, told me knew he saw the ripple and in that moment that she realized he was soon going to leave. She had accepted it and was ready.
She got up and turned the music up even louder and we lit a few more candles.
The nurse helped us as best he could. We decided we'd amplify the morphine.
We kept turning up the morphine and adding benydryl to the his port. Every time we added it we all looked at one another, like people in agreement or in a pact or in need of reassurance.
I kept thinking about everything we'd been through to that point. The brain tumor diagnosis, Stantons' family coming in and trying to take possession of all his belongings after he died, fighting with the insurance companies for drugs and therapies and hospitals and the banks and the family lawyers, keeping secrets from Bill shit we knew would traumatize him, having to shut the doors off to his family and friends, talking to Bill about the choice of having to shut the magazine down or dump more money into it before he died.  He wanted to fund it but his financial status was not clear and I couldn't bring myself to go to his bedside with his check book again. The damned will.  How many times are people going to call him before he dies.  I don't care. Everything is so just out of reach.
I've spent so much of the last year living here and ignoring my boyfriend. I've tried to included him, but who the hell would want that? Douglas has grown away from me and I am distant. I don't want to hurt him. I don't think it's fair that we try to stay together but maybe now that Bill has died we can try again and pick up where we were. But where were we? There really never was a moment in the last 4 years that I wasn't consumed by someone among my friends dying. He's managed to dodge that bullet; I am not aware of any of his friends dying.
Why am I thinking about me? Oh, maybe because I don't think of me at all?
I have given over the better part of these past few years bouncing between hospitals on a near daily basis and taking care of everyone.  My entire family of friends centers around them. Chris, Stanton, Bill, Eric, Joshua, Mark and running to Tennessee to say goodbye to Dan. And now David. God damnit. What fucking god?  Wow, I wrote that down? Nothing is untouched. My entire world is disconnected by my attachments to this.  I live and breath not much else.
Last night when Bill was dying, I was holding his hand and his sister Deborah's hand.  We had been unable to speak or cry aloud and and our tears were streaming in silence. We knew he was in his final moments. He began gasping for air, like a fish out of water. He was drowning. His chest was heaving and pausing and the pace began picking up and stopping then picking up again and he was making noises I never knew before. We cried aloud and got close to him and said our good byes.  I can't write well enough to recreate his death. It was almost like he saw the possibility of something and was running to it.
God, I thought. I thought of God. Why did I think about God?
Something moved me to tell Bill, "You did not make any mistakes, Bill. You lived a good life, you loved and so many people loved you," I whispered in his right ear.  He turned to me. He turned straight into my fae. He look straight at me and I said, "Go peaceful." After a second he looked away. Maybe god came to my mind because I didn't want him to go or maybe because I knew how much he had struggled with fundamentalist crap. I wanted him to know he lived a good life.  Why did I leave the participle dangling? "Go peaceful." I will never forget doing that. He was an English major at Georgetown and the last word he heard was a dangling participle.
I swear I saw his soul leave. His eyes brightened and he looked up, so resolute and noble.
I moved away to give him space and his sister stood up and kissed him on the forehead and said good bye. And I went to her side and looked over her shoulder at his face. I had closed his eyes.
There was an energy radiating about his body and I opened all of the windows when the nurse left the room. He called to let Dr. Sonabend know Bill had died. It was only a few weeks ago that he had told me Bill's brain was being pushed out of the back of his skull. This disease is pure evil.
Debora and I sat with Bill, telling him we loved him. His color changed slowly, then rapidly and I decided we should give him time in solitude and quiet. So we turned the music off and Deborah decided to move the candles to the window, slowly and kind of ceremoniously.
He was gone. That was it. The rage, the anger, the laughter, love, his opinionated demeanor, joy, the struggles, so much just slipped away.  Something tangible flew out the window — his soul left. It resonated through the entire room. Somehow it was hard to believe that the body that was laying in his bed, in the living room of that house on East 11th Street had generated so much passion for so many people, his parties, endless summers in the Pines, his strong character and gregarious, almost aggressive nature. Thank god he got to see Bill Clinton take George Bush down that debate; he loved Clinton, hated all things Republican. We should have let him smell pot as he was dying.
I am waiting for Douglas now. I just called him. He seem surprised and relieved. But he also cried and told me he loved me.
Tony, Kip, Mark and Jan are on their way.  Did I call them? I guess Marc or the nurse did. I hope someone calls Michael.
I'm 31 years old. Will this never end? This year has been living hell. There has not been a single minute that AIDS did not occupy my brain. I'm paralyzed. I'm lost.
Bill's gone. What am I going to do? What now? I have to call D.E.
Everyone is here now.  We are all unable to say much. Even crying together is hard. We're waiting on the mortuary. One by one everyone is going to sit alone with him.
I think they are here. Debra broke down and I want to also, but I want to watch as they get Bill ready.
I just walked outside with him and with the undertakers. I kept my hand on his head the whole way down the steps and into the streets. It's just so surreal to accompany your best friend's body into the middle of a busy Manhattan street. They had him draped in purple and gold velvet; I think he would have hated that.
I got to kiss his head again as they move him in and closed the door. I couldn't take my hand away from the hearse but it pulled slowly away from me.
Scott Morgan passed by while walking his dog as I returned up to the building. He knew instantly. He was so incredibly moved, angry and sweet.
It's just so quiet here now. I can't stay. Everything has scattered now.
President's Emergency Plan for AIDS Relief marks year 20
Achievements PEPFAR have been remarkable, well-documented by outside evaluators, and hugely applauded throughout the advocacy community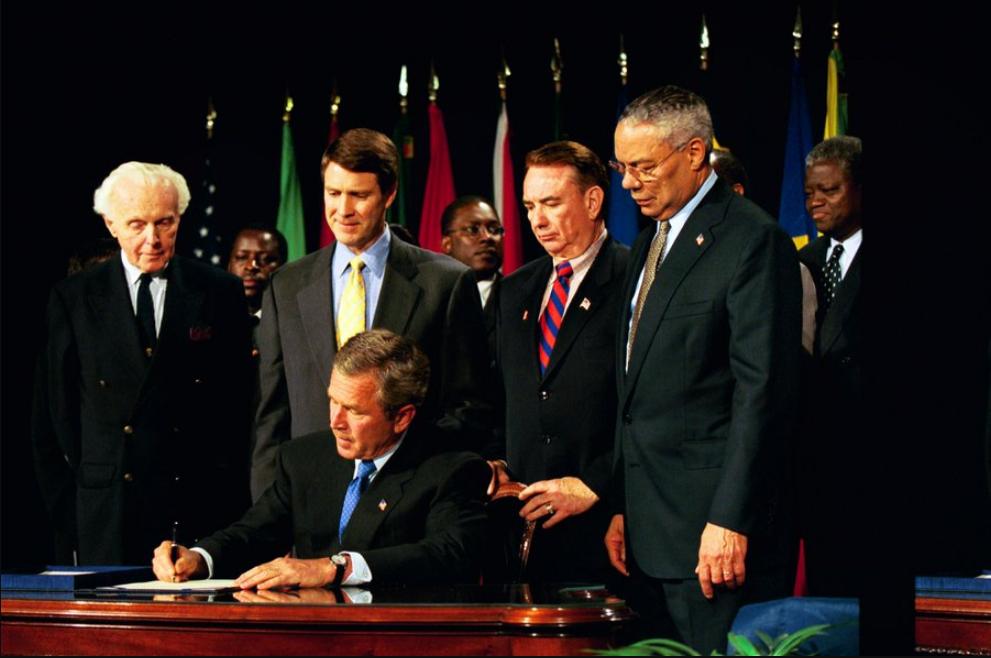 WASHINGTON – The President's Emergency Plan for AIDS Relief (PEPFAR) marks its twenty year anniversary today, marking the largest commitment by any nation to address a single disease in the world.
The initiative which was personally led and launched by former President George W. Bush in 2003, its funding has totaled more than $110 billion to date, including funding for the Global Fund to Fight AIDS, Tuberculosis and Malaria (Global Fund), to which the U.S. government is the largest donor.
PEPFAR is credited with saving millions of lives and helping to change the trajectory of the global HIV epidemic. The White House today released a statement by President Joe Biden marking the 20th Anniversary:
Twenty years ago today, President George W. Bush declared that preventing and treating HIV/AIDS was a foreign policy priority of the United States. At a time when nearly 30 million people were HIV positive, but very few were receiving life-saving medicines, the President's Emergency Plan for AIDS Relief (PEPFAR) transformed the global AIDS response and laid a marker for America's commitment to countries that were impacted the hardest by the AIDS epidemic. Helping lead the bipartisan effort in Congress to authorize PEPFAR is among my proudest achievements from my time in the Senate. To this day, PEPFAR remains a powerful example of America's unmatched ability to drive progress and make life better for people around the world.

Since 2003, PEPFAR has saved more than 25 million lives and dramatically improved health outcomes in more than 55 partner countries. AIDS-related deaths have declined by 68 percent since their peak in 2004, and new HIV infections are down 42 percent. PEPFAR investments have ensured that 5.5 million babies have been born HIV-free. And two decades of investment in partner nations' health systems played a critical role in countries' ability to respond to other health crises such as COVID-19, Mpox, and Ebola.

Today, PEPFAR continues to support 20.1 million people around the world with HIV/AIDS treatment, and my Administration is committed to continuing to lead the global HIV/AIDS response. We will build on our decades of progress to reach the Sustainable Development Goal of ending AIDS by 2030, work to eliminate the stigma and inequities that keep people from accessing care, and keep the voices of people living with HIV/AIDS at the center of our response. I look forward to working with Congress on PEPFAR's reauthorization this year.
PEPFAR is overseen by the U.S. Global AIDS Coordinator, who is appointed by the President, confirmed by the Senate, and reports directly to the Secretary of State, as established through PEPFAR's authorizing legislation.
PEPFAR's original authorization established new structures and authorities, consolidating all U.S. bilateral and multilateral activities and funding for global HIV/AIDS. Several U.S. agencies, host country governments, and other organizations are involved in implementation.
Dr. John Nkengasong, the current coordinator was sworn in on June 13, 2022, and holds the rank of Ambassador leading the Office of the Global AIDS Coordinator (OGAC) at the U.S. Department of State.
Twenty years ago this month, President George W. Bush announced #PEPFAR during his State of the Union address. Since then, the U.S. government has invested $100B+ in the global HIV/AIDS response through PEPFAR, saving 25M lives & bringing us closer to #EndAIDS2030. #PEPFAR20 pic.twitter.com/SMAOHWPZ03

— PEPFAR (@PEPFAR) January 11, 2023
Nobel Prize winning scientist Harold Varmus, who served as Director of the National Institutes of Health (NIH) from 1993 to 1999 and currently the Lewis Thomas University Professor of Medicine at Weill Cornell Medicine in New York City, wrote in an article honoring World Aids Day 2013:
[…] "the PEPFAR story must begin with George W. Bush and his wife, Laura, and their interests in AIDS, Africa, and what Bush termed "compassionate conservatism." According to his 2010 memoir, Decision Points, the two of them developed a serious interest in improving the fate of the people of Africa after reading Alex Haley's Roots and visiting The Gambia in 1990.3 In 1998, while pondering a run for the U.S. presidency, he discussed Africa with Condoleezza Rice, his future secretary of state; she said that, if elected, working more closely with countries on that continent should be a significant part of his foreign policy. She also told him that HIV/AIDS was a central problem in Africa but that the United States was spending only $500 million per year on global AIDS, with the money spread across six federal agencies, without a clear strategy for curbing the epidemic."
Key Facts (As provided by Kaiser Health & Family Foundation)
Although the U.S. has been involved in efforts to address the global AIDS crisis since the mid-1980s, the creation of the President's Emergency Plan for AIDS Relief (PEPFAR) in 2003 marked a significant increase in funding and attention to the epidemic.
PEPFAR is the largest commitment by any nation to address a single disease in the world; to date, its funding has totaled more than $110 billion, including funding for the Global Fund to Fight AIDS, Tuberculosis and Malaria (Global Fund), to which the U.S. government is the largest donor. PEPFAR is credited with saving millions of lives and helping to change the trajectory of the global HIV epidemic.
U.S. funding for PEPFAR grew from $2.2 billion in FY 2004 to $7.0 billion in FY 2022; FY 2022 funding includes $5.4 billion provided for bilateral HIV efforts and $1.6 billion for multilateral efforts ($50 million for UNAIDS and $1.56 billion for the Global Fund).
As the COVID-19 pandemic continues to have profound effects across the world, PEPFAR has acted to respond to COVID-19 in countries that receive support in order to minimize HIV service disruptions and leverage the program's capabilities to address COVID-19 more broadly.
Looking ahead, PEPFAR faces several issues and challenges, including how best to: address the short- and long-term impacts of COVID-19 on PEPFAR and the HIV response; accelerate progress toward epidemic control in the context of flat funding; support and strengthen community-led responses and the sustainability of HIV programs; define its role in global health security and broader health systems strengthening efforts; and continue to coordinate with other key players in the HIV ecosystem, including the Global Fund.
Key Activities and Results (As provided by Kaiser Health & Family Foundation)
PEPFAR activities focus on expanding access to HIV prevention, treatment, and care interventions. These include provision of antiretroviral treatment, pre-exposure prophylaxis, voluntary male circumcision, condoms, and other commodities related to HIV services. In addition, PEPFAR has launched specific initiatives in key strategic areas. For example, in 2015, PEPFAR launched DREAMS, a public-private partnership that aims to reduce HIV infections in adolescent girls and young women.
The latest results reported by PEPFAR indicate that it has:
supported testing services for 63.4 million people in FY 2021;
prevented 2.8 million babies from being born with HIV, who would have otherwise been infected;
provided care for more than 7.1 million orphans and vulnerable children (OVC);
supported training for nearly 300,000 new health care workers; and
supported antiretroviral treatment for 18.96 million people.
In the 15 countries implementing the DREAMS initiative, new diagnoses among adolescent girls and young women have declined with most DREAMS areas (96%) experiencing declines greater than 25% and nearly two-thirds with declines greater than 40%.
The achievements of the PEPFAR program have been remarkable, well-documented by outside evaluators, and hugely applauded throughout the advocacy community and the developing world. In general, milestones have been met, the program has been enlarged (for instance, to include some research on implementation of medical assistance), the roster of PEPFAR countries has grown and spending plans have not been exceeded.