December 1, 2017 at 3:00 pm PDT | by Karen Ocamb
Mariah Carey headlines free AHF World AIDS Day concert
Usually an organization celebrates a company milestone or a holiday with an office party, cake and balloons. But to commemorate the 30 years since AIDS Healthcare Foundation went from much-needed, culturally competent hospice care to the world's largest AIDS organization, Los Angeles-based AHF treated its HIV+ patients, employees, board of directors and volunteers to a free concert from Grammy-winning singer Mariah Carey at the 6,300-seat Shrine Auditorium.
Also there to celebrate the anniversary and commemorate World AIDS Day (Dec.1) were dancer Debbie Allen and her Debbie Allen Dance Academy and award-winning music producer DJ Khaled, both of whom have previously partnered with AHF.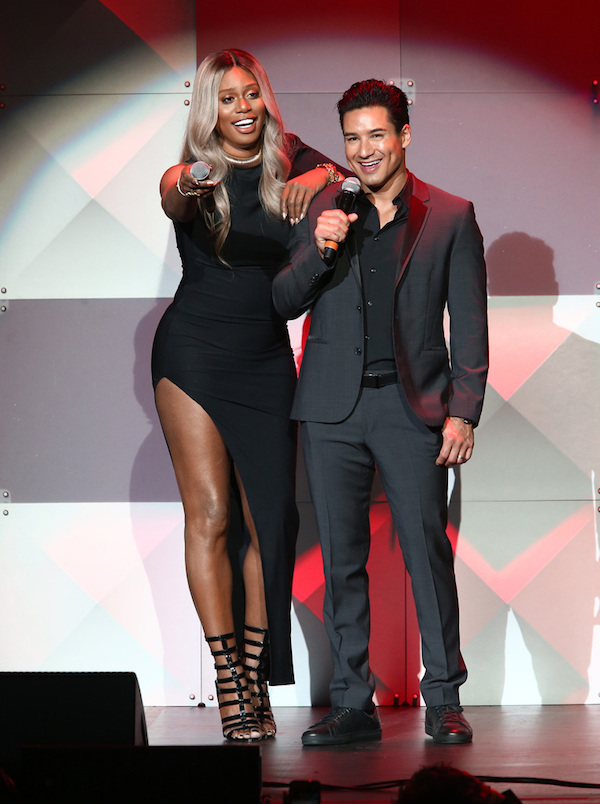 The audience went wild with the guest performance by Grammy-winning singer and songwriter Ne-Yo, whose dapper style was in sharp contrast to raise-the-roof energy of DJ Khaled.
There were funny moments, too. Emcees Laverne Cox, the history-making Emmy-winning (Daytime) and nominated (Primetime) actress/transgender activist, and Mario Lopez, the Emmy-winning host of Extra who was also nominated for his performance as HIV-positive Olympic swimmer Greg Louganis, in Breaking the Surface: The Greg Louganis Story – worked well together. Their entertainment chops were unexpectedly put to the test when Carey's appearance was delayed by some technical difficulty and they had to vamp to fill the time before an excited crowd.
In her introduction to Mariah Carey, Cox talked about the importance of stopping the spread of HIV and added, "it's just as important is stopping the spread of stigma." But, after the grand wind up—the duo was stopped short.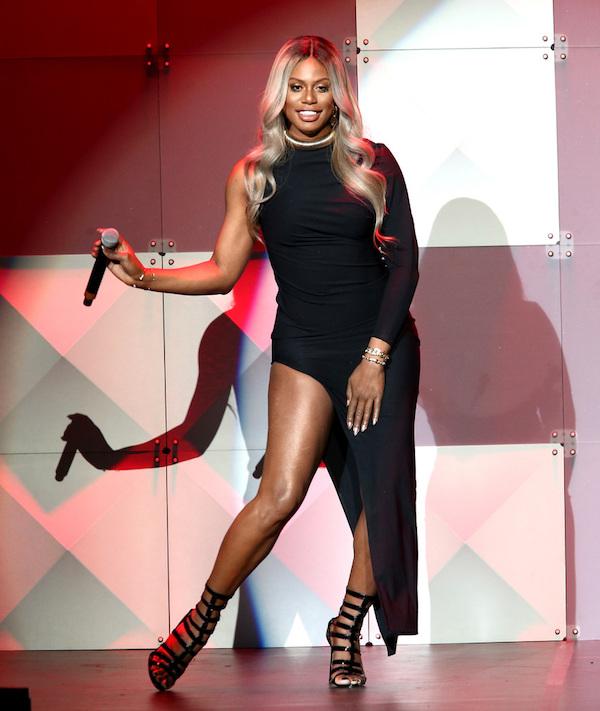 "It's a diva situation here," Cox said, immediately calming the awkward situation, as if everyone in the auditorium understood the code. Then Cox filled the gap by putting on a show herself, strutting across the stage like a diva model. "This moment is everything for me. I love being on stage waiting for Mariah Carey," she said, showing a little leg, claiming Mariah would approve.
When the curtain was finally raised on Carey standing in a very tight dress, she posed in her best display of diva-tude, basking in the warmth of adulation before launching in four crowd-playing songs. The only difference between the dancing, singing, and primping-in-place of fans in the front row and the balcony was a manufactured distance. Otherwise, the room rocked as one with Mariah Carey.
And she responded. Stopping the show, and despite the tightness of her dress, she curtseyed down to reach out to fans who were reaching out to her. She accepted and held up a tee shirt and said thank you for a tee shirt she said she'd never wear – and then agreed to sign the arm of a woman who said she wanted that autograph tattooed. The fan, who said her name was Mary, was helped up on stage, shrieking until Carey said she actually had to get on with the show. Unfortunately, the pen didn't work but Carey seemed genuinely gracious about the whole fan-interruption. In other words, it wasn't a stunt, she seemed to genuinely relate to her fans—and she didn't lip-synch. Even when she ended after four songs, the crowd seemed to accept that no amount of foot-stomping and shouting her name would bring her back. Mariah Carey is a diva; they were used to it.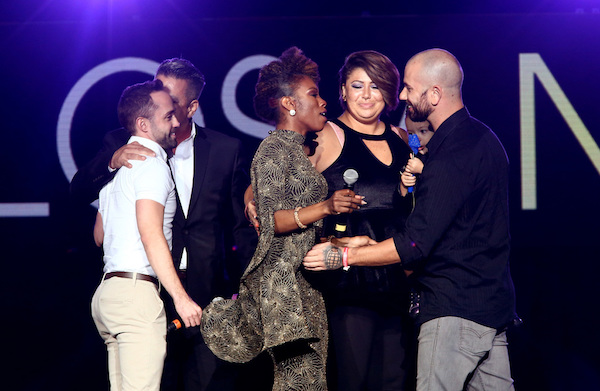 Interspersed with the concert and unguarded fun were moments reminding everyone it was a World AIDS Day commemoration and why they do the work they do. American Idol Season 4 finalist Vonzell Solomon gave a heartfelt performance, interspersed with stirring comments from people with HIV— Taylor Hendricks, Joey Terrill and Cameron Adams—who brought her HIV-negative baby onstage with Josh Rodgers as the crowd applauded the advancements that kept them alive and thriving against the backdrop of people lost to the disease. It was a stark reminder in one visual moment of the expanse between death and the threat of death then—and life today, with the reminder of work still be done.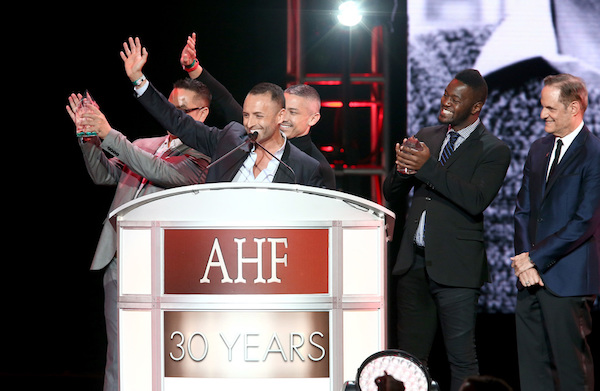 And prevention was underscored. AHF honored Impulse Group United, the international advocacy and empowerment group funded by AHF that is "dedicated to promoting healthier sexual lifestyles among young gay men in 20 cities around the world." AHF President Michael Weinstein presented Kevin Pakdivichit, AJ Alegria, Impulse founder Jose Ramos and Rig Rush with the Chris Brownlie Community Champion Award, named in honor of gay political activist, Weinstein's best friend and AHF co-founder Chris Brownlie, for whom the first AHF AIDS hospice was named. Brownlie died in 1989.  Ramos said he approached Weinstein about doing something about AIDS after seeing a friend die. "It changed me," he said.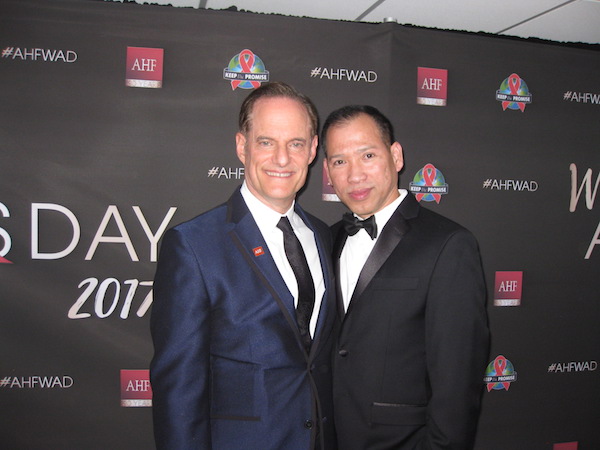 AHF Board of Directors Agapito Díaz, Curley Bonds, Gabriel Maldonado, Ken Bentley and Condessa Curley illustrated the dedication of professionals to ending the ongoing scourge of HIV/AIDS, especially in communities of color. "Today's space was created so that we could bring celebrities, community, artists and advocates together to have an intersection of conversation that will transform and reform around the country and around the world," AHF board member Gabriel Maldonado, Founder and CEO of TruEvolution, a Riverside-based LGBT and HIV/AIDS advocacy organization, told the Los Angeles Blade.
When Weinstein took the stage, he tossed aside his scripted remarks and spoke extemporaneously, including introducing the raucous crowd to his husband, Frank, who also received an enthusiastic ovation. "I want to thank the hundreds of AHF patients who have put their trust in us," Weinstein said, noting that the work of fighting HIV/AIDS is far from over.
Weinstein also alerted the audience to the work AFH does around the world—and in forgotten areas like Puerto Rico, which is still devastated from the hurricane more than two months ago.
Weinstein announced that he was flying to Miami for another World AIDS Day event – and to honor the heroic Mayor of San Juan, with whom AHF has been working closely. "It's still about love, compassion, and helping people who need our help," he said.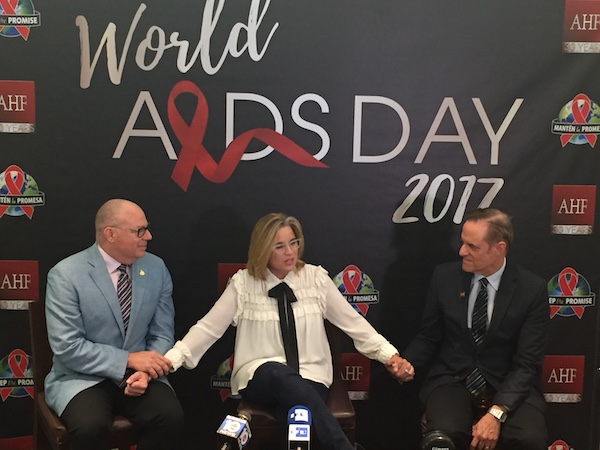 Florida State Rep. David Richardson (first openly gay state rep in state), Carmen Yulin Cruz, Mayor of San Juan, PR and AHF president Michael Weinstein on Dec. 1 in Miami, Florida. (Photo courtesy AHF)
AHF will hold a series of events across the world to continue to spread awareness about HIV and AIDS, including free concerts in Haiti, Mexico City and throughout the United States where HIV testing will be provided, as well.
AHF cites UNAIDS: over 36 million people are living with HIV/AIDS around the world. Each year 2 million people become infected with the virus and 1 million people die of AIDS-related causes. While millions of people today are accessing lifesaving antiretroviral therapy, millions more still desperately need it. The end of the epidemic is only possible, if governments and world leaders Keep the Promise on AIDS."
Visit AHFWAD.org for more information on the concert events AHF will host in Miami, Haiti and Mexico City.
(Note: all AHF concert photos shot by Getty Images for AIDS Healthcare Foundation)