January 4, 2018 at 3:03 pm PST | by Karen Ocamb
WeHo Jesus dead at 57
To be sure, the victory for marriage equality was a civil rights issue. Religious recognition of a same sex relationship was the choice of the couple and whatever religious official might want to officiate, often a problem for religious institutions even after the Supreme Court ruling striking down Prop 8 and upholding Edie Windsor's challenge to the so-called Defense of Marriage Act in June 2013.
And yet, there was something warmly stunning about seeing Jesus standing alone above the crowd making their way into West Hollywood Park for a rally that June 26, 2013. "Marry Who You Love" said a sign he held close to his chest. Out-of-towners took photos, as if they, too, couldn't believe their eyes. Here was the answer to that age old question: What would Jesus do? Or in this case, What would Jesus say about same sex marriage rights? "Marry who you love."
Folks in West Hollywood, of course, know Jesus well. In fact, he's known as "WeHo Jesus," aka Kevin Short, or Kevin Lee Light—and news of his death from a lung problem last Dec. 13 shocked the community when it came to light on Wednesday. He was 57.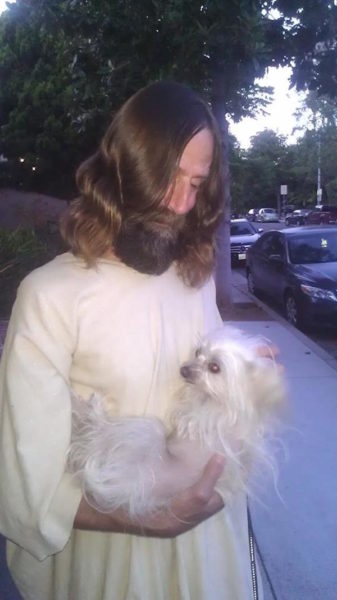 WeHo Jesus was a neighbor of mine on North Laurel Avenue in West Hollywood. I often saw him out on the street in his Jesus robe tending to the garden in front of the building on N. Laurel and Fountain Ave. There was something both so practical and yet so simultaneously spiritual about the image. He was close with another neighbor, actor Brian Hamilton, who posted a notice about Short on his Facebook page, with a photo of WeHo Jesus holding Hamilton's sweet dog:
"I have just confirmed the sad news that my friend and neighbor Kevin Short, aka "WeHo Jesus" or Kevin Lee Light, has died after a brief illness. We've lived across the street from one another for over 20 years. I hadn't seen him in a few weeks, so I tried calling him & voice mail was full. Then I sent an email. No response. Kevin's neighbor Wes who also lives in the same building just confirmed he has died.
UPDATE: I just spoke to someone at Cedars Sinai who, although he "couldn't release any info" did let me know that Kevin's body has been claimed by a family member. I wanted to be sure he's not unclaimed at the county morgue. When I have more info about a memorial or burial, I'll share," Hamilton wrote on Twitter.
But one thing: whether on Laurel Avenue, or Sunset Boulevard or at a marriage equality rally—WeHo Jesus knew when his job transcended cheesy photos with fans.
Short was a member of the entertainment community, appearing in PSAs for his beloved West Hollywood and various music and comedy videos. "He appeared in the "Nose Business Like Show Business" episode of comedian Brody Stevens' Comedy Central TV series "Brody Stevens: Enjoy It!" alongside Zach Galifianakis," wrote Variety.  Stevens posted a tribute to Short to his Twitter account, which reads, "Beyond generous and supportive of all the comedians. He was part of The Comedy Store & Los Angeles…I'll miss him."
Actress Pauley Perrette tweeted: "Oh my heart. RIP #WeHoJesus Kevin was my pal. A beautiful creature. (If you don't live here and didn't know him, you'll never understand)"
She re-tweeted a photo given her by a follower named Ken: Thank you! That was the pic I was looking for! #WeHoJesus marching with me and my church at Gay Pride. Kevin was love. RIP.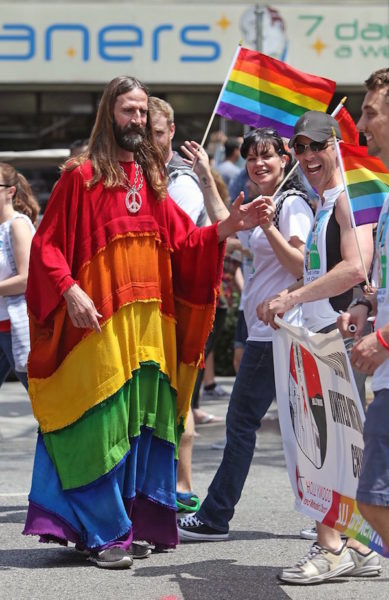 And a blessing on you, Kevin Short, WeHo Jesus, for sharing a light at times when it was needed the most. RIP.