amfAR's Dr. Mathilde Krim dead at 91
AIDS pioneer's life reflects LGBT/AIDS history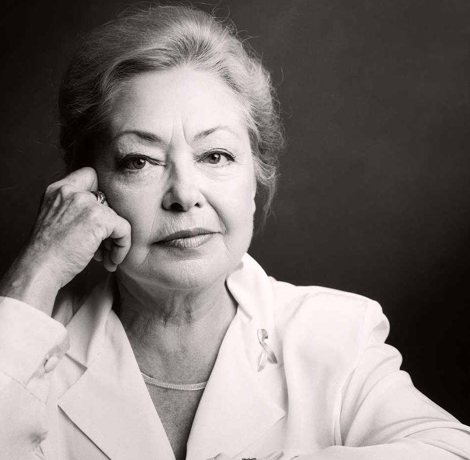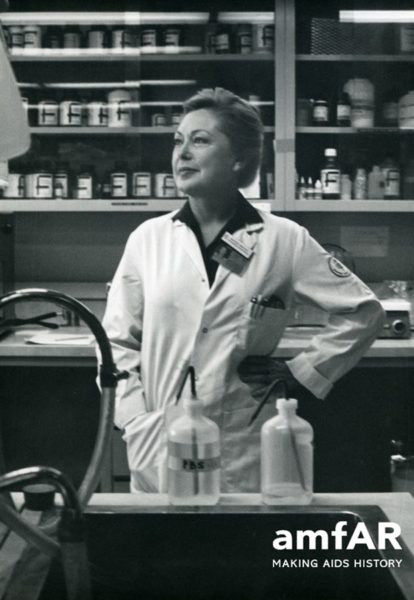 Dr. Mathilde Krim, a wealthy, straight, scientific researcher who devoted her life to fighting HIV/AIDS, died on Monday (January 15, 2018) at her home in Kings Point, N.Y. at the age of 91.
"The board of trustees and staff of amfAR mourn the passing of our beloved Founding Chairman, Mathilde Krim, Ph.D. A pioneer in AIDS research and activism, Dr. Krim was at the forefront of scientific and philanthropic responses to HIV/AIDS long before the world fully understood its catastrophic global reach," reads amfAR's statement issued Tuesday morning.
"As amfAR's founding chairman, and chairman of the board from 1990 to 2004, she was the heart and soul of the organization. She helped create it, supported it, kept it afloat more than once, and guided it with extraordinary dedication. She testified on Capitol Hill on several occasions, and was a driving force behind legislation that expanded access to lifesaving treatment and behind efforts to scale up federal funding for AIDS research. In August 2000, she was awarded the Presidential Medal of Freedom – the highest civilian honor in the United States," the statement continued.
"Dr. Krim had such a profound impact on the lives of so many. While we all feel a penetrating sadness at the loss of someone we loved so deeply, it is important to remember how much she gave us and the millions for whom she dedicated her life. There is joy to be found in knowing that so many people alive today literally owe their lives to this great woman," amfAR concluded.
New York-based Gay USA co-host and co-producer Andy Humm and longtime AIDS activist Peter Staley were the first to note Krim's passing on their Facebook pages Monday night.
"My greatest AIDS hero died a few hours ago," Staley wrote. "Dr. Mathilde Krim, founder of amfAR, warrior against homophobia and AIDS-related stigma, dedicated defender of science and public health, and mother-figure and mentor to countless activists, will leave a deep hole in the continued fight against AIDS — a fight she dedicated her life to. She was 91."
"All honor to the great Dr. Mathilde Krim, founder of AmFAR (started as the AIDS Medical Foundation in 1983), who died today at 91–a giant in the fight against HIV and AIDS bringing both scientific and fundraising savvy and celebrities to the cause in the worst years of the AIDS pandemic. A tireless brilliant, calm, steady voice for healing, research, compassion and justice. Millions owe her their lives," Humm wrote.
Krim's passion to help people with AIDS was fueled by seeing newsreel footage as a teenager of the Nazi Holocaust during World War II. "What it did was to sensitize me against injustice. It's really basically that—cruelty and injustice. And it's a theme in my life," Krim said in a 1990 interview.
"I volunteered for the [AIDS Medical Foundation] because I was incensed!" Krim said in a Nov. 1984 interview with the New York Times in her interferon laboratory at Sloan-Kettering Institute for Cancer Research, promoting the foundation's first fundraiser—dinner and a fashion show headlined as Fashion Affair '84. "So many young men were dying, mostly intelligent and sophisticated young men, some of the city's best products. And many would be dying abandoned or alone because they were afraid to contact their families."
Krim's life reads like a movie script with multiple odd juxtapositions—fashion, science, young gay men dying of AIDS while also being a "traditional wife" of a Hollywood studio head.
Krim was born Mathilde Galland in Cuomo, Italy in 1926. Her Swiss father was an agronomist and her mother, who was of Austrian descent, had grown up in Czechoslovakia. Her father moved the family to Geneva, Switzerland when she was 6.
As World War II started to break out in Europe, Krim heard stories about "sinister-sounding people called the Jews." 
At one point one summer, Krim worked as a gopher in the office of a lawyer who represented the United Jewish Appeal in Geneva. She saw the influx of Jewish refugees seeking asylum in Switzerland, only to be scoffed at and turned over to the Nazi-aligned Vichy French if they had no bank accounts.
"It made me sick. I was 16, 17, you know; one is impressionable. I was indignant. I decided, 'Oh, no, I`m not going to live in a country that does this,'" she told an interviewer in 1990.
The epiphany came one day when she saw newsreel footage about the liberation of the Nazi concentration camps. "I went home and cried and told my parents. They said, 'Oh, it may be exaggerated; it may not all be true.' I kept crying; I was in a state of shock. And that lasted several days. To be young and to be unprepared for something like that-it was a terrible psychological shock," Krim said. "I had never ever seen somebody die or dead, you know, and there I see human bones-most horrible pictures-being dumped from a truck into a hole in the ground, and this kind of thing."
"I grew up not really knowing what was going on in the camps," Krim said in 1988, "though I knew that there was a good deal of anti-Semitism in Europe. My parents were no worse than the others, but they were like the others."
But the "idea that people of my society were responsible for what had happened—it was very shocking to me. And I became very interested in knowing who were those Jews whom everybody had been after. Because I heard those terrible stories, that they were exploiting others, and I wanted to see for myself."
In 1945, Krim went to the University of Geneva and met Jews from British-controlled Palestine. "They were totally different from what I was told," she said. "I thought, 'My God, if anything, I want to be like them.' "
Mathilde converted to Judaism and started working with a militant anti-British underground movement called the Irgun, run by a radical Zionist named Menachem Begin. Mathilde helped smuggle weapons to Begin from old French Resistance sympathizers. (When Begin became Israeli prime minister years later, he would be Krim's houseguest.)
During this time, Krim studied biology in Geneva and, in 1953, received her Ph.D. She also fell in love with fellow Jewish radical David Danon and took his medical courses when he was away. The couple married and moved to Israel in early 1953. "We were in perfect harmony as long as the world was against us. But as soon as the pressure was off, we divorced," she said
Krim became a junior researcher at the Weizmann Institute of Science and in 1956 was asked to give a tour to a honcho on the institute's board of directors—New York movie executive Arthur Krim. They married in 1958 and moved to New York. Krim's 7-year old daughter Daphna adjusted better than her mother. But eventually, Krim found a job at Cornell University Medical School where she studied virology, with the added benefit of being able to speak German, French, Italian, English, Hebrew and "some Spanish."
In 1962, Krim transferred to Sloan Kettering to pursue research into whether cancer might be caused by viruses. Her lawyer husband Arthur Krim, meanwhile, became chair of Orion Pictures and a prominent Democratic fundraiser and senior advisor to three Presidents—John F. Kennedy, Lyndon B. Johnson and Jimmy Carter. Mathilde Krim was the gracious hostess in their art-filled townhouse on East 69th Street when a president or presidential contenders such as Walter Mondale held court or stayed over.
Her husband was also a big fan of Democrat intellectual Adlai Stevenson, which spurred the couple's interest in the civil rights movement in the US and Africa. With her passion to fight injustice, Krim became a member of the Congress on Racial Equality (CORE) and in 1966, joined the National Urban League. Meanwhile, from 1966 to 1968, Arthur Krim served as chair of the Democratic National Finance Committee.
By 1970, while writing a research report for a panel studying the history of cancer—a report that played a significant role in passage the National Cancer Act of 1971—Krim discovered an account of interferon, "a naturally occurring protein that seemed to 'interfere' with viruses, including those that caused tumors. Some experiments even indicated that interferon was effective against the tumors themselves," according to the New York Times.
Krim was hooked on the possibility that interferon could lead to a more humane biological treatment for cancer, though other researchers were considerably less impressed, calling it "imaginon," accusing her of letting her heart rule her head. She was soon dubbed the Interferon Queen—a nicknamed she earned, using guile to get funding from the National Cancer Institute after being turned down. In 1975, she convinced the institute to sponsor an international conference on interferon and the night before she and her Hollywood-connected husband threw a party for 100 at their swank Manhattan townhouse.
"She more or less singlehandedly rescued the field from oblivion," Martin S. Hirsch, an interferon expert at Massachusetts General Hospital, told the New York Times.
The institute gave her funding, as did the American Cancer Society, and by 1981, Krim had $6 million for her research, in addition to what she could raise from outside foundations and donors. Though touted as a possible cancer breakthrough, the research initially yielded mostly disappointments, treating only a rare form of leukemia. Her reputation as a detached scientist was questioned.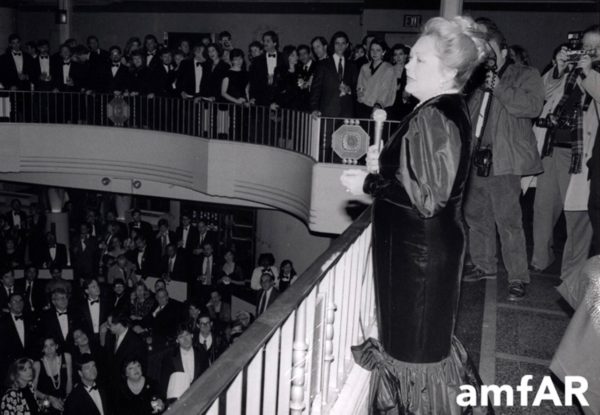 'I probably could have done more if I had a husband less involved in things," Krim told The New York Times in 1984.  "Research is such a competitive life, and most of my colleagues are men who have wives who do everything at home. I know if I have to give a dinner for 100 people and be all dressed up and have my hair done, I can't concentrate completely on my work."
But in 1980, Krim's attention was diverted by mysterious symptoms impacting patients of her research colleague, Dr. Joseph Sonnabend, who practiced medicine in Greenwich Village. Gay men were coming to him with enlarged lymph nodes, enlarged spleens and infections that failed to respond to treatment—and they had seriously compromised immune systems.
"Clearly, it was a biological infectious agent that was causing this disease and we also concluded that it must be sexually transmissible. My friend started using his medical practice as a source of clinical (blood) samples; he would send them around to experts to try to find another link, but nobody would figure out anything," Krim later recalled.  "In the spring of `81 Dr. Sonnabend came to tell us that some of his patients were dying, and our research activities were intensified."
By then, Krim was the director of the interferon laboratory at Sloan-Kettering. "It was totally mind-blowing for a scientist who thinks she knows something to realize that, here in the middle of New York in the 20th century, a new disease could occur," Krim said.  "I personally didn't believe for a minute that being gay could cause it. It was a scientific and medical puzzle that attracted my attention."
Krim and Sonnabend worried that the mysterious disease was spreading but no one seemed to listen. The disease was killing those who "deserved it."
Though her husband had gay friends, Krim told POZ Magazine, "I knew nothing about the gay community in 1981. Dr. Joseph Sonnabend sent me his patients, including Michael Callen, who told me what gay life was. That was quite an education! I was disgusted by the way society accused gay men of having created something terrible. When you think of it, the promiscuous life was caused by society—it didn't allow gay men to get married or to have honest relationships. They had to hide."
Krim's compassion and hatred of injustice set in.
"In those early days, they were literally dying in the streets," Krim told the Los Angeles Times in 2000.  "[Gay men who had AIDS] lost their jobs, their apartments–their families turned away from them. It turned my stomach, it really impacted me and I decided this was something not to be tolerated."
Unable to raise funding for their research, the colleagues decided to start their own organization in June 1983. The AIDS Medical Foundation (AMF) was co-founded by Krim—then 57 years old—Sonnabend, Nobel-prize winning scientist Dr. David Baltimore, singer, Sonnabend patient and AIDS activist Michael Callen (co-founder with fellow Sonnabend patient Richard Berkowitz of the People with AIDS Coalition), and respected philanthropist Mary Lasker.
The foundation was created to serve as a "scientific venture capitalist" to give provide seed money to researchers and scientists with promising AIDS-related projects that had been turned down for government grants. They wanted to be the AIDS version of the American Cancer Society. Arthur Krim kicked in the first $100,000 and within 90 days, Mathilde Krim had raised an additional $550,000. She also continued her interferon research, oversaw AMF operations, visited hospitals and clinics, and hosted fundraisers. Nothing was easy with efforts hampered by stigma. The AIDS Medical Foundation could not even list its full name in the lobby index in the Helmsley Building at 230 Park Avenue, having to list its office as A.M. Foundation.
Working together wasn't easy, either. When Callen and Berkowitz wrote the first risk-reduction pamphlet under Sonnabend's oversight entitled "How to Have Sex in an Epidenic: One Approach" espousing condom use, they approached Krim about publishing the safe sex guide through AMF. However, POZ founder Sean Strub writes in his book Body Counts, "Krim balked, fearing the frank language about anal sex was too risqué and would turn off potential donors. She did agree to let the foundation serve as a fiscal pass-through, so donations to print it would be tax-deductible."
It was a serious concern, with donors from large corporations and Wall Street investment houses buying into the mythology of homosexuality.
"They felt that this was a disease that resulted from a sleazy life style, drugs or kinky sex—that certain people had learned their lesson and it served them right," Krim told the New York Times in 1988.
"That was the attitude, even on the part of respectable foundations that are supposed to be concerned about human welfare."
It sounded like the anti-Semitic propaganda she heard about Jews from the Nazis and Nazi sympathizers. "I thought we had to enlarge our board and diversify—load it with straight people so that it's not one more gay organization," she said. To that end, she brought on board Elizabeth Kummerfeld, whose husband, Donald D. Kummerfeld, was president of Magazine Publishers of America. They set about planning for a $150-a-ticket November 1984 fashion show at the Tower Gallery, 45 West 18th Street, for which 50 designers, including Pauline Trigere, Bill Blass, Zandra Rhodes, Adolfo, Galanos and Calvin Klein, and other designers agreed to donate dresses and gowns. The show as narrated by Arlene Francis, followed by an auction and a buffet planned by Craig Claiborne. Former First Lady Rosalynn Carter, a friend of the Krims, attended.
Funding for Sonnabend's research and perhaps a clinic was imperative. "We need such a clinic," Krim told the New York Times in 1984, "because it's a place where patients can come without fear of discrimination. We deal with a population afraid of discriminatory practices, and that is not only gay men but drug users as well."
The AIDS situation as "very worrisome," she continued. "It's not going to remain in the high- risk groups. All the evidence shows the disease is spreading in all directions, but people just aren't worried anymore."
At the same time, on the other side of the country in Los Angeles, pioneering AIDS researcher and immunologist Dr. Michael Gottlieb, was working with actress Elizabeth Taylor to create a foundation using $250,000 in start-up funding contributed by the late actor Rock Hudson, close friend of Taylor's and a patient of Gottlieb's. Krim called them about joining their efforts in the summer of 1985.
"Elizabeth Taylor and others were forming a like-minded organization on the West Coast, and I went out to visit her. She invited me to her house, and was immediately interested in working together, so we joined our organizations to form the American Foundation for AIDS Research," Krim said in a 2015 interview. "From then on, Elizabeth dedicated herself to doing public speaking and even testifying in front of Congress."
'It was a shotgun marriage," Gottlieb told Vanity Fair in 1992, a marriage of necessity between science and show business.
"It did occur to me that having AmFAR on the East and West coasts might dilute it," Taylor said. "Then I realized that Mathilde is a very powerful lady with a background that couldn't have been more suitable. So it seemed like a very large and powerful decision."
Mathilde Krim is "a smart woman and one of the most powerful I've ever met," says Bill Misenhimer, who became amFAR's first executive director, told the magazine. "You don't fight her because she always wins. And AIDS is her life."
"We complement each other very well," Krim told VF, shrugging off questions about clashes. "I have a professional education in biology and medicine, and because I'm not a public figure I can work at the desk long hours. I mind the shop. Elizabeth contributes to projecting an image of the organization. She deals with the public very well."
That was a quick lesson learned for the new national organization when Taylor appeared at the second amFAR fashion show in 1985 in Jacob K. Javits Convention Center in New York City. "We'd dutifully set in place security protection, but we didn't make sufficient arrangements," Krim recalled. "We didn't realize she'd be mobbed by the crowd. She was atop a staircase with all the paparazzi and the public pushing behind—they almost threw her down."
While Krim was gaining momentum with AMF, she was being unfavorably scrutinized at Sloan-Kettering by new president Paul A. Marks.
"I was told very clearly that I should tone down my visibility," Krim told the NYT in 1988.  "He didn't want his institute to become known as an AIDS hospital. Bad blood developed and at one point I decided, 'This is enough.'"
(A spokesperson told the NYT that Sloan-Kettering continued to contribute to research on AIDS and interferon therapy.)
Krim left Sloan-Kettering in 1985 and subsequently became an associate research scientist at St. Luke's-Roosevelt. But she was finished as a research scientist. In 2000, the Los Angeles Times noted that her besmirched, dogged research into interferon were vindicated: "Interferon has proved effective in inducing remissions in hairy-cell leukemia, and now is used to treat a long list of serious maladies: bladder cancer, renal cell cancer, hepatitis C, malignant melanoma, multiple myeloma, non-Hodgkin's lymphoma and Kaposi's sarcoma."
Serving as AmFAR's board chair suited her. "I came to the conclusion that it's better if I stay on the outside and help people inside the labs," she said. "I'm not such a genius that somebody else cannot do what I was doing. And these would be people who cannot do what I can."
But Krim was able to use that scientific knowledge to challenge important issues that others took as fact. One of the most critical examples was in 1986—before ACT UP—when she took on the medical establishment over the testing of AZT. Per protocol, half the test subjects were given placebos, which Krim concluded would mean the placebo group could possible die by the time the effectiveness of the drug was determined. Though not a cure and saddled with harmful side effects, at least AZT could extend the dying person's life for a few months.
"People who are on their last legs should get anything they want," she said. "We should just make sure we're not killing them with it."
Krim testfied before Congress that she opposed placebos in "double-blind" drug trials for people with full-blown AIDS. She lost out to two powerful opponents—National Cancer Institute top AIDS drug expert Samuel Broder and NIH AIDS research coordinator Anthony S. Fauci. But she eventually helped convince the NIH two years later to stop using placebos and to use AZT as the control instead. Additionally, Broder joined AmFAR's scientific advisory committee, helping determine who gets grants.
One of amFAR's biggest nights was the appearance of President Ronald Reagan, who had been invited by Taylor to speak at the benefit where Surgeon General Koop was among the honorees. It was Reagan's second term in office and he had not yet addressed the AIDS epidemic. The benefit was the night before the third international conference on AIDS in Washington.
"He and his advisers must have thought that this was a good opportunity to appear in public in front of people who would behave reasonably well," Krim told the New York Times in 1988.
A Presidential speechwriter talked to AmFAR's president Mervyn F. Silverman, who suggested that Reagan stress compassion and avoid the controversial systematic testing for the AIDS virus.
"The President said some of the right things, but he chose to mention testing," Krim said. "So that was the undoing of the rest of his speech. Even in our audience some people resented it, and he was in fact hissed, which was not the polite thing to do. But he should have known better."
In fact, that May 31, 1987 speech contained harsh words reflective of his religious right domestic policy base. As of April 1987, the Centers for Disease Control reported 33,997 cases of AIDS in the US, with 19,658 deaths, no cure and the pall of stigma hanging over the country.
"If a person has reason to believe that he or she may be a carrier, that person has a moral duty to be tested for AIDS; human decency requires it. And the reason is very simple: Innocent people are being infected by this virus, and some of them are going to acquire AIDS and die," Reagan said. "I've asked the Department of Health and Human Services to determine as soon as possible the extent to which the AIDS virus has penetrated our society and to predict its future dimensions."
He said the AIDS immigration ban, testing for all federal prisoners, and possibly testing of veterans, "in addition to the testing already underway in our military and foreign service."
"[Reagan's speechwriters] didn't know anything about AIDS, so we wrote the first half of the speech, where Reagan talked about compassion, justice, care — all the right things," Krim told Vanity Fair. "We asked them to please not talk about mandatory testing, because it was not recommended scientifically, legally, or medically. We said it would elicit a furious reaction from the public. But one of Reagan's advisers revised the speech and put it in."
"The president mentioned mandatory testing and people jumped out of their seats. Then they started heckling him, so I jumped up and said, 'Don't be rude. This is your president and he is our guest,'" Taylor told the magazine.
Krim stuck with amFar until 2005 when she stepped down as founding chair, having helped build the organization into a prominent private supporter of AIDS research. Michael Musto wrote in POZ magazine,  "As Dr. Mathilde Krim 'a.k.a. the Mother of AIDS advocacy' passes the amfAR torch to classy designer Kenneth Cole, her once-great institution may claim it's not losing a legend but gaining a brand name. But can its new leader see past the bottom line to make amfAR not only fashionable but relevant again?"
amfAR would argue they are exceedingly relevant with their latest grants to three young scientists  working on new HIV treatments and "leveraging vaccine research to help cure HIV."
Krim does not leave this earth a saint—she disagreed with Taylor about going international, for instance, a debate Taylor won with the organization being renamed the Foundation for AIDS Research (amfAR, versus amFAR). To date amfAR has raised and invested an estimated $517 million for thousands of programs, according to the New York Times obituary on Krim.
And Taylor was not the only one with whom Krim disagreed, especially over political issues. In 1990, New York Mayor David N. Dinkins asked Krim about naming a city health commissioner. Krim recommended Indiana's commissioner, Dr. Woodrow A. Myers Jr., who advocated names-reporting and possible quarantining of people with AIDS. Krim and others thought about it, stepped back, then re-endorsed Myers, then withdrew the endorsement. Myers was eventually appointed anyway and Krim was out in the cold.
"I think she's exceptionally naïve politically," playwright Larry Kramer told The Times. "We are all very angry with her, so far as one can ever get angry with Mathilde, because we love her so."
But in 2000, Krim received the Presidential Medal of Freedom from President Clinton for her decades of AIDS-related work. And the National Portrait Gallery accepted two photographic portraits of Krim into its permanent collection in recognition of her leadership in the fight against HIV/AIDS—portraits by leading American photographers Annie Leibovitz and Joyce Tenneson.
"Everybody thinks of at least one person whom he has lost or is afraid for," Krim told the New York Times in 1988. "And I am no different. I have my little list."
And now it's Mathilde Krim who is on the list of AIDS heroes who have died.
"Dr. Krim was a close friend and mentor, and I am deeply saddened by this news. She dedicated her life to understanding the science behind the epidemic, and was a force to mobilize research around the globe that helped to save millions of lives and reduce the stigma attached to HIV/AIDS," Elton John, Founder of the Elton John AIDS Foundation (EJAF). "The legacy of Dr. Krim's deep commitment to ending HIV/AIDS will live on in the advocacy, action, and compassion of those that follow her lead. We would not be where we are today without her, and we must continue to work tirelessly to further understand and prevent the disease. My thoughts are with her family at this time, she was a true hero."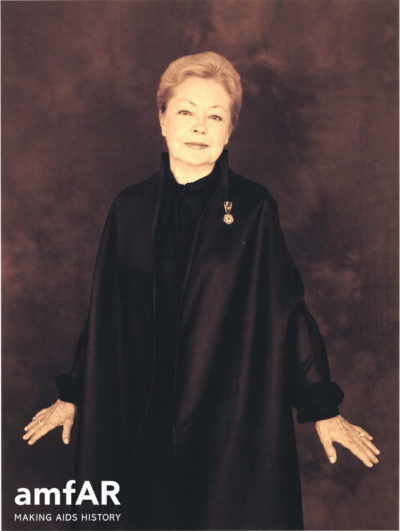 "For over three decades, I have witnessed one of the most remarkable women in my lifetime fight against the plague of HIV/AIDS," longtime LGBT rights activist/author David Mixner, who was honored by amfAR. "Dr. Krim was there when no one else would even touch us. There was not one day in the fight against this epidemic that she wasn't working by our side. Dr. Mathilde Krim was a true legend, heroine and a dear friend."
"We have lost an inspirational, tireless, and catalytic leader of our movement," said Mark Harrington, Treatment Action Group's Executive Director. "Dr. Krim understood the gravity of the epidemic, in its earliest and darkest days, and was driven by her own remarkable intelligence, fierce commitment to civil rights and social justice, extraordinary social and political networks, and true grit to galvanize funders, scientists, policy leaders, and activists toward a single cause: ending HIV and AIDS as a threat to humanity."
"I genuinely believe that we wouldn't be where we are today without Dr. Krim's brilliance, determination, and mobilization," said Tim Horn, Deputy Executive Director of HIV & HCV Programs at TAG. "Beyond her unparalleled contributions to HIV/AIDS research fundraising and awareness, she was an interminable source of strength, support, and wisdom for countless activists over the years."
"TAG has lost a matriarch of our family, a leader in our movement, and a steadfast supporter of our work," said Barbara Hughes, President of TAG's Board of Directors. "We mourn Dr. Krim's passing and join amfAR and so many leaders in the fight against HIV/AIDS in remembering her work and life."
"Matilda Krim was a pioneering legend. Her compassion and foresight at the very beginning of the epidemic played a crucial role in mobilizing support to fight the battle against AIDS," says Michael Weinstein, president of AIDS Healthcare Foundation.
"Even though Mathilde has been gone for a while from any active Public role, it does feel like the end of an era," says Sean Strub, founder of POZ Magazine and out HIV-positive mayor of Milford, Pennsylvania.
"Mathilde used her resources, curiosity, tenacity and heart to provide leadership and build support to fund AIDS research at a time when few of her peers were willing to do so. The history of the epidemic is intertwined with her own; she was persistent, unflappable and prescient."
"I became aware of Mathilde Krim around 1988, while I was working as the staff writer for the National AIDS Network, a coalition of community-based AIDS service organizations in Washington, D.C. By then Dr. Krim was already legendary in the HIV-AIDS community," says John-Manuel Andriote, author of Victory Deferred: How AIDS Changed Gay Life in America. "It's hard to overstate the importance of Dr. Krim and Elizabeth Taylor's "mainstream" (and heterosexual) cachet in helping to ratchet down the fear and stigma associated with what then was a deadly new illness perceived as mainly afflicting gay men."
"As an HIV positive man who has been living with the virus for over 13 years, I know that I would not be alive today without the efforts of Dr. Mathilde Krim," says out New York City Council Speaker Corey Johnson. "I met her during my first trip to New York City, at age 18. Little did I know the important role she would play in my life. My thoughts and prayers go to the family and friends of Dr. Krim. Her legacy will live on in the countless lives she saved."
AMFAR VIDEO:
U.S. announces more funding for HIV/AIDS fight in Latin America
Jill Biden made announcement on Saturday in Panama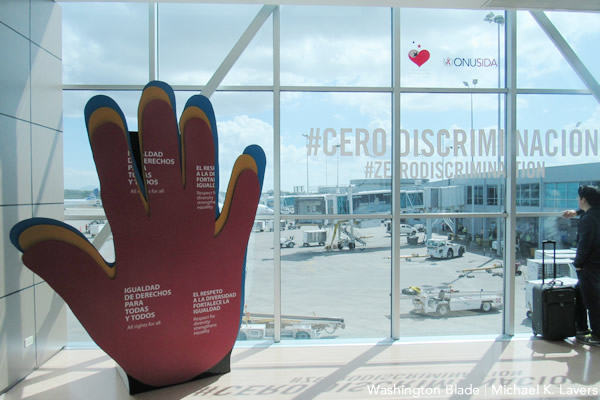 PANAMA CITY — First lady Jill Biden on Saturday announced the U.S. will provide an additional $80.9 million to the fight against HIV/AIDS in Latin America.
Biden during a visit to Casa Hogar el Buen Samaritano, a shelter for people with HIV/AIDS in Panama City, said the State Department will earmark an additional $80.9 million for President's Emergency Plan for AIDS Relief-funded work in Latin America. A Panamanian activist with whom the Washington Blade spoke said LGBTQ+ people were among those who met with the first lady during her visit.
Pope Francis visited the shelter in 2019.
"I'm glad we have the opportunity to talk about how the United States and Panama can work together to combat HIV," said the first lady.
Michael LaRosa, the first lady's spokesperson, noted Panama will receive $12.2 million of the $80.9 million in PEPFAR funding.
"This funding, pending Congressional notification, will support expanded HIV/AIDS services and treatment," said LaRosa.
UNAIDS statistics indicate an estimated 31,000 Panamanians were living with HIV/AIDS in 2020. The first lady's office notes the country in 2020 had the highest number of "newly notificated cases of HIV/AIDS" in Central America.
The first lady visited Panama as part of a trip that included stops in Ecuador and Costa Rica.
The Summit of the Americas will take place next month in Los Angeles. The U.S. Agency for International Development and PEPFAR in April announced they delivered more than 18 million doses of antiretroviral drugs for Ukrainians with HIV/AIDS.
New highly-infectious variant of HIV discovered by Dutch scientists
This new variant of HIV-1 damaged the immune system twice as fast, "placing individuals at risk of developing AIDS much more rapidly"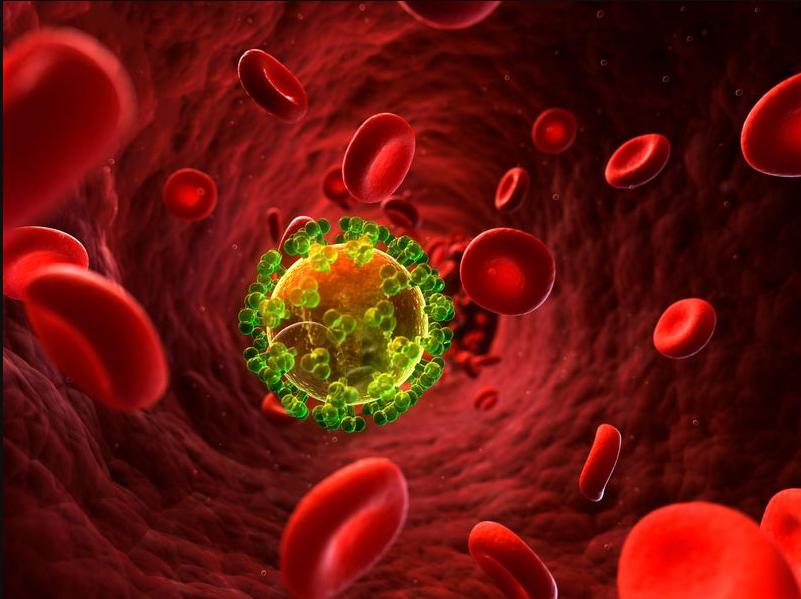 CAMBRIDGE, UK – A study published this week by Science (journal) detailed an alarming discovery by researchers, clinicians and epidemiologists in the Netherlands of a new, highly-infectious mutated variant strain of the human immunodeficiency virus, (HIV), circulating in the country.
The BEEHIVE project – which stands for "bridging the epidemiology and evolution of HIV in Europe and Uganda," detailed the findings which showed that a distinct subtype-B viral variant of HIV-1 damaged the immune system twice as fast, "placing individuals at risk of developing AIDS much more rapidly", and those with this variant were at a higher risk of transmitting the virus to others.
The variant, known as the "VB variant", causes CD4 cell decline to occur twice as fast in infected individuals compared with other viral variants. This is a clinical hallmark, or "signature" of the extent of damage caused by the HIV virus. In addition, those infected with the VB variant also demonstrated an increased risk of transmitting the virus to others, the data suggests.
Individuals infected with the new "VB variant" (for virulent subtype B) showed significant differences before antiretroviral treatment compared with individuals infected with other HIV variants:
Individuals with the VB variant had a viral load (the level of the virus in the blood) between 3.5 and 5.5 times higher.
In addition, the rate of CD4 cell decline (the hallmark of immune system damage by HIV) occurred twice as fast in individuals with the VB variant, placing them at risk of developing AIDS much more rapidly.
Individuals with the VB variant also showed an increased risk of transmitting the virus to others.
The project's researchers, clinicians and epidemiologists did determine however, that those infected with the VB variant had "similar immune system recovery and survival to individuals with other HIV variants."
However, the researchers stress that because the VB variant causes a more rapid decline in immune system strength, this makes it critical that individuals are diagnosed early and start treatment as soon as possible.
BEEHIVE project's lead author Dr Chris Wymant, from the University of Oxford's Big Data Institute and Nuffield Department of Medicine, said: "Before this study, the genetics of the HIV virus were known to be relevant for virulence, implying that the evolution of a new variant could change its impact on health. Discovery of the VB variant demonstrated this, providing a rare example of the risk posed by viral virulence evolution."
"Our findings emphasize the importance of World Health Organization guidance that individuals at risk of acquiring HIV have access to regular testing to allow early diagnosis, followed by immediate treatment. This limits the amount of time HIV can damage an individual's immune system and jeopardise their health. It also ensures that HIV is suppressed as quickly as possible, which prevents transmission to other individuals," Senior author Professor Christophe Fraser from the University of Oxford's Big Data Institute and Nuffield Department of Medicine, added.

In its Global HIV & AIDS statistics — Fact sheet, the UNAIDS Secretariat detailed the statistical data: 
GLOBAL HIV STATISTICS
28.2 million people were accessing antiretroviral therapy as of 30 June 2021.
37.7 million [30.2 million–45.1 million] people globally were living with HIV in 2020.
1.5 million [1.0 million–2.0 million] people became newly infected with HIV in 2020.
680 000 [480 000–1.0 million] people died from AIDS-related illnesses in 2020.
79.3 million [55.9 million–110 million] people have become infected with HIV since the start of the epidemic.
36.3 million [27.2 million–47.8 million] people have died from AIDS-related illnesses since the start of the epidemic.
People living with HIV
In 2020, there were 37.7 million [30.2 million–45.1 million] people living with HIV.

36.0 million [28.9 million–43.2 million] adults.
1.7 million [1.2 million–2.2 million] children (0–14 years).
53% of all people living with HIV were women and girls.

84% [67– >98%] of all people living with HIV knew their HIV status in 2020.
About 6.1 million [4.9 million–7.3 million] people did not know that they were living with HIV in 2020.
People living with HIV accessing antiretroviral therapy
As of 30 June 2021, 28.2 million people were accessing antiretroviral therapy, up from 7.8 million [6.9 million–7.9 million] in 2010.
In 2020, 73% [56–88%] of all people living with HIV were accessing treatment.

74% [57–90%] of adults aged 15 years and older living with HIV had access to treatment, as did 54% [37–69%] of children aged 0–14 years.
79% [61–95%] of female adults aged 15 years and older had access to treatment; however, just 68% [52–83%] of male adults aged 15 years and older had access.

85% [63– >98%] of pregnant women living with HIV had access to antiretroviral medicines to prevent transmission of HIV to their child in 2020.
New HIV infections
New HIV infections have been reduced by 52% since the peak in 1997.

In 2020, around 1.5 million [1.0 million–2.0 million] people were newly infected with HIV, compared to 3.0 million [2.1 million–4.2 million] people in 1997.
Women and girls accounted for 50% of all new infections in 2020.

Since 2010, new HIV infections have declined by 31%, from 2.1 million [1.5 million–2.9 million] to 1.5 million [1.0 million–2.0 million] in 2020.

Since 2010, new HIV infections among children have declined by 53%, from 320 000 [210 000–510 000] in 2010 to 150 000 [100 000–240 000] in 2020.
AIDS-related deaths
AIDS-related deaths have been reduced by 64% since the peak in 2004 and by 47% since 2010.

In 2020, around 680 000 [480 000–1 million] people died from AIDS-related illnesses worldwide, compared to 1.9 million [1.3 million–2.7 million] people in 2004 and 1.3 million [910 000–1.9 million] people in 2010.

AIDS-related mortality has declined by 53% among women and girls and by 41% among men and boys since 2010.
'Promising' HIV vaccine study conducted at George Washington University
"We are tremendously excited to be advancing this new direction in HIV vaccine design with Moderna's mRNA platform"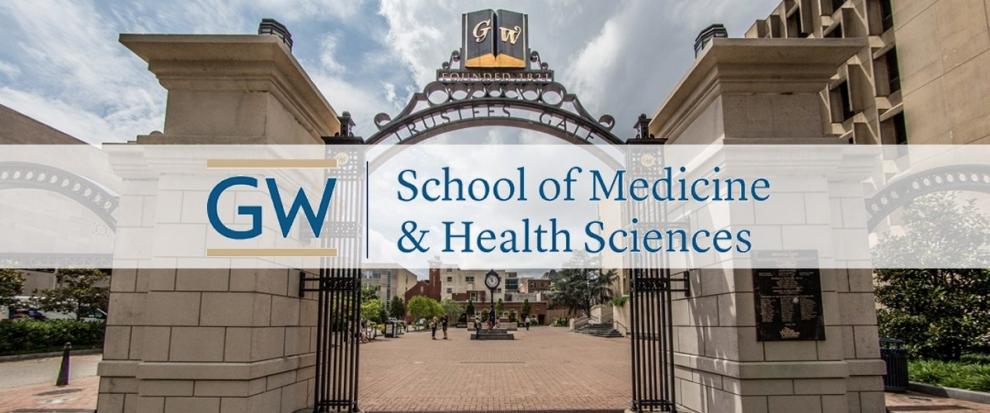 WASHINGTON – D.C.'s George Washington University School of Medicine and Health Sciences is one of four sites across the country in which a preliminary component of an experimental HIV vaccine is being given to volunteer participants in a study aimed at reversing years of failed attempts to develop an effective HIV vaccine by pursuing what study sponsors say is a new, promising approach.
The study, which involves 56 healthy, HIV-negative volunteer participants, is being conducted by the nonprofit scientific research organization known as IAVI and the biotechnology company Moderna, which developed one of the coronavirus vaccines now being used throughout the world.
In a Jan. 27 joint statement, IAVI and Moderna said their study is part of a Phase 1 trial designed to test newly developed experimental HIV vaccine antigens to determine if they will lead to the development of an effective HIV vaccine.
According to scientific literature, antigens are substances such as bacteria, viruses, and chemicals that induce the body to release antibodies that fight off infections. The statement by IAVI and Moderna says a vaccine technology developed by Moderna to use another component of the human body called messenger RNA or mRNA to strengthen a potential vaccine's ability to fight off infection by HIV is also a part of this vaccine study.
"We are tremendously excited to be advancing this new direction in HIV vaccine design with Moderna's mRNA platform," Mark Feinberg, president and CEO of IAVI, says in the statement. "The search for an HIV vaccine has been long and challenging and having new tools in terms of immunogens and platforms could be the key to making rapid progress toward an urgently needed, effective HIV vaccine," he says in the statement.
The statement says that scientific teams at IAVI and the biotechnology firm Scripps Research helped to develop the HIV vaccine antigens being tested in the trials taking place at the GW School of Medicine and Health Sciences and at locations in Atlanta, Ga., Seattle, Wash., and San Antonio, Tex.
It says the trial involving the 56 volunteer participants — who are divided among the four sites — began on Jan. 27 and is being funded by the Bill & Melinda Gates Foundation.
Among those calling the IAVI-Moderna trial an important step in HIV vaccine development is Carl Dieffenbach, director of the Division of AIDS at the National Institute of Allergies and Infectious Diseases (NIAID), which is part of the U.S. National Institutes of Health.
"This is a variation of a theme," Dieffenbach told the Washington Blade. "IAVI in collaboration with NIH did a version of this study already with a protein form of this immunogen," Dieffenbach said. He said that study worked out well and was published in a scientific journal.
"What's unique about this latest study is they're using RNA to deliver the vaccine rather than a protein," said Dieffenbach. "So, this is an important step for us in the vaccine field, that they can now compare the protein to the RNA."
Dieffenbach said the IAVI-Moderna trial is taking place after two other recently completed HIV vaccine studies involving human trials that NIAID was involved in resulted in findings that the two experimental HIV vaccines were ineffective. He said a third HIV vaccine study NIAID is involved in that is taking place in the U.S. and South America is expected to be completed in about a year.
The ongoing study in the Americas involves men who have sex with men and transgender individuals as those participating in that vaccine trial, he said.
Dieffenbach said in addition to the vaccine studies, NIAID is monitoring at least two studies of medication aimed at curing HIV. One of the studies was conducted by HIV researcher Dr. Timothy Schacker, who serves as Vice Dean for research at the University of Minnesota Medical School.
Schacker arranged for human trials of people who are HIV positive and taking standard anti-retroviral HIV medication to be given an experimental HIV cure medication developed by the biotechnology company ImmunityBio called Anktiva, according to a Jan. 31 statement released by ImmunityBio.
The statement says the trials showed promising results in the ability of Anktiva to induce the immune system of HIV-positive patients under standard HIV treatment who participated in the study to "kill" the latent or "hidden" HIV in their body that would otherwise reactivate and cause illness if they stopped taking HIV medication.
The goal of the development of Anktiva is to "rid the body of the virus for good and eliminate the need for antiretroviral therapy," the company's statement says.
Dieffenbach said his office was also monitoring an HIV cure study being conducted by the Rockville, Md., based genetic engineering company called American Gene Technologies. The company is conducting a human trial for a therapeutic treatment it has developed that's intended to enable the immune system of HIV-positive people to permanently eliminate HIV from their bodies. The company has said it was hopeful that early results of the effectiveness of the treatment would become available this year.