Classmate charged in Blaze Bernstein's murder, Orange County
Hate crime not added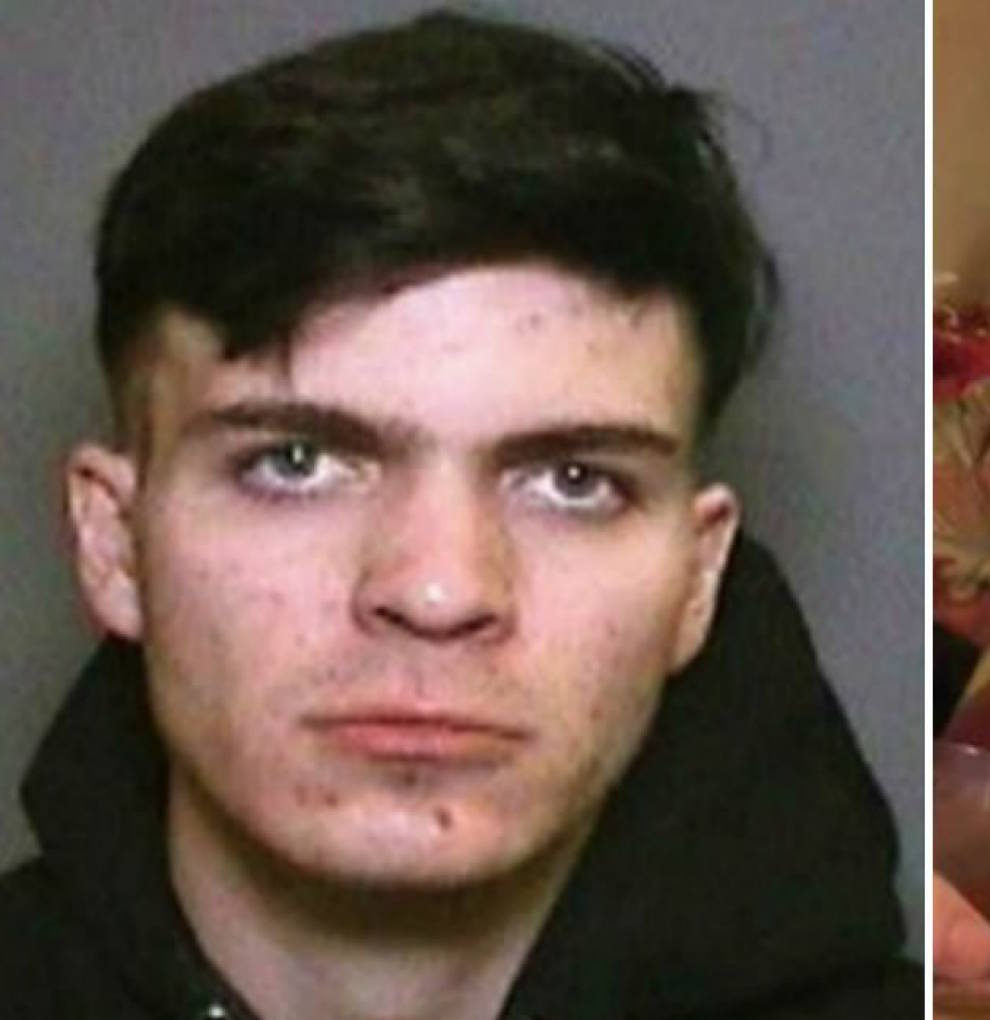 The family of a murdered pre-med college student from Orange County believes he may have been the victim of a hate crime, though prosecutors did not include that charge in their announcement Wednesday.
Nineteen-year-old Blaze Bernstein's murder made national headlines after his body, with more than 20 stab wounds, was discovered in a shallow grave in a park in Lake Forest on January 9, a week after he disappeared.
Bernstein's high school classmate, Samuel Lincoln Woodward, 20, of Newport Beach, was arrested on January 12 after DNA evidence found at the grave and in Woodward's car linked him to the slaying. No murder weapon has been found.
At a news conference on Wednesday, Orange County District Attorney Tony Rackauckas announced that Woodward is being charged with one count of felony murder with sentencing enhancement for "personal use of a knife." If found guilty Woodward could face anywhere from 26 years to life in state prison.
Woodward has not yet entered a plea. He was scheduled to be arraigned Wednesday, but the arraignment was postponed to February 2.
Orange County District Attorney's office spokesperson Michelle Van Der Linden told Los Angeles Blade that Judge Sheila F. Hanson "granted the people's request for no bail." Woodward is being held at the Orange County jail.
According to a search warrant affidavit, which the Orange County Register obtained before it was sealed, Woodward claimed that Bernstein tried to kiss him on the lips.
During questioning, Woodward told investigators the kiss was unwanted and he pushed Bernstein away, according to the affidavit. Detectives noted that Woodward clenched his jaw and fists when recounting the incident, telling them he wanted to call Bernstein a "faggot" and tell him to get off him.
Rackauckas has not filed any hate crime charges against Woodward, saying the case is still under investigation. The description in the affidavit suggests Woodward might want to use the disreputable "gay panic" defense, positing the killing as an act of rage as the result of the victim trying to kiss him.
"As we discover more in our investigation, or if anyone comes forward, we are always able to amend the charges to include a hate crime," Van Der Linden told LA Blade.
Upon learning that the murder may have been an act of rage, the result of gay-panic, Equality California called for a thorough investigation.
"We are saddened by the horrific loss of Blaze Bernstein, who lived his life as a proud member of the LGBTQ community. We extend our deepest condolences to his family," said Rick Zbur, Equality California executive director in a statement. "We expect a thorough investigation into the claims that this was a hate-crime motivated by 'gay-panic.'"
The "gay panic" defense was banned in California in 2014.
Saying Bernstein and his family deserve justice, Equality California added: "We are horrified by the details emerging that this senseless act of violence may have been motivated by homophobic sentiments, and if this is in fact the case, we hope this hate crime is prosecuted at the full-extent of the law."
Although information indicating Bernstein was gay did not come out in initial reports, his parents appeared to confirm it once the Orange County Register reported the details of his death.
"Our son was a beautiful, gentle soul who we loved more than anything," Gideon Bernstein and Jeanne Pepper Bernstein wrote in a blog posting. "We were proud of everything he did and who he was. He had nothing to hide. We are in solidarity with our son and the LGBTQ community."
They added that the investigation was continuing, writing, "There is still much discovery to be done and if it is determined that this was a hate crime, we will cry not only for our son, but for LGBTQ people everywhere that live in fear or who have been victims of hate crime."
Bernstein, a sophomore at the University of Pennsylvania in Philadelphia, was home for the winter break visiting his parents in Lake Forest. After arranging via Snapchat to meet for a late night visit, Woodward picked up Bernstein at approximately 11 p.m. on January 2 and drove to the parking lot of a Lake Forest Hobby Lobby store, near Borrego Park.
Bernstein's parents reported him missing the next day when he missed a dental appointment and they found his wallet and glasses in his bedroom. His body was discovered a week later in Borrego Park in Lake Forest after rains exposed parts of the remains.
Bernstein, who weighed 135 pounds, and Woodward, who weighs 185 pounds, both attended high school at the prestigious Orange County School of the Arts in Santa Ana.
Last summer, Bernstein indicated to friends via text messages that he thought Woodward was sexually interested in him, but that "he made me promise not to tell anyone."
Blood found on a sleeping bag in Woodward's rental car matched that of Bernstein. Woodward's hands and arms had scratches and abrasions and there was dirt under his fingernails. Woodward told investigators the scratches were from a "fight club" and the dirt came when he fell in a muddy puddle.
Woodward told detectives Bernstein got out of the car after the attempted kiss and went to the nearby park. Woodward said he drove to see a girlfriend in Tustin, but could not tell investigators the girlfriend's address or last name.
Gideon Bernstein reported that his son was a pre-med student who intended to major in psychology and minor in chemistry. Blaze Bernstein had recently been named the managing editor of Penn Appétit, a student-run food magazine at the Ivy League university.
More than 500 people attended Bernstein's memorial service held on Monday at a synagogue in Irvine. There, he was eulogized as a personable, sensitive and innovative young man with a passion for gourmet cooking and writing.
Anti-LGBTQ religious extremist celebrates death at Wilton Manors Pride
Mehta points out this type of rhetoric is quite likely to inspire violence against the LGBTQ community by one of Shelley's followers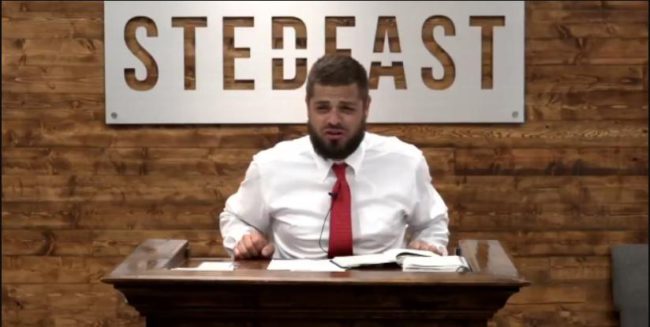 HURST, Tx. – The pastor of a fundamentalist Baptist Church in this suburban Fort Worth, Texas city took to his pulpit to celebrate the death of an attendee at the Wilton Manors, Florida Pride parade this past weekend.
Pastor Jonathan Shelley, whose church is affiliated with infamous "death to gays" Pastor Steven Anderson in Phoenix, Arizona is quoted by Patheos writer and progressive blogger Hemant Mehta saying; […]"I hope they all die! I would love it if every fag would die right now." […]
Mehta, who runs the heavily trafficked The Friendly Atheist, also noted that Shelley told his congregants; "And, you know, it's great when trucks accidentally go through those, you know, parades. I think only one person died. So hopefully we can hope for more in the future."
Mehta noted that the video of Shelley's hate-filled remarks on this and other anti-LGBTQ vitriol is still accessible on Shelley's YouTube Channel. He also points out this type of rhetoric is quite likely to inspire violence against the LGBTQ community by one of Shelley's followers.
The Blade has reached out to YouTube Tuesday for comment but has yet to receive a response.
Editor's note; The language used in the video in the embedded tweet below is uncensored hate speech:
I wrote more about this here: https://t.co/LpUdcXtAoa

That church's videos are still up on YouTube despite the blatant celebrations of violence against LGBTQ people.

— Hemant Mehta (@hemantmehta) June 21, 2021
In a related update from the Daily Beast, Fred Johnson Jr., who was named by Wilton Manors police as the driver of the vehicle that veered out of control killing one person and injuring two others at Saturday's Stonewall Pride Parade has offered his "sincere regrets to all those who were impacted by this tragic event."
Fred Johnson Jr., who has been named by police as the driver of the vehicle that killed one person and injuring two others at Saturday's Pride Parade in Florida, has offered his "sincere regrets to all those who were impacted by this tragic event" https://t.co/w48UXwhse7

— The Daily Beast (@thedailybeast) June 21, 2021
California's LGBTQ Pride week 2021, Capitol Lighting
The building will be illuminated for the week, marking just the second time in California's history that Pride colors have donned the dome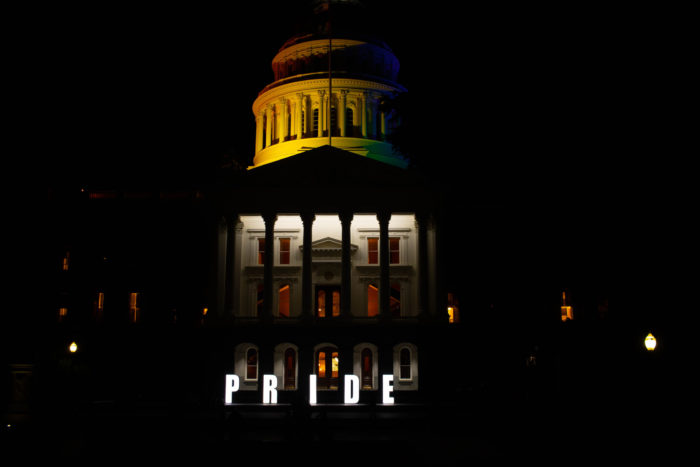 SACRAMENTO — The California Legislative LGBTQ Caucus and partner organizations held a press event and lighting ceremony, Monday, June 21, for the illumination of the California State Capitol Dome in rainbow colors to kick off a weeklong recognition of Pride Month.
The building will remain illuminated for the entire week, marking just the second time in California's history that Pride colors have donned the dome. The first lighting occurred after the U.S. Supreme Court legalized marriage equality.
The ceremony is part of a citywide initiative to put light installations at additional Sacramento landmarks, including City Hall, Sutter's Fort, and the Museum of Science and Curiosity. The lighting initiative is the brainchild of the Sacramento LGBT Community Center and the first of its kind for the region.
Speakers and participants included Assemblymember Evan Low, Chair of the CA Legislative LGBTQ Caucus, Senator Scott Wiener, former Chair of the CA Legislative LGBTQ Caucus, Senator Susan Talamantes Eggman, Vice Chair of the CA Legislative LGBTQ Caucus, California's Senate President pro Tempore Toni G. Atkins, Senator John Laird, Alexis Sanchez, Director of Advocacy for the Sacramento LGBT Community Center, Tony Hoang, Executive Director-designate for Equality California, Tami Martin, External Affairs Director for the Capitol LGBTQ Association and Legislative LGBTQ Caucus members and community stakeholders.

Editor's note: The Los Angeles Blade thanks the efforts of the event's photographer, Nune Garipian, who is responsible for covering the event on behalf of the Blade. All photographs are [Copyright Garipian 2021] and are used by permission.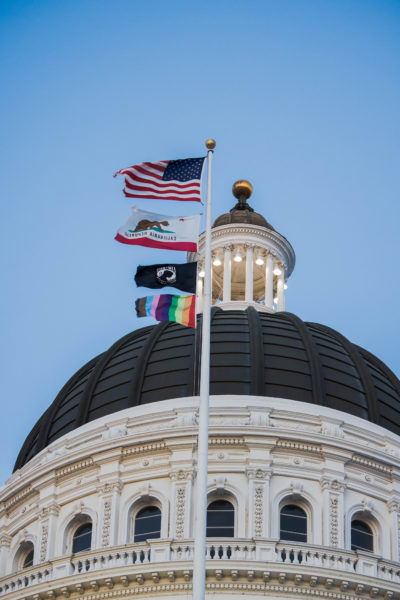 FUVADIS y Red Somos en Colombia apoyarán en el prerregistro virtual del ETPV a migrantes trans y LGBTQ
Grupos trabajan en Bogotá y Barranquilla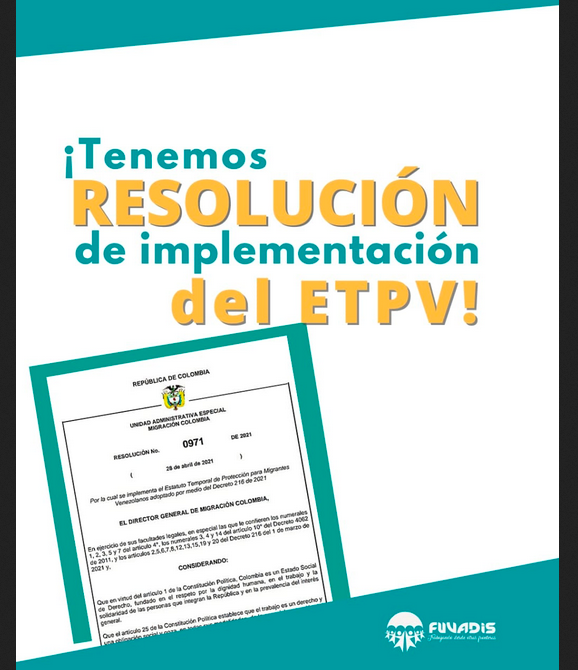 OrgulloLGBT.co es el medio socio del Los Angeles Blade en Colombia. Este anuncio salió en su portal el 18 de junio.
BOGOTÁ — En conjunto a la corporación Red Somos, en Bogotá, la fundación FUVADIS en Barranquilla abrió un registro virtual mediante el cual las personas venezolanas con experiencia de vida trans podrán inscribirse desde cualquier parte de Colombia, para recibir asistencia con el acceso efectivo al Estatuto Temporal de Protección con su nombre y género que se identifiquen, de acuerdo con el título V, artículo 36 de la resolución 0971 del ETPV.
Ambas organizaciones brindarán a esta población el registro asistido del RUMV, acompañamiento jurídico en la constitución de una escritura pública donde manifieste su deseo a tener el nombre y género con el que se identifica y orientación a sus rutas de atención.
Así lo explica Luis Meneses, presidente y representante legal de Fuvadis, quien colocó a disposición el link con el formulario donde las personas interesadas desde cualquier parte del país podrán dejar sus datos para acceder a este proceso de forma gratuita.
https://docs.google.com/forms/d/1GC5NClnjMMNqVaj8fFnJ2McadE_IPtGjZ1sF-dCsZso/edit
Asimismo, la corporación Red Somos ya ha venido adelantando este proceso de acompañamiento para el prerregistro virtual desde el pasado mes de mayo, con el que han asesorado a más de 300 personas en las ciudades de Bogotá y Soacha, afirmó el director ejecutivo de la organización, José Guillén.
Las personas LGBTI que deseen ser apoyadas en la capital colombiana pueden agendarse a través del ciber educador (+57) 3004105915.
Población migrante general
Por otra parte, FUVADIS estará brindando atención y orientación a población general en la fase 1 del Registro Único de Migrantes Venezolanos (RUMV), específicamente en el proceso del prerregistro virtual asistido a partir de julio
El propósito es poder asistir a la ciudadanía venezolana que viva en Barranquilla y su área metropolitana, que aún no haya podido realizar o completar este primer paso para avanzar hacia la solicitud de su Permiso por Protección Temporal que otorgará el gobierno colombiano con vigencia de 10 años.
Luis Meneses destacó que esperan brindar asistencia y orientación a una gran cantidad de migrantes, a través de un equipo voluntario especializado.
Las jornadas para el prerregistro asistido estarán apoyadas por organizaciones de cooperación internacional como la Agencia de las Naciones Unidas para los Refugiados (ACNUR) la Fundación Panamericana para el Desarrollo (FUPAD), el Fondo de las Naciones Unidas para la Infancia (UNICEF), y la Gerencia de Fronteras de la Presidencia de la República de Colombia.
Se habilitarán líneas de atención telefónica y la página web de la fundación para que las personas puedan agendar su cita, cuidando así los aforos permitidos y guardando las medidas de bioseguridad.
Sobre FUVADIS
La fundación de atención inclusiva, social y humana, FUVADIS, es una de las cuatro organizaciones de la sociedad civil en Barranquilla que trabaja para población proveniente de Venezuela. Es una organización sin ánimo de lucro, con carácter social y de promoción de los derechos humanos que nace el 15 de agosto de 2018 e inicia su proceso de constitución legal en Colombia, teniendo su personería jurídica ante la Cámara de Comercio de Barranquilla el 1 de noviembre del 2019.
FUVADIS contribuye a la atención integral de la población refugiada y migrante venezolana, colombiana retornada, con énfasis en la población LGBTI, personas diagnosticadas con VIH, niños, niñas y adolescentes, gestantes y lactantes, hombres y mujeres que ejercen el trabajo sexual por supervivencia; a través de la ruta de atención establecida bajo la normativa del gobierno colombiano, así mismo acompañamiento psicosocial, participación en jornadas de salud, articulación a rutas de atención, entre otras.
Sus líneas de contacto en Barranquilla son 3006605350 y 035-3323062. Y sus redes sociales @fuvadisddhh en Twitter, @fuvadisinternacional en Facebook, Instagram y YouTube.
Vía PRENSA FUVADIS