January 15, 2018 at 4:34 pm PDT | by Karen Ocamb
MLK's long arc of the moral universe
"No, I'm not a racist," President Donald J. Trump told reporters Sunday as he and House Majority Leader Kevin McCarthy (R-Bakersfield) arrived Trump's Mar-a-Lago resort in Florida. "I'm the least racist person you will ever interview."
Trump was responding to the hurricane of controversy over his racist remarks on the eve of civil rights icon Martin Luther King Jr's birthday. During a discussion about immigration from Haiti, El Salvador and African nations in the Oval Office, Trump asked, "Why are we having all these people from shithole countries come here?"
While much of America is remembering King's famous "I have a Dream" speech at the Lincoln Memorial on August 28, 1963, given the context Trump's history of blatant racism, other Americans are marking MLK's birthday Monday remembering another famous speech—"How Long, Not Long"—delivered on March 25, 1965 at the conclusion of the march from Selma to Montgomery, Alabama advocating voting rights for African-Americans.
"Like an idea whose time has come, not even the marching of mighty armies can halt us. We are moving to the land of freedom," King said. "How long? Not long, because no lie can live forever. How long? Not long, you shall reap what you sow. How long? Not long … How long? Not long, because the arc of the moral universe is long, but it bends toward justice."
On Sunday, "how long" was clearly "too long."
"Some of us came on immigrant ships, others of us came on slave ships, but we're all in the same boat," the Rev. Raphael G. Warnock told congregants at King's former church, the Ebenezer Baptist Church in Atlanta, Georgia. "We will not allow the politics of division to get in the way of the vision of a shared humanity, the vision of what Dr. King called the beloved community, the vision of one nation under God."
But Trump, he added, is "a willfully ignorant, racist, xenophobic, narcissistic con man."
"You cannot celebrate the dream if you will not liberate the 'Dreamers,'" Warnock said. "Give these 800,000 young people who are in our colleges and in our neighborhoods a path to dignified citizenship," referring to the Deferred Action for Childhood Arrivals immigration program. "Dr. King said the ultimate measure of a man is not where he stands in moments of comfort and convenience, but in time of challenge and controversy."
In fact, despite Trump's vacillation on DACA, his Justice Department has not yet appealed a Jan 10 court ruling that DACA  must remain in place while legal challenges to Trump's roll back proceed. "DACA is actually now alive and the Homeland Security Department is now accepting renewal applications, so it's nowhere near dead," California Atty. Gen. Xavier Becerra said on "Fox News Sunday." "That DACA deal should stand on its own."
At the First African Methodist Episcopal Church in Los Angeles on Sunday, the Rev. J. Edgar Boyd asked parishioners to pray for Trump.  But, he also asked God to hold Trump accountable for "his words, his deeds and his actions."
Los Angeles holds MLK special high regard since the preacher visited several times at moments of crisis. ​​ On Feb. 24, 1965, he arrived to give a series of speeches on voting rights. It was three days after the assassination of Malcolm X in New York and a month before the planned marches in Selma.
"I hope nothing happens to me," King told an LA Times reporter, adding that he wanted no violent reaction should that happen. On of the venues that welcomed him with a full house on Feb. 26, 1965 was Temple Israel of Hollywood. "Earlier that day, a Glendale man connected with a neo-Nazi group had stolen 1,400 pounds of dynamite as part of a plot to kill the civil rights leader," The Times reported.
King was introduced by Rabbi Max Nussbaum, who had escaped Nazi Germany, as "the man who has given the history of our generation a forward thrust, a sense of direction, an encounter with destiny."
King spoke powerfully for 40 minutes, his sermon connecting the civil rights movement "with the inequalities the children of Israel suffered in Egypt," asking the audience "to help push society forward past 'stagnant complacency and deadening pacifity.'"
"We've been in the mountain of racial injustice long enough," King said. "And now it is time for us to move on to that great and noble realm of justice and brotherhood."
"One has to conquer the fear of death if he is going to do anything constructive in life and take a stand against evil," King told The Times. "I am prepared to face anything that comes."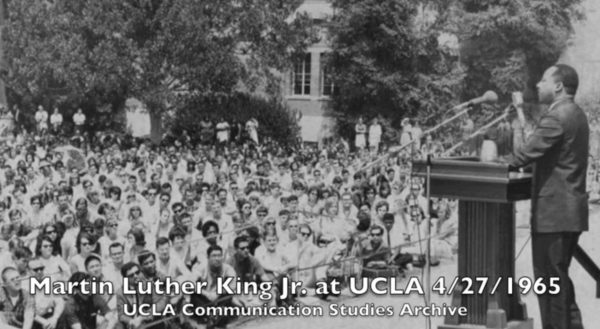 King visited again in April, delivering an inspirational speech to about 5,000 people at UCLA on April 27, 1965.
King returned on August 17,1965 at the invitation of "concerned leaders" after the six-days of LA Riots in Watts had been contained. (He had a prior commitment in San Juan, Puerto Rico.) According to the Civil Rights Digital Library: "The riot spurred from an incident on August 11, 1965 when Marquette Frye, a young African American motorist, was pulled over and arrested by Lee W. Minikus, a white California Highway Patrolman, for suspicion of driving while intoxicated. As a crowd on onlookers gathered at the scene of Frye's arrest, strained tensions between police officers and the crowd erupted in a violent exchange. The outbreak of violence that followed Frye's arrest immediately touched off a large-scale riot centered in the commercial section of Watts, a deeply impoverished African American neighborhood in South Central Los Angeles.
"For several days, rioters overturned and burned automobiles and looted and damaged grocery stores, liquor stores, department stores, and pawnshops. Over the course of the six-day riot, over 14,000 California National Guard troops were mobilized in South Los Angeles and a curfew zone encompassing over forty-five miles was established in an attempt to restore public order. All told, the rioting claimed the lives of thirty-four people, resulted in more than one thousand reported injuries, and almost four thousand arrests before order was restored on August 17.
"Throughout the crisis, public officials advanced the argument that the riot was the work outside agitators; however, an official investigation, prompted by Governor Pat Brown, found that the riot was a result of the Watts community's longstanding grievances and growing discontentment with high unemployment rates, substandard housing, and inadequate schools. Despite the reported findings of the gubernatorial commission, following the riot, city leaders and state officials failed to implement measures to improve the social and economic conditions of African Americans living in the Watts neighborhood."
A slew of reporters greeted King upon his arrival.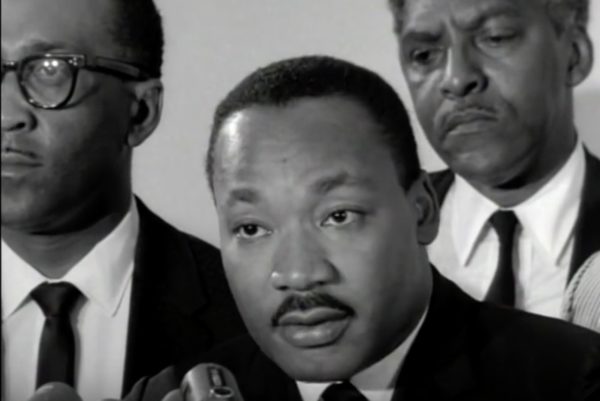 "I believe that violence is not the answer to social conflict, whether it is engaged in by white people in Alabama or by Negroes in Los Angeles," King said. "The violence is all the more regrettable in this period in light of the tremendous non-violent sacrifices of both Negro and white people together have endured to bring justice to all men. But it is equally clear, as President Johnson pointed out yesterday, that it is a job of all Americans, to right the wrongs from which such violence and disorder spring….By acts of commission and omission, none of us in this great country has done enough to remove injustice. I, therefore, humbly suggest that all of us accept our share of responsibility for these past days of anguish."
"These riots grew out of accumulated frustrations that have been accumulating across the years as a result of the long night of poverty and economic insecurity," he continued. "This was a sort of blind and misguided revolt against a society and authority on the part of people who, for many reasons, feel alienated from their nation, from their families in many instances and from themselves and out of self-hatred, self-rejection, frustration, seething desperation, because of their plight, they unconsciously and consciously turned to these methods. I don't think there was any individual or group that organized a riot."
It is interesting to contrast how President Johnson—a Texan who signed the 1964 Civil Rights Act—responded to the riots, compared to how President Trump might respond.
President Lyndon B. Johnson, August 20, 1965 said: "A rioter with a Molotov cocktail in his hands is not fighting for civil rights any more than a Klansman with a sheet on his back and a mask on his face. They are both more or less what the law declares them: lawbreakers, destroyers of constitutional rights and liberties, and ultimately destroyers of a free America. They must be exposed and they must be dealt with.
"It is our duty — and it is our desire — to open our hearts to humanity's cry for help. It is our obligation to seek to understand what could lie beneath the flames that scarred that great city. So let us equip the poor and the oppressed — let us equip them for the long march to dignity and to well-being. But let us never confuse the need for decent work and fair treatment with an excuse to destroy and to uproot. …
"Yet beneath the discord we hear another theme. That theme speaks of a day when Americans of every color, and every creed, and every religion, and every region, and every sex can be trained for decent employment, can find it, can secure it, can have it preserved, and can support their families in an enriching and a rewarding environment."