January 18, 2018 at 1:56 pm PST | by Karen Ocamb
Matt Palazzolo memorial set for Feb. 3 (Videos)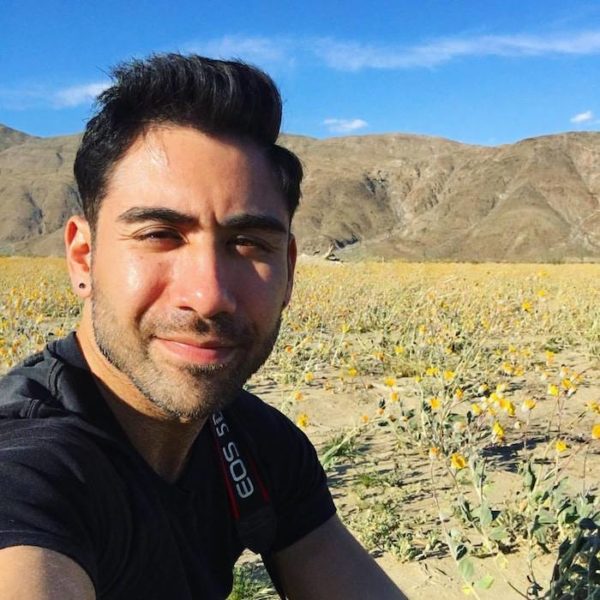 It wasn't supposed to be this way. Matt Palazzolo had so much more to give. But a wrong turn descending the Larapinta Trail after climbing Mount Sonder in Central Australia on Jan. 10 caused Palazzolo to die of heat stroke in the 107.6-degree heat.
There has been an outpouring of love on Palazzolo's Facebook page.
His close friend Christopher Lee Reid and others have set up a Celebration of Life memorial for Feb. 3 from 3:00-6:00 PM in West Hollywood Park, 647 N. San Vicente Blvd. in WeHo.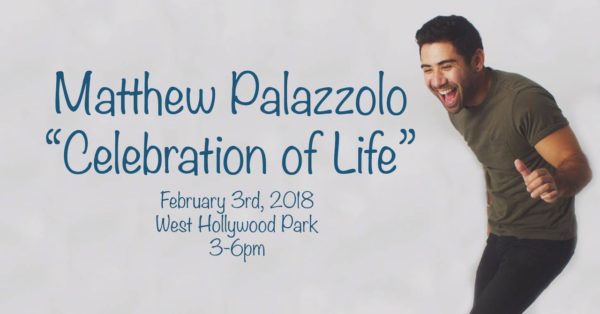 Still "struggling to understand and cope with staggering loss of our beloved Matthew Benjamin Palazzolo," they write, the plan for the memorial now includes "a number of speakers from various parts of Matt's life, a moment of silence, a video in memoriam, a photo collage, a short video retrospective of clips of Matt, and ending the Celebration with an actual celebration, possibly some dancing and definitely some drinks at a nearby bar. We will update you on which bar as soon as we lock down the location."
The Celebration of Life team requests that any photos or videos of Matt in every mood and event for possible inclusion in the photo collage or video retrospective be sent to a special Drop Box.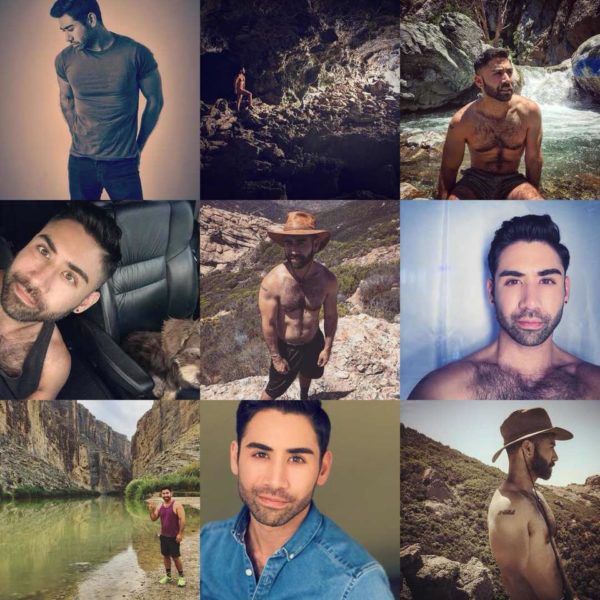 The team says: "If you'd like to personally participate in the Memorial Video for Matt, please reach out to Reid or Fernanda (Espindola) and they'll instruct you on what to do."
The team has also created a GoFundMe page to help defray costs of producing the memorial, with any extra funds going to Palazzolo's father Pat to help cover costs he may incur.
"We are all handling this grief in different ways, and none of them are wrong. Our only request here is that you hold Matt dear to your heart and celebrate the memories you share together," the team says.
Many first heard the news on Jan. 11 at 8:09 AM from West Hollywood Mayor pro Tem John Duran on his Facebook page: "WEHOANS. sad news. I am sorry to report the death yesterday of our beloved community member Matt Palazzolo who died of heat stroke while hiking and getting lost in Australian Outback. He was my appointee to the Lesbian and Gay Advisory Board. He was a Prop 8 baby who launched into activism to beat Prop 8 and remained active in community ever since. We are all heart broken by the news. The city will adjourn in his sweet memory …."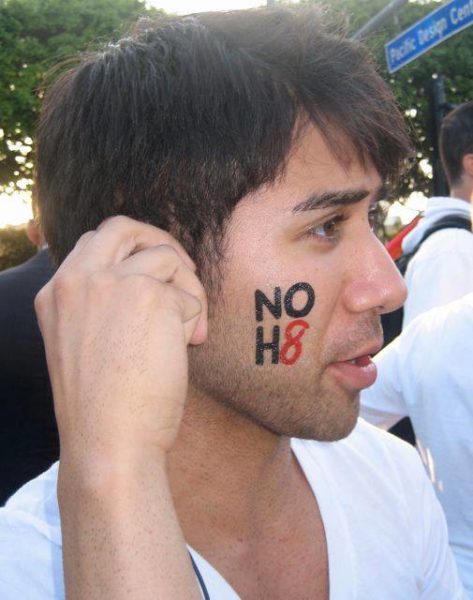 "Prop 8 baby" was a term of endearment given Palazzolo and a slew of younger out LGBT people who were so comfortable in their own skin and living and working in progressive environments, they essentially assumed they already had equal rights and anything additional was just gravy. They really had no idea that rights conferred by a majority on a minority can be taken away. Marriage rights for same sex couples had been ruled a fundamental constitutional right by the California Supreme Court in May 2008, for instance, and couples were already getting married. Surely the voters of California would not take away a constitutional right through Prop 8.
Passage of Prop 8 on Nov. 4, 2008 was a sucker punch to the gut for these young people. Their brains exploded, their hearts sank and, in the case of Matt Palazzolo, Mike Ai, Sara Pollaro, and Chris Smith, co-founders of Equal Roots, their souls keen on fighting injustice were filled with a kind of shame for having so selfishly slept through the warning signs of the pending civil rights disaster, Matt told me in 2008.
But they publicly acknowledged their lack of foresight and vowed to do something—becoming fierce activists and inspiring others to become humble warriors for equality. Palazzolo was often a lead organizer and erudite spokesperson.
And their activism was no flash-in-the-pan photo-op. They thought outside the box from street marches to organizing a play in January 2009 to keep the momentum going.
"Some longtime LGBT organizers have wondered how long the outrage over Prop 8 can be sustained, especially as the anger turns more and more inward, eviscerating our own," I wrote for Bilerico on Jan. 12, 2009. "The new Los Angeles-based, youth-oriented group Equal Roots is determined not to let that happen. Shocked by the passage of Prop 8 and embarrassed by their own complacency, the 20-something friends and co-founders worked hard to represent LA in Saturday's national Join The Impact rally to repeal the Defense of Marriage Act (DOMA)—roughly 750 people showed up in West Hollywood Park for speeches and the inspired live version of gay composer Marc Shaiman's online ditty – "Prop 8:The Musical" – this one featuring Wilson Cruz as Jesus. Much applause as Jesus says, "It seems to me, you pick and choose so please choose love instead of hate… Besides your nation was built on separation of church and state."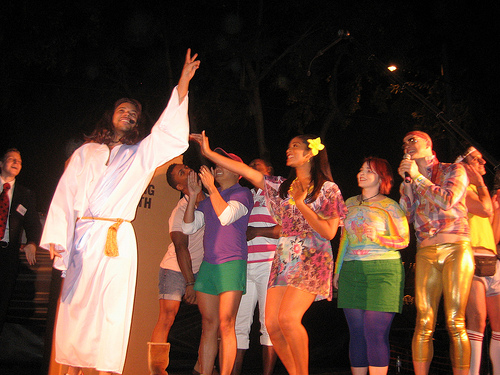 The event, called "The Resolution," included an action fair "designed to strengthen the new coalition of grassroots activists forged in the wake of the passage of Proposition 8, effectively plot strategy for the future, and to urge the repeal" of DOMA." It attracted not only old and new activists but the newly alert. Among the WeHo crowd were married dads Richard Baughn and Tommy Woelfel with their two 5-month old sons, Aiden and Austin. The couple had been together for 7 years before marrying during the pre-Prop 8 window on July 19, 2008.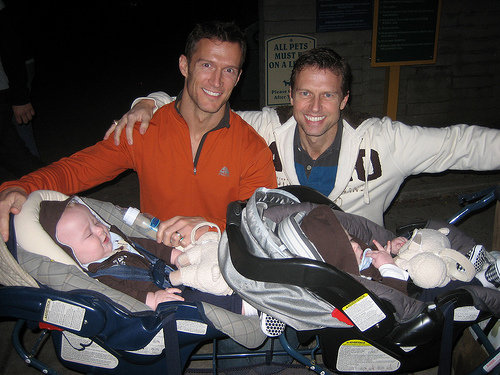 That night, co-founder Matt Palazzolo said: "Today in Los Angeles, and across the State of California, the LGBT community is united and engaged like never before. We're coming together, strategizing, and taking action to secure full equality for our community here in California, and, ultimately, across the nation."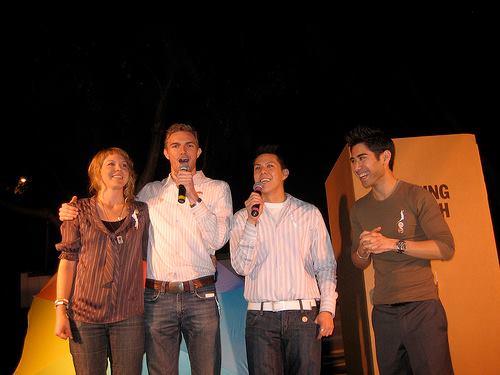 "Maybe it's their youthful exuberance, or their genuine respect for others, their good-natured smarts (they love 'data'), or their concerted efforts to be authentically inclusive – but it seems everyone who comes into contact with Equal Roots wants them to succeed," I wrote on Bilerico. "Helping produce the five hour-plus event were the city of West Hollywood", Christopher Street West (the LA Pride organization), Pride Radio and a slew of LGBT and straight advocacy groups – such as the Courage Campaign (founder Rick Jacobs was on hand with Torie Osborn), Love, Honor, Cherish, Marriage Equality USA, Freedom-Action-Inclusion Rights" (F.A.I.R.) and WhiteKnot.org. These groups and others provided tables for the 4-hour 'action fair'- which included signing postcards and petitions to send to Barack Obama and making traditional Japanese Origami wedding cranes – often a symbol of peace – with messages inside."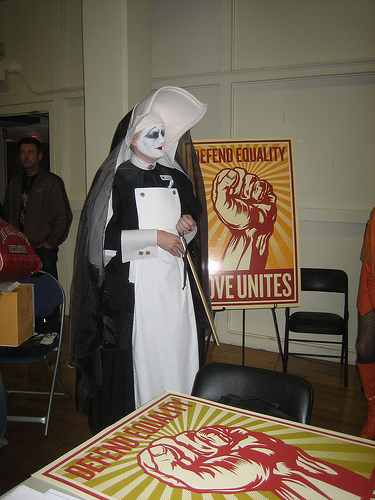 Artist Shepard Fairey, whose posters of Obama became collector's items, created a special "Defend Equality – Love Unites" poster for the group, which was sold during an auction at their event and was made available to pro-equality foot soldiers everywhere.
That's what it was like in late 2008 and early 2009—rage, anger, disappointment, embarrassment turned into activism, proud authenticity, creativity, coalition building and loving, fun camaraderie.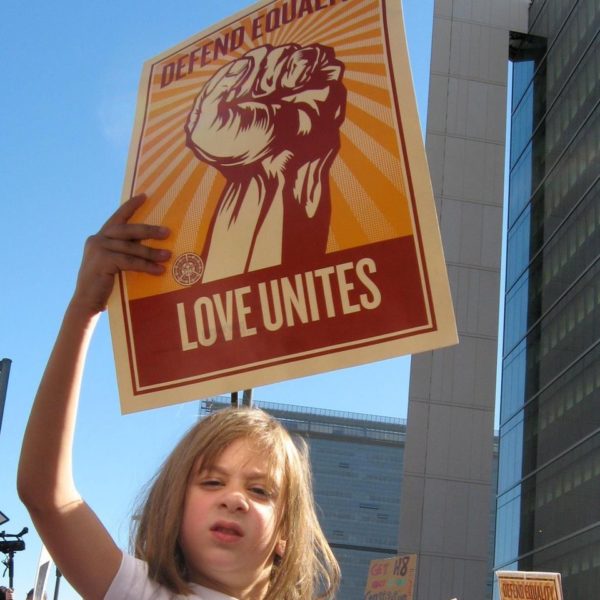 All of which continued to show up in Matt Palazzolo's life, friendships and work: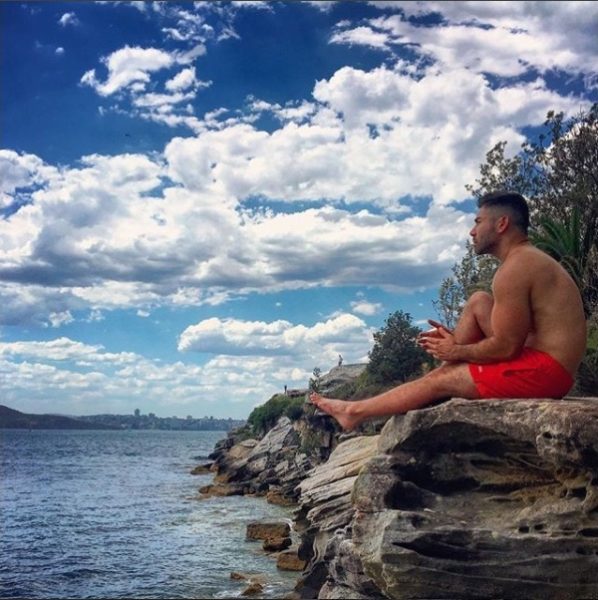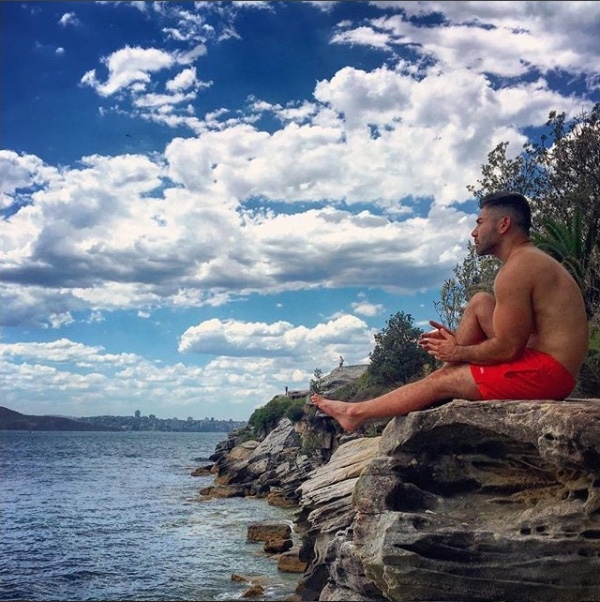 And at 33, Matt brought all that with him into his empowered, insightful creativity:
Matt Palazzolo will be deeply missed.