Eric Garcetti may run for president in 2020 
LA Mayor says it's a patriotic duty to oppose Trump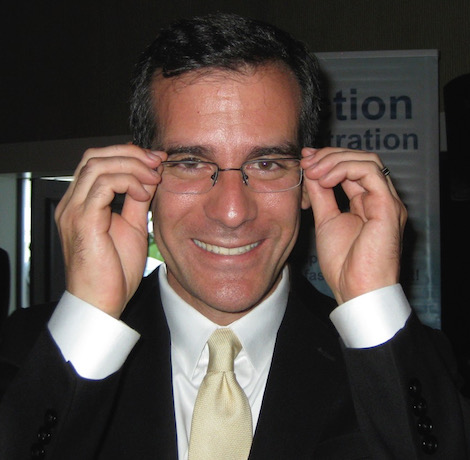 "Los Angeles Mayor Eric Garcetti was a crowd favorite," the Hollywood Reporter wrote about the young mayor's appearance among top celebrities and activists at the massive Women's March Jan. 20 in Los Angeles.  LGBT Angelinos understand the reaction well, having voted Garcetti "Best" LGBT ally over a strong list of popular reader-selected candidates in a recent Los Angeles Blade survey.  Garcetti's smart, sharp inclusive remarks stood in stark contrast to the self-aggrandizing president more than 600,000 people were there to protest.
"Mr. President, you have your tweets, but we own these streets," Garcetti said.
As if on cue, Trump issued a tweet inanely ignoring that the demonstrations rebuked him on the one-year anniversary of his inauguration and simultaneously tried to take credit for the turnout. "Beautiful weather all over our great country," Trump tweeted, "a perfect day for all Women to March. Get out there now to celebrate the historic milestones and unprecedented economic success and wealth creation that has taken place over the last 12 months. Lowest female unemployment in 18 years!"
While employment numbers have improved in the decade of recovery since the 2007 Great Recession, the specific struggle for "wealth creation" is usually framed by women in terms of pay equity and non-discrimination in all aspects of the workplace, including gender parity on boards and commission. It was a key issue raised at the Women's March, including by Garcetti who issued a gender equity executive order in 2015, has co-equal commissions, and established a transgender advisory board.
Considering economics through the prism of wealth creation or pay equity is an important nuance not lost on those thinking about challenging Trump's reelection bid in 2020. And while he has heretofore steadfastly denied he is considering running for the Democratic presidential nomination in 2020—that now includes L.A. Mayor Eric Garcetti. "I think every patriot is called on to act right now," Garcetti told the LA Blade by phone Jan. 19. "I hope we never have a moment like this again—but yes, I'm thinking about it because I'm worried about this country and I want to make sure there's a perspective and successes we've showcased in America's cities and Los Angeles, in particular, of a model of what we could do nationally. But whether I run or not, I'm going to be incredibly involved at the national level in trying to retake this country."
The road to Democrats retaking Congress runs through California. Recently, the L.A. Times updated its political forecast of the 2018 midterm elections looking at 10 vulnerable Republican seats, six in Southern California. Two of those six seats are now open contests with the announced retirements of longtime anti-LGBT Reps. Darrell Issa and Ed Royce, both in districts with burgeoning Latino populations and heightened activism to defend DREAMers, family migration, the immigration lottery, and the Deferred Action on Childhood Arrivals (DACA) program.
Trump announced last September that the Obama-crafted DACA program would end March 5 and called on Congress to find a "fix" before then. Democrats pledged to stand firm to protect the DREAMers, undocumented young people who had been brought to the US as children and who had "come out of the shadows" and given their personal information to the government to get protection and a pathway to citizenship as the DREAM Act and immigration reform were debated. Courts have imposed a temporary injunction against immigration authorities deporting 700,000 DREAMers, which prompted a rush to renew their protected status.
However, the Trump administration's unrelenting white nationalist message that "illegal aliens" are essentially parasitic vermin invading America has trickled down from the Justice Department to local law enforcement. For example: a pro-immigration activist was arrested in retaliation for releasing a video showing a border guard dumping out water provided by a humanitarian group called No More Deaths for border crossers in the grueling Arizona desert; Immigration and Customs Enforcement officials boarded a privately-owned Greyhound Bus in Ft. Lauderdale, asked everyone for identification papers, and arrested a 60-year old Jamaican grandmother who had overstayed her visa; and on Wednesday, Jan. 24, the Justice Department demanded documents from sanctuary cities – including Los Angeles — proving they are in compliance with immigration law in order to receive federal crime-fighting funding.
That move prompt swift reaction from mayors who called off a planned meeting with Trump as they began their annual bipartisan US Conference of Mayors Wednesday in Washington DC.
"Many mayors of both parties were looking forward to visiting the White House today to speak about infrastructure and other issues of pressing importance to the 82 percent of Americans who call cities home," New Orleans Mayor Mitch Landrieu, the group's president, said in a statement. "Unfortunately, the Trump administration's decision to threaten mayors and demonize immigrants yet again – and use cities as political props in the process – has made this meeting untenable."
Garcetti was at a press conference announcing that decision, offering a "very clear" message: "Washington, we are here to save you," he said. "We are here to make sure the values of this country and the values of the progress of this nation are matched and are met."
The Justice Department move and the meeting cancellation come against the backdrop of the contentious arguments in the US Senate about ending the government shutdown without a fix for DREAMers, 120 of whom lose their deportation protection every day.
In exchange for continuing resolution (CR) funding the government through Feb. 8, Majority Leader Mitch McConnell gave Minority Leader Chuck Schumer a verbal commitment that the Senate would take up DACA legislation. But few people trust McConnell, Schumer's compromise looked like a betrayal to grassroots activists, the more extreme anti-immigrant House has not agreed to any compromise and no one knows with certainty where Trump stands, despite promising to issue four "core" demands next week.
Of the 18 "no" votes on the CR, 16 were Democrats, including Sen. Dianne Feinstein, who promised to vote no on any bill that didn't address DACA. Her vote was both personal—and political: she is being challenged in her reelection primary by California Senate President Pro Tem Kevin de Leon. The parameters for all Democratic litmus tests will no doubt become clearer during the California Democratic Convention Feb. 23-25 in San Diego.
But what was surprising to many politicos watching the debate in Washington was how crudely Trump turned the discussion from sympathy for DREAMers into linking Democrats to murdering Mexicans. In the middle of the CR negotiations, the Trump campaign released an ugly video ad saying Democrats are "complicit" in future murders by illegal immigrants if they don't vote for tough border security.
The 30-second "Complicit" ad opens with Luis Bracamontes—an undocumented immigrant on trial for the alleged 2014 killings of two police officers in Sacramento, California—  saying he wished he had killed more police.
"Democrats who stand in our way will be complicit in every murder committed by illegal immigrants," the campaign ad says.
TRUMP CAMPAIGN AD:
"I think if people are unwilling to secure our borders and unwilling to end chain migration, unwilling to end the visa lottery system and unwilling to fix all of the problems we have in our immigration system and aren't willing to negotiate and actually do things to fix a system that we know to be problematic, then yes, that's a problem and would allow for future incidents to take place," said White House spokesperson Sarah Huckabee Sanders during Monday's White House briefing.
Only a handful of Democrats publicly expressed their disgust with the ad.
"This is a shameless attempt by the president to distract from the Trump shutdown. Rather than campaigning, he should do his job and negotiate a deal to open the government and address the needs of the American people," Schumer's spokesperson told Reuters in an email.
"While this ad is divisive, deceptive and disgusting, it unfortunately is not surprising given what we have seen since he launched his presidential campaign by outrageously disparaging Latino immigrants. Our country is better than this, and I think most voters of any party expect more from their leaders," Garcetti told the LA Blade.
For many Californians, the ad is darkly reminiscent of conservative Republican Gov. Pete Wilson's ad pushing the anti-immigrant Prop 187. The initiative passed in 1994 and was subsequently declared unconstitutional. It is often cited as the reason for the near demise of the state GOP.
But just as Wilson still says he supports Prop 187, it is likely some now-terrified voters might agree with Trump's ad. As of now, the ad will run only online (the famous anti-Barry Goldberg "Daisy" ad was only broadcast once) but it will likely become an issue during the mid-term elections, contrasted with Trump's latest promise to give DREAMers a pathway to citizenship in 10-12 years, if they meet certain criteria.  No doubt, by Feb. 8, both Republicans and Democrats will be screaming: will the real Donald Trump please stand up!
Meanwhile, as sound and fury create political whiplash in Washington, Garcetti is working with other mayors and community groups on a grassroots level to find solutions and actually keep America moving. Late last year, the LA mayor launched a 501.c3, 501c4 and political action committee, Accelerator for America,  with his out friend and political advisor Rick Jacobs, founder of the Courage Campaign and chair of Howard Dean's presidential campaign in California.
"With Washington broken, cities and local governments are the only places of innovation and successful delivery of services to Americans," Jacobs tells the LA Blade. Accelerator for America "brings practical solutions to cities across the country as we address the insecurity Americans feel about their jobs, education, housing and healthcare."
It's an effort already at the forefront of discussions among the nation's mayors at events such as the US Conference of Mayors.
"Mayor Garcetti has become one of the most important leaders in America today because he quietly, deliberately gets things done. Other mayors see that and want to work with him.  At our first meeting hosted by (out) South Bend Mayor Pete Buttigieg on Nov. 7-8, 2017, we agreed to help other cities create Measure M-type successes—funding for transportation, which also creates 700,000 new, great jobs. In Columbia, South Carolina next month, we'll tackle other related issues."
"It's not a think tank, it's a do-tank," Garcetti says. "We're going to help people run campaigns to create jobs, that solve problems of housing, health, and education in America. And we'll do that in a way that promotes the civil rights agenda at the same time."
While early 2020 political bets are focused on highly visible Senate Democrats such as California's Kamala Harris, New Jersey's Corey Booker or Massachusetts' Elizabeth Warren—Garcetti, the jazz-loving, Rhodes Scholar, Naval Reserve officer, is starting to gain notice by helping others.
"I'm going to help flip the House," Garcetti tells the LA Blade. "I'm very involved in supporting people who are running in the seats that we can reclaim. And I'm going to remind people that most politics is local. Don't keep crying in the corner. Don't keep yelling at your Twitter feed. Get up! Go Do Something! And recognize that even if we had a Democrat in the White House, most of the action is where you live. Local communities make this country. Washington doesn't determine our fate. We determine Washington's fate."
Garcetti is not afraid to stand up to bullies and fight for his principles. Like so many others reeling from the 2016 election results, he expected Trump to pivot and perhaps deliver great things. But, Garcetti says, "he's been truly further to the right than even the most conservative Republican president that we've imagined. He's literally given the keys to our biggest enemies and I don't think that's going to change."
And now Trump's Justice Department is even threatening arrest of public officials, including mayors, who enforce sanctuary city laws.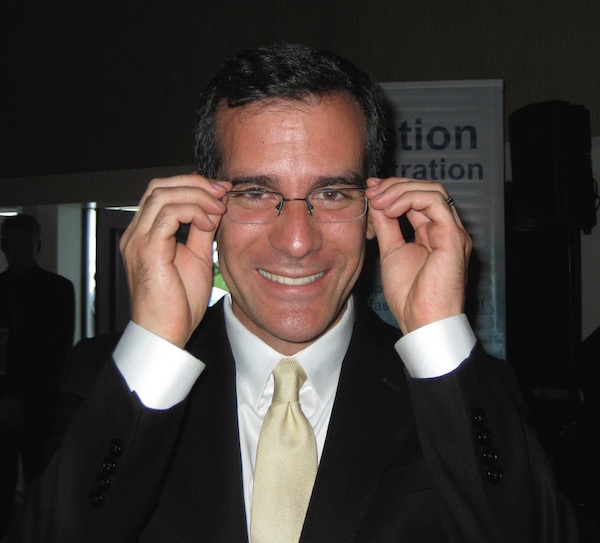 "My address is public record. I've got 10, 0000 police officers who believe in good policing," Garcetti says. "They'll have to get through them to get to me. I just don't understand this focus on the symbolic, the ideological and the hateful rather than the effective and the moral path. They're going after 7-11 clerks instead of dangerous murders, which they say they care about. He's saying go after legal marijuana in the state instead of giving us legal solutions to an opioid crisis that's killing us. And they're talking about arresting mayors? This is the talk of dictatorships and authoritarian regimes and if he can't take differences of opinions, and your response is to start arresting people who disagree with you—we happen to be right. But bring it on."
Garcetti's principles are also informed by his heritage. The son of former LA District Attorney Gil Garcetti, his grandfather was brought to the US from Mexico as a child after his great grandfather was hung during the Mexican Revolution. So, in essence, Garcetti's grandfather was a DREAMer. Garcetti's maternal grandparents were from Russian Jewish immigrant families.
A longtime supporter of the LGBT community, Garcetti says it is "an incredible honor and surprise" to have been voted Best LGBT Ally by readers of the Los Angeles Blade.
"I just have a core philosophy: we are all strongest when we get as many people included in the progress of our city, our nation, and our world," Garcetti says. "And it's a very simple premise that cities are usually more tolerant places. They are usually more successful places because of that tolerance. And more than tolerant—that sort of inclusion demands that we fight. Each one of us has defining struggles in our life and our generation. And for me, LGBTQ equality has probably been one of the defining struggles of our generation and the one I've probably been as deeply in as any one else," especially as a crusader for marriage equality with his close out friend, Marc Solomon.
Since former LA Mayor Antonio Villaraigosa was very involved with the Mayors for Freedom to Marry initiative announced at the Mayors Conference in 2012, would Garcetti take a lead in a new mayors coalition to serve as a firewall against the Trump administration rollback of policies and record hate violence in 2017? Read a definitive list of Trump actions against LGBT rights, here.
"Absolutely," Garcetti says. "I think there is a session at the US Conference of Mayors on this and I think out of that there will be an action plan of where we need to engage this administration. With LGBT stuff, it's been a little trickier, outside the Pentagon actions [on transgender servicemembers], we're not sure whether it's going to be done through judges or whether they are going to do things blatantly. But certainly when the president tweeted what he did, which wound up being against what the Pentagon wanted to do themselves on transgender service members, we were able to respond—all the big city mayors in a coalition."
Garcetti says the mayors don't have formal names for some of the work they do, but they do have a network. "I think we're going to mobilize that again and frequently," he says. "This is an administration that isn't just hostile to immigrants and women, they're hostile to the LGBTQ community. And they will throw us all under the bus in a morning tweet or in a mid-afternoon court decision when we're not looking. I think it is really, really critical for mayors that are kind of the front line now to be able to mobilize quickly. I absolutely anticipate the coalition to continue to be mobilized around these issues."
But will you take a leadership role? "Absolutely. Los Angeles is one of the most important cities with an LGBTQ population and full of LGBTQ leadership among both the community and its allies so we absolutely will – along with San Francisco and New York," Garcetti says.
"But we also found a lot of allies even in the fight in Charlotte, North Carolina [after passage of anti-trans HB2 and the subsequent boycott by a number of states and cities]. That was something we took up and we had our colleague, who's the mayor of Charlotte at the same time, saying please don't have these bans on travel. And we walked through why it was so important: we would help engage directly with the community groups that are on the ground to help them fight the fight and support them directly—but that didn't mean we had to bring conferences or businesses there. So absolutely, I'll continue to play a leadership role in that."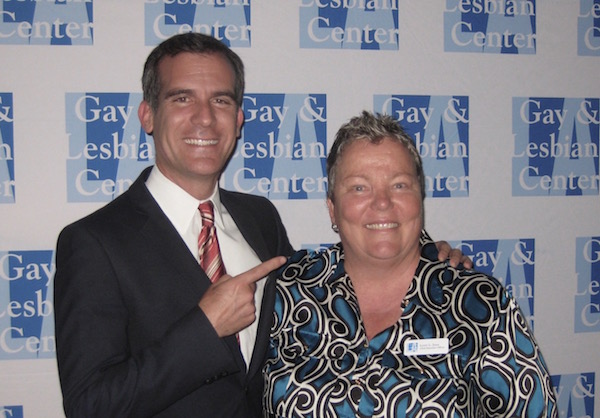 If there's one characteristic that might distinguish Garcetti from the DC prospective presidential pack it's that he can be angry, intelligently and emotionally reflect that anger back—and then be infuriatingly and infectiously optimistic.
"I know a lot of people are depressed out there. I couldn't be more excited and empowered. I think this kick in the rear end in the last year is not the way we would want to come to activism. But this is a level of activism I haven't felt in over a decade," Garcetti says. "There's never been a single issue in the polling that I've seen in America that has changed as quickly as something like marriage equality. African American civil rights took many more decades. The women's rights struggle took many more decades. And we can't lose that momentum. So don't think just about playing defense. Let's continue to be on offense and let's continue to lead."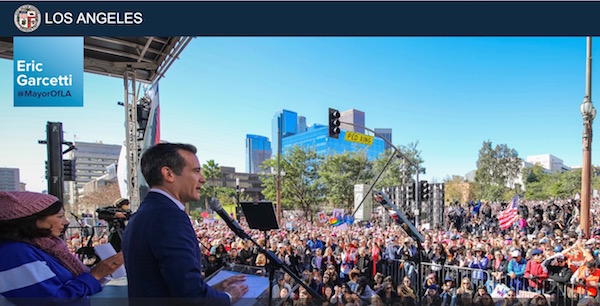 Here's LA Mayor Eric Garcetti's speech before a crowd of 700,000 protesters at the Women's March. Contrast this with the Trump campaign ad for your January moment of activist zen.
Tyre Nichols' arrest & fatal beating video released by Memphis PD
"We want peace. We do not want any type of uproar. We do not want any type of disturbance. Please, please, protest, but protest safely."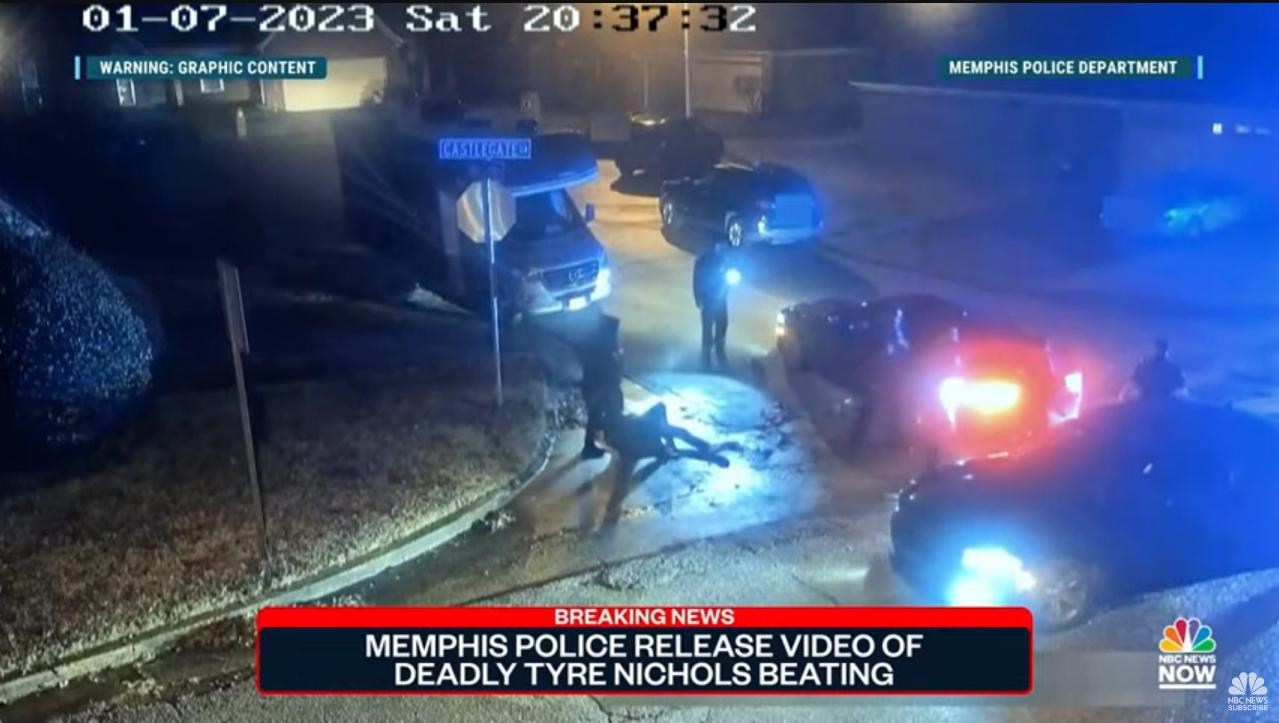 MEMPHIS – Three videos consisting of both body cam footage and street surveillance footage, were made public by the city of Memphis Police Department Friday evening showing the violent arrest and beating of Memphis resident 29-year-old Tyre Nichols.
Nichols died 3 days after he was beaten by police in a traffic stop in the Hickory Hill neighborhood around 8:22 p.m. Jan. 7, in an altercation Memphis Police Chief CJ Davis described saying, "In my 36 years in law enforcement, I don't think I have witnessed the disregard for a human being displayed in this video."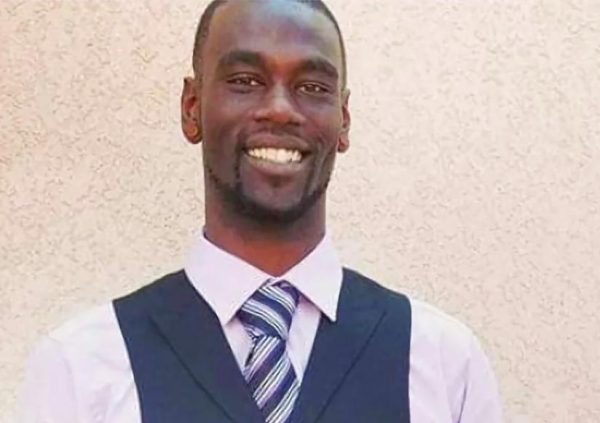 Shelby County Tennessee District Attorney Steve Mulroy announced Thursday that five now-former Memphis Police officers — Tadarrius Bean, Demetrius Haley, Emmitt Martin III, Desmond Mills Jr., and Justin Smith — were fired for misconduct, and indicted by a grand jury Thursday and taken into custody.
Each is charged with second-degree murder, aggravated assault, two counts of aggravated kidnapping, two counts of official misconduct and official oppression. By Friday morning, they had posted bond.
As news of the beating and death spread beyond Tennessee, officials expressed concern that release of the footage would touch off violent protest in reaction.
The attorneys and family of Tyre Nichols asked for justice for their son, and peace in their city, at a press conference in Memphis on Friday Memphis CBS News affiliate WREG News 3 reported.
Speakers included family members, attorneys Ben Crump and Antonio Romanucci and Van Turner, president of the Memphis branch NAACP.
Rodney Wells, Tyre Nichols' stepfather, said that he initially wanted first-degree murder charges against the officers, but the family is satisfied with second-degree murder.
He pleaded for peace in Memphis Friday night.
"We want peace. We do not want any type of uproar. We do not want any type of disturbance," Wells said. "Please, please, protest, but protest safely."
Protests are underway in Memphis after police released more than an hour of footage in the case with some major highways temporarily shut down.
Other protests were organized in New York City, as well as Sacramento, Los Angeles, Atlanta, Philadelphia and Seattle, with police at the ready for potential violence.
The White House held a joint emergency call Friday with the mayors of at least 16 cities before the video's release "to brief them on federal preparations in support of state and local leaders."
"Participating mayors shared their perspectives on how important it is to recognize the pain felt by communities across this country, be prepared in advance with a game plan to provide adequate community support, and to reinforce the importance of peace and calm during these difficult moments," the White House said in a statement about the call, which included cities from New York City, to Atlanta, Los Angeles, Washington D.C., Seattle and Portland.
The Los Angeles Police Department issued a statement condemning the actions of the Memphis officers and calling for demonstrations to remain peaceful.
"The accounts of the circumstances of this heinous crime and the criminal actions of those involved are reprehensible," the LAPD said.
"The Department will do all within its power to ensure the lawful expression of the public's anger and frustration is protected and prepared to facilitate those wishing to exercise their First Amendment rights."
The Los Angeles County Sheriff's Department told local media that it is preparing for the possibility of disturbances after the footage is made public. and is coordinating with other state, local and federal agencies.
"Our patrol stations and specialized units remain in a state of readiness to respond to any disturbances that might occur," the LASD said.
"The Sheriff's Department supports the first amendment and the people's right to protest."
Speaking with reporters as he prepared to depart for Camp David at the White House Friday evening, President Biden said that he had spoken with Nichols' mother earlier in the day prior to the video footage release for about 10 or 15 minutes.
"I spoke with Tyre's mother and expressed my condolences and told her that I was going to be making the case to the Congress to pass the George Floyd Act. We should get this under control. I can only do so much on the executive order at the federal level," Biden said. "I was really pleased that she called for peaceful protest, no violence," he added.
When asked about the potential for violence Biden said:
"I'm obviously very concerned about it. But I think she has made a very strong plea. She's obviously in enormous pain. I told her I had some idea of what that loss is like and although it is impossible to believe now, a time will come when his memory brings a smile before a tear."
The White House released a statement from the President that said in part:
"Like so many, I was outraged and deeply pained to see the horrific video of the beating that resulted in Tyre Nichols' death. It is yet another painful reminder of the profound fear and trauma, the pain, and the exhaustion that Black and Brown Americans experience every single day.

My heart goes out to Tyre Nichols' family and to Americans in Memphis and across the country who are grieving this tremendously painful loss. The footage that was released this evening will leave people justifiably outraged. Those who seek justice should not to resort to violence or destruction. Violence is never acceptable; it is illegal and destructive. I join Mr. Nichols' family in calling for peaceful protest."
California Governor Gavin Newsom issued a statement in response to the Memphis Police Department's body camera footage being released, showing the deadly actions that took the life of Tyre Nichols, a Sacramento native, and led to the charging of five since fired Memphis Law Enforcement Officers.
"Jennifer and I send our deepest condolences to the family and friends of Tyre Nichols. Tyre Nichols should be alive today. The video released shows abhorrent behavior and these officers must be held accountable for their deadly actions and clear abuse of power," said Governor Newsom. "Today, we are a country in mourning, and must continue our work nationwide to push reforms to prevent excessive use of force and save lives."
"Tonight, we saw ferocious violence from an out-of-control herd," said Los Angeles Mayor Karen Bass.
Late in the evening Friday the Office of the Vice President Kamala Harris released a statement from the Vice President on Nichols:
"Tyre Nichols should have made it home to his family. Yet, once again, America mourns the life of a son and father brutally cut short at the hands of those sworn to protect and serve. The footage and images released tonight will forever be seared in our memories, and they open wounds that will never fully heal.

The persistent issue of police misconduct and use of excessive force in America must end now.

I join President Biden in his call for accountability and transparency. We must build trust—not fear—within our communities."

VIDEO COURTESY OF KTLA:
TYRE NICHOLS VIDEO VIEWER DISCRETION ADVISED, GRAPHIC CONTENT AND LANGUAGE WARNING.