Rep. Maxine Waters will respond to Trump on BET
Waters also sets up SOTU millennial media row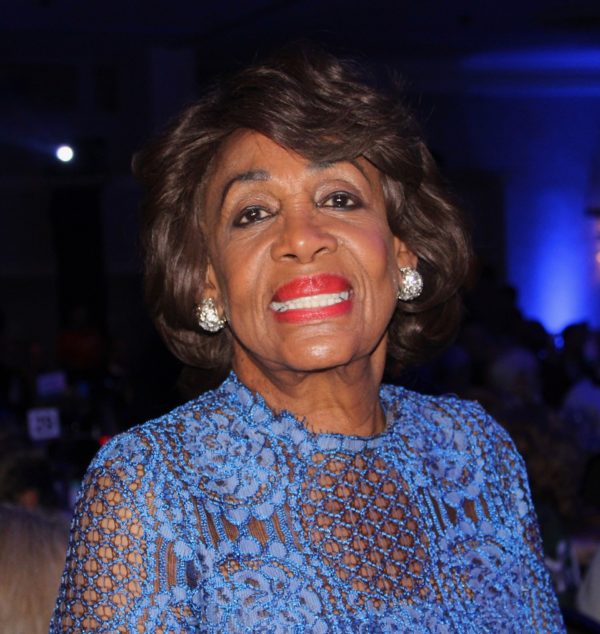 Tuesday, Jan. 30, is shaping up to be monumental. Will Donald Trump stick to the script during his State of the Union address or wing it, chastising Jay Z for his critical tweet on black unemployment or try to take credit for the #MeToo/TimesUp movement, which he did during the Women's March on Jan. 20, the one year anniversary of his inauguration.
Trump will have a visual reminder as a number of women members of Congress will be sitting in the chamber dressed in black, a sign of solidarity with the #TimesUp women who wore black at the Golden Globes to signal that they've had enough of sexual harassment and gender discrimination. Supreme Court Justice Ruth Bader Ginsberg has another event that night and a number of legislators have announced they are skipping the big speech. But Trump nemesis, San Juan Mayor Carmen Yulin Cruz will be there, guest of potential presidential candidate Sen. Kristen Gillibrand.
"I hope Mayor Cruz's presence at #SOTU will remind the president and my colleagues in Congress of our urgent responsibility to help Puerto Rico fully recover and rebuild. Our fellow citizens must not be forgotten or left behind," Gillibrand wrote in a tweet.
Massachusetts Rep. Joe Kennedy will deliver the Democratic rebuttal, shortly after Trump concludes his speech.
But while Kennedy may be the face of the future, it's California Rep. Maxine Waters everyone will tune in to hear. Black Entertainment Network (BET) has invited Waters to join political pundit Angela Rye on the premier of her new show, Angela Rye's State of the Union, which will air Wednesday at 7:00pm Pacific on BET. Please check your local listings for correct time and channel. In LA, BET is Channel 156 (BET-W) on AT&T U-Verse and channel 71 on Time Warner Cable.
"Queen Maxine is going to hit the facts quick; she's going to do it as only she can, but we're not going to linger over his nonsense," Rye told the Root. "We're going to talk about our solutions our way."
Rye will also have a panel of experts, according to The Root: "Panelists will include David Johns, executive director of the National Black Justice Coalition; Georgia gubernatorial candidate Stacey Abrams; Rashad Robinson, executive director of Color of Change; St. Paul, Minn., Mayor Melvin Carter; political strategist Stefanie Brown James; and Opal Tometi, executive director of the Black Alliance for Just Immigration."
But before Waters takes notes on Trump's SOTU Tuesday night, she'll host a State of the Union Millennial Media Row for millennial media to interview members of the House Democratic Caucus
"To my utter surprise and delight I have been adopted by the millennial community, which has affectionately named me 'Auntie Maxine', and I have gained an understanding of the valuable ways in which these young people are using social media and the internet to voice their concerns about public policy, our government, and world events," Waters said in a statement. "To that end, I am committed to being an enabler and a catalyst for millennials, ensuring that they have access to other elected officials and the legislative process, and that they also have an opportunity to be at the table to advise and develop public policy in the federal, state, and local government."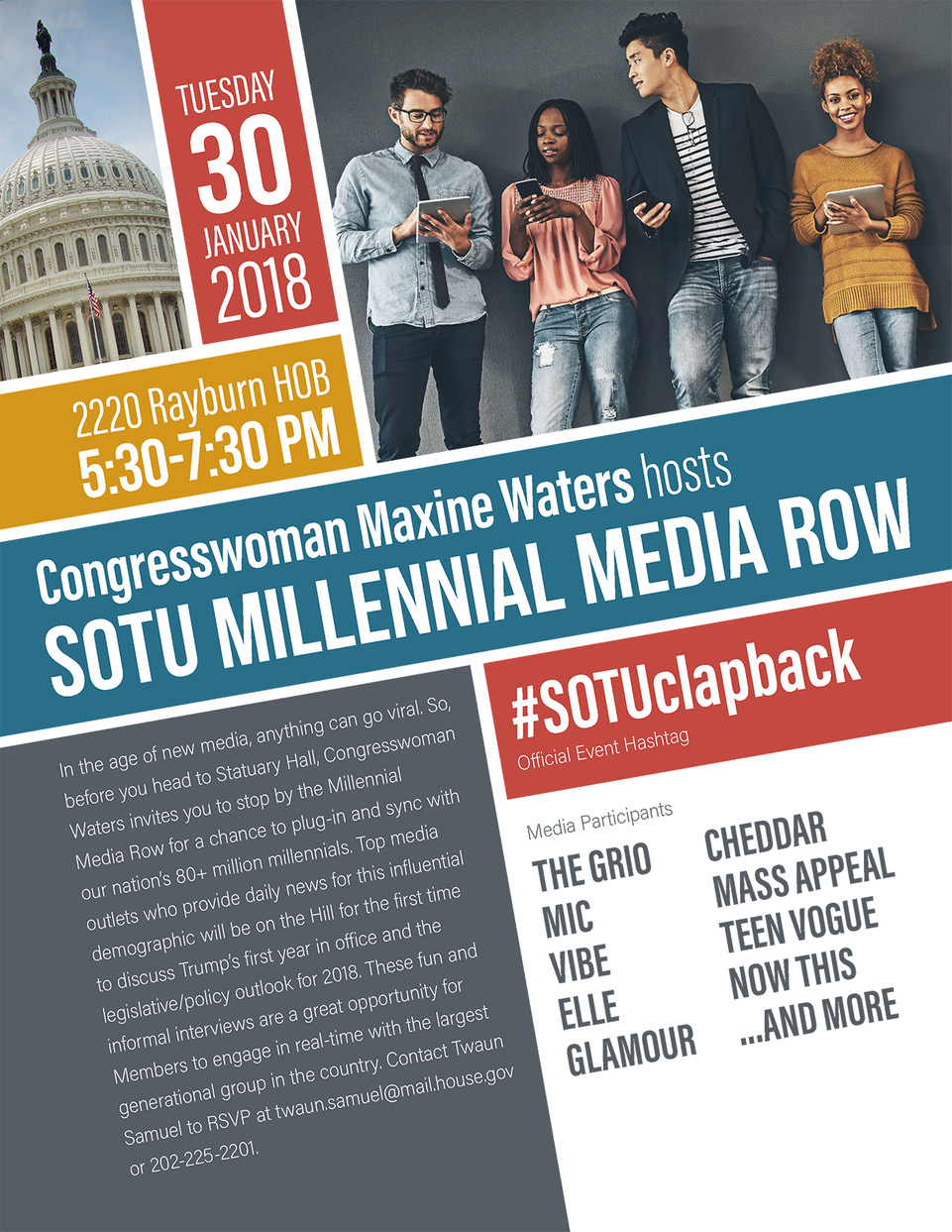 The millennial media row will include representatives from The Grio, Mic, Vibe, Elle, Glamour, Cheddar, Mass Appeal, Teen Vogue, and NowThis.
Waters, an LGBT favorite ally, has been speaking out for LGBT people and people with HIV/AIDS since she was elected by her Los Angeles constituents in 1991. She has become famous—infamous to some Republicans—for speaking truth to power. She fumed over Trump's racist statements reportedly calling that Haiti and some African nations "shithole countries."
The US is now being "represented by the most despicable human being that could possibly ever walk the earth," Waters told MSNBC host Joy Reid. "I don't know when Americans are going to tire of this lying man."
That's just the start. Here's another preview of what Waters might say after Trump's SOTU.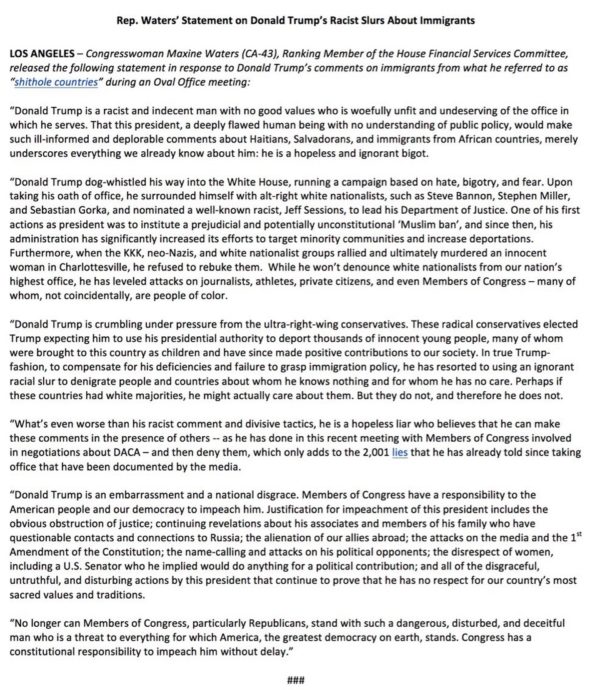 And here she is with Reid.
NYC grand jury indicts Donald Trump
Former commander-in-chief is first former president indicted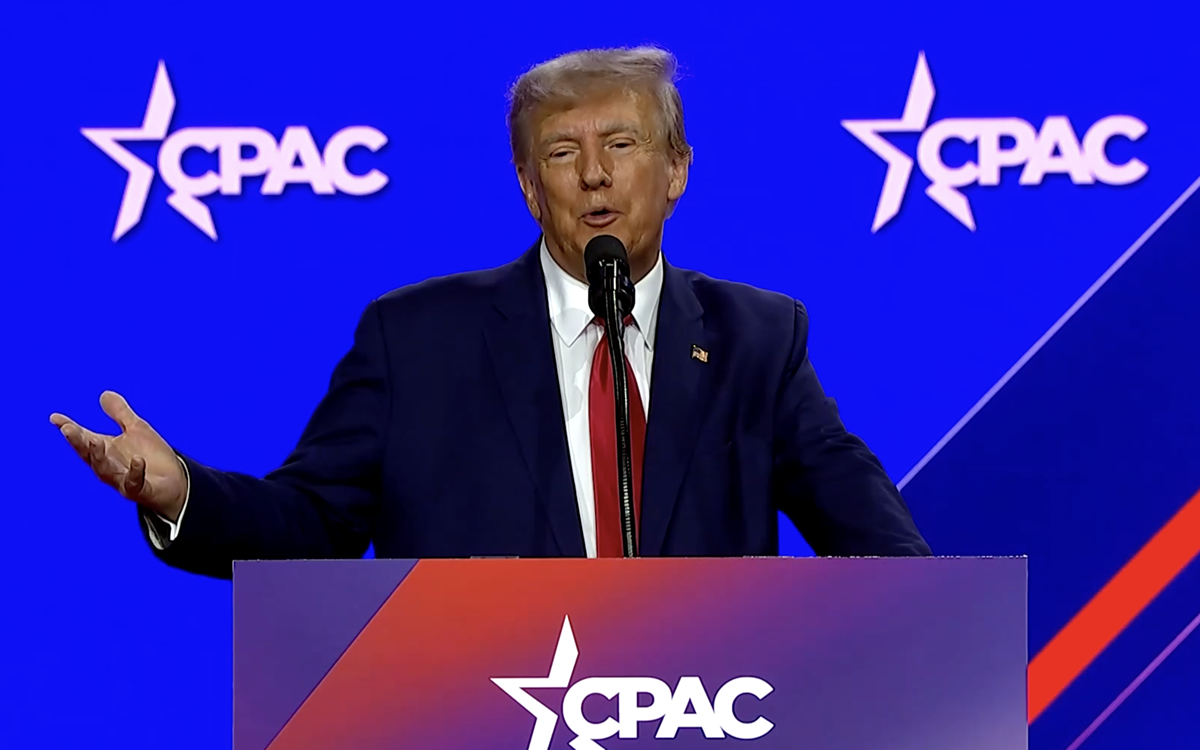 NEW YORK — A New York grand jury on Thursday voted to bring criminal charges sought by the Manhattan District Attorney's Office against former President Donald Trump in connection with his alleged orchestration near the end of the 2016 presidential race of a hush money payment to an adult film actress.
The contents of the indictment triggered by the grand jury's decision will almost certainly be kept under seal, however. And it is not clear when the charges will be filed, nor when an arrest and arraignment might come, or even whether Trump will surrender himself.
The uncertainty also extends to the consequences of America's first-ever indictment of a former president, the prospect of which had already roused Trump's allies in Congress to accuse prosecutors of politically motivated misconduct while prompting the former president's supporters to heed his call for protests.
The New York Times reported on March 9 that Trump's attorneys had received the signal from prosecutors that they were considering criminal charges, according to four people with knowledge of the matter.
Republican members in House leadership, meanwhile, signed on to a letter issued by Trump ally and chair of the U.S. House Judiciary Committee, U.S. Rep. Jim Jordan (R-Ohio), which demands testimony and documents from Manhattan District Attorney Alvin Bragg on his office's case against the former president.
The move closely followed Trump's Truth Social post previewing the coming indictment in which he wrote that charges would be filed on March 21 and urged his supporters to "protest, take our nation back!" The message recalls Trump's Dec. 19, 2020, tweet promoting the "wild" protests in D.C. that were scheduled for Jan. 6, 2021.
Evidence from court testimony in the criminal cases against several defendants who were charged with crimes including seditious conspiracy for their involvement in the deadly insurrection on the U.S. Capitol that day has shown that tweet was a major factor in the instigation of the riots.
In a notice to senators' offices on March 20, the Senate sergeant at arms said U.S. Capitol Police are taking security precautions, because "while law enforcement is not tracking any specific, credible threats against the Capitol or state offices, there is potential for demonstration activity."
Trump's former longtime personal attorney Michael Cohen is a key witness for the government, reportedly meeting with prosecutors 20 times to testify to his involvement in facilitating the payment to Daniels under Trump's instruction.
In 2018, Cohen was charged with violating campaign finance laws and other crimes stemming from his involvement in the scheme, testifying under oath that he routed – "in coordination with" and "at the direction of" Trump, who was then "a candidate for federal office" – $130,000 to Daniels just before the 2016 presidential election to secure her agreement not to disclose that she and Trump had extramarital sex in 2006.
Cohen was convicted and then disbarred before serving 13.5 months of his 5-year prison sentence.
However, after his two-hour testimony before the grand jury on March 20, Trump ally Robert Costello publicly challenged Cohen's testimony and credibility. He told reporters that Cohen, to whom Costello had once been a legal advisor, was lying about the former president's involvement in the payment and had previously claimed credit for conceiving of and executing the payment to Daniels.
The Federal Election Commission opened an inquiry into the matter but dropped the probe following a split 2-2 vote along party lines by the bipartisan agency's commissioners. A former FEC official previously told the Washington Blade that its investigations are almost always dropped, even in cases for which there is clear and substantial evidence that campaign finance laws were violated.
Trump faces more legal jeopardy amid the Justice Department's ongoing separate probes into his role in the Jan. 6 siege of the Capitol and potentially criminal mishandling of classified documents.
According to reports last week, there were new developments in the case presented to members of a special grand jury that was convened in connection with charges brought by Fulton County District Attorney Fani Willis over allegations that Trump unlawfully interfered in  the 2020 presidential election in Georgia.
Trump in a lengthy statement described the New York indictment as "political persecution and election interference at the highest level in history."
Former President Donald Trump speaks out for the first time since his historic indictment. "This is Political Persecution and Election Interference at the highest level in history." @NewsNation pic.twitter.com/Uqme7aP78I

— Kellie Meyer (@KellieMeyerNews) March 30, 2023