February 13, 2018 at 1:54 pm PST | by Staff reports
#MeToo: 'The Vagina Monologues' explains it all to you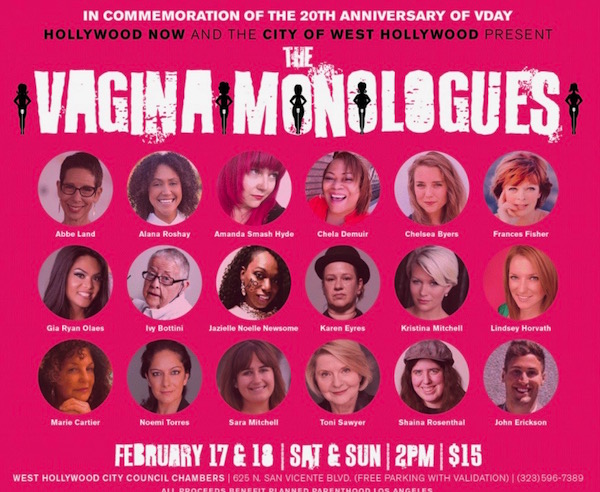 People have been mesmerized by the #MeToo movement as if it is a morality play bringing down one of Hollywood's biggest sexist moguls, Harvey Weinstein. But an Oct 15, 2017 tweet by actress Alyssa Milano moved the issue of sexual harassment from Hollywood to workplaces around the globe, asking anyone who had been sexually harassed or assaulted to write "Me too" in reply to her tweet. Soon the movement had a hashtag and was trending on Twitter.
Shortly thereafter, it was discovered that the real mother of the #MeToo movement was African American blogger and women's advocate Tarana Burke who came up the response in 1997 after finding herself speechless listening to a 13 year old girl's story of sexual abuse.
"I didn't have a response or a way to help her in that moment, and I couldn't even say 'me too,' " Burke told the New York Times. "It really bothered me, and it sat in my spirit for a long time." Ten years later, she founded Just Be Inc. to help victims of sexual harassment and assault and dubbed her effort "Me Too."
But in a way, Eve Ensler is the real godmother of the #MeToo movement. In 1994, after dozens of interviews with women victims of sexual assault and rape, she wrote the groundbreaking play The Vagina Monologues. While nudity and sexuality might be de rigueur in major city theatres today, more than two decades ago, audiences were shocked to hear women tell personal stories about their vaginas. And while the focus was on the social stigma around rape and sexual abuse, sometimes the stories were a little pee-inducing funny.
When Ensler found women waiting outside after each performance of her five year run Off-Broadway then her US tour, she knew she had to turn The Vagina Monologues into a vehicle were women could share their stories and do activism—so she created V-Day homepage.html on Valentines Day, 1998, with a group of women in New York City. Every year since then local organizations put on The Vagina Monologues with local activists telling their stories, all designed to end violence against women and girls around the world. So far, V-Day has raised more than $100 million for grassroots projects around the world.
This year, the West Hollywood production of The Vagina Monologues will be held on Saturday, Feb. 17 and Sunday, Feb. 18, 2018 at 2 p.m. at the West Hollywood City Council Chambers/Public Meeting Room at the West Hollywood Library located at 625 N. San Vicente Boulevard.
What's really great about Ensler's play is that local activists get to tell their own stories, not just recite what's presented to them.
So get ready: longtime lesbian feminist Ivy Bottini, who has a wicked sense of humor, is occupying one of those monologue stools!
Other cast members include City of West Hollywood Council member Lindsey P. Horvath, former Council member Abbe Land, Alana Roshay, Amanda Smash Hyde, Chela Demuir-Cartier, Chelsea Byers, Frances Fisher, Gia Ryan Olaes, Jazielle Noelle Triplett, Karen Eyres, Kristina Mitchell, Marie Cartier, Noemi Torres, Sara Mitchell, and Toni Sawyer.
In addition to the performance, this V-Day event will also feature a reception, silent auction, screening of the new anti-domestic violence Public Service Announcement I Remember Nicole, and distribution of the City of West Hollywood's "Only Yes Means Yes" campaign materials, which educate the community about sexual assault and promote a message of consent, and a special appearance by the Hollywood Chapter of the Handmaid Coalition, which stands for equity in gender and race representation on and off screen.
Tickets are $15 and proceeds benefit Planned Parenthood Los Angeles. To purchase tickets, log on to the production event page www.thevaginamonologuesweho.eventbrite.com or call (323) 596-7389. Validated parking is available for the adjacent 5-story parking structure.
For additional information, please call the City of West Hollywood's Event Services Division at (323) 848-6823. For people who are Deaf or hard of hearing, please call TTY (323) 848-6496.