Another Trump budget, another attempt to cut HIV/AIDS programs
Emergency Plan for AIDS Relief, or PEPFAR, would see a reduction of 17 percent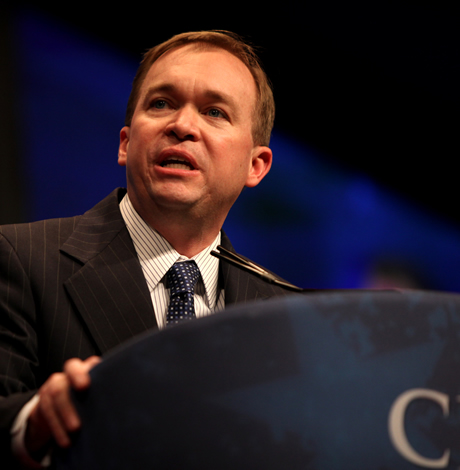 New year, new cuts to HIV/AIDS programs. President Trump's proposed $4.4 trillion budget for fiscal year 2019 is most prominently characterized by soaring deficits, but also calls for varying degrees of cuts to HIV/AIDS programs reminiscent of his earlier request.
The proposed cuts for HIV/AIDS overall are significantly less than the cuts that were called "pretty shocking" in last year's request. But compared to current funding that was actually appropriated by Congress, fewer dollars are requested for domestic programs as the epidemic continues in the United States while global programs see dramatic cuts.
The reductions come at a time when HIV/AIDS continues to affect the LGBT community as well as populations within the United States and abroad. An estimated 1.2 million people have HIV/AIDS in the United States and 37 million have the disease worldwide.
Substantial reductions are proposed for Medicaid, which would be cut by $1.1 trillion over the next decade. That program is important to low-income people with HIV/AIDS because an estimated 40 percent of Americans with the disease receive care under Medicaid.
In the aftermath of the tax reform package's undoing of the individual mandate in Obamacare, the Trump budget proposes to complete the repeal and replacement of the Affordable Care Act by passage of the Graham-Cassidy proposal in Congress.
That would repeal the Medicaid expansion in Obamacare and reinvent the program as a block-grant program to the states, which is more limited and would raise questions about access to care if it were implemented.
But the Graham-Cassidy proposal was already rejected by Congress last year where there wasn't sufficient support to bring up the measure, prompting HIV/AIDS advocates to guffaw at the proposed change.
Carl Schmid, deputy executive director of the AIDS Institute, said the prospects for Congress passing the proposal were so low he hadn't considered it a serious concern.
"I think a lot of it is rehashing things that they proposed before, but there's no appetite in Congress to do it, particularly because of the Senate," Schmid said. "They're not going to do reconciliation this year, and so, they're going to have to get 60 votes to do these things, and I just don't see the appetite."
Schmid, however, did express concern about the proposal in the budget that would build on Medicaid work requirements the Trump administration allowed states to implement. The work requirement, Schmid said, exempts people with HIV/AIDS, but wouldn't include people seeking to take PrEP to prevent HIV infection.
Daniel Bruner, senior director of health at the Whitman-Walker Health, said Congress is unlikely to pass the proposed cuts, but they nonetheless raise concern.
"The president is proposing very substantial cuts to Medicaid, Medicare, and public assistance programs that support health, such as food stamps," Bruner said. "These cuts, if Congress agrees — and they likely won't agree with all of the cuts — would make it much harder to combat the HIV epidemic."
Other cuts are proposed for programs specifically designed to combat HIV/AIDS, although the reductions aren't as significant.
The budget calls for $2.26 billion in funds for the Ryan White Care Act, which is a 2 percent reduction compared to existing funding levels. Those reductions are the result of zeroing out Special Projects of National Significance and AIDS Education & Training Centers, not services such as the AIDS Drug Assistance Program.
The Centers for Disease Control would see a $40 million cut for HIV prevention efforts and a $23 million cut for global health programs. That's a 5 percent cut from current funding, but not as big as last year's proposed cut, which was three times as much for HIV services.
HOPWA, or Housing Opportunities for Persons with AIDS, had previously been flat-funded at $330 million. The appropriations increased to $356 million in current spending levels, but the budget calls for returning the level of funds to the $330 million level.
Jennifer Kates, director of global health and HIV policy at the Kaiser Family Foundation, said although the cuts to domestic programs are relatively small, they could have an impact.
"Looking at the epidemic in the United States and where we are, there's more to be done and there's still lots of challenges, particularly, in some parts of the country for some populations," Kates said. "There's already a sense that there needed to be additional funding, particularly in prevention, so last year and this year's proposed decreased funding kind of go in the opposite direction."
Despite the reductions, the budget also calls for the creation at CDC of a new demonstration initiative that would "jointly eliminate multiple infectious diseases using intensive prevention, screening, and treatment/referral as treatment efforts."
"This initiative would focus on at least five states/jurisdictions, particularly those that are seeing a rise in infectious diseases related to opioid abuse," the request says.
Schmid said the proposal for the initiative is consistent with goals of HIV/AIDS advocates to allocate funds to HIV/AIDS prevention connected to the opioid epidemic, but the initiative has drawbacks.
"They did that at the expense of the HIV funding, so that's not positive," Schmid said. "We need to keep the HIV money there plus we need additional money to deal with opioids and infectious diseases."
Schmid said HIV advocates are working with the Congress for HIV/AIDS connections to opioid abuse "because the administration hasn't included that in their budget" and for the current fiscal year as opposed to FY-19.
For HIV/AIDS research, the budget roughly flatlines the National Institutes for Health at $34.7 billion, which is about $2 billion less than current levels of funds. That stands in contrast to the $7.2 billion in cuts proposed in Trump's previous request.
Mick Mulvaney, White House Director of the Office of Management & Budget, told reporters during a briefing Monday that flatlining was the result of Congress rejecting the cuts in the previous request.
"Congress, when they passed the appropriations bill in April, said not only are we going to plus it back up to the $35-odd billion dollars or whatever it is, but they put a rider in that said it was against the law to spend any money to do analyses on the administrative costs," Mulvaney said. "So they prevented us, by law, from trying to save money."
But that flatlining might not be what it seems. According to the HIV Medicine Association, the budget appears to cut funds for the National Institute of Allergy and Infectious Diseases by $111 million, which could hamper biomedical answers to HIV treatment and prevention.
The modest cuts to domestic HIV/AIDS programs, however, pale in comparison to proposed reductions for global initiatives.
The President's Emergency Plan for AIDS Relief, or PEPFAR, would see a reduction of 17 percent compared to existing funding levels, down from $4.65 billion in FY-17 to $3.85 billion.
Contributions to the Global Fund to Fight AIDS, Tuberculosis and Malaria are down are whopping 31 percent. While the current level is at $1.35 billion, Trump's request calls for $925 million in funds.
Kates said the dramatic cuts to global HIV/AIDS programs — similar to the reductions found in last year's budget request — would have a serious effect overseas given the dependence of these programs on U.S. funds.
"The cuts are similar in magnitude as last year," Kates said. "We did an analysis and we found that that could have a dramatic impact of health outcomes around the world, so the U.S. is such a large funder of global health efforts that cutting back on HIV efforts around the world could have a real impact."
Asia Russell, executive director of the Health Global Access Project, took particular issue with the proposed cuts to global AIDS programs in a statement.
"This is not a time to back down," Russell said. "U.S. funding for global AIDS programs has been critical in reducing deaths and new infections to the point where defeating AIDS is within reach. But after several years of flat funding from Congress, the response is running out of gas. At the very moment we should be on the brink of ending AIDS, Trump's deadly budget would shift the global AIDS response into reverse."
The White House Office of Management & Budget didn't respond to the Washington Blade's request to comment on the justification for cuts to domestic and global HIV/AIDS programs.
Melanie Thompson, chair of the HIV Medicine Association, said in a statement the budget proposal for both domestic and global programs is marked by a "regressive approach to public health" and HIV/AIDS.
"The plan released by the White House on Monday is short-sighted, damaging, and would erode the fabric of programs that people with HIV and millions of other Americans count on for access to the care and services that prevent and treat infectious diseases.
Even though the administration has proposed these cuts to HIV/AIDS programs, lawmakers need not agree to them and likely won't. In fact, after the administration proposed even more serious cuts last year, Congress kept the funding as it had been in years past.
Schmid predicted Congress would the do same in response to the FY-19 budget request, citing the recent two-year budget deal raising spending caps for non-discretionary spending to $300 billion as evidence of plenty of room for spending.
"Congress rejected cuts to the Ryan White programs, cuts to the CDC last year, so we anticipate that's how they'll react this year, particularly because they have this budget agreement that has all this additional funding for the budget," Schmid said.
President's Emergency Plan for AIDS Relief marks year 20
Achievements PEPFAR have been remarkable, well-documented by outside evaluators, and hugely applauded throughout the advocacy community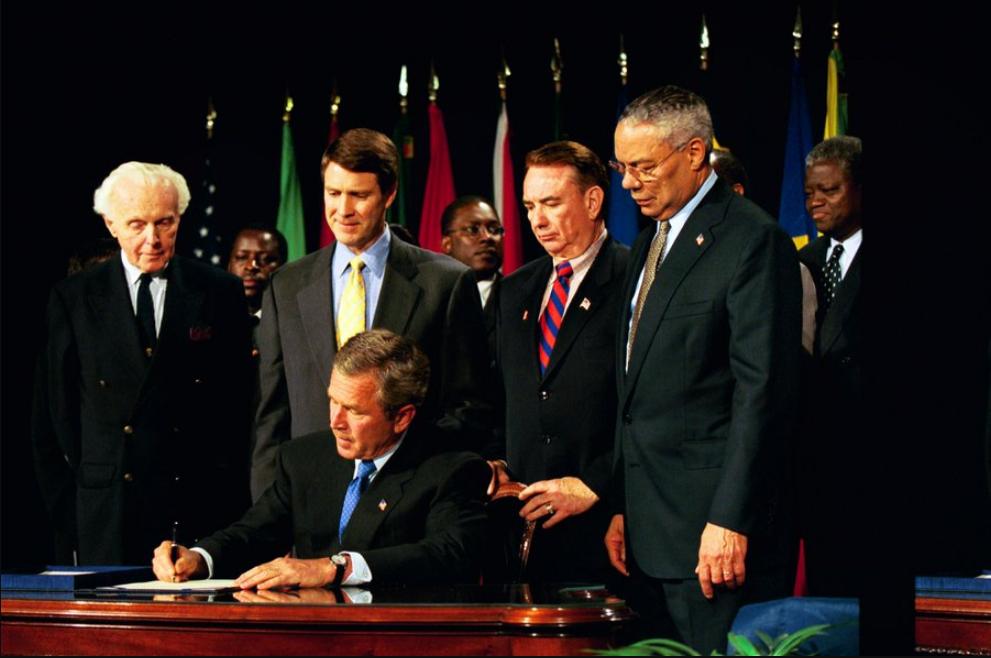 WASHINGTON – The President's Emergency Plan for AIDS Relief (PEPFAR) marks its twenty year anniversary today, marking the largest commitment by any nation to address a single disease in the world.
The initiative which was personally led and launched by former President George W. Bush in 2003, its funding has totaled more than $110 billion to date, including funding for the Global Fund to Fight AIDS, Tuberculosis and Malaria (Global Fund), to which the U.S. government is the largest donor.
PEPFAR is credited with saving millions of lives and helping to change the trajectory of the global HIV epidemic. The White House today released a statement by President Joe Biden marking the 20th Anniversary:
Twenty years ago today, President George W. Bush declared that preventing and treating HIV/AIDS was a foreign policy priority of the United States. At a time when nearly 30 million people were HIV positive, but very few were receiving life-saving medicines, the President's Emergency Plan for AIDS Relief (PEPFAR) transformed the global AIDS response and laid a marker for America's commitment to countries that were impacted the hardest by the AIDS epidemic. Helping lead the bipartisan effort in Congress to authorize PEPFAR is among my proudest achievements from my time in the Senate. To this day, PEPFAR remains a powerful example of America's unmatched ability to drive progress and make life better for people around the world.

Since 2003, PEPFAR has saved more than 25 million lives and dramatically improved health outcomes in more than 55 partner countries. AIDS-related deaths have declined by 68 percent since their peak in 2004, and new HIV infections are down 42 percent. PEPFAR investments have ensured that 5.5 million babies have been born HIV-free. And two decades of investment in partner nations' health systems played a critical role in countries' ability to respond to other health crises such as COVID-19, Mpox, and Ebola.

Today, PEPFAR continues to support 20.1 million people around the world with HIV/AIDS treatment, and my Administration is committed to continuing to lead the global HIV/AIDS response. We will build on our decades of progress to reach the Sustainable Development Goal of ending AIDS by 2030, work to eliminate the stigma and inequities that keep people from accessing care, and keep the voices of people living with HIV/AIDS at the center of our response. I look forward to working with Congress on PEPFAR's reauthorization this year.
PEPFAR is overseen by the U.S. Global AIDS Coordinator, who is appointed by the President, confirmed by the Senate, and reports directly to the Secretary of State, as established through PEPFAR's authorizing legislation.
PEPFAR's original authorization established new structures and authorities, consolidating all U.S. bilateral and multilateral activities and funding for global HIV/AIDS. Several U.S. agencies, host country governments, and other organizations are involved in implementation.
Dr. John Nkengasong, the current coordinator was sworn in on June 13, 2022, and holds the rank of Ambassador leading the Office of the Global AIDS Coordinator (OGAC) at the U.S. Department of State.
Twenty years ago this month, President George W. Bush announced #PEPFAR during his State of the Union address. Since then, the U.S. government has invested $100B+ in the global HIV/AIDS response through PEPFAR, saving 25M lives & bringing us closer to #EndAIDS2030. #PEPFAR20 pic.twitter.com/SMAOHWPZ03

— PEPFAR (@PEPFAR) January 11, 2023
Nobel Prize winning scientist Harold Varmus, who served as Director of the National Institutes of Health (NIH) from 1993 to 1999 and currently the Lewis Thomas University Professor of Medicine at Weill Cornell Medicine in New York City, wrote in an article honoring World Aids Day 2013:
[…] "the PEPFAR story must begin with George W. Bush and his wife, Laura, and their interests in AIDS, Africa, and what Bush termed "compassionate conservatism." According to his 2010 memoir, Decision Points, the two of them developed a serious interest in improving the fate of the people of Africa after reading Alex Haley's Roots and visiting The Gambia in 1990.3 In 1998, while pondering a run for the U.S. presidency, he discussed Africa with Condoleezza Rice, his future secretary of state; she said that, if elected, working more closely with countries on that continent should be a significant part of his foreign policy. She also told him that HIV/AIDS was a central problem in Africa but that the United States was spending only $500 million per year on global AIDS, with the money spread across six federal agencies, without a clear strategy for curbing the epidemic."
Key Facts (As provided by Kaiser Health & Family Foundation)
Although the U.S. has been involved in efforts to address the global AIDS crisis since the mid-1980s, the creation of the President's Emergency Plan for AIDS Relief (PEPFAR) in 2003 marked a significant increase in funding and attention to the epidemic.
PEPFAR is the largest commitment by any nation to address a single disease in the world; to date, its funding has totaled more than $110 billion, including funding for the Global Fund to Fight AIDS, Tuberculosis and Malaria (Global Fund), to which the U.S. government is the largest donor. PEPFAR is credited with saving millions of lives and helping to change the trajectory of the global HIV epidemic.
U.S. funding for PEPFAR grew from $2.2 billion in FY 2004 to $7.0 billion in FY 2022; FY 2022 funding includes $5.4 billion provided for bilateral HIV efforts and $1.6 billion for multilateral efforts ($50 million for UNAIDS and $1.56 billion for the Global Fund).
As the COVID-19 pandemic continues to have profound effects across the world, PEPFAR has acted to respond to COVID-19 in countries that receive support in order to minimize HIV service disruptions and leverage the program's capabilities to address COVID-19 more broadly.
Looking ahead, PEPFAR faces several issues and challenges, including how best to: address the short- and long-term impacts of COVID-19 on PEPFAR and the HIV response; accelerate progress toward epidemic control in the context of flat funding; support and strengthen community-led responses and the sustainability of HIV programs; define its role in global health security and broader health systems strengthening efforts; and continue to coordinate with other key players in the HIV ecosystem, including the Global Fund.
Key Activities and Results (As provided by Kaiser Health & Family Foundation)
PEPFAR activities focus on expanding access to HIV prevention, treatment, and care interventions. These include provision of antiretroviral treatment, pre-exposure prophylaxis, voluntary male circumcision, condoms, and other commodities related to HIV services. In addition, PEPFAR has launched specific initiatives in key strategic areas. For example, in 2015, PEPFAR launched DREAMS, a public-private partnership that aims to reduce HIV infections in adolescent girls and young women.
The latest results reported by PEPFAR indicate that it has:
supported testing services for 63.4 million people in FY 2021;
prevented 2.8 million babies from being born with HIV, who would have otherwise been infected;
provided care for more than 7.1 million orphans and vulnerable children (OVC);
supported training for nearly 300,000 new health care workers; and
supported antiretroviral treatment for 18.96 million people.
In the 15 countries implementing the DREAMS initiative, new diagnoses among adolescent girls and young women have declined with most DREAMS areas (96%) experiencing declines greater than 25% and nearly two-thirds with declines greater than 40%.
The achievements of the PEPFAR program have been remarkable, well-documented by outside evaluators, and hugely applauded throughout the advocacy community and the developing world. In general, milestones have been met, the program has been enlarged (for instance, to include some research on implementation of medical assistance), the roster of PEPFAR countries has grown and spending plans have not been exceeded.