February 15, 2018 at 9:57 am PST | by Karen Ocamb
CHIRLA to Feinstein, Harris: vote NO on Trump immigration bills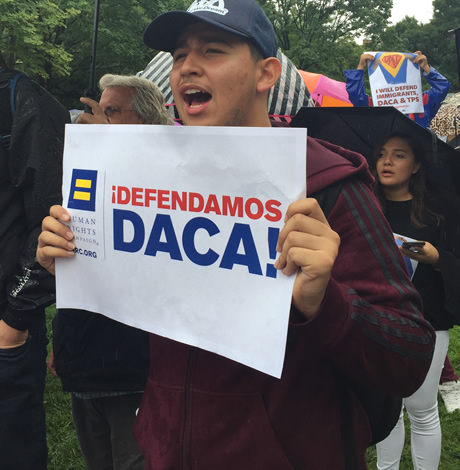 UPDATE: The Senate crumbled under the threat of a Trump veto Thursday.   The fate of DREAMers is now up to the courts; two judges have temporarily blocked March 5 end of DACA program but Trump's appealing.
A bipartisan group of senators dubbed the "Common Sense Caucus" apparently reached a deal on immigration legislation Wednesday that Donald Trump immediately threatened to veto if it didn't include four priorities, introduced in a bill by Iowa Republican Sen. Charles Grassley. Trump ended the Deferred Action for Childhood Arrivals program in Sept. 2017, giving Congress until March 5 or about 800,000 DACA recipients could face deportation to a country they have never known.
In Feb. 2017, the Williams Institute estimated that there are over 75,000 LGBT DREAMers, 36,000 of whom have participated in the DACA program. Many of the leaders in the DREAMers movement are LGBT. (Read LGBT DREAMers' stories here.)
The bipartisan bill would grant legal status to 1.8 million young immigrants and would give Trump about $25 billion for his border wall (the one Mexico was supposed to pay for)—but it would be over time, not immediately as Trump demands. Additionally, the senate compromise would curb legal immigration—what Democrats call family reunification and Republicans call 'chain migration'—a longtime policy Trump wants to end. The bill also keeps the diversity visa lottery program that Trump alleges, without evidence, allows terrorists to come un-vetted to the US.
The Senate has been debating what to do about DACA and other immigration issues for four days and is expected to vote Thursday on the bipartisan bill, as well, perhaps as a Republican bill that would punish sanctuary cities, including Los Angeles, San Francisco, and San Diego, which are sanctuary cities in the sanctuary state of California.
If the Senate does pass an immigration bill, it still faces a new intense debate in the House, where Speaker Paul Ryan leans toward Trump.
Meanwhile, U.S. Immigration and Customs Enforcement (ICE) have been carrying out raids in the Los Angeles area since Sunday, sweeping up "individuals who pose a threat to national security, public safety and border security."
"This means that, ideally, we are working with local police and county jails to identify public safety threats in their custody, who are also in the country illegally, for deportation," Immigration and Customs Enforcement spokesperson Sarah Rodriguez said in a statement.
But in "uncooperative jurisdictions" like Los Angeles, they are focusing "additional resources to conduct at-large arrests in the community, putting officers, the general public and the aliens at risk and increasing the incidents of collateral arrests."
ICE also say they are not using a priority criteria to determine who gets arrested. Therefore, "all of those in violation of the immigration laws may be subject to immigration arrest, detention and, if found removable by final order, removal from the United States."
So far, ICE has arrested more than 100 people; they are seeking as many as 400 undocumented immigrants for deportation across the Southern California area.
The LAPD has long had a policy of not cooperating with ICE in order to gain trust within immigrant communities to solve crimes. However, the LAPD recently revised its policy not to ask "place-of-birth" questions that are helpful to ICE, to avoid jeopardizing cooperating in other joint LAPD-ICE operations. Meanwhile, the LA Sentinel reports that a federal judge ruled on Wednesday that ICE and the LA County Sheriff's Department "unlawfully detained thousands of suspected immigrants and denied them bail even for minor offenses on the basis of unconstitutional requests from ICE known as immigration detainers, court papers obtained last week show."
Advocacy groups, such as the California Dream Network (CDN), the youth organizing arm for the Coalition for Humane Immigrant Rights (CHIRLA), are focused on the Senate vote expected Thursday.
The following is a statement from CHIRLA Executive Director Angelica Salas:
"The Senate must show Americans it can lead on the pressing issues we face, including immigration. Our elected leaders have a golden opportunity to advance legislation that protects young immigrants and reflects our nation's values. To follow white nationalists and ultra-right conservatives and their agenda is not the path forward and would be a grave error.
Several proposals, including the Grassley, Toomey, Heller, and the Rounds-King bills, are a big waste of taxpayer dollars in addition to being cruel, racist, and un-American. These proposals are mass deportation bills and our community will not support them or accept them as the poison pills they are. No Senator should stoop so low by voting for these bills. We call on California U.S. Senator Feinstein and Harris to vote no on these proposals. (Call 478-488-8059)
CHIRLA supports the McCain-Coons bill because it embodies the principles we hold dear, among them:
* Recognize the full humanity of immigrant families and their unalienable human rights.
* Grant full and equal citizenship to immigrant youth with sensible, affordable, and swift path to citizenship.
* Preserve and uphold legal migration and family reunification.
* Create laws that treat everyone, no matter what country they come from or how much education or money they have, equally, fairly, and respectfully.
* Invest in communities, uplifting and protecting border economies and diversity, instead of wasting taxpayer money in vanity projects at the border or the interior.
* Affirms immigration is America."