February 14, 2018 at 3:21 pm PST | by Staff reports
California governor's race: Newsom's new ad features 2004 marriages (video)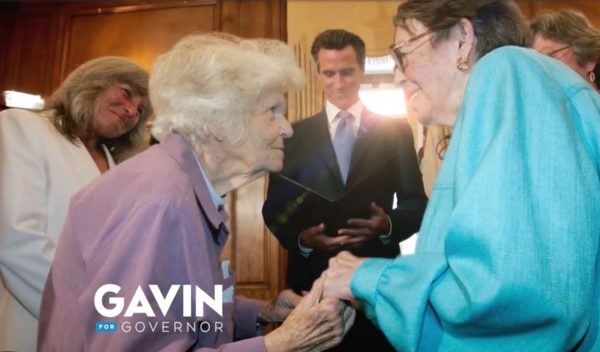 People forget, but 14 years ago the fight for marriage equality abruptly changed. Since 1999, Marriage Equality USA in California organized Valentine's Day "Freedom to Marry" protests at local city or county clerk's offices where same sex couples would ask for a marriage license and be turned away. In Los Angeles, the occasion was regularly recognized by Robin Tyler and Diane Olson and Rev. Troy Perry and Phillip DeBlieck with their attorney Gloria Allred, who then held a news conference outside the Beverly Hills Courthouse decrying gay and lesbian second class citizenship.
But on Feb. 12, 2004, two days before Valentine's Day, newly elected San Francisco Mayor Gavin Newsom shocked the world by not only announcing that the city and county would issue marriage licenses but that he would officiate at the first marriage himself, celebrating the 50 year love of icons Del Martin and Phyllis Lyon.
Newsom's stunning decision was in reaction to President George W. Bush's announcement in his State of the Union address that he supported a federal constitutional amendment banning same sex marriage and while same sex couples everywhere were elated, Democrats were furious. Newsom, they argued, just cost them the 2004 elections—and they were right as Bush's brain, Karl Rove successfully drove anti-gay marriage initiatives in 11 states.
The LGBT community was forever grateful as he helped make full equality a serious political issue. Soon thereafter, Assemblymember Mark Leno authored AB 19, the marriage equality bill, with backing from Geoff Kors and Equality California—which made support for full equality a litmus test to win an endorsement. Meanwhile, a lawsuit filed by Allred on Feb. 23, 2004  after Tyler and Perry tried for a marriage license again, also on Feb. 12, coupled with lawsuits filed after an injunction halted the thousands of same sex marriages that occurred between Feb. 11 and March 11 were consolidated into In Re Marriages.
On May 15, 2008, the California Supreme Court ruled the ban on same sex marriages was unconstitutional. Newsom again officiated at the marriage of Phyllis Lyon and Del Martin. The two lesbian feminists were initially against participating in the patriarchal institution of marriage—but did so for the cause in 2004 and because friends like Kate Kendell, executive director of the National Center for Lesbian Rights, asked them to. On June 16, 2008, they wanted to. Del Martin died 10 weeks later, on August 27, 2008.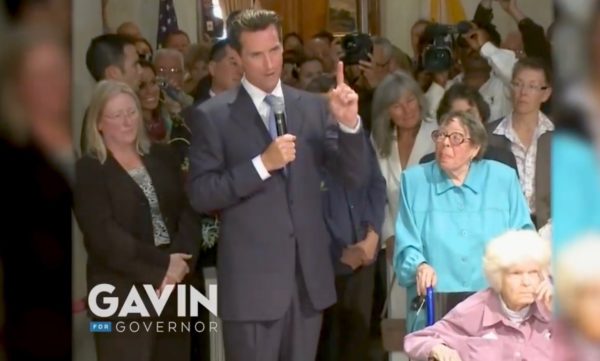 There was some vindication for the mayor, but Newsom's name was mud with many establishment Democrats for years after his bold action on marriage equality. During the initial contretemps in Feb. 2004, he declared that denying gay men and lesbians the right to marry "is wrong and inconsistent with the values this country holds dear."
"I think we're on firm legal footing and legal grounds, and certainly I believe very strongly and passionately we're on the right moral ground," Newsom said on CNN's "Late Edition."
"I will not abdicate and step back and say what we were doing 10, 15 days ago — before this action — is appropriate," Newsom said. "I do not believe it's appropriate for me, as mayor of San Francisco, to discriminate against people.
"And if that means my political career ends, so be it."
This Valentine's Day, Newsom—who has already been endorsed by Equality California —released an online ad highlighting that once politically dangerous position as emblematic of why he should be elected California's next governor. Robin Tyler and Diane Olson's June 16, 2008 marriage is featured, too.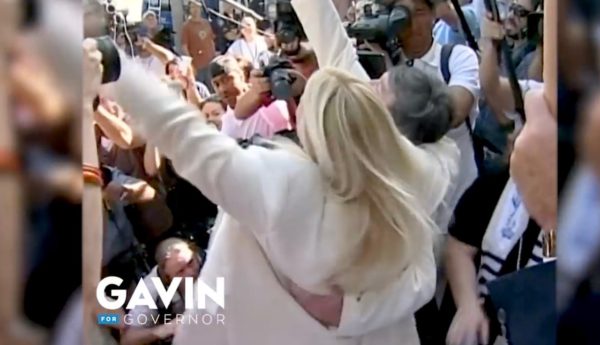 "Today we can confidently say is the first day in the state of California that we are providing marriage equally and fairly to everyone and denying no one their right and their opportunity to live their lives out loud," says Newsom in the ad after Phyllis and Del's 2004 marriage.
Newsom is betting the message holds true in the Trump era, too.