"Conflict is Not Abuse" provides clarity in anxious times
A conversation with Sarah Schulman and Darnell Moore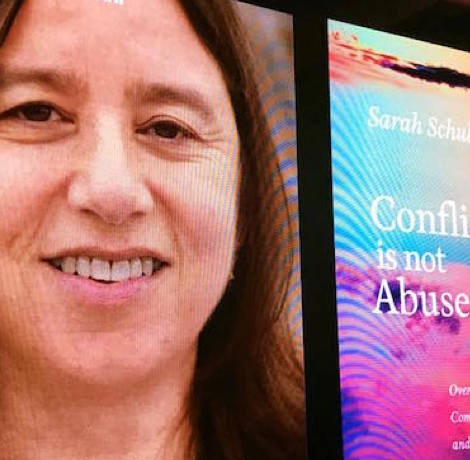 There is no turning away from the stark consequences of violence in the U.S. and abroad in our current moment.
Mass shootings, blatant (and subtle) forms of white supremacist terror, sexual abuse, erratic conflicts between nation states, unrepentant government backlash against undocumented immigrants, harm committed by law enforcement, economic pillaging of the poor, myriad forms of antagonism aimed at queer and trans people, and the willful mistreatment of girls and women are incessant, ever-evolving, horrors we are embattled by daily.
We feel the effects of such horrors. We sense in our bodies, in our homes, and within our communities their consequences. But we often lack the language and analyses that can move us beyond a shortsighted focus on the after effects of violence and into a place of clarity in which we might collectively find resolve.
Sarah Schulman, a novelist, playwright, nonfiction writer, screenwriter and activist whose three decades of work has established her as a distinguished and sharp cultural producer and critic, has written a book that brings relief, in the form of careful examination, for our conflicted times.
Schulman's "Conflict Is Not Abuse: Overstating Harm, Community Responsibility, and the Duty of Repair" is a thought map charting a course we might follow as we attempt to move from conflict to transformation. She argues, with impeccable clarity and insight, that "any pain that human beings can create, human beings can transcend." To some, that line may read as too poetic, too quixotic, during times when so many vulnerable people in the U.S. face the real threat of imminent harm by the state or other people, but what is hope but a belief in the possibility of overcoming seeming impossibilities?
Having known, and admired, Sarah over the past several years, I've come to respect her perspectives, which are always ahead of the times. I was delighted to learn more about conflict and resolution by way of an interview. What follows is a condensed version of the dialogue we shared via email.
DARNELL MOORE: Let me begin by asking you to comment on the most recent mass shooting at Stoneman Douglas High School in Parkland, Florida. 19-year old Nicolas Cruz, who had been accused of physically assaulting his ex-girlfriend in the past and an alleged white supremacist, killed 17 people. Can you say a bit about mass shootings within the U.S., the root causes and consequences, and how the central argument in Conflict Is Not Abuse might help us to respond collectively?
SARAH SCHULMAN: The killer's father died when he was 3. He was posting scary racist images of guns and hurting animals. Then his mother died 3 months ago. His girlfriend broke up with him and got a new boyfriend. He started telling people he wanted to shoot up the school. Some people described him in a way that points to biological issues. He got expelled. Why expel a messed up kid whose parents just died? What do we do with people who cannot handle immense pain and loss? Kick them to the curb and let them buy guns?
My friend Jeff Van Dyke pointed out to me that America's two greatest exports are weapons and entertainment, and most of our entertainment glorifies weapons. It could be said that our commodified popular culture is one big ad for weapons. But on top of the obvious issue of guns and brutality culture, other important questions arise. We must find a way to deal with male offenders. Right now we either excuse them, or eject them via incarceration or exclusion or shunning. None of these options actually try to engage why they are abusive.
In my book I look at two different kinds of people who engage in abusive behavior: supremacists and the traumatized (while recognizing that both can live in the same body.) Some people are raised with a sense of superiority. They feel that they have the right to never be opposed or questioned, and certainly to never be asked to question themselves. If anyone resists their supremacy, they feel uncomfortable and falsely equate that with being under attack. They feel justified in escalating against others, treating others in ways that are not justified but feel reasonable because of the distorted thinking of entitlement. But sometimes when we are traumatized, it is so hard to just keep it together, that facing some kind of difference, or being in a situation where not everything can go our way, feels threatening. Any kind of further self-interrogation feels impossible, and so- similarly to the supremacist, the traumatized person may feel under attack when they are simply facing difference, and act out in ways that are terrible for other people.
In my book I cite the work of Edith Weigert, a mid-20th century German psychiatrist who describes treating people during the rise of the Nazi Party. She and her friend, another refugee psychiatrist Frieda Fromme-Reichman, talked about the wish to treat Nazis. How Nazis were people who could not separate anxiety from the need to act on it. Racism is an interior anxiety that people falsely blame on exterior experiences or other people. A fascist, a rapist, a school shooter, a brutal police officer, are people who feel compelled to act out their internal conflicts on other people. We need awareness, and responsible group relationships to help us separate anxiety and fear and grief from actions that destroy other people.
Rather than expelling Nikolas Cruz and selling him guns, which made him even more hurt, more alienated and more alone. We needed to surround him with community, with acknowledgement of his pain, with help in separating his painful feelings from destructive actions, to avoid this kind of disaster.
MOORE: "Conflict Is Not Abuse" could not have been written at a more appropriate time. It is also true that it could have been published a century ago, or published several decades from now should the world as we know still exists, and the argument you make would still be critical. Share a bit about the book's timing and the ways it is in dialogue with so many of tremors shaking our world?
SCHULMAN: Well, I have been writing this book for many years. It started with my book "Ties That Bind: Familial Homophobia and Its Consequences" (New Press), in which I examined the homophobic family. How they bond with each other to blame and exclude the queer family member. They give each other pleasure, in their bond of supremacy, by claiming that it is the queer in the family who is the problem. But actually, the reality is, that the real problem is the homophobia of the family. They are rewarding each other in a negative group relationship.
This insight was something I applied with more complexity in my book "Israel/Palestine and the Queer International" (Duke Press) in which I applied it to myself as a Jew born 13 years after the end of the Holocaust to truly face how the Israeli State and its supporters use abuse tropes and victim language to justify the grotesque subordination of an other people, the Palestinians.
So by the time I came around to "Conflict Is Not Abuse," I had already explored the negative group relationship, in which the people causing the pain describe themselves as victims, in both the family realm, and the geo-political realm. And I had a strong foundation for going deeper, into the kinds of group relationships, like couples, and cliques, and communities, in which terrible behavior is justified and used as a springboard for supremacy.
The book came out two weeks before Trump's victory. And in many ways, he has proven my thesis. Every day he tells us what a victim he is, what a witch-hunt is attacking him, and how "sad" it is. At the same time his supporters take their own real pain, and project it—through distorted thinking—onto immigrants, who have contributed nothing towards their confusion and pain. The real blame should be placed onto the white 1% who are behind the globalization of industry that has eliminated the social role of many white working people. But this is obscured by scapegoating.
MOORE: I am always struck by your candor. You're an honest writer who is not afraid to position yourself as a subject of analysis or critique. You do so in Conflict Is Not Abuse. I often say that so many of us are able to name the feet situated on our necks but are less willing to name the necks our feet are situated on. This is what you do in your work. Why is self-reflection, or self-reflexive analysis, vital for the end of the transformation—for the end of creating communities and relationships without harm?
SARAH: I have to, or else I would be absurd. My femaleness, my lesbian life, have subjected me to every level of denigration and exclusion, but my whiteness, and especially my Jewishness in the age of apartheid Israel, requires me to take responsibility for the de facto advantages and power. One thing I have learned is that it is necessary to negotiate, and in order to negotiate we have to communicate. When we apologize, we lose nothing. When we have terms for ending shunning, we enter into the realm of the sane.
MOORE: I really appreciated your take on the role of social media and the ways it can flatten dialogue or make dialogue difficult. You are active on social media, especially Facebook, what do you see as its benefits and negative effects?
SCHULMAN: If it were not for Facebook, I wouldn't be able to hear from Palestine, and especially activist and queer Palestine everyday as I do now. If I were dependent on the New York Times and MSNBC, I would know nothing. Anything can be used for good or for evil: a hug, a book, a candle, a television set, a computer. It is not the tool that has inherent meaning, it is the person who is using it that brings its value.
MOORE: The #MeToo movement has elevated a much-needed dialogue on sexual assault, sexism, misogyny and male domination. What are your thoughts on the present public call outs and responses?
SCHULMAN: The pre-eminent event of the moment is that women are being heard for the first time, saying something that we have been saying for fifty years that has been met with derision and mockery. And this is the most significant happening. I hope this gets extended to a broader conversation about the meaning of the revelation that so many men with the power of selection, abuse that power. What does that mean about our social standards of what is good or beautiful? Secondarily, what I am seeing, is that corporate entities: entertainment industries, universities, companies, are firing, shunning, and even erasing people, not for ethical reasons, but because they fear legal liability. The people doing the firing are often behaving in the same manner as those they are eliminating. This may still help some victims, but it is not going to produce any real change. And there is corporate overreaction in some cases, in which people get crushed. We are also seeing a lot of confusion about what is actually wrong. Assault is one thing, and that executives go so far as to set up rape situations, or hire Mossad agents to harass actresses, reveals criminality at the helm of social institutions. But just because one person is uncomfortable does not necessarily mean that the other party has violated them. That is a grey zone that requires a lot more conversation. When I see people complaining "he invited me to his hotel room"—well, that is not a crime, nor should it be. We need more opportunities for connection and expressions of desire, not less. The solution is not more repression and punishment, but instead more freedom and options for everyone. If I am embarrassed by the potential for passion or sexuality or love between me and another person, that doesn't mean that they are hurting me if they are bold enough to take the chance.
MOORE: Give us Sarah Shulman's quick take on the current state of national political affairs.
SCHULMAN: We are in the middle of a national cataclysm and no one knows what is going to happen. But one thing I am sure about: we are never going back to the neo-liberal society that we lived in 14 months ago. There is no going back. We have to come out the other end of this terrifying moment, and we had better articulate our visions for what kind of society we want to live in when we get there.
MOORE: I was so moved by this line: Any pain that human beings can create human beings can transcend. That is a sermon—one that holds the potential to spur healing. It's also hard to fully accept. As a black person, for example, as someone who is in this country per chattel slavery living through its many aftereffects, it is difficult for me to accept that the U.S. can transcend its violent racist heritage. But I also maintain hope in the possibility of a world that is not anti-black. What does transcendence look like?
SCHULMAN: We need moral group relationships in which loyalty and love are defined by encouraging each other to negotiate, to be self- critical, to help each other listen, communicate, and to change. Right now, the standard is that we have to be perfect to be eligible for compassion, but perfection is a delusion, and difference the shared reality of humanity.
Jinkx and DeLa deliver pitch-perfect holiday comedy
The Return of The Jinkx & DeLa Holiday Show, LIVE!" comes to LA for one show only: Saturday, December 18, at The Theatre at Ace Hotel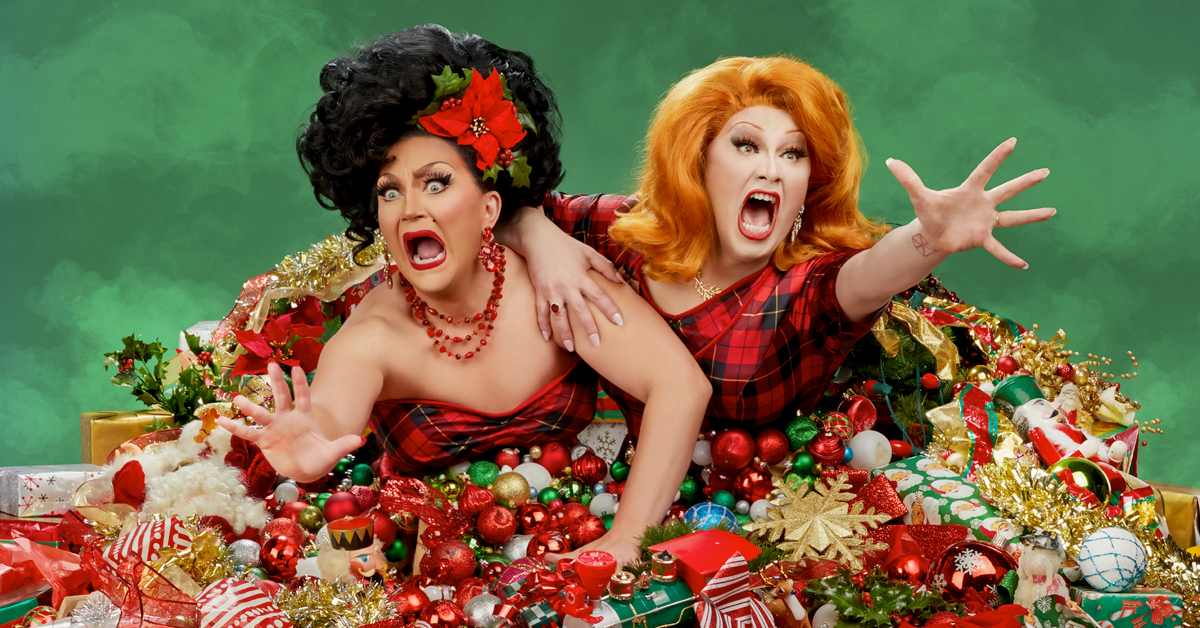 NEW YORK – Touring through December 30 with a new, essential viewing installment of their annual holiday stage show (skipped last year because of COVID-Number-You-Know), drag queens Jinkx Monsoon and BenDeLaCreme need about five minutes of stage time to prove they've earned their place in the pantheon of mismatched comedy duos.
From the time they set up the show's premise to the moment they send their swooning audience back into the larger world hoarse from excess laughter, the writer/performers work a binge-worthy buddy dynamic informed by the kinetic stage antics of Martin and Lewis, the pitch-perfect timing of Bob and Ray, the contempt-breeding familiarity of Eunice and Mama, and the fourth wall-breaking rivalry of Looney Tunes characters. ("Duck Season," insists DeLa's Bugs, answered by a "Rabbit Season!"-spouting Jinkx, in full-on Daffy mode.)
If some of the above pairings don't ping your radar, no worry. Rest assured the carefully calibrated Christmas concoction created by DeLa and Jinkx knows its herstory. You can see it clear as day, in the DNA of each character: DeLa is stick-up-posterior organized and proper—the rigid product of too many traditional Christmases in Connecticut. Jinkx is a vulgar vixen whose idea of decking the halls is hitting the bars—and the back alley after last call.
Each bristles at the other's extremes, oblivious to their own. Thus, the show is a series of escalating scenarios, where their oil and water makeup threatens to fracture the friendship beyond repair.
But how did things get to such a point? After entering the stage to raucous applause (seen by this scribe on Dec. 4, the second of two shows at NYC's Town Hall), Jinkx and DeLa acknowledge the down time ("two years gone") between these annual Yuletide stage shows, during which each gives their own take on the bill-paying indignities of Cameo bookings.
All is well—but soon enough, we're introduced to an all-new character whose chemistry with DeLa does not sit well, at all, with Jinkx (a study in delayed or devoured pleasure, depending upon whether she stops short or imbibes from her omnipresent cocktail glass). It doesn't help at all that the budding new bestie is a saccharine-sweet, larger than life, anthropomorphic peppermint retrieved from the bottom of DeLa's comedically oversized purse.
Peppi the Peppermint (puppeteered by DeLa) is a bottomless well of mint-based puns and newborn-innocent questions about the meaning of words. The script hands Jinkx a half-dozen or so chances to stew in her juices before boiling over, when Peppi's vocabulary comprehension skills are portrayed as wildly inconsistent (multisyllabic words are understood perfectly, while the meaning of simple ones prove elusive).
For fans of 2020's subversively sincere and heroically explicit "The Jinkx & DeLa Holiday Special" (currently available on HULU), Peppi the Peppermint is to this show as Nanog (DeLa's "dairy nogmother" puppet) is to that one—a seemingly harmless confidant who transfixes DeLa while alienating Jinkx. In addition to this forward-moving narrative device, "The Return of The Jinkx & DeLa Holiday Show, LIVE!" benefits from mounting several of the production numbers from "Holiday Special," complete with a six-person dance ensemble drawn from that show's cast.
Benefitting from on-point costumes that crystallize the essence of their character, the ensemble is especially effective in DeLa's dense little ditty about all the essential elements of a Connecticut Christmas. Later on, in a number that takes jabs at the story of the virgin birth and its 33-year aftermath, one dancer—as the adult Jesus—becomes the cross that the Christ child is crucified on. Played as a seconds-long tableau within the song's fast-paced choreography, it's long-lasting satire at its most devastating and damning.
That's only one of several WTF? moments in the show, the best of which they save for late in the game. Having earned sustained hoots and hollers throughout the nearly two-hour show, the broad comedy gets toned down a few dozen notches, with our freshly reconciled Jinkx and DeLa in an exchange about the gift of friendship and the power of community. There's a grounded sincerity to that moment, with no expectation, or delivery, of a punchline. That's a tough act to sell when you've been playing to the back of the house all night—but it works, and it's wonderful. 
"The Return of The Jinkx & DeLa Holiday Show, LIVE!" comes to the Los Angeles area for one show only: Saturday, December 18, at The Theatre at Ace Hotel. Produced and directed by BenDeLaCreme, co-written and co-created by BenDeLaCreme and Jinkx Monsoon, and associate produced by Kevin Heard. For more information and to purchase tickets, visit jinkxanddela.com.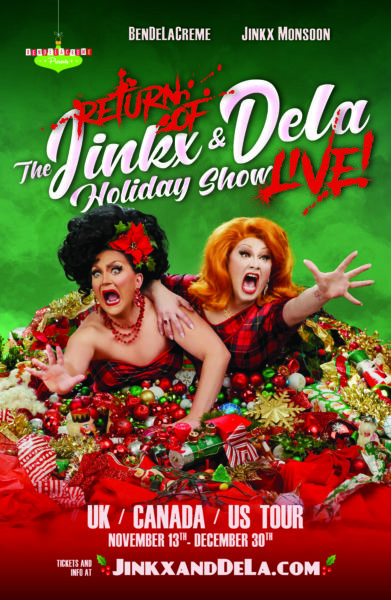 Saturday, December 18 – Los Angeles, CA (The Theatre at Ace Hotel)
Sunday, December 19 – San Francisco, CA (The Palace of Fine Arts Theatre)
Tuesday, December 21 – Seattle, WA (The Neptune)
Wednesday, December 22 – Seattle, WA (The Neptune)
Thursday, December 23 – Seattle, WA (The Neptune)
Friday, December 24 – Seattle, WA (The Neptune)
Sunday, December 26 – Seattle, WA (The Neptune)
Tuesday, December 28 – Vancouver, BC (Vogue Theatre)
Thursday, December 30 – Portland, OR (The Newmark)
Golden Globes announces diverse slate of nominees
But is it diverse enough to quell controversy?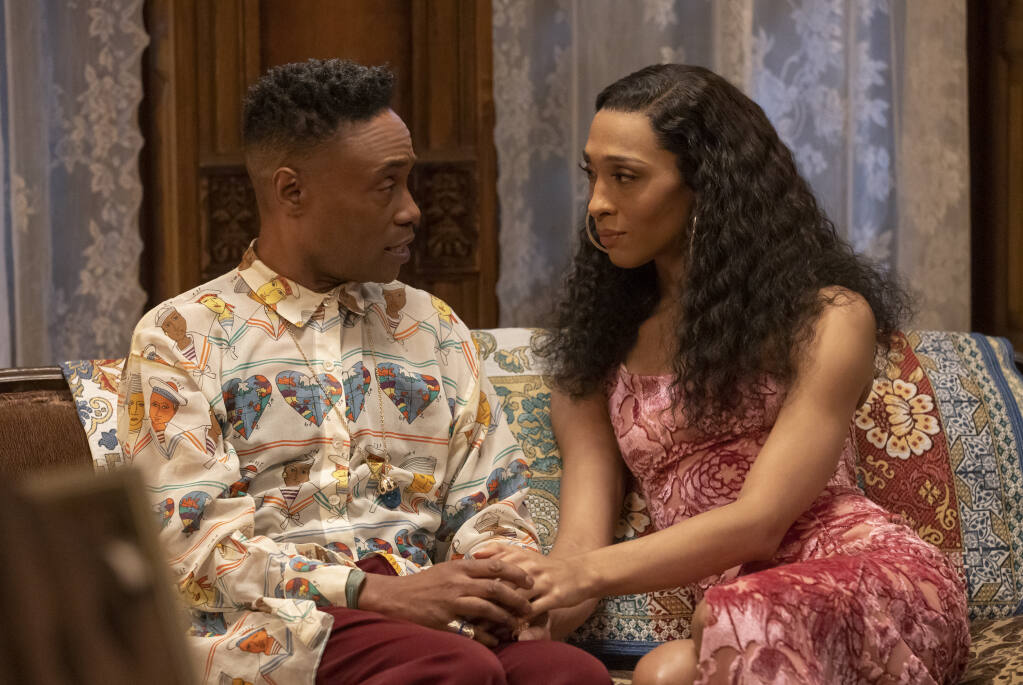 [NOTE: This article has been updated to reflect corrections from the originally published version. The previous HFPA membership included no Black members, instead of no people of color as initially reported. Additionally, it was previously stated that the awards ceremony would take place on the Golden Globes' You Tube channel; however, a format for the presentation has yet to be officially announced.]
HOLLYWOOD – If any doubt remained that the Hollywood Foreign Press Association has fallen spectacularly out of favor, it was summarily erased by the fact that the sole celebrity on hand to help announce the list of nominations for its 2021 Golden Globe Awards was Snoop Dogg.
That's not a dig against Snoop Dogg. The eminently lovable rapper is an icon who manages to float effortlessly between worlds within the entertainment industry, thanks to a reputation for enthusiastic self-parody and a proven tendency to be pretty much game for anything – and frankly, watching him read the service manual for a vintage sewing machine would likely be more entertaining than sitting through a list of award nominees being recited (with perfunctory reverence, of course) by even the most accomplished of screen thespians.
Still, the glaring absence of any representative from the industry which the HFPA exists to honor is proof that the organization is still a long way from recovering from the scandal that broke in the wake of a Los Angeles Times investigative report earlier this year, which revealed that its nearly 90-person membership included no Black members and provided damning details about its long-alleged unethical practices – including the influence over its voting process by gifts, paid travel, and other perks from studios and networks behind the potential nominees and winners.
The bombshell report, which was published mere days before the Golden Globes presentation last February, led to an embarrassing award show in which the revelation of the winners was eclipsed by the organization's scramble to do damage control.
Leaning into a too-little-too-late show of diversity among the ceremony's performers and presenters, and sending some of the HFPA's high-level representatives to the podium in a desperate effort to spin the situation with a not-quite-apology for its previous shortcomings (followed by an unconvincing promise to do better), the organization seemed only to have dug itself deeper into the hole of bad publicity that threatened to put an end to the awards body's 78-year existence, once and for all.
Proposed reforms to the structure and practices of the HFPA were announced, and were promptly dismissed by Time's Up as "window-dressing platitudes." Major players in the industry announced intentions to boycott the Golden Globes; more than a hundred PR firms threatened to cut off the HFPA from access to their clients; high-profile talent publicly denounced the organization, with three-time winner Tom Cruise even returning his trophies. Perhaps most disastrous of all, NBC – the network which had been home to the Golden Globes broadcast – announced it would not be airing another one until at least 2023, saying that "change of this magnitude takes time and work" and that "the HFPA needs time to do it right".
Despite all this, the beleaguered organization declared its intention to continue with its annual awards presentation, and following months of restructuring – in which the HFPA has attempted to diversify its ranks by adding new members, rewritten its bylaws, forbidden the acceptance of gifts, restricted compensated travel, and undertaken an effort to revamp itself from bottom to top – has tenaciously clung to relevance by announcing the nominees for this year's crop of films and television shows in an early morning press conference marked by the non-participation of any of the potential recipients of those honors.
This means, of course, that it's time to start gearing up for another awards season in which the dramatic changes wrought by the Covid pandemic upon the entertainment industry are sure to have a still-unpredictable effect on the outcomes, and to engage in a game of "armchair quarterbacking" as we attempt to predict how the honors bestowed by other awards bodies will impact the winners' circle for the most coveted industry prize of all: the Oscars.
Traditionally, the Golden Globes have been seen as a bellwether for Academy Award inclusion, with many of the nominees and winners going on to eventual Oscar glory – but given the current still-ongoing boycott of the HFPA by so many of the industry's most influential power-players, it remains to be seen if that long-standing assumption will hold true this year.
With that in mind, it's worth taking a look at the nominees – with an eye to the diversity among the choices, particularly the inclusion of LGBTQ-relevant nominees among the contenders.
For television, Black actors Billy Porter ("Pose") and Omar Sy ("Lupin"), as well as South Korean actor Lee Jung-jae ("Squid Game"), received nominations as Best Lead Actor in a Drama Series, while the equivalent Lead Actress category included Black actress Uzo Aduba ("In Treatment") and Black/Puerto Rican actress Michaela Jaé Rodriguez ("Pose") – who also makes history by becoming the first transgender performer to be nominated in this category, a feat she also accomplished at the 2021 Emmys. In the Comedy division, Black actor Anthony Anderson ("Black-ish") picked up a nod as Best Lead Actor, with Black actresses Issa Rae ("Insecure") and Tracee Ellis Ross ("Black-ish") included among the nominees for Best Lead Actress.
In the supporting categories (which are not divided into comedy and drama division), O Yeong-su ("Squid Game") got a nod for Best Supporting Actor, with no nominees of color named within the Supporting Actress slate.
For performances in a Limited Series, Anthology Series, or Motion Picture Made for Television, Latino actor Oscar Isaac ("Scenes From a Marriage") and French-Algerian actor Tahar Rahim ("The Serpent") made the cut for Best Actor, while Black actress Cynthia Erivo ("Genius: Aretha") was nominated for Best Actress.
The big screen acting categories also included several nominees of color. Though there were no performers of color in the running for Best Lead Actress in a Motion Picture Drama, the Lead Actor slate includes three Black actors – Mahershala Ali ("Swan Song"), Will Smith ("King Richard"), and Denzel Washington ("The Tragedy of Macbeth") – among its contenders. In the Musical or Comedy division, Latino actor Anthony Ramos ("In the Heights") scored a nomination for Lead Actor, with Latino/Polish newcomer Rachel Zegler ("West Side Story") earning a nod for Lead Actress.
In the Supporting categories (which again, are not separated into Drama and Comedy divisions), Black performers Aunjanue Ellis ("King Richard") and Ruth Negga ("Passing") joined Black/Puerto Rican performer Ariana DeBose ("West Side Story") on the list of Actress nominees, and while the Actor category contained no performers of color, deaf actor Troy Kotsur ("CODA") made the cut, in a rare show of representation for people with disabilities.
When it comes to LGBTQ representation, however, the nominations fall considerably shorter. Among all the acting nominees, the only out members of the community are Porter and Rodriguez (each in their respective Lead Performance categories for "Pose"), Kristen Stewart ("Spencer") and Lady Gaga ("House of Gucci") for Lead Actress in a Motion Picture Drama, and Hannah Einbender ("Hacks") for Best Performance by a Lead Actress in a Television Comedy. In addition to these, Azuba, Erivo, and Andrew Garfield (nominated for Best Lead Actor in a Motion Picture Musical or Comedy for "tick, tick… Boom!") are noted for their vocal LGBTQ advocacy as allies. 
While nominees Benedict Cumberbatch and Kodi Smit-McPhee (nominated for Lead and Supporting Actor, respectively, in a Motion Picture Drama for "The Power of the Dog") play queer characters, both identify as straight in real life. The same is true for Ewan McGregor, nominated as Best Actor in a Limited Series for his star turn as the title character in "Halston".
Finally, it's worth mentioning that the Best Director of a Motion Picture category, long dominated exclusively by men, this year includes two women: Jane Campion ("The Power of the Dog") and Maggie Gyllenhall ("The Lost Daughter")
Whether or not these nominees – or any of the others, for that matter – end up following up their recognition today with nods or wins on Oscar night remains to be seen. In the meantime, we can find out who will take the HFPA's honors on January 9, when the Golden Globes are scheduled to take place. According to a representative from Sunshine Sachs (the PR firm representing the HFPA), a format for the presentation has yet to be determined, so it's still unclear if we will get a chance to see who actually shows up to claim a prize from an organization now relegated to pariah status by most of Hollywood.
A complete list of nominations is below.
Best Television Series, Musical or Comedy
"The Great" (Hulu)

"Hacks" (HBO/HBO Max)
"Only Murders in the Building" (Hulu)
"Reservation Dogs" (FX on Hulu)
"Ted Lasso" (Apple TV Plus)
Best Performance by an Actor in a Television Series, Drama
Brian Cox ("Succession")
Lee Jung-jae ("Squid Game")
Billy Porter ("Pose")
Jeremy Strong ("Succession")
Omar Sy ("Lupin)
Best Performance by an Actress, Limited Series, Anthology Series or a Motion Picture made for Television
Jessica Chastain ("Scenes From a Marriage")
Cynthia Erivo ("Genius: Aretha")

Elizabeth Olsen ("WandaVision")

Margaret Qualley ("Maid")

Kate Winslet ("Mare of Easttown")
Best Director, Motion Picture
Kenneth Branagh ("Belfast")
Jane Campion ("The Power of the Dog")
Maggie Gyllenhaal ("The Lost Daughter")
Steven Spielberg ("West Side Story")
Denis Villeneuve ("Dune")
Best Performance by an Actress in a Motion Picture, Musical or Comedy
Marion Cotillard ("Annette")
Alana Haim ("Licorice Pizza")
Jennifer Lawrence ("Don't Look Up")
Emma Stone ("Cruella")
Rachel Zegler ("West Side Story")
Best Performance by an Actor in a Motion Picture, Drama
Mahershala Ali ("Swan Song")
Javier Bardem ("Being the Ricardos")
Benedict Cumberbatch ("The Power of the Dog")
Will Smith ("King Richard")
Denzel Washington ("The Tragedy of Macbeth")
Best Television Series, Drama
"Lupin" (Netflix)
"The Morning Show" (Apple TV Plus)
"Pose" (FX)
"Squid Game" (Netflix)
"Succession" (HBO/HBO Max)
Best Performance by an Actress in a Television Series, Drama
Uzo Aduba ("In Treatment")
Jennifer Aniston ("The Morning Show")
Christine Baranski ("The Good Fight)
Elisabeth Moss ("The Handmaid's Tale")
Michaela Jaé Rodriguez ("Pose")
Best Performance by an Actor, Limited Series, Anthology Series or Motion Picture made for Television
Paul Bettany ("WandaVision")
Oscar Isaac ("Scenes From a Marriage")
Michael Keaton ("Dopesick")
Ewan McGregor ("Halston")
Tahar Rahim ("The Serpent")
Best Performance by an Actor in a Motion Picture, Musical or Comedy
Leonardo DiCaprio ("Don't Look Up")
Peter Dinklage ("Cyrano")
Andrew Garfield ("Tick, Tick … Boom!")
Cooper Hoffman ("Licorice Pizza")
Anthony Ramos ("In the Heights")
Best Supporting Actor – Motion Picture
Ben Affleck ("The Tender Bar")
Jamie Dornan ("Belfast")
Ciarán Hinds ("Belfast")
Troy Kotsur ("CODA")
Kodi Smit-McPhee ("The Power of the Dog")
Best Original Score, Motion Picture
"The French Dispatch" (Searchlight Pictures) — Alexandre Desplat
"Encanto" (Walt Disney Pictures) — Germaine Franco
"The Power of the Dog" (Netflix) — Jonny Greenwood
"Parallel Mothers" (Sony Pictures Classic) — Alberto Iglesias
"Dune" (Warner Bros.) — Hans Zimmer
Best Actress in a TV Series, Musical or Comedy
Hannah Einbinder ("Hacks")
Elle Fanning ("The Great")
Issa Rae ("Insecure")
Tracee Ellis Ross ("Black-ish")
Jean Smart ("Hacks")
Best Limited Series, Anthology Series or a Motion Picture made for Television
"Dopesick" (Hulu)
"Impeachment: American Crime Story" (FX)
"Maid" (Netflix)
"Mare of Easttown" (HBO/HBO Max)
"The Underground Railroad" (Amazon Prime Video)
Best Supporting Actor, Television
Billy Crudup ("The Morning Show")
Kieran Culkin ("Succession")
Mark Duplass ("The Morning Show")
Brett Goldstein ("Ted Lasso")
O Yeong-su ("Squid Game")
Best Picture, Musical or Comedy
"Cyrano" (MGM)
"Don't Look Up" (Netflix)
"Licorice Pizza" (MGM)
"Tick, Tick … Boom!" (Netflix)
"West Side Story" (20th Century Studios / Walt Disney Studios Motion Pictures)
Best Supporting Actress, Motion Picture
Caitríona Balfe ("Belfast")
Ariana DeBose ("West Side Story")
Kirsten Dunst ("The Power of the Dog")
Aunjanue Ellis ("King Richard")
Ruth Negga ("Passing")
Best Picture, Foreign Language
"Compartment No. 6" (Sony Pictures Classics) — Finland, Russia, Germany
"Drive My Car" (Janus Films) — Japan
"The Hand of God" (Netflix) — Italy
"A Hero" (Amazon Studios) — France, Iran
"Parallel Mothers" (Sony Pictures Classics) — Spain
Best Screenplay, Motion Picture
Paul Thomas Anderson — "Licorice Pizza" (MGM/United Artists Releasing)
Kenneth Branagh — "Belfast" (Focus Features)
Jane Campion — "The Power of the Dog" (Netflix)
Adam McKay — "Don't Look Up" (Netflix)
Aaron Sorkin — "Being the Ricardos" (Amazon Studios)
Best Performance by an Actress in a Motion Picture, Drama
Jessica Chastain ("The Eyes of Tammy Faye")
Olivia Colman ("The Lost Daughter")
Nicole Kidman ("Being the Ricardos")
Lady Gaga ("House of Gucci")
Kristen Stewart ("Spencer")
Best Motion Picture, Drama
"Belfast" (Focus Features)
"CODA" (Apple)
"Dune" (Warner Bros.)
"King Richard" (Warner Bros.)
"The Power of the Dog" (Netflix)
Best Television Actor, Musical / Comedy Series
Anthony Anderson ("Black-ish")
Nicholas Hoult ("The Great")
Steve Martin ("Only Murders in the Building")
Martin Short ("Only Murders in the Building")
Jason Sudeikis ("Ted Lasso")
Best Supporting Actress, Television
Jennifer Coolidge ("White Lotus")
Kaitlyn Dever ("Dopesick")
Andie MacDowell ("Maid")
Sarah Snook ("Succession")
Hannah Waddingham ("Ted Lasso")
Best Original Song, Motion Picture
"Be Alive" from "King Richard" (Warner Bros.) — Beyoncé Knowles-Carter, Dixson
"Dos Orugitas" from "Encanto" (Walt Disney Pictures) — Lin-Manuel Miranda
"Down to Joy" from "Belfast" (Focus Features) — Van Morrison
"Here I Am (Singing My Way Home)" from "Respect" (MGM/United Artists Releasing) — Jamie Hartman, Jennifer Hudson, Carole King
"No Time to Die" from "No Time to Die" (MGM/United Artists Releasing) — Billie Eilish, Finneas O'Connell
Best Motion Picture, Animated
"Encanto" (Walt Disney Studios Motion Pictures)
"Flee" (Neon)
"Luca" (Walt Disney Studios Motion Pictures)
"My Sunny Maad" (Totem Films)
"Raya and the Last Dragon" (Walt Disney Studios)
Belinda Carlisle brings a heavenly Christmas Bash December 16th
Her work evolves beyond the demands of the pop market while never losing its hooks and whimsy. it reflects Belinda's evolving life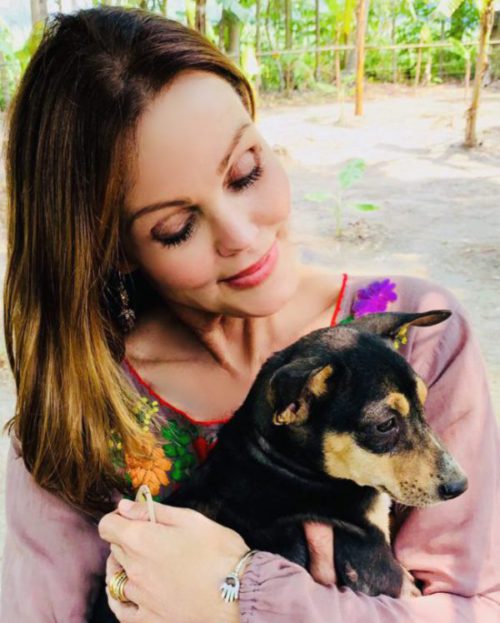 HOLLYWOOD – On December 16th, 7pm, the city of West Hollywood transforms into a piece of "Heaven on Earth." An angelic supernatural deity from the sky won't be delivering this gift, but rather an angel from iconic pop paradise.
That night, Belinda Carlisle makes a grand entrance and gives an eager audience the presence of a queen of pop, the most recent inductee to the Rock and Roll Hall of Fame along with her group, The Go-Gos.
It will be on that night that Belinda Carlisle hosts THE party event of the season with co-host, drag superstar, Trixie Mattel. One sings, one throws comedic shade, and a packed room at the Abbey will be losing their collective minds.  Not that the party itself isn't all the reason you would need to get it on your calendar, the evening benefits a fantastic charity, The Animal People Alliance (APA), that intertwines the love for animals with the salve to human suffering.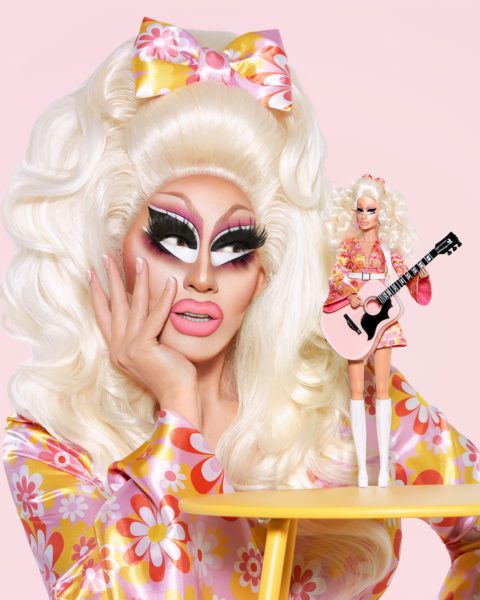 APA's charter reads: "To provide high quality and compassionate care, of the highest standards, to neglected street animals in India and Thailand. We train and employ vulnerable people from the community, and pay living wages that help them improve their standard of living." The organization, by employing people who would otherwise be stateless and/or in poverty, has treated over 16000 street animals since 2014. Their programs for animals include rabies vaccinations, sterilizations and other emergency health aid.
Belinda sat down with me this week on the podcast RATED LGBT RADIO to talk about her life, her amazing career, her party and the strength she has achieved in standing up to both inner and outer demons.
She survives. She fearlessly opens herself up, and if anyone scrutinizes her past… she will lead the way. She happily tells of being a member of the most successful all-women pop bands in history. They sang and wrote their own songs, they played their own instruments. They did it on their terms. No men were needed or required. She candidly shares about her struggles with eating disorders and drug addiction.
Belinda shows profound compassion for those struggling with addiction and darkness, "Addiction is a sickness…it is a disease of perception, you can't see your effect on other people… It is a trap you feel you can't get out of. Every addict has a heart and a humanity that is obscured by addiction. It is a horrible, horrible thing for anyone to go through. It is hard to remember that there is a heart under all that, there is something divine under all that darkness."
Her interest focuses more on what came after she embarked on recovery "My life is much more exciting since sobriety, even more exciting than the hey day with the Go-Gos. For anyone out there who is worried about aging, or life being over at a certain point—it's not. Life is just the most amazing miracle and privilege."
Her significance for the LGBTQ community, impacts many of the most vulnerable. She is the mom of a gay man, activist and writer, James Duke Mason. His birth made her examine the trajectory of fame, drugs, and rock & roll in which she was on, careening threateningly close to disaster and death.
She had settled comfortably into maternal nurturement when Duke came out to her at the age of 14. Belinda had been impressed with Duke's ability to explain the situation to her. She found out that he had been online with PFLAG for weeks learning about how to present his news to her, information to give and educated about key talking points.
Appreciating their real life help of a young person in need, Belinda vehemently supported PFLAG, the Trevor Project and others ever since. "I am so glad I have a gay son, I can't even tell you," she says.
Artistically, she also continues to thrive. The Rock and Roll Hall of Fame finally inducted the Go-Gos this year. It was an honor 15 years in the making. It should have been an obvious choice to put them there.
As the first all-female group making it big, they sang, wrote every note and played every instruments. The Go-Go's, a 2020 American/Irish/Canadian documentary film directed and produced by Alison Ellwood, cast attention on the Hall of Fame oversight, and essentially made the case for how special the group actually was.
Belinda also recently released a new single Get Together a cover of the 1967 Youngbloods hit. The Youngbloods sang it at Woodstock in 1969 to make a statement about the divisions of the Viet Nam era in America.
Belinda sings it now, her voice pure, mature and as an anthem making a plea, if not a motherly order, to reconsider the divisions we are experiencing today. She says, "We live in this age of outrage. This song is 'ok people, CHILL OUT'. All this divisiveness is not going to get us anywhere. It's timely."
Beyond Get Together, Belinda works on more new music including singles and a new album. She continues to produce with the top song creators of the industry including award winning song writer Diane Warren and Go-Gos dates at the end of the year.
Her work evolves beyond the demands of the pop market while never losing its hooks and whimsy. it reflects the channeling of Belinda's evolving life. When she lived in France, she released a French collection.
As she delved into spirituality and the culture of Thailand, she released the powerful Wilder Shores, which blended a spiritual mantra into pop hooks. "Chanting is a science, it has a super power. It is not airy fairy," she states.
The fact is, Belinda Carlisle continues arriving and thrilling. She does not need to prove herself to anyone. She has defined the next thirty years of her life as philanthropy.
"I just wing it as I go along. I learned what it is like to work from the heart. Work in a way where you don't care about any kind of outcome. That is how I am working now. I am just having fun, and doing just what I want. I am really lucky that way," she declares.
Her party on December 16th at the Abbey appears right on track to bear that out.
Love, humanity, care of animals and a major splash of fabulousness enveloping an enthused audience.
In other words, pure Belinda.
********************
Listen to the full interview:
********************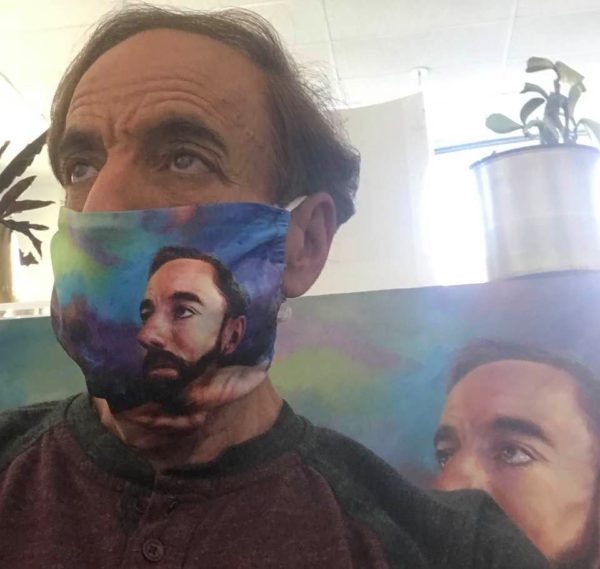 Rob Watson is the host of RATED LGBT RADIO, a national podcast and he's one of the founders of the evolequals.com.
A gay dad, business man, community activist and a blogger/writer, Watson is a contributor to the Los Angeles Blade covering entertainment, film, television, and culture with occasional politics tossed in.