Rep. Kyrsten Sinema to Speak at HRC LA gala March 10
Bisexual Arizona Senate candidate seeks to replace Jeff Flake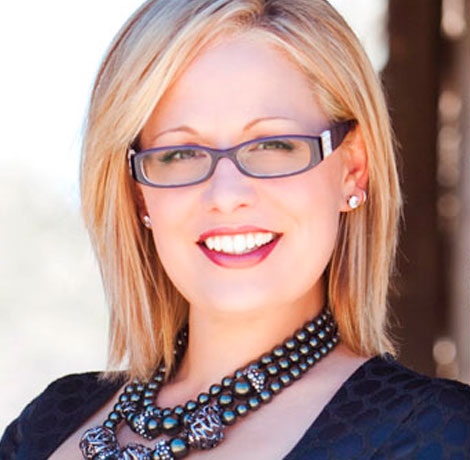 Like nail-biters? Progressive Democrats are excited about a projected big blue wave of Democratic victories that will take back both the House and Senate in the November midterms. Seasoned politicos, however, caution that the anticipated wins over vulnerable Republicans will not be so easy in gerrymandered and traditionally GOP districts, even if Donald Trump sinks in the polls.
And then there is the clash for 34 Senate seats between "the political environment versus the political map," as pollster Charlie Cook puts it.  Republicans now hold 51 seats to 49 for the Democrats, which means that the Democrats need a net gain of just two seats to become the majority, while also holding 10 seats in states Trump won in 2016.
One of those two seats could be in red state Arizona, with the announced retirement of junior Republican Sen. Jeff Flake. The state's junior senator, Jeff Flake, who, Real Clear Politics reported, "found himself crosswise with the state's Republican base due to his continued loud opposition to Donald Trump"—a constituency that seemed to favor former state senator and "conservative firebrand" Kelli Ward. Somewhat overlooked at the time was that Flake was also running behind in the polls to Democrat Kyrsten Sinema, an openly bisexual member of Congress who has actually managed to get at least two bills passed in the conservative Republican-majority House of Representatives.
On Tuesday, the Human Rights Campaign told the Los Angeles Blade that Sinema—who HRC just endorsed in her Senate race—will be speaking at the HRC LA gala on March 10 at the Ritz-Carlton/JW Marriott Los Angeles-L.A. Live. Longtime LGBT ally Rep. Maxine Waters—a superstar at the California Democratic Party convention this past weekend—will also be speaking.
"Kyrsten Sinema is a fighter and a trailblazer who has spent her career advancing the rights of the LGBTQ community," HRC President Chad Griffin said in a press release. "As a highly effective legislator, Kyrsten has proven herself to be a relentless champion for equality. We are proud to endorse her candidacy for the U.S. Senate."
"I am honored to earn the support of the Human Rights Campaign," said Sinema. "HRC has worked tirelessly to ensure all Arizona families can love and take care of each other. We won't stop fighting until every Arizonan has his or her shot at the American dream."
Sinema is not only a serious candidate, she has a serious chance of success, according to the latest assessment by pollster Charlie Cook of the Cook Report. Concerned about Ward, establishment Republicans recruited Rep. Martha McSally to scorch Ward in the Aug. 28 primary.
"Like our president, I'm tired of PC politicians and their BS excuses. I'm a fighter pilot and I talk like one. That's why I told Washington Republicans to grow a pair of ovaries and get the job done," McSally said in her Jan. 12 announcement video. Politico soon dubbed her one of its 10 candidates to watch in the midterm elections.
But McSally's not the only candidate linking victory to Donald Trump—controversial Maricopa County sheriff Joe Arpaio, who received a criminal pardon from Trump, has also entered the race. Speculation is now that Arpaio and Ward will split the populist vote in the Republican primary, paving the way for McSally to go head-to-head with Sinema in the Nov. 6 general election.
While McSally touts her military experience, Sinema comes from a military family and passed two-military-related bills in the House in 2016. And as Ballotpedia notes in their short biography, she has a compelling story to tell, as well:
"Sinema was raised in Tucson, Arizona. During her childhood, Sinema's family spent two years living in an abandoned gas station. She went on to receive four degrees, including a bachelor's and master's degree in social work from Brigham Young University and Arizona State University, respectively, and then both a Juris Doctorate and Ph.D. in justice studies from Arizona State University."
As of Jan. 23, three surveys projected the race a toss-up, with Real Clear Politics giving Sinema a +1. CNN rated the seat as one of 10 Senate seats most likely to flip in 2018.
If Sinema wins in November, she would be Arizona's first female senator and the first out bisexual Senator in America.
State of California ends contract with AIDS Healthcare Foundation
State is alleging improper negotiating tactics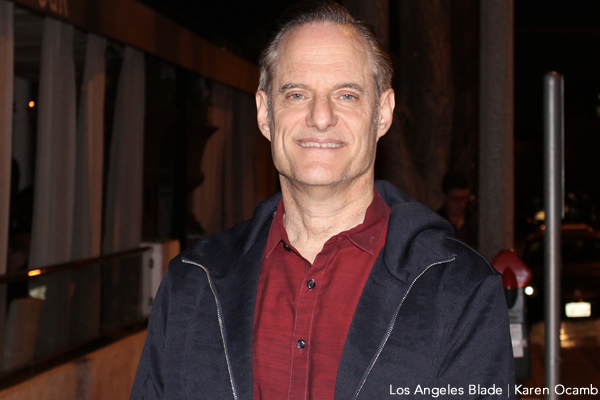 LOS ANGELES – (The Los Angeles Times) California will no longer contract with a prominent L.A.-based nonprofit, the AIDS Healthcare Foundation, to provide healthcare plans for hundreds of HIV-positive patients in Los Angeles County.
The announcement comes after the state accused the foundation of engaging in improper negotiation tactics while negotiating a rate increase.
The group's founder and leader, Michael Weinstein, rejects those claims, calling the state's action "pure retaliation."
The transition announced by the state would affect 770 HIV-positive patients that AIDS Healthcare is contracted to provide care for.
Read the Times piece here: https://www.latimes.com/california/story/2022-06-30/california-aids-healthcare-foundation-state-contract?utm_id=59781&sfmc_id=967189
Ketanji Brown Jackson sworn in as 116th justice of the U.S. Supreme Court
"It has taken 232 years and 115 prior appointments for a black woman to be selected to serve on the Supreme Court of the United States"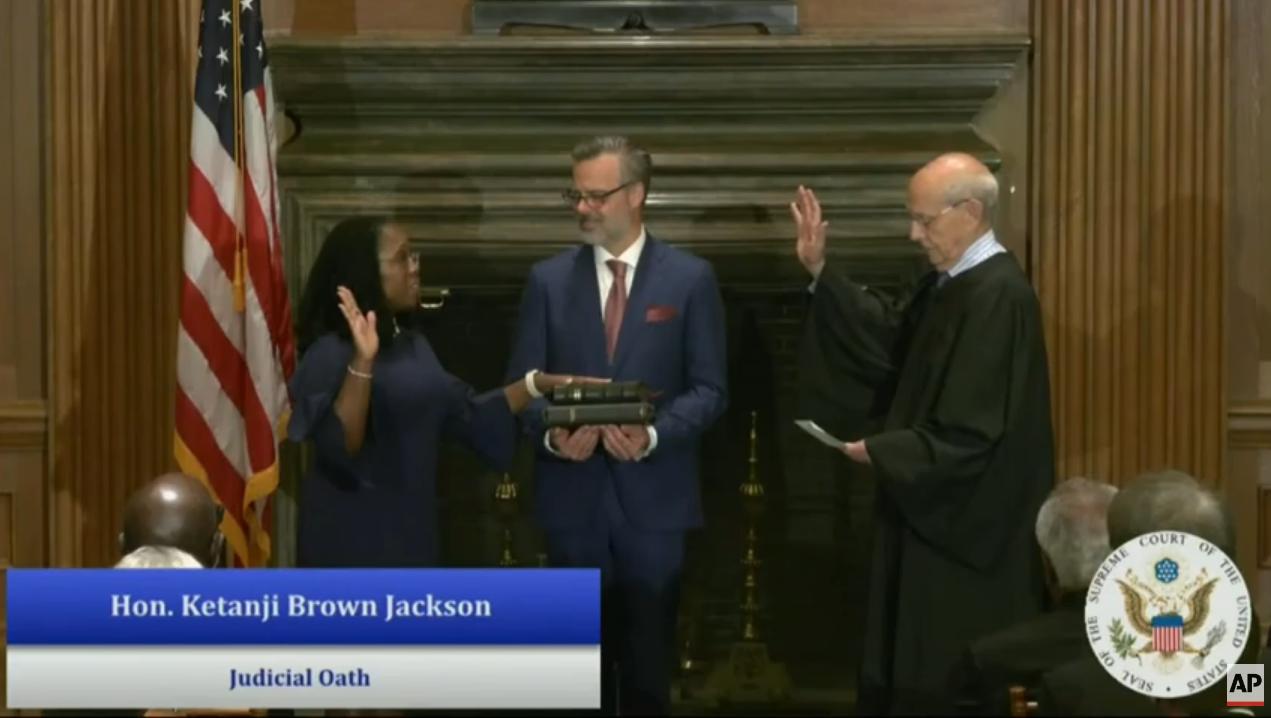 WASHINGTON – In oaths administered by the Chief Justice John Roberts and outgoing Associate U.S. Supreme Court Justice Stephen Breyer, Judge Ketanji Brown Jackson was sworn in as the 116th justice of the U.S. Supreme Court.
The 51 year-old Justice Jackson made history as the first-ever black woman sworn in as a justice on the U.S. Supreme Court. She replaces Justice Breyer, whose resignation from the Supreme Court becomes effective at noon Thursday (Eastern) after his nearly 28 years of service on the nation's high court.
In the simple ceremony held at the Court, Jackson in the constitutional oath, given by Chief Justice Roberts, solemnly swore to defend the Constitution "against all enemies, foreign and domestic," and "bear true faith and allegiance to the same."
Justice Breyer gave her the statutory oath, in which Jackson swore to "administer justice without respect to persons, and do equal right to the poor and to the rich."
The newly sworn-in Associate Justice was joined by her husband, Dr. Patrick Jackson, and their two daughters, Talia and Leila.
The court will hold another formal inaugurating ceremony, called an investiture, in the fall, Roberts said. But Thursday's ceremony allows her to immediately begin work as the newest member of the nine-seat Supreme Court.
Nominated by President Biden and confirmed by the Senate, in April at a ceremony on the South Lawn of the White House, addressing the audience of members of Congress, the Biden Cabinet, and White House staff along with family and invited guests, Justice Jackson noted;
"As I take on this new role, I strongly believe that this is a moment in which all Americans can take great pride. We have come a long way towards perfecting our union. In my family, it took just one generation to go from segregation to the Supreme Court of the United States." 
As the first Black woman to be nominated to serve on the nation's highest court which she noted in her remarks:
"It has taken 232 years and 115 prior appointments for a black woman to be selected to serve on the Supreme Court of the United States. But we've made it," she said, to applause from the crowd. "We've made it, all of us, all of us. And our children are telling me that they see now, more than ever, that here in America anything is possible."
Quoting Maya Angelou, an American author, poet and civil rights activist, "I am the hope and the dream of the slave," Jackson said.
Final vote on new Cuba family code slated for September
Same-sex couples poised to receive marriage, adoption rights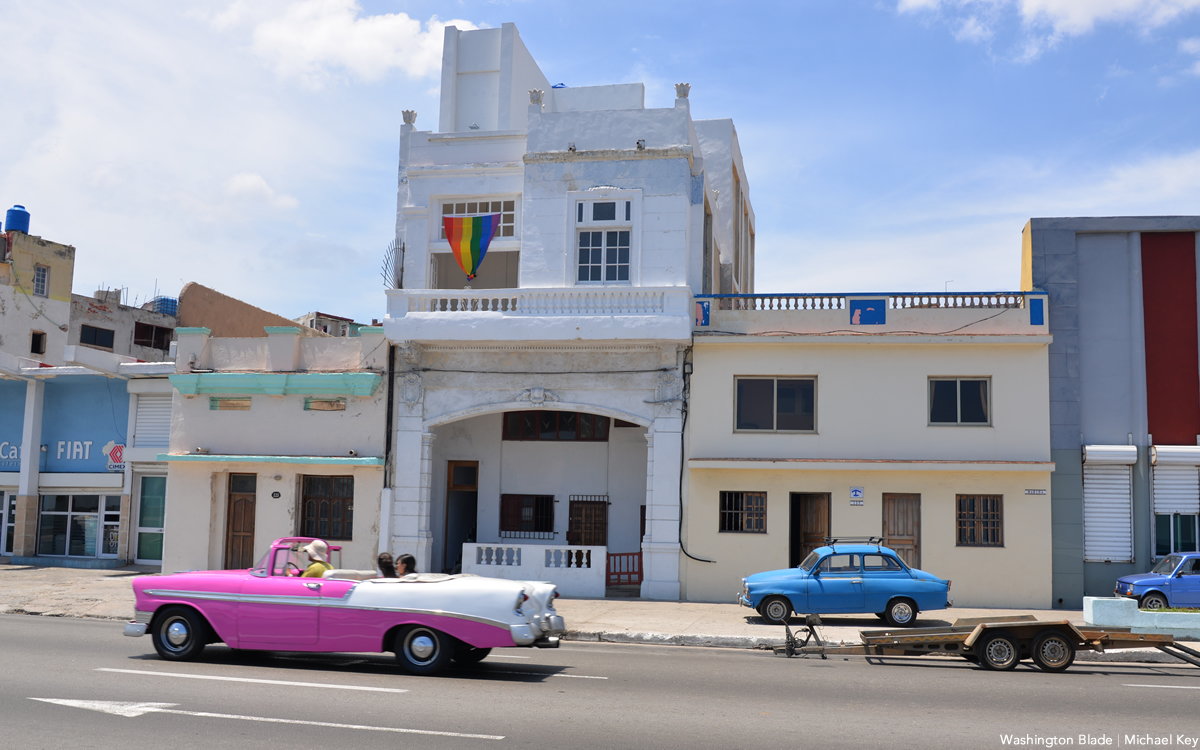 HAVANA — The Washington Blade's media partner in Cuba is reporting a final referendum on whether the final draft of a new family code that would extend marriage and adoption rights to same-sex couples will take place in September.
Tremenda Nota on June 23 reported a specific date for the referendum has not been announced, but it quoted comments President Miguel Díaz-Canel made the day before during a meeting of the commission that has written the draft.
"We are entering a decisive stage," said Díaz-Canel, according to Tremenda Nota. "We are going to need all the support that we need to ensure the emancipatory principles of equality and inclusion that the family code defends are actually approved."
The National Assembly late last year approved the draft family code.
A "popular consultation" ended on April 30. Tremenda Nota reported the last of the family code's 25 drafts was presented to Díaz-Canel and other officials on June 6.
Díaz Canel and Mariela Castro, the daughter of former President Raúl Castro who is the director of Cuba's National Center for Sexual Education, are among those who publicly support marriage equality. Cuban voters in 2019 overwhelmingly approved the draft of their country's new constitution, but the government's decision to remove a marriage equality amendment before the referendum on it sparked outrage among independent LGBTQ+ and intersex activists.
Efforts to implement the new family code are taking place against the backdrop of continued persecution of LGBTQ+ and intersex Cubans and others who publicly criticize the country's government.
Tremenda Nota Editor Maykel González Vivero is among the hundreds of people who were arrested during anti-government protests that took place across Cuba on July 11, 2021.
Yoan de la Cruz, a gay man who used Facebook Live to livestream the first protest that took place in San Antonio de los Baños in Artemisa province. De La Cruz subsequently received a 6-year prison sentence, but he was released on house arrest last month.
Reports indicate Brenda Díaz, a Transgender woman who was arrested during a July 11 protest in Güira de Melena in Artemisa province, on Wednesday received a 14-year prison sentence. 
Editor's note: Tremenda Nota's original story is here.