California Democratic youth demand change
Millennials are no longer backbenchers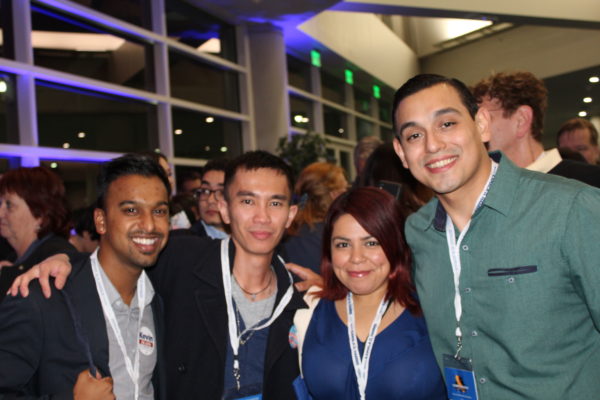 SAN DIEGO — The rustle of activity caught the attention of even the most nonchalant of Democratic politicos waiting for new California Democratic Party chair Eric Bauman to welcome party delegates to their convention here. At the center of the hubbub was esteemed Sen. Dianne Feinstein, looking tired and frail but intently focused on each person asking a question or pressing a point. Not a convention regular, her very presence added to the star quality of her Senate seniority.
At the outer edges of the crowd, a gaggle of young women giggled as they strategized how to get a selfie with the legendary leader. Finally thrilled with their success, they wandered away to go endorse Feinstein's younger, more progressive primary opponent, State Sen. Kevin de León. That Feinstein even got a primary challenge at a time when seniority in Washington, D.C., still holds a modicum of meaning astounded many establishment Democrats, including lesbian supporters Hilary Rosen, Yvette Martinez and Assemblymember Susan Eggman. Feinstein failing to receive the California Democratic Party (CDP) endorsement shocked the nation. Many political observers assumed it was a continuation of last year's turmoil as populist Bernie Sanders supporters loudly tried to take over and remake the party in a much more progressive mold.
But that's not what happened. In the time since assuming office of chair last year until the Feb. 23-25 convention, Bauman made such substantial changes to the internal mechanism of party governance—including gender parity, more decision-makers at the table and youth inclusion—the real focus of the 2018 convention was on arguing for particular candidates.
"We saw people go at each other's throats at the 2017 convention due to the so-called 'progressive vs. establishment' divide," Los Angeles Democratic Party chair Mark Gonzalez, 33, tells the Los Angeles Blade.
"This year, though, it seems that the delegates and activists have come to the realization that they have more in common than they have in conflict. Just by watching their interactions on social media and at Democratic Party events in the last year, it looked like people realized that while we may sometimes be opponents, we are never enemies."
But times have changed. "The party has continuously evolved since Dianne Feinstein first sought endorsement from the Democratic Party. It's changed with new energy and new blood, and a different generation of activists," Gonzalez says. "A majority of delegates see Sen. Kevin de León as someone who could lead that charge of resistance [to President Donald Trump], representing the next generation of California's elected Democrats." And while Feinstein is still held in great respect, "the numbers show that the party is headed in a much more progressive direction" and Feinstein "needs to adapt to the changing winds."
Feinstein has been campaigning vigorously while also pressing her signature issues such as gun control, particularly jump-starting a new assault weapons ban. In the past, Feinstein has called the National Rifle Association "venal" for standing in the way—gun violence is a personal issue. She discovered the body of her assassinated gay colleague San Francisco Supervisor Harvey Milk in 1978 and a finger slipped into one of five bullet wounds while she checked for his pulse. She grasps the impact of mass shootings, most recently at Marjory Stoneman Douglas High School in Parkland, Florida—but unlike House Minority Leader Nancy Pelosi, she has not called for #NoNRAMoney in political campaigns.
Pre-convention polling shows Feinstein well situated to win November's general election, with or without the party's endorsement. However, that may soon change. De León, a respected advocate of the DREAMers movement and author of two of California's "sanctuary state" laws is leading the charge with Gov. Jerry Brown and California Attorney General Xavier Becerra (who also failed to win a CDP endorsement) against a lawsuit brought March 6 by US Attorney General Jeff Sessions. The Trump administration wants local law enforcement to work with ICE in deporting undocumented immigrants. Sessions claims ICE only targets criminals, but others, including legal residents, have been caught up in sweeps and treated as mere collateral damage. The state laws, with input from both former Attorney General Eric Holder and LA County Sheriff Jim McDonnell, were written to withstand constitutional scrutiny.
With no congressional action resolving DACA (Deferred Action for Childhood Arrivals)—which Trump told the Latino Coalition's Legislative Summit March 7 is being held up by Democrats—and "thoughts and prayers" but no action on gun violence, young people are taking action, themselves. They are inspired by the protests against the Vietnam War and, for LA's Latino youth, the Chicano students who walked out of their high schools protesting racism and inadequate schools 50 years ago on March 1, 1968.
"Those young people helped launch the Chicano movement in Southern California and created a generation of leaders," columnist Gustavo Arellano wrote in the Los Angeles Times recently.
Protests against gun violence are planned nationwide for March 14. There is a national "March For Our Lives" in Washington planned for March 24. Among the leaders of the Parkland students' movement is bisexual Emma Gonzales who in the two weeks after the massacre that killed 17 students garnered more followers on Twitter (691,000) than the NRA (562,000).
Other protests are also expected when Trump visits San Diego to view samples of his proposed border Wall and then attends a Republican fundraiser in Los Angeles on March 21.
Reaching and registering the state's approximately 10 million millennials is a key component of liberal billionaire Tom Steyer's NextGen America organization. "We really believe in millennials being integral, involved American citizens in our political process," Steyer told the Sacramento Bee for a March 7 story.
"Millennials have voted at half the rate of other American citizens and they're also the biggest age demographic. So the opportunity to make a difference is clearly gigantic."
But while NextGen ads and street demonstrations catch the TV eye, the deeper story is being missed: there is a wave of young leadership and activism within the California Democratic Party that is utilizing technological outreach and will no doubt take advantage of California's new law that automatically registers young people to vote when they get their driver's license.
Just as the LGBT movement was integrated throughout the convention—from Bauman and his husband Michael Andraychak to LA Democratic Party chair Mark Gonzales to Stonewall Young Democrats Christopher Nikhil Bowen, Michael Colorge and Ari Ruiz to intersectional LGBT speakers on the convention stage—leadership of the Democratic youth movement was given its due at the convention.
Among the many young activists were: Danielle Shah Shon, 16, offered a stunning poem; Jenny Bach, 25, elected Secretary of the California Democratic Party Secretary, talked about her Vietnamese immigrant parents; and Will Rodriguez-Kennedy, 30, a gay Marine veteran elected president of the California Young Democrats, talked about his activism.
But young Democrats are active throughout the state, such as Crystal Araujo, a single mother who secured her law degree last year from the University of San Francisco School of Law. Araujo started her political activism at UCLA in 2009. She is now a member of the South Alameda County Young Democrats (SACYD), a group that attends each convention.
"This was an exciting convention for me, because it was my first to time as an appointed delegate so I was able to be involved in helping decided the Democratic slate to ensure issues important to millennials were being carried to legislative bodies," Araujo told the Los Angeles Blade. "In addition, I was recently appointed as CYD Policy & Legislative Chair, a position I hope to utilize to strength the Young Dem voice and continue to advocate on issues important to us like student debt and discrimination. We cannot afford to stay silent or to be ignored and it is also important for us to be heard and set an example by mentoring and bringing the next generation of leaders forward."
"As Young Dems, we are ready to roll up their sleeves and work together to solve the issues before us," she continued. "My hope is that this November, the young vote will reach historic numbers and the party and politicians in office realize we are the NOW and not just the future."
Some longtime politicos are excited by the change, such as former LA-based gay activist Wuzzy Spaulding. "For about 35 years, I was an activist fighting for social justice," Spaulding told the Los Angeles Blade, until he realized he'd become "a dinosaur" and it was time to step aside.
"It is arrogant and insulting to suggest that young people do not and cannot have ideas better than our stale way of looking at things, especially when our stale way of looking at things produces nothing," Spaulding said. "I am happy to have handed off the baton. I am thrilled with these kids in Florida and elsewhere. We will all be better off for their participation."
Time will tell.
Nonprofit leader aims to be 1st Out Santa Cruz County Supervisor
"I think it would send a really strong message to our county and region for a first openly LGBTQ supervisor in Santa Cruz County"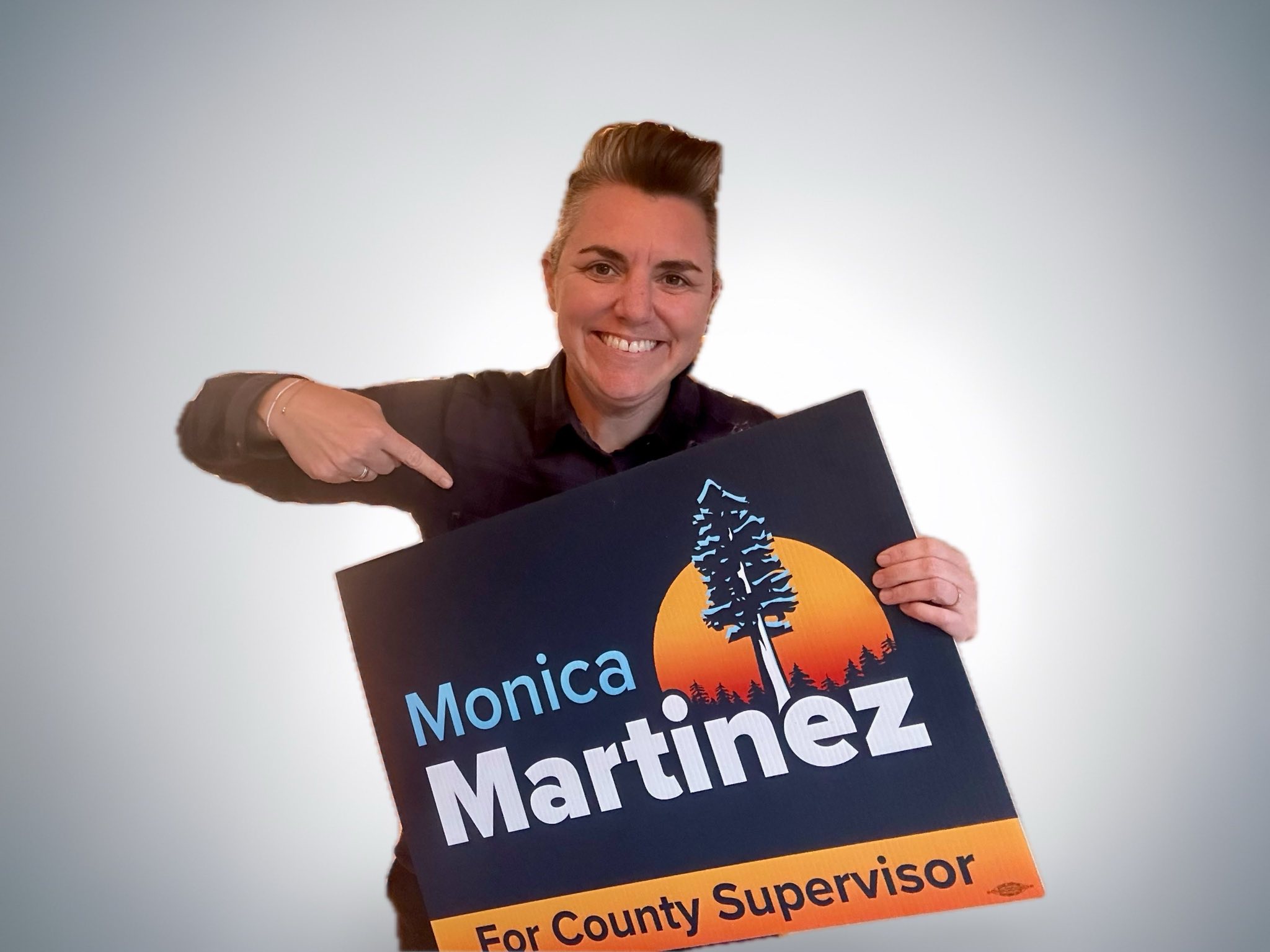 By Matthew S. Bajko, Assistant Editor | FELTON, Calif. – Despite its reputation as a coastal liberal bastion, Santa Cruz County has yet to see an LGBTQ leader elected to its Board of Supervisors. Recent elections have seen the out candidate running for a seat on the countywide governing body come up short.
Nonprofit executive and queer mom Monica Martinez is aiming to break through that pink political glass ceiling with her bid for the board's open District 5 seat. With another local leader opting against entering the race and instead endorsing Martinez, she is aiming to win the seat outright on the 2024 primary ballot.
"I don't want to take anything for granted," Martinez, 41, told the Bay Area Reporter about the campaign. "Certainly, my goal is to win in March and avoid a runoff in November."
If she does win the race for a four-year term, Martinez will be the first woman elected to the District 5 seat; she told the B.A.R. a woman was appointed to it in 1979 and served two years. She would also be the first woman to serve on the county board since 2012 and the first elected since 2008.
"I am ready to work as hard as I can all the way through the election because diverse candidates like myself, we don't have the privilege of walking into these seats," said Martinez. "I am ready to work hard to understand the needs of our district so I can represent it well as a supervisor."
Last June Supervisor Bruce McPherson announced he would retire at the end of his third term rather than run for reelection next year. It opened the door for Martinez, CEO of the county's largest health and human services nonprofit, Encompass Community Services, to seek the seat that covers the northern section of the city of Santa Cruz and Scotts Valley.
The fifth supervisorial district also includes the San Lorenzo Valley and its communities of Ben Lomond, Boulder Creek, and Felton, where Martinez resides. Most of it is unincorporated, with the county board providing services and governance.
"We haven't had a representative who has lived in San Lorenzo Valley since 2002, even though we make up 60% of voters," said Martinez. "Because we are unincorporated, we don't get another elected voice."
Two other candidates in the race, Christopher Bradford and Theresa Bond, have been focused on water issues in the district, while Tom Decker, who works for a company that builds accessory dwelling units, pulled papers last month to run. Santa Cruz County Sheriff Jim Hart ruled out also vying for the seat and endorsed Martinez in late October.
Last month, statewide LGBTQ advocacy organization Equality California endorsed Martinez along with several other out supervisor candidates on March ballots across the state, as the B.A.R. previously reported. She told the B.A.R. it is time for Santa Cruz County's board to have LGBTQ representation.
"I think Santa Cruz does have a reputation of being very progressive. However, this has been a glass ceiling that hasn't been broken yet," said Martinez. "I think it is an important voice that has been missing from the county board."
Becoming the first out supervisor from the board's most conservative leaning district would also be significant, she noted. Particularly at a time when attacks against LGBTQ rights have broken out across the Golden State, added Martinez.
"I think it would send a really strong message to our county and region if the first openly LGBTQ supervisor in Santa Cruz County came from the fifth district," she said. "I think it would be a really significant change and signal support for the values of inclusion and acceptance in our entire county, including in this district."
First-time candidate
A first-time candidate for public office, her candidacy is already an example of how far the LGBTQ community has come in her lifetime, said Martinez. She never imagined in her childhood that she would seek to be elected one day.
"Originally being from Bakersfield, I just never thought as an out LGBTQ woman who is Latinx that I would be electable," she said. "I have dedicated my life to public service and have been serving those in need in our community for my entire career. Over the last decade a lot has changed in what is valued in elected representation. My lived experience could be an asset; I could really help advance policy in our community."
Born and raised in Bakersfield at the southernmost end of California's Central Valley, Martinez grew up in a union household. Her father is a retired Kern County fire captain, while her mother is a retired public elementary school teacher.
Looking for a more welcoming environment post high school, Martinez enrolled at Cal Poly in San Luis Obispo along the state's Central Coast. As she worked toward earning her B.A. in political science, Martinez landed a summer job after her freshman year with the YMCA of San Francisco at its Camp Jones Gulch in the Santa Cruz Mountains.
Nineteen and not wanting to return to her hometown during her break between semesters, Martinez told the B.A.R. the camp was "a beacon" for her where she met like-minded, accepting people in the other employees.
"I met the first lesbians I'd ever met there. They took me to my first Pride in San Francisco. This was in 2001," she recalled. "I continued to work there for another five years during the summers."
She also noted that she hasn't missed Hardly Strictly Bluegrass, the free annual music festival held in San Francisco's Golden Gate Park, in 15 years. (It was held virtually during the first two years of the COVID pandemic.)
"I love it. I love music," said Martinez, who had just visited the city's LGBTQ Castro district for the first time since the start of the health crisis in 2020 when she spoke with the B.A.R. by phone in mid-November.
After Martinez earned a master's in public administration at the University of Southern California, she worked to provide services to homeless women living on Los Angeles' Skid Row. In 2010, the nonprofit Housing Matters of Santa Cruz County hired her as its executive director.
She co-founded the 180/180 Initiative, a community partnership aimed at helping to house homeless individuals in the county. By 2014, Martinez had taken over the leadership of Encompass Community Services.
Martinez is a co-parent with her two children's other mom, from whom she is separated. Because the couple adopted them out of the foster care system, Martinez is keeping their identities private, though she did tell the B.A.R. they are elementary school students ages 8 and 9 who are not biological siblings.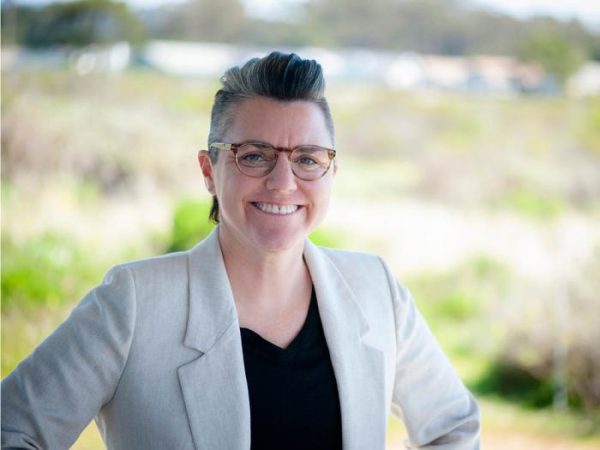 She and her family had to evacuate their home during the CZU Lightning Complex Fire that tore through the Santa Cruz Mountains in August 2020. They were able to return after being displaced for a month.
"We were fortunate to have a home to come home to," said Martinez.
That experience, and navigating the COVID pandemic as a parent working from home, provided her a unique perspective that she now wants to bring to the county board. In addition to knowing the inner workings of the county government due to her nonprofit work, Martinez has also chaired the Santa Cruz County Parks and Recreation Commission and serves on the executive committee of the Santa Cruz County Health Improvement Partnership.
"Given my experience navigating public services and county funding, I feel like I have a lot to offer," she said. "I won't be green in the job because I have been navigating these systems professionally my whole career. I feel really ready and that this is a natural next step for my career."
Should she be able to secure the supervisor seat in the March 5 primary, it would allow Martinez to help usher in a new executive director at her agency before she is sworn into the supervisor seat next December ahead of the board's first meeting in January 2025.
"The real reason I want to win in March is I run a large human services organization. If I have time to transition out of the role and support the organization in hiring and training a person during that time period, it will be good for the organization and the services we deliver in our county," said Martinez. "I'd much rather have time to do that from March to January rather than have to campaign."
To learn more about her candidacy, visit her website at martinezforsupervisor.com.
EQCA endorses out Santa Cruz council candidate
Another candidate looking to make political history in Santa Cruz County next year also picked up the support recently of EQCA. Joe Thompson is aiming to become the first nonbinary individual elected to the Santa Cruz City Council.
A former union organizer at Starbucks, Thompson came up short last year in their bid for a state Assembly seat. Thompson is now running for the District 5 council seat in Santa Cruz, as is former assistant city manager Susie O'Hara.
It includes the Pogonip open space area and the majority of the UC Santa Cruz campus, plus the city's Upper West Side and Harvey West Park areas. (The coastal enclave is transitioning to having six district-based council seats plus an elected mayor, which began with the 2022 elections for two of the seats and a new mayor.)
Like the county's supervisor races, the council race will be on the 2024 primary ballot. With just two candidates in the race, it is likely one of them will receive more than 50% of the vote come March 5 to win it outright and avoid a runoff race on the November ballot next year.
According to a map of LGBTQ elected officials maintained by the LGBTQ Victory Fund, there are no out members currently on the City Council in Santa Cruz. Former lesbian councilmember Donna Meyers left in 2022 after serving one four-year term, which included her becoming the city's first lesbian mayor when she held the former ceremonial role in 2021.
**************************************************************************************
The preceding article was previously published by the Bay Area Reporter and is republished with permission.
Help keep the Bay Area Reporter going in these tough times. To support local, independent, LGBTQ journalism, consider becoming a BAR member.