Kyrsten Sinema taking her shot at the US Senate (Video)
Bisexual Arizona Democrat also says #NoNRAMoney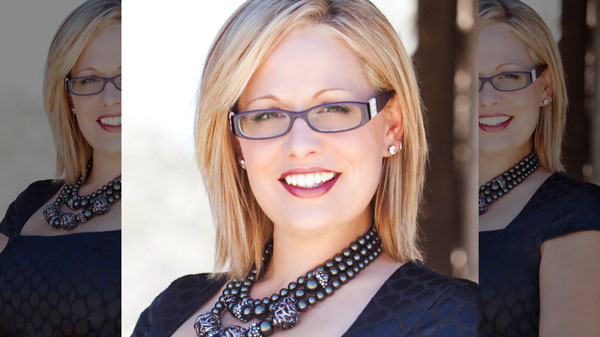 Born eight days after the Bicentennial celebration of the American Revolution, Arizona native Kyrsten Sinema has a strong streak of Western independence laced with an old fashioned belief in the value of hard work. In many ways, she is the personification of the American Dream—from struggling with childhood poverty and homelessness to achieving a law degree, a Ph.D and a seat in Congress—a dream the centrist Democrat hopes will inspire red state voters to support her shot at the US Senate.
Sinema's Bicentennial birth ripples through to today, echoing Lin-Manuel Miranda's famous "Hamilton" song: "Hey yo, I'm just like my country/ I'm young, scrappy and hungry/ And I'm not throwing away my shot!"
"Growing up, we were like every other working family until my dad lost his job and we lost our home. We ended up living in an abandoned gas station for nearly three years. But I worked hard, got an education, and got my shot at the American dream. I'm focused on making sure every Arizonan gets his or her shot just like I did," Sinema told the Los Angeles Blade.
Sinema is speaking at the Human Rights Campaign gala on Saturday, March 10.
HRC has endorsed Sinema in her 2018 race to replace retiring Arizona Republican Sen. Jeff Flake. The three-term congress member says being the only out bisexual in Congress has not been an issue.
"When I talk with Arizonans, it's the last thing on their minds. Arizonans want to talk about protecting our health care and jobs," she says.
Sinema was ahead of Flake in the polls before he resigned, squeezed out by primary threats from right wingers. Democrats are thrilled by what's shaping up to be a three-way slug-fest in the GOP primary: former state Sen. Kelli Ward was endorsed last year by Steve Bannon; former anti-immigration Sheriff Joe Arpaio, who was pardoned by President Trump after his conviction for criminal contempt; and establishment favorite Rep. Martha McSally, who is expected to run to the right to compete with her populist rivals.
"This is one of our best opportunities to flip a seat from red to blue, and a must-win race with high stakes for working families," says Emily's List in their endorsement of Sinema.
"Sinema has won her House races by increasingly significant margins in a Republican-leaning district, and many Democrats both in Arizona and Washington, D.C., think she has the profile and moderate record to win over voters in a state that has long been decidedly red but is trending closer and closer to the middle," Real Clear Politics reported last January.
If she wins, Sinema would be the first Arizona Democrat elected to the US Senate since 1988 and could be key to re-taking the Senate. "Democrats face a daunting map, and have to defend 25 seats – 10 in states Donald Trump won – to Republicans' eight. The GOP holds a slender 51-49 majority, but opportunities for Democrats to pick up seats are few and far between. Any path to gaining control runs through Arizona," adds Real Clear Politics.
But it won't be easy. Even Flake had planned his line of attack, painting Sinema as "too liberal' for Arizona. "From her time working on Ralph Nader's campaign to the state legislature to Congress, Kyrsten Sinema has always been out of touch with Arizona and she'll do anything to hide her progressive record," a campaign spokesman, Will Allison, said in a statement, according to the New York Times.
Her opponents will likely drudge up Sinema's record on LGBT equality, as well. While in the Arizona House of Representatives, Sinema co-chaired Arizona Together, the statewide campaign that defeated a 2006 measure that would have banned recognition of civil unions and same sex marriage in the state.
In 2008, as Californian LGBTs were unsuccessfully fighting the anti-gay marriage Prop 8, Sinema led the crushing fight against a similar initiative, Prop 102, that was also approved by voters.
But Sinema's evolution from Green Party progressive in 2000 to a Blue Dog Democratic member of the fervently bipartisan Problem Solvers Caucus (out Rep. Jared Polis is also a member) has caused concern among some progressive Democrats.
"A lot of people are not happy with her," Mike Johnson, head of Arizona's chapter of Indivisible, told RealClearPolitics. "They don't feel that she's progressive enough. That she's been too much of a centrist."
In particular, Johnson and others were disappointed that Sinema did not join with other Democrats to shut down the government as leverage to get a DACA solution. "Why not vote no for it as a symbolic show that you're standing for Dreamers and DACA reform? They're asking, 'Where is she?'" Johnson said.
"We don't care if you're a Democrat. We won't forget that you left our Dreamers out in the cold," the Maricopa County Democratic Party tweeted.
But Sinema takes being a "problem solver" seriously—which doesn't include shutting down the government: "partisan games are dangerous and irresponsible," she said.
Sinema has a history of supporting DREAMers, from sponsoring a bill in the state Legislature in 2006 urging passage of the DREAM Act to employing DREAMer Erika Andiola—a Mexican-born national leader in the immigrant rights movement and recognized advocate of the DREAM Act who mobilized a protest to stop her mother's deportation—as her director of outreach.
But Sinema also voted to "punish" sanctuary cities in 2015. 
More recently, last February 28, however, Sinema called on Congress to act on the DREAMers—to protect "Arizona's over 57,000 Dreamers, their families, and the state's economy."
"It's time to put party aside to protect our border and stand up for Arizona families," Sinema said in a statement.  "This bipartisan legislation keeps Arizonans safe, protects our state's economy, and allows Dreamers to continue living in the only country they've ever known. The Supreme Court's action isn't the solution that Arizonans deserve, which is why I'm calling on Congressional leaders to bring the USA Act up for a vote without delay."
Progressive state Democrats are also concerned by a tracking report from Nate Silver's FiveThirtyEight  indicating that Sinema votes in line with Trump's position 54.7% of the time.
"This isn't a matter of one party being right and the other being wrong," Sinema tells the LA Blade. "If we allow our basic values to become just another political football, we'll all lose. If President Trump is willing to work together to stand up for Arizonans, I'll work with him. We've done this when it comes to standing up for veterans. If he pursues policies that undermine Arizona families, I'll stand up to him, like when we stopped his effort to take away our access to health care. My guiding principle is always doing what's right for Arizona."
It may be this desire to solve problems that explains her strategic political evolution from Green to purple.
"I learned early on that you get more things done when you're willing to work together," Sinema says. "The problem with Washington is that people don't listen to those who have different points of view so they never find the common ground needed to really solve problems. When you actually talk with people and work across the aisle, it's amazing how much you can accomplish. That's how I was able to reach across the aisle to pass a law that helps our veterans get better health care. That kind of pragmatism is how we get things done in Arizona."
And it's that kind of pragmatism that will most likely have Democrats voting for her in November.
"I think at the end of the day, even the folks that are critics of Kyrsten are going to say: Is she going to be better than Joe Arpaio or Martha McSally?" said D.J. Quinlan, a former executive director of the state party, to Real Clear Politics. "It's a simple calculation."
What most Democrats—especially young activist—will be happy to hear is that Sinema is with them on common sense gun control and agrees with the #NoNRAMoney pledge.
"I have never taken money from the NRA and will not," Sinema tells the LA Blade.
Here's Sinema's announcement video:
Whittier Pride cancelled- Henderson, Nevada based non-profit steps in
Non-profit International Cultural Movement for Equality is sponsoring 'Whittier Proud' on September 25 at the Doubletree Inn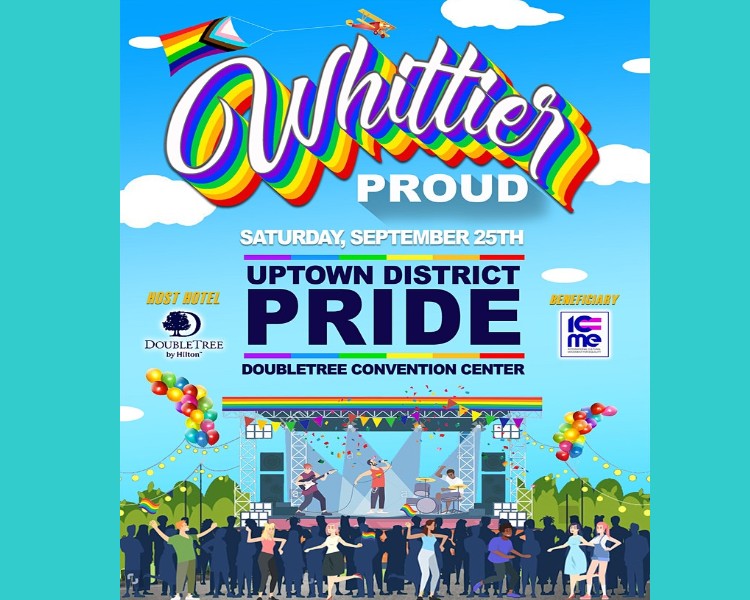 WHITTIER – A disagreement that led to a split in the organizing committee to host what would have been the second Whittier Pride Festival ended up canceling the event. Pride was set to be held Saturday, Sept. 25 at Central Park.
According to the Whitter Daily News, two years ago, the event drew between 5,000 and 8,000 people but was reduced to a car parade in 2020 as a result of the pandemic. Another caravan was held in June, but a full festival was expected this year.
Reporter Mike Sprague from the Daily News noted that two groups — both calling themselves Whittier Pride — applied for a permit.  According to Sprague, one group, which reportedly split off from the original organization, filed first and received permission on Aug. 23 from the Whittier Parks, Recreation and Community Services Commission.
That final approval would have required the City Council to sign off on but in an email to the Daily News, Whittier Assistant City Manager Shannon DeLong said the group had withdrawn its application.
The second group's application wasn't considered due to a 'first come first serve' process the City Manager Brian Saeki told the Daily News in a telephone interview last Friday.
"We received two applications for the same event on the same day and time," Saeki said. "For us, it was all procedural. We moved forward with the first application."
There will be a Pride event this month as Henderson, Nevada based non-profit International Cultural Movement for Equality is sponsoring 'Whittier Proud' on September 25 at the Hilton DoubleTree Convention Center in downtown Whittier.
Event organizer Richard Anthony Cortez, the creative director of ICME, told the Blade that his organization's efforts are not tied to either of the two other groups at all and that 'Whittier Proud' is a separate partnership with the Whittier DoubleTree Hotel for a weekend of Pride events to celebrate diversity.
The 'Whittier Proud' has an Eventbrite page for tickets and a Facebook page for further information Cortez said.
Whittier City Councilmember Henry Bouchot, who told the Daily News by phone Friday that he has supported the festival without taking sides and he's sorry the event will not be held this year.
"Hopefully, this is just a one-year hiatus that can come back," Bouchot said. "I'm a supporter of the Pride Festival and would like to see it return to our city."
Calls to the Pride groups by the Blade for comment were not returned.
Lt. Governor Kounalakis establishes Transgender Advisory Council
"Establishing this council gives transgender leaders the space to have an open dialogue with key stakeholders […]"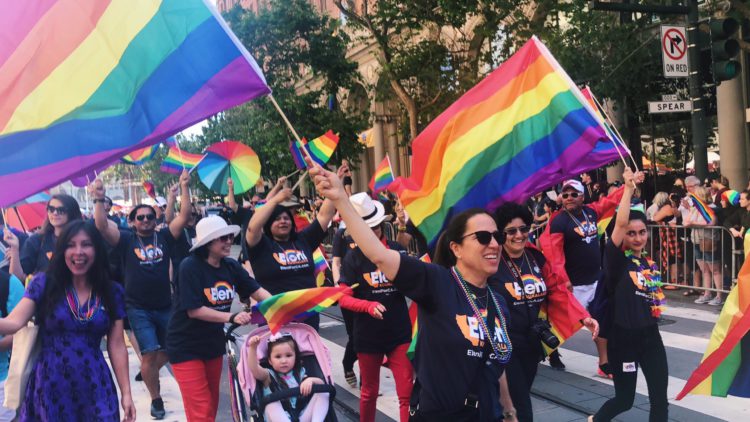 SACRAMENTO – Lieutenant Governor Eleni Kounalakis announced Monday that she has established a council of transgender leaders to create a dialogue between state leaders and the transgender community in California.
Believed to be the first of its kind in the nation, the council includes transgender activists, advocates, and elected officials from across the state. Its goal is to bring attention to the issues faced by the transgender community by inviting stakeholders in advocacy, government, and different industry sectors to hear directly from the council.
"Here in California, I'm proud we have enacted many protections for LGBTQ+ people, but we still have work to do, and that is especially true for issues facing our transgender and nonbinary family, friends, and neighbors," said Lt. Governor Kounalakis. "Establishing this council gives transgender leaders the space to have an open dialogue with key stakeholders who may not have otherwise had the opportunity to hear directly from them. I hope bridging this gap will help to amplify important issues and bring more understanding of the community. I look forward to the opportunity to listen, to learn, and to help elevate the voices of the members."
"This California Transgender Advisory Council is historic," said council member and California TRANScends Executive Director Ebony Harper. "I'm extremely honored to serve in this capacity and grateful for our Lieutenant Governor for seeing the need."
"I congratulate Lt. Governor Eleni Kounalakis for her leadership in organizing the Lt. Governor's Transgender Advisory Council," said council member and Palm Springs Mayor Pro Tem Lisa Middleton. "At a time when so many political leaders see transgender Americans as a political opportunity to exploit and target, Lt. Governor Kounalakis is reaching out to help, integrate and provide opportunity. I look forward to working with my colleagues within California's transgender community and the Lt. Governor to advance employment, housing and healthcare opportunity and equity for all Californians."
"This is historic for the state of California," said the [email protected] Coalition President and CEO Bamby Salcedo. "Having an official body composed of trans people under the Lieutenant Governor's office sets a precedent for other states to follow. I am so grateful to live in such an inclusive state!"
"I am beyond thrilled to work in partnership with the Lieutenant Governor's Office to create what will hopefully be the first of many Transgender Advisory Councils," said council member and Equality California Program Manager Zizi Bandera. "To have a high-ranking state official show their solidarity with our community in this way means a lot. I am honored to continue the work of so many transgender advocates whose relentless passion for justice and liberation have made this possible."
The advisory council will meet regularly and is comprised of transgender leaders from across the state, including the following people:
Ian Anderson, Legal Services Project Manager, Transgender Law Center
Zizi Bandera, Program Manager, Equality California
Blossom Brown, Activist
Ebony Harper, Executive Director, California TRANScends
Drian Juarez, Vice President of Training and Culture, Folx Health
Lisa Middleton, Palm Springs Mayor Pro Tem and City Councilmember
Evan Minton, Activist
Bamby Salcedo, President and CEO, [email protected] Coalition
Rosio Leon Velasco-Stoll, Fresno Spectrum Center
In addition to establishing the Transgender Advisory Council, Lt. Governor Kounalakis co-sponsored several important measures in the California Legislature this year, including AB 378 (Bauer-Kahan), which was signed by Governor Newsom and eliminates gendered language referencing constitutional officers in California law, and AB 245 (Chiu), which is currently on the Governor's desk and would ensure that California public colleges and universities allow transgender and nonbinary students to have their name and gender accurately reflected on academic records.
Connie Norman Transgender Empowerment Center for Los Angeles opens
First facility of its kind nationwide serving Trans and Non-Binary individuals and communities of, by and for Trans and nonbinary individuals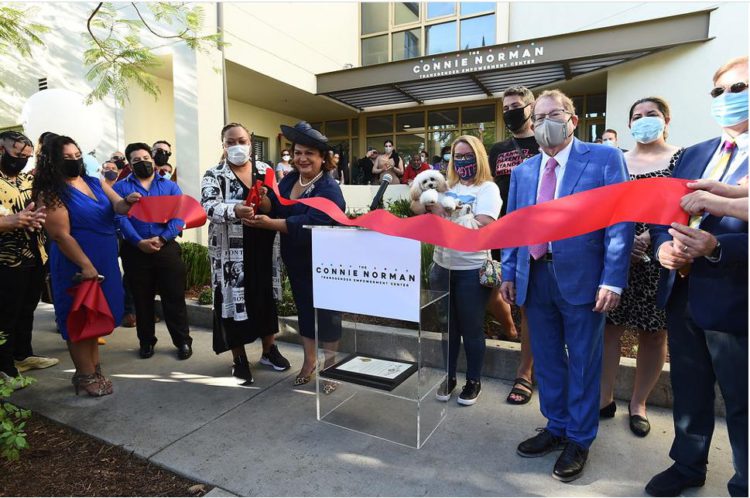 WEST HOLLYWOOD – In a location that once housed the Aids Healthcare Foundation's Linn House, a hospice for people dying from AIDS, the first facility of its kind nationwide serving Trans and Non-Binary individuals and communities of, by and for Trans and nonbinary individuals opened Friday, September 10.
Named for and dedicated in honor of Connie Norman, known as the 'AIDS Diva,' a fearless Transgender and AIDS activist who died of the disease in 1996.
The Connie Norman Transgender Empowerment Center, will serve as a home for several Trans-led organizations including FLUX, a national division of the Aids Healthcare Foundation and the Unique Woman's Coalition (UWC). The center will focus on building capacity, advocacy and overall health and wellness of the Transgender and Non-Binary communities.
The 20,000 square-foot building has been repurposed to function as a sort of 'WeWork' space for Trans-led organizations to have a place to do their work, grow and be affirmed.
"Named after a Diva like Connie Norman, supported by an institution like AHF and led by two respected Trans orgs like the UWC and FLUX—this is historic! An entire building where trans people are at the helm, making decisions and innovating," said Queen Victoria Ortega, Founder and International President of FLUX. "We are committed to making sure our community has a voice. Now, we have this incredible building as a home for those voices. I believe that great things are going to happen here, really great things!"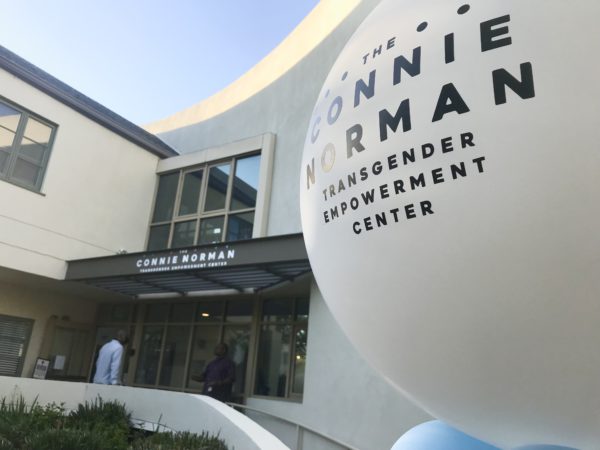 Norman was a force to be reckoned with according to Los Angeles based filmmaker Dante Alencastre's 2020 documentary film AIDS Diva: The Legend Of Connie Norman, which was released 25 years after Norman's death.
In a short bio published by FLUX the group noted, "Connie Norman (1949 – July 15, 1996) was an AIDS and gay and transgender rights activist with ACT UP/LA. Beginning in 1991, she was the host of the first daily commercial talk radio show about gay issues in Los Angeles, and also co-hosted a television show. After her death from AIDS, ACT UP scattered her ashes on the White House lawn.'
Veteran LGBTQ journalist and the former Editor of the Los Angeles Blade, Karen Ocamb membered the formidable Norman in a March 31, 2021 commentary piece published to mark Trans Visibility Day.
"It was the late '80s and I was still new to "gay" journalism so I followed standard reporter practice of mingling with the crowd, getting a sense of what was going on, then asking to speak with the organization's spokesperson. […]
For a bit I was stuck in my transition from old mainstream to LGBTQ/AIDS thinking. Luckily, Connie decided to educate me anyway. She invited me to her home — which she shared with her gay husband (who I recognized from 12 Step rooms) and LOTS of cats – and sat me in front of a video of her teaching a class of students about what it meant to be transsexual or transgender. […]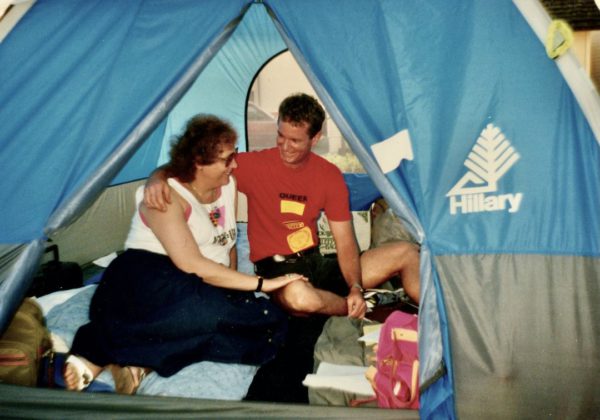 Connie was so generous with so many people- she made so many of us feel warm and loved and supported.
Curiously, after the video ended, Connie's friend Harry Hay and his partner John Burnside (who turned out to be relative neighbors in WeHo) showed up and educated me about gays being Nature's third sex. It was an amazing night. Connie was so generous with so many people. Most importantly for me – aside from being a reliable source of information so I could do my job properly — she smiled when she saw me. She made so many of us feel warm and loved and supported."
"When Connie Norman was living her final days at AHF's Chris Brownlie Hospice, she bequeathed her childhood teddy bear to me, asking that I please help look after her Trans sisters and brothers she was leaving behind. I can think of no better way to honor that request than with this Connie Norman Transgender Empowerment Center that we dedicate today," said Michael Weinstein, president of AHF and a good friend of Norman's.
Norman's teddy bear will also now take up residence at the new facility in a commemorative plexiglass display case. In addition, September 10th 2021 will also be known as Connie Norman Transgender Empowerment Day via proclamation by the City of West Hollywood.
The facility will also be home to a food bank opening onsite Monday, September 13th (12 noon- 2:00 pm). A 'Clothing Closet' to assist Trans and other individuals will also open onsite in the future and an AHF Healthcare Center serving the needs of Trans and nonbinary patients is set to open in 2022.
Photo Gallery of opening ceremonies provided by film producer John Johnston