Kyrsten Sinema taking her shot at the US Senate (Video)
Bisexual Arizona Democrat also says #NoNRAMoney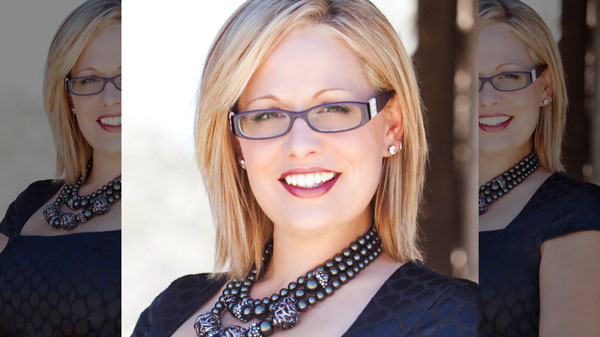 Born eight days after the Bicentennial celebration of the American Revolution, Arizona native Kyrsten Sinema has a strong streak of Western independence laced with an old fashioned belief in the value of hard work. In many ways, she is the personification of the American Dream—from struggling with childhood poverty and homelessness to achieving a law degree, a Ph.D and a seat in Congress—a dream the centrist Democrat hopes will inspire red state voters to support her shot at the US Senate.
Sinema's Bicentennial birth ripples through to today, echoing Lin-Manuel Miranda's famous "Hamilton" song: "Hey yo, I'm just like my country/ I'm young, scrappy and hungry/ And I'm not throwing away my shot!"
"Growing up, we were like every other working family until my dad lost his job and we lost our home. We ended up living in an abandoned gas station for nearly three years. But I worked hard, got an education, and got my shot at the American dream. I'm focused on making sure every Arizonan gets his or her shot just like I did," Sinema told the Los Angeles Blade.
Sinema is speaking at the Human Rights Campaign gala on Saturday, March 10.
HRC has endorsed Sinema in her 2018 race to replace retiring Arizona Republican Sen. Jeff Flake. The three-term congress member says being the only out bisexual in Congress has not been an issue.
"When I talk with Arizonans, it's the last thing on their minds. Arizonans want to talk about protecting our health care and jobs," she says.
Sinema was ahead of Flake in the polls before he resigned, squeezed out by primary threats from right wingers. Democrats are thrilled by what's shaping up to be a three-way slug-fest in the GOP primary: former state Sen. Kelli Ward was endorsed last year by Steve Bannon; former anti-immigration Sheriff Joe Arpaio, who was pardoned by President Trump after his conviction for criminal contempt; and establishment favorite Rep. Martha McSally, who is expected to run to the right to compete with her populist rivals.
"This is one of our best opportunities to flip a seat from red to blue, and a must-win race with high stakes for working families," says Emily's List in their endorsement of Sinema.
"Sinema has won her House races by increasingly significant margins in a Republican-leaning district, and many Democrats both in Arizona and Washington, D.C., think she has the profile and moderate record to win over voters in a state that has long been decidedly red but is trending closer and closer to the middle," Real Clear Politics reported last January.
If she wins, Sinema would be the first Arizona Democrat elected to the US Senate since 1988 and could be key to re-taking the Senate. "Democrats face a daunting map, and have to defend 25 seats – 10 in states Donald Trump won – to Republicans' eight. The GOP holds a slender 51-49 majority, but opportunities for Democrats to pick up seats are few and far between. Any path to gaining control runs through Arizona," adds Real Clear Politics.
But it won't be easy. Even Flake had planned his line of attack, painting Sinema as "too liberal' for Arizona. "From her time working on Ralph Nader's campaign to the state legislature to Congress, Kyrsten Sinema has always been out of touch with Arizona and she'll do anything to hide her progressive record," a campaign spokesman, Will Allison, said in a statement, according to the New York Times.
Her opponents will likely drudge up Sinema's record on LGBT equality, as well. While in the Arizona House of Representatives, Sinema co-chaired Arizona Together, the statewide campaign that defeated a 2006 measure that would have banned recognition of civil unions and same sex marriage in the state.
In 2008, as Californian LGBTs were unsuccessfully fighting the anti-gay marriage Prop 8, Sinema led the crushing fight against a similar initiative, Prop 102, that was also approved by voters.
But Sinema's evolution from Green Party progressive in 2000 to a Blue Dog Democratic member of the fervently bipartisan Problem Solvers Caucus (out Rep. Jared Polis is also a member) has caused concern among some progressive Democrats.
"A lot of people are not happy with her," Mike Johnson, head of Arizona's chapter of Indivisible, told RealClearPolitics. "They don't feel that she's progressive enough. That she's been too much of a centrist."
In particular, Johnson and others were disappointed that Sinema did not join with other Democrats to shut down the government as leverage to get a DACA solution. "Why not vote no for it as a symbolic show that you're standing for Dreamers and DACA reform? They're asking, 'Where is she?'" Johnson said.
"We don't care if you're a Democrat. We won't forget that you left our Dreamers out in the cold," the Maricopa County Democratic Party tweeted.
But Sinema takes being a "problem solver" seriously—which doesn't include shutting down the government: "partisan games are dangerous and irresponsible," she said.
Sinema has a history of supporting DREAMers, from sponsoring a bill in the state Legislature in 2006 urging passage of the DREAM Act to employing DREAMer Erika Andiola—a Mexican-born national leader in the immigrant rights movement and recognized advocate of the DREAM Act who mobilized a protest to stop her mother's deportation—as her director of outreach.
But Sinema also voted to "punish" sanctuary cities in 2015. 
More recently, last February 28, however, Sinema called on Congress to act on the DREAMers—to protect "Arizona's over 57,000 Dreamers, their families, and the state's economy."
"It's time to put party aside to protect our border and stand up for Arizona families," Sinema said in a statement.  "This bipartisan legislation keeps Arizonans safe, protects our state's economy, and allows Dreamers to continue living in the only country they've ever known. The Supreme Court's action isn't the solution that Arizonans deserve, which is why I'm calling on Congressional leaders to bring the USA Act up for a vote without delay."
Progressive state Democrats are also concerned by a tracking report from Nate Silver's FiveThirtyEight  indicating that Sinema votes in line with Trump's position 54.7% of the time.
"This isn't a matter of one party being right and the other being wrong," Sinema tells the LA Blade. "If we allow our basic values to become just another political football, we'll all lose. If President Trump is willing to work together to stand up for Arizonans, I'll work with him. We've done this when it comes to standing up for veterans. If he pursues policies that undermine Arizona families, I'll stand up to him, like when we stopped his effort to take away our access to health care. My guiding principle is always doing what's right for Arizona."
It may be this desire to solve problems that explains her strategic political evolution from Green to purple.
"I learned early on that you get more things done when you're willing to work together," Sinema says. "The problem with Washington is that people don't listen to those who have different points of view so they never find the common ground needed to really solve problems. When you actually talk with people and work across the aisle, it's amazing how much you can accomplish. That's how I was able to reach across the aisle to pass a law that helps our veterans get better health care. That kind of pragmatism is how we get things done in Arizona."
And it's that kind of pragmatism that will most likely have Democrats voting for her in November.
"I think at the end of the day, even the folks that are critics of Kyrsten are going to say: Is she going to be better than Joe Arpaio or Martha McSally?" said D.J. Quinlan, a former executive director of the state party, to Real Clear Politics. "It's a simple calculation."
What most Democrats—especially young activist—will be happy to hear is that Sinema is with them on common sense gun control and agrees with the #NoNRAMoney pledge.
"I have never taken money from the NRA and will not," Sinema tells the LA Blade.
Here's Sinema's announcement video:
California expands broadband infrastructure & internet access across state
The initial project locations based on unserved/underserved areas that don't reliably have download speeds of at least 25 Megabits per second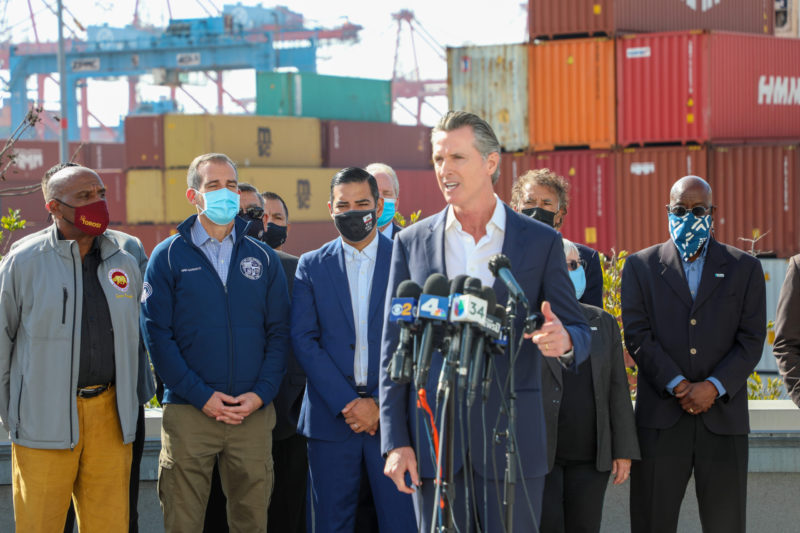 SACRAMENTO – Advancing California's commitment to bridge the digital divide, Governor Gavin Newsom announced that the state has identified 18 projects to begin work on an open-access middle-mile network that will provide missing infrastructure paths to bring broadband to all communities.
As part of the historic $6 billion broadband investment advanced in partnership with legislative leaders earlier this year, the initial project locations are based on known unserved and underserved areas across the state. The projects will connect to the core of the global internet and interconnect to last-mile infrastructure, which is the final leg that provides internet service to a customer.
"California is committed to taking on the challenges laid bare by the pandemic, including the digital divide holding back too many communities across the state," said Newsom. "These projects are the first step to delivering on our historic investment that will ensure all Californians have access to high-quality broadband internet, while also creating new jobs to support our nation-leading economic recovery."
The initial 18 projects represent a range of geographic locations and technical approaches. Projects are being initiated in the following tribal communities, counties and cities: Alpine County; Amador County; Calaveras County; Central Coast; Coachella Valley; Colusa Area; Inyo County; Kern County; Kern/San Luis Obispo Area; Lake County Area; Los Angeles and South Los Angeles; Oakland; Orange County; Plumas Area; Riverside/San Diego Area; San Bernardino County; Siskiyou Area; and West Fresno.
Evaluation of project areas included consideration of public comments, prioritization of unserved or underserved areas of the state, and inclusion of tribal communities, cities and counties. An unserved or underserved area has households that do not reliably have download speeds of at least 25 Megabits per second (Mbps) and upload of at least 3 Mbps.
"Core to our success will be the deep partnerships we've built with a diverse set of community organizations and last mile providers. Through many years of engagement with metropolitan planning organizations, CPUC-supported broadband consortia, Tribal organizations, community-based broadband advocacy groups, and organizations like the Rural County Representatives of California, the NAACP, and the California Emerging Technology Fund, we are now ready to take this historic step towards broadband equity for California," said Louis Fox, Founder and Chair of GoldenStateNet, the state's third-party administrator.
State partners implementing the middle-mile initiative include the California Department of Technology, California Public Utilities Commission (CPUC) and Caltrans. GoldenStateNet was selected as the Third-Party Administrator (TPA) to manage the development, acquisition, construction, maintenance and operation of the statewide open-access middle-mile broadband network. As the TPA, GoldenStateNet will partner with key stakeholder groups across the state to investigate the best technical, financial and operational models to meet the needs of the project sites.
A map and additional information on the initial projects can be found here.
"A reliable broadband connection makes the difference between having access to full-service health care, education and employment or sometimes going without," said State Chief Information Officer Amy Tong. "Through a historic partnership between our Governor, the Legislature, state agencies and a third-party administrator, we are taking immediate action to improve connectivity for Californians in the northern, central and southern parts of the state."
"These initial routes have been identified to accelerate projects in areas of the state that are unserved because of the lack of open middle mile infrastructure to serve them. We are accelerating the selection of a diverse set of routes — those that are ready to build and those that are not ready to build. This allows the state to partner with locals on these diverse projects and learn by doing, as we concurrently work to finalize all the needed routes in the State. There are many more communities like those in Phase I that will be included in the final map," said Martha Guzman Aceves, Commissioner at the CPUC.
Sen. Alex Padilla & Santa Monica College- Thanksgiving grocery giveaway
"As we approach Thanksgiving, it is important to support each other and our communities, and give back when we can"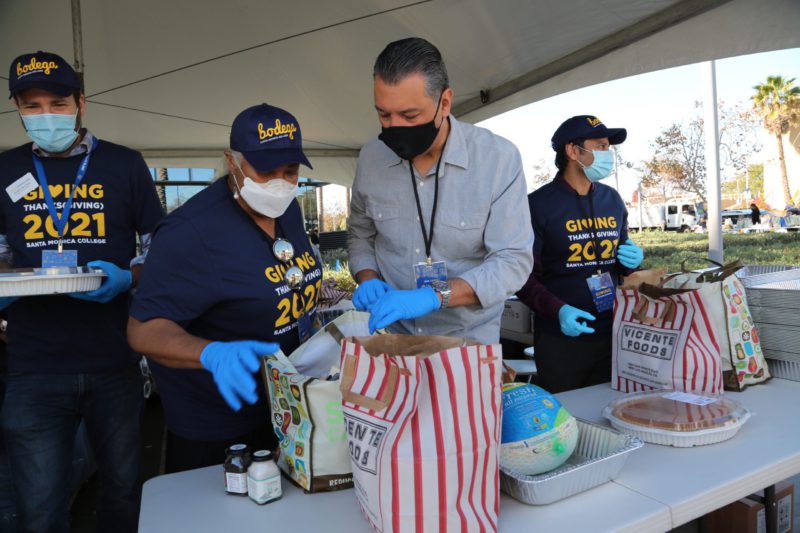 SANTA MONICA — Ahead of Thanksgiving, U.S. Senator Alex Padilla (D-Calif.) on Tuesday volunteered with Santa Monica College (SMC) for their 2nd Annual GIVING THANKS(giving) Holiday Grocery Drive-Thru Giveaway.
Padilla joined dedicated SMC volunteers, along with state and local officials to provide fresh holiday groceries to 1,500 food insecure students.
"As we approach Thanksgiving, it is important to support each other and our communities, and give back when we can," said Senator Padilla. "I was proud to join Santa Monica College and regional partners for their annual holiday food drive to make sure students have access to fresh food and groceries this holiday season. But this is also a stark reminder that there is more work to be done to address student food insecurity, an issue that existed since before the pandemic. I've introduced the BASIC Act to give students the resources they need to stay focused on their education. No student should have to worry about meeting their basic needs while pursuing their education."
"Having Senator Padilla attend today's event is so powerful because it raises the importance of giving back to our community," said Lizzy Moore, president of the Santa Monica College Foundation and Santa Monica College's dean of institutional advancement. "The Santa Monica College community is grateful for his leadership in the Senate to push for the BASIC Act and other legislative proposals to address the dramatic rates of food insecurity that exists on all college campuses including Santa Monica College."
Even before the pandemic, 50 percent of California Community College students were food insecure.
Senator Padilla has been a strong advocate for addressing food insecurity and ensuring students can meet their basic needs while pursuing a higher education. This year, Padilla introduced the Basic Assistance for Students in College (BASIC) Act, bicameral legislation to ensure college students are able to meet their basic needs while pursuing their education. Specifically, the legislation provides $1 billion for grants to ensure institutions of higher learning have the resources they need to support their students' most fundamental needs, and directs the federal government to streamline data sharing across agencies to help students qualify for aid – particularly Pell Grant recipients and attendees of community colleges and minority-serving institutions.
Senator Padilla also joined his colleagues in introducing the Student Food Security Act of 2021. This bicameral legislation helps address food insecurity on college campuses by enabling more low-income college students to access the Supplemental Nutrition Assistance Program (SNAP), improve data collection and sharing, and create a new grant program to help colleges and universities support their students.
2022 Best of LGBTQ LA Readers' Choice Award Nominations
Nominate your favorites in our 2022 Best of LGBTQ LA categories through December 5th.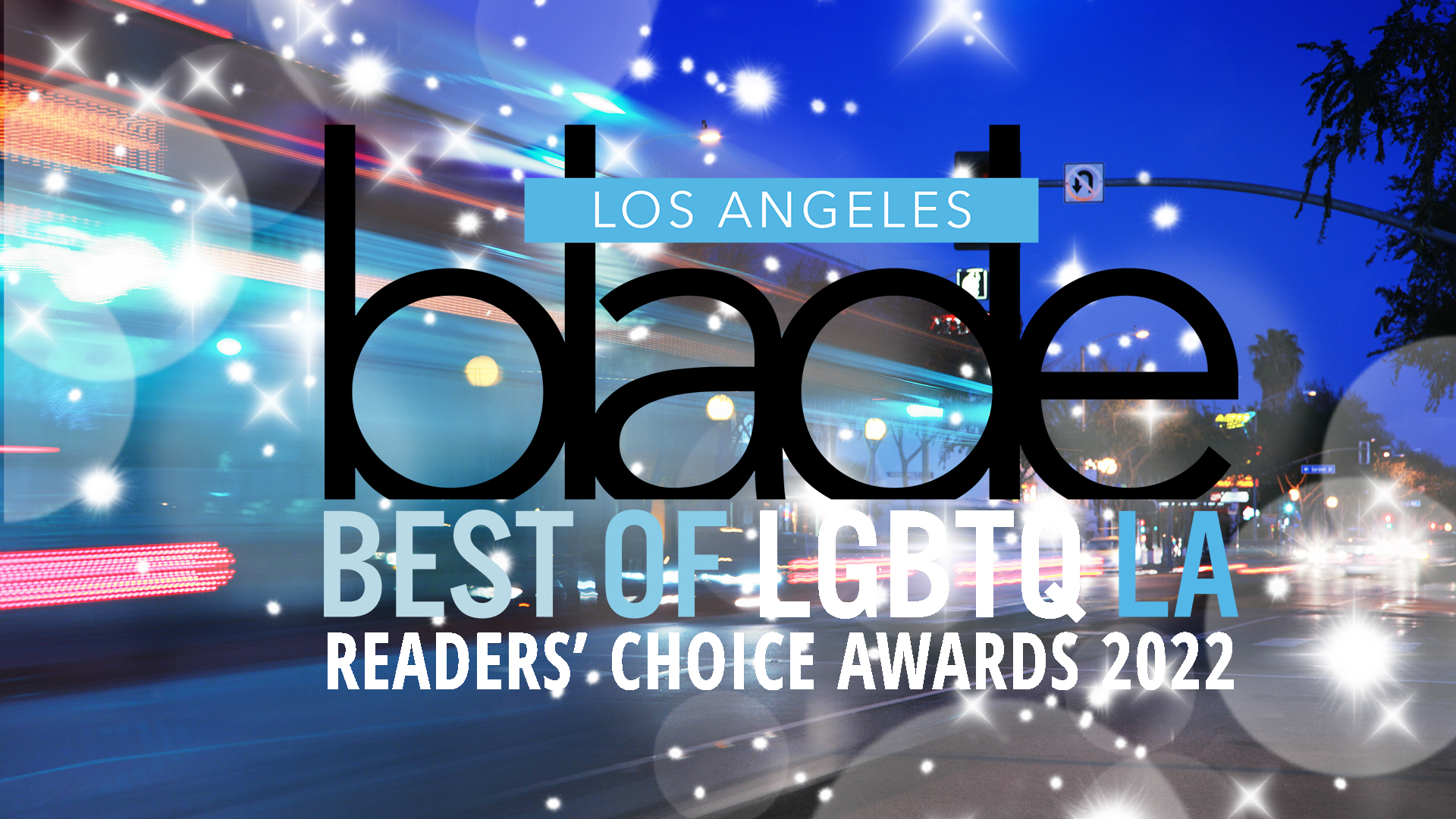 It is Decision 2022! Nominate your favorites in our 2022 Best of LGBTQ LA categories through December 5th. The top 5 nominees from each category will become a finalist with voting starting December 15th. Our 2022 Best of LGBTQ LA will be announced at the Best of LGBTQ LA Awards Party and special issue on January 28th, 2022.
Nominate below or click HERE.