An evening of fun with "Wicked Pagan Gays"
An outrageous clan resettles in West Hollywood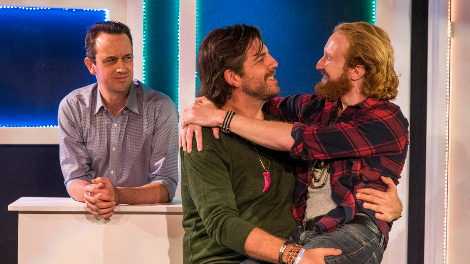 With a title like "Wicked Pagan Gays," one might walk into the theatre expecting an outrageous evening of blasphemy, lewdness, and debauchery – with copious amounts of gratuitous homosexual fornication and at least a little bit of full-frontal nudity thrown in for good measure.  Fair warning: that's not what you'll get.
The play, which is currently in its World Premiere run at the Zephyr Theatre on Melrose, is a comedy of manners which focuses not on the physical acts its name evokes, but rather on the conflict between different religious beliefs within the culture – or at least, within the microcosm of the culture reflected by the handful of gay men who populate it.
That doesn't mean it's a dry and dusty think piece, though.  As written by Jeff Dinnell, whose long-running real-life "cocktail-fueled debates" with credited co-creator Greg Archer provided the inspiration for the script, "Wicked Pagan Gays" is more along the lines of an intellectual farce, reminiscent of one of those old-fashioned screwball comedies that thrived on stage and screen in the 1930s and 40s (that classic paean to feminine cattiness, "The Women," comes to mind)  – full of fast-talking characters, zingy one-liners, slick cynicism, and ridiculous coincidences.
Set in present-day West Hollywood, the plot revolves around two gay thirty-something men who were once part of the same circle in a small town "up north" in California.  Jeff (played by Dinnell himself) is a recent transplant to L.A., an aspiring playwright and self-proclaimed atheist who hopes to start a new life in the big city; Greg (Nathan Tylutki) is a struggling journalist and spiritual seeker, who is fascinated with mysticism.  Following "signs from above," Greg is led to reconnect with Jeff, and manages to talk his skeptical old acquaintance to form an uneasy partnership in pursuit of an as-yet-unspecified financial venture.
In addition to their widely opposing views on religion, things are complicated by Greg's relationship with Douglas (Ian Dick), Jeff's personal nemesis from their home town.  There's also Jeff's flamboyant gay Christian roommate (Jordan Green), a fresh-out-of-the-closet former child star (Eric Allen Smith) who believes in astrology, a hippie-chick (Krista Conti) who espouses the power of pyramids, and a B-list celebrity fitness guru (Emily Jerez) whose previous partnership with Greg ended in disaster – for him, at least.
The ensuing zaniness that results from the interaction of all these characters is best left to be discovered first-hand by the audience; suffice to say that Jeff, who serves as a kind of foil to all their off-the-deep end flavors of fanaticism, ends up being just as entangled in the mess as all the rest of them, if not even more so.
As directed by L.A. theatre veteran Kiff Scholl, the production moves at a fast and furious pace.  This is a good thing, given the wordy nature of the script and its potentially intimidating philosophical arguments.  The high-minded concepts being batted around in the dialogue are grounded by Scholl's focus on the more directly human; he wisely guides his actors to show us what their characters want, rather than what they think, and as a result the whole thing comes off as a sharp satire on behavior instead of a pretentious game of verbal ping-pong.  As for his staging, Scholl is somewhat limited by the lack of depth available to him in the Zephyr's intimate space, but he manages to keep things flowing with enough movement and variety that the action never seems confined or static – no small feat for a play as simultaneously light and heavy as this one.
The actors are also adept, for the most part.
Dinnell is believable and personable as Jeff (as he should be, given the clearly autobiographical nature of the role for him), and yet allows the less pleasant aspects of the character – the bitchy, bitter, small town queen-iness of him – to come through without trying to polish them out in favor of likeability.
Tylutki has the showier of the two lead roles.  Greg is larger-than-life, the sort of hapless, self-absorbed near-buffoon that might come off as either an idiot or a con artist; but the actor finds the sincerity that keeps him from being either, as well as the vulnerability that makes him sympathetic despite his obvious narcissism.
There are some scene-stealing stand-outs in the supporting cast as well.  Green is hilarious as the roommate, Tyrell, and notches up the energy of the show every time he appears – which is only fitting for a bible-thumping black man who wears tight booty shorts and laments the fact that the boys are intimidated by the size of his equipment.  Jerez is equally energetic as the over-the-top Jillian Stark, a delicious parody of the self-promoting Hollywood hack whose perfect exterior hides an abyss full of personal demons.  Perhaps the most memorable turn of the evening comes from Conti, as Helene Aurora, the pyramid priestess, who manages to turn possibly the most out-there character in the play into the most sensible one with a performance that finds the perfect balance between kooky and down-to-earth.
Overall, "Wicked Pagan Gays" is an enjoyable experience; it's a show with enough meat on its bones to stimulate the minds, but it never takes itself too seriously to be funny.  That said, it's worth adding that there are times when it feels like it wants to go further – like the farce should be a little broader, the characters a little more outrageous, the satire a little more savage.  One of the clearest through-lines in the piece is the way the characters are all so judgmental of each other.  Jeff repeatedly refers to Douglas, for instance, as the "Sanctimonious Gay," but is himself, ironically, the most "judg-y" character of all.  This does not seem accidental, but rather an underscore to a dominant theme.  Likewise, the ultimate goals of all these people, regardless of any spiritual pretenses they may embrace or altruistic motives they may claim, are entirely self-serving.  It's a clear commentary on human nature, and it comes across crystal clear.
It also makes the characters just a little bit hateful.  No matter how much we may like them (or even identify with them) during the course of the action, in the end we can't help but see them as despicable, each in their own way.  The play is unapologetic about this, and that's as it should be – but perhaps a slightly ramped-up stylistic dash of that screwball element might have managed to make them, if not a little less unsavory, at least a bit more palatable than they are in their present, more realistic incarnation.
This is, however, a minor quibble and a matter of personal taste.  "Wicked Pagan Gays" is amusing, smart, and irreverent – all things that make for a good time at the theatre – and definitely worth the trip into the heart of the Melrose district to experience for yourself.
Wicked Pagan Gays performs thru March 31st at:
The Zephyr Theatre, 7456 Melrose Ave. Los Angeles CA, 90046.  Performances are Thu – Sat at 8pm and Sun at 7:00pm
Tickets: www.plays411.com/wicked
Belgian Oscar contender strikes 'Close' to home
Exploring gender expectations we force upon our children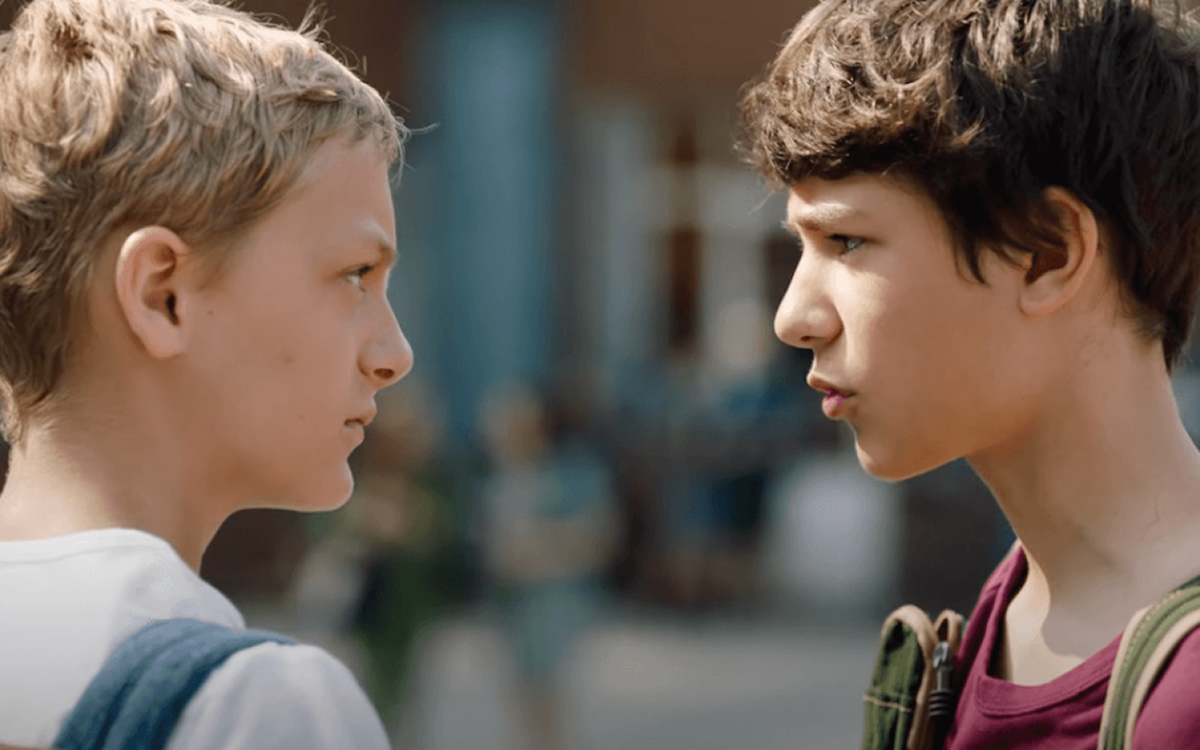 When queer Belgian director Lukas Dhont debuted his first feature film "Girl" at the 2018 Cannes Film Festival, it made quite an impression. As winner of the Caméra d'Or prize for Best First Feature, as well as the Queer Palm Award and a Jury Award for Best Performance for its star Victor Polster, it was quickly acquired by Netflix and catapulted Dhont onto the international cinema scene. He was even named on the Forbes "Europe 30 Under 30" list of business and industry professionals to watch.
Not all the attention heaped on his movie was positive, however. The tale of a teen trans girl seeking a career as a ballet dancer, it raised sharp objections from some queer and trans commentators for what they perceived as a sensationalized approach to gender dysphoria and self-harm, not to mention for the casting of cisgender actor Polster in the leading role; though other queer and trans voices – including real-life trans ballerina Nora Monsecour, who inspired the story and consulted with Dhont and co-screenwriter Angelo Tijssens during the writing process – were quick to defend the movie, the controversy nevertheless created a blemish on its reputation, and that of its filmmaker, too.
Now, Dhont is back with his second full-length film, and while it certainly marks an escalation of his success, it's not without its own detractors. "Close," based on experiences from his own childhood and again co-written by Tijssens, also took Cannes by storm, winning the Grand Prix Award this time, and has gone on to accumulate accolades from other festivals and awards bodies around the world; yet its subject matter, perhaps inevitably, has opened the filmmaker up to another round of criticism from queer observers who are uncomfortable with the story he has chosen to tell – or at least with the way he has chosen to tell it.
It centers on two young teen boys, Léo (Eden Dambrine) and Rémi (Gustav De Waele), tightly bonded best friends who start their first year of secondary school after a summer spent together in innocent but intimate companionship working on Léo's parents' farm. When new schoolmates begin to make comments about the closeness of their relationship, Léo begins to distance himself from Rémi, becoming involved with hockey and pursuing a camaraderie with the rougher, more athletic boys on his team instead; first confused, then devastated by his abandonment, the heartbroken Rémi is moved to a public schoolyard confrontation with his former friend, further driving a wedge between them and setting the stage for an unthinkable turn of events.
The film's provocative title is partly a nod to psychologist Niobe Way's book, "Deep Secrets: Boys' Friendships and the Crisis of Connection," which documents a study of intimacy among teenage boys – frequently using the term "close friendship" to describe their relationships – and was one of Dhont's inspirations for making the film. More than that, however, it's an important clue to what his movie is all about. Though the director revealed before making "Close" that it would be about a "queer character," there is no suggestion, either explicit or implicit, that its two teen friends have a sexual relationship with each other, or even that such a thing has ever crossed their minds; they are simply two boys, comfortable with each other in that tender and trusting way that only boys at their age can be. Likewise, there's no bullying, no aggressive or even "microaggressive" shaming; it's only their schoolmates' perceptions that introduce the suggestion this friendship might be something more – but that's more than enough to sour the sweetness between them, forcing us to question why some ways of being "close" are only OK for boys until they start to become men.
More to the point, perhaps, it begs the question of how this kind of low-key homophobia, so culturally ingrained that it is perpetuated without a flicker of awareness, remains persistent in a community that should know better. We don't see a lot of the adult world in "Close," but what we do see leads us to an impression that most of the grown-ups around Léo and Rémi are intelligent, educated, compassionate, and sensitive; their parents are unconditionally loving, and more than welcoming of the close companionship between their respective offspring. Yet throughout the film, throughout the boys' conflict and beyond, there is no adult figure in their lives who seems willing or able to broach the subject of sexuality, or to show by example that there's nothing about being queer – or even being perceived as queer – to be ashamed of.
These things, of course, are part of the criticism that has been leveled at the movie. Without positive messaging to counter its bleak narrative, some have seen "Close" as perpetuating a bevy of toxic tropes. Though we try to avoid spoilers, it's hard to discuss a movie like this without revealing that something tragic happens, and many have expressed disappointment that Dhont's film "punishes" its gay characters – even if we're never sure they're really gay. Further, in the absence of any affirmation of queerness (or even non-traditional masculinity), some have been troubled by an assumed reinforcement of a homophobic status quo within its narrative.
We can't – and won't – argue with any of those points. "Close" is a challenging film in the same way as "Tár," another controversial title among this year's awards contenders, in the sense that it presents a problem and doesn't offer a solution or tell you how to respond to it – yet unlike "Tár," it encourages us to feel things for its characters, and the consequences here are much more tragic. That might be especially true for queer men, certainly of older generations but still among today's youth, for whom the film may trigger traumatic memories that hit particularly close to home. That means, when it comes to deciding if you're up to the substantial challenges of watching it, you're on your own. (SPOILER ALERT: it's rough going, emotionally speaking.)
Still, "Close" is a beautiful film on a lot of levels. In the most literal sense, it's visually stunning, framed with an almost tactile up-close intimacy and brimming with the preternatural light that glows through Frank van den Eeden's delicate cinematography; in a larger sense, it strikes a resonant chord for anyone who has ever (is there anyone who hasn't?) experienced the terrible pangs of losing a childhood friendship, an unforgettable hurt it captures with heart-rending authenticity. Though we want our coming-of-age stories to be uplifting, there are some kinds of pain that cannot be erased, and it's to Dhont's credit that he doesn't try. He wants you to feel those feelings, and his movie is delicately crafted to make sure that you do, complete with the remarkable performances he elicits from his two underage stars.
That doesn't make it easy to watch, of course, but for those who are willing to take it on, it offers plenty of food for thought; and if the observations it makes about the gender expectations we force upon our children make you uncomfortable, then it's accomplished what it set out to do in the first place.