Trump visits SoCal
Inspects wall prototypes and raises money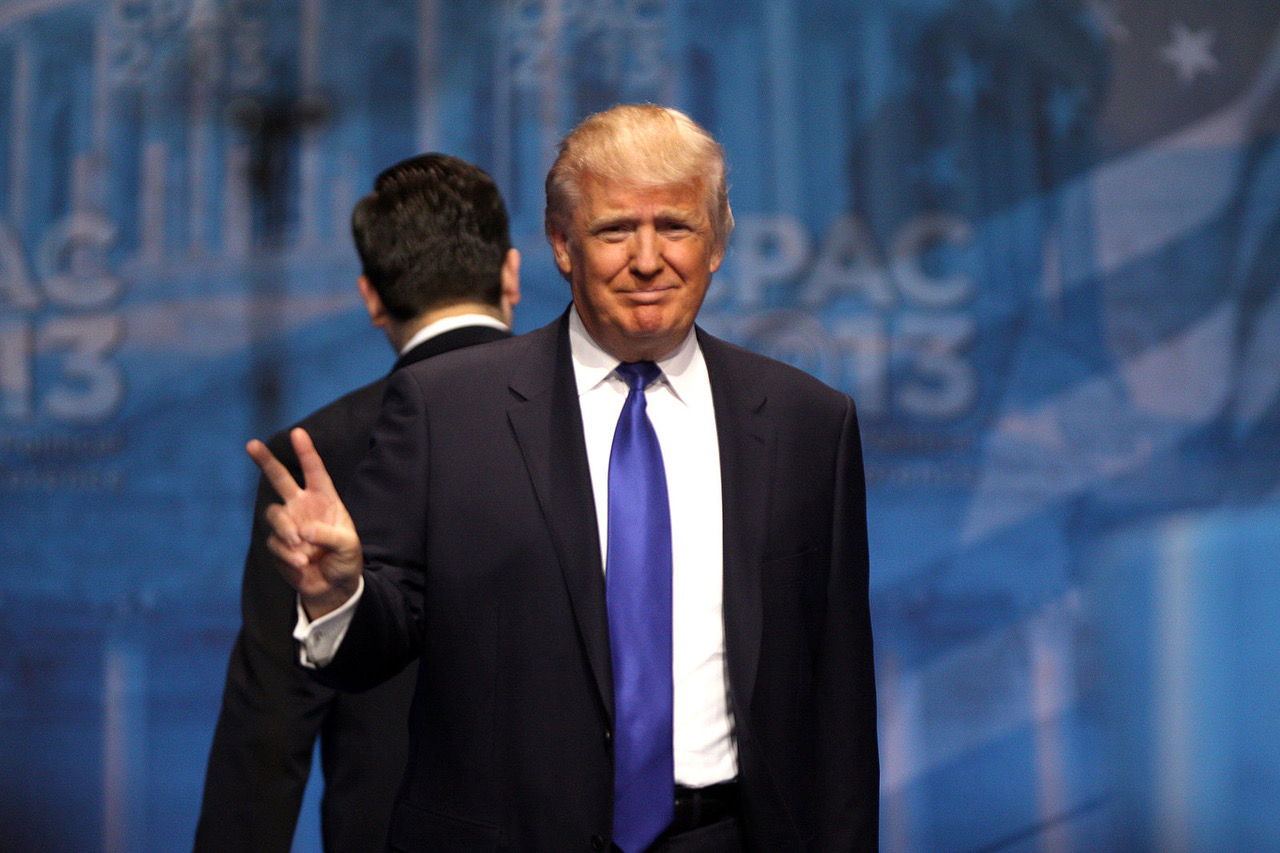 Donald Trump's trip to Southern California Tuesday is expected to snarl traffic, even if he will spend much of his travel aboard the Marine One helicopter, according the Los Angeles Times which has a breakdown of his schedule. The rain hitting LA and Orange County—prompting mandatory mudslide evacuations in areas devastated by the recent fires—apparently will not hit San Diego as Trump inspects prototypes of the 30-foot wall he has promised to build along the southern border. Trump insists that Mexico will pay for the wall, which Mexico adamantly denies.  His visit comes roughly one week after his administration sued California over its "sanctuary city" immigration policies.
Protests are expected both in San Diego and in Beverly Hills, where Trump will attend a fundraiser Tuesday night that is expected to bring in $5 million primarily for his reelection.
"The RNC said there are 90 expected attendees. Minimum contributions are $35,000, and guests can pay up to $250,000 each for a roundtable discussion and photo with the president, " the LA Times reports. 
"Proceeds benefit the Trump Victory reelection campaign and various RNC accounts. The location will not be made public."
A lot of Trump's schedule is not being made public, allegedly for security reasons, though the whereabouts of the president is generally a matter of public record with at least a pool reporter in attendance. However, the LAPD noted that's not the case with Trump.
"While the Department is well rehearsed at dealing with presidential visits, every administration brings with it unique challenges and new protocols, and unfortunately out of an abundance of caution many details about this visit are being withheld for security reasons," the LAPD said in a tweet.
It will be interesting to see the reaction of the California Republican Party in the aftermath of Trump's visit (in SoCal as Trump's administration is in chaos) since he is taking money out of California for his own future political campaign—while the state GOP is in a fight for their very existence and relevancy. In fact, Trump nemesis former California Gov. Arnold Schwarzenegger and Ohio Gov. John Kasich are headlining an event next week, on March 21, to launch a new group hoping to reform and jump-start the California GOP, which now has a voter registration of just 26%.
Here are some highlights of Trump's itinerary:
11:30a – Trump arrives at Miramar Marine Corps Air Station in San Diego.
12:20 p.m.: Arrives by helicopter at the Otay Mesa prototype site
12:25 p.m.: Trump Inspects 8 prototypes for his proposed border wall for roughly 50 minutes
1:15-1:35 p.m. Transition time
1:55 p.m.: Arrives at Marine Corps Air Station Miramar to deliver remarks to military
2:50 p.m.: Leaves San Diego
3:35 p.m.: Arrives at LAX, heads to Santa Monica
4:25 p.m.: Arrives at a private residence
6:30 p.m.: Participates in a roundtable with Republican National Committee supporters. (The Times reports that this Trump/Pence fundraiser is expected to be held in Beverly Hills but the RNC will not confirm the location and the event is closed to the media.)
8:05-8:25 – Departs the private residence to go to his overnight location, which the White House will not reveal, albeit The Times reports "there is evidence he will be in downtown Los Angeles," an email telling tenants that a "VIP/high security visitor" will be coming to the InterContinental Los Angeles Downtown Hotel requiring security that "will have a significant impact in and around the building." That includes street closures around the Wilshire Grand for two blocks.
No idea when Trump will leave LA but he's scheduled to arrive in St. Louis by 11:25 a.m. on Wednesday.
KTLA will be tracking Trump's moves.
Newsom proposes modernizing state's behavioral health system
Newsom proposed a 2024 ballot initiative to improve how California treats mental illness, substance abuse, and homelessness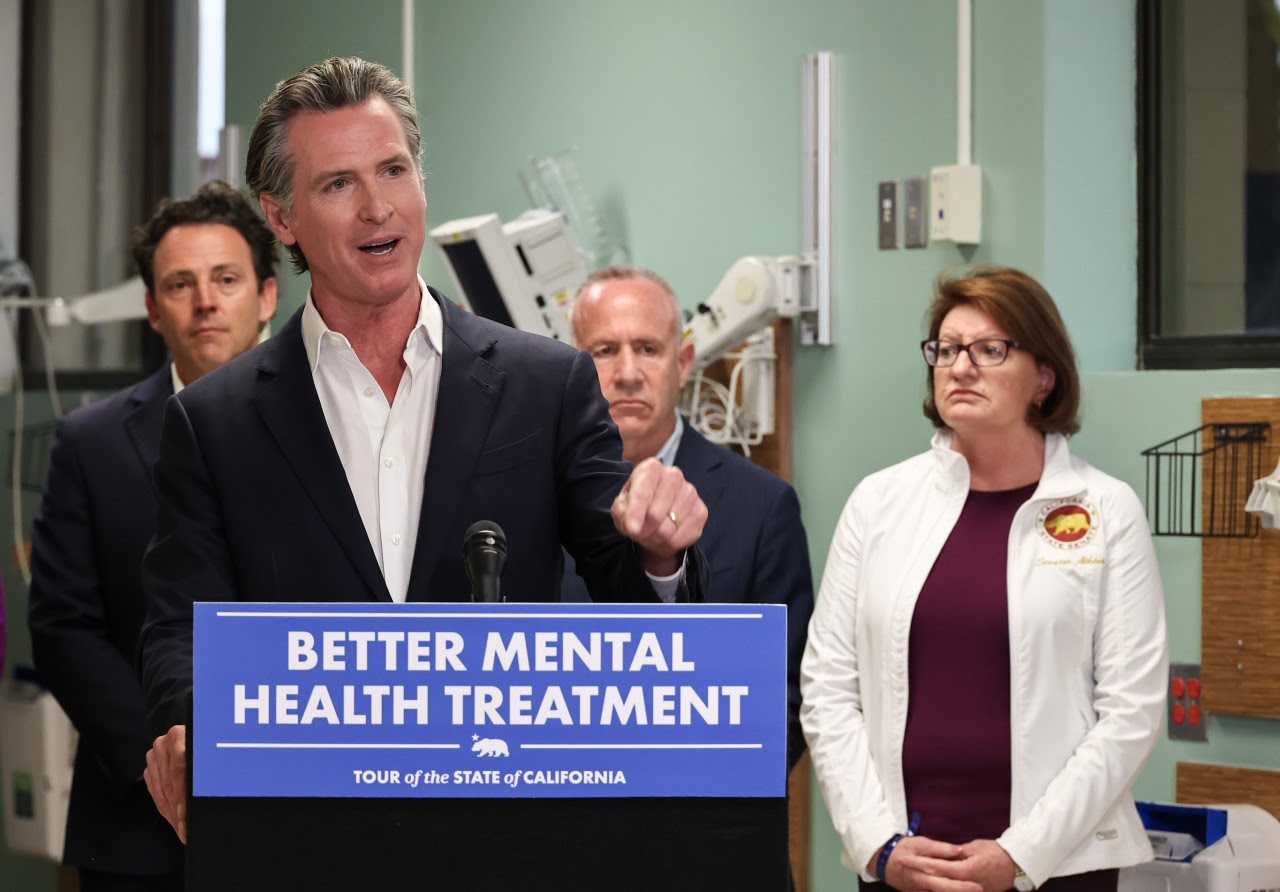 SAN DIEGO – Governor Gavin Newsom, in partnership with state Senator Susan Talamantes Eggman (D-Stockton), has proposed the next step to modernize how California treats mental illness, substance use disorders, and homelessness. 
Governor Newsom proposed a 2024 ballot initiative to improve how California treats mental illness, substance abuse, and homelessness: A bond to build state-of-the-art mental health treatment residential settings in the community to house Californians with mental illness and substance use disorders and to create housing for homeless veterans, and modernize the Mental Health Services Act to require at least $1 billion every year for behavioral health housing and care,
An initiative would go on the 2024 ballot that would:
Authorize a general obligation bond to:

Build thousands of new community behavioral health beds in state-of-the-art residential settings to house Californians with mental illness and substance use disorders, which could serve over 10,000 people every year in residential-style settings that have on-site services – not in institutions of the past, but locations where people can truly heal. 
Provide more funding specifically for housing for homeless veterans. 

Amend the Mental Health Services Act (MHSA), leading to at least $1 billion every year in local assistance for housing and residential services for people experiencing mental illness and substance use disorders, and allowing MHSA funds to serve people with substance use disorders.
Include new accountability and oversight measures for counties to improve performance.
The MHSA was originally passed 20 years ago; it is now time to refresh it so it can better meet the challenges we face. Key changes that the Governor is proposing include: Creating a permanent source of housing funding of $1 billion a year in local assistance funds to serve people with acute behavioral health issues, focusing on Full Service Partnerships for the most seriously ill; and allowing MHSA to be used for people with substance use disorders alone.
 "This is the next step in our transformation of how California addresses mental illness, substance use disorders, and homelessness – creating thousands of new beds, building more housing, expanding services, and more. People who are struggling with these issues, especially those who are on the streets or in other vulnerable conditions, will have more resources to get the help they need."  
According to the Governor's office, the Administration plans to work in close partnership with legislative leaders in this space including Senator Eggman and Assemblymember Jacqui Irwin (D-Thousand Oaks), as well as with the California State Association of Counties, other critical local government stakeholders, community-based service organizations, advocates, and people with lived experience as bill language is developed. 
FACT SHEET (Link)
Previous initiatives include:
$2.2 billion for the Behavioral Health Continuum Infrastructure Program.
$1.5 billion for Behavioral Health Bridge Housing.
$1.4 billion to expand and diversify the behavioral health workforce.
$4.7 billion Master Plan for Kids' Mental Health, of which the Children and Youth Behavioral Health Initiative is the central component.
$1.4 billion to build out a Medi-Cal benefit for mobile crisis response, as well as $38 million to expand 9-8-8 and CalHOPE crisis call center.
Over $600 million to support community-based alternatives to state hospitalization for those who commit felonies who are incompetent to stand trial.
Over $1 billion to address the opioid epidemic.
$7 billion to reform CalAIM – enhanced care management for people with serious mental illness, a no wrong door approach to care, and more.
$1.6 billion proposed to implement the California Behavioral Health Community-Based Continuum Demonstration to strengthen services and supports for those who are at risk of homelessness, incarceration and foster care placements.
$50 million for the California Veterans Health Initiative (CVHI) for veteran suicide prevention and mental health.