March 22, 2018 at 8:40 pm PDT | by Susan Hornik
Alan Cumming's instincts are right
I remember the first time I saw Scottish actor Alan Cumming onscreen; it was for the film, "Circle of Friends," with Minnie Driver. There was something about his swagger that mysteriously drew you in…I knew then that he had the potential to make it in Hollywood.
And that's exactly what has happened— Cumming continues to fascinate audiences. It's no wonder why the New York Times called him 'a bawdy countercultural sprite;' and Time Magazine named him one of the most fun people in show business.
A tireless champion for LGBT civil rights and HIV/AIDS, Cumming serves on the Board of Broadway Cares/Equity Fights AIDS and works with many charities, including amfAR, The Trevor Project and the Ali Forney Center.
The veteran actor is breaking new ground with CBS' new procedural drama, "Instinct," playing the first gay lead character for a broadcast television series. Adapted from the book, "Murder Games," by James Patterson, Cumming plays an author and university professor who wrote a book that is inspiring a serial killer.
At the Television Critics Press Tour, Cumming talked about why he was drawn to play this role.
"Well, really just that it's such a sort of confounding character. There's so many different layers to it. He's sort of a fuddy duddy professor, a bit of a dandy. He is a kind of former spy. He drives a motorbike. He's gay….I guess the challenge was to make them all into one sort of whole person."
About the significance of his character being gay, Cumming said: "I think this is an incredible thing and also a terrible thing at the same time. It definitely was another layer to the character that makes it interesting to play."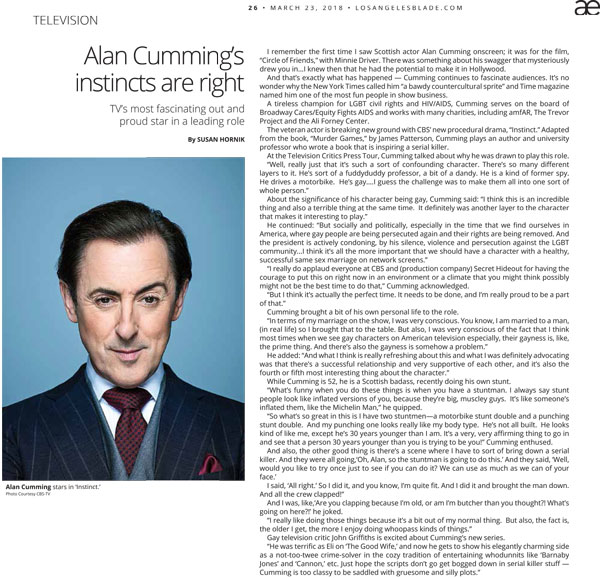 He continued: "But socially and politically, especially in the time that we find ourselves in America, where gay people are being persecuted again and their rights are being removed. And the president is actively condoning, by his silence, violence and persecution against the LGBT community…I think it's all the more important that we should have a character with a healthy, successful same sex marriage on network screens."
"I really do applaud everyone at CBS and (production company) Secret Hideout for having the courage to put this on right now in an environment or a climate that you might think possibly might not be the best time to do that," Cumming acknowledged.
"But I think it's actually the perfect time. It needs to be done, and I'm really proud to be a part of that."
Cumming brought a bit of his own personal life to the role.
"In terms of my marriage on the show, I was very conscious. You know, I am married to a man, (in real life) so I brought that to the table. But also, I was very conscious of the fact that I think most times when we see gay characters on American television especially, their gayness is, like, the prime thing. And there's also the gayness is somehow a problem."
He added: "And what I think is really refreshing about this and what I was definitely advocating was that there's a successful relationship and very supportive of each other, and it's also the fourth or fifth most interesting thing about the character."
While Cumming is 52, he is a Scottish badass, recently doing his own stunt.
"What's funny when you do these things is when you have a stuntman. I always say stunt people look like inflated versions of you, because they're big, muscled guys. It's like someone's inflated them, like the Michelin Man," he quipped.
"So what's so great in this is I have two stuntmen—a motorbike stunt double and a punching stunt double. And my punching one looks really like my body type. He's not all built. He looks kind of like me, except he's 30 years younger than I am. It's a very, very affirming thing to go in and see that a person 30 years younger than you is trying to be you!" Cumming enthused.
And also, the other good thing is there's a scene where I have to sort of bring down a serial killer. And they were all going,'Oh, Alan, so the stuntman is going to do this.' And they said, 'Well, would you like to try once just to see if you can do it? We can use as much as we can of your face.'
I said, 'All right.' So I did it, and you know, I'm quite fit. And I did it and brought the man down. And all the crew clapped!"
And I was, like,'Are you clapping because I'm old, or am I'm butcher than you thought?! What's going on here?!' he joked.
"I really like doing those things because it's a bit out of my normal thing. But also, the fact is, the older I get, the more I enjoy doing whoopass kinds of things."
Gay television critic John Griffiths is excited about Cumming's new series.
"He was terrific as Eli on 'The Good Wife,' and now he gets to show his elegantly charming side as a not-too-twee crime-solver in the cozy tradition of entertaining whodunnits like 'Barnaby Jones' and 'Cannon,' etc. Just hope the scripts don't go get bogged down in serial killer stuff — Cumming is too classy to be saddled with gruesome and silly plots."