Defying court, DOJ won't name experts Trump 'consulted' on trans ban
White House is expected to announce new guidance on the transgender military ban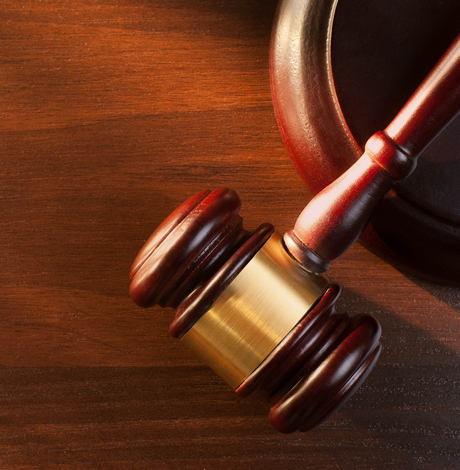 Despite a court order requiring the U.S. government to disclose the names of military experts President Trump consulted before announcing his transgender military ban, the U.S. Justice Department announced on Thursday it would keep that information to itself.
In a five-page filing before U.S. District Judge Marsha Pechman in Washington State, the U.S. Justice Department asserts executive privilege in keeping that information confidential — even though Pechman had determined that information isn't subject to that protection — and insists information already given to the court is sufficient.
"Defendants respectfully disagree and adhere to their position that judicial deference to executive decisions about the composition of the military is not dependent upon judicial review of the deliberative process that preceded the decisions at issue," the filing says. "In addition, defendants do not waive any executive privileges simply by arguing for judicial deference to the President's military decisions."
The filing is signed by Acting Assistant Attorney General for the Civil Division Chad Readler, Deputy Assistant Attorney General Brett Shumate and other Justice Department officials.
Earlier in the day, Pechman ordered the Justice Department to turn over the names of military experts Trump says he consulted before announcing on Twitter in July he'd ban transgender people from the military "in any capacity." The deadline for the Justice Department to turn over the information was 8 pm EST on Thursday.
Information on whom Trump consulted before announcing his transgender military ban in July could be damaging to the administration because the general perception is he sought advice from neither Defense Secretary James Mattis, Chair of the Joint Chiefs of Staff Gen. Joseph Dunford, nor other senior defense officials. That likely means Trump devised the policy on his own and supplanted the judgement of military advisers.
If, on other hand, military experts were in fact identified, such as former White House strategist Steve Bannon and Trump adviser Stephen Miller, that would also embarrass those individuals because the transgender ban is seen as unwarranted and discriminatory.
Pechman issued the order in the lawsuit against the transgender military ban known as Karnoski v. Trump, which was filed by the LGBT military group OutServe-SLDN and Lambda Legal. The Human Rights Campaign and transgender individuals are among the plaintiffs in the lawsuit.
Tara Borelli, counsel for Lambda Legal's Southern Regional Office, said the Justice Department is "yet more proof that when it comes to justifying this ban, the government doesn't have the goods."
"The government has said that it simply will not provide information about the process that led to the president's twitter ban," Borelli said. "As the government well understands, this means that it will not be able to rely on that information to help defend the ban, which exposes a fatal flaw in their position: There is no justification for this discrimination. The government isn't willing to pull back the curtain, because there's nothing behind it."
Asked what action Bechman should take in the aftermath of the filing, Borelli said the court "should preclude the government from relying upon any information about the process that led to the ban.
"DOJ clearly understands that this is a steep price it must pay for its approach, and it provides yet one more reason for the court to permanently enjoin the ban," Borelli said.
Matt Thorn, executive director of OutServe-SLDN, said the filing is "merely the latest indication of the Trump-Pence administration's persistent efforts to undermine qualified and patriotic Americans that aspire to serve this country."
"The stance Trump is advancing on open transgender military service is offensive, distasteful, and tenuous," Thorn added. "Our service members, no matter their sexual orientation or gender identity, deserve a commander-in-chief that will advocate for equity and justice on their behalf – this Administration is failing in that respect. We look forward to seeing the day when all qualified individuals are able to serve this country with honor and dignity, as their true and authentic selves."
The Justice Department makes the filing one day before the White House is expected to announce new guidance on the transgender military ban after receiving a recommendation from Mattis on the issue. It's unclear whether the White House will keep to that timeframe.
Disney donating all profits from pride merch to help LGBTQ+ community
"Disney has a long history of supporting LGBTQ+ organizations & charities- the Pride Collection is showing our support for the community"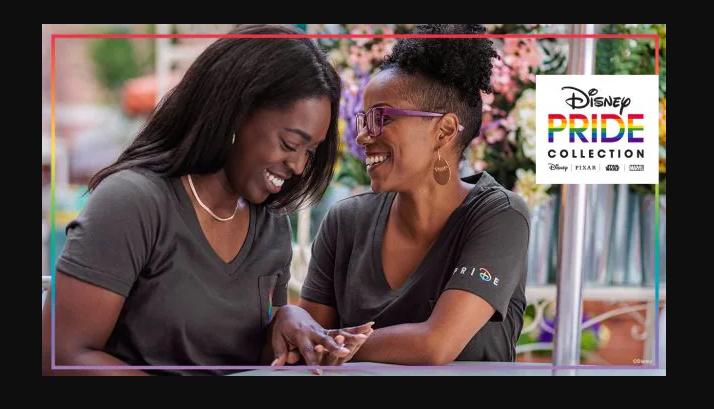 BURBANK – The Walt Disney Company announced Monday that it is donating all of the profits of its pride merchandise to charities that help the LGBTQ community. The announcement comes over the company's battles with Florida's Republican political leadership over the passage of the 'Don't Say Gay' measure and more recent government actions that removed the self-governing law over Disney-held properties known as the Reedy Creek Improvement District.
In a post on the company's blog, Disney Senior Vice President, Global Marketing Lisa Becket, who identifies a member of the LGBTQ+ community herself wrote:
"Disney has a long history of supporting LGBTQIA+ organizations and charities around the world, including GLSEN in the U.S. This year, we are further deepening our support. We will be donating all of our profits from the Disney Pride Collection sales now through June 30, 2022, to organizations that support LGBTQIA+ youth and families. This includes merchandise from Disney, Pixar, Marvel, and Star Wars.
In the U.S., profits from the collection will benefit GLSEN, PFLAG, The Trevor Project, Zebra Coalition, Los Angeles LGBT Center, LGBT Center Orange County, San Francisco LGBT Center and Ali Forney Center. Profits from other regions around the world will continue to support local charities in those countries. You can learn more about these organizations and their incredible, impactful work by visiting TWDCPrideCollection.com.
I'm proud to share just a bit about what we are doing for the LGBTQIA+ community and to joyfully celebrate Pride not just for the month of June, but all year-round."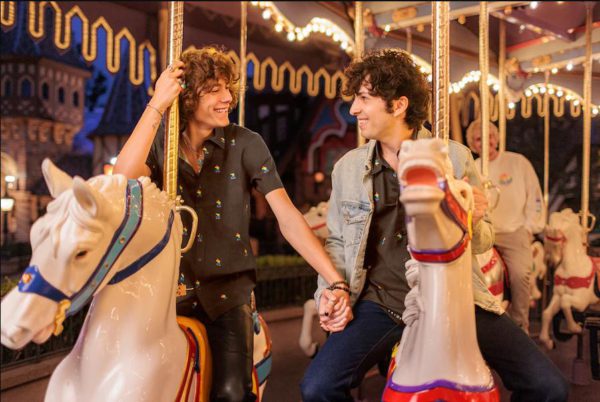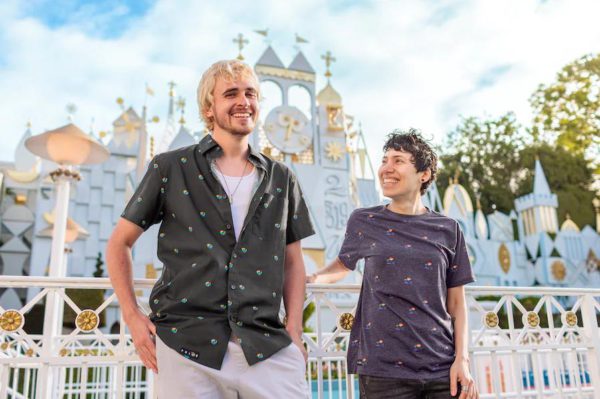 The company also noted:
"The Disney Pride Collection is just one way Disney Parks, Experiences and Products is showing our support for the LGBTQIA+ community during the month of June. There's plenty to celebrate at our theme parks and resorts, from entertainment and art displays to festive décor, Disney PhotoPass Service photo opportunities, and themed food and beverage offerings. We'll also be highlighting inspirational and celebratory stories about our guests, cast and community on the Disney Parks Blog and across our social media channels."
Thousands gather for 'Bans Off Our Bodies Rally' in DTLA
Angelenos joined the hundreds of thousands of Americans- women, men, kids- Black, Latino Asian, LGBTQ+ marching across the nation Saturday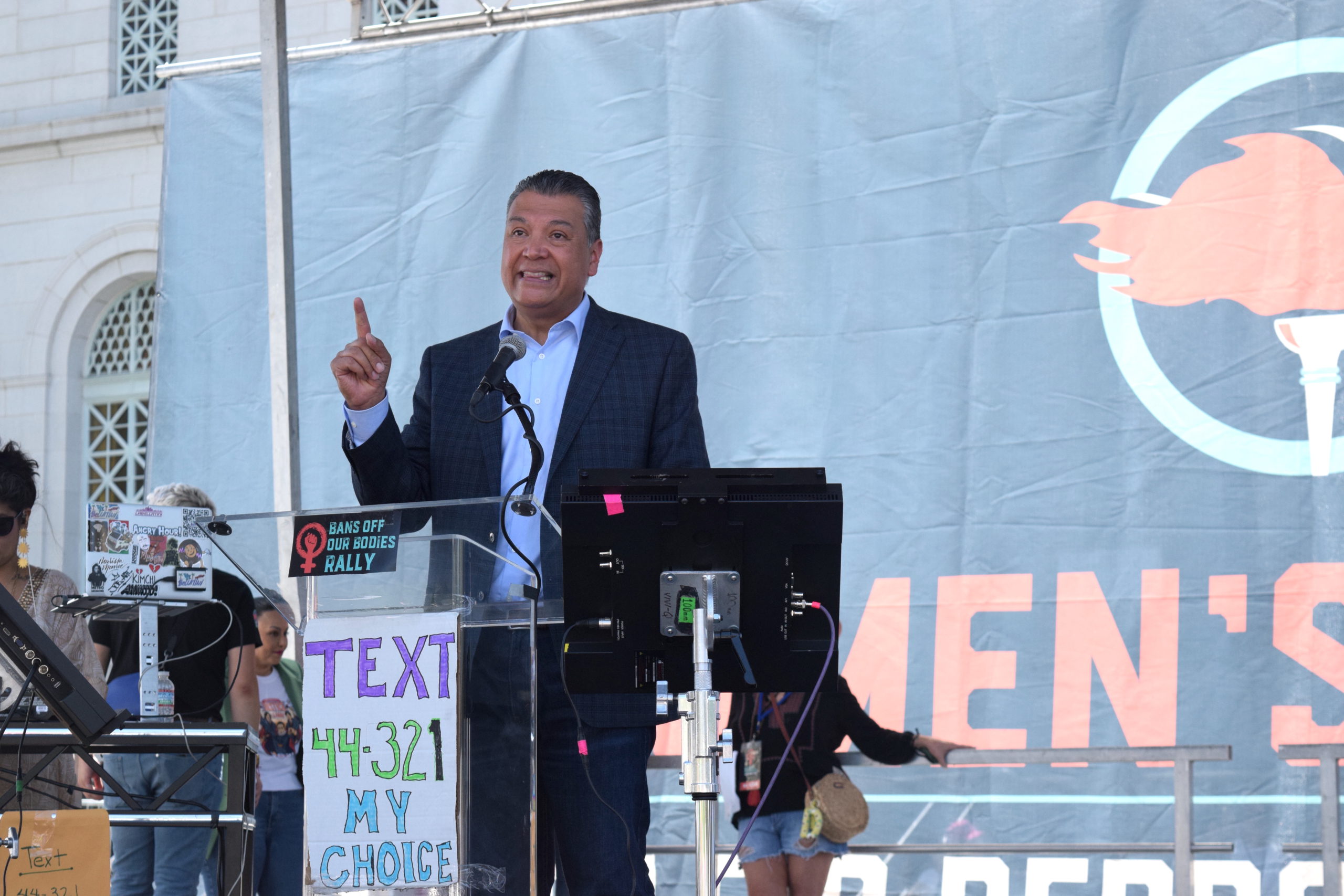 LOS ANGELES – Several thousand Angelenos joined the hundreds of thousands of Americans including women, men, kids- Black, Latino Asian, LGBTQ+ marching across the nation Saturday to protest the potential overturn of the landmark Roe v. Wade decision after the leak of the U.S. Supreme Court's draft opinion.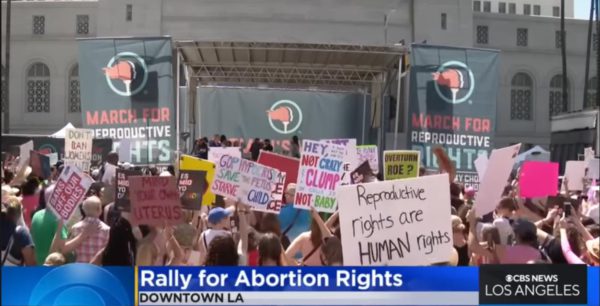 The crowds were joined by politicians and dignitaries including U.S. Senator Alex Padilla (D-Calif.), a member of the Senate Judiciary Committee, who gave a speech to the rally, LA Mayoral candidate Congresswoman Karen Bass, (D-37), California Insurance Commissioner Ricardo Lara, the First Partner and wife to California Governor Gavin Newsom, Jennifer Siebel Newsom, Tony Hoang, the Executive Director of Equality California and the President of the Planned Parenthood Federation of America Alexis McGill Johnson.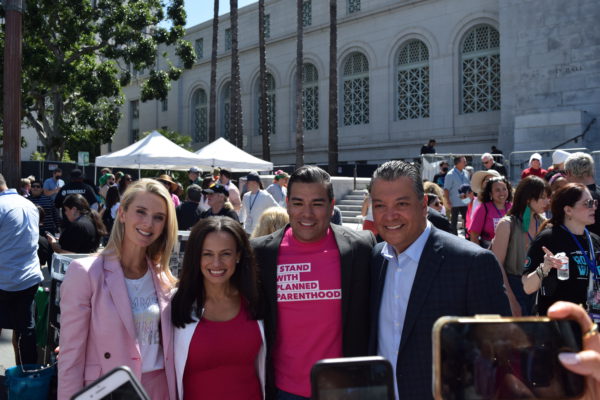 In his speech Padilla delivered remarks on the importance of defending access to safe, legal abortion at the federal level.
The "Bans Off Our Bodies" was a daylong event organized by groups including Women's March, Planned Parenthood Action Fund, UltraViolet, MoveOn, the American Civil Liberties Union and the National Abortion Rights Action League.
From Pittsburgh to Pasadena, California, and Nashville, Tennessee, to Lubbock, Texas, tens of thousands participated in "Bans off our Bodies" events. Organizers expected that among the hundreds of events, the largest would take place in Chicago, New York, Los Angeles and other big cities, the Associated Press reported.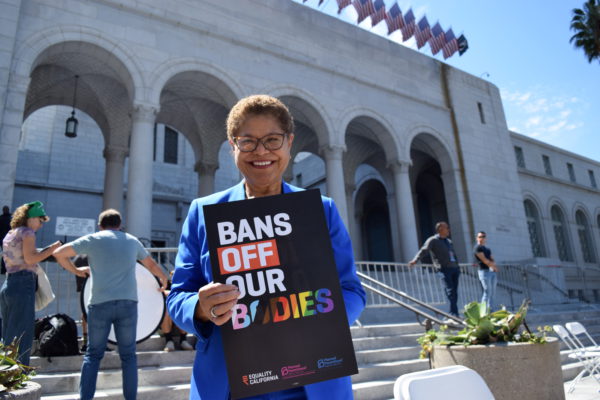 "If it's a fight they want, it's a fight they'll get," Rachel Carmona, executive director of the Women's March, said before the march.
Saturday's rallies come three days after the Senate failed to muster enough votes to codify Roe v. Wade. Sponsors included the Women's March, Move On, Planned Parenthood, UltraViolet, MoveOn, SEIU and other organizations.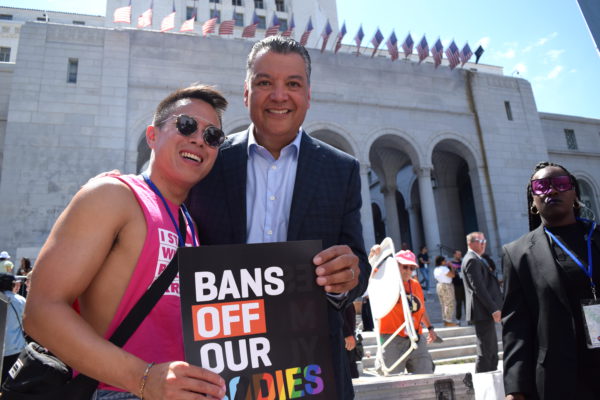 At the Chicago rally, speaker after speaker told the crowd that if abortion is banned that the rights of immigrants, minorities and others will also be "gutted," as Amy Eshleman, wife of Out Chicago Mayor Lori Lightfoot put it, the Associated Press noted.
"This has never been just about abortion. It's about control," Eshleman told the crowd of thousands. "My marriage is on the menu and we cannot and will not let that happen," she added.
Thousands gather in DTLA to protest potential overturn of Roe v. Wade:
KTLA event report:
Newsom's May budget revision on spending record California surplus
Newsom's proposal provides relief from inflation, ensure public safety, address homelessness & combat climate change
SACRAMENTO – As global inflation and war in Europe drive up costs across the country, California Governor Gavin Newsom is proposing a $300.7 billion budget to provide relief from rising inflation, ensure public safety, address homelessness, transform public education, and combat climate change.
The Governor's proposal includes an $18.1 billion inflation relief package to get money back into the pockets of Californians and bring down costs for families.
Led by GDP growth of 7.8 percent, the Blueprint includes a $97.5 billion surplus. The Governor's proposal ensures that this year's spending will not hamstring future budgets, calling for $37.1 billion in reserves including $23.3 billion for the state's Rainy Day Fund, and spends 94 percent of surplus revenues on one-time expenditures.
Newsom intends to funnel some of the money to address pressing issues such as abortion rights, climate, education, inflation and crime. His plan spans both long-term investments and immediate rebates, largely made possible by the $97.5-billion tax surplus through next summer.
"Backed by a robust surplus and grounded in our unshakable values, we're paving the California Way forward to prosperity and progress for all. With historic investments, we're doubling down on our formula for success and making sure no one is left behind – supporting working families and businesses, tackling climate change, expanding health care access, making our communities safer, and more," said Newsom. "While gridlock persists in Congress and right-wing fanatics turn statehouses across the country into laboratories of hate and oppression, here in California, we're putting in the work to grow our economy and implement real, inclusive policy change to create a brighter future for all."
$18.1 Billion Inflation Relief in direct payments to help address inflation, help people pay their utility bills and rent, and reduce costs like health care and child care.
$47.1 billion climate commitment – an increase of $32 billion this year – to tackle pollution, build climate resilient water supplies, reduce the risk of catastrophic wildfires, ensure grid reliability and accelerate clean energy solutions, and protect communities from extreme heat.
$660 million to ensure public safety with funding for new officers and mental health support for law enforcement, support for victims of sex trafficking, cracking down on internet crimes against children, and tackling the opioid crisis.
$14.7 million to confront homelessness and the mental health crisiswith investments to help get people off our streets and into the services and care they need, focusing particularly on Californians who suffer from mental health and substance use disorders.
$37 billion to rebuild Californiawith money for infrastructure including broadband and new housing, as well as a historic investment of $128.3 billion to transform public education.
Billions of dollars to invest in Californians and the Governor's pro-life agenda, including funding to:

Improve our education systems with universal preschool, after school and school meals; and expanded, more affordable child care
Make health care more accessible and affordable through Medi-Cal expansion and subsidies, increased reproductive health care access, home visiting, and support for black infant health, youth mental health and suicide prevention, and addressing adverse childhood experiences.
Clean up our environment by tackling pollution, particularly in disadvantaged communities that bear the brunt of its impacts.
Ensure our communities are safe with violence prevention programs, expansive gun buyback programs and getting fentanyl and other opioids off our streets.
As previously announced, the governor is proposing spending $11.5 billion for tax refunds in the form of $400 checks sent to every eligible registered vehicle owner.
Californians who have more than one vehicle registered to their name would get $800. That's because the payments are capped at two vehicles per person, officials announced previously.
Legislative leaders have announced different plans to help Californians with cash rebates that puts Democrats in the California Senate at odds with Newsom. They will need to reach a compromise.
In response to the Governor's May budget revision, Out Senator Scott Wiener, (D-SF) noted;
"While the Governor's budget proposal has an awful lot to like — for example, rent and utility relief, expanded childcare subsidies, and important infrastructure investments — the proposal to send $400 per car is short-sighted. It will undermine our ability to make transformational investments with long-term benefits, as opposed to a short-term sugar high.
"Instead of sending money to car owners who may or may not be struggling, let's provide targeted relief to those most in need while deeply investing in our deteriorated schools, water systems, and transportation systems and massively investing in the housing we so desperately need.
"With this temporary, massive budget surplus, we have a unique opportunity to deeply invest in California's future in a way that makes people's lives better for generations to come. Let's not lose that opportunity."
Equality California, the nation's largest statewide LGBTQ+ civil rights organization, released the following statement from Executive Director, Tony Hoang:
"At a time when far-right extremists like Ron DeSantis and Greg Abbott are attacking our LGBTQ+ students and transgender youth and their families, we are grateful to Governor Newsom for continuing to stand with our community, support our kids and invest in the fight for full, lived LGBTQ+ equality.
"The governor's revised budget will help to build an inclusive, safe and empowering future for all and serves as an example for other states to work to prioritize the needs of the most vulnerable members of our communities in this critical inflection point for the nation."