California Sen. Toni Atkins makes history, again
Atkins sworn in as Senate President Pro Tem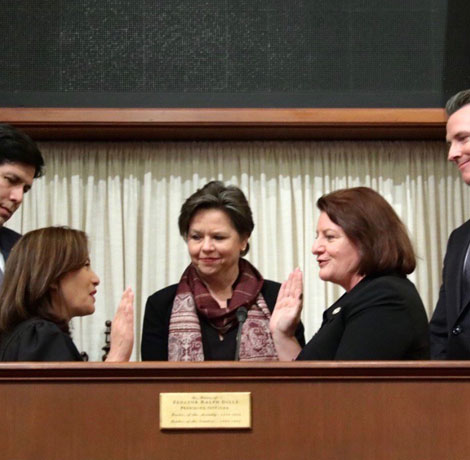 At this critical moment in America democracy, the California Senate seems progressively prescient in picking a down-to-earth woman, a married lesbian who has fought her way up from Appalachian poverty, to serve as their President Pro Tem. At 2:14p on March 21, in an historic ceremony in the State Capitol, Senate Republicans and Democrats shattered glass ceilings and unanimously voted to hand San Diego Sen. Toni Atkins the gavel of power as the first woman, the first LGBT individual, and the first person to lead both the Senate and the Assembly since 1871.
The moment should be a universally Pinned Tweet. The often politically divisive legislators effusively praised Atkins' authenticity, genuine consideration for others, and her willingness to listen. But, gay San Francisco Sen. Scott Wiener noted, don't mistake Atkins' kindness for weakness.
"She's pretty damn tough," he said, "but she has never forgotten where she comes from, ever." Atkins' childhood was spent in the poverty of Appalachia with no running water.
Perhaps the most surprising comments came from Senate Republican Leader Pat Bates of Laguna Niguel who revealed that about 48 hours after the Democratic Caucus selected Atkins as their successor to Sen. Kevin de León, Atkins reached out to Bates. Atkins said she looked forward to the opportunity to sit down with the Republican leader and hear "what you think we need" to move forward on issues such as homelessness, substance abuse, and addiction.
"We're going to disagree," Bates said, but we "want our paths to merge at some point."
The nationally divisive Trump elephant balloon bouncing in the background of some observers' minds had been pierced, expelling the hot, hateful rhetoric into an imperceptible wheeze. Instead, Bates said she and Atkins talked about political partnership. "You will have my ear," Atkins told Bates. "We were all sent up here to find solutions," said Bates. The chamber applauded.
Ironically, around the same time Bates was talking about possible of bipartisanship, former Republican Gov. Arnold Schwarzenegger and Ohio Gov. John Kasich were in Los Angeles at a forum organized by a new group intent on shaping the California GOP. As of Jan. 2, 2018, Republican voter registration in California is 25.4%, on par with No Party Preference at 25%. New Way California is the brainchild of conservative Republican lawmaker Chad Mayes, "who was ousted as the party's Assembly leader after he worked with Democrats on climate change legislation," the AP reports.
Inside the Capitol, Atkins, 55, was talking about change, as well—changing the culture so the inequality of "the good old days" is no longer the norm.
"The future is now," said Atkins. "Diversity is our destiny. Inclusion—a reflection of our character. But it's not just about who we are—it's about what we can do—together."
But Atkins said she's not interested in happy rhetoric. "I'll be happy when we get results," she said. "And I'm willing to work with anyone willing to shake off the shackles of zero-sum thinking and put some big ideas on the table for the people of California."
And that means an end to petty intra-party bickering. "If you think I might not care enough about the historical rivalry which separates the Senate from the Assembly," Atkins said, "you're right, I don't care at all about the old fights and frictions."
Never has a scolding about duty sounded so compassionate and conciliatory as Atkins tackled the "hard truths" about the workplace sexual harassment allegations roiling Sacramento, resulting in the resignations of three lawmakers, so far. "Great policymaking doesn't exempt policymakers from personal responsibility," the new Senate leader said.
"True culture change—holding ourselves to a higher standard—requires the active, every day, enlightened participation of every person who works in and around this Capitol," said Atkins, adding: "I pledge to you, that will be our mission and our mandate."
Atkins insisted that everyone be treated with respect, noting that while they have their differences, "we have more in common." And, she said the legislators will succeed "or we fail together."
"As the Chair of the California Legislative LGBT Caucus, I speak on behalf of our entire caucus in saying that we cannot wait to see all that she does to improve the lives of all those in our state who, like her, have lived their lives with the odds stacked against them," out Assemblymember Evan Low told the LA Blade.
"There are young girls and LGBTQ children across California — and back in Appalachia — who will see the news out of Sacramento today and know that their futures are a whole lot brighter because of the trails Toni has blazed," said Equality California Executive Director Rick Zbur.
"Toni's understand of the challenges that are faced by women, whether it's in the home, raising a family in poverty, in the workplace taking on sexual harassment—she is a true fighter and ally and a believer in women's equality," Atkins' mentor, out former State Sen. Chris Kehoe told the LA Blade. "The women of the Legislature, the men of the Legislature, the women of the third house, could not have a stronger ally. She will fight to make this happen. But she'll fight it in a Toni Atkins way. She'll reach out to people. She will listen. She will build consensus. She'll find common issues and she'll move it forward—but she will make change."
Read more about Atkins not missing the "Anita Hill moment."
Nonprofit leader aims to be 1st Out Santa Cruz County Supervisor
"I think it would send a really strong message to our county and region for a first openly LGBTQ supervisor in Santa Cruz County"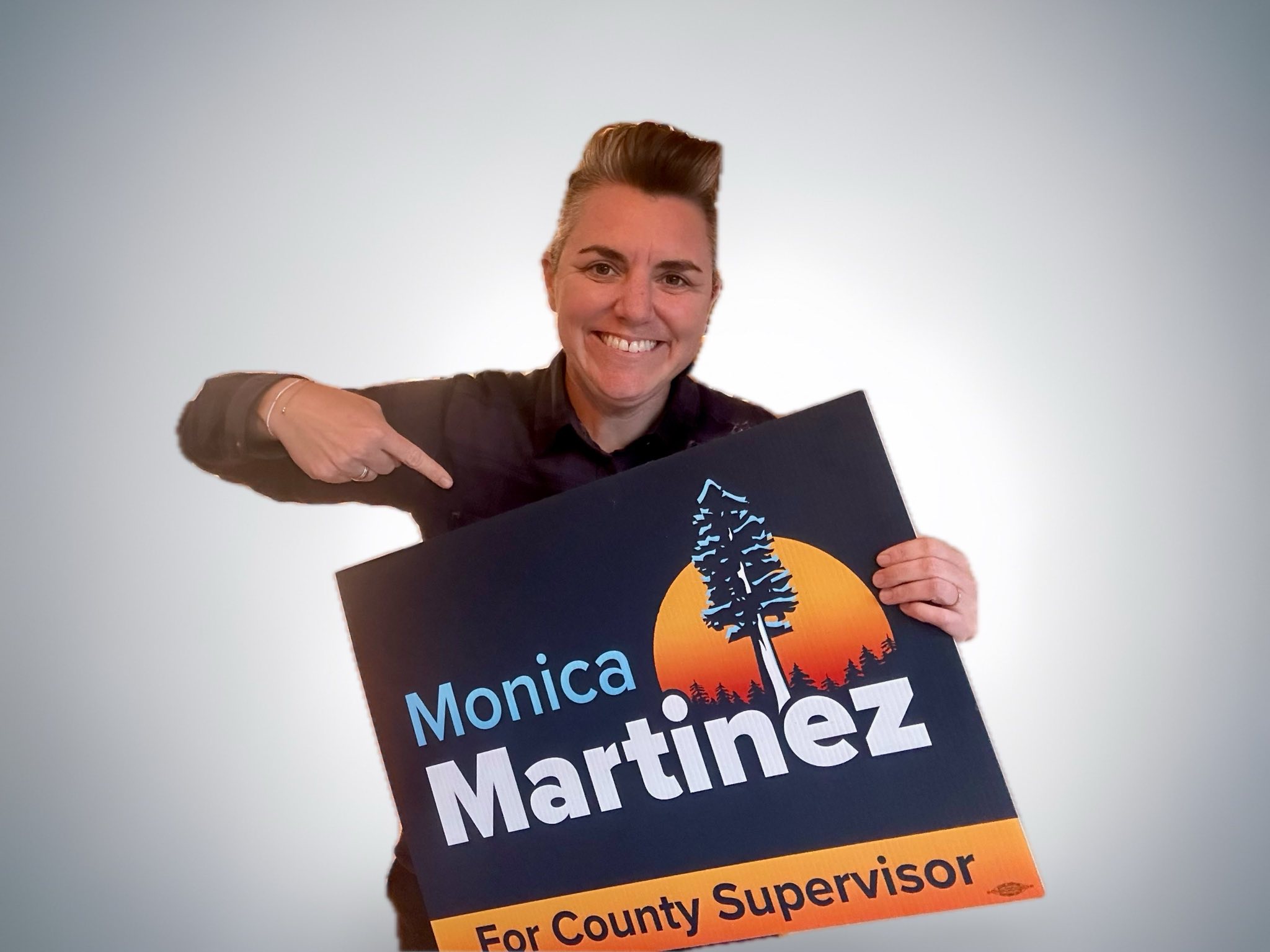 By Matthew S. Bajko, Assistant Editor | FELTON, Calif. – Despite its reputation as a coastal liberal bastion, Santa Cruz County has yet to see an LGBTQ leader elected to its Board of Supervisors. Recent elections have seen the out candidate running for a seat on the countywide governing body come up short.
Nonprofit executive and queer mom Monica Martinez is aiming to break through that pink political glass ceiling with her bid for the board's open District 5 seat. With another local leader opting against entering the race and instead endorsing Martinez, she is aiming to win the seat outright on the 2024 primary ballot.
"I don't want to take anything for granted," Martinez, 41, told the Bay Area Reporter about the campaign. "Certainly, my goal is to win in March and avoid a runoff in November."
If she does win the race for a four-year term, Martinez will be the first woman elected to the District 5 seat; she told the B.A.R. a woman was appointed to it in 1979 and served two years. She would also be the first woman to serve on the county board since 2012 and the first elected since 2008.
"I am ready to work as hard as I can all the way through the election because diverse candidates like myself, we don't have the privilege of walking into these seats," said Martinez. "I am ready to work hard to understand the needs of our district so I can represent it well as a supervisor."
Last June Supervisor Bruce McPherson announced he would retire at the end of his third term rather than run for reelection next year. It opened the door for Martinez, CEO of the county's largest health and human services nonprofit, Encompass Community Services, to seek the seat that covers the northern section of the city of Santa Cruz and Scotts Valley.
The fifth supervisorial district also includes the San Lorenzo Valley and its communities of Ben Lomond, Boulder Creek, and Felton, where Martinez resides. Most of it is unincorporated, with the county board providing services and governance.
"We haven't had a representative who has lived in San Lorenzo Valley since 2002, even though we make up 60% of voters," said Martinez. "Because we are unincorporated, we don't get another elected voice."
Two other candidates in the race, Christopher Bradford and Theresa Bond, have been focused on water issues in the district, while Tom Decker, who works for a company that builds accessory dwelling units, pulled papers last month to run. Santa Cruz County Sheriff Jim Hart ruled out also vying for the seat and endorsed Martinez in late October.
Last month, statewide LGBTQ advocacy organization Equality California endorsed Martinez along with several other out supervisor candidates on March ballots across the state, as the B.A.R. previously reported. She told the B.A.R. it is time for Santa Cruz County's board to have LGBTQ representation.
"I think Santa Cruz does have a reputation of being very progressive. However, this has been a glass ceiling that hasn't been broken yet," said Martinez. "I think it is an important voice that has been missing from the county board."
Becoming the first out supervisor from the board's most conservative leaning district would also be significant, she noted. Particularly at a time when attacks against LGBTQ rights have broken out across the Golden State, added Martinez.
"I think it would send a really strong message to our county and region if the first openly LGBTQ supervisor in Santa Cruz County came from the fifth district," she said. "I think it would be a really significant change and signal support for the values of inclusion and acceptance in our entire county, including in this district."
First-time candidate
A first-time candidate for public office, her candidacy is already an example of how far the LGBTQ community has come in her lifetime, said Martinez. She never imagined in her childhood that she would seek to be elected one day.
"Originally being from Bakersfield, I just never thought as an out LGBTQ woman who is Latinx that I would be electable," she said. "I have dedicated my life to public service and have been serving those in need in our community for my entire career. Over the last decade a lot has changed in what is valued in elected representation. My lived experience could be an asset; I could really help advance policy in our community."
Born and raised in Bakersfield at the southernmost end of California's Central Valley, Martinez grew up in a union household. Her father is a retired Kern County fire captain, while her mother is a retired public elementary school teacher.
Looking for a more welcoming environment post high school, Martinez enrolled at Cal Poly in San Luis Obispo along the state's Central Coast. As she worked toward earning her B.A. in political science, Martinez landed a summer job after her freshman year with the YMCA of San Francisco at its Camp Jones Gulch in the Santa Cruz Mountains.
Nineteen and not wanting to return to her hometown during her break between semesters, Martinez told the B.A.R. the camp was "a beacon" for her where she met like-minded, accepting people in the other employees.
"I met the first lesbians I'd ever met there. They took me to my first Pride in San Francisco. This was in 2001," she recalled. "I continued to work there for another five years during the summers."
She also noted that she hasn't missed Hardly Strictly Bluegrass, the free annual music festival held in San Francisco's Golden Gate Park, in 15 years. (It was held virtually during the first two years of the COVID pandemic.)
"I love it. I love music," said Martinez, who had just visited the city's LGBTQ Castro district for the first time since the start of the health crisis in 2020 when she spoke with the B.A.R. by phone in mid-November.
After Martinez earned a master's in public administration at the University of Southern California, she worked to provide services to homeless women living on Los Angeles' Skid Row. In 2010, the nonprofit Housing Matters of Santa Cruz County hired her as its executive director.
She co-founded the 180/180 Initiative, a community partnership aimed at helping to house homeless individuals in the county. By 2014, Martinez had taken over the leadership of Encompass Community Services.
Martinez is a co-parent with her two children's other mom, from whom she is separated. Because the couple adopted them out of the foster care system, Martinez is keeping their identities private, though she did tell the B.A.R. they are elementary school students ages 8 and 9 who are not biological siblings.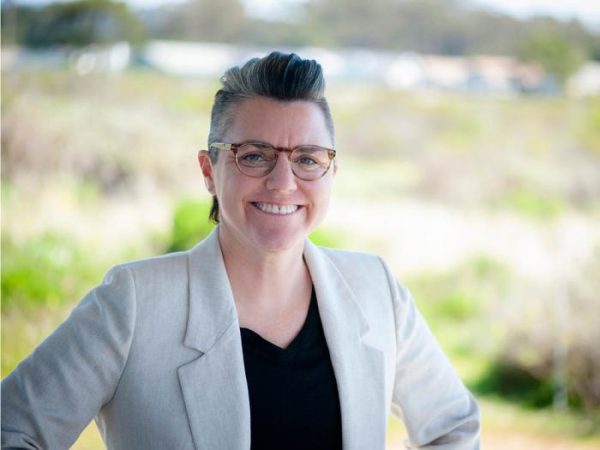 She and her family had to evacuate their home during the CZU Lightning Complex Fire that tore through the Santa Cruz Mountains in August 2020. They were able to return after being displaced for a month.
"We were fortunate to have a home to come home to," said Martinez.
That experience, and navigating the COVID pandemic as a parent working from home, provided her a unique perspective that she now wants to bring to the county board. In addition to knowing the inner workings of the county government due to her nonprofit work, Martinez has also chaired the Santa Cruz County Parks and Recreation Commission and serves on the executive committee of the Santa Cruz County Health Improvement Partnership.
"Given my experience navigating public services and county funding, I feel like I have a lot to offer," she said. "I won't be green in the job because I have been navigating these systems professionally my whole career. I feel really ready and that this is a natural next step for my career."
Should she be able to secure the supervisor seat in the March 5 primary, it would allow Martinez to help usher in a new executive director at her agency before she is sworn into the supervisor seat next December ahead of the board's first meeting in January 2025.
"The real reason I want to win in March is I run a large human services organization. If I have time to transition out of the role and support the organization in hiring and training a person during that time period, it will be good for the organization and the services we deliver in our county," said Martinez. "I'd much rather have time to do that from March to January rather than have to campaign."
To learn more about her candidacy, visit her website at martinezforsupervisor.com.
EQCA endorses out Santa Cruz council candidate
Another candidate looking to make political history in Santa Cruz County next year also picked up the support recently of EQCA. Joe Thompson is aiming to become the first nonbinary individual elected to the Santa Cruz City Council.
A former union organizer at Starbucks, Thompson came up short last year in their bid for a state Assembly seat. Thompson is now running for the District 5 council seat in Santa Cruz, as is former assistant city manager Susie O'Hara.
It includes the Pogonip open space area and the majority of the UC Santa Cruz campus, plus the city's Upper West Side and Harvey West Park areas. (The coastal enclave is transitioning to having six district-based council seats plus an elected mayor, which began with the 2022 elections for two of the seats and a new mayor.)
Like the county's supervisor races, the council race will be on the 2024 primary ballot. With just two candidates in the race, it is likely one of them will receive more than 50% of the vote come March 5 to win it outright and avoid a runoff race on the November ballot next year.
According to a map of LGBTQ elected officials maintained by the LGBTQ Victory Fund, there are no out members currently on the City Council in Santa Cruz. Former lesbian councilmember Donna Meyers left in 2022 after serving one four-year term, which included her becoming the city's first lesbian mayor when she held the former ceremonial role in 2021.
**************************************************************************************
The preceding article was previously published by the Bay Area Reporter and is republished with permission.
Help keep the Bay Area Reporter going in these tough times. To support local, independent, LGBTQ journalism, consider becoming a BAR member.