March 22, 2018 at 9:03 pm PDT | by Rebekah Sager
Gays Against Guns joins March For Our Lives in LA
As Los Angeles prepares for the national March For Our Lives happening on March 24 in Washington, D.C. and various "sister events" in other cities around the country, the founders of the group Gays Against Guns (GAG) are busy rallying the troops.
Catherine Marino-Thomas is one of the founders of the original GAG group, based in New York City. She told the Los Angeles Blade that after the Pulse nightclub shooting in Orlando, she knew she was going to have to do something about gun control. She and some other activists called a meeting and in June of 2016, GAG was born.
Abe Gurko founded a Los Angeles chapter in 2016.
Gurko told the Advocate in 2016 that after reading an article in The New York Times about a Gays Against Guns die-in, he reached out to Kevin Hertzog who started Gays Against Guns in New York City.  Herzog suggested Gurko start a chapter in Los Angeles.
"I woke up on LA Gay Pride 2016 to the news of Orlando. On my corner was the Free Speech assholes that scream in protest of gays, saying the most vile things and knew I had to do something. I read in the New York Times about GAG and offered to help," Gurko told the Los Angeles Blade.
Today more than 14,000 people follow the national GAG Facebook page, with 600 and counting following the group's Los Angeles page. There are eight national chapters nationwide.
"The New York chapter has been our primary inspiration," Graham Kolbeins, Los Angeles GAG organizer and the social media outreach coordinator, told the Los Angeles Blade.
"Kevin Hertzog from GAG NY has been immensely helpful in connecting us with the groups like the Los Angeles LGBT Center, which hosted several meetings in late 2016, to help in coalition-building with other organizations focused on gun control in the LA area," Kolbeins adds.
But even after 20 children were gunned down in their elementary school in Newtown, Conn., 58 people killed and 851 injured at the Harvest Music Festival in Las Vegas, and 49 adult lives were taken at the Pulse nightclub in Orlando, it appears that the Feb. 14, mass shooting at the Marjory Stoneman Douglas High School in Parkland, Fla., where 17 were killed, is the sea-change advocates for gun reform have been waiting for – and the charge is being led by high school students.
The passion and dedication of the Parkland High students remains unfazed, despite the size of the opponent they face – the National Rifle Association and its 5 million members.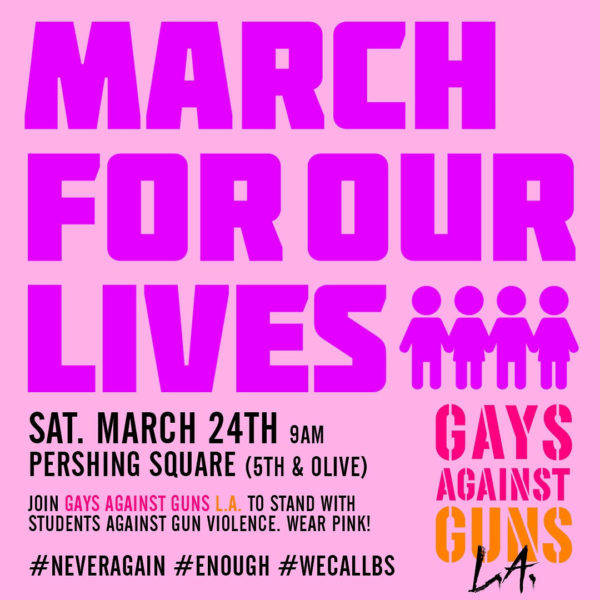 Emma Gonzalez, 18, a survivor of the Stoneman Douglas High shooting, has emerged as a leader in the students' fight to make assault rifles harder to come by.
Gonzalez, who wears her hair in a buzz cut, refers to herself as a Cuban bisexual. She's been attacked and vilified by the likes of Maine Republican Leslie Gibson, a lifelong NRA member. He recently took to Twitter to call Gonzalez a "skinhead lesbian" and denounced her as a "bald faced liar."
Since Gibson's tweet, Democrat Eryn Gilchrist decided to challenge him as the only candidate for the seat, filing her candidacy just before the deadline. Gilchrist has already garnered an enthusiastic backing from Maine's Democratic Party. And Gibson quickly withdrew from the race in humiliation.
Student journalist and Parkland High activist, David Hogg, spoke on MSNBC's "Andrea Mitchell Reports," about the death threats and right-wing conspiracy theorists (many of whom are assumed NRA members) accusing him of being a "crisis actor."
"The only time you're ever [doing] anything that actually matters is when people try stopping you. And that's what's going on here," Hogg said.
The latest push has six Stoneman Douglas High students, all survivors of the shooting, release a video on March 16, lending their voices to the #noNRAmoney campaign, which calls on elected officials and candidates to take a pledge to refuse all donations, endorsements, and support from the National Rifle Association and to pursue common-sense gun legislation. In the video, the students ask their fellow students across the country to take part in the campaign.
Marino-Thomas says it's important to remember that this is a generation of kids who have been doing lockdown drills since kindergarten.
"I think it's pretty fair to say that have literally done this since they walked into a school classroom and the idea that all those drills all those years didn't really help them I think drove them into the spotlight," Marino-Thomas says.
From school walkouts, leading to nearly a million kids protesting across the country on March 14, to protests on Capitol Hill with a display of 7,000 pairs of shoes honoring all the children killed in America by gun violence, and a looming midterm election year with voting age students primed for change, the momentum for gun control might prove difficult to tamp down.
"After watching the gun control debate in congress stagnate for years (due in large part to politicians in the pocket of the NRA), it's been beyond inspiring in this past month to watch student activists across the country cut through the gridlock and demand real legislative action. These kids know their own lives are on the line, and they're singularly focused on creating significant change. It's powerful to watch their leadership," Kolbeins says.
He adds, "We've also been inspired by the Gays Against Guns activists from New York and around the country who have brought this fight to politicians' door steps in Washington D.C. and elsewhere, staging die-ins, getting arrested, and employing direct action tactics that hearken back to the time of ACT UP. The gun control movement has never felt more urgent and we are not backing down… When the LGBTQ+ community rises and raises our voices in protest, there's nothing we can't accomplish," Kolbeins says.
The official organizers of the march in Los Angeles have said: "On March 24, the kids and families of March For Our Lives will take to the streets of Los Angeles to demand that their lives and safety become a priority and that we end gun violence and mass shootings in our schools today.
March in Los Angeles or march in your own community. On March 24, the collective voices of the March For Our Lives movement will be heard. In Los Angeles, the march begins at 9 a.m. on Saturday, March 24, at 603 S. Spring St. in Los Angeles.
For more information on the March For Our Lives protest in downtown Los Angeles, search eventbright.com listings.