Gays Against Guns joins March For Our Lives in LA
From Orlando to Parkland, New York to LA, #Enough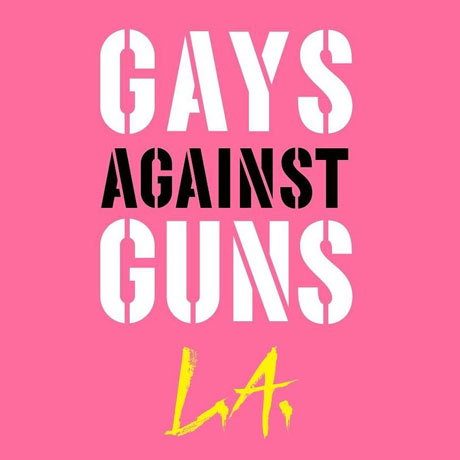 As Los Angeles prepares for the national March For Our Lives happening on March 24 in Washington, D.C. and various "sister events" in other cities around the country, the founders of the group Gays Against Guns (GAG) are busy rallying the troops.
Catherine Marino-Thomas is one of the founders of the original GAG group, based in New York City. She told the Los Angeles Blade that after the Pulse nightclub shooting in Orlando, she knew she was going to have to do something about gun control. She and some other activists called a meeting and in June of 2016, GAG was born.
Abe Gurko founded a Los Angeles chapter in 2016.
Gurko told the Advocate in 2016 that after reading an article in The New York Times about a Gays Against Guns die-in, he reached out to Kevin Hertzog who started Gays Against Guns in New York City.  Herzog suggested Gurko start a chapter in Los Angeles.
"I woke up on LA Gay Pride 2016 to the news of Orlando. On my corner was the Free Speech assholes that scream in protest of gays, saying the most vile things and knew I had to do something. I read in the New York Times about GAG and offered to help," Gurko told the Los Angeles Blade.
Today more than 14,000 people follow the national GAG Facebook page, with 600 and counting following the group's Los Angeles page. There are eight national chapters nationwide.
"The New York chapter has been our primary inspiration," Graham Kolbeins, Los Angeles GAG organizer and the social media outreach coordinator, told the Los Angeles Blade.
"Kevin Hertzog from GAG NY has been immensely helpful in connecting us with the groups like the Los Angeles LGBT Center, which hosted several meetings in late 2016, to help in coalition-building with other organizations focused on gun control in the LA area," Kolbeins adds.
But even after 20 children were gunned down in their elementary school in Newtown, Conn., 58 people killed and 851 injured at the Harvest Music Festival in Las Vegas, and 49 adult lives were taken at the Pulse nightclub in Orlando, it appears that the Feb. 14, mass shooting at the Marjory Stoneman Douglas High School in Parkland, Fla., where 17 were killed, is the sea-change advocates for gun reform have been waiting for – and the charge is being led by high school students.
The passion and dedication of the Parkland High students remains unfazed, despite the size of the opponent they face – the National Rifle Association and its 5 million members.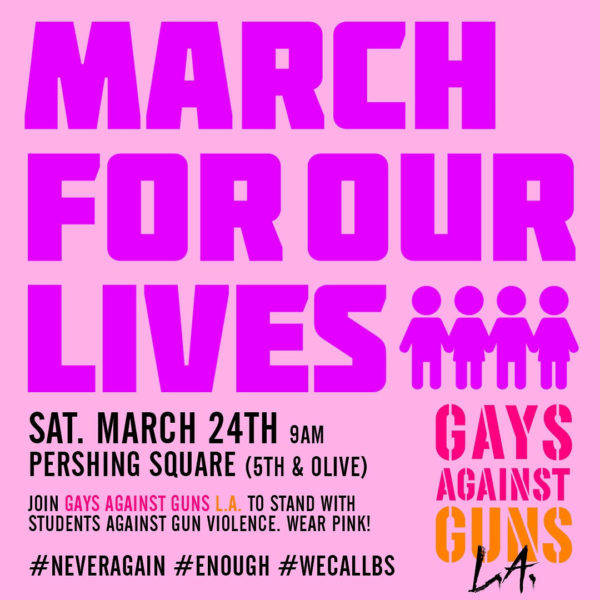 Emma Gonzalez, 18, a survivor of the Stoneman Douglas High shooting, has emerged as a leader in the students' fight to make assault rifles harder to come by.
Gonzalez, who wears her hair in a buzz cut, refers to herself as a Cuban bisexual. She's been attacked and vilified by the likes of Maine Republican Leslie Gibson, a lifelong NRA member. He recently took to Twitter to call Gonzalez a "skinhead lesbian" and denounced her as a "bald faced liar."
Since Gibson's tweet, Democrat Eryn Gilchrist decided to challenge him as the only candidate for the seat, filing her candidacy just before the deadline. Gilchrist has already garnered an enthusiastic backing from Maine's Democratic Party. And Gibson quickly withdrew from the race in humiliation.
Student journalist and Parkland High activist, David Hogg, spoke on MSNBC's "Andrea Mitchell Reports," about the death threats and right-wing conspiracy theorists (many of whom are assumed NRA members) accusing him of being a "crisis actor."
"The only time you're ever [doing] anything that actually matters is when people try stopping you. And that's what's going on here," Hogg said.
The latest push has six Stoneman Douglas High students, all survivors of the shooting, release a video on March 16, lending their voices to the #noNRAmoney campaign, which calls on elected officials and candidates to take a pledge to refuse all donations, endorsements, and support from the National Rifle Association and to pursue common-sense gun legislation. In the video, the students ask their fellow students across the country to take part in the campaign.
Marino-Thomas says it's important to remember that this is a generation of kids who have been doing lockdown drills since kindergarten.
"I think it's pretty fair to say that have literally done this since they walked into a school classroom and the idea that all those drills all those years didn't really help them I think drove them into the spotlight," Marino-Thomas says.
From school walkouts, leading to nearly a million kids protesting across the country on March 14, to protests on Capitol Hill with a display of 7,000 pairs of shoes honoring all the children killed in America by gun violence, and a looming midterm election year with voting age students primed for change, the momentum for gun control might prove difficult to tamp down.
"After watching the gun control debate in congress stagnate for years (due in large part to politicians in the pocket of the NRA), it's been beyond inspiring in this past month to watch student activists across the country cut through the gridlock and demand real legislative action. These kids know their own lives are on the line, and they're singularly focused on creating significant change. It's powerful to watch their leadership," Kolbeins says.
He adds, "We've also been inspired by the Gays Against Guns activists from New York and around the country who have brought this fight to politicians' door steps in Washington D.C. and elsewhere, staging die-ins, getting arrested, and employing direct action tactics that hearken back to the time of ACT UP. The gun control movement has never felt more urgent and we are not backing down… When the LGBTQ+ community rises and raises our voices in protest, there's nothing we can't accomplish," Kolbeins says.
The official organizers of the march in Los Angeles have said: "On March 24, the kids and families of March For Our Lives will take to the streets of Los Angeles to demand that their lives and safety become a priority and that we end gun violence and mass shootings in our schools today.
March in Los Angeles or march in your own community. On March 24, the collective voices of the March For Our Lives movement will be heard. In Los Angeles, the march begins at 9 a.m. on Saturday, March 24, at 603 S. Spring St. in Los Angeles.
For more information on the March For Our Lives protest in downtown Los Angeles, search eventbright.com listings.
LA County Parks winter classes are happening NOW!
Whether you're looking to learn a new skill, pick up a hobby or instrument or simply be more active, there's a class for everyone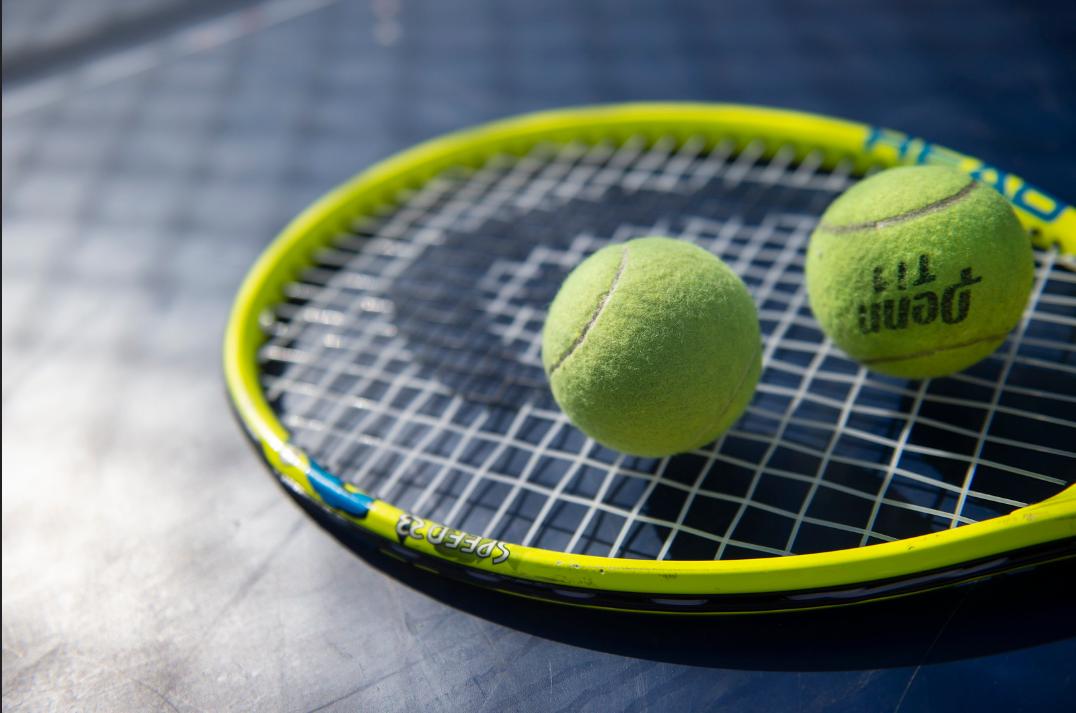 LOS ANGELES – LA County Parks is here to make your 2022 memorable. If you have not yet taken one of our classes, now is the time to register! Meet us safely outdoors at a park near you or join a class virtually from the comfort of your own home.
Whether you're looking to learn a new skill, pick up a hobby or instrument or simply be more active, there's a class for everyone. We offer a wide range of classes (held outdoors or virtually) for all ages.
Here are just a few of the many classes we offer!
Arts & Culture: Music Mondays Family & Me Music Class
Computers and Technology: Become a Roblox Developer
Exercise and Fitness: Morning Senior Stretching (Virtual), Adrienne's Salsa Cardio (Virtual) and Jay's Fitness 365 Athletes ️
Health & Wellness: Brain Fit for Work and Life (Virtual), Integrating Essential Oils into your Everyday Life (Virtual) , Sound Bowl Healing Meditation
Martial Arts: Karate and San Do Kai Karate
Performing Arts, Music & Culture: Acting for the Camera (Virtual) , Ballet and Tap Dancing, Ballroom & Latin Dance and Modern Middle Eastern Belly Dance
Special Interest Classes: Build, Paint & Race An Army Battle Tank, How to Become a Certified Livescan Provider (Virtual), Intro to Fashion Design (Virtual) , Parent & Child Red Cross CPR, First Aid, AED and more
Sports: Badminton, All Level Softball Clinics and European Tennis Academy

Our quick and easy 24/7 online registration system Active Net allows you to manage everyone's schedule through a single household account. Sign up for Winter Classes for yourself, partner and children from your smartphone or computer. To learn more about Active Net, visit parks.lacounty.gov/reserve/.
COVID-19 Safety Guidelines for In-person Classes:
The health and well-being of park guests and staff is our top priority. In accordance with LA County Public Health, currently masks are required at all times for all participants. Participants must maintain six feet physical distance from the instructor and staff at all times.
Follow LA County Parks on social media: Facebook @parks.lacounty.gov and Twitter/Instagram/TikTok @lacountyparks.
Share your experience using #LearnSomethingNew at #LACountyParks.  
We're Hiring! Become a LA County Pool Lifeguard!
Candidates will get paid for a 64-hour training which includes becoming certified though the American Red Cross in Emergency Medical Response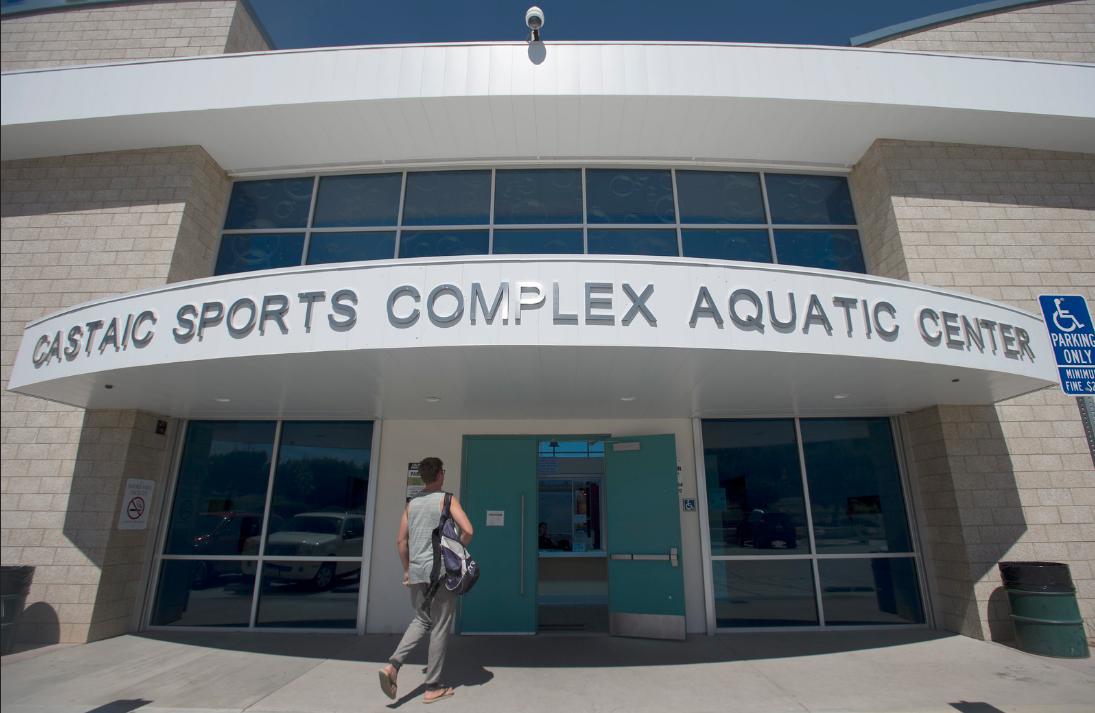 LOS ANGELES – LA County Department of Parks and Recreation is hiring! This summer, the Department aims to hire over 250 new lifeguards to work at our 30 aquatic facilities, all across LA County. Not only is lifeguarding a fantastic way to kickstart your career, but it's a great opportunity for young adults looking for part time employment while in school or looking for a career as a first responder.
Pool Lifeguards will receive a starting pay of $18.27, well above the minimum wage with opportunities to work year round. Applicants must be 17 years of age by time of appointment.
Those who meet the initial requirements will then be required to sign up and pass the Los Angeles County Swim Test. The Los Angeles County Swim Test consists of a 500-yard swim test that must be completed under 10 minutes. Upon completion of the test they will be invited to Pool Lifeguard Academy.
Candidates will get paid for a 64-hour training which includes becoming certified though the American Red Cross in Emergency Medical Response, CPR, AED, Lifeguarding, and First Aid.
Our Aquatics team is eager to help as many prospective candidates and interested students start a career path that can provide them with so many opportunities beyond lifeguarding!
Those who are interested in becoming a Pool Lifeguard are encouraged to attend an online "Open House" session to learn more about the position and answer questions.
VIRTUAL OPEN HOUSE SESSIONS: 
Session 1: January 19, 6pm tinyurl.com/mr36m9mn
or call in:+13237766996,,17084440#
Session 2: January 25,  5pm tinyurl.com/2p9a27ty
or call in: +13237766996,,573214358#
Session 3: January 26,  4pm tinyurl.com/5n8ks28c
or call in: +13237766996,,602797897#
Missing woman in WeHo, public's help sought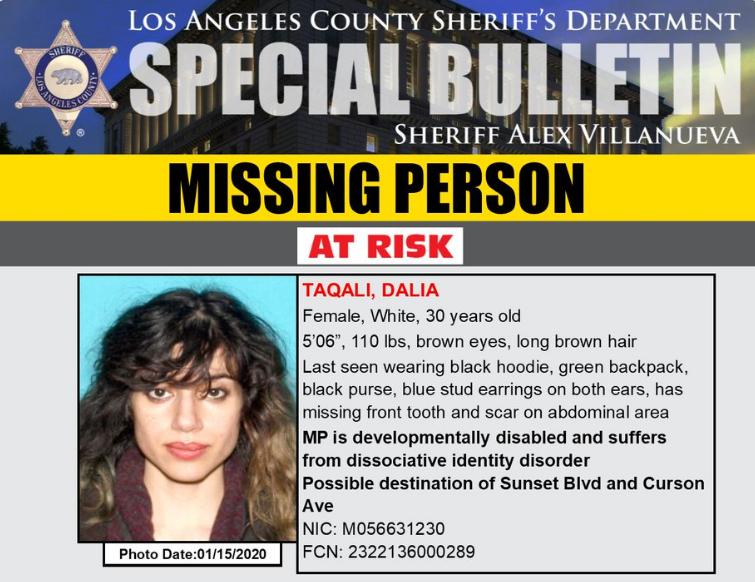 WEST HOLLYWOOD – The Los Angeles County Sheriff's Department is asking for resident's assistance in locating thirty-year-old Dalia Taqali who disappeared from West Hollywood Sunday night.
Taqali was last seen around 5 p.m. in the 1100 block of North Genesee Avenue, according to a news release from the Los Angeles County Sheriff's Department. Taqali is developmentally disabled and suffers from dissociative identity disorder, the Sheriff's Department stated.
Taqali's family is concerned for her well-being and is asking for help finding her.
Investigators said she may be headed near the area of Sunset Boulevard and North Curson Avenue in Hollywood.
Taqali stands 5 feet, 6 inches tall and weighs about 110 pounds with long brown hair and brown eyes.
She was last seen wearing a black hoodie, green backpack, black purse and blue stud earrings on both ears.
Authorities also said Taqali has a scar on her abdominal area and is missing a front tooth.
Anyone with information on her whereabouts is asked to call the Sheriff's Department at 323-890-5500. Those who prefer to remain anonymous can contact Crime Stoppers at 800-222-8477.
#LASD is Asking for the Public's Help Locating Missing Person Dalia Taqali, Los Angeles. Anyone with information is encouraged to contact the Los Angeles County Sheriff's Department's Missing Persons Unit at (323) 890-5500. pic.twitter.com/Uqw9yuG9Ro

— LA County Sheriffs (@LASDHQ) December 27, 2021