March 24, 2018 at 4:00 pm PDT | by Rebekah Sager
Tens of thousands turn out for March For Our Lives in Downtown Los Angeles
More than 50,000 people marched in downtown Los Angeles Saturday to support the Parkland High students and push for change for stricter gun legislation. From kids, to moms, students, to grandmothers, millions of Americans took to the streets for the March For Our Lives.
Los Angeles Film School student, Maya Jones, 21, spoke to protestors in the early morning, before the march started.
Inspiring the crowd with the rallying cry of students across the country. "We will not back down," Jones yelled.
"We took a stand today and in five weeks this is what we did this [the march]. We will show them that our lives matter. I'm tired of them saying that our generation doesn't know anything. They're afraid because they know their time is up and our time is now," Jones added.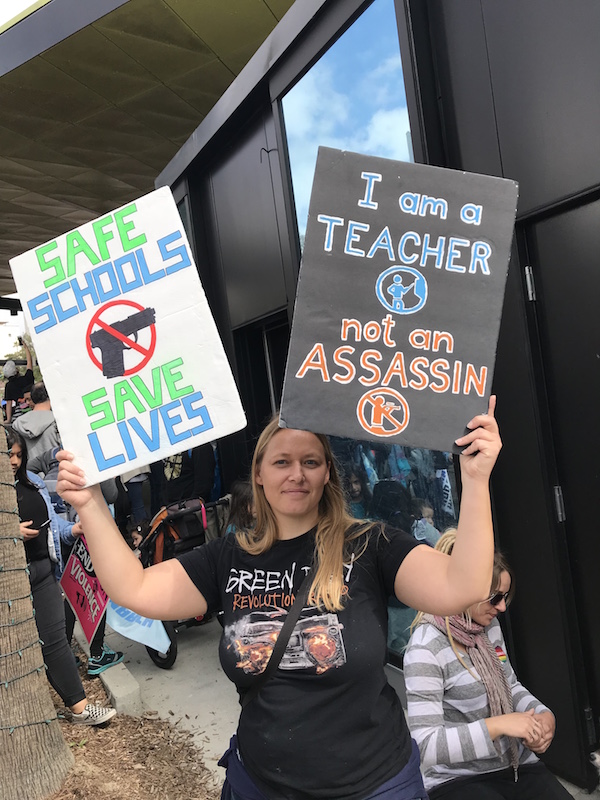 Although only three-in-ten adult Americans own a gun, according to the Washington Post, more than 187,000 children have been exposed to gun violence at school since the Columbine massacre.
Even after 20 children were gunned down in their elementary school in Newtown, Conn., 13 teens murdered at Columbine High School, 58 people killed and 851 injured at the Harvest Music Festival in Las Vegas, and 49 adult lives were taken at the Pulse nightclub in Orlando, it appears that the Feb. 14, mass shooting at the Marjory Stoneman Douglas High School in Parkland, Fla., where 17 were killed, is the sea-change advocates for gun reform have been waiting for – and the charge is being led by students.
Although he's more hopeful today than in the years just after his high school days at Columbine High, survivor of the Columbine massacre, Rich Castaldo told the Los Angeles Blade, "It doesn't seem like a whole lot has changed. One of the fathers at Columbine tried to enact something for years and years. He didn't have much luck."
In 1999, Castaldo, 17-years-old at the time, he was hit by eight separate bullets, one of which lodged in his spine, paralyzing him from the chest down.
"I was sitting eating lunch with Rachel Scott, when the gunman and opened fire after a pipe bomb went off and didn't do anything [to stop him]. Scott was killed, and I have a bullet in my body and a spinal cord injury. I was 17, I'm 36 now," Castaldo says.
Scott was shot four times, once in the head. She died instantly.
"I'm supporting the movement to enact sensible gun laws. I think we need to hold politicians accountable for their actions. They need to stop listening to the NRA and gun manufacturers. If they don't do that, we need to vote them out of office. It's that simple," Castaldo said.
Kristina Wallace, an African American student at Cal State University Dominguez Hills says she has a high school age cousin and she's marching for her.
"She doesn't understand why there are laws that protect guns more than protecting her. I'm here to be an advocate for her and all the kids who've lost their lives," Wallace says.
Libby Horne is the mom of Kate,13 and Alex ,11. She says she's marching because her kids don't feel safe at school anymore.
"We want to be able to tell them they can do something and express themselves on this issue. They have lockdown drills, which is crazy to me. My daughter has concern and anxiety," Horn says.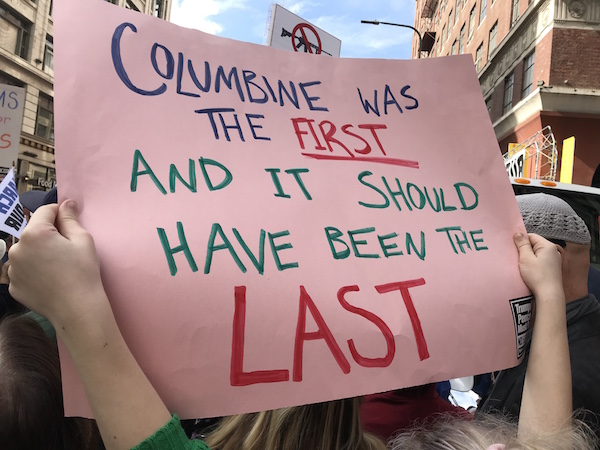 Rosa Ortiz's nephew was involved in the San Bernardino terrorist attack. She told the Blade she's marching because she believed San Bernardino would be the last shooting in her lifetime.
"But then there was Pulse, then Las Vegas and now another school shooting. We're done. Safety should be a priority. My hope is to see change in Congress. No more 'I'm sorry' or 'our condolences.' It's about making change and keeping people alive. Every human being deserves to live in a world without fear," Ortiz says.
Comedian and actress, Kathy Griffin was marching alongside a friend. She told the Los Angeles Blade, that the students and their organizing efforts inspire her.
"This generation doesn't know a time when assault weapons were banned. But these kids are doing better than past generations," Griffin said.
"I've performed in war zones, which he [Trump] hasn't even visited, and it's frightening to think that there are people like John Bolton in the administration. But like the kids say, 'they haven't been on the other side of an assault rifle.'"
In May 2917, Griffin came under fire in after posing for a Tyler Shields photo in which she held a decapitated and bloodied prop head made in the likeness of President Trump.
She apologized, but "CNN" cut ties with the star, citing that she had gone, "too far." The Secret Service opened an investigation into the incident, and Griffin told the Blade it lasted two months. "If it could happen to me, it could happen to anyone," she said today as the crowd walked past Los Angeles City Hall.
"I was one of those people who thought during the eight years Obama was in office, we're on our way, I don't have to work that hard, and boy was I wrong," Griffin says.
On gun control, Griffin says passing a bill that could take away military assault rifles, could happen in a day.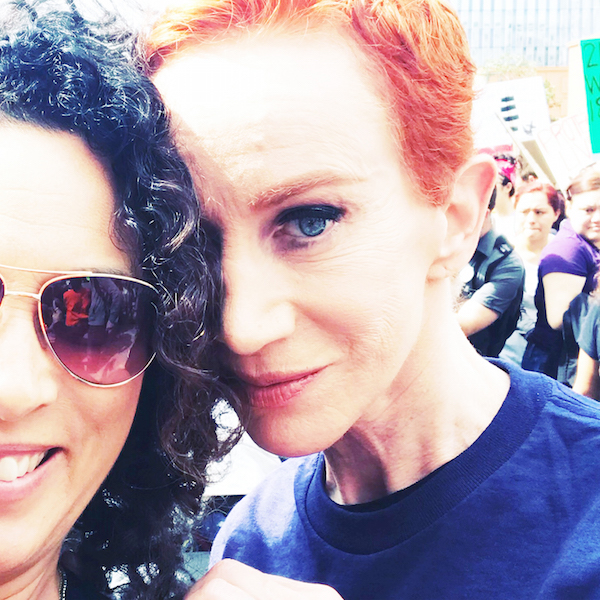 "I don't like the talk from the right about more metal detectors, or arming teachers. That's ridiculous. My sister was a public school teacher for decades in Chicago and LA Unified. The idea that these kids are excited about voting the minute they turn 18 is really cool. Because frankly, it's been a while since I've heard young people say, 'man the thing I'm most excited about turning 18 is voting.' To hear that now is thrilling," Griffin said.
Griffin says she's convinced that the more Trump and his policies rage against the protestors and the resistance, the more he'll dig himself and his supporters into a hole. "And the better it will be for all of us," she says.
"The convergence of their downfall and our uprising could affect real change…It's all about marching or shining a light on something, and sometimes in this day and age, you just need a good whistleblower," Griffin says.