March 26, 2018 at 5:32 pm PDT | by Staff reports
GOP Rep. Steve King's campaign trolls Parkland survivor Emma Gonzalez
In a Facebook post on Sunday, Republican Congressmember Steve King's re-election campaign trolled  Marjory Stoneman Douglas (MSD) High School mass shooting survivor, senior Emma Gonzalez, a founding member of the student-led #NeverAgain and #MarchforOurLives movements.
Using a picture taken by media photographers during her speech before the crowd of approximately 800,000 gathered along Pennsylvania Avenue in Washington on Saturday, the King campaign turned it into a meme and wrote: "This is how you look when you claim Cuban heritage yet don't speak Spanish and ignore the fact that your ancestors fled the island when the dictatorship turned Cuba into a prison camp, after removing all weapons from its citizens; hence their right to self defense."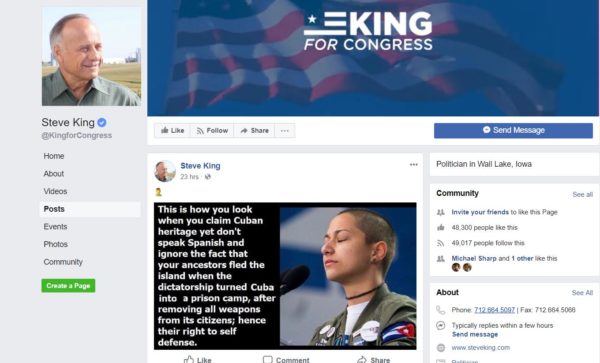 The campaign staff was criticizing the Cuban Flag patch on the jacket that Gonzalez was wearing at the event while giving her speech.
In response, Pulse Nightclub shooting survivor Brandon J. Wolf, who has been one of several persons mentoring the MSD students, immediately responded angrily writing:
"Are you SERIOUSLY mocking a school shooting survivor for her ethnic identity?!

Do you losers have NOTHING else to do anymore? Have you lost the will to govern? Do you need a safe space from these teenagers?

When it was my community, where were you? When it was Sandy Hook? Columbine? Were you on the sideline mocking those communities too? Did you question someone identifying as a mother? Did you question whether people like me were crisis actors?

Emma stood for 6 mins and 20 seconds to honor the lives of 17 gone too soon. The least you could do is shut your privileged, ineffective trap for 6 seconds to hear someone else's perspective."
The Campaign immediately replied, writing:
Steve King Uh, no…. assuming quite a lot, aren't ya? – Team King
Brandon then fired back with;
"Steve King No, I'm wondering whether this is a common trend for you or the fear of actually having to get something done on this issue has you acting irrationally. If you don't want to debate the issues with her, fine. But let the woman express her ethnic heritage however she pleases without piping verbal diarrhea from Iowa. It's not cute."
It was at this point King's campaign staff wrote:
"Steve King Brandon J Wolf Only a brainwashed Lefty could possibly look at this meme and deduce there's racial prejudice. Good luck to you. – Team King"
Other comments pressed on with the issue, many supporting Gonzalez, however the general trend seemed to support the campaign's trolling.
King's campaign staff refused comment and did not respond to an email inquiry from the Los Angeles Blade and as of mid- afternoon Monday, the post remained active on the Congressman's page. King's Washington D.C. Capitol Hill office deflected, saying that the campaign staff needed to address the issue.
Another Douglas Student and activist David Hogg, a #NeverAgain co-founder alongside Gonzalez, fired a tweet at U.S. Senator Marco Rubio Monday morning asking him to 'speak' to King.