Commentary: Mattis surrenders to appease Pence/Perkins
Kiss that Marine integrity goodbye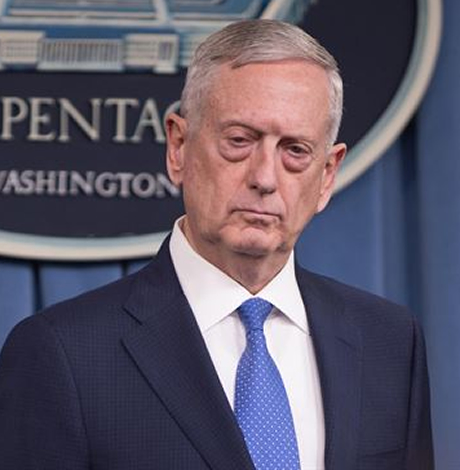 And then there were none. Despite his hyped-up promises as the Republican presidential nominee to "fight" for LGBT rights, once in power, Reality TV star Donald Trump has ordered or OKed the systematic erasure of all things LGBT from the federal government, as well as the imposition of new policies permitting overt discrimination in the name of "religious freedom."
Even Trump-whispers Ivanka Trump and Jared Kushner failed to stop the advancing avalanche of anti-LGBT discrimination triggered by Vice President Mike Pence and his gang of theocracy-seeking Christian Supremacists, lead by Tony Perkins of the Family Research Council and Ryan T. Anderson of the Heritage Foundation.
Many military-minded members of the LGBT community believed Defense Sec. Jim Mattis was standing in the gap protecting us from the whims of the wanna-be authoritarian and his minions. In fact, Mattis is still perceived as the last adult standing against Trump's Dr. Strangelove-leaning, war-mongering advisors, who former CIA director John Brennan, among others, fear will lead the impressionable president into nuclear war.
"Our country needs confidence that we are going to be able to deal with [Russian President Vladimir] Putin who is once again flexing his muscles on the military front, that we can deal with North Korea," Brennan told MSNBC's Deadline White House.  "If we have somebody in the Oval Office who is unstable, inept, inexperienced and also unethical, we really have rough waters ahead."
And, Brennan added, projecting more pain for the country: "I do hope we are going to be able to get through this very, very difficult chapter in our history, without incurring damage that could be long-lasting."
But now Mattis, too, has turned weak in the knees in face of Trump's unpredictability and Pence's presumed threats. Perhaps Mattis thought he was playing the long game when he mislead and betrayed his LGBT servicemembers by agreeing with and making the Feb. 23 recommendations to implement Trump's ban on transgender Americans serving openly in the US armed forces. Perhaps the Marine field commander in him took over—a willingness to sacrifice troops to achieve what superiors claim is an important goal.
But the former Marine forfeited more than his trans troops—Mattis surrendered his honor, integrity, and the trust LGBT Americans and allies placed in him. Many had come to believe he was in the mold of retired hero Admiral Mike Mullen, who in Feb 2010 as the chair of the Joint Chiefs of Staff, told Congress
he favored repealing the horrific anti-gay Clinton-era "Don't Ask, Don't Tell" policy.
"No matter how I look at the issue, I cannot escape being troubled by the fact that we have in place a policy which forces young men and women to lie about who they are in order to defend their fellow citizens," Mullen said. "For me, personally, it comes down to integrity — theirs as individuals and ours as an institution….I also believe that the great young men and women of our military can and would accommodate such a change," continued Mullen. "I never underestimate their ability to adapt."
And it wasn't a one-time thing for Mullen. He repeated his position to make sure the public—especially potential young recruits—knew the all-volunteer military prized integrity as well as merit.
"I think it's time that the law and the policy change. And the fundamental piece for that – of that, for me, is the whole issue of integrity in asking young people to come in to a military and essentially live a lie in an institution that values integrity at the highest level," Mullen told NPR months after his congressional testimony.
Indeed, studies were done, training was conducted, DADT was repealed and there have been no incidents substantiating the Religious Right's dire warnings about erosion of military readiness and unit cohesion. On that basis, Mattis' predecessor Defense Sec. Ash Carter, instituted a year of studies and training in preparation for lifting the ban on open transgender service, since trans service members such as Navy SEAL Team Six's Kristin Beck—awarded 27 honors, including the Bronze Star and Purple Heart during her 20 years of service—had been left behind with the repeal of DADT.
Even before Mattis' reaction to Trump's infamous trans ban tweet, there was reason to believe he would be an overall strategic thinker like Mullen and try to update the military's internal policies that lag behind most civilian workplace equality policies familiar to young recruits. And he understood the problem of politics.
"Those who argue that healthy civil-military relations are characterized by comity and a low number of disagreements between civilian and military decision makers ignore or discount the possibility that this may be the result of promoting yes men who are politically safe and who will not really fulfill their obligation to provide their best military advice as forcefully as possible," Mattis wrote in his 2016 book Warriors and Citizens: American Views of Our Military.
And Mattis realized the importance of trust.
"Cultural or opinion gaps between the general public and the military community worry us, but there is little evidence that they cause actual harm," he wrote in 2016. "The mistrust and mutual ignorance that often characterizes relations between high-level civilian and military decision makers is another story: here, misunderstandings and mistrust lead to arbitrary decisions and can do genuine harm both to the military and to US interests."
During his confirmation hearing in Jan 2017, Mattis did not seem enthusiastic about women or LGBT people in the military but did say there was nothing innate in being a woman or LGBT that excludes them exercising lethal force. "I believe that right now, the policies that are in effect — unless the service chief brings something to me where there has been a problem that has been proven — then I'm not going in with the idea that I am going to review these and right away, start rolling something back," he told New York Sen. Kirsten Gillibrand.
In June 2017, Mattis did launch a six-month review of the trans accessions policy that was just about completed, but insisted the delay "does not presuppose the outcome of the review." He said the additional time would ensure he had "the benefit of the views of the military leadership and of the senior civilian officials who are now arriving in the department."
But he also lobbied against an anti-trans proposal by Republican Reps. Vicky Hartzler and Duncan Hunter to ban medical treatment, leading to the bill's defeat. Hartzler and Hunter, with Family Research Council head Tony Perkins tagging along, went around Mattis to the White House to meet with fellow evangelical, Mike Pence. Shortly thereafter came Trump's surprise July 26, 2017 tweet, which went far beyond the proposed law to ban trans from service, period. Perkins told Brietbart News he wasn't surprised by the tweet and bragged about his access to the White House.
Mattis' name was not directly linked to the initial responses from the military—but it's hard to believe the top commanders would publicly utter a word without real or tacit approval from Sec Def, the former four-star Marine General. Though Trump's July 26 tweet said he had consulted with "my generals" about the abrupt change in policy, the real generals—the Joint Chiefs of Staff, including chairman General Joseph Dunford—said they were blindsided.
The next day, Dunford sent an email to Gen. Mark Milley, chief of staff for the US Army; Gen. Joseph Lengyel, chief of the National Guard Bureau; Gen. David Goldfein, chief of staff of the US Air Force; Adm. John Richardson, chief of Naval Operations; and Gen. Robert Neller, commandant of the Marine Corps, Buzzfeed reported, about Trump's "unexpected" announcement. He said the announcement had not changed any policy yet and later followed up with another message: "P.S. When asked, I will state that I was not consulted…..expect that question will come NLT [no later than] my September hearing." In that Sept. Senate hearing, Dunford said he believed transgender troops should be allowed to continue to serve.
Dunford also told servicemembers there would be "no modifications to the current policy until the President's direction has been received by the Secretary of Defense and the Secretary has issued implementation guidelines."
"In the meantime, we will continue to treat all of our personnel with respect," Dunford wrote in a memo to the military that was obtained by CNN. "As importantly, given the current fight and the challenges we face, we will all remain focused on accomplishing our assigned missions."
A week after the tweet, Adm. Paul Zukunft spoke at the Center for Strategic and International Studies, saying his office immediately reached out to the 13 trans members of the Coast Guard.
"I reached out personally to Lt. Taylor Miller, who was featured on the cover of The Washington Post last week," Zukunft told the Military Times. "If you read that story, Taylor's family has disowned her. Her family is the United States Coast Guard. And I told Taylor, 'I will not turn my back. We have made an investment in you, and you have made an investment in the Coast Guard, and I will not break faith.'"
Zukunft also said he reached out to then Department of Homeland Sec. John Kelly—subsequently sworn in as White House Chief of Staff—and that Kelly reached out to Mattis.
"We stood up a tiger team of our JAG officers," Zukunft said, to figure out how to shield troops, small in numbers but doing "meaningful" work, in the face of an administration mandate.
On Aug. 4, Mattis released a memo saying: "Through our example and through coaching of all hands, we will ensure ethical standards are maintained. Never forget, our willingness to take the Oath of Office and to accept the associated responsibilities means that even citizens who have never met us trust us to do the right thing, never abusing our position nor looking the other way when we see something wrong. I am proud to serve alongside you."
Until last Friday, March 23, there was ample circumstantial evidence to believe that Mattis would stand up and deliver advice to the Commander-in-Chief many thought he believed in and that had been given to him by real military experts: allow the policy welcoming and supporting trans servicemembers to remain in place.
Instead, Mattis caved to Trump, Pence and Perkins, saying in his Feb. 22 memo that trans servicemembers pose "substantial risks" and allowing some to serve "could undermine readiness, disrupt unit cohesion, and impose an unreasonable burden on the military that is not conducive to military effectiveness and lethality."
Mattis also says the 2016 RAND Corporation study concluding that trans servicemembers "have minimal impact on readiness and health care costs" for the Pentagon used "heavily caveated data to support its conclusions, glossed over the impacts of health care costs, readiness, and unit cohesion, and erroneously relied on the selective experiences of foreign militaries with different operational requirements than our own."
"In short," Mattis said, "this policy issue has proven more complex than the prior administration or Rand assumed."
The policy is still subject to injunctions imposed by four federal courts which will likely find the ban unconstitutional, concludes Slate's Mark Joseph Stern in his deep dive into what happened.
"As a result of those four court orders, transgender service members have continued to serve openly, and trans individuals have been allowed to enlist in the military since Jan. 1, 2018," Stern wrote on March 24.  "Yet behind the scenes, a 'panel of experts' has been crafting a report, also released on Friday, designed to provide pretextual justification for Trump's ban. According to multiple sources, Vice President Mike Pence played a leading role in the creation of this report, along with Ryan Anderson, an anti-trans activist, and Tony Perkins, head of the Family Research Council, an anti-LGBTQ lobbying group. Mattis actually supports open transgender service, but he was effectively overruled by Pence, and chose not to spend his limited political capital further defending trans troops. In a memo released on Friday, Mattis encouraged Trump to ban transgender people from enlisting in the military, and to discharge those service members who wish to transition. Trump has now formally adopted these suggestions."
Zack Ford added to Stern's reporting.
Also doing a deep dive at ThinkProgress, looking specifically at how that old DADT junk science got into Mattis' recommendations.
"According to Stern's reporting, it was true that Mattis favored allowing transgender military service, but Pence 'effectively overruled' him," Ford wrote. "A separate source independently confirmed to ThinkProgress Saturday that Pence was involved, characterizing him as forming his own ad hoc 'working group,' including Anderson and Perkins, separate from the panel of experts Mattis had assembled. Though it bears Mattis' signature, the report released Friday appears to reflect the findings of Pence's working group and not the committee report that Mattis submitted to Trump last month. Mattis' original document is not currently publicly available, but it was widely reported that Mattis favored an inclusive approach that resembled what had originally been proposed by Defense Secretary Ash Carter under President Obama in 2016.
How exactly Pence overruled Mattis' recommendation over the past month the source did not know. But his working group's influence is apparent. In particular, the report features numerous anti-trans talking points that FRC and other anti-LGBTQ groups have used in various campaigns favoring discrimination against transgender people."
By affixing his signature to that Pence/Perkins/Anderson-like report, by not telling the truth about how the report came to be—the opposite of what he lead LGBT people to believe for so long—Defense Sec. Mattis has mislead the LGBT community and betrayed the principles of integrity once thought to be an enduring core principle of Marine values. With his imprimatur, he has publicly endorsed the junk science of the anti-LGBT forces, even as the American Psychiatric Association re-issued its opposition to the ban.
Jim Mattis has committed an egregious legacy-damaging sin. Mattis now stands in the Pantheon of military liars with Gen. Westmoreland and Defense Sec. Robert McNamara, who lied to the American people about the war in Vietnam, and the once-beloved Gen. Colin Powell, who lied and presented false information to the world to satisfy President George W. Bush's eagerness to go to war in Iraq.
Why would any young person—LGBT or straight—want to serve in a military where their leader might promise to have their back one day—then renege and lie out of political expediency the next.
The saddest thing for Mattis, for whom many had come to count on and admire from afar, is that he will now have this ugly, burdensome transphobic ban hung like an albatross around his legacy—even though he knows that the ban will most likely get killed in court and Trump will probably blame him and fire him anyway.
Florida school district to force teachers to Out LGBTQ+ students
Florida's 'Don't Say Gay' is doing EXACTLY what LGBTQ advocates warned it would do even though formal written LGBTQ policies not yet released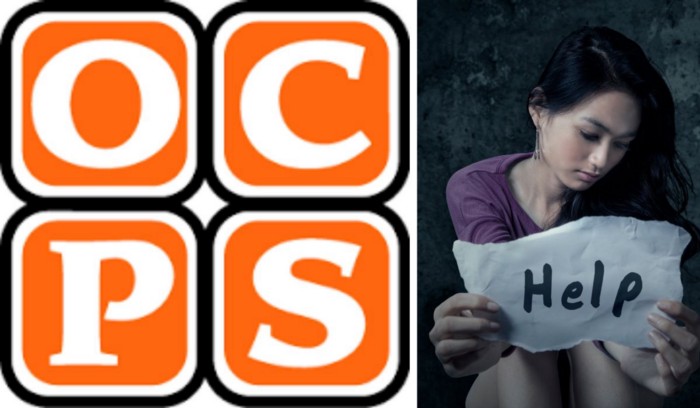 By James Finn | ORLANDO – The 9th largest school district in the U.S. just advised its 25,000 teachers and staff that they must inform parents if a student "comes out" to them.
That's just for starters. Keep reading, because Don't Say Gay exploded this week in Orange County, Florida, home of Orlando and a dense population that includes 205,000 public school students.
LGBTQ advocates and teachers in Florida are shouting, "We told you so!" as Orange County Public Schools announces policies to enforce Governor Ron DeSantis's Don't Say Gay law, formally known as the Parental Rights in Education Act. Advocates have warned for months that the law's vague wording and provisions to allow parents to sue school districts would prompt draconian anti-LGBTQ regulations. That's exactly what's happening in Orange County today.
* Outing LGBTQ teens to unsupportive parents isn't just bad policy. It's a moral outrage, an affront to human decency. *
ABC affiliate WFTV reported on Monday that Orange County Public Schools held an administrators-only seminar last week to advise principals on what behaviors would and would not be permissible under the new law. They also report that representatives of the Florida Classroom Teachers Association (CTA) have informed them of new policies they've learned about through other channels.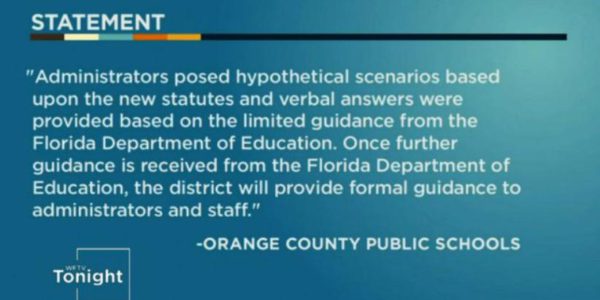 Here's the lowdown so far on Orange County schools and new LGBTQ polices:
Teachers must report to parents if a student 'comes out' to them.
Teachers must use pronouns assigned at birth, regardless of what the parents allow, meaning teachers must misgender trans students in class.
Teachers must remove stickers denoting a particular classroom is a "safe space" for LGBTQ students and others.
Teachers cannot wear rainbows on their clothing, "including lanyards distributed by the district last year."
Elementary-level teachers are discouraged from putting pictures of their same-sex spouse on their desk or talking about them to students. Teachers are not being discouraged from putting pictures of opposite-sex spouses on their desks.
Teachers are alarmed and speaking out
Several LGBTQ teachers in Florida's Miami/Dade and Orange counties have reached out to me privately saying they've quit their jobs or they're planning to soon. The Washington Post and NBC News reported recently that LGBTQ teachers in Florida are leaving the profession in significant numbers. Many, however, are staying, determined to fight for justice and equality, and to provide a safe haven for LGBTQ kids.
CTA President-Elect Clinton McCracken is on the record urging Orange County Public Schools to rethink policies: "It will be alarming if our district chooses to interpret this law in the most extreme way. We want them to protect student privacy. We want them to make sure that they're creating and helping to create safe classrooms. We believe our school board supports that."
The consequences of outing are STAGGERING.
According to the Trevor Project, LGBTQ students are already at a high risk for anxiety, depression, and suicidal ideation. These risks multiply bigtime if a student is outed to unsupportive parents.
Also, outing teens to unsupportive parents dramatically increases their risk of homelessness. The Williams Institute at UCLA School of Law has found that 45 percent of homeless youth in the U.S. identify as LGBTQ, a hugely disproportionate number. They further found that 43 percent of LGBTQ youth were kicked out of the home by unsupportive parents.
Outing LGBTQ teens to unsupportive parents isn't just bad policy. It's a moral outrage, an affront to human decency.
Mandatory misgendering of trans students will cause serious harm
I don't know if anyone at the district level thought the misgendering policy through, but the implications, as with outing, are staggering. Many trans students attend schools where their peers have no idea they're trans, often because they transferred into the district fully presenting as their gender. Usual school privacy practice around the nation requires teachers not to out these students, regardless of what's on their birth certificate.
I can't imagine the justification for suddenly forcing teachers to violate student privacy instead of protect it. I can, however, imagine the anguish that will result. And the jeers. And the bullying. And the tragic consequences.
I can also imagine the anguish of newly transitioning students who started their summer vacations thinking of school as a safe, supportive space where they were free to be themselves, only to return in the fall to a school where their teachers must misgender them.
Forbidding rainbows and safe-space stickers sends a cruel, bullying message
Little rainbow flags and stickers that let LGBTQ kids know they are safe and truly welcome do a great deal of good and no harm. They say, "We value you for who you are. You can come here to this space, and know you will find an adult you can trust. You can report bullying here and be assured the adult you're reporting it to accepts and values LGBTQ people."
Forcing teachers to remove those symbols doesn't just remove the safe space, it sends a toxic message to the entire student body: "LGBTQ people and ideas are too controversial to be open about in school. Rainbow flags are not positive symbols of diversity, love and, acceptance. They're so toxic, and some people hate what they stand for so much, that they have no place in school."
I don't care if you're gay, straight, bi, cis, trans, or nonbinary, that message spreads intolerance and even hatred.
Discouraging same-sex married teachers from being open about their families also spreads intolerance and hatred
We Americans live in a pluralistic society where people of all races, ethnic origins, and religions live and work together. An overwhelming majority of people in the U.S. have no problem with same-sex marriage, and while a loud minority have a serious problem with it, it's legal and common and not going anywhere.
Telling gay and bisexual teachers not to talk about their families or display photos of their families in circumstances where straight teachers ordinarily do so sends a terrible message to school employees and students. "Something is wrong with you and your family, so wrong that students must not see or hear anything about your family."
That message is not pluralistic, it's not American, and it's certainly not healthy. It demonizes LGBTQ people as it promotes shaming and discrimination. Utterly unacceptable.
None of this is set in stone yet. Raise your voice!
According to WFTV, that district-wide meeting with administrators last week did not include formal written LGBTQ policies, which have not yet been released. There's still time to tell Orange County Public Schools policy makers that their proposals will do great harm, that their leaked policies are toxic and morally outrageous.
Outing LGBTQ kids to unsupportive parents? What are they THINKING? Reach out to Orange County Public Schools today, right now, and demand they do do better.
You can contact the district office here, and find contact information for school board members here.
************************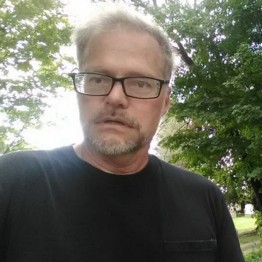 James Finn is a columnist for the LA Blade, a former Air Force intelligence analyst, an alumnus of Queer Nation and Act Up NY, and an "agented" but unpublished novelist. Send questions, comments, and story ideas to [email protected]
********************
The preceding article was previously published by Prism & Pen– Amplifying LGBTQ voices through the art of storytelling and is republished by permission.
Major Pride events disrupted as Extremists go after small children
In Nevada, masked Proud Boys threatened a group of small children and their parents observing Pride, causing the families to flee in panic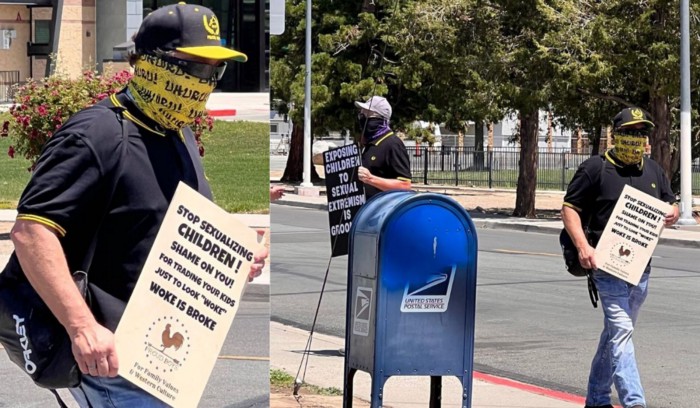 By James Finn | DETROIT – Chaos broke out over the weekend in New York City and San Francisco as participants at the two largest, oldest U.S. Pride parades panicked over reported gunfire. In Nevada, masked Proud Boys threatened a group of small children and their parents observing Pride, causing the families to flee in panic.
According to the Washington Post, "loud noises" on Sunday sent Pride crowds in New York's Washington Square Park "fleeing and nearly caused a stampede."
Some witnesses, who reported minor injuries requiring medical attention, say "nearly" misses the mark. The noises were later determined to be fireworks, according to parade organizers, who suggest ongoing threats of violence had Pride attendees on edge.
Panic over reported gunshots, and a gun, at weekend Pride events
Chaos broke out over the weekend in New York City and San Francisco as participants at the two largest, oldest U.S. Pride parades panicked over reported gunfire. In Nevada, masked Proud Boys threatened a group of small children and their parents observing Pride, causing the families to flee in panic.
According to the Washington Post, "loud noises" on Sunday sent Pride crowds in New York's Washington Square Park "fleeing and nearly caused a stampede."
Some witnesses, who reported minor injuries requiring medical attention, say "nearly" misses the mark. The noises were later determined to be fireworks, according to parade organizers, who suggest ongoing threats of violence had Pride attendees on edge.
Thousands flee San Francisco Pride
On Saturday, panic broke out at San Francisco Pride, as reported by Kylie Robison of Insider, who was there. "I was at pride, she tweeted, "and people started screaming, running, saying there was shots fired. I started running with the crowd but its just wild to live in a country where we're all prepared to run or die like that."
I was at pride and people started screaming, running, saying there was shots fired. I started running with the crowd but its just wild to live in a country where we're all prepared to run or die like that

— Kylie Robison (@kyliebytes) June 27, 2022
According to NBC News, San Francisco Pride ended early after somebody started spraying mace near the San Francisco Civic Center: "The incident caused a panic and in the hour that followed there were reports of street brawls as people left the event."
Other reports suggest people stampeded over sounds of gunfire. A security guard told NBC that "two stampedes broke out with crowds running for the exits amid rumors of a gun."
Details are unclear, but it appears no shots were fired. Reports of mace are conflicting and unconfirmed, but the fear and panic were very real.
"I was at the SF pride event with my son," one witness comments. "I can only describe it as World War Z type of panic. At first a group of a few hundred sprinters dodged through the area near the exit. The second wave was thousands of people, many crying, most in fear running to the exits."
Children flee Nevada Pride event when Proud Boy approaches with a gun
So far as reporters are able to confirm, no actual guns were involved in the San Francisco and NYC Pride stampedes, but on Sunday, Proud Boys protesters menaced a Pride event at the Sparks Library in Reno, Nevada. Multiple news sources, including the LA Blade, report that a group of Proud Boys disrupted a drag queen story hour, chanting obscenities and screaming that parents who brought their children to Pride are "groomers" and "molesters."
Reno police had been monitoring, but when protesters began to drift away, officers reportedly left the scene. Then one of the Proud Boys pulled out a gun and approached the crowd of parents and children. Details are conflicting, some witnesses reporting that the masked man screamed and waved his gun, others that he just held it in his hands as he approached the children.
Witnesses all agree that the families fled into the library, many of the children screaming and crying.
LGBTQ people face rising tides of violence and extremism
Pride observers in NYC and San Francisco may have over-reacted, but not without cause. Most of them were probably aware of a mass shooting early Saturday in Oslo, Norway that claimed the lives of two people and seriously injured ten more outside a popular gay club. Police charged a 42-year-old man with murder, and Oslo's Pride parade, scheduled for later in the day, was canceled.
Attendees were likely also aware that several U.S. Pride events this year have been menaced by Christian nationalist groups like the Patriot Front, 31 of whom were arrested — with body armor, riot gear, and at least one smoke grenade — on their way to terrorize Pride in Idaho. Groups of masked Proud Boys have terrorized children at several library events this month, including at the San Lorenzo Library in California and at a North Carolina library near Wilmington. Sherriff's deputies in the latter case tacitly encouraged the Proud Boys, fist bumping them and engaging in casual banter instead of stopping them from screaming at small children.
God, guns, and glory, shout Christian nationalist extremists
Social media is a frightening place to be LGBTQ these days, with conservative Christian leaders openly calling for transgender and gay people to be executed. Their posts and media accounts, like this Steadfast Baptist Church account on Twitter and this one on Facebook, are often left standing by managers at Facebook and Twitter, who cite freedom of religious expression.
Steadfast pastors at several U.S. churches this year have called for LGBTQ people to be killed, and if their threats frighten us, can you blame us? Instead of being arrested and incarcerated or committed, these religious extremists continue to incite violence and call for their supporters to arm themselves.
Gods, guns, and glory is the conservative rallying cry today, which married to rising anti-LGBTQ extremism, makes violent threats sound all the more ominous.
Also ominously, just last week, the U.S. Supreme Court struck down a New York State that makes it a crime to carry a concealed firearm without a license. The decision will mean that nearly anyone who wants to carry a gun in public will be able to.
New York Governor Kathy Hochul said, "This decision isn't just reckless, it's reprehensible."
Maybe that's what some of those stampeding people in Washington Square were thinking about when they thought they heard gunshots.
Americans of good will have to act together to take our country back
The pro-LGBTQ media organization GLAAD calls for Americans to resist the increasing arming of our society, to protest the recent Supreme Court decision that blocks sensible gun licensing and regulation.
GLAAD President Sarah Kate Ellis also calls out anti-LGBTQ laws and false propaganda messaging, calling on politicians and social media managers to reign in toxic rhetoric that equates LGBTQ people to sexualizing "groomers" who prey on children:
Lawmakers and Governors like DeSantis and Abbott, along with their co-conspirators at Fox News, better pause today and recognize that their anti-LGBTQ rhetoric and the nearly 250 anti-LGBTQ bills introduced this year are responsible for this dangerous climate. https://t.co/FzUwpmMj4W

— Sarah Kate Ellis (@sarahkateellis) June 12, 2022
Ellis says, "Lawmakers and Governors like DeSantis and Abbott, along with their co-conspirators at Fox News, better pause today and recognize that their anti-LGBTQ rhetoric and the nearly 250 anti-LGBTQ bills introduced this year are responsible for this dangerous climate."
She adds that "Facebook, Twitter, YouTube, and social media platforms must also take responsibility and urgently stop fueling the hate and misinformation that inspire white supremacist groups like the Patriot Front."
I join Ellis in calling for an end to the vilification of LGBTQ people for political gain. What we saw this weekend in New York City, San Francisco and Reno should be a wakeup call. Do we need another tragic anti-LGBTQ mass shooting like Pulse, or like JUST HAPPENED in Norway, before we confront the dangerous reality of the path we're on?
What's the solution? I don't have all the answers, but I know we must turn out in massive numbers this November to elect an overwhelmingly Democratic Congress, which no matter what our political views, is the only way to stop the minority of extremists who now dominate the Republican Party, the only way to bring the increasingly reckless Supreme Court under control.
If we don't act together now, mark my words, near-future articles won't be about stampedes at Pride, they'll be about massacres.
Breaking update: Pink News is reporting that a trans teenager is hospitalized with a fractured skull and brain abnormalities, and that two other people were hospitalized in a terrifying attack after Pride celebrations on Saturday in Dublin, Ireland. Five people in total were attacked at St. Stephen's Green while celebrating Pride after the official event concluded.
************************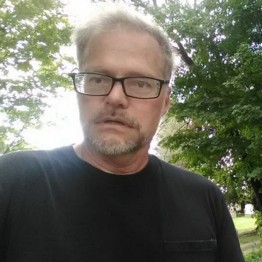 James Finn is a columnist for the LA Blade, a former Air Force intelligence analyst, an alumnus of Queer Nation and Act Up NY, and an "agented" but unpublished novelist. Send questions, comments, and story ideas to [email protected]
********************
The preceding article was previously published by Prism & Pen– Amplifying LGBTQ voices through the art of storytelling and is republished by permission.
Turkey Pride crackdowns only strengthen LGBTQ+ resistance
Hundreds arrested in Istanbul on Sunday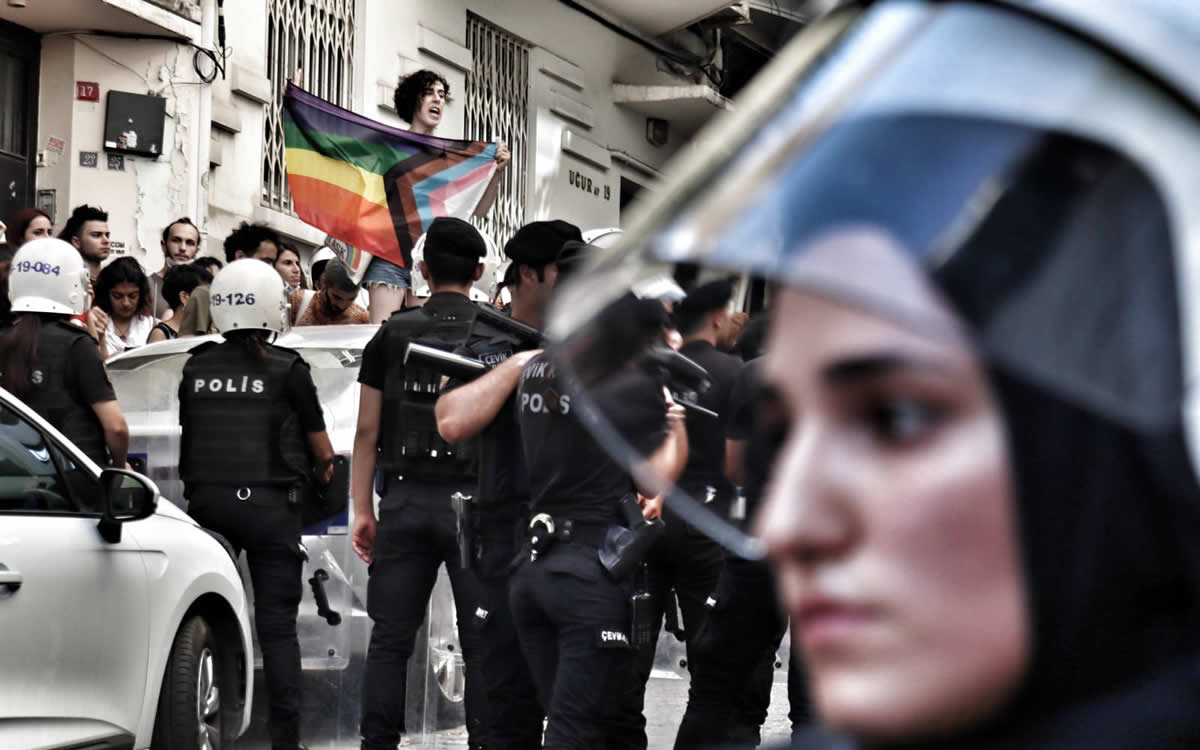 The waving colors of the thousand shades inside of a rainbow,
The sparkling joy from the pride and honor of self-declaration,
The echoing sounds of the steps for solidarity in the cobblestone streets of İstanbul,
To unite for equality, for justice, for solely our right to be.
This was our goal, our expectation and our hope for Pride Turkey 2022. It has, however, been overshadowed by the government's vicious attempts to repress the colors of the LGBTQI+ community.
First, it started with the ban of Pride speeches and panels that many district governors and other local authorities across Turkey announced. Local police officers raided the many event venues as if "illegal" activities were being conducted.
As in the last couple of years, it was already expected the government would ban the Pride marches in many cities. It was, however, the first time the government officially tried to prevent even face-to-face community gatherings of LGBTQI+ organizations. It was a type of intervention reflecting the level of fear and intolerance of the government regarding the growing connection, solidarity and public visibility of LGBTQI+ community.
Nevertheless, oppression often brings out the most creative means. As such, Pride committees have carried all the activities on digital platforms. Many activists and civil society representatives have shown support by participating in live broadcasts from event venues, and the voice of LGBTQI+ solidarity still reached a wide audience.
Subsequently, the most drastic pressure by the government has manifested itself during the Pride marches. The police violently intervened and used unproportionate force against marchers in many cities, which resulted in a radical number of unwarranted detentions.
While 530 LGBTQI+ activists were taken into custody over the last 37 days across Turkey, 373 of them were arrested during the Istanbul Pride march on June 26. This constitutes a first, since the Istanbul Pride arrests constituted the largest number of people taken into custody during a street march since the Gezi protests.
Will these enormous efforts to pressure win the day? The answer is "definitely no." On the contrary, it sparked a backlash by triggering strong solidarity among Turkey's queer community. The outstanding resistance of LGBTQI+ marchers gained public recognition on social media, while persistent legal support of LGBTQI+ initiatives canceled all the detentions. In the end, the exhaustive pressures of the government could not manage to fade the multicolor of LGBTQI+ identity. In fact, it helped our rainbow flag to shine even more glamorous and visible.
We, as members of the LGBTQI+ community, have once again proved through this entire experience that solidarity, togetherness and collective resistance are the most powerful facilitators in our fight to exist equally.
In honor of the unbreakable resistance of Turkey Pride 2022 supporters,
Thanks to you, the cobblestones of Istanbul and every street in Turkey echoed with the steps of LGBTQI+ solidarity.
Dilek İçten is a journalist, researcher and civil society expert with a demonstrated history of working in interdisciplinary and investigative research projects examining the socio-cultural dynamics of media, gender and migration. The focus of her work varies from freedom of expression, media censorship and journalistic independence to gender based-discrimination and hate speech against disadvantaged groups and minorities.