Vocal marriage opponent loses Costa Rica presidential election
Fabricio Alvarado lost to Carlos Alvarado by wide margin
Official results indicate Fabricio Alvarado lost to Carlos Alvarado by a 39-61 percent margin.
Fabricio Alvarado — a Pentecostal minister, singer and former journalist who is a member of the National Restoration Party — and Carlos Alvarado of the leftist Citizen's Action Party won the election's first round on Feb. 4. Fabricio Alvarado and Carlos Alvarado, who are not related, faced off on Sunday because neither of them received at least 40 percent of the vote in the election's first round.
Sunday's election took place less than three months after the Inter-American Court of Human Rights issued a landmark ruling that recognized same-sex marriage and transgender rights.
Outgoing Costa Rican Vice President Ana Helena Chacón subsequently announced her government would comply with the ruling. Fabricio Alvarado made his opposition to the decision a centerpiece of his campaign.
Carlos Alvarado publicly supports marriage rights for same-sex couples. He is also a member of outgoing President Luis Guillermo Solís' party.
"I am very happy," Margarita Salas, a Costa Rican LGBT rights advocate, told the Washington Blade on Sunday after Carlos Alvarado won the election. "Costa Rica today gave its strong and decisive support to human rights."
Marcela Martino of the Center for Justice and International Law agreed with Salas.
"This result allows the country to firmly advance with the conviction that Costa Rica is a country in which everyone belongs," Martino told the Blade.
Other LGBT rights advocates throughout Latin America also celebrated Carlos Alvarado's victory.
"Costa Rica won," wrote Andrea Ayala, executive director of Espacio de Mujeres Lesbianas por la Diversidad, an LGBT advocacy group in El Salvador, on her Facebook page.
Fabricio Alvarado pierde la elección presidencial costarricense
Un oponente vocal del matrimonio igualitario el domingo perdió la segunda vuelta de la elección presidencial de Costa Rica.
El Tribunal Supremo de Elecciones indica que Fabricio Alvarado perdió a Carlos Alvarado por un margin de 39-61 por ciento.
Fabricio Alvarado — un ministro pentecostal, cantante y experiodista quién es miembro del Partido Restauración Nacional — y Carlos Alvarado del Partido Acción Ciudadana de la izquierda ganaron la primera vuelta de la elección que se celebró el 4 de febrero. Fabricio Alvarado y Carlos Alvarado, quienes no están relacionados, se enfrentaron el domingo porque ningún candidato recibieron más de 40 por ciento del voto en la primera vuelta de la elección.
La elección del domingo se celebró menos de tres meses después de la Corte Interamericana de Derechos Humanos emitió un fallo histórico que reconoce el matrimonio entre parejas del mismo sexo y los derechos para la comunidad trans.
La vicepresidente saliente costarricense Ana Helena Chacón anunció su gobierno cumpliría con el fallo. Fabricio Alvarado hizo su oposición a la decisión una pieza central de su campaña.
Carlos Alvarado apoya públicamente el matrimonio igualitario. También es miembro del partido del presidente saliente Luis Guillermo Solís.
"Estoy super feliz," dijo al Washington Blade Margarita Salas, una activista costarricense. "Costa Rica hoy le dio un apoyo fuerte y decidido a los derechos humanos."
Marcela Martino del Centro por la Justicia y el Derecho Internacional estuvo de acuerdo con Salas.
"Este resultado permite al país avanzar firme en la convicción de que Costa Rica es un país en el que todas y todos cabemos," Martino dijo al Blade.
Otras activistas en América Latina también celebraron la victoria de Carlos Alvarado.
"Ganó Costa Rica," escribió Andrea Ayala, la directora ejecutiva de Espacio de Mujeres Lesbianas por la Diversidad, un grupo LGBT salvadoreño, en su página de Facebook.
A vocal opponent of marriage rights for same-sex couples on Sunday lost the second round of Costa Rica's presidential election.
30,000 march in Jerusalem Pride parade
Anti-LGBTQ violence reported after event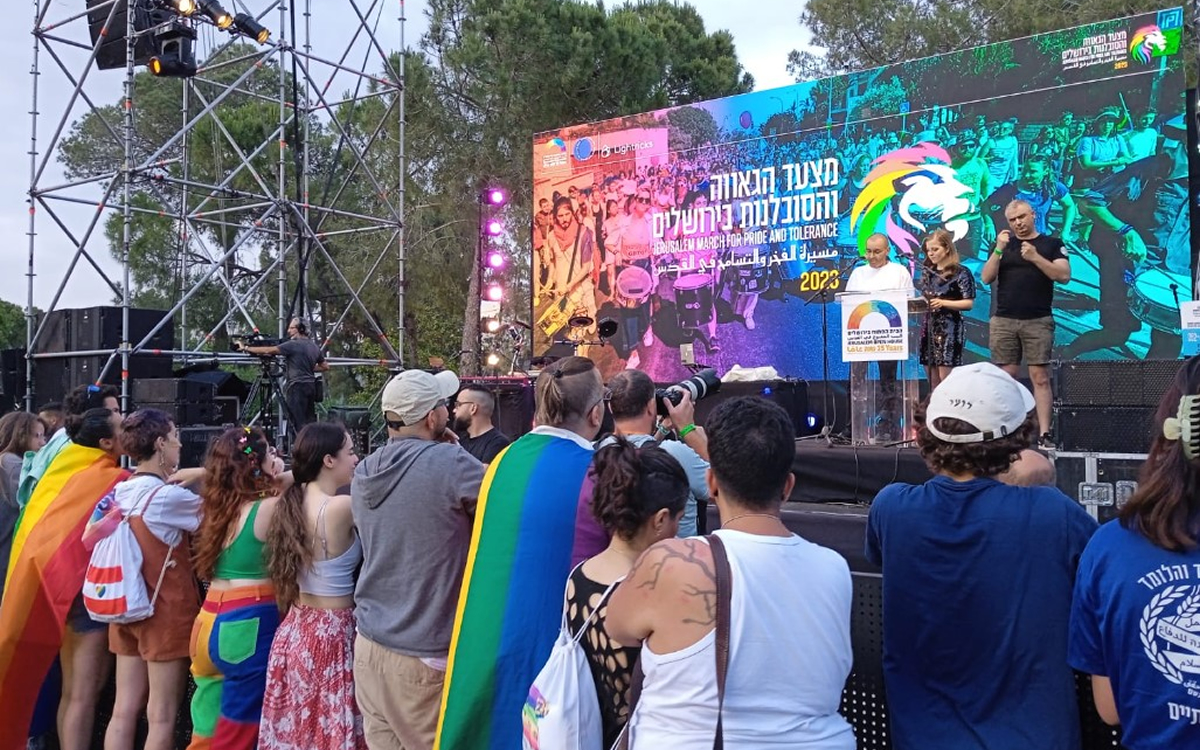 WDG is the Washington Blade's media partner in Israel. WDG originally published this article on Friday.
JERUSALEM — Upwards of 30,000 people on Thursday marched in the Jerusalem Pride and Tolerance Parade, which marked the beginning of Pride month in Israel.
The parade, organized by the Jerusalem Open House for Pride and Tolerance, began with the traditional gathering at Gan Happamon. Many politicians also came to support and encourage the marchers.
Opposition leader Yair Lapid, who chairs the Yesh Atid party, in his speech referred to the counterprotest the Lahava movement organized near the parade's starting point. Several dozen LGBTQ+ and intersex rights opponents participated in the protest.
"Outside are standing, like every year, the wretched thugs of Lahava movement, demonstrating against us," said Lapid. "Only this year these people are no longer just a ridiculous bunch of dark extremists — they are part of the government. Bezalel Smotrich, (Internal Security Minister) Itamar Ben-Gvir [and] Avi Maoz, are trying to push us all back into the closet, to the dark closet of their foreknowledge. In Israel there is not one fight for democracy and a separate fight for LGBT rights. It's the same struggle against those enemies. in the name of those values. Those who attack Israeli democracy attack the LGBTs, those who attack the LGBTs attack democracy."
Benny Gantz, chair of the National Unity Party, referred to the need to hold parades in the capital.
"We won't have to march when in this parade we won't need security, we won't need snipers and undercover policemen. We won't have to walk when each and every one can walk in any neighborhood they want, holding hands like any couple. We will not have to march when gay will not be a curse in school but simply self-determination, when each and every one can fill out any government form according to what he is," he said. "We will not have to march when a prime minister in Israel would not think of giving the keys to the education system to a dark racist and allocating hundreds of millions to oversee liberal education programs. I am ashamed of this and I tell you that even at the most difficult political price, I will never do such a thing. We will not have to march when there are no racists in the government. Such people would be denounced and would not be elected, not because of the law — but because no one would want to elect them. We won't have to step when simple love won't be complicated or will be as complicated as any simple love."
At the end of the gathering, the marchers began marching towards Independence Park where Ran Danker, Ivri Lider, Roni Duani, Rinat Bar and others were performing.
More than 2,000 police officers and soldiers, visible and hidden, secured parade participants with the assistance of reinforcements and volunteers.
As with every year, the police commissioner and the Minister of internal Security came to the parade area to examine the work of the police in the field. But unlike previous years, Ben-Gvir was received with shouts of "shame." Ben-Gvir came to supervise the parade, despite a prior demand from the parade organizers that he refrain from doing so.
"In my position as a minister, I do and will do everything so that there is no crazy case, as was the case with the murder of Shira Banki," said Ben-Gvir, "My policy is to give freedom of speech to those who oppose the parade, even to those who speak against the parade, that is their right. They are not breaking the law yet. Our job on this day is to allow the parade and protest, this is democracy, this is the beautiful mosaic in the state of Israel and this is how I act as minister of national security."
Several serious incidents of violence against the LGBTQ+ community took place after the parade ended and marchers dispersed. In one of them, boys and young men were seen setting Pride flags on fire, and in the second, a group of young people attacked a number of LGBTQ+ people near Jerusalem's Central Station. They shouted at them to "go back to Tel Aviv, you son of a bitch."
"This is a resounding slap in the face that reminds us that no matter how much we spread light, the struggle is not over yet, and the hatred towards us exists and understands," Jerusalem Open House for Pride and Tolerance said in response to the violence. "In Jerusalem those who walk around the city tonight, are asked to be alert and take care of themselves. Don't worry, we will win."
"The Jerusalem parade is the strongest expression of our opposition to hatred, and to the plans of the hate lobby to fight in our community," Hevruta, an LGBTQ+ religious organization, said. "Even hundreds of millions of shekels, the authority and standards of Avi Maoz and the Noam party will not be able to extinguish our love for God, for who we are and for our families."