April 2, 2018 at 4:14 pm PST | by Karen Ocamb
Gay ally Steven Bochco dies
"Steven Bochco, boundary-pushing TV creator behind 'NYPD Blue' and 'Hill Street Blues,' dies at 74," declares the April 1 Los Angeles Times' headline. The Emmy-winning television writer-producer died in his sleep Sunday after a battle with cancer. He was 74.
The Times and other media outlets chronicle Bochco's impact over the TV landscape, bringing edgy, complicated, more realistic plotlines and large cast diversity into people's homes, often with studio heads and advertisers biting their fingernails. But creatively bucking locked-in commercial broadcast trends in the 1980s and 1990s yielded 30 Emmy nominations and 10 wins.
"Steven reinvented the television drama by creating and executive-producing 'Hill Street Blues' [in 1981]," said TV executive Warren Littlefield, who worked with Bochco at NBC.
"At first, television wasn't quite ready for this groundbreaking drama, certainly not on a network known for a talking car. Television critics celebrated it and at the Emmy Awards following Season One, a star was born. The DNA for quality drama at NBC was created by Steven Bochco and all of broadcasting would join NBC and covet what Steven was capable of doing."
Missing from the obituaries is any reference to Bochco's subtle but profound impact on LGBT rights and how gays were perceived through his shows' characters. Additionally, he launched the careers of actors, directors and crew. At least one gay HIV-positive actor, Stephen Pender—though presumably only out to family, friends, and 12 Step acquaintances—had a small role on "Hill Street Blues" in the early 1980s.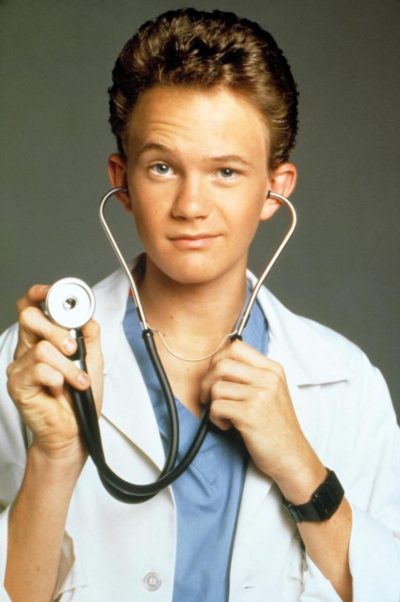 Neil Patrick Harris is so talented, he surely would have come to America's attention at some point. But it was "Doogie Howser, M.D." that Bochco created with David E. Kelley that served as Harris' breakout role.
And while the 1991 kiss between CJ Lamb (Amanda Donohoe) and fellow lawyer Abby Perkins (Michele Greene) on "LA Law" is now derided as the initiator of future sweeps-ratings generator "lesbian kiss episodes," at the time, it was groundbreaking, casual, and in-the-moment affirming. And neither character wiped their mouths afterwards, as Roseanne Barr's gay-positive character did three years later.
youtu.be/WS0DbhmJ1jY
But it was Bochco's "NYPD Blue" running on ABC from 1993 to 2005 that really made an impact both on and behind the camera—including boosting the career of gay go-to African American director Paris Barclay, who crew often included a bevy of out lesbians. In three years on the show, Barclay, who also became a producer, received two Emmys for best directing. In 2000, he, Bochco and Nicholas Wootton created the medical drama "City of Angels," with a largely black cast that included Viola Davis, Octavia Spencer, Vivica Fox, Maya Rudolph and Blair Underwood (who had also been on "LA Law").
"I will always be grateful to you Steven, for hiring me on #NYPDBlue, making me a producer for the first time, and allowing me to create a series with you. You taught me so much. I honestly wouldn't be able to do what I do if it hadn't been for you. Peace," Barclay tweeted.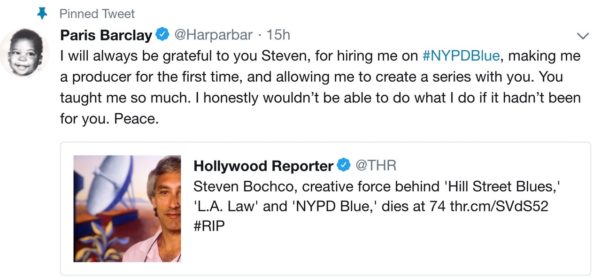 In front of the "NYPD Blues" camera, actor Dennis Franz's evolution from crass, alcoholic, homophobic, racist Detective Andy Sipowicz to a still-flawed but caring Sargent who ran the squad became the heart and soul of the series. All the profanity, sexual suggestiveness and nudity prompted Rev. Donald Wildmon and his crusading religious right American Family Association to call the show "soft-core porn" and call for a boycott in the first season.
Another once-familiar rabidly anti-gay right-wing figure. Brent Bozell, apparently founded the Parents Television Council because of perceived vulgarity on "NYPD Blues" about which he filed several complaints with the Federal Communications Commission. One complaint registered with the FCC—the "Nude Awakening" episode that aired on Feb. 25, 2003. Five years later, the FCC fined ABC $1.4 million due to scenes of "adult sexual nudity." The 2nd Circuit Court of Appeals overturned the fine in 2011.
Here's how Bozell described the episode to his followers: "In the opening scene, Detective Andy Sipowicz's young son, Theo, walks in on Sipowicz's live-in girlfriend, Connie, as she is getting out of the shower. She is shown at full length with her bottom and left breast visible. Instead of grabbing a towel, or simply closing the bathroom door, she turns around to the camera and Theo, with only her hands covering her breasts and groin."
Interestingly, what Bozell does not complain about is the fact that gay actor Bill Brochtrup's gay character, John Irvin, the PAA (police administrative assistant) at the station, is Sipowicz's friend and Theo's regular baby-sitter.
And how that friendship evolved served as a model for both personal and professional relationships for seven seasons and allowed gay people to see themselves reflected on TV in the larger world.
Brochtrup, who came out to People magazine in 1997, had been been a series regular on two other Bochco series, "Public Morals" and "Total Security," before "NYPD Blues."
In an LA Times interview in 1995, two years before he official came out, he says the interaction between Sipowicz and his gay character "mirrors the audience's own prejudices against gays, and they'll see Dennis saying things they themselves had said….The very last thing last season was to have them shake hands. He looks at me skeptically. It's a slow learning thing between them. That's real."
What was also real was the decision to play him, toned-down, not flamboyant as the casting director first wanted for his two-part temp role. "They'd initially told me in the audition I wasn't playing it fey enough and so I went waaaaah, " he told The Times, throwing out his arms wide, indicating he played it very big. "They wanted the broadness."
But executive producer David Milch told him to tone it down on day one. "Frankly, they were right," Brochtrup said. "A guy that flamboyant would never survive in that NYPD."Description:
"It's clear they wanted Irvin to be openly gay, but not a snap queen," he said. Irvin is "efficient and gets the job done. I was happy to oblige and it was a very smart thing to do. What I originally gave them was very funny, but stereotypical, and it wouldn't have had legs for more than two episodes. By making him more real, more low-key, he had a chance to grow."
Brochtrup, who lived in West Hollywood at the time, said his gay character is centered in the squad room. He "has a 'won't beat me down' attitude that's refreshing. He's also got a wonderful open heart. I wish more people were like him. People have said to me, 'I wish he was more militant, I wish he would stand up for himself.' There are people who'd do that and have made strides [for gays] in the workplace by doing that, but others work in other ways, approach problems as Irvin does, one person at a time."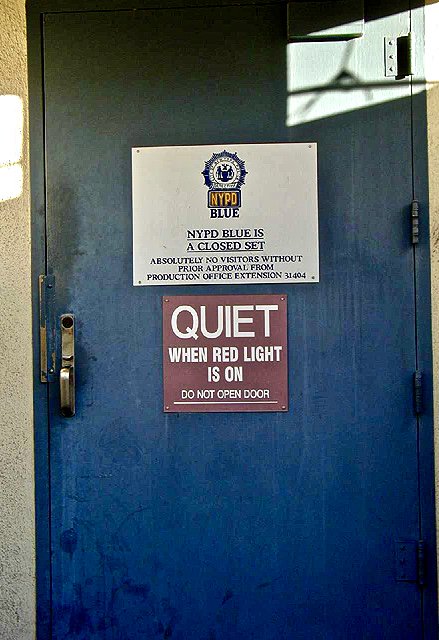 The role went from a virtual cameo to several seasons with his own arc—from dealing with homophobic remarks, to shaking hands, to giving Sipowicz haircuts and advice to babysitting the son of a cop who once probably believed all gay men were pedophiles.
Bochco told The Times that Brochtrup deserved the credit for how the gay PAA fit in at precinct. "Bill's so centered, so confident in his skin, in life, that it completely informs his character so that [being gay] not withstanding, Irvin's something of an odd duck in that squad room."
An odd duck with whom other LGBT odd ducks could identify. And a relationship arc the public could watch evolve from cringe-worthy homophobia to a real caring friendship—thanks to Steven Bochco.