April 3, 2018 at 3:08 pm PST | by Staff reports
Shooting at YouTube Headquarters near San Francisco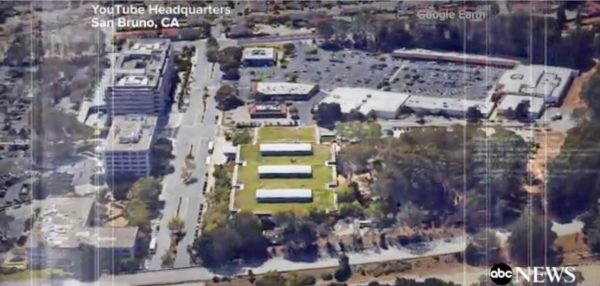 UPDATE: San Bruno Police Chief Ed Barberini identified the shooter as Iranian-born Nasim Najafi Aghdam, 39, of San Diego who was apparently "upset with policies and practices of YouTube."http://www.latimes.com/local/lanow/la-me-ln-nasim-aghdam-20180404-story.html She accused the social media platform of discrimination and filtering her videos, which led to a drop in viewers and revenue. Barberini said she opened fire on random people at the open-air plaza with a Smith & Wesson 9mm semiautomatic handgun, purchased legally. Two female victims were released from San Francisco General Hospital Tuesday night but a man in his 30s remains in serious condition.
The San Mateo County Sheriff's Office tells the Los Angeles Blade that it responded to an active shooter situation at the headquarters of YouTube Tuesday afternoon in San Bruno, California, just south of San Francisco. Multiple law enforcement agencies also responded, including the FBI.
In a hastily called news conference, San Bruno Police Chief Barberini told reporters that police received several 911 calls around 12:46 reporting gun shots. When police arrived, they found four victims, including a deceased female with a self-inflicted gunshot. A 36-year-old man is in critical condition; a 32-year-old woman is in serious condition; and a 27-year-old woman in fair condition. There are no details on the condition of the fourth victim.
They were transported to the hospital where three victims—one man and two women—were being treated with what he considered "treatable" wounds.
Neither the female suspect nor the three gunshot victims have been identified, nor is there a confirmed motive. The chief could also not yet identify the weapon or weapons used.
"A number of patients with gunshot wounds" have been received at Zuckerberg San Francisco General Hospital, Brent Andrew, a spokesman for the hospital told the LA Blade. A spokesperson subsequently said three patients, one male and two females, were in critical, serious and fair condition, respectively.
ATF is on the scene.
Barberini said employees "self-evacuated" and the scene in and around the YouTube campus is still being methodically cleared under an "active investigation." They are continuing to search the campus, the premise and surrounding businesses under their active shooter protocol.
"It's a pretty hectic scenario so it's a task," he said.
The news media was also on the scene fairly quickly. CBS News reported that heavily armed police surrounded the facility, with armed SWAT vehicles stationed outside. Police officers could be seen patting down employees evacuating the campus to a nearby parking lot, where they were surrounded by police cars.
This is a developing story….