Army chief of staff undermines DOD report against transgender service
"U.S. military has the prerogative to set necessary standards for troops."
The top uniformed official in the U.S. Army on Thursday undermined recommendations from Defense Secretary James Mattis against transgender military service — which led to President Trump's ban on transgender people in the armed forces — by asserting their presence has had no negative impact on unit cohesion.
But Army Chief of Staff Gen. Mark Milley also undercut efforts the other way in support of transgender military service by saying it's "not a civil rights issue" and by asserting the U.S. military has the prerogative to set necessary standards for troops.
Milley, along with Army Secretary Mark Esper, made the remarks during congressional testimony on the the posture of the Army under questioning from Sen. Kirsten Gillibrand (D-N.Y.), who has introduced legislation against Trump's transgender military ban.
Gillibrand, who cited concerns about unit cohesion in the aftermath of the anti-trans recommendations, asked the Army officials if transgender service — first allowed in the Obama years under former Defense Secretary Ashton Carter before Trump tried to ban it — had resulted in any problems. Both officials replied it had not.
Esper, who had previously said the issue of transgender service "hasn't come up" in talks with soldiers, reported no new problems with unit cohesion.
"Nothing has percolated up to my level," Esper said. "When I made that comment, I was questioned about if I met with soldiers and talk about these issues, what do they raise? And as I said then…young kids tend to raise the issue in front of them at the day. It could be that they're performing all-night duty or didn't get their paycheck, and this was just not an issue that came up at that moment in time."
Milley echoed the sentiment, saying in response to Gillibrand's question about whether transgender troops have caused a problem with unit cohesion, "No. Not at all."
"We have a finite number," Milley said. "We know who they are, and it is monitored very closely because we're concerned about that and want to make sure that they are in fact treated with dignity and respect and no have precisely zero reports of issues of cohesion, discipline, moral and all sorts of things."
The evaluation that transgender service hasn't negatively affected unit cohesion stands in contrast to the report produced by Mattis to justify Trump's transgender ban, which was made public last month by the White House.
"[U]ndermining the clear sex-differentiated lines with respect to physical fitness; berthing, bathroom and shower facilities; and uniform and grooming standards, which have all served the branches well to date, risks unnecessarily adding to the challenges faced by leaders at all levels, potentially fraying unit cohesion, and threatening good order and discipline," the report says.
Aaron Belkin, director of the San Fransico-based Palm Center, said in a statement Milley's testimony speaks volumes about transgender service and undermines Mattis' conclusions.
"It is telling for the Army chief of staff to acknowledge there have been 'zero' problems with cohesion, discipline or morale just weeks after a DOD report, ostensibly based on months of research, insisted that transgender troops pose a risk to cohesion, discipline and morale," Belkin said.
Although courts have enjoined the Trump administration from enjoining its ban on transgender military service, Gillibrand said the transgender military ban that Trump is seeking and the Mattis recommendations could still be harmful.
"Transgender service members have now seen the department's recommendation and are on notice that if the policy is implemented, they will get kicked out for seeking care or treatment for their gender dysphoria," Gillibrand said. "I'm worried that this uncertainty will have a negative impact on these individuals, but also on their units and that fear of these recommendations will stop these soldiers from seeking care."
Asked by Gillibrand what the Army is doing to ensure readiness "in the light of the pale that been case on the future of transgender soldiers," Esper insisted they're being treated fairly.
"We continue to treat every soldier, transgender or not, with dignity and respect, ensure that they're well-trained and well-equipped for whatever future fights," Esper said. "With regard to accessions, our accession folks understand that we are operating under the Carter policy, if you will. We've had some persons already join, transgender persons join, and we will continue to assess them and train them and treat them well in accordance with that policy."
But Gillibrand expressed skepticism, saying the recommendations against transgender service "is different from treating everybody with dignity and respect."
In the wake of a letter from Democrats seeking information on the process that led Mattis to come to his recommendations against transgender service, Gillibrand asked the officials about the degree to which they had input, citing objections to the recommendations from the American Medical Association about its conclusions.
When Gillibrand asked who represented the Army on the panel of experts Mattis convened, Milley said it was Vice Chief of the Army Gen. James McConville. When Gillibrand asked if any medical experts were included on the panel, Milley said he was unsure, but knew McConville "consulted with lots of internal folks, medical professionals, absolutely yes." Gillibrand asked Milley to submit to the Senate Armed Services Committee the names of the experts who were consulted, and Milley agreed.
Milley also offered additional information about the nature of the panel of experts Mattis convened to reach his conclusions against transgender service. The Army chief of staff offered to provide Gillibrand the exact names at a later time.
"Each of the service vices, I believe, was on it," Milley said. "There were several DOD folks. I'm pretty sure the panel was led by the DOD P&R, if I remember right, the under secretary for personnel and readiness."
But the last word in the exchange wasn't favorable to transgender service. Asked by Gillibrand if the two had spoken to transgender soldiers, they said they've had those exchanges, but not after the recommendations were issued. That's when Milley pushed back by asserting the military's right to institute standards.
"My view is that we have an Army that is standards-based," Milley said. "It has always been standards-based. It will remains standards-based for medical, physical, psychological, conduct, etc. And those soldiers or those applicants, people who want to assess into the Army that meet those standards, and they're rigorous standards, if you meet those standards, then you're on the team. If you don't meet the standards for whatever reason, then you're not on the team. It's that simple."
Those standards, Milley said, may mean certain individuals are unable to serve in the armed forces regardless of what civil rights advocates think.
"This is not an issue, in my view, this is not a civil rights issue," Milley said. "This is an issue of standards and maintaining deployability and the combat effectiveness and lethality of the United States Army, and I think I speak for the other service chiefs as well."
Belkin told the Blade he agrees with Milley that issue isn't about civil rights, but transgender service is in the best interest of military readiness.
"And the research as well as lessons from two years of inclusive policy and 18 foreign militaries that allow transgender service is that treating everybody according to the same standards is what's best for readiness," Belkin said. "The problem with the Trump ban is that it is based on scientific distortions, cherry-picked data and double standards that apply only to transgender troops, and no one else."
Anti-Trans far-right pundit Matt Walsh says gender affirming is evil
Walsh, who has over a million Twitter followers which includes the anti-LGBTQ Libs of Tik-Tok, called gender-affirming surgery "mutilation"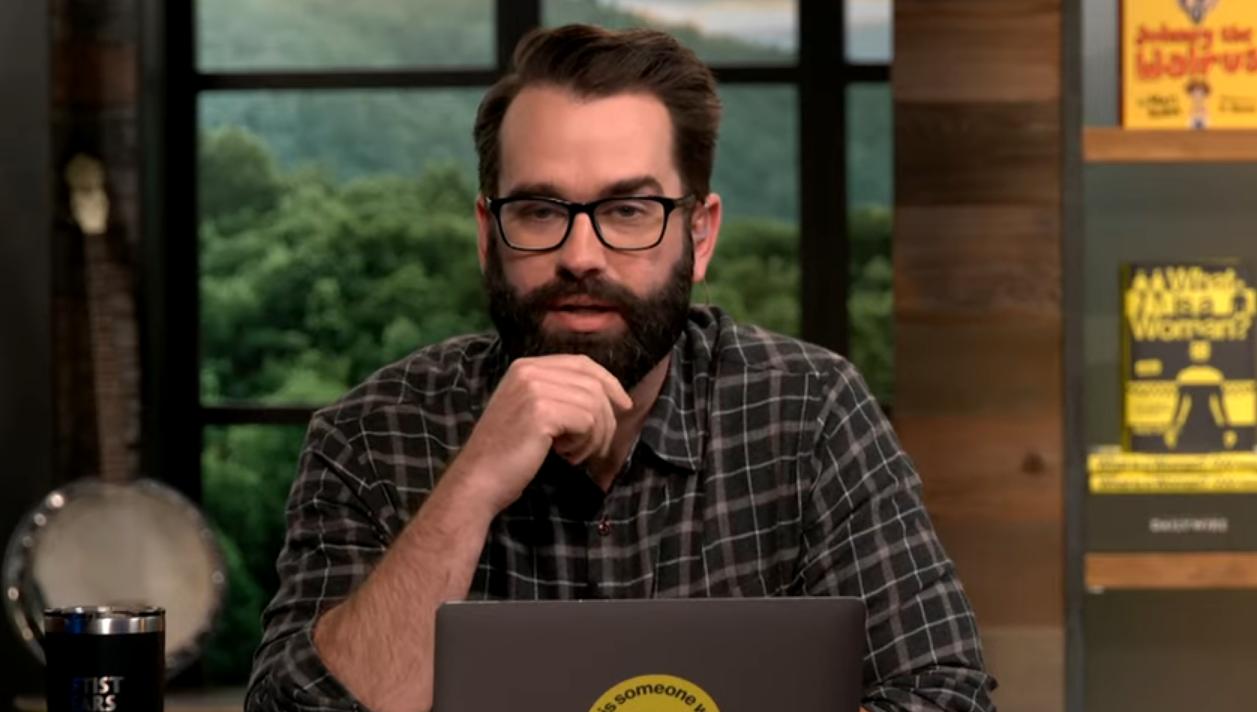 NASHVILLE – Daily Wire host and far-right extremist anti-transgender activist Matt Walsh went on Twitter Monday attacking trans people writing: "I believe that gender ideology is one of the greatest evils in human history. There is nothing they can threaten that would make me back down from this fight. I'd rather be dead than surrender to this madness. It's as simple as that for me."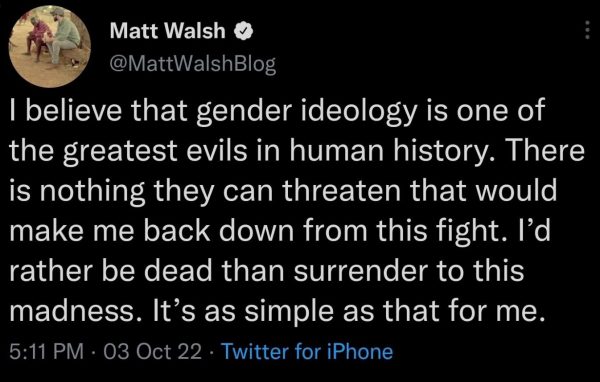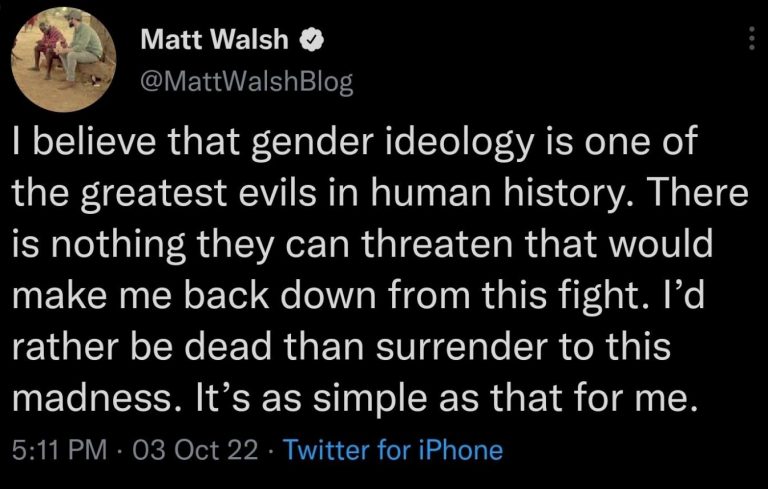 Walsh, who has over a million followers which includes the anti-LGBTQ activist account Libs of Tik-Tok, has called gender-affirming surgery human body mutilation, added in another tweet: "The medical establishment, Big Tech, and the federal government conspire to punish those of us who criticize the accepted narrative. This is full on tyranny, and it will of course be defended by every single leftist who spends every day whining about "fascism."
Alejandra Caraballo, a Clinical Instructor at Harvard Law School's Cyberlaw Clinic and a former staff attorney at the Transgender Legal Defense and Education Fund and a Staff Attorney at the LGBTQ Law Project at New York Legal Assistance Group, noted on Twitter that Walsh's tweet could incite violence against Trans Americans.
"This is a direct threat and incitement of violence against trans people. When he says "gender ideology," he really means trans people. Matt says he's willing to die to fight it. Some of his followers may take him up on that and engage in real violence," Caraballo wrote.
This is a direct threat and incitement of violence against trans people. When he says "gender ideology," he really means trans people. Matt says he's willing to die to fight it. Some of his followers may take him up on that and engage in real violence. pic.twitter.com/9QhTHcnG4b

— Alejandra Caraballo (@Esqueer_) October 3, 2022
Most recently attacks on American hospitals providing trans healthcare, especially those with clinics treating trans youth have been targeted by anti-Trans extremists led by Walsh and Brooklyn, New York-based Chaya Raichik, a former real estate agent whose 'Libs of Tik-Tok' have spread misinformation and lies about gender-affirming surgery which has fostered attacks on those healthcare facilities by far-right extremist elements.
Alarmed at the increase of violence, in a letter sent Monday to U.S. Attorney General Merrick Garland, the American Medical Association joined with the American Academy of Pediatrics (AAP), and Children's Hospital Association asking the Department of Justice investigate [the] increasing "threats of violence against physicians, hospitals and families of children for providing and seeking evidence-based gender-affirming care."
Referencing Walsh's declaration and others who complain that their anti-trans view points are free speech and being censored, including the recent 7 day suspension of Raichik that expired Monday as well as the letter asking the U.S. Attorney General and the Justice Department to investigate , Caraballo noted:
"The instigators of the anti-LGBTQ moral panic are now pushing the narrative that they are going to be prosecuted by DOJ for their speech. They won't be prosecuted. They haven't violated the law. However, they need to fuel further outrage and feign persecution."
The instigators of the anti-LGBTQ moral panic are now pushing the narrative that they are going to be prosecuted by DOJ for their speech. They won't be prosecuted. They haven't violated the law. However, they need to fuel further outrage and feign persecution. pic.twitter.com/wcMG0afcFj

— Alejandra Caraballo (@Esqueer_) October 3, 2022
LA Mayoral race tight- Luna maintains lead over Sheriff Villanueva
In the race to replace Eric Garcetti as Mayor, Rep. Karen Bass is leading billionaire businessman Rick Caruso – 34% to 31% among all voters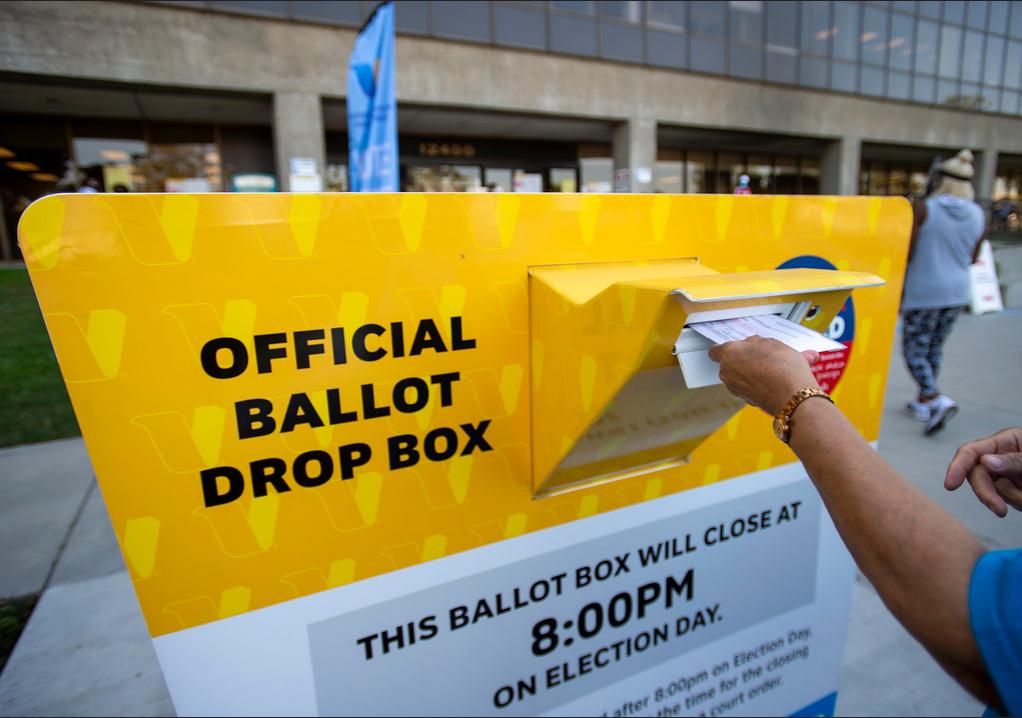 LOS ANGELES – New polling released Monday showed that in the race to replace Eric Garcetti as Mayor of Los Angeles, Rep. Karen Bass is leading billionaire businessman Rick Caruso – 34% to 31% among all voters.
In the new UC Berkeley Institute of Governmental Studies survey, Caruso is now just 3 points behind — which is within the poll's margin of error. In August, Caruso trailed by 12 points although the poll found that among likely voters, Bass still leads by 15 points – 46% to 31%.
In the race for Los Angeles County sheriff, the Los Angeles Times reported Monday that retired Long Beach Police Chief Robert Luna has a formidable, 10-point lead among likely voters over the incumbent, Alex Villanueva, a new UC Berkeley Institute of Governmental Studies/Los Angeles Times poll showed.
With little more than a month until the Nov. 8 runoff election, 36% of likely voters polled said they are planning to cast ballots for Luna, while 26% said they favor Villanueva.
Race to the Midterms: Victory Fund touts 450+ candidates
"The Victory Fund's nonpartisan – So we don't talk about 'holding the House' so much as 'keeping the forces who want to harm us at bay'"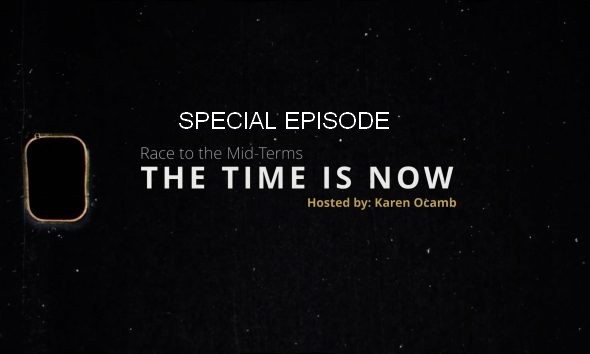 By Karen Ocamb | WEST HOLLYWOOD – With just six weeks until the Nov. 8 midterm elections, Democrats are furiously working to stop MAGA Republicans from hanging democracy with the noose they propped up for then-Vice President Mike Pence on January 6.
The possibility of GOP Minority Leader Kevin McCarthy winning the five seats necessary to take back the House and gavel from Speaker Nancy Pelosi and Republican Senate Minority Leader Mitch McConnell having power to shape the judiciary with prompting from The Federalist Society — LGBTQ people, people of color and women could be in for decades of rule by straight white supremacist Trump cultists.
The overturning of Roe v Wade, taking away the right to bodily autonomy, is just the beginning of the unraveling of individual privacy protections, the dismantling of equal justice under law and the murder of democracy by MAGA ideologues with the power to invalidate votes.
But all is not lost just yet. Power is still in the hands of voters who prize real patriotism over fantasies about Trump's Big Lie. And a lot of those patriots are LGBTQ candidates running for elected office across the nation.
In this special episode of Race to the Midterms, we talk with former Houston Mayor Annise Parker, now President and CEO of the LGBTQ Victory Fund and the Victory Institute. The Victory Fund has now endorsed and promoted more than 450 out candidates seeking congressional seats and down-ballot state and local seats. Victory is also on the ground campaigning and getting out the vote in states such Texas, Florida, North Carolina, Minnesota, Kentucky, New York, Rhode Island, Pennsylvania, Vermont, and Connecticut.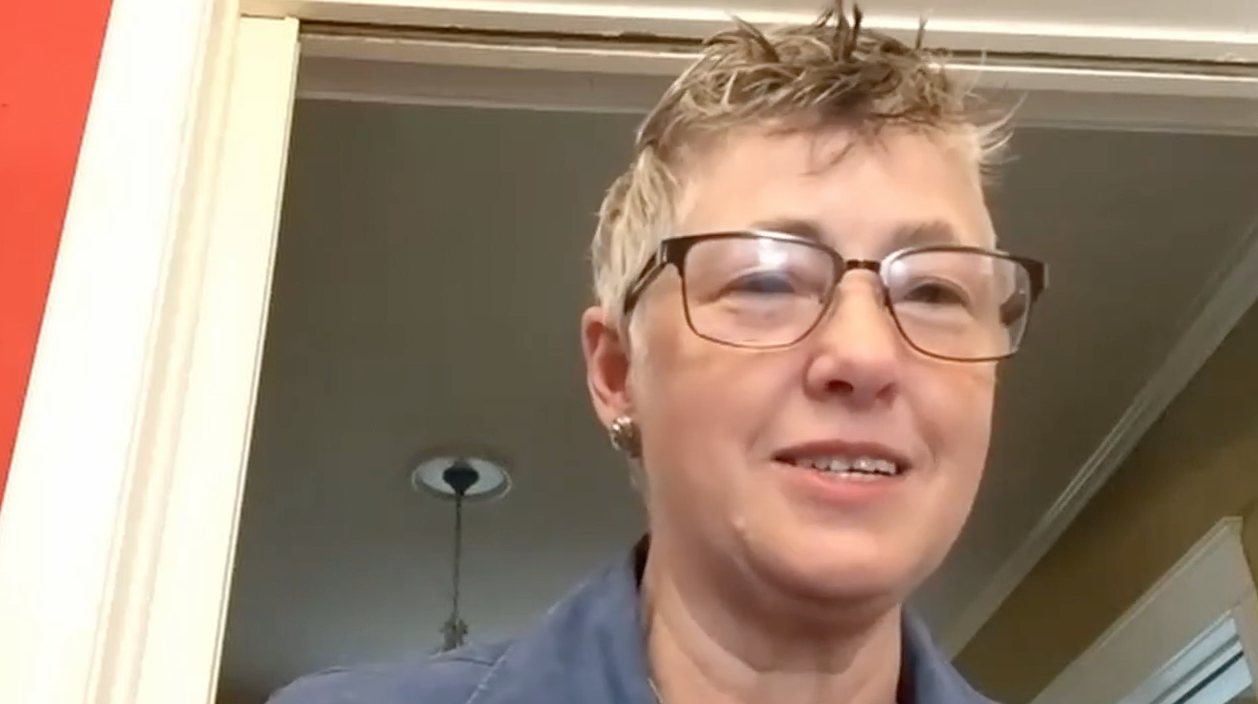 The Victory Fund, founded in 1991, endorsed two people that year Sherry Harris for Seattle City Council candidate in Seattle and Los Angeles-based attorney Bob Burke, who was running for the California State Assembly. "This year we have more than 450 candidates so you can see the tremendous growth," Parker says.
Victory was able to identify more than 1100 out LGBT candidates but they also have a strict viability standard. "We are trying to push the envelope. And amazingly, our candidates are 30% more diverse than the general candidate pool. If you go to VictoryInstitute.org, you can look at our some of our research" showing demographics of all of the candidates in United States and then the LGBT candidates.
Victory's Spotlight candidates, in particular, illustrate the essential intersectionality of LGBTQ candidates. "We are part of every community and we understand that," says Parker. "But what is also happening is that more and more candidates of color from across the political spectrum are bringing their full selves to their races. I'm not going to say that it's helpful to be openly LGBT. But I'm going to be really clear — it's not a negative.
"Our candidates win at the same rate that any other candidates win," Parker continues. "When you control for your experience and the demographics of the district and the quality of the campaign, which is a really good sign. , and the fact that more and more people are acknowledging their gender identity or their sexual orientation — for us, having been in this game for so many decades with a singular purpose, whether someone is successful, I mean, we do want to see candidates win, but whether they ultimately are successful at the ballot box — when they run as their authentic selves, they're true to themselves, they're comfortable in their own skin, it has a transformative effect. And we're excited about the possibilities this year."
While Victory has endorsed numerous congressional candidates, our strength as an organization is really down ballot from there. No other national organization does down ballot races," Parker says. State house races are really, really important because "the really stupid stuff starts in the state house and the really bad anti-LGBTQ stuff starts in the state houses and it can metastasize. In fact, there are organizations that stamp out some of these really ugly bills like cookie cutter, stamping them out and sharing them with right wing legislators, cross country so we really work hard at that level."
And there have been victories, including helping three Black LGBT leaders win their primaries. "They will be the first Black members of the Texas legislature," says the woman who became the first out lesbian mayor of a major city, identifying former Houston City Council member Jolanda Jones in Houston, longtime HIV and Dallas community activist Venton Jones, and in Beaumont, Christian Manuel Hayes.
Parker also notes that the Victory Fund is a nonpartisan organization and we do support Democrats — and Republicans. So we don't talk about 'holding the House' so much as 'keeping the forces who want to harm us at bay.' Parker mentions Sharice Davids as "not only a great example of an amazing member of Congress, but as an intersectional person — as an Indigenous woman, a Native American woman. This is her third run. She was elected twice, but redistricting was not good to her district — it was just eviscerated in Kansas. This is a tough state. So, I'm a little worried about Sharice."
Redistricting and voter registration is also working against the congressional reelection campaigns of Angie Craig in Minnesota and Chris Pappas in New Hampshire. There are new candidates, too, such as Will Rollins running in Palm Springs against anti-gay Ken Calvert, "who is no friend of the community, voted to against the repeal of Don't Ask, Don't Tell, voted for the Defense of Marriage Act. They're neck and neck out there. For most voters, congressional races all turn on these national issues — where people were on January 6th and the Big Lie about Trump and that he won the last election, that sort of thing. The down ballot races are run on local issues — and that's why our candidates do so well."
Another interesting congressional race is New York's Third District in Long Island. Victory has endorsed Democrat Robert Zimmerman. But his Republican opponent, George Santos, is also openly gay. "They both have deep ties to the district. No carpetbaggers. They're credible candidates. And they raise good money. They have their party's nomination," says Parker. "Unfortunately, from our viewpoint, Santos was on the mall on January 6 and was part of the Big Lie trying to overturn the election, which made him not suitable for our endorsement."
Parker also highlighted three governors' races: Colorado Gov. Jared Polis is running for reelection "and should be OK. But we could take Massachusetts with Maura Healey and we can take Oregon with Tina Kotek. Maura is doing really well. Tina Kotek is in a three-way race. The interesting thing there is all three are women: a Republican and Democrat and independent. Tina Kotek is the Democrat. Any one of them could win."
Annise Parker closed out the interview talking about her intersectional family — she's been with her wife Kathy Hubbard for 31 years and they have a Black son Jovan and two bi-racial/Black daughters and a third daughter who is Anglo Hispanic.
Jovan, now 46, was a 16-year-old gay street kid when 17-year old Treyvon Martin was murdered. "He was on and off the streets of Houston and he was being raised by his grandparents and they just — they kept trying to force the gay out and he'd run away or they'd throw him out and back and forth," Parker says. "And then we finally said 'Enough with that' and invited him into our family."
Parker had her own motherly response when Treyvon Martin was killed and President Obama said that if he had a son, he would look like Treyvon. In fact, Obama said at the time in 2012, he looked like Treyvon growing up.
"When Obama said that I couldn't help thinking my mother adored my son Jovan. My mother at the time was living in Charleston, South Carolina," she says. "Jovan was about 30 the first time he ever went to visit her on his own and drove over to Charleston. And I had to have this conversation with him before he went. It's like, 'she's an older white woman living by herself. Don't let her give you a key. Make sure you knock on the door. She opens the door. Anybody driving by can see that you're going in. That she's welcoming you in. Just be really, really careful.'
"And I shouldn't have had to have that conversation," Parker says. "Nobody should have to have that conversation. But that's the reality of the world we live in still."
WATCH: