Equality California holds LGBT idea-sharing convening
EQCA announces new Advocacy Network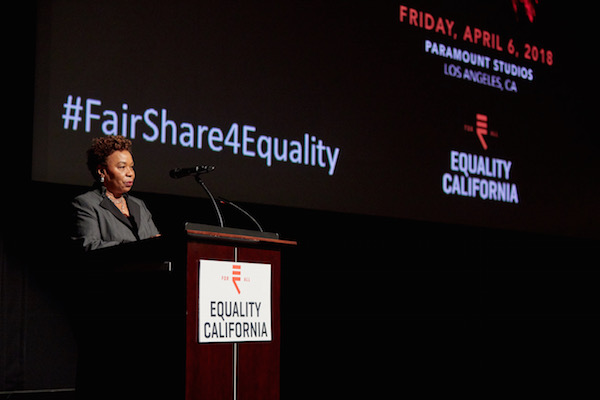 Equality California Institute held its fourth annual Fair Share for Equality convening at Paramount Studios on Friday, April 6 where nearly 400 LGBT leaders, allies, elected officials, policymakers, and community influencers shared ideas and asked questions to find ways to ensure that the LGBT community gets its "fair share" of California resources.
The two big headliners were longtime LGBT ally Rep. Barbara Lee and Lt. Governor Gavin Newsom, who Equality California has endorsed for governor.
Lee gave a shout out to Toni Atkins, who, "in the face of what we are seeing from Washington," was elected the first openly LGBT Senate Pro Tem in California. She also talked about how religious exemptions are a license to discriminate, running counter to the Constitution. If laws are written to allow discrimination, she said, LGBT people will not be able to access fairness and equality.
Lee also told the story of her own harrowing birth where her mother Mildred —in desperate need of a cesarean — was only admitted to the segregated El Paso, Texas hospital after her mother's mother convinced the admission's office that Mildred had Irish roots- her grandmother had been raped by an Irishman. Mildred was admitted but left unattended until it was too late for a cesarean. Mildred was rushed into surgery for a last minute forceps delivery. Mildred and baby Barbara almost died. "I came into this world fighting for justice and equality," Lee said.
Newsom, the former mayor of San Francisco, needs Los Angeles to win over former LA Mayor Antonio Villaraigosa in the June 5 Democratic Primary. "We are here in LA, in the most diverse city, in the most diverse county, in the most diverse state, in the most diverse country…the world is looking to us, to all of you," Newsom said. "The long arc of history bends toward justice, but you have to bend it."
How to bend that arc was a focus of the convening. "We know what we're up against. That's why you're all here. We need to mobilize our community to defend the progress we've made and continue to push the needle forward toward a world that is healthy, just and fully equal for all #LGBTQ people," said Equality California Executive Director Rick Zbur.
California LGBT Legislative Caucus members – Sen. Scott Wiener, Sen. Ricardo Lara, EQCA Executive Director Rick Zbur, Assemblymember Evan Low, and Assemblymember Todd Gloria (Photo by James Bianchi courtesy of Equality California Institute)
Four of the eight LGBT Legislative Caucus members attended the convening, talking about their own LGBT bills, sponsored by Equality California, and answering questions about bills such as Sen. Scott Wiener's resolution celebrating, not fixing, intersex infants and bills seemingly outside the scope of LGBT issues, such as Wiener's bill preserving Net Neutrality in California.
The legislators also spoke of the work still needed to be done. "We need to find the talent who will replace us. We need to figure out how to do that; that's how we maintain the wins that we have. We have more ceilings we have to break," said Sen. Ricardo Lara, who the audience saluted for running for State Insurance Commissioner.
Palm Springs City Council member Lisa Middleton movingly spoke about the shoulders she stands upon, and the stunning progress so far. "When I went to sleep on Nov. 6, 2016, there were seven elected officials who were openly transgender. When I woke up on Nov. 7, there were 16," she said.
The focus of the annual convenings, Zbur told the Los Angeles Blade, is to bring together leaders, allies and other organizations "that works at the intersections of our movement to really try to develop legislative and advocacy strategies for our community. We use this to start identifying bill ideas so we can work together on things and bring them about for next year's legislative session."
Zbur also announced a new initiative—an Advocacy Network lgbtq-advocacy-network with monthly calls on the status of bills and getting help turning out voters in certain districts where the legislator is not yet on board with an EQCA or EQCA-supported bill. Additionally, National Policy Director Valerie Ploumpis, who blogs about issues on EQCA's website, will also hold regular calls about federal bills and issues.
"The Advocacy Network from the federal side is a little bit more two-way in the sense that a lot of the organizations here in the LGBTQ community don't actually have a presence in Washington DC," Zbur said. "One of the reasons why we hired Valerie is so that she can also be eyes and ears for some of the smaller LGBTQ organizations in the state and provide information," especially since actually policy news tends to be overshadowed by the latest scandal.
Zbur was more circumspect talking about the work Equality California is doing to prevent the Democratic Party's crowded congressional "jungle primaries" on June 5 from electing a Republican. "We going to try to align behind a single candidate," Zbur said. "I'm not sure whether we'll be successful doing that—but we're in the middle of discussions with a number of labor unions and some other progressive organizations to see if we can align behind a candidate and get a Democrat in."
However, if the Democrats do take back the House in 2018, Zbur wants Minority Leader Nancy Pelosi to resume her spot as Speaker of the House of Representatives, third in line for the presidency, should President Trump and Vice President Pence be forced to leave their posts.
"I love Nancy Pelosi,' Zbur said "I think she has been an incredibly effective leader in Congress and a strategic leader for us. She is out-maneuvering [Speaker] Paul Ryan on a whole host of things now and being incredibly effective holding off some of the things that we don't want to happen. I think she gets a lot of credit for that. So I have just amazing amounts of respect for Nancy Pelosi and I am not at all in the camp that we should be pushing aside effective strategic women leaders."
Right-wing media exploit monkeypox- retread anti-vax misinformation
These anti-vax talking points are intended to stigmatize LGBTQ people by framing promiscuity as the primary driver of the disease


By Mia Gingerich | WASHINGTON – As monkeypox presents an ever-increasing threat to Americans, predominantly gay and bisexual men, conservative media figures are exploiting the global health emergency to stoke fears of the COVID-19 vaccine and related health measures and to attack queer men.
These anti-vax talking points are often invoked alongside AIDS-era rhetoric intended to stigmatize LGBTQ people by framing promiscuity as the primary driver of the disease and gay and bisexual men as culprits in — rather than victims of — the growing outbreak. This stigmatization has already reportedly resulted in violence against gay men.
During the last week of July, the U.S. reported both the fastest rise in and highest number of monkeypox cases worldwide, leading the Biden administration to declare a public health emergency on August 4. The virus, which is endemic in certain African countries, is usually rare in Europe and the U.S. However, the virus recently found its way to men who have sex with men (MSM), where it has proliferated primarily through sexual contact. The gay community has emphasized the need to warn about the risk the virus poses to MSM while not feeding into anti-gay rhetoric that depicts gay sexuality as immoral.
Despite this plea from those most affected by the ongoing health crisis, right-wing media quickly responded to the spread of monkeypox with homophobia – recalling the vilification that gay men experienced during the AIDS epidemic. In addition to being impacted by the latest right-wing media smear campaign risking targeted violence against LGBTQ people, queer men are also less likely to seek medical care for monkeypox in countries where their sexuality is stigmatized.
Conservative media figures invoke COVID-19 conspiracy theories and criticism of health measures in coverage of monkeypox
From early on in their coverage of the monkeypox outbreak, right-wing media figures used the story to renew efforts to sow vaccine hesitancy and undermine COVID-19 health measures. Some far-right figures have even spread conspiracy theories that falsely assert the COVID-19 vaccine is directly responsible for the monkeypox outbreak.
On May 24, The Daily Wire's Candace Owens said on her show that "the first person who lines up to get a monkeypox vaccine, I'm going to laugh in your face." Owens then suggested the World Health Organization, Bill Gates, and Dr. Anthony Fauci were involved in the spread of both diseases as part of "attempts at authoritarianism" and "globalism." This claim coincides with the recent conservative conspiracy theory claiming the U.S. was ceding power to the WHO.
From the May 24, 2022, edition of Daily Wire's Candace
Fox News' Sean Hannity brought anti-vax conspiracy theorist Dr. George Fareed onto the August 8 edition of his radio show, where Fareed falsely claimed "the mass vaccination with these gene therapies, COVID vaccines, have the ability to weaken the immune system and make people more vulnerable to viral infection," suggesting the vaccine could precipitate the spread of monkeypox.
Far-right blog American Greatness posted an article on August 3 promoting the work of Shmuel Shapira, an Israeli scientist pushing similar claims as Fareed. The article claimed "Twitter censored Shapira" after the platform flagged a tweet of his as misinformation. Shapira's tweet read, "It is well established the mRNA vaccines affect the natural immune system. A monkey pox outbreak following massive covid vaccination: Is not a coincidence."
Right-wing media figures have also taken advantage of the recent health crisis to reignite their crusade against public health measures implemented during the COVID-19 pandemic. Conservative commentators claim that a double standard exists between government reactions to monkeypox and COVID-19, ignoring differences in how the two diseases spread.
Podcaster Steven Crowder, amid a longer homophobic rant suggesting gay men were engaging in bestiality, claimed on August 2 that COVID-19 health measures were "politically motivated" and that masking and social distancing "didn't make any difference whatsoever." Crowder then contrasted those measures with the fact that Pride events still took place this year despite the spread of monkeypox, saying, "They won't even cancel their gay San Francisco fuckfest."
From the August 2, 2022, edition of Louder with Crowder, streamed on YouTube
An article for The Federalist titled "Americans Lost Fundamental Freedoms During Covid — But Halting Gay Orgies To Stop Monkeypox Is Too Far?" bemoaned COVID lockdowns and claimed, "We shut down the world for a virus that had no traceable transmission, it was entirely random. It really isn't too much to ask for gay men to stop engaging in orgies and public sex events for their 'mental health,' their 'self-esteem,' and to continue 'having fun.'"
On Twitter, right-wing personalities expressed a similar sentiment.
Alt-right troll Mike Cernovich tweeted his criticism of public health advocate Dr. Gregg Gonsalves: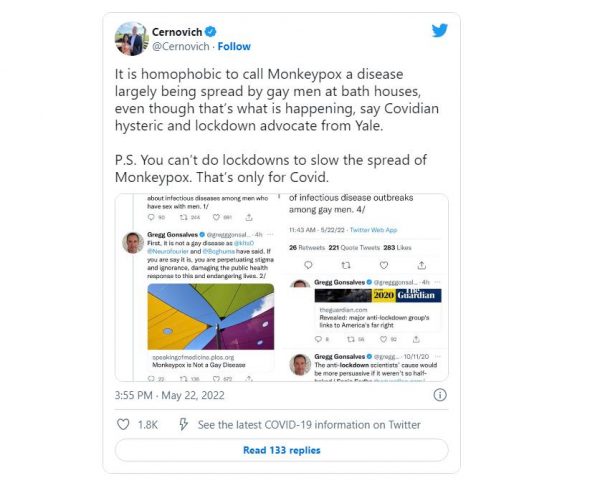 Far-right YouTuber Ian Miles Cheong continued his online anti-gay tirade on monkeypox:
They forced everyone to be apart from their dying parents and grandparents in hospitals, banned travel, and forced kids out of school and into Zoom calls, but "men who have sex with men" can't cool it for two weeks?

— Ian Miles Cheong (@stillgray) August 4, 2022
Right-wing radio host Dan O'Donnell similarly tweeted:
They shut down the entire country for COVID-19 but won't shut down the gay orgies for Monkeypox because science. https://t.co/4E2cO7chok

— Dan O'Donnell (@DanODonnellShow) August 5, 2022
Gay men are targeted with violence while right-wing media continues to depict them as threats
After the first cases of monkeypox were found among children in the U.S., LGBTQ advocates reported right-wing figures were using the news to falsely claim that gay men were guilty of abuse. This was a part of a larger attempt by right-wing media to use the monkeypox outbreak to depict LGBTQ people as a threat to society. By attempting to evoke the sort of stigmatizing rhetoric pushed during the AIDS epidemic that frames the MSM community as vectors of disease, right-wing media is feeding a culture of prejudice that has already resulted in violence against gay men.
The above-mentioned article from The Federalist fearmongered that "as gay men spread the virus within their population at startling rates, the chances of it escaping into the mundane world through close contact in stores, crowded streets, or buses increases," claiming that gay and bisexual men were spreading the disease through "truly selfish behavior [that] is endangering the rest of us."
Right-wing talk show host Erick Erickson tweeted, "'My orgy doesn't affect you,' said the man who spread monkeypox to the lady who worked at the gas station. Two weeks of no orgies to stop the spread is just too much to ask."
"My orgy doesn't affect you," said the man who spread monkeypox to the lady who worked at the gas station. Two weeks of no orgies to stop the spread is just too much to ask. But don't y'all go to church or see your grandparents. COVID is on the rise again.

— Erick Erickson (@EWErickson) August 4, 2022
On Hannity's August 8 radio show, guest Dr. Brian Tyson said the virus would "spread to the heterosexual community if we don't get a handle on the gay community to stop the transmission," and claimed "the CDC and the NIH, they're afraid to come out and tell the gay community to stop having intercourse until this pandemic goes away."
On the August 5 edition of his show, Turning Point USA's Charlie Kirk characterized the government response to monkeypox as an attempt to avoid offending "the alphabet mafia" of the LGBTQ community, saying, "You can't go after the gay community for maybe doing something they shouldn't be doing," before declaring he would "not live through another lockdown or an erosion of our civil liberties by a corrupt or usurpatious government because we're afraid to offend people. Don't care, and you shouldn't either."
From the August 5, 2022, edition of The Charlie Kirk Show, streamed on YouTube
The effects of right-wing media's misinformation about the COVID-19 vaccine put their audience at serious risk. However, these conservative figures are now jeopardizing the health of millions of LGBTQ Americans as well by seeking to stigmatize their sexuality during a public health crisis.
**********************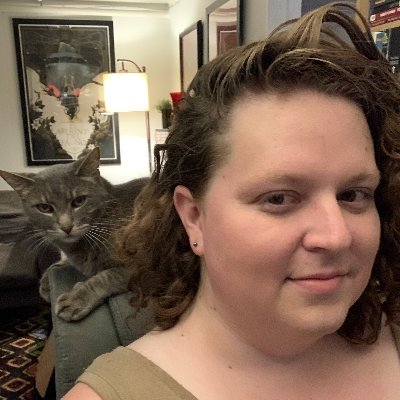 Mia Gingerich is a researcher at Media Matters. She has a bachelor's degree in politics and government from Northern Arizona University and has previously worked in rural organizing and local media.
********************
The preceding article was previously published by Media Matters for America and is republished by permission.
Florida school removes posters of Black heroes, teacher resigns in protest
"DeSantis's culture wars are infiltrating every corner of our state, and it's Florida's students who are paying the price"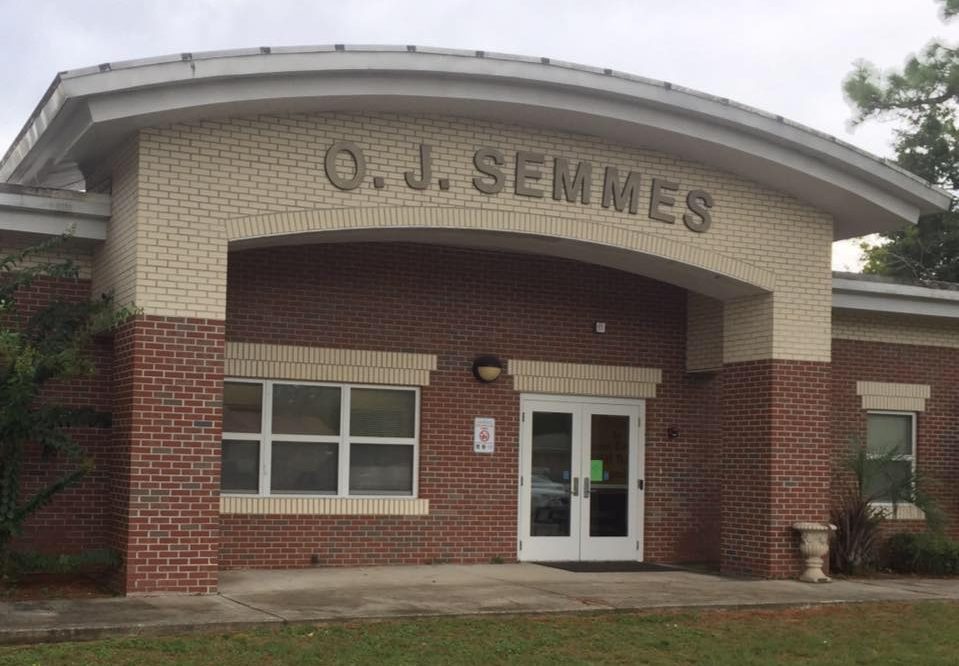 PENSACOLA – A career special education teacher in Escambia County, Florida resigned this past week just as classes were scheduled to start after a Escambia County Public School District staffer removed posters and pictures of historically significant Black Americans from his classroom.
Michael James, 61, who has taught special ed classes for the past fifteen years told Pensacola News Journal reporter Colin Warren-Hicks in an interview this week that he had emailed a letter to Florida Republican Gov. Ron DeSantis and Escambia County Superintendent Tim Smith in which he wrote that a district employee removed the pictures citing the images as being "age inappropriate."
Images that were removed from the bulletin board at O.J. Semmes Elementary School included depictions of Martin Luther King Jr., Harriett Tubman, Colin Powell and George Washington Carver, James said.
"It really floored me," James told the News Journal. "I've been teaching special education for 15 years, and it just really floored me when she did that."
James chose the board's theme because the majority of the students and the residents in the neighborhoods that surround O.J. Semmes are Black, and he wanted to motivate his students with inspirational leaders they could easily look up to and see themselves.
The Pensacola News Journal reported that Escambia County Public Schools Superintendent Tim Smith  said that "teachers are permitted to decorate their classrooms with educational materials and he was unaware of any policies that would prohibit a teacher from displaying pictures of inspirational American heroes on their walls."
Smith said a full investigation of the incident, which he called an "anomaly," has been launched.
U.S. Rep. Charlie Crist, (D-FL 13th District) who is running to secure the Democratic Party nomination to oust DeSantis in the November elections took aim at the sitting governor in a Facebook post:
On Wednesday afternoon the Congressman expanded his remarks saying:
"This is the sad reality of Ron DeSantis' Florida — a teacher, in a predominantly Black community, comes into their classroom to see posters of historically Black American heroes, including President (Barack) Obama, taken down for being 'inappropriate,' Crist said in a statement. "DeSantis' culture wars are infiltrating every corner of our state, and it's Florida's students who are paying the price."
Florida Politics reported that the controversy comes as the first Florida schools, including Escambia County schools, begin their first academic year under legislation signed by DeSantis that targets "critical race theory."
Among other rules, the law prohibit lessons teaching students that they are inherently racist, sexist or oppressive because of their race, color, sex or national origin. It would also ban instruction that they are personally responsible and should feel guilty for the past actions of members of their race, color, sex or national origin.
Log Cabin GOP compares FBI raid on Trump's Mar-A-Lago to Stonewall
In February, the National Archives asked the Justice Department to investigate Trump's handling of White House records
WASHINGTON – As the outraged fallout continued in Republican Party circles Tuesday, after special agents of the Federal Bureau of Investigation executed a search warrant Monday at the South Florida estate of former President Donald Trump, the LGBTQ political group Log Cabin Republicans, (LCR) joined the growing chorus on the right angered by the search.
"Just as the patrons of Stonewall were not intimidated by police, we will not be intimidated by the weaponization of the FBI and DoJ against President Trump or his home, Mar-A-Lago… …where (as we announced hours ago) we will be holding our annual gala later this year!" the group tweeted Monday after news of the search broke.
Reaction to the LCR tweet was swift ranging to from disgust as expressed by LGBTQ writer and radio host Rob Watson to outright anger as noted by former Advocate editor and LGBTQ journalist Matthew Breen.
Good God. You could not be less relevant if you tried. If we were back at #Stonewall , you wouldn't be with the patrons, you'd be buying the cops coffee.

— Rob Watson (@JandJDad) August 9, 2022
Quislings.

— Matthew Breen (@matbreen) August 10, 2022
The FBI's action was described as unprecedented by legal experts and analysts, however the execution of the search warrant underscores the fact that U.S. Attorney General Merrick Garland will order investigations into criminal wrong doing to include the former president.
Trump and his Republican allies in Congress have dismissed the FBI search as politically motivated.
While a copy of the search warrant was delivered to Trump's attorneys, little is known about the predicate probable cause found significant enough that a federal judge authorised the search. The affidavit which is the foundational document showing that a crime had been committed and that evidence would likely be found during the search provided to the judge to make that determination has not been made public.
A Justice Department source told the Blade that last January Trump had been found in possession of 15 boxes of materials at his Florida home, which he relinquished to staff from the National Archives amid concerns he may have violated the Presidential Records Act, (44 U.S.C. Chapter 22).
A certain portion of the paperwork that Trump had in his possession was classified which the Justice Department official noted is by itself criminal in nature.
In February, the National Archives asked the Justice Department to investigate Trump's handling of White House records. The National Archives said some of the documents Trump turned over to them had been ripped up and taped back together CBS News noted.
It remains to be seen whether the search will lead to criminal charges against the former president or anyone in his immediate orbit, but former prosecutors noted there are serious penalties for violating public records laws the Hill reported Tuesday.
"Highly classified information is treated that way because of its extreme sensitivity. There is a whole range of material that is really a crown jewel, national security, high-consequence sequence. And if that's what a person carried away rather than leaving it in the hands of the government and complying with the Presidential Records Act, that's a gravely serious matter," said John Barrett, a former federal prosecutor who worked for the independent counsel investigating the Iran-contra scandal and served in the DOJ inspector general's office.
The former president had issued a lengthy statement Monday evening in which he called the raid an "attack by Radical Left Democrats who desperately don't want me to run for President in 2024."
The House GOP minority leader Kevin McCarthy promised retribution in a tweet should his party retake control of Congress in the Fall midterm elections:
Attorney General Garland: preserve your documents and clear your calendar. pic.twitter.com/dStAjnwbAT

— Kevin McCarthy (@GOPLeader) August 9, 2022
The Justice Department and the FBI both declined to comment.
Former President Trump's Mar-a-Lago Home Being Searched Causes Immediate Political Fallout: