Equality California holds LGBT idea-sharing convening
EQCA announces new Advocacy Network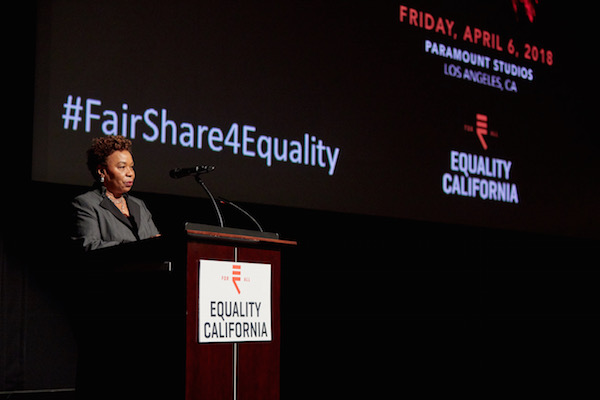 Equality California Institute held its fourth annual Fair Share for Equality convening at Paramount Studios on Friday, April 6 where nearly 400 LGBT leaders, allies, elected officials, policymakers, and community influencers shared ideas and asked questions to find ways to ensure that the LGBT community gets its "fair share" of California resources.
The two big headliners were longtime LGBT ally Rep. Barbara Lee and Lt. Governor Gavin Newsom, who Equality California has endorsed for governor.
Lee gave a shout out to Toni Atkins, who, "in the face of what we are seeing from Washington," was elected the first openly LGBT Senate Pro Tem in California. She also talked about how religious exemptions are a license to discriminate, running counter to the Constitution. If laws are written to allow discrimination, she said, LGBT people will not be able to access fairness and equality.
Lee also told the story of her own harrowing birth where her mother Mildred —in desperate need of a cesarean — was only admitted to the segregated El Paso, Texas hospital after her mother's mother convinced the admission's office that Mildred had Irish roots- her grandmother had been raped by an Irishman. Mildred was admitted but left unattended until it was too late for a cesarean. Mildred was rushed into surgery for a last minute forceps delivery. Mildred and baby Barbara almost died. "I came into this world fighting for justice and equality," Lee said.
Newsom, the former mayor of San Francisco, needs Los Angeles to win over former LA Mayor Antonio Villaraigosa in the June 5 Democratic Primary. "We are here in LA, in the most diverse city, in the most diverse county, in the most diverse state, in the most diverse country…the world is looking to us, to all of you," Newsom said. "The long arc of history bends toward justice, but you have to bend it."
How to bend that arc was a focus of the convening. "We know what we're up against. That's why you're all here. We need to mobilize our community to defend the progress we've made and continue to push the needle forward toward a world that is healthy, just and fully equal for all #LGBTQ people," said Equality California Executive Director Rick Zbur.
California LGBT Legislative Caucus members – Sen. Scott Wiener, Sen. Ricardo Lara, EQCA Executive Director Rick Zbur, Assemblymember Evan Low, and Assemblymember Todd Gloria (Photo by James Bianchi courtesy of Equality California Institute)
Four of the eight LGBT Legislative Caucus members attended the convening, talking about their own LGBT bills, sponsored by Equality California, and answering questions about bills such as Sen. Scott Wiener's resolution celebrating, not fixing, intersex infants and bills seemingly outside the scope of LGBT issues, such as Wiener's bill preserving Net Neutrality in California.
The legislators also spoke of the work still needed to be done. "We need to find the talent who will replace us. We need to figure out how to do that; that's how we maintain the wins that we have. We have more ceilings we have to break," said Sen. Ricardo Lara, who the audience saluted for running for State Insurance Commissioner.
Palm Springs City Council member Lisa Middleton movingly spoke about the shoulders she stands upon, and the stunning progress so far. "When I went to sleep on Nov. 6, 2016, there were seven elected officials who were openly transgender. When I woke up on Nov. 7, there were 16," she said.
The focus of the annual convenings, Zbur told the Los Angeles Blade, is to bring together leaders, allies and other organizations "that works at the intersections of our movement to really try to develop legislative and advocacy strategies for our community. We use this to start identifying bill ideas so we can work together on things and bring them about for next year's legislative session."
Zbur also announced a new initiative—an Advocacy Network lgbtq-advocacy-network with monthly calls on the status of bills and getting help turning out voters in certain districts where the legislator is not yet on board with an EQCA or EQCA-supported bill. Additionally, National Policy Director Valerie Ploumpis, who blogs about issues on EQCA's website, will also hold regular calls about federal bills and issues.
"The Advocacy Network from the federal side is a little bit more two-way in the sense that a lot of the organizations here in the LGBTQ community don't actually have a presence in Washington DC," Zbur said. "One of the reasons why we hired Valerie is so that she can also be eyes and ears for some of the smaller LGBTQ organizations in the state and provide information," especially since actually policy news tends to be overshadowed by the latest scandal.
Zbur was more circumspect talking about the work Equality California is doing to prevent the Democratic Party's crowded congressional "jungle primaries" on June 5 from electing a Republican. "We going to try to align behind a single candidate," Zbur said. "I'm not sure whether we'll be successful doing that—but we're in the middle of discussions with a number of labor unions and some other progressive organizations to see if we can align behind a candidate and get a Democrat in."
However, if the Democrats do take back the House in 2018, Zbur wants Minority Leader Nancy Pelosi to resume her spot as Speaker of the House of Representatives, third in line for the presidency, should President Trump and Vice President Pence be forced to leave their posts.
"I love Nancy Pelosi,' Zbur said "I think she has been an incredibly effective leader in Congress and a strategic leader for us. She is out-maneuvering [Speaker] Paul Ryan on a whole host of things now and being incredibly effective holding off some of the things that we don't want to happen. I think she gets a lot of credit for that. So I have just amazing amounts of respect for Nancy Pelosi and I am not at all in the camp that we should be pushing aside effective strategic women leaders."
HRC/LGBTQ+ groups won't criticize Sinema for refusing filibuster reform
JoDee Winterhof, HRC's senior vice president of policy and political affairs, once worked for Sinema as chief of staff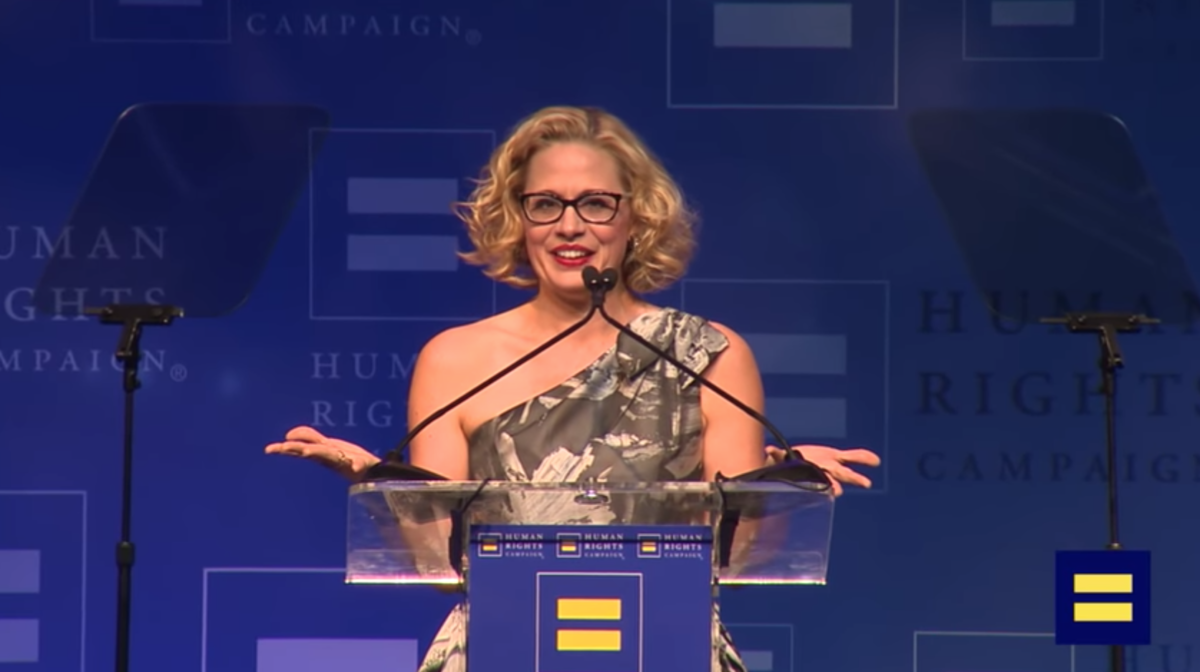 WASHINGTON – Despite an Out bisexual being among two Democrats responsible for thwarting President Biden's call to advance voting rights, LGBTQ+ groups that supported Sen. Kyrsten Sinema (D-Ariz.) stopped short of criticizing her directly for impeding legislation at the top of progressives' wish lists.
Although the change being sought was limited to voting rights legislation, the refusal from Sinema to change the filibuster rule, which requires 60 votes to move legislation to the Senate floor as opposed to a simple majority, effectively put a stake in the heart of the legislative agenda for Democrats, including any possibility of enacting LGBTQ+ civil rights legislation like the Equality Act.
The Human Rights Campaign, the nation's leading LGBTQ+ group, declined to identify Sinema by name in an organizational statement provided by a spokesperson via email in response to a Washington Blade inquiry on her refusal to change the filibuster to pass voting rights legislation.
"The core of our democracy is the right to vote," the statement says. "The United States Senate must act on legislation to protect that right now, including passage of federal voting rights and voting protection legislation. Without its essential safeguards guaranteeing that the voices of all voters — including LGBTQ+ Black, Brown and other minority voters — will be heard at the ballot box, we cannot ensure that any other right, even those currently enshrined in law, will be protected in the years to come."
The closest the statement comes to criticizing Sinema, without actually doing so, is the final line: "As a result, we feel that it is necessary for the Senate to take whatever actions are required, including changes to Senate rules, to ensure a majority to pass this essential legislation."
The Human Rights Campaign endorsed Sinema in the past as a candidate for U.S. Senate and hosted her as a special guest for fundraising and promotional events. It should be noted, JoDee Winterhof, HRC's senior vice president of policy and political affairs, once worked for Sinema as chief of staff.
Asked whether HRC's position was informed by Winterhof's past work, the spokesperson replied: "Many of our staff have experience working on the Hill. Regardless of who they have worked for, we continue to believe that it is necessary for the Senate to take whatever actions are required, including changes to the Senate rules, to pass federal voting reform."
Moments before Sinema was set last Thursday to meet with Biden on the filibuster, she took to the Senate floor preemptively and declared she wouldn't budge.
"There's no need for me to restate my long-standing support for the 60-vote threshold to pass legislation," Sinema said.
Added Sinema: "When one party need only negotiate with itself, policy will inextricably be pushed from the middle towards the extremes," adding that she doesn't support that outcome and "Arizonans do not either."
Joining Sinema in refusing to budge on the filibuster is her fellow moderate Sen. Joe Manchin (D-W.Va.), who has proposed alternatives to the current state of Senate rules, but ultimately rejected the changes proposed by the caucus.
In contrast to the relatively muted response from LGBTQ+ groups, other civil rights organizations were quick to denounce Sinema and Manchin for supporting the filibuster, calling the Senate rules as they stand Jim Crow 2.0. Late Monday, Emily's List announced it would no longer support Sinema for re-election over her position on voting rights.
Martin Luther King III, the son of the late civil rights leader, compared Manchin and Sinema to white moderates who half-heartedly supported his father's work.
"History will not remember them kindly," the younger King said, referring to Sinema and Manchin by name, according to PBS News Hour.
One exception to LGBTQ+ groups declining to criticize Sinema was the National LGBTQ Task Force, which said the senator should be coming up with alternatives to filibuster reform.
Kierra Johnson, executive director of the Task Force, said she's been "asking questions because Sen. Sinema is known for being a supporter of so many pieces of progressive legislation and culture change related to queer people and women's civil and human rights."
"I want to see better and more, right?" Johnson said. "Yes, we should be working to build bridges across the aisle, across political ideology, but for me, the question is if you're not going to support filibuster reform, then what are you supporting, and what is the pathway forward?"
Johnson added Sinema "owes it to the people who have supported her over the years to come up with these alternatives if she won't support filibuster reform."
Asked whether the Task Force has done any outreach to Sinema, Johnson said the organization is "in the process of trying to meet with her folks" and looking at ways to bring to her voices from LGBTQ+ movement community leaders.
Biden's call to reform the filibuster — even though it was limited to voting rights legislation — may have been dead on arrival as Sinema and Manchin have consistently resisted efforts in the Senate to reform the filibuster. The efforts to change Senate rules, however, appeared to have new strength after Biden's speech in Georgia last week making a plea for reform based on the Jan. 6 insurrection at the U.S. Capitol and the restrictive voting law passed in that state.
White House Press Secretary Jen Psaki, asked Friday about Sinema and Manchin refusing to budge on the filibuster, said the administration would continue to push for voting rights legislation.
"I would say that the president's view, as you heard him say yesterday, is that we're going to continue to press to get this done moving forward," Psaki said. "And that means continuing to engage with a range of officials who are supportive, some who have questions and some who are skeptical."
Psaki pointed out Biden ended up having the meeting with Sinema despite her remarks on the floor, adding "that's evidence of his continued commitment to keep engaging."
The LGBTQ+ community, as with any issue, isn't uniform in thinking Sinema should be obligated to have a certain view against the filibuster simply because she's bisexual, or that LGBTQ+ groups should criticize her for being obstructionist.
One LGBTQ+ strategist, who agreed to talk on condition of anonymity, outright rejects calls for Sinema to support a change in rules because the filibuster "ensures that minority perspectives cannot be trampled by majoritarianism."
"Portraying an LGBTQ+ woman as a gender and sexuality traitor shows a deep disrespect for our history," the strategist added. "Sinema's success in fighting for working families, vulnerable populations and LGBTQ+ rights is grounded in the belief that building large coalitions is how to best effect legal and social changes. Naturally, it follows she would be against a change in decades of Senate precedent that would prioritize hyper partisanship over persuasion."
Biden's speech in Georgia may have been more of an attempt to excite the progressive base as opposed to making a strategic push for filibuster reform. After all, his popularity is at an all-time low, which limits his influence. A POLITICO/Morning Consult poll asking voters to grade Biden after his first year in office found 37 percent gave him an "F," compared to the 31 who gave either "A" and "B," which is a touch worse than Trump at this point in his presidency.
The LGBTQ Victory Fund, which has endorsed Sinema in the past, declined to make any declarations about withholding an endorsement when asked by the Washington Blade.
"Our Victory Fund Campaign Board – made up of more than 150 political leaders and advocates from across the country – votes to determine our endorsements," said Elliot Imse, a Victory Fund spokesperson. "If Sen. Sinema runs for reelection, a review of her record as it relates to equality will of course be a primary consideration for whether she receives our endorsement. That board vote would take place, if she applies for endorsement, in late 2023 or 2024."
Imse added as a U.S. Senator Sinema is not currently up for election because after being elected in 2018 she is set to hold her seat for another four years.
 
"Sen. Sinema is not currently endorsed by Victory Fund and is not on an active ballot," Imse said. "We last endorsed her in 2018 when she was running against Martha McSally – a right-wing extremist candidate vociferously opposed to equality for LGBTQ+ people."
Christian pastors launch flood of vituperation against Canadian law
Some 4,000 U.S. pastors spoke about it from their pulpits in a show of concern about similar laws coming into effect here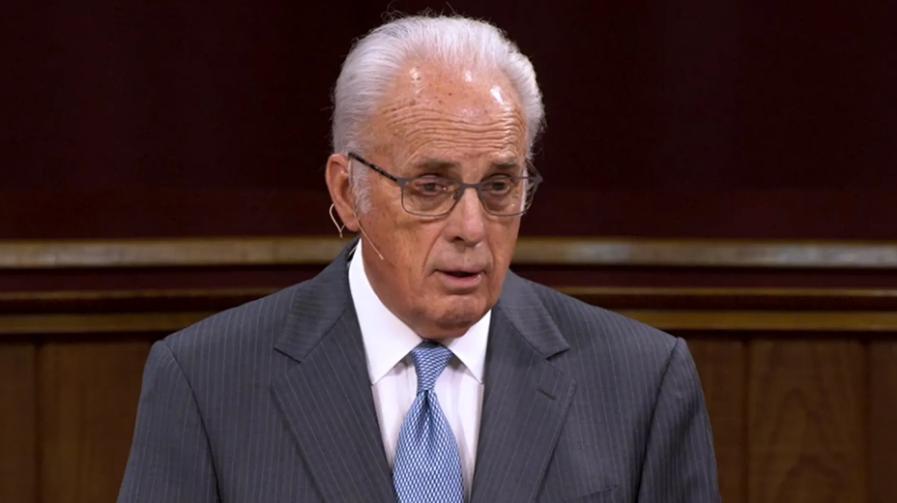 LOS ANGELES – A campaign launched by Liberty Coalition Canada and promulgated in the United States by Pastor John MacArthur of Los Angeles, who has a lengthy record of hateful & extremist public attacks on the LGBTQ+ community, against the Canadian Parliament's recently passed legislation banning conversion therapy for LGBTQ+ people culminated in over 4,000 clergy in both countries protesting the new law Sunday, January 16.
In an editorial posted to his Facebook page, influential evangelical leader Franklin Graham, who has decades long actions of spreading misinformation and deceptive lies against the LGBTQ+ community decried the law writing:
"The Canadian Parliament passed legislation banning what they refer to as "conversion therapy" for LGBTQ, and the law describes as a "myth" the belief that heterosexuality is preferable. They added a stiff penalty that can carry up to a 5-year jail sentence, and Canadian pastors feel they have been stripped of their religious freedoms. Critics of Bill C-4 say it is broadly worded and could even encompass private conversations about the topic, such as when a pastor or any Christian shares what the Bible teaches about sexuality.
One Canadian pastor said, "All socialistic and communistic movements hate the authority and law of God…Much of the church in Canada believes that compliance and compromise will promote peace and freedom, but this attitude only feeds the beast and will increase persecution and eliminate freedom."
Today, some 4,000 U.S. pastors spoke about it from their pulpits in a show of concern about similar laws coming into effect here. Pray for pastors in Canada as this legal oppression continues to grow, and pray that all of us as Christians will have the boldness to continue to proclaim the life-changing truth of the Word of God—the only hope for this world."
Pastor John MacArthur, the 82-year-old leader of the Grace Community Church in Los Angeles, in an interview with FOX News, said that he believes widespread sexual immorality is evidence of divine judgment on a culture and predicted increased efforts to silence those who speak out against it.
"Ultimately, the dissenters, the ones who will not cave in, are going to be those who are faithful to the Bible," he said. "And that's what's already leading to laws made against doing what we are commanded to do in Scripture, which is to confront that sin. And that's just going to escalate," MacArthur said.
"The fact that they identified it as a criminal conduct that could give you as much as five years in prison takes it to a completely different level, because Canadian pastors have been put in jail for just having church services," he continued.
Legislation banning conversion therapy passed in the states of California, New York, New Jersey and Nevada, among other U.S. jurisdictions. Alarmed by this, MacArthur sees Canada as a portent for the potential of a national ban in the U.S. telling Fox; "I think it's reached a level there in Canada that it hasn't yet reached here, but it's coming," he said. "It's coming fast."
Thousands of churches raise alarm about scope of new Canadian 'conversion therapy' ban https://t.co/2IE4w4Em0w

— Fox News (@FoxNews) January 16, 2022
The American Medical Association, the American Psychological Association and a host of therapeutic professional organizations oppose the use of conversion therapy, stating it is ineffective, harmful and not evidence-based.
Currently, 20 states and numerous localities, including D.C., ban the use of this discredited practice.
In two recently issued reports from the Global Project Against Hate and Extremism (GPAHE), anti-LGBTQ groups "easily" spread dangerous disinformation online about the so-called conversion therapy as tech companies fail to de-platform such content, especially in non-English languages.
The reports detail that even though conversion therapy is a widely condemned practice, content related it is "distressingly easy" to find through simple searches on various platforms.
Both Graham and MacArthur's anti-LGBTQ+ animus has been well documented. New York City-based journalist, editor, and blogger Joe Jervis who publishes the widely popular 'Joe My God' website has a partial tabulation of MacArthur's egregious vitriolic statements.
"John MacArthur says God gave humanity a "disposable planet." MacArthur declares that the response to COVID is setting the stage for the Anti-Christ. MacArthur says lockdowns are "Hitler false science." MacArthur says gay people do not exist. MacArthur signs petition condemning churches that advocate for social justice. MacArthur declares that Christianity which isn't "offensive" about homosexuality isn't really Christianity at all. MacArthur signs statement declaring that Jesus hates people who don't hate LGBTs. MacArthur tells parents that if their child comes out, "turn him over to Satan."
The GLAAD Accountability Project has cataloged anti-LGBTQ rhetoric and discriminatory actions by Graham including:
—Said celebrating LGBTQ+ Pride is like celebrating "lying, adultery, or murder." Graham's comment came in a Facebook post marking the end of Pride Month. "This is an entire month set aside to celebrate a lifestyle that God defines as sin."
—Claimed that public schools have no right to "teach our children something that is an affront to God" in his support for Alfonso Cirulli, the mayor of Barnegat Township, New Jersey, who was fighting a state law requiring schools to teach about LGBTQ history.
—Called out Taylor Swift "for using her platform to try to push the socialist left's so-called Equality Act, which has nothing to do with equality, but is about pushing the LGBTQ agenda down the throats of the American people."
—Said: "LGBT agenda wants to force everyone to accept & condone their lifestyle which God's Word defines as sin."
—Said: "LGBT activists are trying to hook their caboose to the 'freedom train' & drag an immoral agenda into our communities."
—When HB2 was rolled back in North Carolina, tweeted: "Thanks to the gov, people of NC will be exposed to pedophiles & sexually perverted men in women's public restrooms."
—In Facebook post since deleted, claimed Satan is behind LGBTQ rights and advocacy: "This is a full-scale assault against Christianity and the followers of Christ. When prayer is banned from the public square, when our President fails to defend biblically defined marriage, and he openly and zealously advocates for gay rights; when legislators rush to overrule existing laws to promote gay marriage; when schools and courts consistently suppress religious freedoms; we know we are locked in a war against the Christian faith, not culture. The architect behind this offensive is none other than Satan himself. The Scripture says that the devil, our archenemy, is bent on as much destruction as possible."
—Insists that gay and lesbian people cannot have families: "[Same-sex marriage] takes the family away and there is no way you can have a family with two females or two males, if you just think biologically how God made us our plumbing is completely different."
GOP VA AG-elect fires dozens of lawyers including in Civil Rights Division
Miyares campaigned promising to refuse to allow coronavirus mitigation including masks & vaccine requirements, despite the surging pandemic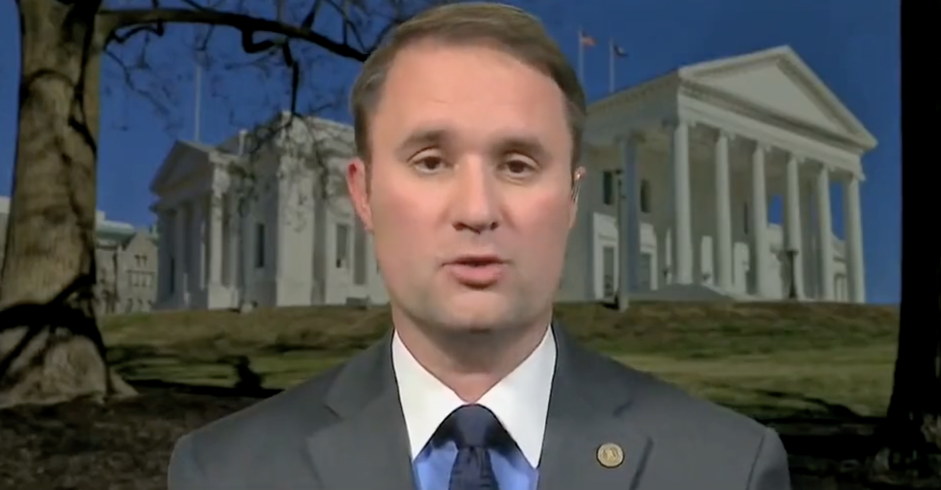 By David Badash | RICHMOND – He has yet to be sworn in but Virginia's Republican Attorney General-elect Jason Miyares has already fired dozens of lawyers, including those working in the Office of Civil Rights, and including those who are not political appointees but career civil servants.
Miyares campaigned on enforcing the law while promising to refuse to allow coronavirus mitigation efforts including masks and vaccine requirements, despite the surging pandemic.
But enforcing the law – certainly specific aspects like civil rights – will be much harder when he is sworn into office on Saturday.
"I've been told incoming AG @JasonMiyaresVA just FIRED the entire civil rights division in the Attorney General's office," tweeted Virginia Democratic state Senator L. Louise Lucas, the President Pro tempore. "My bill helped create and expand the authority that this division uses."
This whole campaign we had to listen to @JasonMiyaresVA whining about local prosecutors choosing not to prosecute certain crimes- then he gets elected and eliminates an entire division dedicated to enforcing civil rights law. Total hypocrisy and it needs to be SEEN.

— L. Louise Lucas (@SenLouiseLucas) January 14, 2022
"This whole campaign we had to listen to @JasonMiyaresVA whining about local prosecutors choosing not to prosecute certain crimes- then he gets elected and eliminates an entire division dedicated to enforcing civil rights law. Total hypocrisy and it needs to be SEEN," she added.
Already hearing that the AG-elect is claiming it's just "some" of the office- and says it will still "exist". In what form?

We are not going to be gaslit by PR statements- this is the people's AG office and we all deserve full transparency on what happened today.

— L. Louise Lucas (@SenLouiseLucas) January 14, 2022
It's unclear if Miyares has fired the entire civil rights division but the Richmond Times-Dispatch reports he has fired 30 attorneys including "Helen Hardiman, an assistant attorney general who focuses on investigating and litigating against housing discrimination in the Office of Civil Rights."
"I am not a political appointee. I don't have a political job," she says, adding she has 20 cases that are in court or going to trial.
"I don't want those people who have been discriminated against to be left hanging," Hardiman said. "I also felt like a cursory email with 24 hour notice was unprofessional. And I'm disappointed that the new administration seems to be signaling that they care less about civil rights issues like fair housing than the current administration."
On his Twitter page Miyares posted numerous platitudes and promises like, "My oath of allegiance is to follow the law, to respect the code of Virginia, and the people of Virginia As AG, I am going to go back to calling balls and strikes and we are going to enforce the law."
He also posted tweets attacking coronavirus mitigation policies, saying, "no Virginian should be forced to choose between their job and the vaccine."
In three days, I'll be taking an oath to the Consitution & vowing to protect Virginians' rights & freedoms.

I joined @TeamCavuto yesterday to talk about how I'll fight back against unconstitutional federal vaccine mandates that infringe on our personal liberties. pic.twitter.com/8nrGMKmK2D

— Jason Miyares (@JasonMiyaresVA) January 12, 2022
*********************
The preceding article was previously published by The New Civil Rights Movement and is republished with permission.