Equality California holds LGBT idea-sharing convening
EQCA announces new Advocacy Network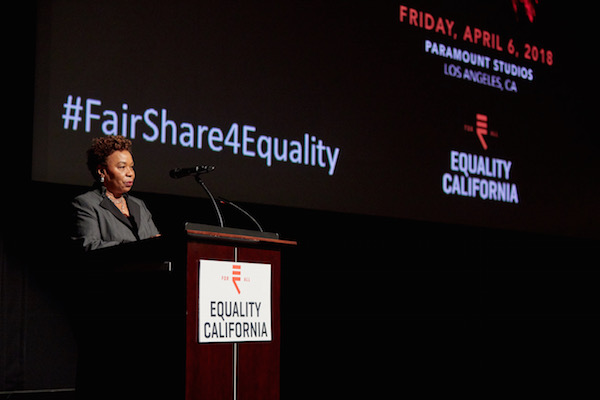 Equality California Institute held its fourth annual Fair Share for Equality convening at Paramount Studios on Friday, April 6 where nearly 400 LGBT leaders, allies, elected officials, policymakers, and community influencers shared ideas and asked questions to find ways to ensure that the LGBT community gets its "fair share" of California resources.
The two big headliners were longtime LGBT ally Rep. Barbara Lee and Lt. Governor Gavin Newsom, who Equality California has endorsed for governor.
Lee gave a shout out to Toni Atkins, who, "in the face of what we are seeing from Washington," was elected the first openly LGBT Senate Pro Tem in California. She also talked about how religious exemptions are a license to discriminate, running counter to the Constitution. If laws are written to allow discrimination, she said, LGBT people will not be able to access fairness and equality.
Lee also told the story of her own harrowing birth where her mother Mildred —in desperate need of a cesarean — was only admitted to the segregated El Paso, Texas hospital after her mother's mother convinced the admission's office that Mildred had Irish roots- her grandmother had been raped by an Irishman. Mildred was admitted but left unattended until it was too late for a cesarean. Mildred was rushed into surgery for a last minute forceps delivery. Mildred and baby Barbara almost died. "I came into this world fighting for justice and equality," Lee said.
Newsom, the former mayor of San Francisco, needs Los Angeles to win over former LA Mayor Antonio Villaraigosa in the June 5 Democratic Primary. "We are here in LA, in the most diverse city, in the most diverse county, in the most diverse state, in the most diverse country…the world is looking to us, to all of you," Newsom said. "The long arc of history bends toward justice, but you have to bend it."
How to bend that arc was a focus of the convening. "We know what we're up against. That's why you're all here. We need to mobilize our community to defend the progress we've made and continue to push the needle forward toward a world that is healthy, just and fully equal for all #LGBTQ people," said Equality California Executive Director Rick Zbur.
California LGBT Legislative Caucus members – Sen. Scott Wiener, Sen. Ricardo Lara, EQCA Executive Director Rick Zbur, Assemblymember Evan Low, and Assemblymember Todd Gloria (Photo by James Bianchi courtesy of Equality California Institute)
Four of the eight LGBT Legislative Caucus members attended the convening, talking about their own LGBT bills, sponsored by Equality California, and answering questions about bills such as Sen. Scott Wiener's resolution celebrating, not fixing, intersex infants and bills seemingly outside the scope of LGBT issues, such as Wiener's bill preserving Net Neutrality in California.
The legislators also spoke of the work still needed to be done. "We need to find the talent who will replace us. We need to figure out how to do that; that's how we maintain the wins that we have. We have more ceilings we have to break," said Sen. Ricardo Lara, who the audience saluted for running for State Insurance Commissioner.
Palm Springs City Council member Lisa Middleton movingly spoke about the shoulders she stands upon, and the stunning progress so far. "When I went to sleep on Nov. 6, 2016, there were seven elected officials who were openly transgender. When I woke up on Nov. 7, there were 16," she said.
The focus of the annual convenings, Zbur told the Los Angeles Blade, is to bring together leaders, allies and other organizations "that works at the intersections of our movement to really try to develop legislative and advocacy strategies for our community. We use this to start identifying bill ideas so we can work together on things and bring them about for next year's legislative session."
Zbur also announced a new initiative—an Advocacy Network lgbtq-advocacy-network with monthly calls on the status of bills and getting help turning out voters in certain districts where the legislator is not yet on board with an EQCA or EQCA-supported bill. Additionally, National Policy Director Valerie Ploumpis, who blogs about issues on EQCA's website, will also hold regular calls about federal bills and issues.
"The Advocacy Network from the federal side is a little bit more two-way in the sense that a lot of the organizations here in the LGBTQ community don't actually have a presence in Washington DC," Zbur said. "One of the reasons why we hired Valerie is so that she can also be eyes and ears for some of the smaller LGBTQ organizations in the state and provide information," especially since actually policy news tends to be overshadowed by the latest scandal.
Zbur was more circumspect talking about the work Equality California is doing to prevent the Democratic Party's crowded congressional "jungle primaries" on June 5 from electing a Republican. "We going to try to align behind a single candidate," Zbur said. "I'm not sure whether we'll be successful doing that—but we're in the middle of discussions with a number of labor unions and some other progressive organizations to see if we can align behind a candidate and get a Democrat in."
However, if the Democrats do take back the House in 2018, Zbur wants Minority Leader Nancy Pelosi to resume her spot as Speaker of the House of Representatives, third in line for the presidency, should President Trump and Vice President Pence be forced to leave their posts.
"I love Nancy Pelosi,' Zbur said "I think she has been an incredibly effective leader in Congress and a strategic leader for us. She is out-maneuvering [Speaker] Paul Ryan on a whole host of things now and being incredibly effective holding off some of the things that we don't want to happen. I think she gets a lot of credit for that. So I have just amazing amounts of respect for Nancy Pelosi and I am not at all in the camp that we should be pushing aside effective strategic women leaders."
Marjorie Taylor Greene tweets homophobic attack on Sen. Wiener
"Greene is a toxic person & embodies why the MAGA movement is dangerous, a threat to our democracy & to the personal safety of LGBTQ people"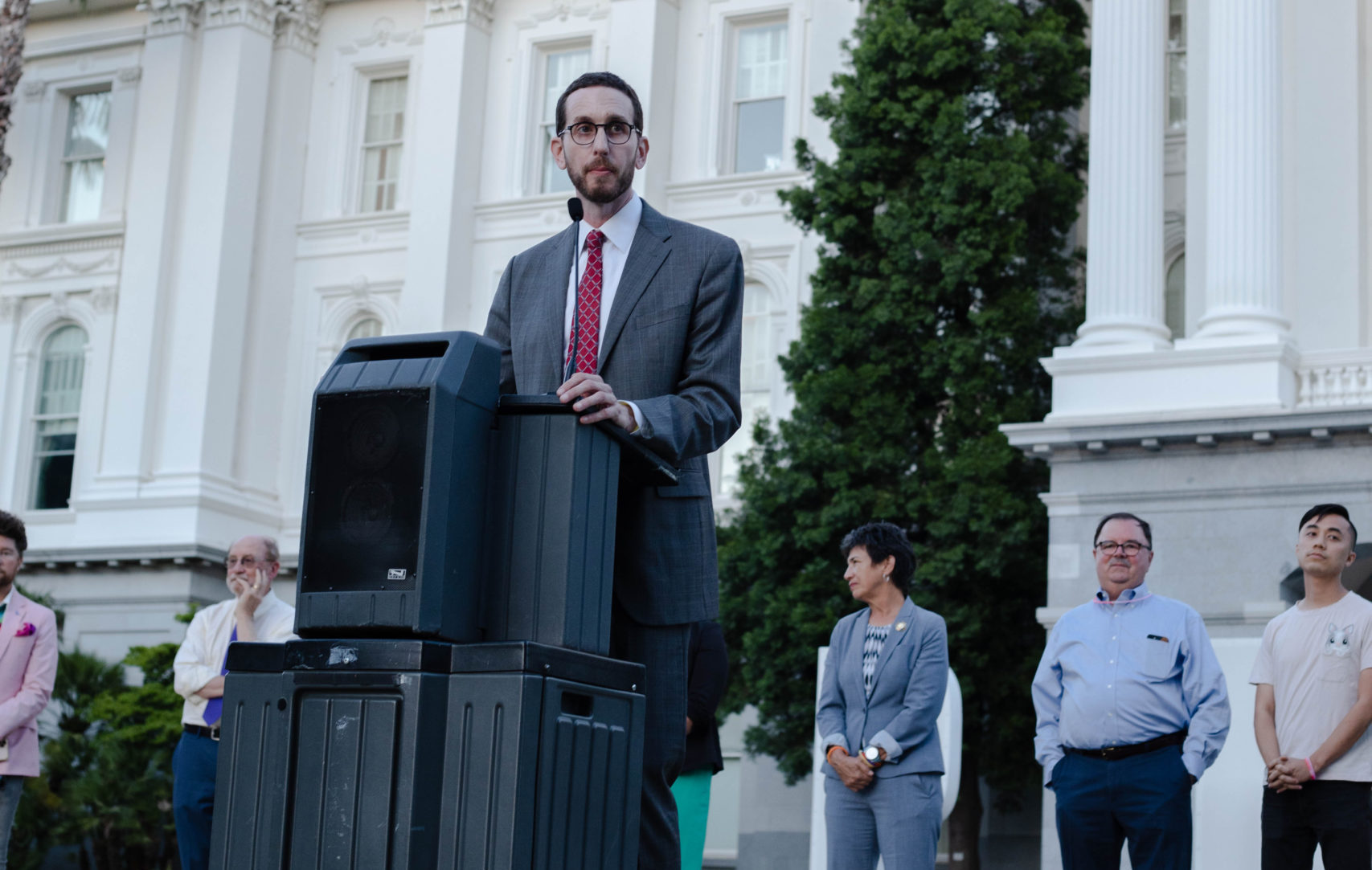 LOS ANGELES – Far-right Republican U.S. Rep. Marjorie Taylor Greene attacked Calif. State Sen. Scott Wiener, (D-San Francisco) on Tuesday after Wiener made a point of calling out use of the word "groomer," as the abusive reaction and fallout from right-wing sources regarding the mass-shooting at Club Q in Colorado Springs, continues to ratchet up against the LGBTQ+ community.
"The word "groomer" is categorically an anti-LGBTQ hate word. It's super homophobic/transphobic. It plays into the slander that LGBTQ people are pedophiles. It's no different than calling someone a fagg*t. If you call someone groomer, you're inciting violence against LGBTQ people," Wiener stated in his tweet.
Quoting Wiener's tweet the far-right MAGA Georgia congresswoman called the Senator a "communist" questioning Wiener's loyalty and service to both the State of California and the U.S. she then went on to accuse Wiener of being a "groomer" implying that the Senator was a predator of minors for sexual purposes:
"Pass my Protect Children's Innocence Act to stop communist groomers like this from using state government power to take children away from their parents to allow a for-profit medical industry to chop off these confused children's genitals before they are even old enough to vote."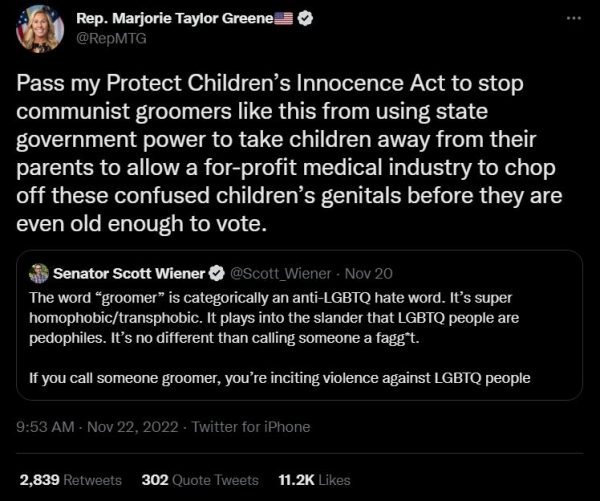 In an emailed statement, Senator Wiener responded to the homophobic attack by the Georgia Republican:
"The same day Elon Musk reinstated QAnon extremist Marjorie Taylor Greene, she launched a vile homophobic attack on me because of my vocal advocacy in response to the Club Q slaughter. When Greene has attacked me in the past, threats against me have typically increased. She is a toxic person and embodies why the MAGA movement is so dangerous. Green is a threat to our democracy and to the personal safety of LGBTQ people."
The term 'groomer' is considered highly offensive as it broadly brushstroke paints LGBTQ+ people as child molesters.
The definition according to the Urban online dictionary:
1 (the crime definition): An adult that builds a sense of trust with a minor to exploit and/or abuse them, typically (but not always) in a sexual manner. This is a crime, and it also causes harm to the minor.
2 (in US politics): What republican politicians and supporters refer to LGBTQIA+ people and their allies as, to manipulate their audience to pass anti-LGBTQIA+ legislation. This is targeting and harming LGBTQIA+ people and the people using the word in this manner typically are (or have connections with those who are) actual groomers.
National Public Radio, (NPR) reported this past May the Movement Advancement Project's executive director, Ineke Mushovic, pointed out:
"What the far right often does is they engage people's reptilian brains, the fight-or-flight instinct," says Mushovic. "And so it behooves far-right conservatives to put people in a state of fear, because then they're reactive. They don't support change."
The "grooming" narrative, Mushovic added, "taps into this primal sense of fear and this kind of parental protective instinct. But we know it's a completely false narrative."
The "grooming" narrative has been actively promoted by conservative activist Christopher Rufo, and Daily Wire pundit and transphobe Matt Walsh who have both attacked gender affirming care in their assaults on the LGBTQ+ community.
It took three days after the mass shooting at Club Q for the Daily Wire's Matt Walsh to blame the victims for the massacre. pic.twitter.com/08kitTdpMt

— Ari Drennen (@AriDrennen) November 22, 2022
Green's H.R.8731 – Protect Children's Innocence Act, was introduced this past August 19 and has forty-nine Republican members listed as co-sponsors. The language as introduced stated targets primarily Trans youth healthcare and targets colleges and universities from "offering instruction in gender affirming care:"
This bill places restrictions on the provision of gender affirming care. Gender affirming care includes performing surgery, administering medication, or performing other procedures for the purpose of changing the body of an individual to correspond to a sex that differs from the individual's biological sex.
Specifically, the bill makes it a felony to perform any gender affirming care on a minor and it permits a minor on whom such care is performed to bring a civil action against each individual who provided the care.
Additionally, the bill prohibits the use of federal funds for gender affirming care or for health insurance that covers such care. Such care may not be provided in a federal health care facility or by a federal employee. The bill also prohibits qualified health plans from including coverage for gender affirming care. Further, plans that include coverage for such care are not eligible for federal subsidies. […]