GLAAD did it again at 2018 Media Awards in Beverly Hills
"Before LGBTQ was a niche, and now it's truly mainstream," says GLAAD spokesperson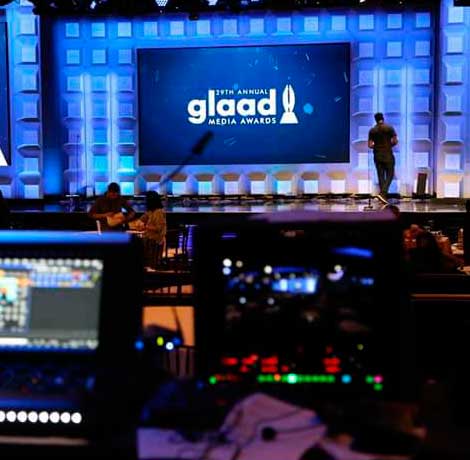 Thursday night GLAAD, the world's largest LGBTQ media advocacy organization, held its 29th annual Media Awards at the Beverly Hilton Hotel. The event honors media for projects and people who offer truthful and inclusive representations of the LGBTQ community and the issues that impact their lives.
Hosted by comedian Wanda Sykes, the event honored Britney Spears and Jim Parsons.
Name a more iconic trio. We'll wait. #GLAADawards pic.twitter.com/QrE7cR7gKu

— GLAAD (@glaad) April 13, 2018
Special guests included director, Ryan Murphy, Oscar-winning actress Halle Berry, Netflix star and Emmy-winning writer, Lena Waithe, global entertainer Ricky Martin, and actress Chloe Grace Moretz, to name a few, were in attendance.
GLAAD board chair Pamela Stewart told the Los Angeles Blade she's most excited this year about the many accurate portrayals of the LGBTQ community in media.
"Before it was a niche, and now it's truly mainstream," Stewart said. But, she cautioned that there could always be more. "There's always a Jim and a John, and a Jane on the other side of the television or computer waiting to say 'it's ok to be me,' and I want us to be apart of that narrative."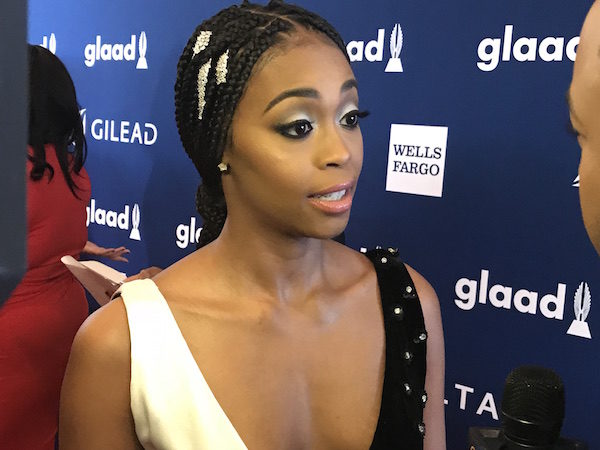 One of the most dramatic changes in media in the last few years has been bourgeoning inclusion of more transgender characters.
Jazz Jennings told the Los Angeles Blade that there were drawbacks for being public transgender figure. Jennings was a presenter at the awards. She's a YouTube personality and LGBT rights activist. She is notable for being one of the youngest publicly documented people to identify as transgender.
m
She said she struggles with her privacy and gets hate-filled comments on social media, but it "motivates her to share her story even more."
"As a transgender person I'm out there being visible so I can inspire other young people to be their authentic selves as well.
At the @glaad awards for @LosAngelesBlade and @WashBlade hanging with the stylish @KaramoBrown of #queereye pic.twitter.com/zHshhzIiED

— rebekah sager (@Rebekah_Sager) April 13, 2018
Newcomer Nafessa Williams is breaking all sorts of new ground, playing the first black, lesbian superhero in the role of 'Thunder' on the CW show "Black Lightning."
Williams told the Los Angeles Blade, "It's been such an honor to lend my voice to this character. My goal is to inspire all young lesbians to be themselves and proudly embrace who they are and walk boldly in that," she said.
Williams says her role is symbolic of everything that GLAAD's work stands for. "It means representation is being showcased. It means that we've come to a place where the playing field is level. It means young lesbians have someone to look up to and feel empowered by," she says.
Beyond the glitz and glamour of the red carpet, GLAAD took a moment during the event to announce a the kick-off of a first-time partnership with Gilead Sciences, a leading innovator in the field of HIV treatment and prevention medicines, to help raise much-needed awareness of the HIV and AIDS epidemic in the Southern United States.
Douglas Brooks, senior director of community engagement at Gilead and former director of the Office of National AIDS Policy for the Obama Administration, joined Tori Cooper, an activist from Atlanta working on behalf of transgender people and people living with HIV, in speaking at the ceremony.
"We are incredibly proud to partner with Gilead to combat the vast challenges the LGBTQ and HIV and AIDS communities face in the South," said GLAAD President and CEO Sarah Kate Ellis.
"We must stand together to strike down the cultural barriers that still prevent LGBTQ people in the South from living open and authentic lives, or in the case of those impacted by HIV and AIDS, from seeking life-saving help. By working alongside dedicated, like-minded organizations such as Gilead, as well as local advocates, we can achieve deeper understanding and empathy from people in the South."
"Ignorance about HIV and AIDS in the South has deadly consequences, with nearly half of all HIV and AIDS-related deaths occurring in that region," said Cooper, a prevention specialist for Atlanta's Positive Impact Health Centers. "We must take action to provide resources to communities in the South, where too many people cannot access, or worse, are still unaware of life-saving tools to prevent and treat HIV."
Zeke Smith, a "Survivor" contestant who was famously outed as transgender, told the Los Angeles Blade that GLAAD "serves as a resource for studios and shows like "Survivor" that find themselves in a tricky situation, and need help navigating the waters… the story of outing the trans person has something we've seen in the media for a long time, and it's always been permitted. My case was the first time people said, 'no, we don't do this. It's not okay.' I think it set a new standard," Smith said.
"Star Trek" star and activist Wilson Cruz, told the Los Angles Blade that in addition to the inclusion of LGBTQ characters, he's particularly excited about "the explosion of diversity," He adds that he's "excited about shows like 'One Day at a Time,' and 'On My Block,' on Netflix, and the show 'Pose,' the largest trans cast we've ever had," Wilson said.
Actor JJ Totah, who stars on Mindy Kalin's show, "Champions," talked about being multi-racial and LGBTQ in Hollywood. Although Totah is of Palestinian, Irish, Italian, and Lebanese ancestry in real life, on the show he plays an Indian LGBT character. "A double whammy," he says. He adds that when it comes to Hollywood, whether you identify LGBTQ or mixed-race, "Everyone experiences their hardships, no matter what your minority identification is."
Actor John Rothman, who plays Tig Nataro's stepfather on Nataro's Amazon series, "One Mississippi," told the Los Angeles Blade that platforms such as Netflix and Amazon were groundbreaking when it came to inclusion and diversity.
"And when it comes to the #MeToo movement, 'One Mississippi' was ahead of its time. We had all women in the writer's room, a woman creator, women showrunners, and we made something great," Rothman said.
"We can join hands together here and know that we are all beautiful" @britneyspears at the #GLAADawards pic.twitter.com/AxhetOOOwX

— GLAAD (@glaad) April 13, 2018
Iowa Governor notes 'parental rights' at anti-LGBTQ+ town hall
Reynolds and Republican lawmakers pledged to pass legislation this session banning LGBTQ materials in schools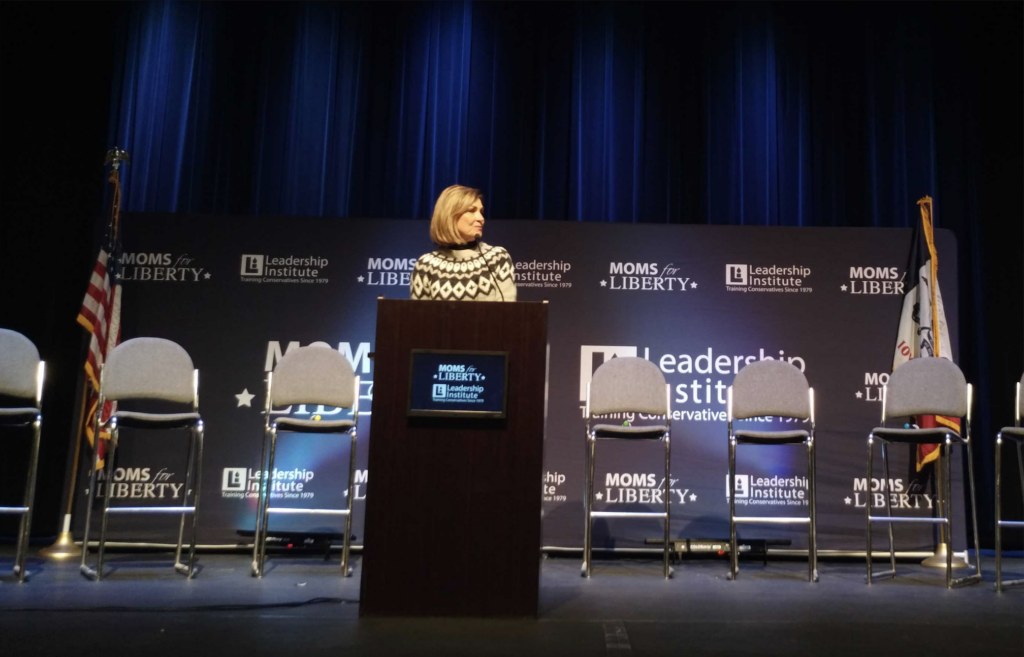 By Robin Opsahl | DES MOINES – Gov. Kim Reynolds and Republican legislators speaking at a "parental rights" event Thursday pledged to pass legislation this session banning LGBTQ materials in schools and policies allowing students to socially transition without their parents' consent.
"School choice" supporters gathered at Franklin Junior High School in Des Moines Thursday evening for the town hall event, hosted by the conservative nonprofit Moms for Liberty. Reynolds cheered the passage of her private school scholarship plan in the first weeks of the 2023 session, and promised they were not done with education legislation.
"The last few years have provided so many reasons to be in this fight in the arena for kids," Reynolds said. "And maybe for you it was how they were kept out of school wearing masks for no good reason. Maybe it was demonizing our country. Or an obsession with race in the classroom … I guess my message to you is, stay involved because parents and freedom still matter in Iowa."
Protesters tried to shout over Reynolds' speech, with one demonstrator holding up a transgender flag. Others in the room cheered and shouted "USA" as police officers removed protesters from the room.
Supporters celebrated approval of the Educational Savings Account (ESA) program, which gives students an account of $7,598 each year to use for private school tuition and associated costs. The national co-founder of Moms for Liberty, Tina Descovich, said she was excited to hear about Iowa successfully passing ESAs, but said that's just "one small little portion of issues that are facing public education."
For years, she said, politicians were not paying much attention to education. But in Iowa and other states across the country, Descovich said parents are putting the issue "front and center" in their state's policy agendas, and lawmakers in states like Iowa are listening to their requests to let families decide the best educational path for their children.
"I think I think parents want that now, you know, everything in society is more custom made, and so education should be a little bit more accessible and custom made," Descovich said.
Seven Republican legislators answered questions from attendees about Iowa's education system. Many questions were focused on class material and discussion around gender identity. Reynolds and parents brought up Linn-Mar Community School District as an example of what's wrong with modern schools.
The school district has a "gender support policy," which allows a student to meet with the school to discuss socially transitioning by using a different name, pronouns and facilities corresponding with their gender identity. The district allows children to choose who is involved in those meetings with the school, and lets the child decide whether to involve their parent or guardian.
Lawmaker calls gender-affirming policies a 'slippery slope'
Rep. Jeff Shipley, R-Fairfield, said school board members claimed the school could not reverse this policy because it would violate state and federal civil rights protections given based on gender identity.
House lawmakers approved legislation Tuesday banning school districts from letting a student use a different name or pronouns than what they were given at birth without written parental consent. House File 190 was also introduced Thursday to remove gender identity as a protected category from the state's civil rights act.
"Mental illness should not be accommodated as a civil right," Shipley said Thursday.
When a teacher asked the legislators at the forum about studies that showed the use of a transgender child's preferred name and pronouns lowers suicide rates, Shipley said there were conflicting reports how to help transgender children with mental health problems. But he said policies like Linn-Mar Community School District's are a "slippery slope."
Using a child's preferred name and pronouns without their parents' knowledge could lead to them undergoing hormone replacement therapy or having gender-affirming surgeries without their parents consent, he said. How to best support transgender people is a conversation the Legislature will be discussing a lot going forward he said.
"I know other states have done things to prohibit these therapies," he said, referencing conversation therapy. "So I think this is a conversation we're going to have to have as a state to really decide what is the best standards of practice of therapy, what do kids need to alleviate the dysphoria and form actual identities that can be healthy and happy for the rest of their lives."
Lawmakers address concerns about lack of choice access for special-needs students
Multiple parents also brought up concerns about how the ESA program will impact their special needs children. Legislators said they hoped to see expanded private school options for children with special needs, and were in discussions about potential future legislation to encourage more private institutions to special education students and offer more specialized educational programs.
Rep. Steven Holt, R-Denison, said he believes some private schools have not accepted special-education students because they didn't have the resources. "And this bill was going to give them a lot more resources," he said. "And so I'm hopeful that that alone is going to allow them to take a lot more special needs children."
The conservative legislators assured the crowd that they would continue to provide parents more options for their children's schooling going forward. Rep. Eddie Andrews, R-Johnston, said Iowa's decision to desegregate schools 86 years before the U.S. Supreme Court's ruling on Brown v. Board of Education shows the state has always been committed to school choice.
"And that is all we are asking, and yes, demanding, that we have the ability to educate our children in the best way at the best school that is appropriate for my child's success. To prepare my boy, my girl, your child, for success," Andrews said. "And that's all school choice."
Moms For Liberty: Giving Parents A Voice Town Hall – IOWA
***************************************************************************************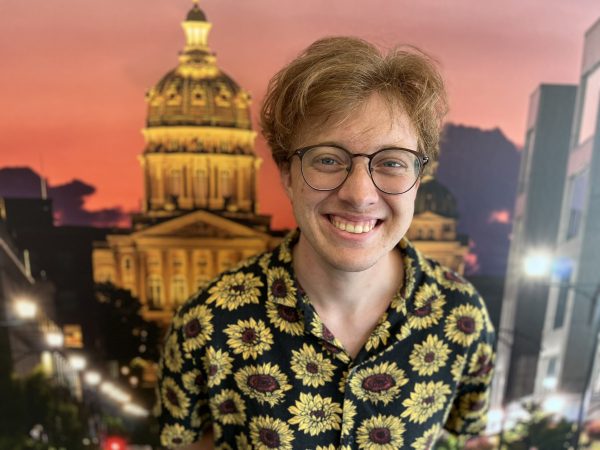 Robin Opsahl is an Iowa Capital Dispatch reporter covering the state Legislature and politics. Robin has experience covering government, elections and more at media organizations including Roll Call, the Sacramento Bee and the Wausau Daily Herald, in addition to working on multimedia projects, newsletters and visualizations.
They were a political reporter for the Des Moines Register covering the Iowa caucuses leading up to the 2020 presidential election, assisting with the Register's Iowa Poll, and reporting on Iowa's 4th District elections.
***************************************************************************************
The preceding article was previously published by the Iowa Capital Dispatch and is republished with permission.