Federal judge in Seattle extends injunction on trans military ban
Will the trial include deposing VP Mike Pence?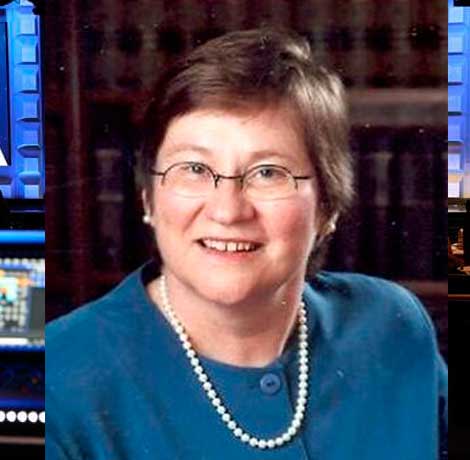 The timing of US District Court Judge Marsha J. Pechman's ruling on the ban against open transgender military service could not have been more poignant.
As the order circulated late Friday, April 13 among lawyers and plaintiffs in the OutServe-SLDN and Lambda Legal lawsuit against the Trump Administration, President Trump announced that he had ordered "precision strikes" in response to the chemical attack in a suburb of Damascus last weekend that killed at least 40 people.
It was the second military attack ordered without the consent of Congress and was contrary to Trump's previous announcement of his intention to withdraw troops from Syria. Some pundits wondered if the strikes were a predictable, distracting response to the anger the president has expressed over the FBI's ongoing investigation into his personal lawyer Michael Cohen.
Against this backdrop of war, an unpredictable commander-in-chief and a Defense Secretary who seems to be trying to appease him, the patriotic call of duty expressed by trans servicemembers in their lawsuits asking for the right to fight and die for their country seems even more courageous.
Pechman, ruling from her federal court in Seattle, Washington, seems to get that, delivering some precision strikes of her own. She ordered that her earlier preliminary injunction against the ban remain in effect. In that Dec. 11, 2017 ruling, she wrote "The Court finds that the policy prohibiting openly transgender individuals from serving in the military is likely unconstitutional," adding that ban irreparably harms the state of Washington's interest in "maintaining and enforcing its anti-discrimination laws, protecting its residents from discrimination, and ensuring that employment and advancement opportunities are not unlawfully restricted based on transgender status."
In her April 13, 2018 decision, Pechman rejected the Justice Department's argument that the "new" trans ban implementation policy derived from Sec. of Defense Mattis' recommendations in late March was not a new policy at all since it violated the same constitutional protections. She said the OutServe-SLDN and Lambda Legal case could proceed to trial with Trump still a defendant. And, stunningly, Pechman wrote:
"The Court also rules that, because transgender people have long been subjected to systemic oppression and forced to live in silence, they are a protected class. Therefore, any attempt to exclude them from military service will be looked at with the highest level of care, and will be subject to the Court's "strict scrutiny." This means that before Defendants can implement the Ban, they must show that it was sincerely motivated by compelling interests, rather than by prejudice or stereotype, and that it is narrowly tailored to achieve those interests."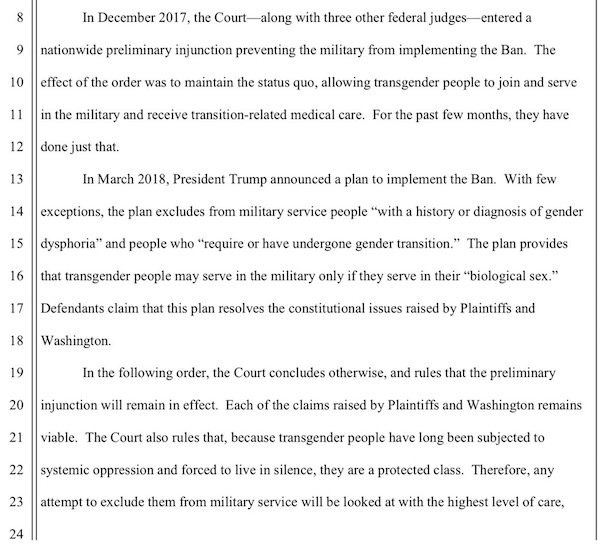 "The entire decision, which is 31 pages, is choke full of great discussions that really indicate that this judge just gets it," Peter E. Perkowski, Legal director for OutServe-SLDN, tells the Los Angeles Blade. "She understands the issues. She's not falling for the government's kind of shell game, if you will, of moving a whack-a-mole—keep changing the policy to try to get out of court. But she's not falling for that. She's definitely interested in reaching the merits of this case."
The judge did not grant the all the LGBT legal groups' requests. She denied permanent injunction and the request for a ruling on the merits without a trial.
"She said she's not willing to do that now because she wants to hear specifically how the 2018 recommendations from Sec. Mattis and the panel of experts, as it's been called—how much deference she needs to give to those results of that proceeding," Perkowski says, "And whether she gives any deference at all or some or a lot – whether the ban, as it exists now, still has to meet constitutional revue, as she set forth in her decision."
Going to trial means the legal groups would have a discovery process, which could finally reveal how, exactly the ban on transgender service members wound up as a Trump Tweet last year. Using very reliable sources, the LA Blade reported on Aug. 9, 2017 that the origin story lead from the Air Force Academy to religious Republican conservatives in the House — led by Rep. Duncan Hunter of California and Rep. Vicki Hartzler from Missouri — to evangelical lobbyist Tony Perkins of the Family Research Council, along with his colleagues Ken Blackwell and Lt. Gen. Jerry Boykin (ret), to Vice President Mike Pence, who agreed to help. Since then, others have reported similar accounts, including Slate's Mark Joseph Stern and Think Progress' Zack Ford. Meanwhile, Chris Johnson at the Washington Blade, reported on Thursday, April 12, that Army Secretary Mark Esper has had no problems with unit cohesion, which goes against a trans ban talking point.
Would OutServe-SLDN and Lambda Legal use the trial discovery process to get to the truth of how, who and why the ban was created?
Perkowski said he would not disclose trial strategy but added: "Yes, we are looking into all avenues to prove that this policy is not motivated by legitimate government objective but rather is motivated by bias— and that would include developing evidence that people like people in the [anti-LGBT] religious community had input into how this policy was made and how it was announced. That would be very critical evidence or at least powerful evidence about what deference the court would owe to the ban, for example and whether it survives constitutional review."
Perkowski says he's heard the same stories and rumors about what happened behind the scene but he can't comment because he doesn't know. "To the extent that we can develop that evidence as part of this trial, that would be very powerful evidence indicating that the government simply cannot meet its burden in justifying this policy under the constitutional standards. I think it would be useful to try to develop that evidence, as well. It would be great to find out who had their hands in the cookie jar, so to speak."
Perkowski says there are different teams working on different aspects of the case. But, he says, "I'm sure everything is on table."
When asked if that included deposing Pence, he says: "I'm not going to confirm any discovery effort we're going to make." But, he adds, it's fair to suggest that Pence's connection to the trans ban is something the teams will look at in the discovery process.
HERE"S THE RULING:
[pdf-embedder url="http://www.losangelesblade.com/content/files/2018/04/04_13_LAB_Wash_court.pdf"]
Senator Wiener's Net Neutrality law is upheld by Federal appeals court
Supporters of the California law were enthusiastic over the 9th Circuit's decision including the current Chair of the FCC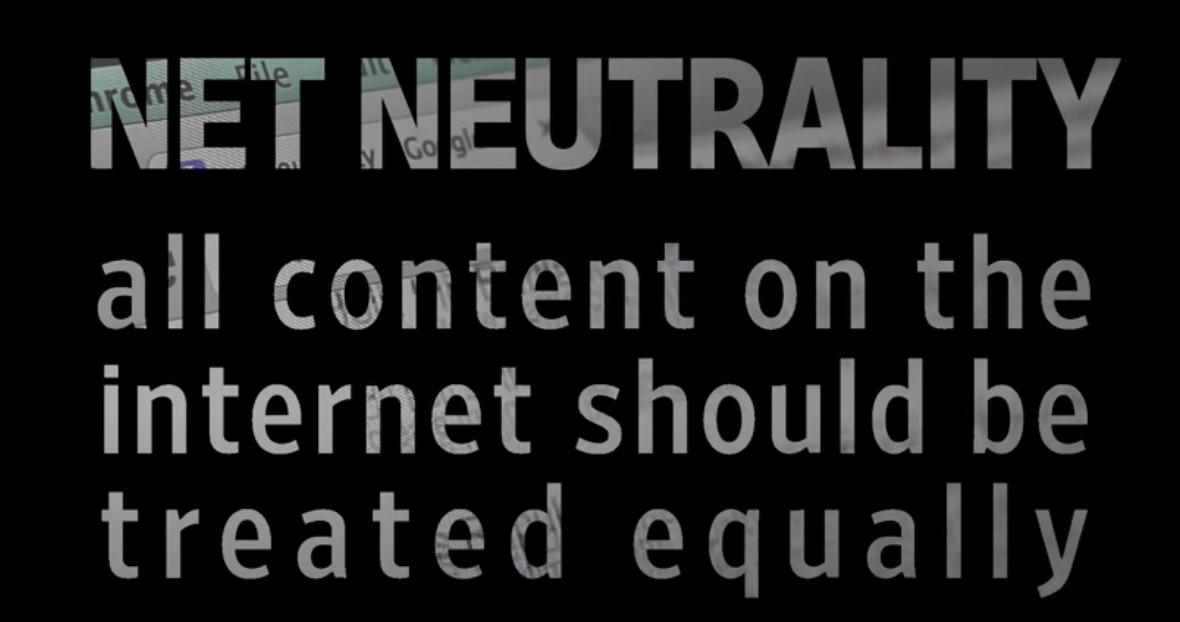 SAN FRANCISCO – In a unanimous decision Friday, the United States Court of Appeals for the Ninth Circuit published a ruling upholding SB 822, California's Net Neutrality law. Out State Senator Scott Wiener, (D-SF) authored SB 822 in 2018, and Governor Jerry Brown signed it into law. It has undergone multiple legal attacks from the telecom and cable industries and from the Trump Administration.
"Today marks a huge win for a free and open internet. California's Net Neutrality law was enacted in 2018, and remains the strongest in the nation. This is a victory for everyone who uses the internet – who needs it for work, school, or simply connecting with family and friends. Given the importance of the internet in our society – now more than ever – this is a landmark day for our state," Wiener said in a statement released by his office.
During oral arguments from the telecom and cable industries before a panel of the 9th Circuit, their lawyers appealed a decision from February of 2021 where a U.S. District Court judge denied their request to issue a preliminary injunction against the law.
Tech reporter Andrew Wyrich writing for The Daily Dot noted at the time:
A federal judge denied a request by groups representing internet service providers (ISPs) on Tuesday to issue a preliminary injunction against California's net neutrality law.
Lawyers for both California and the trade groups went back-and-forth before Judge John A. Mendez on Tuesday, arguing both for and against the state's law, which has been hailed as the "gold standard" for states to follow because it goes further than the Federal Communications Commission's (FCC) 2015 Open Internet Order, which established net neutrality rules.
While the Department of Justice (DOJ) withdrew from its lawsuit challenging California's law earlier in February, the trade groups continued its lawsuit. The DOJ filed a lawsuit against California over the law in 2018 during the Trump administration.
Supporters of the California law were enthusiastic over the 9th Circuit's decision including the current Chair of the Federal Communications Commission, Jessica Rosenworcel, who tweeted; "When the last Administration rolled back #NetNeutrality rules, states stepped into the void and put in place their own policies. Today the 9th Circuit upholds California's effort. It's good news. I support Net Neutrality and we need once again to make it the law of the land."
When the last Administration rolled back #NetNeutrality rules, states stepped into the void and put in place their own policies. Today the 9th Circuit upholds California's effort. It's good news. I support Net Neutrality and we need once again to make it the law of the land. pic.twitter.com/pPIunqIMrk

— Jessica Rosenworcel (@JRosenworcel) January 28, 2022
¿De qué hablaron Xiomara Castro y Kamala Harris?
Discutieron la migración, la corrupción y el desarrollo económico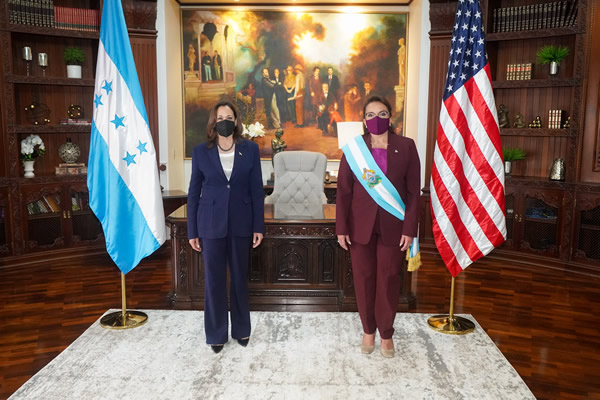 Reportar sin Miedo es el socio mediático del Washington Blade en Honduras. Esta nota salió en sitio web el 27 de enero.
TEGUCIGALPA, Honduras — "He estado convocando a directores ejecutivos y empresas estadounidenses que se han comprometido a apoyar a esta región. Su promesa ha alcanzado los 1,200 millones de dólares", le dijo la vicepresidenta estadounidense Kamala Harris a la mandataria de Honduras, Xiomara Castro, en la reunión oficial que ambas tuvieron hoy en Casa Presidencial luego de la toma de posesión en el Estadio Nacional, según el archivo en poder de la revista estadounidense Washington Blade, socia de Reportar sin Miedo.
Así fue la reunión que hoy sostuvieron la presidenta de Honduras, Xiomara Castro junto con la vicepresidenta de Estados Unidos, Kamala Harris @VP

"Abordamos temas de interés común, como la migración, la lucha contra la corrupción y el narcotráfico" dijo Castro. pic.twitter.com/IN0nlD3qoj

— ReportarSinMiedo (@ReportarsinMied) January 27, 2022
Harris llegó a Honduras la madrugada de hoy, resguardada por un gigantesco dispositivo de seguridad que incluyó al menos tres modernos helicópteros. Tras el traspaso de mando, la vicepresidenta se reunió con Castro. Las dos poderosas mujeres platicaron de varios temas que incluyen la migración forzada, la economía, las soluciones para la pandemia y la educación.
"Me gustaría felicitarla públicamente por su elección", dijo Harris. "En nombre del presidente Biden y el mío, le deseamos un gran éxito. Apreciamos que su elección haya sido democrática, que el pueblo haya hablado. Está claro que tiene usted el apoyo de muchos de los habitantes de este importante y hermoso país".
La meta: menos migración
En la reunión que tuvo lugar en uno de los salones de Casa Presidencial, Harris mencionó la necesidad de "abordar la prosperidad económica de Honduras". La funcionaria destacó la importancia de impulsar más la economía hondureña mediante la "creación de empleos y lo que significa en el tema de la migración".
La migración es un aspecto muy importante para Estados Unidos, ya que más de 309,000 ciudadanos de Honduras han sido arrestados desde septiembre del 2020 hasta octubre del 2021 en su intento de migrar a Estados Unidos, según datos de Aduanas y Protección Fronteriza.
Pero para combatir la migración irregular a Estados Unidos es necesario reducir las causas que incluyen el desempleo, la destrucción dejada por los fenómenos naturales, la violencia y, sobre todo, el fantasma de la corrupción que se convirtió en la seña de identidad de los 12 años de gobierno nacionalista de Porfirio Lobo y Juan Orlando Hernández.
"La mayoría de la gente no quiere dejar su casa… los lugares donde rinde culto: su iglesia; su abuela. Y si se van, suele ser porque huyen de algún daño o porque simplemente no pueden satisfacer sus necesidades básicas o las de su familia si se quedan", reflexionó Harris durante su reunión con la presidenta Castro.
La "cooperación y el trabajo que realizaremos juntos en materia de prosperidad económica serán fundamentales para la migración irregular", agregó la funcionaria estadounidense.
Duro con los corruptos
Para parar la ola migratoria, Estados Unidos tiene claro que es necesario apoyar la lucha contra la corrupción, que drena los recursos monetarios hondureños y destruye la confianza del pueblo en sus autoridades.
"Hemos hablado de la importancia de la lucha contra la corrupción", le dijo la vicepresidenta Harris a la mandataria hondureña. "Compartimos una prioridad en torno a hacer lo que podemos hacer como socios para abordar esa cuestión relacionada con la cuestión de la prosperidad económica".
Para cerrar la productiva plática, Harris explicó que su gobierno reforzará la ayuda en salud para Honduras, especialmente en el combate contra la COVID-19. Para lograrlo, señaló que Estados Unidos ha donado a Honduras 3.9 millones de vacunas contra la enfermedad, pero que entregará en los próximos meses "cientos de miles de dosis más", además de "medio millón de jeringuillas pediátricas y millones de dólares para mejorar las instalaciones sanitarias y educativas".
Con la colaboración de Michael K. Lavers, de Washington Blade.
UCLA Fielding School LGBTQ+ research & health center marks first year
"This is the time for academic institutions to bolster progress made by the LGBTQ+ movement, reduce inequities & close health disparity gap"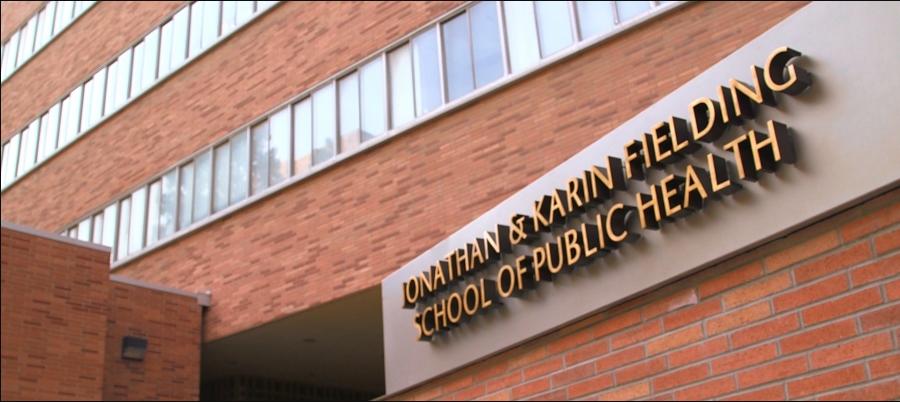 LOS ANGELES – Opening the UCLA Fielding School of Public Health's newest research center, dedicated to the mission of improving the health and social well-being of sexual and gender minorities, would be a challenging task at any time.
For Dr. Matthew Mimiaga, UCLA Fielding School of Public Health professor of epidemiology, founding, organizing, and leading the new UCLA Center for LGBTQ+ Advocacy, Research & Health (C-LARAH), which officially opened its doors in December of 2020, opening the center in the middle of a global pandemic was just part of the job.
"COVID-19 has definitely made every task we've accomplished, in terms of organizing, research, and student and community service, more demanding, but what better time than now?" said Mimiaga, who serves as director of C-LARAH. "This is the time for academic institutions to bolster the progress made by the LGBTQ+ movement; we must bridge health, research, and training measures to reduce inequities and close the health disparity gap … and 'challenging times' certainly help focus on what is important."
By any standard, the team of faculty, staff, and students led by Mimiaga, who also serves as a professor of psychiatry and biobehavioral sciences at the David Geffen School of Medicine at UCLA, has met and exceeded those challenges. In 12 months, even as they worked through the day-to-day needs of organizing the center, the team has:
· Published 38 new scientific journal publications and five book chapters, which can be reviewed here. The findings were published in journals that include The Lancet, The Lancet Global Health, Drug and Alcohol Dependence, AIDS and Behavior, Journal of the International AIDS Society, Journal of AIDS, and AIDS;
· Collaborated with 37 UCLA graduate students, affiliated post-doctoral researchers, and staff, along with 20 faculty affiliates;
· Received nearly $8.6 million in federal research funding from five different U.S. National Institutes of Health entities in FY 2021 (>$50 million for all project years for current grants combined); and
· Built a website for the new center that spotlights C-LARAH's research program.
In 2020-21, C-LARAH's research has focused on improving health disparities and health equity among LGBTQ+ communities, including epidemiological cohort studies; developing and testing interventions to decrease sexual risk in HIV primary and secondary prevention; and biobehavioral interventions to enhance uptake and adherence for both HIV treatment (ART) and prevention (PrEP/PEP).
The team has also researched psychosocial treatments for stimulant use disorder and concurrent HIV risk, and opioid use disorder and adherence to medication-assisted treatment; infectious disease and psychiatric epidemiology; and global health research within several resource constrained countries.
In addition to research in the United States, C-LARAH has ongoing global public health research globally focused on HIV primary and secondary prevention. Currently, these include projects in Brazil, India, Nigeria, and Vietnam; and recently completd projects in Ecuador, Peru, South Africa, Thailand, and Zambia.
"I'm very proud of the team we've assembled, including our UCLA staff, students, and faculty-affilliates and our research partners in the U.S. and globally," Mimiaga said. "And I am very excited about the impact C-LARAH has had and will continue to have in training future generations of scientists interested in conducting LGBTQ+ public health and clinical research, and ensuring that all sexual and gender minorities can live openly and authentically, and be healthy."
For more information, see "Promoting Public Health for the LGBTQ Population" from the most recent edition of UCLA Public Health magazine.