Gay 'Dreamer' stuck in Mexico after green card application denied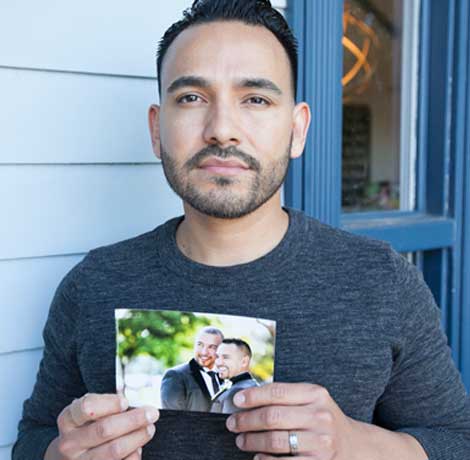 Lawyers representing a gay married "Dreamer" who was denied a green card have filed a federal lawsuit that seeks his return to the U.S.
The lawsuit — which was filed in the U.S. District Court for the Central District of California on Tuesday — notes Marco Villada Garibay came to the U.S. from Mexico when he was 6 years old. The lawsuit states Villada graduated from Morningside High School in Inglewood, Calif., and later enrolled at El Camino Community College and Harbor College in Los Angeles.
"Mr. Villada Garibay has spent virtually his entire life in the United States," reads the lawsuit.
Villada in 2013 became a recipient of the Deferred Action for Childhood Arrivals (DACA) program that allows young undocumented immigrants to remain in the U.S. and obtain work permits. Villada in 2014 married Israel Serrato after the U.S. Supreme Court struck down a portion of the Defense of Marriage Act and dismissed an appeal of a ruling against California's Proposition 8.
The lawsuit states the couple subsequently filed "the necessary petition and obtained a provisional waiver" from the U.S. Citizenship and Immigration Service that would allow Villada to obtain his green card "by virtue of his marriage to a U.S. citizen." The couple on Jan. 14 traveled to Mexico in order "to take the next step in (Villada)'s process to obtain U.S. residency," which was his appointment at the U.S. Consulate in Ciudad Juárez.
Villada had been able to legally work in the U.S. and was protected from deportation under DACA until 2019, but the lawsuit notes his "status was automatically terminated" once he left the country.
The lawsuit notes Villada traveled to Mexico "only because" the USCIS approved the provisional waiver that allowed him to apply for a green card through the State Department in his country of origin and promptly return to the U.S. with Serrato.
The consulate on Jan. 17 denied Villada's application and banned him from returning to the U.S. "because it found that he was permanently inadmissible" on the grounds that he left the U.S. more than a year after he entered the country without documents and returned to the U.S. "without admission after more than one year of unlawful presence."
The lawsuit notes Villada in 2000 returned to Mexico for "a few weeks" after his grandfather died. Villada, who was 17-years-old at the time, was allowed back into the U.S. after he showed his high school ID card to an immigration officer at the San Ysidro border crossing south of San Diego.
The lawsuit states Villada disclosed during his green card interview that he had traveled to Mexico in 2000. The consulate earlier this month affirmed its decision to deny Villada's application.
"Mr. Villada Garibay and Mr. Serrato continue to be separated because Mr. Villada Garibay is unable to return to the United States," reads the lawsuit. "As a result, they are suffering emotionally and financially, and are experiencing great anxiety because Mr. Villada Garibay is unable to return to the United States for at least 10 years. The threat of prolonged separation impairs Mr. Villada Garibay's and Mr. Serrato's ability to live together as a married couple, form a family and plan for the future."
The National Immigration Law Center, an immigration advocacy group that is representing Villada and Serrato in their lawsuit, on Tuesday held a conference call with reporters.
Villada said he and Serrato "did everything by the books."
"Right now all I can think about is going back home," said Villada. "I miss my husband, my home, family."
Villada told the Washington Blade he traveled to Mexico's Jalisco state from Ciudad Juárez after his husband returned to California. Villada said in response to a question about whether he feels safe as an openly gay man that he is "in constant fear of even going down the street for a soda."
"I'm still living in fear, even right now," he told the Blade. "It is not a place that is safe, even in my eyes."
Serrato told reporters he met Villada before he became a DACA recipient.
"I loved my husband before he had DACA," said Serrato. "I love my husband as a documented person. I'm going to fight for my husband and I to be together."
The lawsuit names Acting Secretary of State John Sullivan, the USCIS, USCIS Director L. Francis Cissna, USCIS National Benefits Center Director Robert Cowan and U.S. Consul General for Ciudad Juárez Daria L. Darnell as defendants in their official capacities.
The State Department on Tuesday declined to comment on the lawsuit.
'Immigrant rights are an LGBTQ issue'
The lawsuit was filed against the backdrop of mounting concern over the Trump administration's immigration policy.
DACA's future remains uncertain after President Trump last September announced it would end the program. The Trump administration's announcement in January that Salvadorans will no longer receive protected immigration status in the U.S. through the Temporary Protected Status program sparked further outrage.
"Our anti-LGBT immigration policy just doesn't hurt immigrants," National Immigration Law Center Executive Director Marielena Hincapié told reporters during the conference call. "It hurts all of us."
Stacy Tolchin — one of the attorneys who is representing Villada and Serrato — said there were cases of immigrants during the Obama administration who were denied green cards, even though they had received provisional waivers from USCIS that allowed them to leave the U.S. in order to apply for them in their countries of origin. Crissel Rodríguez of the California Immigrant Youth Justice Alliance told reporters that Villada's case "is an example of how the Trump administration's policy continues to tear families apart."
"Immigrant rights are an LGBTQ issue," added Human Rights Campaign Legal Director Sarah Warbelow.
Biden's second State of the Union prioritizes bipartisanship
"To my Republican friends, if we could work together in the last Congress, there is no reason we can't work together in this new Congress"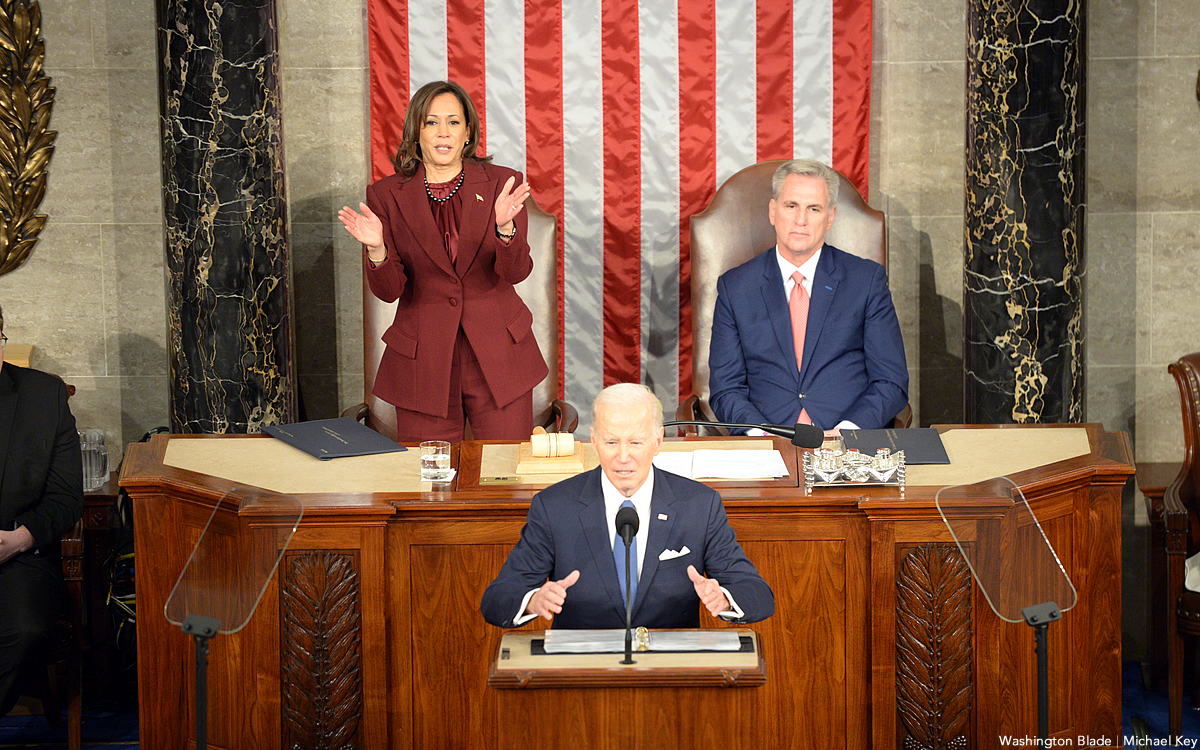 WASHINGTON – President Joe Biden's second State of the Union address on Tuesday focused on building upon recent accomplishments, especially legislative milestones that were reached with bipartisan cooperation.
Nevertheless, the speech was met with vocal objections from Republican lawmakers over Biden's comments about the debt ceiling and mention of some GOP members' plans to cut social security and Medicare.
"From reauthorizing the Violence Against Women Act, to the Electoral Count Reform Act, to the Respect for Marriage Act that protects the right to marry the person you love," Biden said, "To my Republican friends, if we could work together in the last Congress, there is no reason we can't work together in this new Congress."
On the subject of legislation, for the second year in a row, Biden repeated his plea for Congress to revisit the Equality Act "to ensure LGBTQ Americans, especially transgender young people, can live with safety and dignity."
He also focused part of Tuesday's address on public health. "Twenty years ago, under the leadership of President Bush and countless advocates and champions, we undertook a bipartisan effort through PEPFAR to transform the global fight against HIV/AIDS," Biden said.
The successful effort should be repeated in the fight against cancer, he added.
These matters aside, Biden included little mention of LGBTQ issues, or the extremism of Republicans who are poised to run for the presidency next year. Instead, the bulk of his remarks were focused on themes like implementing the provisions of the Inflation Reduction Act and the bipartisan infrastructure law.
The country's economic recovery was another well-trod message, on the heels of a January jobs report whose data showed record low unemployment and steady growth in new jobs and workers' wages.
Biden did devote some time to reproductive justice. "The Vice President and I are doing everything we can to protect access to reproductive health care and safeguard patient privacy," he said. "But already, more than a dozen states are enforcing extreme abortion bans."

The president then vowed to veto a national abortion ban if Congress should pass one.
During last year's State of the Union, Biden said "The onslaught of state laws targeting transgender Americans and their families is wrong," adding, "As I said last year, especially to our younger transgender Americans, I will always have your back as your President, so you can be yourself and reach your God-given potential."
One sign of solidarity with the LGBTQ community this year was the invitation of Gina and Heidi Nortonsmith, plaintiffs in the Massachusetts case that led the state to become the first to legalize same-sex marriage, to join First Lady Dr. Jill Biden's box.
And House Minority Leader Hakeem Jeffries (D-N.Y.) brought Human Rights Campaign President Kelley Robinson as his guest. Biden honored the former House Speaker, Rep. Nancy Pelosi (D-Calif.), as "someone who I think will be considered the greatest Speaker in the history of this country."
President Biden delivers 2023 State of the Union address: