Bisexual teen allegedly killed by ex-boyfriend after breakup
El Monte students shaken by murder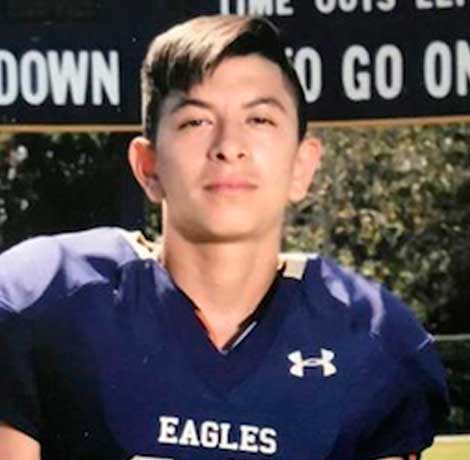 Family and friends of Jeremy Sanchez visited the site near the San Gabriel River where the 17-year old missing South El Monte High School student's body was found late Wednesday. Many not only mourned his brutal stabbing death but were in shock after police arrested Sanchez's close friend as a suspect in his murder.
"We knew he was like bisexual, you know," close friend Nelly Mendoza told Fox11 News. "We never thought in 2018 it would be a problem."
On Thursday morning, police received information that prompted them to look at Sanchez's 16-year old friend, whose story didn't add up after he discovered Sanchez's body facedown in the bushes by the water as part of a search team and then called Sanchez's father. The Los Angeles County Sheriff's Department obtained a search warrant, searched the teen's house, and subsequently arrested the 16-year-old, whose name is being withheld because he's a minor, and booked him at Los Padrinos Juvenile Detention in Downey.
"This is somebody who obviously planned this, who tried to plan it well," said Los Angeles County Sheriff's Department spokesperson Lt. John Corina. "And who then tried to throw everybody off." The weapon has not yet been found.
Ashlie Lara was surprised. "They had a really beautiful friendship since middle school and they got really close this year," she told Fox11.
But apparently Sanchez had recently broken up with his friend and had asked a female friend to the prom. The 16 year old allegedly called Sanchez late Tuesday night and asked to meet him by the river. Sanchez's father reported him missing the next day when he didn't show up for school.
School administrators, coaches and friends describe Sanchez as a warm-hearted, considerate young man who loved sports. "Jeremy was a happy, funny and lighthearted student who had a passion for sports, having played on the football, baseball and wrestling teams," school officials said in a statement. "He was a beloved, natural leader on our campus, and his death is nothing short of devastating."
But Lara said Sanchez had been bullied for being bisexual. "He stopped wrestling and being a football athlete because of this bullying," Lara said. "He might have been bisexual and he got bullied because of that. So that made him quit sports."
"He was always happy," Victoria Loera told ABC7. "Even when he was going through the hardest times, he managed to put a smile on everyone's faces and put everyone's happiness before his own."
"When I first found out, I was speechless. I had no words. I was just in tears, emotional, you know," friend and teammate Anthony Gomez told CBS2.
Briana Amigon has set up a GoFundMe page to support the family. "Jeremy Sanchez was a loving young man who was outgoing and full of energy," she says on the site. "He loved playing sports. He was on the varsity football team and also on the wrestling team. We have no words to describe the grief that their family is experiencing right now, and many friends and family have asked how they can help at this difficult time."
Anyone with information on the case was urged to call the Sheriff's Homicide Bureau at (323) 890-5500.
WeHo Arts unveils new holiday street pole banner by Sophie Morro
The city has also installed annual holiday lights on street poles and around trees lining Santa Monica Boulevard to make the city festive

By Paulo Murillo | WEST HOLLYWOOD – The annual holiday street pole banners went up this week throughout the city of West Hollywood. The City's WeHo Arsts unveiled the new holiday artwork by artist Sophie Morro along Santa Monica Boulevard, San Vicente Boulevard, and Melrose Avenue.
A total of 29 of the new banners were produced this year and will become part of the annual collection of holiday street pole banners on display in WeHo to celebrate the holidays. Banners include past holiday artwork by Shag (Josh Agle) and Mosa Tanksley.
The city has also installed annual holiday lights on street poles and around trees lining Santa Monica Boulevard to make the city festive around the holiday and New Year's celebrations.
Sophie Morro is an artist based in Los Angeles. Her oil paintings are largely informed by an autobiographical narrative with nods to spirituality, dreams and the otherworldly. Visit sophiemorro.com to learn more about the artist.
In April, 2022, the City of West Hollywood Arts Division made a call seeking a visual artist to provide artwork for the city's annual winter / holiday card and street pole banner display. The deadline to submit their work to WeHo's Performing Arts and Cultural Affairs Subcommittee was May, 2022.
The new artwork will also be used on the City's annual end of year Winter / Holiday card, social media promotions along with the printed street pole banners. Artists were invited to submit existing work samples to demonstrate their style and technique.
The Request for Qualifications was open to artists who live in California. Artists who live in
West Hollywood and artists of color, women, artists with disabilities, and LGBTQIA+ artists
were highly encouraged to apply. The artists who applied will remain eligible to be selected as semi-finalists for 3 calendar years without needing to reapply.
The City of West Hollywood's Arts Division and Arts and Cultural Affairs Commission believe
that all people in the City of West Hollywood have the right to celebrate and engage in meaningful and relevant arts and cultural experiences.
Each member of the community should have access to the arts which reflect and nurture individual identities, affirm personal value, and foster belonging in the community. The right to participate freely in the cultural life of the community is recognized as a basic human right.
The Division and Commission's definition of diversity includes all ways in which people
differ, including but not limited to, race, ethnicity, gender, socioeconomic status,
education, age, gender identity, gender expression, sexual orientation, ability,
geography, citizenship status, religion, language, physical appearance, and the
intersection of these various identities.
*******************************
Paulo Murillo is Editor in Chief and Publisher of WEHO TIMES. He brings over 20 years of experience as a columnist, reporter, and photo journalist.
The preceding article was previously published by WeHo Times and is republished with permission.