April 20, 2018 at 2:04 pm PDT | by Susan Hornik
Liza puts all that jazz on display at Paley Center
RUN to Beverly Hills. Now.  Liza has taken over the whole town and Paley Center will just never be the same.
Ah, the memories!  An actual shrine to all things Liza, right down to her one pair of her many wedding shoes! I was verklempt.
Funny, while visiting, I found myself wishing I could just Google childhood memories.  I would want to look up what my mother and I used to say about Judy Garland and her beautiful daughter, Liza Minnelli.
Come to think of it, I could just ask nearly any gay man their favorite memories of Liza and the answers would be amazingly similar;  they are both so universally loved.
Together they have done more than any celebrity to give definition to the earliest days of the gay civil rights movement, inspiring a riot of dignity at Stonewall on the night of Judy's death and giving us an anthem in "Somewhere over the Rainbow." And Liza raised her own mother's game and pushed the rainbow ever higher, nearly eclipsing her mother's gay megawattage.
Seeing Liza's Academy Award-winning performance, "Cabaret" was electrifying. With her sexy pixie cut and stellar voice, Liza lit up every scene she was in. And she was in our hearts forever.
Which is why I was thrilled to hear about "Love Liza: The Exhibit" at the Paley Center For Media in Beverly Hills.
The exhibit is quite simply, a love letter to any fan.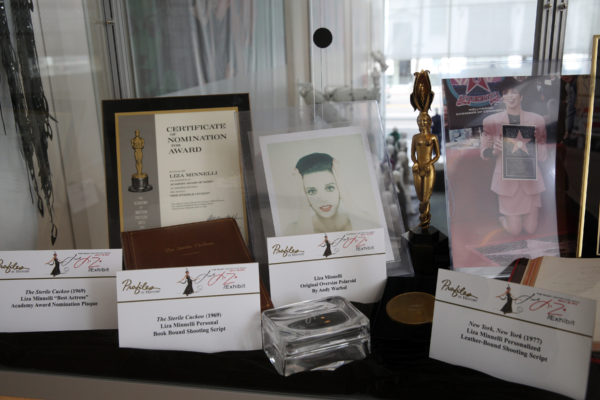 In a statement offered to press, Liza said: "Throughout my long career, I have collected wonderful possessions and memorabilia and now I've reached a point in my life where I want to simplify and share with my fans who have always been there for me.
"Without their unending love and support, none of this would have been possible. I hope my fans will be thrilled to not only have a chance to own a piece of my history but also that of my mother and father — Judy Garland and Vincente Minnelli."
Rene Reyes, Executive in Charge of Production at The Paley, talked exclusively to the Blade about Liza's decision to create the unique exhibit.
"Liza has had all these treasures, incredible artifacts from her career in show business, preserved in multiple warehouses across the country," said Reyes. "She recently moved to Los Angeles and felt the time was right to have them on display for the audiences who've sustained her throughout her amazing career to see."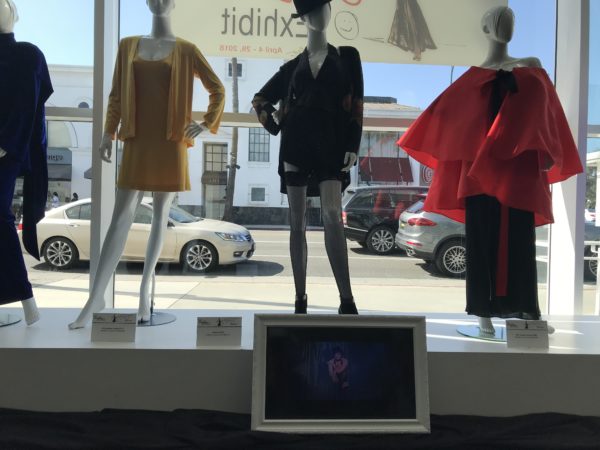 (Yes, you read that right— Liza resides in LA!  "Look for Michael Feinstein," find Liza, they say.)
"Knowing that her forthcoming auction will help support the incredible work that Michael Feinstein's Great American Songbook Foundation does in terms of celebrating the legacy of the great composers, lyricists and performers of the songbook era was too good an opportunity to pass up," Rene said.
Having the collection at the Paley also give attendees the unique opportunity to display items related to Liza's iconic performances on television, Rene said.
"There are costumes from her Emmy-winning TV and concert specials, many designed by Halston. She had a truly unique relationship with him. In many ways, like the team of John Kander and Fred Ebb helped create her musical persona, Halston created her fashion persona," Rene explained.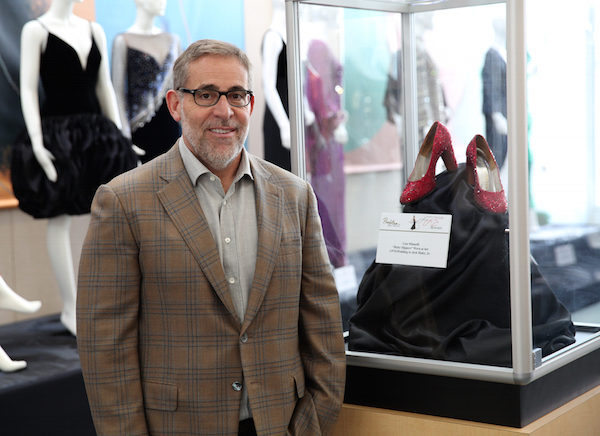 Liza's auction begins in June.
"The chance to display Halston's glittering red sequined jumpsuit and jacket from her Tony-winning performance in 'The Act,' which she also wore on The Tony Awards broadcast in 1978, is especially thrilling. It's pure magic, pure Liza," enthused Rene.
"It almost vibrates with energy. You can see the costume up close, and then watch the performance in our archive."
While Rene adores many of the treasured items, he has a favorite.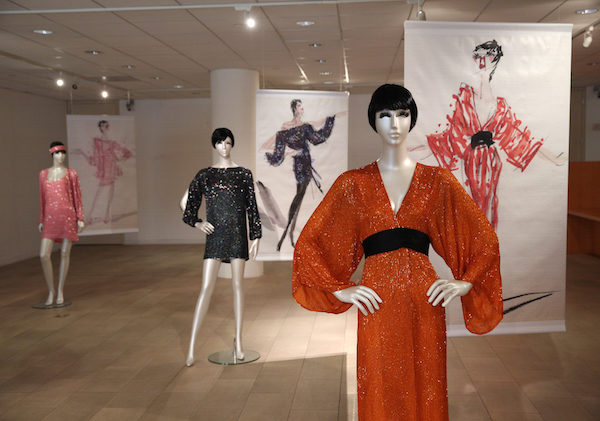 "I love the stunning black-and red sequined costume Bob Mackie designed for the amazing 'Goldie (Hawn) & Liza Together' TV special in 1980. Arguably better than any other designer, Bob knew intrinsically how to create a costume that can enhance movement within a dance number."
In this special, the two divas perform a great version of "All that Jazz" from Chicago.
"Bob's incredible costume truly enhanced each performers' brand of magic," noted Rene. "Since at one point, Liza and Goldie were rumored to be starring in the film version of that musical, it's fun to have the costume on display and the special itself preserved here in our archive."
The exhibit includes some of the incredible mementos of Liza's legendary parents.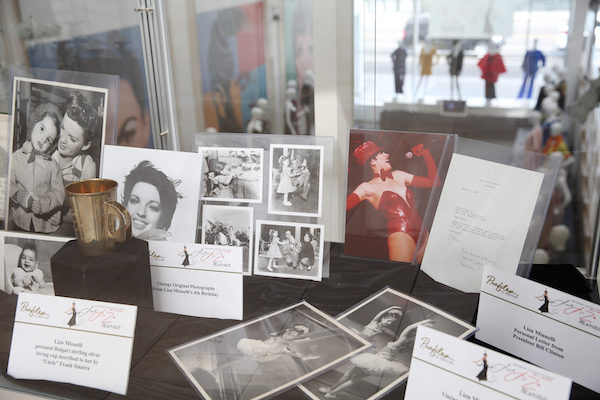 "It's particularly touching to see Garland's handwritten notes to Mr. Minnelli, one event embossed with her lipstick print. There's also a beautiful painting of Liza as a child that her parents had commissioned. It hung in their family home."
The various items are a treasure trove for lovers of Hollywood history, noted Rene. "You can also see Mr. Minnelli's personal shooting script for 'An American in Paris.'" (Liza's dad directed the much celebrated film).
Here's hoping Liza will make an appearance for Pride.
And, while we're at it…why isn't Beverly Hills piping her musical catalogue into the streets of Beverly Hills shopping district?
I really want to know!
Love Liza: The Exhibit" at the Paley Center for Media, 465 N. Beverly Drive, Beverly Hills; Wed.-Sun., 12-5 p.m., through April 29; free. (310) 786-1000, paleycenter.org.