April 20, 2018 at 10:21 am PST | by Karen Ocamb
Students walk out marking Columbine anniversary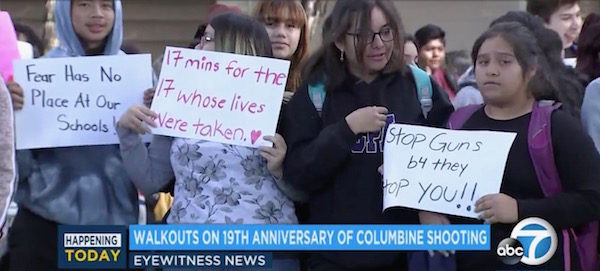 Many of the students participating in Friday's National School Walk Out were not even born when 13 people were murdered during the mass shooting at Columbine High School in Littleton, Colorado on April 20, 19 years ago. But they became energized after the shooting at Marjory Stoneman Douglas High School in Parkland, Florida on Feb. 14 with many planning to take action at the voting booth to inject gun control into the political dialogue.
Thousands of students and allies are participating in walk out protests and other disruptions around the country, according to the National School Walk Out website, including protests outside of Los Angeles City Hall and schools around the LA area.
The idea for the April 20 walkout originated with a Connecticut sophomore shortly after life returned to "normal" despite a former student shooting up his Parkland high school with a semi-automatic AR 15.
"I remember I didn't have a huge reaction," Lane Murdock, 16, a student at Ridgefield High School told KYMA TV. "And because of that, I needed to change myself, and we needed to change this country. We should be horrified, and we're not anymore."
She created a change.org petition where she "poured my heart out" in a plea to the U.S. Senate and the President. The petition caught on and soon, through social media, developed into the national walkout with individual chapters carrying the "#NeverAgain message.
"That America's children are growing up in fear is something we're not talking about," said Lane. "No child should have to learn how to hide from a shooter."
"It is not conservative or liberal," she said. "It's about making sure children don't get harmed in school and we don't live in a country that has institutionalized fear."