Historic Trans Wellness Center opens in Los Angeles
One-stop for trans services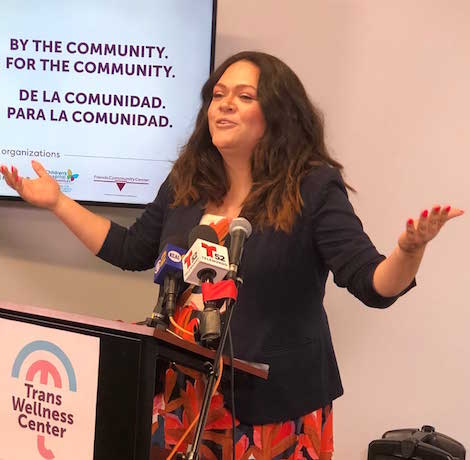 The Los Angeles Trans Wellness Center (TWC) marked its grand opening Tuesday morning with a press conference and rapturous applause, The TWC is the first trans center hosting trans programs of six organizations, providing comprehensive resources and services for transgender and non-binary people under a single roof.
"For the first time in the history of the transgender movement, trans and non-binary individuals finally have a safe, friendly, and non-judgmental area where they can find a wide range of vital services under one roof created by – and for – the community," said TWC Program Manager Mariana Marroquin. "I am honored to be part of this new and exciting effort to empower the transgender and non-binary communities."
The opening of the Trans Wellness Center is the culmination of a ten-year-long process of advocacy and development. Funded through a $1 million annual grant for three to five years from the Los Angeles Country Department of Public Health, TWC was formed by six local community organizations: APAIT apaitonline.org (Asian Pacific AIDS Intervention Team; Facebook: APAITSSG); Bienestar, bienestar.org (on Facebook: bienestar.familia); Children's Hospital Los Angeles chla.org (Facebook: ChildrensLA); Friends Community Center friendscommunitycenter.org (Facebook.com/FriendsResearch); [email protected] Coalition, translatinacoalition.org (Facebook.com/translatinacoalition); and the Los Angeles LGBT Center, lalgbtcenter.org (Facebook.com/lalgbtcenter), which is leading management and operations support for the TWC.
"We value all clients having access to all the services needed as well as creating spaces that are welcoming and culturally appropriate for all transgender people," Bienestar Director of Programs and Services Brendan O'Connell said in a press release. "With more than 21 years of experience providing health and wellness programs to the Latina transgender community, we are committed to providing comprehensive services to Los Angeles' transgender community from the Trans Wellness Center's one-stop, centralized location."
"This Center's opening is a culmination of thousands of days of visioning, deliberating, debating, planning, and negotiating. The process has not always been easy, but in the end, your shared commitment to the health and wellbeing of our transgender sisters and brothers, your dedication to health equity and your fight for positive social change has outlasted any threats to a remarkable partnership," Mario Perez, Director of the Division of HIV and STD Programs at LA County's Public Health Department, said at the news conference.
The Center will provide hormone therapy and transition resources, HIV testing and care, mental and sexual health services and education, occupational training, housing and legal services, among other services.
These services are vital to the transgender community. According to the National Center for Transgender Equality, unemployment rates among transgender individuals are three times higher than the national average, 30% of the transgender population have experienced homelessness at some point in their lives, and 45% of transgender people have not been tested for HIV despite having a fivefold chance of having the virus. The scariest statistic: 68% of national LGBTQ homicide victims in 2016 were transgender women, according to the National Coalition of Anti-Violence Programs.
"We finally have a space that is dedicated to the overall well-being of transgender people," APAIT Health Educator Jaden Fields said in a statement. "As a community partner, APAIT will be providing services and programming to address the economic empowerment of transgender people."
"The Trans Wellness Center is the first-of-its-kind in Los Angeles and in the nation, providing a safe place and resources for transgender and non-binary individuals," said Friends Community Center HIV Outreach Educator April Saravia.
The TWC's Community Advisory Board, an eight-person panel comprised of transgender and non-binary people, pledged to ensure that these specific community needs are met.
"We walk our walk every day, we're out in the community and we're able to really identify from that what the community needs," Board member Thea Eskey explained, "and what specifically the voices are saying back to us."
TWC is also "looking forward to creating more opportunities for people where they feel empowered to sit at a table and not just beg for crumbs under it," Eskey said.
Los Angeles LGBT Center CEO Lorri L. Jean expressed enthusiasm for the Board.
"One of the exciting things about this Center is – we don't quite know what it's going to be because the Community Advisory Board is going to be key to figuring out which programs and services should be here," Jean said. "I imagine it's going to evolve, and we're going to learn things once it gets going that we maybe didn't know before."
Establishing the Trans Wellness Center, the speakers concurred, is not the end of the fight for trans lives and equality.
"Our shared progress will require a disproportionately high level of attention and commitment to our residents whose social, economic, and structural environment makes improved health outcomes including HIV- and STD-related outcomes, more challenging but not impossible, particularly among transgender women," Perez said. "We expect that this center will offer that attention and commitment."
"Our society is rife with ignorance and bigotry," Jean said. "Lots of folks don't understand [gender] and you grow up not having any role models. One of the things that [the Center] will be able to do here is to provide more visible role models."
"We have been telling our stories, educating ourselves, marching along with other fighters for our rights, and it was about time to have our own Center," said TWC Program Manager, Mariana Marroquin. "The health and well-being of trans and non-binary people goes beyond learning how to use a condom and getting tested. How are you going to get tested if you're hungry? How are you not going to engage in survivor's sex work if you cannot get a job where you are respected for who you are? How are you going to take medication if you feel that your life doesn't matter? How are you going to leave that abusive relationship if you're going to end up homeless? This is the Transgender Wellness Center—and we see you. We understand where you're coming from, because this place was created by the community and for the community."
The Los Angeles Trans Wellness Center is located at 3055 Wilshire Blvd. near the Koreatown and Wilshire Center neighborhoods. It is open Monday through Friday from 10 a.m. to 4 p.m. and can be contacted at (323) 993-2900 or at [email protected] For more information about the TWC, visit mytranswellness.org.
Visalia's city council proclaims October 'LGBTQ history month'
"Thank you to the council for doing this […] When we started this work five years ago, we didn't know how we would be received in the city"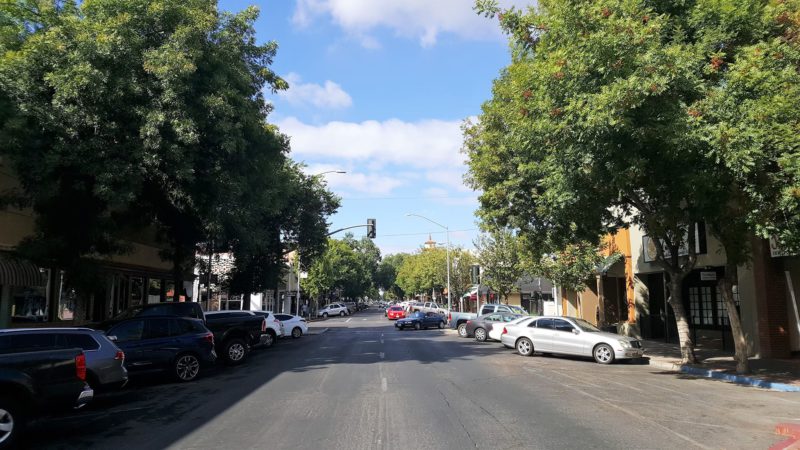 VISALIA, Ca. – In a proclamation this past Monday, the city council paid tribute to The Source LGBTQ+ Center's work in the Visalia LGBTQ+ community, including Tulare and Kings Counties over the past five years. The council also proclaimed October as LGBTQ+ history month presenting 'The Source' a plaque noting the nonprofit's recent expansion.
"In 5 years, The Source has become the largest LGBT center between Los Angeles and Sacramento," the plaque reads in part, The Visalia Times-Delta newspaper reported.
"We started with just an idea that we came up with on Main Street – back when it had antique stores," said Nick Vargas, director of development and cofounder of The Source. "From that idea, other people have joined us and I have been able to do the best work of my life, helping the citizens of Visalia, particularly the LGBTQ youth, those living with HIV, and their families."
On Saturday, the fifth annual Pride Visalia organized by 'The Source' was held at a different time of year and in a brand new location, Valley Strong Ballpark, supported by communications giant T-Mobile. The center's annual Halloween Gala was also held Saturday night at the Bello Vita Venue.
"Thank you to the council for doing this, it means a lot to us. When we started this work five years ago, we didn't know how we would be received in the city," Vargas said. "It means a lot to be here today, I would love it if you all showed up to PRIDE Visalia… but just knowing we have the support of the council and the city, is a lot."
On its website, 'The Source' specifies that the center's mission is to "provide spaces within our communities for the LGBT+ population to Learn, Grow, Belong, Transform, Question + Support."
Visalia, the Tulare County seat, is the gateway to Sequoia National Park, and only forty-one miles south of Fresno located in the conservative San Joaquin Valley region of central California. In Congress, the area, California's 22nd congressional district, is represented by Republican Devin Nunes, who has been unresponsive to LGBTQ+ concerns, having been labeled anti-LGBTQ+ by the Human Rights Campaign and Equality California.
The Times-Delta also reported that The Source is also hosting its first-ever AIDS Walk to raise awareness as well as funds. The walk is scheduled at 11 a.m. on Oct. 30 on NW 2nd Avenue.
Pride Visalia 2021 sponsored by T-Mobile:
Los Angeles City Council bans homeless camps in 54 locations
Sitting, sleeping & storing property near fire hydrants, building entrances, driveways, libraries, parks, elementary schools banned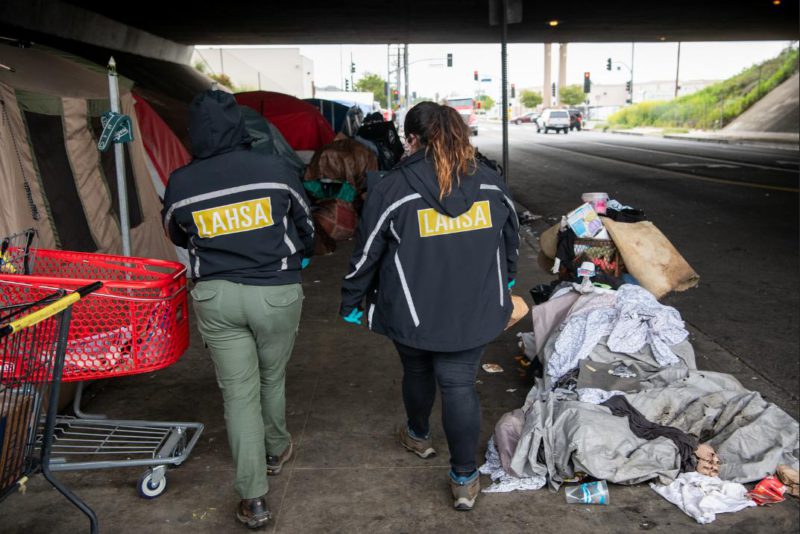 LOS ANGELES – Setting up or creating encampments by homeless persons in 54 select locations across the city is now banned after the LA City Council voted 12-2 Wednesday to outlaw sitting, sleeping and lying in those places.
Utilizing new laws passed over the summer after contentious and at times acrimonious debate, the council enacted new rules regulating sitting, sleeping and storing property near fire hydrants, building entrances, driveways, libraries, parks, elementary schools and several other locations.
The council also directed city staff to ensure that the homeless were given proper notifications prior to action and that all departments expand staff and make available resources to help those affected by the new ban.
On Wednesday, U.S. Veterans Affairs Secretary Denis McDonough announced that the VA is going to place more than 500 unhoused veterans living in Los Angeles into permanent housing.
According to McDonough, the efforts will be in two steps, the first to assist approximately 40 veterans living on the street in what is colloquially referred to as the 'Veteran's Row' encampment, located adjacent to the VA campus in Brentwood on San Vincente Boulevard.
Today, the VA has committed to quickly housing the Angelenos encamped on the federal land near the West LA campus — a big step in the right direction.

Deeply grateful to @SecVetAffairs, @LAHomeless, and @POTUS for their partnership.https://t.co/qiHNMvLm8j pic.twitter.com/R4q246RQFs

— MayorOfLA (@MayorOfLA) October 20, 2021
That encampment has been highlighted by mayoral candidates visiting it frequently including last week by U.S. Representative Karen Bass, (D) who was accompanied by the VA Secretary.
The next step is move another 500 veterans into permanent or transitional housing by December 31, the VA Secretary said.
In the last census count of homeless people conducted by the County of Los Angeles, of the nearly 66,000 people experiencing homelessness, roughly 3,900 are homeless veterans.
LA City Council votes to suspend Ridley-Thomas over corruption charges
The 11-to-3 vote to suspend vote came two days after Ridley-Thomas announced that he would "step back" from his duties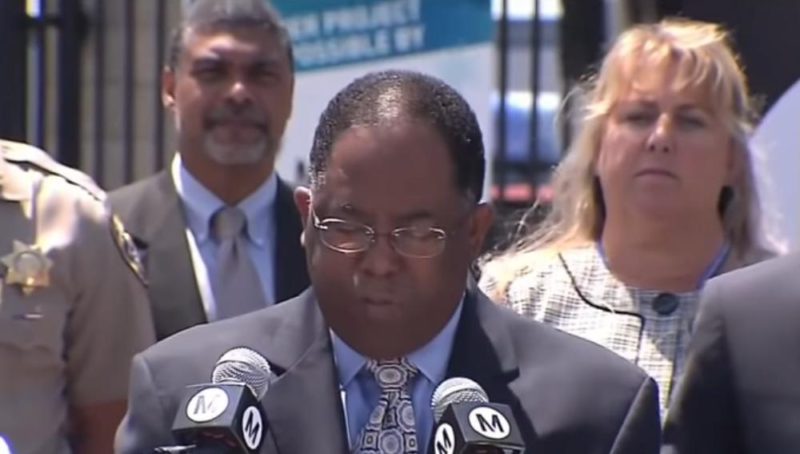 LOS ANGELES – The city council voted Wednesday to suspend Councilman Mark Ridley-Thomas, 66, who was was indicted a week ago by a federal grand jury on 20 federal counts of conspiracy, bribery, mail and wire fraud.
The 11-to-3 vote to suspend vote came two days after Ridley-Thomas announced that he would "step back" from participation in City Council meetings and committees. Ridley-Thomas, who has denied any wrongdoing, has said he will not resign and will fight the federal charges against him, KTLA and the Los Angeles Times reported.
The federal grand jury's indictment alleged that Ridley-Thomas took bribes from a former dean at the University of Southern California, (USC) when he was a member of the County Board of Supervisors.
In a letter sent to fellow councilmembers Monday, he indicated that he would step back from his duties but he declined to resign from his seat. He said that he planned to fight the "outrageous allegations" and would resume participation on the legislative body "at the earliest appropriate time."
The Los Angeles Times reported that in exchange for the payoffs, Ridley-Thomas allegedly supported awarding county contracts worth millions of dollars to USC.
In the indictment Ridley-Thomas is charged with conspiring with Marilyn Louise Flynn, 83, then dean of USC's School of Social Work, to steer county money to the university in return for admitting his son Sebastian into graduate school with a full-tuition scholarship and a paid professorship, the Times reported.