April 26, 2018 at 10:25 am PDT | by Staff reports
California files new motion opposing Trump trans military service ban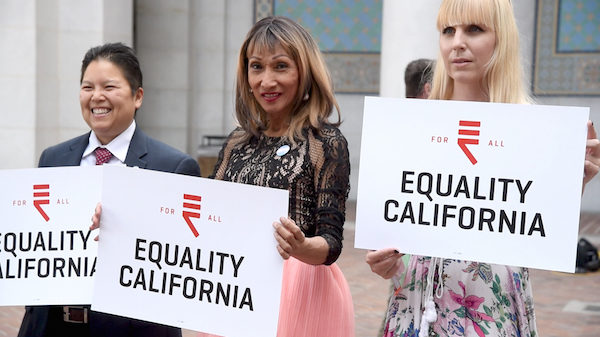 Attorneys for Equality California filed a new motion Wednesday in opposition to the Trump Administration's request to dissolve the nationwide preliminary injunction preventing the government from moving forward with a ban on military serve by transgender individuals.
U.S. District Court Judge Jesus G. Bernal issued his ruling last December in Equality California's lawsuit, Stockman v. Trump. There are currently four separate preliminary injunctions issued by four separate federal courts, blocking Trump's ban from moving forward while the cases are being heard by the courts.
Late last month the administration filed a motion to dissolve the injunction, telling the four federal courts that the government had issued a new policy on trans military service. In the filing Wednesday, however, attorneys for The National Center for Lesbian Rights (NCLR) and GLBTQ Legal Advocates & Defenders (GLAD) disputed that assertion, instead outlining that government's "new" policy merely details the steps the military plans to take to implement the ban that Judge Bernal and the three other federal court judges had already blocked from taking effect.
"There's nothing new here, the supposedly 'new policy' excludes transgender people from military service. It is the same ban the courts have already enjoined," GLAD Transgender Rights Project Director Jennifer Levi said in a statement.
Shannon Minter, NCLR's Legal Director concurred adding, "There is no justification for a special rule banning transgender people from military service rather than permitting them to serve on the same terms as everyone else. Transgender troops have already been serving their country with honor and dignity for decades."
The plaintiff's case had widespread support opposing Trump Administration efforts to implement President Trump's ban. That support has been further bolstered from the Defense Department itself as the Chief of Staffs' of the Army, Navy, Air Force along with the Commandants of the Marines and Coast Guard, have testified to lawmakers on Capitol Hill, along with public statements that allowing transgender people to serve in the U.S. armed forces, hasn't resulted in any problems with unit cohesion or morale, undercutting a report from Defense Secretary James Mattis that raised fears about those issues without a transgender military ban.
The service chiefs' statements were further buttressed by six former U.S. Surgeons General, who have signed a publicly released statement disputing Defense Department assertions about the medical fitness of transgender troops.
"We are troubled that the Defense Department's report on transgender military service has mischaracterized the robust body of peer-reviewed research on the effectiveness of transgender medical care as demonstrating 'considerable scientific uncertainty," the Surgeon General say. "A wide body of reputable, peer-reviewed research has demonstrated to psychological and health experts that treatments for gender dysphoria are effective."
The Surgeon General continue: "Research on the effectiveness of medical care for gender dysphoria was the basis of the American Medical Association's 2015 resolution that 'there is no medically valid reason to exclude transgender individuals from service in the U.S. military.'"
The lawsuit, Stockman v. Trump, was filed on behalf of Equality California last Fall on behalf of its membership as well as individual plaintiffs Aiden Stockman, Nicolas Talbott, Tamesyn Reeves, Jaquice Tate and three unnamed current service members. Attorney General Xavier Becerra intervened as a plaintiff on behalf of the State of California in November 2017.
"Transgender Americans are guaranteed the same right to life, liberty and the pursuit of happiness as any other American," Becerra said. "We owe transgender service members, like all Americans who courageously serve our nation, our support and gratitude for putting their lives on the line. President Trump's transgender military service ban is primitive. It is discriminatory, plain and simple. We will fight it in every form."