Is LGBT ally Joy Reid being framed?
FBI investigating old blog manipulation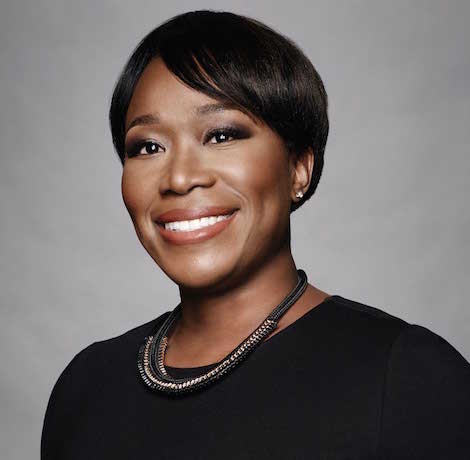 These are the days of our lives: it is easier to believe that Russian bots play havoc with Donald Trump on Twitter than it is to believe an Internet troll framed progressive MSNBC host Joy Reid as a homophobe.
What started out as curious Twitter excerpts from a decades-old, now-defunct homophobia-laced blog—for which Reid has apologized—has morphed into a serious and growing swarm of hungry Internet piranha nibbling away at Reid's reputation. The focus of the attack is no longer whether longtime LGBT ally Joy-Ann Reid is "way more homophobic" than the first old posts suggest but whether she is lying about the newly discovered second batch of ugly blog excerpts, which Reid denies writing.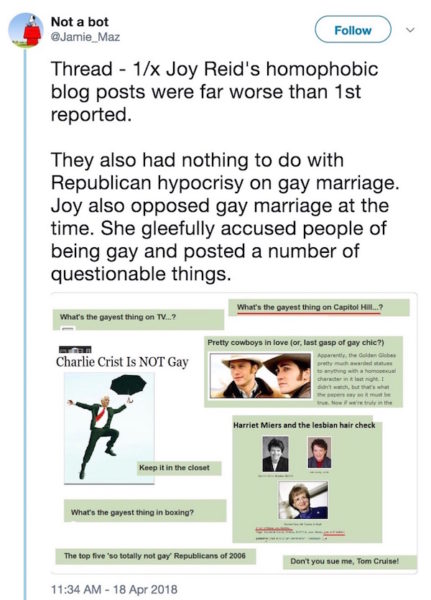 Reid says she learned she was the victim of an "external party" late last year and immediately hired an independent cyber-security expert to investigate. She also turned the matter over to federal law enforcement and late Wednesday, Reid's attorney John H. Reichman, confirmed that the FBI "has opened an investigation into potential criminal activities surrounding several online accounts, including personal email and blog accounts, belonging to Joy-Ann Reid."
NBCUniversal says Reid will remain on the air as the investigation proceeds but PFLAG rescinded an honor it planned to give her on May 9 and The Daily Beast announced Thursday it is putting her column on hold.
Reid's friend Jonathan Capehart is standing by her. "Joy Reid is a friend and an ally, to me and the LGBTQ community," Capehart tells the Los Angeles Blade. "My faith in that and her has not been shaken. But what's happening is wrong and should scare anyone with a voice or a platform that speaks to and for millions. The message couldn't be more clear: If you get too loud or too prominent they (whoever they may be) will try to silence you. The reason Joy has a strong and devoted following is because she is fearless in speaking truth to power. And she needs to keep doing it."
What happened that so quickly put Joy Reid's reputation in jeopardy?
From 2007 to 2009, Reid wrote a number of snarky posts at The Reid Report calling then-conservative Florida Republican Gov. Charlie Crist "Miss Charlie," among other anti-gay references. The blog stopped in 2011 and was presumed dead until the end of last year when Twitter user "Not a bot" (Jamie Maz) found some anti-gay posts in the Wayback Machine, an Internet archiving service, and posted excerpts on Twitter.
Reid, who was then a morning talk radio host and a Florida political blogger, acknowledged the posts were hers. She said the snark was part of a larger environment in which Crist was grist for the gay rumor mill, being outed as a hypocritical closeted gay politician with anti-gay policies.
This is true. "How many new rumors every month can be started about the alleged homosexuality and gay trysts of the former Florida governor, Charlie Crist?" South Florida Gay News publisher Norm Kent wrote on Aug. 29, 2012, citing several specific stories. "Then came Kirby Dick's 2008 documentary, Outrage, where the film all but insisted Crist was living in a glass closet."
Reading her 2007 blog posts in today's light, Reid apologized last December.
"This note is my apology to all who are disappointed by the content of blogs I wrote a decade ago, for which my choice of words and tone have legitimately been criticized," Reid wrote. "But it was my own attempt at challenging Crist on my blog that has now raised the issue of not just my choice of words, but what was and is in my heart.
"Let me be clear: at no time have I intentionally sought to demean or harm the LGBT community, which includes people whom I deeply love. My goal, in my ham-handed way, was to call out potential hypocrisy," she continued. "Nonetheless, as someone who is not a member of the LGBT community, I regret the way I addressed the complex issue of the closet and speculation on a person's sexual orientation with a mocking tone and sarcasm. It was insensitive, tone deaf and dumb. There is no excusing it – not based on the taste-skewing mores of talk radio or the then-blogosphere, and not based on my intentions."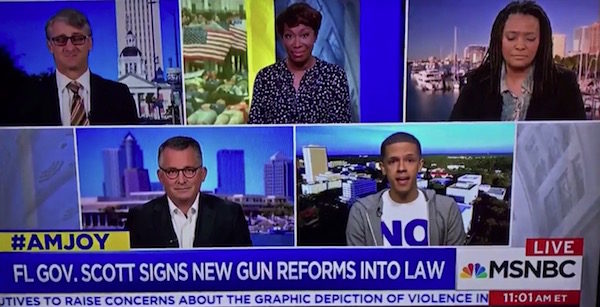 The LGBT community quickly forgave her, with good reason. For years, Reid has featured LGBT people in her stories, such as including Pulse Nightclub survivor Brandon Wolfe and Equality Florida executive director Nadine Smith on a panel discussion about gun violence.
But early this week, Twitter user Jamie Maz found and tweeted out more excerpts supposedly from those old blog posts—which he framed in the context of today's thinking. For instance, in a tweet about a Snickers commercial shown during the Feb. 2007 Super Bowl, he notes that, "Joy says people thinking two men kissing is gross is normal." First, Reid never uses the word "gross," though that can be inferred from the description. Second, in 2007, a "normal" straight male reaction seeing gay men kissing was not warm. In fact, it was called the "ick factor" and a recognized obstacle to overcome in fighting for marriage equality. Third, the Snickers ad was pulled after the Human Rights Campaign and GLAAD complained that it was homophobic.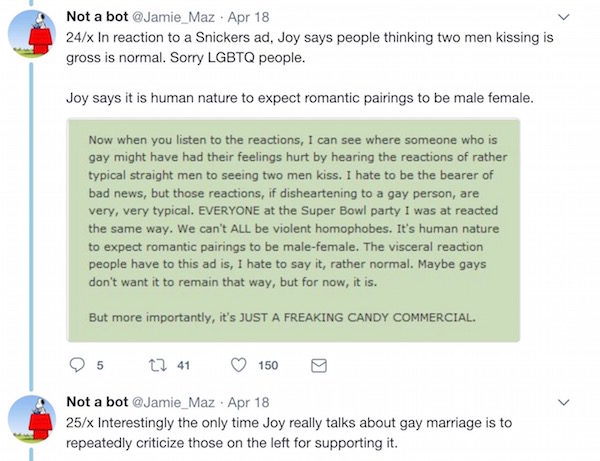 Matz also introduces a post about gay gene manipulation as: "Joy writes that whether you could manipulate your unborn child's genes to assure they are not gay is "an interesting question." Actually, that ethical premise was a 1993 theatrical play, later adapted into a TV movie called "The Twilight of the Golds."
But Reid denies writing the second batch of posts—and that set off a firestorm with Reid on April 23 telling Mediate that the newly discovered homophobic posts were "fabricated."
"In December I learned that an unknown, external party accessed and manipulated material from my now-defunct blog, The Reid Report, to include offensive and hateful references that are fabricated and run counter to my personal beliefs and ideology," Reid said. "The manipulated material seems to be part of an effort to taint my character with false information by distorting a blog that ended a decade ago.
"Now that the site has been compromised I can state unequivocally that it does not represent the original entries," she continued. "I hope that whoever corrupted the site recognizes the pain they have caused, not just to me, but to my family and communities that I care deeply about: LGBTQ, immigrants, people of color and other marginalized groups."
And then the Internet parsing and nibbling began. "It's unclear when the nefarious hackers would have hacked her site and added the controversial content, since it has been defunct for years and still is," Mediaite reported. "More importantly, NBC could or would not specify exactly which posts Reid is claiming were doctored."
On Tuesday, April 24, Glenn Greenwald wrote a long post on The Intercept entitled "MSNBC's Joy Reid Claims Her Website Was Hacked and Bigoted Anti-LGBT Content Added, a Bizarre Story Liberal Outlets Ignore."
"[T]hese newly discovered articles have nothing to do with GOP hypocrisy. They are just hateful, bigoted, and homophobic in their own right," Greenwald wrote, citing examples itemized by Mediate.
If Reid had just apologized as she had in December, all would have been forgiven again, he suggested.
But Reid didn't confess and apologize, thus meriting deeper scrutiny. "How, then, did they end up on her blog under her name? According to Reid, she was the victim of 'hackers': somehow, nefarious disinformation agents managed to hack not her blog (which is now deleted), but rather the Wayback Machine and its digital archive. They penetrated the Wayback Machine and then, according to Reid, added some anti-gay content," Greenwald wrote.
It should be noted that Reid and Greenwald have had a publicly contentious feud since at least 2013 when Reid question Greenwald's journalistic relationship with NSA whistleblower Edward Snowden. In this instance, Greenwald framed the blog issue in a way others have since taken up.
"The biggest part of the story is the veracity of her remarkable claim — that she's making not 10 years ago but now — that it was hackers who wrote the offensive material under her name," Greenwald wrote. "Only one of two things can be true here, and they are both rather consequential: Either (a) hackers found a way to effectively alter the digital archives of the Wayback Machine in order to smear the name of a major TV news personality by attributing fabricated content to her, or (b) this major TV news personality is lying — not 10 years ago, but today — in order to falsely deny authorship of her own journalism."
On the same day Greenwald's story broke, PFLAG—which had fired its executive director five weeks earlier—decided to rescind its Straight for Equality in Media award.
"When we extended our invitation to Ms. Reid to honor her at our 45th anniversary celebration, we did so knowing about the blog posts from the late 2000s regarding Charlie Crist. We appreciated how she stepped up, took ownership, apologized for them, and did better—this is the behavior and approach we ask of any ally. However, in light of new information, and the ongoing investigation of that information, we must at this time rescind our award to Ms. Reid," PFLAG National president Jean Hodges said in a statement.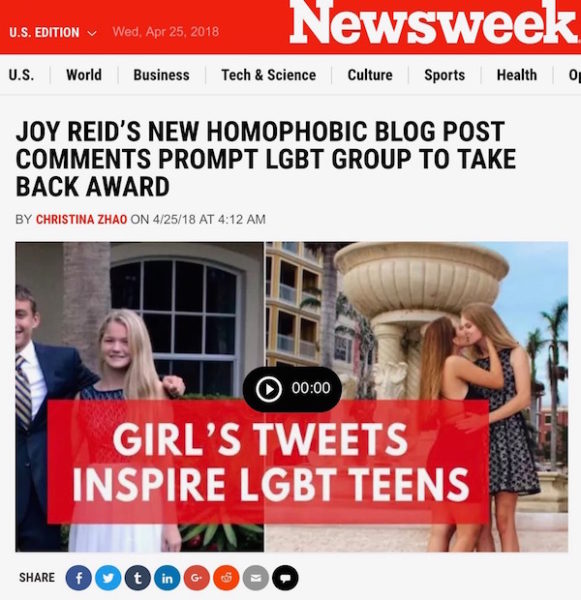 PFLAG's move blew up the Internet and was construed as the LGBT community affirming conspiratorial suspicions.
Meanwhile, as technology experts argued whether the Wayback Machine could be hacked or not, thereby ostensibly proving that Reid had or had not lied—a Twitter and tech savvy blogger named Shoq—who identifies as "the token heterosexual in a mostly gay enclave called Wilton Manors"—offered new insight.
"I am the one who found the posts in the archive back in December and brought them to Joy's attention. She was absolutely stunned by every word in them. We read them aloud together. She'd obviously never seen any of them, and had no idea what else there was to see until I pointed each item out. Though she was obviously upset, we were laughing at what a terrible job they had done trying to sound like her. We both felt no one would take such poor forgeries seriously," Shoq wrote on April 24, regarding-a-joyannreid-controversy/ after having his Facebook reply to a Buzzfeed story rejected.
"But just for my own edification, I spent hours trying to find a single ping-back, reblog, or pull-quote with any part of this material in them. There was nothing. There is still nothing. No a trace of these words anywhere but the Internet Archive," he wrote. "This was just a setup from one of her many enemies, most of whom have very good reasons to fear her powerful voice."
That Buzzfeed story centered around a statement from the Internet Archive, which maintains the Wayback Machine, following a request for review from Reid's attorneys.
"When we reviewed the archives, we found nothing to indicate tampering or hacking of the Wayback Machine versions," read the statement attributed to Internet Archive officer manager Chris Butler. "At least some of the examples of allegedly fraudulent posts provided to us had been archived at different dates and by different entities."
Shelley Powers at BurningBird took notice. On Wednesday, she wrote "The Joy Reid Saga: The Wayback Machine cannot guarantee authenticity."
"[T]he Wayback Machine is not, and never has been, a definitive source of the authenticity of what it captures on the web. It has access to a web page at a specific location at a specific time…but no special privilege that allows it to determine the authenticity of the author of the content in the page," Powers wrote. "The assumption of authenticity is the error made by the original Twitter 'sleuth'. This is the error made by Mediaite. This is the same error made by most of media reporting on this story: that appearance of the content in a snapshot at the Wayback Machine is what was actually originally posted by a specific person. That the Wayback Machine's content is authentic."
Reid also released a statement from Jonathan Nichols, a highly credentialed
independent cyber-security expert.
"Five months ago, we found evidence Joy Reid's now-defunct blog, The Reid Report, was breached after a review of suspicious activity," Nichols said. "We discovered that login information used to access the blog was available on the Dark Web and that fraudulent entries – featuring offensive statements – were entered with suspicious formatting and time stamps. The posts included hate speech targeting marginalized communities and Ms. Reid has been explicit in condemning them."
Nichols noted that some of the questionable entries were made while Reid was on air doing her radio show and that "Text and visual styling was inconsistent with her original entries." Additionally, there were no comments, "despite the inflammatory nature of the posts. If those posts were real, they would have undoubtedly elicited responses from Ms. Reid's base. There was also no contemporaneous verification or memory from Ms. Reid's peers or individuals she regularly debated online."
Shortly after Nichols review in December, Reid's attorney wrote to archive.org and blogger.com "to advise them that the blog had been compromised, and that the pages appearing in the Wayback Machine archive included fraudulent posts. The letters detail the evidence that many of the blog posts were made up, including the times posted (times when Ms. Reid hosted her radio show), unusual structure and anomalies within the posts and ghosting around images," Nichols said.
Nichols also clarifies that, "At no time has Ms. Reid claimed that the Wayback Machine was hacked, though early in our investigation, we were made aware of a breach at archive.org which may have correlated with the fraudulent blog posts we observed on their website. We simply wanted to ascertain whether that breach was related to the compromising of Ms. Reid's blog. Once our team determined that the two intrusions were unrelated, we merely attempted to have the fraudulent posts removed from archive.org. They refused this request."
However, Nichols wrote, "we have significant evidence indicating that not only was Ms. Reid's old blog compromised, some of the recently circulated posts were not even on the site at any time, suggesting that these instances may be the result of screenshot manipulation with the intent to tarnish Ms. Reid's character."
Though the FBI is on the case, it appears some Internet commentators are not waiting for results but rather delighting in the sport of vicious critique, some with a decidedly racist and sexist spin. Interestingly, while the whole issue started around about Reid's supposed homophobia—the LGBT community is among them.
Amicus brief: No negative incidents from Trans people in bathrooms
The brief details the constitutionality of bathroom bans. Courts across the U.S. have determined trans people have right to access bathrooms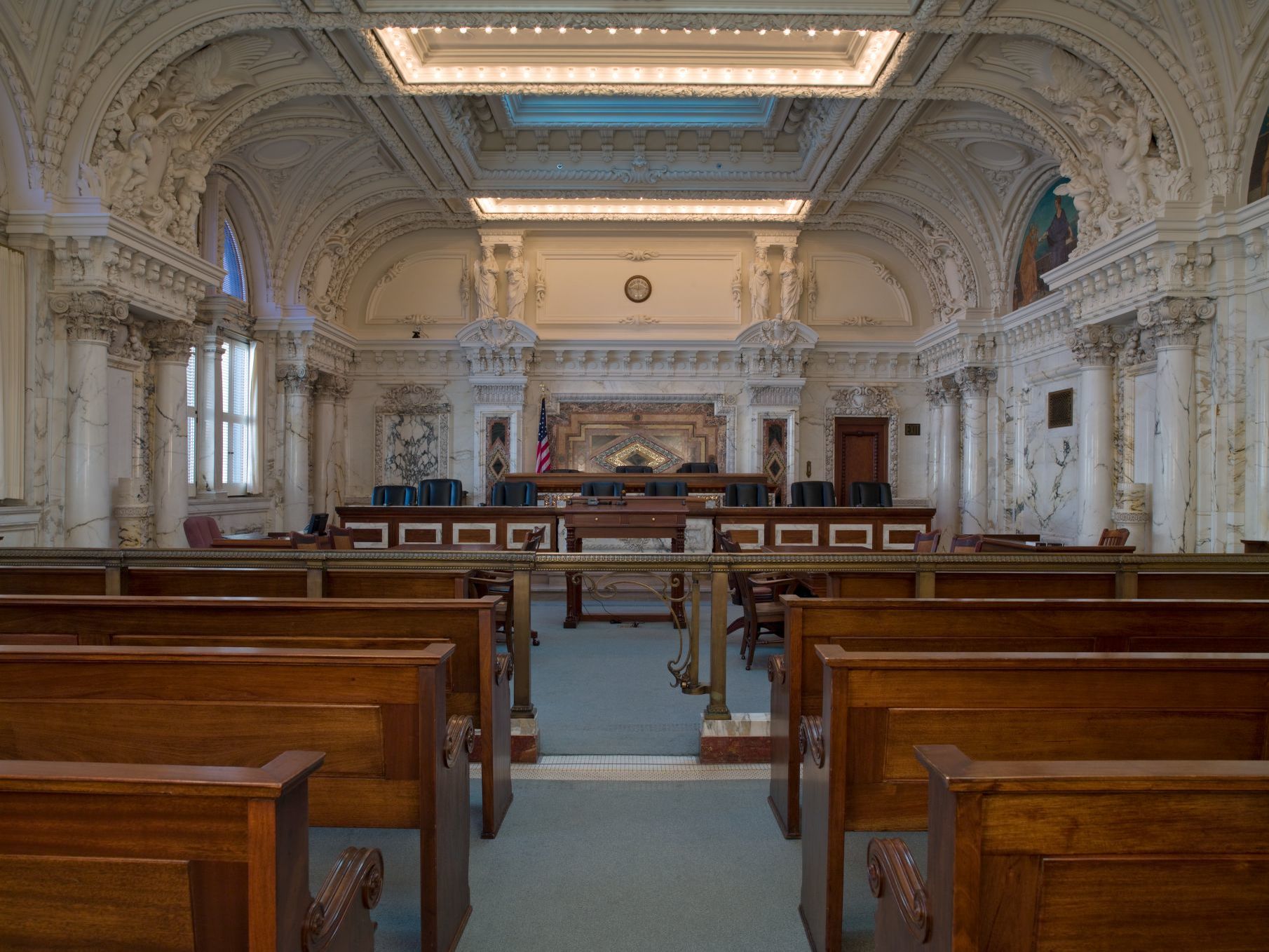 By Erin Reed | WASHINGTON – On Thursday, 21 state attorneys general filed an amicus brief with the 9th U.S. Circuit Court of Appeals, stating that transgender people must be allowed to use restrooms matching their gender identity.
This action comes after a district court judge in Idaho refused to block a ban on transgender bathroom usage in the state; he was promptly overruled by the 9th Circuit, which did block the ban.
The letter represents the latest development in a fight that has worked its way across the country, focusing on equal rights in bathroom accommodations for transgender people and barreling towards the Supreme Court.
The amicus brief is substantial. It represents the work of attorneys general in 21 states, and contains legal precedents, nondiscrimination laws, and the experiences of those states around allowing equal accommodations for transgender people. It cites 13 pages worth of laws, court decisions, and studies to support the rights of transgender people in bathrooms. It draws a final conclusion stating that disallowing trans bathroom access causes "emotional, psychological, educational, and constitutional harm," and requests that the court uphold these rights for transgender students.
The brief is unique in that it outlines the findings of negative events that stem from allowing transgender people to use the bathroom of their gender identity. The brief finds that "nondiscriminatory restroom policies produce important benefits and pose no safety concerns." Importantly, it shows that in states that allow trans students to use bathrooms according to their gender identity, there were "no reported instances of transgender students harassing others in restrooms or locker rooms."
See the briefing on this topic:
Meanwhile, the brief highlights the many negative effects of disallowing transgender people from using locker rooms and bathrooms. The report states that discriminatory policies for transgender people promote absenteeism, leading to trans youth missing valuable school time. These policies also harm the physical and mental health of transgender students.
The brief reports that 73% of trans students avoid restrooms in school because they feel unsafe or uncomfortable. Additionally, over half report negative health effects from doing so, such as kidney infections and other kidney-related problems. Rebecca, one of the plaintiffs in the case, reported limiting fluid intake at school and suppressing bathroom urges, both of which are unsafe for children.
The brief also details expansive case law surrounding the constitutionality of bathroom access. Courts across the United States have determined that transgender people have the right to access bathrooms that match their gender identities. Among the most significant cases is Grimm v. Gloucester County, where the 4th Circuit Court ruled that a transgender boy has the right to use the bathroom of his gender identity.
Similarly, in the 7th Circuit Court, A.C. v. Metropolitan School District of Martinsville was ruled in favor of a transgender plaintiff. Even the 9th Circuit Court, which is hearing this case, has favorable precedent. In Parents for Privacy v. Barr, it was ruled that transgender bathroom access does not violate other students' privacy.
Ultimately, the strength of these cases was bolstered by the Supreme Court's decision in Bostock v. Clayton County, which the report also heavily references. In that decision, which was ruled 6-3 with conservative Justice Neil Gorsuch authoring the opinion, the Supreme Court ruled that "it is impossible to discriminate against a person for being homosexual or transgender without discriminating against that individual based on sex."
Although the decision covered employment law and not bathroom access, many courts have interpreted it as applicable to bathroom access and other areas protected by Title IX.
The brief also directly addresses the idea that Title IX only protects "biological sex." It points out that Title IX regulations do not state that it only applies to "biological" sex "as determined by chromosomes and internal and external reproductive anatomy." Instead, the brief argues that discrimination based on assigned sex at birth treats, for instance, a transgender girl different from a cisgender girl when allowing restroom access. The overreliance on a very specific facet of biological sex likely renders the bill unconstitutional, the brief states.
For now, the bill is blocked in court, allowing Idaho transgender students to use the restroom that matches their gender identity if their school permits it. Meanwhile, cases concerning bathroom access are swiftly moving towards the Supreme Court, with a recent decision from the 7th US Circuit Court currently being appealed to the Supreme Court.
It appears likely that the Supreme Court will soon revisit transgender rights. In this interim, this coalition of 21 states has emerged, vocally advocating for the rights of transgender students and leveraging their collective authority to do so.
Related:
****************************************************************************
Erin Reed is a transgender woman (she/her pronouns) and researcher who tracks anti-LGBTQ+ legislation around the world and helps people become better advocates for their queer family, friends, colleagues, and community. Reed also is a social media consultant and public speaker.
Follow her on Twitter (Link)
Website here: https://www.erininthemorning.com/
******************************************************************************************
The preceding article was first published at Erin In The Morning and is republished with permission.