USAID honors Bangladesh activist on second anniversary of murder
Authorities have yet to arrest Xulhaz Mannan's suspected killers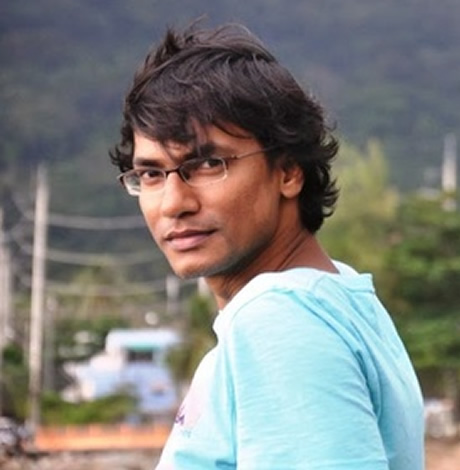 A group of men hacked Xulhaz Mannan and Mahbub Rabbi Tonoy, a fellow activist, to death inside Mannan's apartment in the Bangladeshi capital of Dhaka on April 25, 2016.
Ansar al-Islam, the Bangladeshi branch of al-Qaida, claimed responsibility for the murders.
Mannan was the co-founder and publisher of Roopbaan, the country's first LGBTI magazine. He also worked for the U.S. Embassy in Dhaka for eight years before joining the U.S. Agency for International Development in September 2015.
"Xulhaz devoted his life to promoting progress in the country he loved dearly," said USAID spokesperson Clayton McCleskey on Wednesday in a statement. "He believed deeply that all people — no matter who they are or who they love — deserve dignity, freedom and respect. Today we affirm our commitment to the principle of inclusion that drove Xulhaz's work."
A brick with Mannan's name on it is now near the entrance of USAID's D.C. headquarters. His name has also been added to a plaque at the State Department that honors Foreign Service personnel who have been killed.
USAID Administrator Mark Green earlier this month announced his agency has created the Xulhaz Mannan Inclusive Development Award. McCleskey in his press release said it "will be presented to a USAID employee who demonstrates a commitment to the inclusion of marginalized populations — including persons with disabilities, LGBT people, indigenous peoples, youth and ethnic and religious minorities — in USAID's development efforts."
"USAID is proud to honor Xulhaz's legacy with this award," said McCleskey.
Activists among those targeted by Islamic militants
Mannan and Tonoy are among the activists, secular academics, writers, bloggers and members of religious minority groups in Bangladesh who have been killed by Islamists since early 2015.
Authorities have arrested four people in connection with the murders of Mannan and Tonoy. The Daily Star, an English-language newspaper in Bangladesh, on Wednesday reported the men who are suspected of killing Mannan and Tonoy have yet to be taken into custody.
"On the second anniversary of this tragedy, we reflect on Xulhaz's courage and conviction as a champion for human rights, nondiscrimination and inclusion," said McCleskey. "We also renew our call for the authorities in Bangladesh to bring to justice the perpetrators of this heinous crime."
Wednesday marks two years since a prominent LGBTI rights activist in Bangladesh and his friend were murdered.
California Legislative LGBTQ Caucus to Honor 12 Leaders in Online Event
Honoring our state's LGBTQ+ leaders and commemorate the vibrant community's strengths during an unprecedented year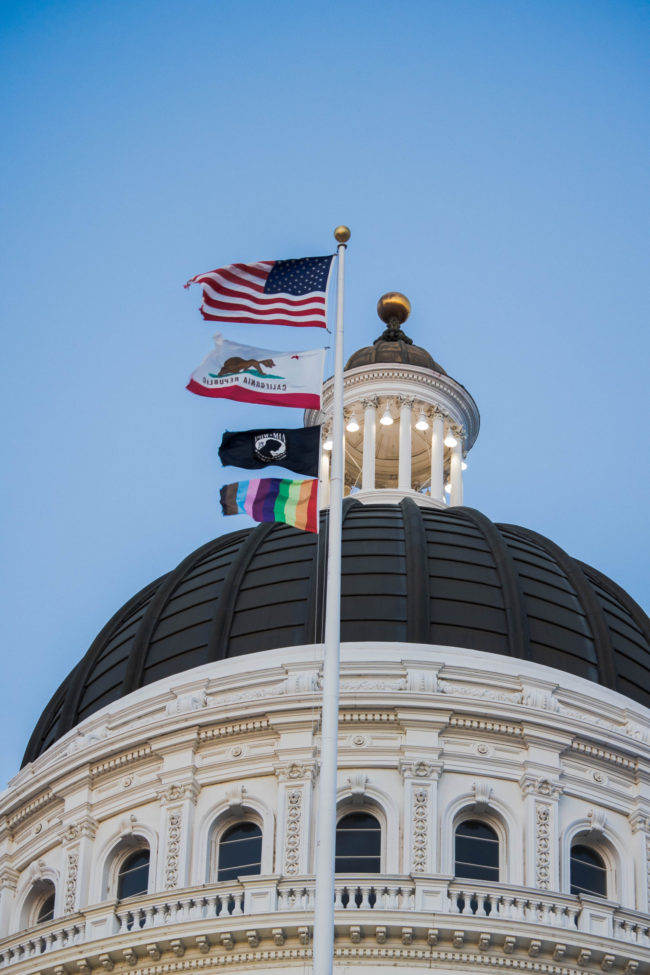 SACRAMENTO – In celebration of Pride Month, the California Legislative LGBTQ Caucus will host a virtual event at 6 p.m. Thursday to honor our state's LGBTQ+ leaders and commemorate the vibrant community's strengths during an unprecedented year.
On Monday, the Caucus introduced Senate Resolution 39 and House Resolution 51 to proclaim June as LGBTQ+ Pride month in the state of California. During that floor ceremony, the Caucus honored a dozen LGBTQ+ Californians for their outstanding work in the community.
The list of honorees, who will also be featured in the online event, included: Roberta Achtenberg, Luis Alfaro, Larry Baza, Robert Gentry, Dr. Lloyd Holmes, Drew Lloyd, Lange Luntao, Connor Maddocks, Gary McCoy, George Murphy, Dennis Sonney, and Kim Tran. Mr. Baza and Mr. Murphy were honored posthumously. Later that night, the celebration continued with the illumination of the Capitol Dome in rainbow colors for just the second time in state history.
Thursday's Pride celebration will be streamed here.
The intimate virtual ceremony will be dedicated to the 12 honorees and allow both Caucus members and honorees to speak about their unparalleled achievements and contributions to California's LGBTQ+ community.
Below is more information on each honoree:
Roberta Achtenberg (she/her)
Roberta Achtenberg has served in many roles during her extensive government and legal career, including the position of Fair Housing Assistant Secretary in 1993. She made history as the first openly LGBTQ+ person to be presidentially nominated and confirmed by the U.S. Senate.

Luis Alfaro (he/him)
Luis Alfaro is a Los Angeles-based author, poet and performer whose work has won numerous awards, including a MacArthur Fellowship. He is currently an Associate Professor at the University of Southern California.

Larry Baza (he/him) – Posthumous
Larry Baza was a dedicated LGBTQ+ activist who devoted his life to advancing civil and worker rights. He passed away in February, but his legacy continues to reverberate across California, especially in San Diego where he tirelessly advocated for the arts and greater access to education.

Robert Gentry (he/him)
Robert Gentry is a devoted public servant who became the first openly gay mayor in California for the City of Laguna Beach. Before and after his three consecutive terms as mayor, Gentry has worked tirelessly to increase equality and address issues impacting the LGBTQ+ community.

Dr. Lloyd Holmes (he/him)
Dr. Lloyd Holmes is a lifelong educator and community advocate who currently serves as President of De Anza College in Cupertino. He is the first openly gay Black man to hold this title, and he has dedicated his career to increasing student success and retention.

Drew Lloyd (he/him/his)
Drew Lloyd's work in the tech and legal industry has made him one the most influential communications consultants in Silicon Valley. He is the board President of BAYMEC, the oldest nonpartisan LGBTQ+ Political Action Committee in California.

Lange Luntao (he/him)
Lange Luntao has an extensive background in education and currently serves as the Director of External Relations for the Education Trust-West. In 2016, he became the first openly gay man elected to public office in Stockton.

Connor Maddocks (he/him)
Connor Maddocks is a transgender activist and recipient of the Harvey Milk Civil Rights Award. He has worked for numerous organizations to promote civil rights and equality, including the San Diego LGBTQ Center and the San Diego TRANS Masculine Discussion group.
Gary McCoy (he/him)
Gary McCoy is the Director of Public Affairs for HealthRIGHT 360, which focuses on mental health and substance abuse treatment. He has dedicated his career to public service, and he has worked in the office of House Speaker Nancy Pelosi in addition to serving as Co-President of the Alice B. Toklas LGBTQ Democratic Club.

George Murphy (he/him) – Posthumous
George Murphy was an icon in San Diego's LGBTQ+ community and a founding member of the San Diego LGBTQ Community Center. He worked as an academic counselor at Grossmont College and was heavily involved in his church.

Dennis Sonney (he/him)
Dennis Sonney is a Marine Corps veteran whose work with California's Manufacturing Network has led to numerous technological advancements in the Inland Empire. He has dedicated much of his career to advancing diversity and currently serves on the boards of The Science and Technology Education Partnership Foundation and The Garner Holt Foundation.

Kim Tran (she/her)
Kim Tran is a grassroots organizer, researcher and writer whose work has sparked social change through a unique approach to combating injustice and oppression, particularly with respect to Asian American solidarity and the Black Lives Matter movement.
New York Governor Cuomo signs Gender Recognition Act into law
"New York continues to lead the way in ensuring LGBTQ people are treated equally in every part of the law and society"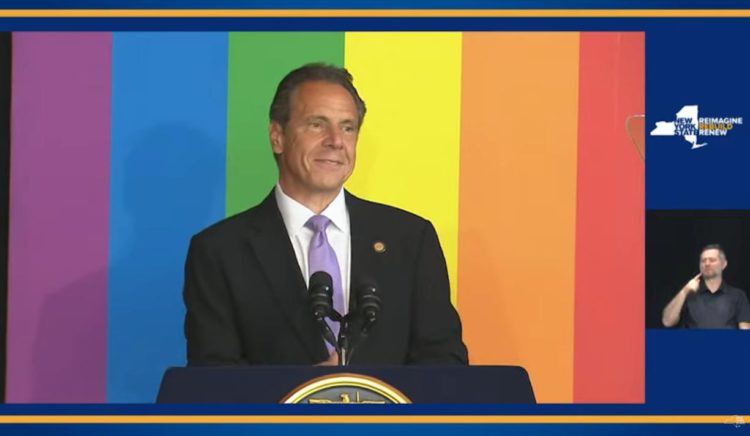 ALBANY, Ny. – New York Democratic Governor Andrew Cuomo signed into law the state's Gender Recognition Act Thursday. With a final push shepherded by openly gay New York State Assemblymember Daniel O'Donnell, (D), the New York State Assembly passed New York Senate Bill S4402 and its Assembly companion bill A5465, (GRA) two weeks ago in early June.
"Every New Yorker deserves to be free from discrimination and have state-issued identification and processes that respect them for who they are, recognize their gender identity and protect their safety," Governor Cuomo said. "New York continues to lead the way in ensuring LGBTQ people are treated equally in every part of the law and society, and this bill is another landmark that ensures New Yorkers can express ourselves for who we are."
On Wednesday, Lambda Legal and Governor Cuomo reached an agreement that puts on hold the lawsuit Lambda Legal filed on behalf of Sander Saba, a nonbinary transgender New Yorker seeking an "X" gender marker on their New York state driver's license. In exchange for putting Mx. Saba's lawsuit on hold, the State has committed to update its legacy computer system to be able to issue state ID cards and official driver's licenses with X gender markers by May 24, 2022.
"Lambda Legal applauds the signing of the Gender Recognition Act (GRA) into law, an important and long-awaited bill we strongly supported for years. […] This long-awaited law will remove the publication requirement for name changes, allow for a self-attestation system for DMV-issued IDs, including drivers' licenses, allow for gender-neutral X markers on state-issued IDs, and codify into law several recent legal wins by Lambda Legal and others such as allowing for self-attestation and X gender markers on NY State birth certificates, permitting corrections to the gender marker on minors' birth certificates, and permitting parents to correct the parent's name and gender on their child's birth certificate, among other important updates. We welcome Governor Cuomo signing this bill and hope the state continues to ensure all transgender, nonbinary, and gender non-conforming New Yorkers have access to correct documentation," Ethan Rice, Senior Attorney with the Fair Courts Project at Lambda Legal said.
"This change will bring New York up to date with the 19 other states and the District of Columbia that maintain policies respecting the lives of nonbinary people and giving them access to accurate identity documents and the ability to be fully themselves in their day-to-day lives," Rice added.
"We are thrilled to know that after years of advocacy, transgender and nonbinary people in New York now finally have many more of the critical protections we need. The Gender Recognition Act makes updating ID documents easier and less expensive by removing both the requirement for a doctor's note to change gender markers and the publishing requirement for court-ordered name changes" said Charlie Arrowood, the Transgender Legal Defense & Education Fund's  Name Change Project Counsel. "Having accurate ID documents that reflect who you are is critical for the health and safety of transgender and nonbinary New Yorkers."  
WATCH: Governor Cuomo Signs the Gender Recognition Act
Newsom will face recall, second time in state history to recall a governor
Newsom's recall election will mark the second time in California's history that a recall effort triggered a ballot, out of 55 attempts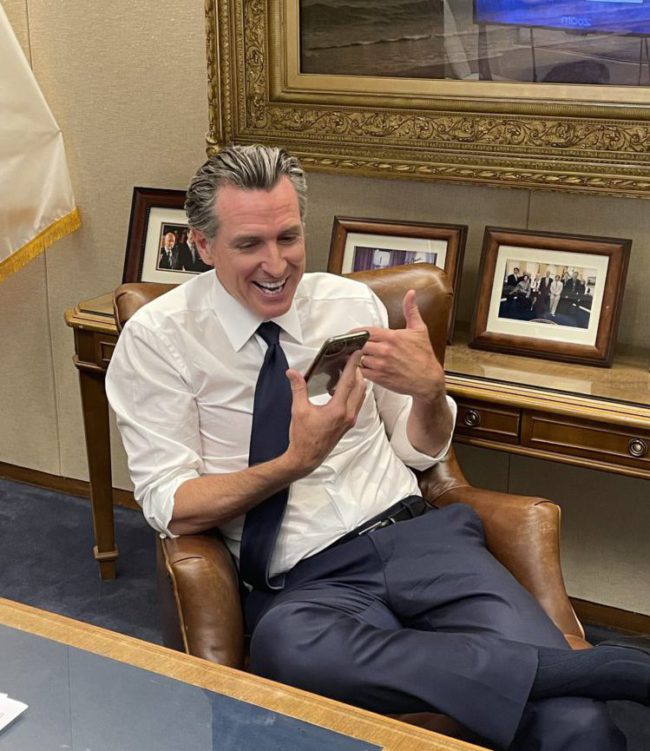 SACRAMENTO – California Secretary of State Shirley Weber announced Wednesday that a recall election against Governor Gavin Newsom will proceed. Only 43 signatures were withdrawn from the recall petition, according to Weber's office, bringing the total number of verified signatures to 1,719,900, which "still meet[s] the threshold to initiate a recall election."
State law provides a thirty day window for voters to withdraw their signatures from petitions to recall the governor.
California's Department of Finance will now begin estimating the costs of the recall — including costs of holding it as a special election or as part of the next regularly scheduled election — which will then be submitted to the governor, the lieutenant governor, the secretary of state and the chairperson of the Joint Legislative Budget Committee by August 5, according to a letter outlining the process from the Secretary of State's office.
The Sacramento Bee newspaper reported on June 10 that the effort to recall Newsom is estimated to be nearly $215 million according to a report compiled by the California Department of Finance based on data from the state's 58 counties.
That's more than the $200 million local public health officials requested from Newsom in this year's budget to help them recover from the COVID-19 pandemic and prepare for future challenges, the SacBee noted.
Newsom's recall election will mark the second time in California's history that a recall effort triggered a ballot, out of 55 attempts the Los Angeles Times reported.
CapRadio's political correspondent Nicole Nixon reported Wednesday that organizers of the current recall movement say there are a list of reasons Californians signed their petitions: frustration over Newsom's handling of the pandemic and business restrictions, worsening housing and homelessness crises, high taxes and cost of living, and more.
"This is about Gavin Newsom and his failed policies that have put us in the state of despair we are in today," said Orrin Heatlie, the main proponent of the recall effort.
But Newsom and his team have framed the recall as an effort by supporters of former President Donald Trump and right-wing extremists to wrest control of the government from progressives CNN reported.
"It is what it is. This is a Republican recall," Newsom said in an exclusive interview with CNN earlier this year. "An RNC-backed Republican recall of White supremacists, anti-Semites and people who are opposed to immigration and immigrants is an accurate assessment of who's behind this recall."
Polling conducted since the Spring seems to show that amajority of California voters want to keep Newsom in office, though voters are deeply divided along partisan lines. The Public Policy Institute of California's May survey found 57% of likely voters would support Newsom in a recall election, while 40% would vote to recall him.