Trump's gay nominee Ric Grenell confirmed as ambassador to Germany
Sen. Kamala Harris and Dianne Feinstein — voted "no" on the California LGBT natives confirmation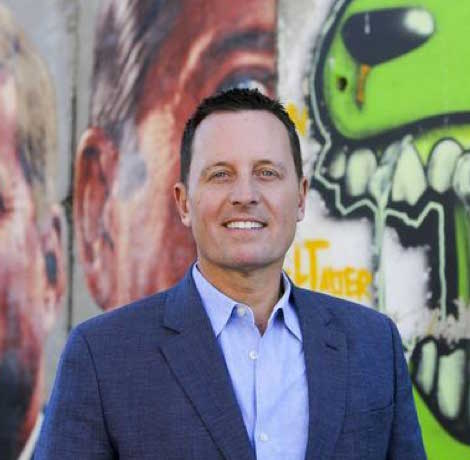 The U.S. Senate confirmed Richard Grenell on Thursday as U.S. ambassador to Germany, making him the most high-profile openly gay appointee in the Trump administration.
Grenell — who has faced Democratic opposition for months over mean tweets he made about the appearance of women and other comments downplaying the significance of Russia's influence in the 2016 election — was confirmed by a largely party line vote of 56-42.
Among the Democrats who joined Republicans in voting to confirm Grenell were Sens. Joe Donnelly (D-Ind.), Doug Jones (D-Ala.), Heidi Heitkamp (D-N.D.), Joe Manchin (D-W.Va.), Jon Tester (D-Mont.) and Claire McCaskill (D-M0). All Republicans present voted for Grenell's confirmation.
Both of the senators from Grenell's home state of California — Sen. Kamala Harris and Dianne Feinstein — voted "no" on his confirmation.
First nominated by President Trump in September, Grenell's confirmation means an openly gay person high-profile seat in the administration and serve as U.S. envoy to the world's fourth largest national economy.
But it's a not a first or the most high-profile gay appointment of all time. The first openly gay U.S. ambassador was James Hormel, who served as U.S. ambassador to Luxembourg during the Clinton administration. President Obama has no fewer than seven openly gay U.S. ambassadors who served at various times in his administration.
Gregory Angelo, president of Log Cabin Republicans, said Grenell's confirmation was "historic," dubbing him "the highest-ranking openly gay official ever in a Republican administration."
"Despite the interminable delays of Democrats hell-bent on standing on the wrong side of history, today the United States Senate confirmed a gay nominee not 'in spite of' Republicans, or 'with Republican support,' but because of Republican support," Angelo added.
Angelo said the vote on Grenell would have consequences in the upcoming congressional mid-term elections, noting Log Cabin stood alone among LGBT groups in pushing for his confirmation.
"Log Cabin Republicans will not forget the votes of the Democratic senators who voted against Grenell's confirmation, nor the roaring silence from LGBT advocacy organizations who did nothing to achieve this tremendous milestone in LGBT history," Angelo said.
Grenell is a foreign policy expert who has served in various roles as a public communications adviser and a Fox News commentator. Under the George W. Bush administration, Grenell became the longest serving U.S. spokesperson at the United Nations, working under four U.S. ambassadors.
Grenell, who has described himself as a gay conservative Christian, has a same-sex partner of 15 years, Matt Lashey. Lashey himself is a conservative Christian who graduated from Jerry Falwell's Liberty University.
For a period of less than two weeks, Grenell served during the 2012 presidential campaign as a foreign policy spokesperson for Republican nominee Mitt Romney, but resigned amid pressure from social conservatives over his sexual orientation. Grenell never had the opportunity to speak publicly in the role.
Although Senate Majority Leader Mitch McConnell (R-Ky.) filed cloture on the nomination on Wednesday, the cloture vote was withdrawn on Thursday, paving the way for a confirmation vote that day.
The Democratic opposition holding up Grenell's confirmation lasted for months. At one point, White House Press Secretary Sarah Huckabee Sanders slammed Democrats on the obstruction, blaming for the holdup on the nomination.
When McConnell tried to move forward with the nomination late last month, Sen. Jeff Merkley (D-Ore.), the chief sponsor of the Equality Act, blocked the nomination from moving forward.
The primary reason for the hold on Grenell purportedly was comments he made years ago on Twitter about the appearance of women, including Hillary Clinton, Madeleine Albright, Callista Gingrich and Rachel Maddow. Although Grenell years ago apologized and deleted those tweets, they stand out in the context of the #MeToo movement in which women are coming forward with allegations of sexual misconduct.
One 2011 tweet directed at Maddow, a lesbian news anchor on MSNBC, said she "needs to take a breath and put on a necklace" and another compared her look to that of pop singer Justin Bieber. One tweet directed at Gingrich questioned whether she "snaps on" her hair. At around the same time, Grenell tweeted "Hillary is starting to look like Madeleine Albright."
(Those tweets echo comments he reportedly made in 1992 as a young aide for the re-election campaign of George H.W. Bush, according to a Washington Post article in 1995. A fellow staffer recalled Grenell telling a female aide wearing a red shoes flowery dress, 'Didn't your mother ever tell you only whores and very small children wear red shoes?'")
Although Grenell deleted those tweets during his brief stint with the Romney campaign and apologized for them, the similar exchange years later. In a now deleted tweet, Grenell told MSNBC reporter Katy Tur in 2016 "calling yourself a journalist is offensive to real ones. Did u intern for @KeithOlbermann or date him? Either way doesn't make u a reporter." Grenell faced immediate criticism from other women on Twitter over the remarks.
Also cited as concerns over Grenell were tweets he made in 2016 downplaying the impact of Russian hacking on the election.
In one tweet, Grenell wrote, "There's a difference between hackers from Russia and hackers from the Russian government." In another, Grenell objected to the Obama administration's U.S. ambassador to Russia Michael McFaul's criticism of Wikileaks, stating, "McFaul tells Wikileaks to not publish?!"
Despite these concerns, Grenell had significant high-profile support from both the left and the right, including the Obama administration's U.S. ambassador to Russia Michael McFaul, "Ellen" show executive producer Andy Lassner and conservative commentator Hugh Hewitt and Greta Van Susteren. (Ironically, McFaul expressed support for Grenell even though the new ambassador's tweet mentioning him was cited as cause for concern.)
Another high-profile individual who expressed support for moving forward with the Grenell nomination was Sen. Chris Coons (D-Del.). However, Coons ultimately voted "no" on Grenell's confirmation on the Senate floor. The Washington Blade placed a request for comment in with Coons' office seeking an explanation for the vote.
Grenell is confirmed as U.S. ambassador to Germany with just one week remaining before Chancellor of Germany Angela Merkel has a scheduled visit to the White House. Log Cabin's Angelo said Merkel's upcoming visit "seems to have put the fingers on the scale" to hold the confirmation vote.
Although Grenell is now the most high-profile openly gay appointee in the Trump administration, the Senate has confirmed others who aren't as high-profile. Two were confirmed unanimously in the Senate: James Abbott, who was confirmed to the Federal Labor Relations Authority; and David Glawe, under secretary for intelligence and analysis at the Department of Homeland Security.
U.S. Senate vote sets up passage of same-sex marriage act
Coordinated campaign by anti-LGBTQ groups fails to weaken support among GOP Senators as the bill sees clear path to near-certain passage
WASHINGTON – Passage of the Respect for Marriage Act became all but certain with the U.S. Senate's procedural 61-35 vote on Monday night to forego additional debate in the chamber over the landmark legislation.
From here, the bill will return to the U.S. House of Representatives, which will consider — and is expected to approve — an amendment that was added by a bipartisan group of Senators led by Tammy Baldwin (D-Wis.). Then, it will reach President Joe Biden's desk.
The president has repeatedly urged lawmakers to pass the bill so he can sign it into law. His administration, along with Congressional Democratic leadership, has made the Respect for Marriage Act a top legislative priority in the weeks before the new Congress is seated in January.
Today's move by the Senate came on the heels of a coordinated campaign by conservative and anti-LGBTQ advocacy groups that wield considerable influence on Capitol Hill and marshaled their efforts to peel off support from Republican senators in the days leading up to Monday's vote.
Republican Sens. Todd Young (Ind.) and Cynthia Lummis (Wyo.), who were among the 12 Senate Republicans who supported advancing the legislation in a procedural vote taken before Thanksgiving, cast the final two votes on Monday allowing the measure to clear the 60-vote majority threshold to pass. Axios reports the two lawmakers faced particular pressure from conservative activists who sought to erode their support for the legislation.
The Respect for Marriage Act will repeal the Clinton-era Defense of Marriage Act, adding legal protections for same-sex couples, many of whom would otherwise face devastating consequences if the U.S. Supreme Court reverses or substantially weakens the constitutional right to marriage equality.
Notwithstanding criticism from some progressives who feel the bill is too conservative in scope, the Respect for Marriage Act — along with the bipartisan amendment that was introduced in the Senate to enshrine protections for religious liberty — is supported by major LGBTQ organizations including the Human Rights Campaign, GLAAD, Lambda Legal, the National Center for Transgender Equality, GLSEN and PFLAG National, among others.
The bill's aim, narrowly tailored, was to gird against the possibility that the high court would revisit its precedential decisions in United States v. Windsor (2013) and Obergefell v. Hodges (2015).
Justice Clarence Thomas signaled his intention to do so with his concurring opinion earlier this year in Dobbs v. Jackson Women's Health Organization — a case that revoked Americans' constitutional right to abortion, overturning the Court's historic rulings in Roe v. Wade (1973) and Planned Parenthood v. Casey (1992).
Over the summer, the House passed the Respect for Marriage Act with an overwhelming majority, including votes from 47 Republican members. Dozens of religious denominations and groups that represent a broad spectrum of beliefs have endorsed the legislation, including the Mormon church, which took pains to reaffirm its position that same-sex relationships are sinful. Scholars representing a similarly diverse range of opinions on germane legal questions have also publicly backed the bill.
Still, the opposition remained steadfast.
"Religious Americans will be subject to potentially ruinous litigation, while the tax-exempt status of certain charitable organizations, educational institutions, and non-profits will be threatened," said Sen. Mike Lee (R-Utah) in a statement opposing the legislation as written and proposing an additional amendment to the bill.
Organizations like the Heritage Foundation, a conservative think tank, echoed Lee's concerns about the Respect for Marriage Act vis-à-vis protections for religious liberty. Others, like the Liberty Counsel, designated by the Southern Poverty Law Center as an anti-LGBTQ hate group, peddled outrageous arguments including the lie that the Respect for Marriage Act would normalize or facilitate child sexual exploitation and abuse.
Even in the aftermath of the deadly shooting on Nov. 19 at a Colorado Springs, Colo., LGBTQ nightclub, these attacks from conservative groups continued apace and even increased as the Senate's vote on Monday drew nearer.