Kathy Griffin won't bring Trump head to Correspondents' Dinner
"Tomorrow night I'm skipping the Fake News Prom," Trump tweets
Don't be disappointed, but Kathy Griffin isn't bringing her infamous fake severed head of President Trump to the White House Correspondents' Dinner on Saturday.
"I'm only going to bring my head, but that's attached to my body," Griffin said. "I'm not sure the feds would find the joke is funny a year later as they didn't find it funny a year ago."
Griffin, who will be a guest of the Washington Blade and Los Angeles Blade at the White House Correspondents' Dinner, talked about the controversy in a wide-ranging exclusive interview that revisited the fallout from the photo and her subsequent resurgence, which includes a worldwide comedy tour, a sold-out upcoming performance at Carnegie Hall and a newly announced event at Radio City Music Hall.
Although it's customary for the president of the United States to attend the White House Correspondents' Dinner, Trump has indicated he won't appear. It's the second consecutive year Trump has decided to skip it.
But Griffin jokingly predicted Trump would make an appearance. Asked if she was disappointed over Trump's announcement that he won't attend and the resulting missed opportunity to meet her face-to-face, Griffin envisioned an unusual scenario.
"Because Sarah Huckabee Sanders is supposedly going…he's going to do like a 'Silence of the Lambs' and make a Sarah Huckabee Sanders skinsuit and sit there wearing a Sarah Huckabee Sanders skinsuit with just his crazy eyes popping up and we could listen in," Griffin said.
After posing in a photo last year with a fake Trump head looking as though she just decapitated the president, Griffin faced criticism from both the left and the right.
Much of the controversy, however, was ginned up by Trump-friendly outlets like Breitbart News and Trump associates, including Donald Trump Jr., who said she should be "decimated." After being investigated by the U.S. Secret Service and the U.S. Justice Department under Attorney General Jeff Sessions, Griffin declined to discuss many details — such as the current location of the mock head — but did say the most surprising aspect of the fallout was the swift reaction against her.
"I didn't know that the Trump machine had this apparatus ready to go and waiting for an incident like my photo because I've said controversial things my whole career and Trump himself has had me roast him," Griffin said. "He actually had me roast him as part of a challenge on 'The Apprentice.'"
Griffin said one group that didn't desert her was the LGBT community. A group of drag queens on Fire Island, she said, made their support known after the controversy in a group video.
"I don't know what the party was but there were like five drag queens dressed as me and a couple of them had Trump heads done," Griffin said. "A couple of them just had like other, silly things to hold up. I saw it on Twitter or something. Somebody sent me that and I was like of course the drag queens are ahead of their time again. Yes, the LGBT community as usual got it, didn't get freaked out by it."
The Blade announced last month that it had invited Griffin to join its table at the Correspondents' Dinner.
"Kathy Griffin has stood up for LGBTQ visibility," said Blade editor Kevin Naff. "She has marched with us, spoken out against injustices and, yes, made us laugh. You don't throw your allies under the bus and the Blade is happy to host her in D.C. and excited to welcome her to our table."
But there was one member of the LGBT community who wasn't as forgiving. CNN anchor Anderson Cooper, who hosted a popular New Year's Eve special with Griffin until last year because of the controversy, said on Twitter he was appalled by the photo and called it "disgusting and completely inappropriate." Griffin said falling out with Cooper was "the one that hurt."
"I didn't hear from him for five months and he just sent me a couple of texts and they were kind of bitchy and so, no, things have not improved," Griffin said.
But a year after the drama, Griffin is in the midst of a resurgence. Coming off her yearlong tour of Europe, Griffin has an upcoming show at Carnegie Hall, which sold out immediately after it was announced, and another scheduled appearance at Radio City Music Hall on June 25.
As part of her comeback, Griffin said she's most looking forward "to telling this whole story."
"To not be able to work in your own country because of something that is nothing but a ridiculous sort of falsified faux-outrage media moment perpetuated by the fucking president of the United States — or as I call him, the accidental president, because this whole thing's a big accident as far as I'm concerned — and Jefferson Beauregard Sessions and the Department of Justice — it's so extreme that it actually became funny," Griffin said.
As part of her routine, Griffin said she reads some of the threats she's received from Trump supporters, whom she said are "not so good with grammar." One of the threats Griffin described was relayed to her from a theater owner, resulting in her having to cancel a performance.
"They're not used to getting calls," Griffin said. "I play venues where they do shows like 'Mamma Mia' and 'Stomp' and 'Lion King' and stuff. They're not used to getting calls saying if Kathy Griffin goes on stage, I'm going to shoot her in the cunt, decapitate her and then shove her head up her cunt. You do that enough and theater owners get a little nervous."
Despite the drama, desertions and investigation by federal law enforcement officials, which Griffin said makes her a "living example" of what can happen to someone who opposes Trump, the comedian said that shouldn't deter individuals from speaking out against him and they should "absolutely do it."
"My advice is absolutely get out there and speak out so nothing should deter us," Griffin said. "And I'll tell you why: Our lives depend on it. I don't feel the gay community is as safe that they were two years ago. I, as a woman, I absolutely don't feel as safe, and I mean physically, politically, professionally, we've got Nazis marching in Charlottesville and we have a president saying it's both sides, so I think that this is the time when everybody should be extremely vocal and not just online, but you know, with your ballot and marching and all the ways that activism has worked."
Griffin's observation about the state of LGBT rights under Trump is spot on. Among the attacks on LGBT rights are Trump's proposed transgender military ban, the Justice Department denying that federal civil rights laws protect LGBT people and "religious freedom" executive actions that enable anti-LGBT discrimination.
In the face of all this erosion of LGBT rights, Griffin remains optimistic the nation will recover once a new Democratic administration is elected because, "the idea that the Democrats don't have rock stars is bullshit."
"I think we have an embarrassment of riches," Griffin said. "It's the other team telling us that Kamala Harris isn't great or Booker isn't great or Elizabeth Warren isn't great."
Griffin, however, had some choice words for supporters of 2016 presidential candidate Bernie Sanders, who has indicated he may pursue a 2020 run against Trump.
"By the way, don't let the Bernie Bros fuck shit up either," Griffin said. "Like, just realize that whole Jill Stein, Gary Johnson, Sanders thing — Bernie Sanders fucking loved it when he was mentioned in the Podesta emails."
With the congressional mid-term elections nearing, Griffin said Americans are now marching who "would never do that sort of thing two years ago" and political awareness is at an all-time high, which she said will be key to making change.
"I've never been so aware of every single local candidate," Griffin said. "Every attorney general is important, all this stuff, all the down-ballot stuff. So I think it's good that people really are engaged and I think most of us get that we're kind of in a fight for our lives."
Newsom signs LGBTQ+ protections but vetoes trans youth bill
"These measures will help protect vulnerable youth, promote acceptance, & create more supportive environments in our schools and communities"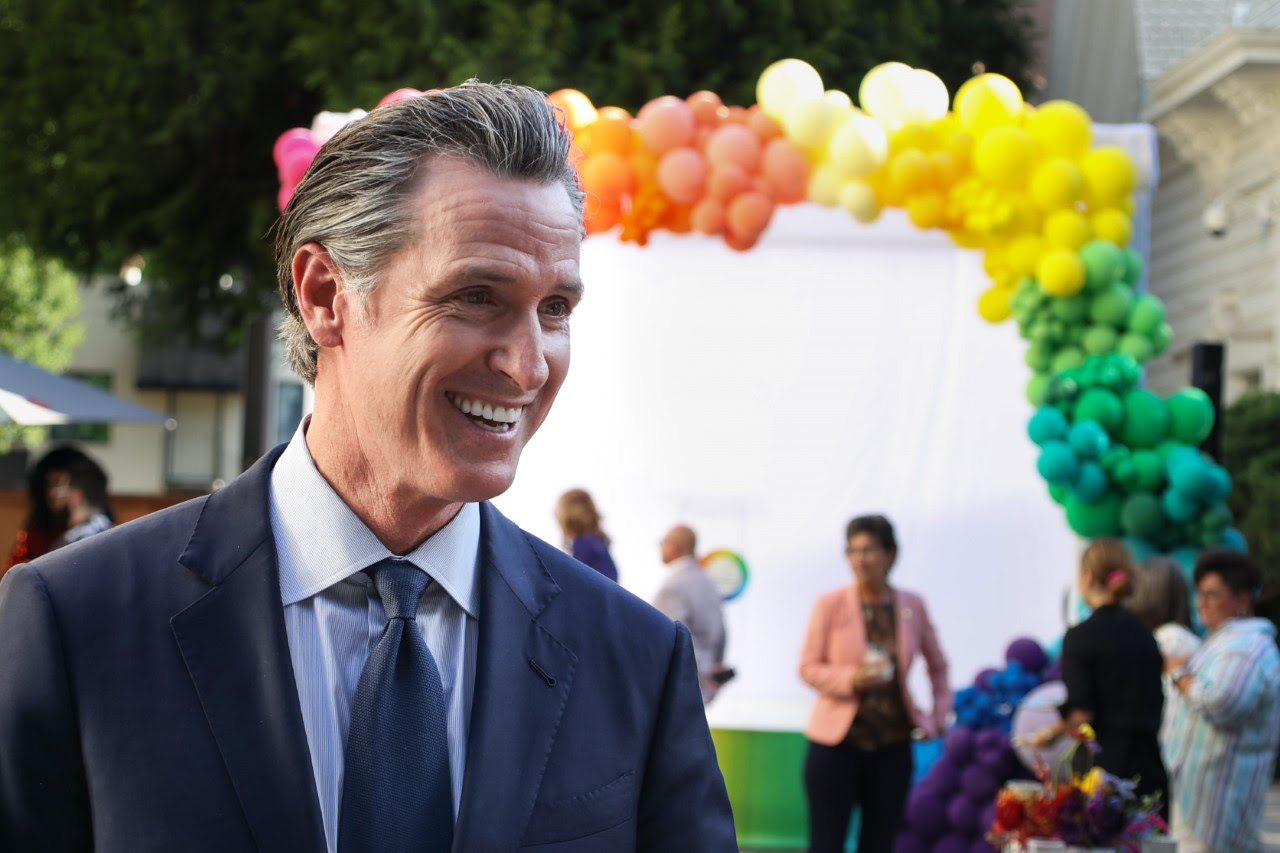 SACRAMENTO – California Governor Gavin Newsom signed several pieces of legislation on Saturday extending protection to the Golden State's LGBTQ+ community with the exception of a bill he vetoed Friday that would have required courts to consider whether a parent affirms their child's gender identity when making custody and visitation decisions.
"California is proud to have some of the most robust laws in the nation when it comes to protecting and supporting our LGBTQ+ community, and we're committed to the ongoing work to create safer, more inclusive spaces for all Californians," said Governor Newsom. "These measures will help protect vulnerable youth, promote acceptance, and create more supportive environments in our schools and communities. I thank Senator Eggman and the LGBTQ Caucus for their dedicated leadership and partnership in advancing our state's values of equality, freedom and acceptance."
Among the nine bills signed into law were:
AB 5- The Safe and Supportive Schools Act, sponsored by Assemblymember Rick Chavez Zbur (D-Los Angeles). This bill sets implementation timelines for required LGBTQ+ cultural competency training by public school teachers and staff.
AB 223- Change of gender and sex identifier, sponsored by Assemblymember Christopher Ward (D-San Diego).
Existing law authorizes a person to file a petition with the superior court seeking a judgment recognizing their change of gender to female, male, or nonbinary, including a person who is under 18 years of age. Existing law authorizes a person to file a single petition to simultaneously change the petitioner's name and recognize the change to the petitioner's gender and sex identifier, as specified.
This bill would require any petition for a change of gender and sex identifier or a petition for change of gender, sex identifier, and name filed by a person under 18 years of age, and any papers associated with the proceeding, to be kept confidential by the court. The bill would require the court to limit access to these records to specified individuals, including, among others, the minor, the minor's parents, and their attorneys.
AB 760– Public postsecondary education: affirmed name and gender identification, sponsored by Assemblymember Lori Wilson (D-Fairfield).
Commencing with the 2023–24 graduating class, existing law prohibits an institution from requiring a graduating student to provide legal documentation sufficient to demonstrate a legal name or gender change in order to have the student's chosen name listed on the student's diploma.
This bill, commencing with the 2023–24 graduating class, instead would prohibit an institution from requiring a graduating student to provide legal documentation sufficient to demonstrate a legal name or gender change in order to have the student's chosen name be the sole name listed on the student's diploma. The bill would authorize an institution to use a student's gender or legal name as indicated in a government-issued identification document only if it is necessary to meet a legally mandated obligation, but would otherwise require the institution to identify the student in accordance with the student's gender identity and affirmed name, as provided. To the extent that this requirement would impose a new duty on community colleges, the bill would impose a state-mandated local program.
AB 783– Business licenses: single-user restrooms, sponsored by Assemblymember Philip Ting (D-San Francisco). Requires cities, counties, and cities and counties to notify applicants for a business license or permit in writing of the requirement that single-user toilet facilities must be identified as all-gender toilet facilities.
AB 994– Law enforcement: social media, sponsored by Assemblymember Corey Jackson (D-Moreno Valley). With respect to an individual who has been arrested for any crime, this bill would require a police department or sheriff's office, upon posting a booking photo on social media, to use the name and pronouns given by the individual arrested. The bill would authorize a police department or sheriff's office to use other legal names or known aliases of an individual in limited specified circumstances.
This bill would also require that a police department or sheriff's office remove any booking photo shared on social media after 14 days unless specified circumstances exist. Because the bill would impose higher duties on local law enforcement, it would impose a state-mandated local program.
SB 372 – Department of Consumer Affairs: licensee and registrant records: name and gender changes, sponsored by Senator Caroline Menjivar (D-San Fernando Valley/Burbank). The bill would prohibit a board from publishing information relating to the licensee's or registrant's former name or gender online. Instead, the bill would require the board to post an online statement directing the public to contact the board for more information. For specified licensees or registrants, the board would be prohibited from posting enforcement records online, but would be required to direct post an online statement stating that the individual was previously subject to an enforcement action and directing the public to contact the board, as prescribed. The bill would provide that all records related to a request to update an individual's license or registration under these provisions are confidential and not subject to public inspection or disclosure.
SB 407 – Foster care: resource families, sponsored by Senator Scott Wiener (D-San Francisco). Existing law generally provides for the placement of foster youth in various placement settings. Existing law provides for the implementation of the resource family approval process and defines a resource family as an individual or family who has successfully met both the home environment assessment standards and permanency assessment criteria, as specified, necessary for providing care for a child placed by a public or private child placement agency by court order, or voluntarily placed by a parent or legal guardian. Under existing law, the resource family permanency standards include a family evaluation, including, but not limited to, interviews of an applicant, as specified, and a risk assessment.
This bill would require a resource family to demonstrate the capacity an ability and willingness to meet the needs of a child, regardless of the child's sexual orientation or orientation, gender identity, or gender expression, as specified.
SB 760 – School facilities: all-gender restrooms, sponsored by Senator Josh Newman (D-Fullerton). The bill would require the all-gender restroom to meet certain requirements, including, among other things, that it has signage identifying the bathroom facility as being open to all genders and is unlocked, unobstructed, and easily accessible by any pupil.
SB 857 – Advisory task force: LGBTQ+ pupil needs, sponsored by Senator John Laird (D-Santa Cruz). This bill will establish an advisory task force to identify LGBTQ+ pupil needs statewide and assist in implementing supportive initiatives.
We are thrilled that 6 of our priority bills and 2 of our endorsed bills were signed into law today! These bills protect and uplift LGBTQ+ foster youth and students in schools, as well as respect individuals' names.

We are hopeful our remaining 4 bills will be signed too! pic.twitter.com/Ch6VdQmTAo

— California Legislative LGBTQ Caucus (@calgbt) September 24, 2023
"This year the LGBTQ Caucus took up the important work of protecting our communities in the face of vile anti-LGBTQ+ rhetoric, discriminatory laws across the country, and hatred. I appreciate the Governor's partnership in signing some of our priority and endorsed legislation today, and hope we can continue to educate about the harm LGBTQ+ people will continue to face if we fail to act," said Senator Susan Talamantes Eggman, Chair of the California Legislative LGBTQ Caucus.
"While states across the nation are passing legislation that puts LGBTQ+ people and especially youth at risk, California is sending a clear message today — hate-filled attacks will not be tolerated and we will continue protecting and ensuring the safety of all members of the LGBTQ+ community," said Equality California Executive Director Tony Hoang. "We are thankful to our legislative partners for championing these important bills and to Governor Newsom for continuing to be such a strong ally in improving and protecting the wellbeing of the LGBTQ+ community as we face growing attacks from far-right extremists."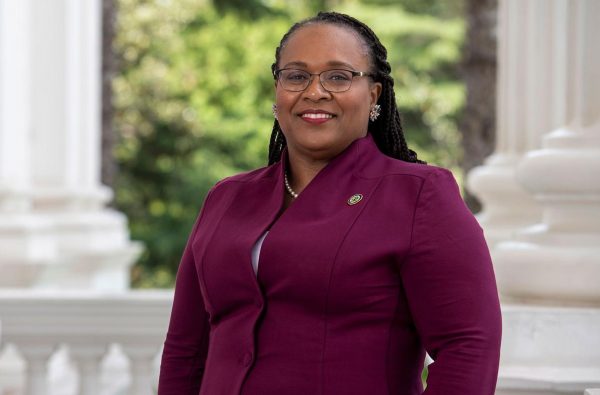 On Friday, Newsom vetoed AB 957 would have updated California law to clarify that, for the purposes of child custody and visitation decisions, a parent's affirmation of a child's gender identity or gender expression is an essential factor that must be considered in determining the best interest of the child by a judge.
That legislation had been sponsored by Assemblymember Lori Wilson, a Democrat who introduced the bill and has an adult son who came out as transgender when he was a teenager, criticized the governor's decision.
"I've been disheartened over the last few years as I watched the rising hate and heard the vitriol toward the trans community. My intent with this bill was to give them a voice, particularly in the family court system where a non-affirming parent could have a detrimental impact on the mental health and well-being of a child," Wilson said in a statement.
My Statement on Governor Newsom's Veto of AB 957 pic.twitter.com/bK1JhrW27z

— Assemblywoman Lori D. Wilson (@AsmLoriDWilson) September 23, 2023
"We are disappointed and disheartened by Governor Newsom's decision to veto AB 957, which would have helped to ensure that the unique needs of transgender and gender non-conforming youth are explicitly considered in child custody and visitation decisions," said Equality California Executive Director Tony Hoang.
"At a time where LGBTQ+ youth, specifically trans youth are facing higher rates of depression and suicide, reassurance and protection from our state is in dire need. Anti-LGBTQ+ extremists targeted this modest and straightforward legislation as part of their coordinated attacks on trans youth in California, and the failure to enact this bill bolsters their dangerous efforts. We are grateful to Assemblymember Lori Wilson for her unwavering commitment to the needs of transgender and gender non-conforming young people. Despite this setback, we will continue working with the Legislature and Governor Newsom to to protect the rights and dignity of the most vulnerable members of the LGBTQ+ community."
In his veto message, the governor explained:
"I appreciate the passion and values that led the author to introduce this bill. I share a deep commitment to advancing the rights of transgender Californians, an effort that has guided my decisions through many decades in public office.
That said, I urge caution when the Executive and Legislative branches of state government attempt to dictate – in prescriptive terms that single out one characteristic – legal standards for the Judicial branch to apply. Other-minded elected officials, in California and other states, could very well use this strategy to diminish the civil rights of vulnerable communities."