About our night at the White House Correpondents' Dinner with Kathy Griffin
Comedy needs politics and politics needs comedy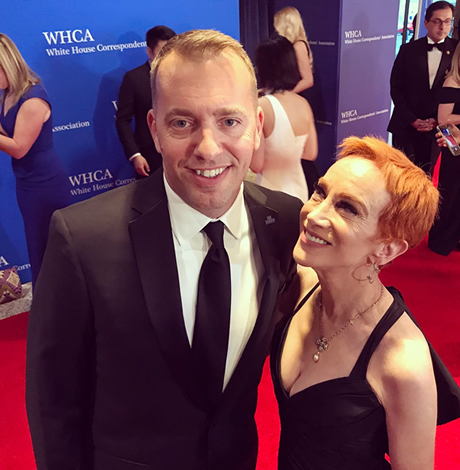 Many people have asked why the Blade chose to invite comedian Kathy Griffin to its table at Saturday's White House Correspondents' Dinner.
The event is a celebration of the First Amendment. As a longtime LGBT rights advocate, a comedian and provocateur, Griffin has made a long and successful career out of exercising her First Amendment right to free speech. The stunt last year in which she posed with a mock severed head of Donald Trump — which needlessly led CNN to fire her from a longstanding New Year's Eve hosting gig with Anderson Cooper — was a textbook case of satire, which is constitutionally protected speech.
Thus, the decision to invite Griffin proved an easy and obvious one. (We also invited Stormy Daniels, but her attorney, Michael Avenatti, told me without irony that it would be too much of a "sideshow" for her to attend.)
Griffin didn't disappoint, bringing her quick wit and fearless, LGBT-centric sense of humor to the dinner table. I met her and her boyfriend, Randy Bick, on the red carpet and held her purse as she posed for photographers and granted a series of TV interviews. Inside the heavy purse was a stapler; it turns out she suffered a last-minute wardrobe malfunction leaving the hotel, breaking a strap on her gown. After it was repaired, she feared a repeat and asked to borrow the stapler, just in case.
She proved a good sport throughout the night, posing for an endless stream of selfies with (mostly gay) fans who congratulated her on surviving the Trump machine's attacks in the aftermath of the photo scandal. When asked how her famous mom Maggie is at age 96, Griffin replied, "drunk."
The only awkward moment came when Deputy White House Press Secretary Hogan Gidley tried to squeeze past our table. Griffin stopped him and said, "How do you sleep at night?" Gidley replied, "Very well, thank you." When Griffin expressed doubt about that, Gidley asked, "Are we really going to do this?"
That's when things got interesting. Griffin, in her trademark style, retorted, "Yes we are, suck my dick! No, really, suck my dick!"
There was some back-and-forth, then Gidley, who was holding a Tecate, announced he was off to enjoy his Mexican beer "before we build the wall and you can't get these anymore." That prompted a farewell "fuck you" from Griffin, triggering nervous laughter around our table.
Later, when Politico's Josh Dawsey was announced winner of the Merriman Smith Award for his story about the resignation of White House Press Secretary Sean Spicer — who was seated at the table next to us — Griffin stood up and applauded loudly in his direction, eliciting guffaws from our neighbors.
One personal highlight of the night: the Blade's Chris Johnson was honored as the honorable mention for the Merriman Smith award for a story he broke in December about Trump firing all members of his AIDS advisory committee. Chris's name was called and he stood to a round of applause from the room. That would have been unthinkable 40, 30, 20, 10 or even five years ago, when much of the journalism and political elite of D.C. wouldn't deign to acknowledge the gay press, much less honor one of its journalists. Congratulations to Chris for his dogged work in the White House, pressing officials to address our community's issues.
Another noteworthy moment came when gay country singer Ty Herndon took to the podium to perform "America the Beautiful" and "God Bless America." Unlike last year, the party drew current and former members of the administration, including Sarah Huckabee Sanders, Kellyanne Conway, Spicer, Reince Priebus and Omarosa Manigault-Newman. Deputy Attorney General Rod Rosenstein attended, too, drawing curious stares from many.
But the highlight of the evening's entertainment came when Michelle Wolf delivered a riotous keynote, roasting everyone from Trump and Sanders to Sean Hannity and the Democratic Party. Afterward, Griffin raved, saying she "loved" the performance, despite some audience discomfort with an abortion joke. I was surprised by the mainstream media's depiction of Wolf having bombed and offended the room. She did what any fearless comedian should do in that moment — skewer everyone and make us all laugh at ourselves.
Which brings us back to Griffin. Comedians occupy a unique and important role in our popular culture. We've long turned to them for incisive social commentary delivered with a sting; they say out loud what most of us are thinking. Attacking a comedian for doing her job as Trump and his cronies did to Griffin is petty and betrays deep insecurities. So, thank you, Kathy Griffin for making us laugh and for holding your own in the face of scorching attacks by those humorless GOP bores.
Kevin Naff is editor of the Blade. Reach him at [email protected].
Zbur hits the ground running: Appoints staff & introduces first bills
"I look forward to working with the community and all stakeholders as well as my colleagues and Governor Newsom"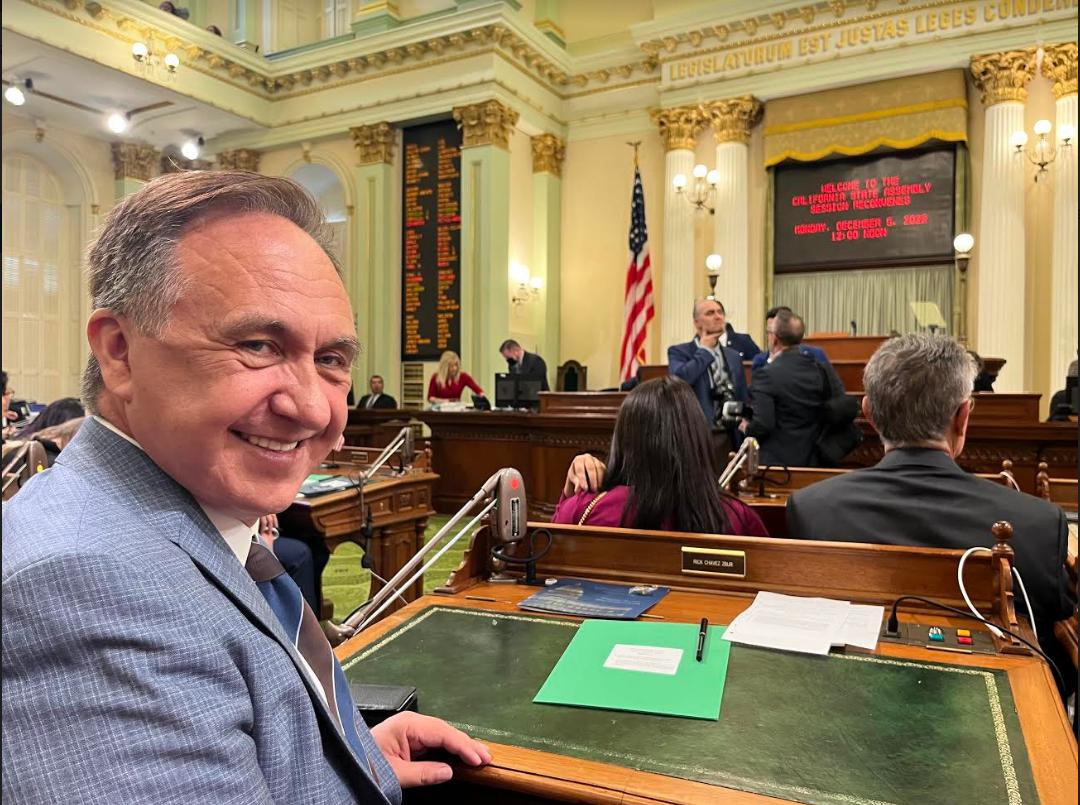 SACRAMENTO – Out Assemblyman Rick Zbur (D-51, West Los Angeles) along with the rest of the incoming freshmen California Assembly lawmakers was sworn in Monday at half past noon- then immediately announced the appointments of his key staff and then introduced his first two pieces of legislation.
Introducing his new staff that he has hired to serve the constituents of Assembly District 51 in his Capitol and District Offices Zbur said in an emailed statement to the Blade:
"These dedicated public servants have the knowledge and skills to deliver on my promise to provide top quality constituent services and legislative proposals for my district. Both of my offices are open and ready to serve on day one, with highly trained professionals who understand the district and the Capitol." 
Zbur's key legislative staff include:
Bob Hartnagel, Chief of Staff – Bob was Mark Leno's Chief of Staff in the State Senate for 8 years and in the State Assembly for 6 years, and Assemblymember Carole Migden's District Director for 3 years. Most recently he was Chief of Staff for Government Relations at the University of California's Office of the President for 5 years. He has a bachelors degree in Communication Studies & International Relations from Northwestern University.
Tami Martin, J.D., Legislative Director – Tami has a distinguished career fighting for civil rights as Legislative Director for Equality California (EQCA). She holds a bachelors degree in Government from Dartmouth College and both a law degree and a masters degree in Law and Government from American University Washington College of Law.

Jane Park, Ph.D., Senior Assistant – Dr. Park previously worked for Assembly Speaker pro Tempore Kevin Mullin where she leveraged her research experience to create groundbreaking new policy addressing climate change. She holds a bachelors degree in Biological Sciences from Wellesley College and a Doctorate in Integrative Genetics and Genomics from the University of California, Davis.

Alex Mehlbrech, Scheduler – Alex worked as a key member of Assemblymember Zbur's campaign team for almost three years, where he cultivated a deep understanding of the concerns and issues facing local residents. He holds a bachelors degree in Communication Studies from California State University, Long Beach.

Robert Oliver, District Director – Robert has worked as a field representative in the district offices of  U.S. Senator Dianne Feinstein and L.A. City Councilmember Paul Koretz. He also worked as a Community Liaison for the Jewish Federation of Greater Los Angeles. A graduate of UC Santa Barbara, he grew up in Los Angeles. He and several of his family members currently live in AD-51, where he developed a keen first-hand knowledge of the issues affecting constituents.
Zbur also noted that his office is currently accepting applications for a Field Representative in his District Office, which serves the cities and communities of Beverly Hills, East Hollywood, Hollywood, Hollywood Hills West, Santa Monica, West Hollywood, West Los Angeles, and Westwood Village. 
Editor's note: (Interested applicants can send a resume and cover letter to Robert Oliver at [email protected]. Diverse candidates are encouraged to apply.)
In his first actions as a legislator Zbur introduced AB 3, the California Offshore Wind Energy and Jobs Act, to facilitate and expedite offshore wind energy projects necessary to combat climate change while at the same time protecting the environment and assuring that thousands of high paying jobs remain in California.
AB 3 aims to accelerate the approval, implementation, and operation of offshore wind energy projects necessary to meet California's climate action goals and the transition to a clean energy economy. It will clarify the authority of California governmental agencies related to wind energy projects along the California Coast, require expedited procedures, and specify criteria for the selection of port and transmission alternatives related to offshore wind energy projects. The criteria will ensure that the environment and sensitive habitats and cultural resources are protected, community participation and comment is robust, that the maximum number of jobs related to offshore wind energy projects are created and remain in California, and that those jobs advance environmental justice and improve the lives of all Californians.
 
"We are decades behind in taking the steps necessary to protect our kids and our planet from the growing crisis of climate change," said Zbur. "If we do not expedite the approval, construction and operation of offshore wind energy projects along the California Coast, we will not meet our climate change goals. I am confident that we can build consensus to accelerate offshore wind, and at the same time protect our coast and sensitive habitats and assure that the thousands of high wage jobs are created and remain in California. California has the opportunity to demonstrate that bold climate action is the economic engine that can power a robust and socially just economy," he said.
 He also introduced AB 5, the Safe and Supportive Schools Act, which will assure that teachers and school staff are better equipped to support LGBTQ+ and all students.
AB 5, the Safe and Supportive Schools Act, will help equip teachers and school staff with the tools and training they need to support LGBTQ+ students and make California schools safer and more supportive for all students, teachers, and school staff. 
The bill will specify a timeline for implementation by all California schools of LGBTQ+ cultural competency training for teachers and certificated staff currently under development by the California Department of Education.
This is the result of a budget proposal advanced by Equality California and Superintendent of Public Instruction Tony Thurmond and approved in 2021 by the Legislature and Governor Newsom in AB 130 and SB 129. AB 5 is sponsored by Equality California.
 
"Every student deserves a safe and supportive learning environment," said the Assemblymember.
"Improving our schools is a key part of the strategy we need to reduce the high dropout rates that lead to a cycle of homelessness, poverty and health & wellbeing disparities experienced by the LGBTQ+ community. Our teachers and school staff want to support their students, and this bill will better equip them to help LGBTQ+ and all students reach their highest potential," he added.
 
"These bills are among my top priorities as I honor the trust that the people of Assembly District 51 placed in me to improve the lives of all Californians and tackle our toughest challenges. I look forward to working with the community and all stakeholders as well as my colleagues and Governor Newsom on these proposals and many others in the months ahead," Zbur noted.