About our night at the White House Correpondents' Dinner with Kathy Griffin
Comedy needs politics and politics needs comedy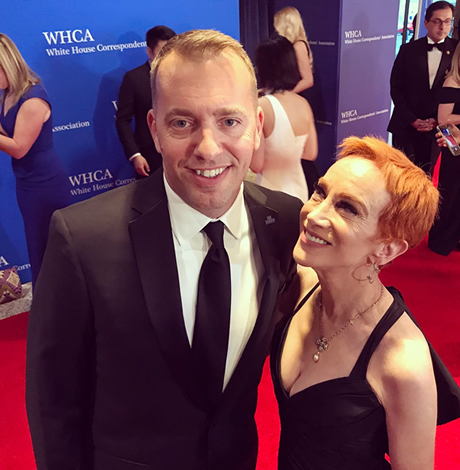 Many people have asked why the Blade chose to invite comedian Kathy Griffin to its table at Saturday's White House Correspondents' Dinner.
The event is a celebration of the First Amendment. As a longtime LGBT rights advocate, a comedian and provocateur, Griffin has made a long and successful career out of exercising her First Amendment right to free speech. The stunt last year in which she posed with a mock severed head of Donald Trump — which needlessly led CNN to fire her from a longstanding New Year's Eve hosting gig with Anderson Cooper — was a textbook case of satire, which is constitutionally protected speech.
Thus, the decision to invite Griffin proved an easy and obvious one. (We also invited Stormy Daniels, but her attorney, Michael Avenatti, told me without irony that it would be too much of a "sideshow" for her to attend.)
Griffin didn't disappoint, bringing her quick wit and fearless, LGBT-centric sense of humor to the dinner table. I met her and her boyfriend, Randy Bick, on the red carpet and held her purse as she posed for photographers and granted a series of TV interviews. Inside the heavy purse was a stapler; it turns out she suffered a last-minute wardrobe malfunction leaving the hotel, breaking a strap on her gown. After it was repaired, she feared a repeat and asked to borrow the stapler, just in case.
She proved a good sport throughout the night, posing for an endless stream of selfies with (mostly gay) fans who congratulated her on surviving the Trump machine's attacks in the aftermath of the photo scandal. When asked how her famous mom Maggie is at age 96, Griffin replied, "drunk."
The only awkward moment came when Deputy White House Press Secretary Hogan Gidley tried to squeeze past our table. Griffin stopped him and said, "How do you sleep at night?" Gidley replied, "Very well, thank you." When Griffin expressed doubt about that, Gidley asked, "Are we really going to do this?"
That's when things got interesting. Griffin, in her trademark style, retorted, "Yes we are, suck my dick! No, really, suck my dick!"
There was some back-and-forth, then Gidley, who was holding a Tecate, announced he was off to enjoy his Mexican beer "before we build the wall and you can't get these anymore." That prompted a farewell "fuck you" from Griffin, triggering nervous laughter around our table.
Later, when Politico's Josh Dawsey was announced winner of the Merriman Smith Award for his story about the resignation of White House Press Secretary Sean Spicer — who was seated at the table next to us — Griffin stood up and applauded loudly in his direction, eliciting guffaws from our neighbors.
One personal highlight of the night: the Blade's Chris Johnson was honored as the honorable mention for the Merriman Smith award for a story he broke in December about Trump firing all members of his AIDS advisory committee. Chris's name was called and he stood to a round of applause from the room. That would have been unthinkable 40, 30, 20, 10 or even five years ago, when much of the journalism and political elite of D.C. wouldn't deign to acknowledge the gay press, much less honor one of its journalists. Congratulations to Chris for his dogged work in the White House, pressing officials to address our community's issues.
Another noteworthy moment came when gay country singer Ty Herndon took to the podium to perform "America the Beautiful" and "God Bless America." Unlike last year, the party drew current and former members of the administration, including Sarah Huckabee Sanders, Kellyanne Conway, Spicer, Reince Priebus and Omarosa Manigault-Newman. Deputy Attorney General Rod Rosenstein attended, too, drawing curious stares from many.
But the highlight of the evening's entertainment came when Michelle Wolf delivered a riotous keynote, roasting everyone from Trump and Sanders to Sean Hannity and the Democratic Party. Afterward, Griffin raved, saying she "loved" the performance, despite some audience discomfort with an abortion joke. I was surprised by the mainstream media's depiction of Wolf having bombed and offended the room. She did what any fearless comedian should do in that moment — skewer everyone and make us all laugh at ourselves.
Which brings us back to Griffin. Comedians occupy a unique and important role in our popular culture. We've long turned to them for incisive social commentary delivered with a sting; they say out loud what most of us are thinking. Attacking a comedian for doing her job as Trump and his cronies did to Griffin is petty and betrays deep insecurities. So, thank you, Kathy Griffin for making us laugh and for holding your own in the face of scorching attacks by those humorless GOP bores.
Kevin Naff is editor of the Blade. Reach him at [email protected].
California Rep. Eric Swalwell on death threats from Tucker Carlson fans
"He does this because he knows that his followers will be inspired & radicalized & then aim their vitriol at whoever he is attacking"
WASHINGTON – Appearing on MSNBC's Deadline: White House, on Friday, U.S. Representative Eric Swalwell, (D) who represents California 15th which covers most of eastern Alameda County and part of central Contra Costa County, detailed the death and other threats he receives from fans of Fox News host Tucker Carlson.
"We receive hundreds of threats. What was specific about this was the caller identified he had just been watching Tucker Carlson. Now, we get a lot of threats that come in as Tucker Carlson attacks me, but this person identified he had just heard from Tucker Carlson. He was now calling my office and then of course dropped a number of racist, sexist, homophobic epithets in the call, and then threatened to kill my entire family," Swalwell said. "And what is so frustrating about this, Nicole, is that I have personally, eyeball to eyeball, asked Tucker Carlson not to lie about me on his show because of this effect."
"I've even in the last couple months sent a text message to him telling him when he lies about me on his show it results in death threats to me, my wife, and our family. And when he had people protesting outside his house just a couple years ago I went on Twitter despite not agreeing with almost anything he says and I said that that's wrong to go to his house and terrify his wife in the way that that happened. But he does this because he knows that his followers will be inspired and radicalized and then aim their vitriol at whoever he is attacking that day," the congressman added.
Tucker Carlson: "Biden declared biological man is now a female admiral"
"And so you have to ask yourself, how long will it be before Joe Biden appoints his horse to the Supreme Court"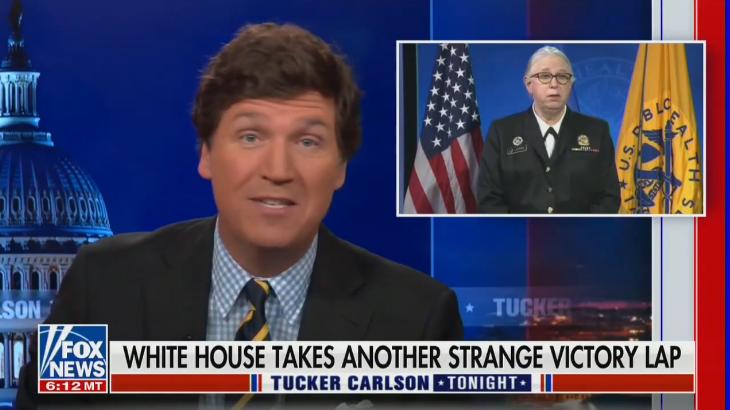 NEW YORK – In a diatribe delivered Thursday evening, Fox News and anti-LGBTQ celebrity Tucker Carlson called out the swearing in earlier this week of Admiral Dr. Rachel Levine as a commissioned officer in the uniform corps of the U.S. Public Health Service, (USPHS).
Levine, the U.S. Assistant Secretary for Health at the Department of Health and Human Services is now also in charge of the 6,000 uniformed personnel of the USPHS.
On his show last night Carlson said: "Behind the heavily guarded walls of the White House, everyone has gone crazy. Just this week the Biden administration declared that a biological man who wears a dress is now a female admiral.
"And then they sent that brave four-star female admiral out to deliver a speech that read like something out of a D-Day documentary.
"Come on. They're daring you to sit there and not say this is ridiculous. But it is, sorry. It is ridiculous. Sorry, not playing along!
"But they don't think it is. And so you have to ask yourself, how long will it be before Joe Biden appoints his horse to the Supreme Court?
"And when he inevitably does do that, you have to ask, how long will it be until CNN informs us, 'This is a watershed moment for equine rights.' Don't you dare laugh. That would be a hate crime."
Tucker Carlson Mocks Promotion of Transgender Admiral: 'How Long Will It Be Before Joe Biden Appoints His Horse to the Supreme Court?' https://t.co/Qg1Fj54thu

— Mediaite (@Mediaite) October 22, 2021
Mediate has the video here.
Trans candidate endorsed for state senate by EQ California & Victory Fund
"A victory for Lisa will shatter a long-standing political barrier in California and will be a milestone moment for the state"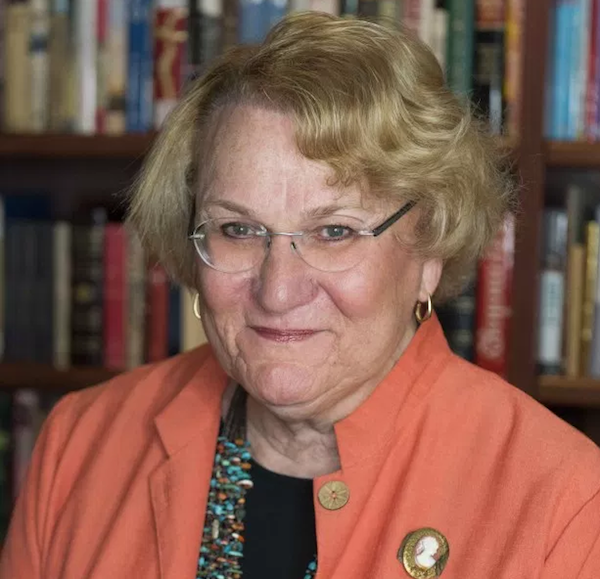 PALM SPRINGS –  Equality California and LGBTQ Victory Fund jointly announced their endorsements of Palm Springs Mayor Pro Tem Lisa Middleton in her race for California Senate District 28 Thursday.
The endorsements demonstrate an early commitment from the LGBTQ political community to elect Middleton, who would be the first out transgender state legislator in California history. In 2017, Middleton became the first out transgender person elected to a non-judicial position in California, when she won her race for Palm Springs City Council.
Only eight out transgender people have ever been elected to state legislatures in the United States. All are currently serving.
"Lisa Middleton is an accomplished leader who has made her region more inclusive, just and equitable," said Equality California Executive Director Tony Hoang. "That's why Equality California is thrilled to announce our early support for Lisa's campaign for Senate. The 28th District needs Lisa's courage, innovative thinking and unique ability to build coalitions in Sacramento, where she will be a trailblazing champion for full, lived equality while delivering critical resources to her community. We're with Lisa 100 percent and look forward to helping her make history once again as California's first transgender state legislator."
"A victory for Lisa will shatter a long-standing political barrier in California and will be a milestone moment for the state and the country," said Annise Parker, President & CEO of LGBTQ Victory Fund. "Yet Lisa is not running for state senate to be a trailblazer. She is a passionate public servant who brings solutions-oriented optimism to challenges big and small – from filling potholes to healthcare access to climate change. Her constituents' quality of life will always be the priority, but Lisa's election will also inspire a new generation of trans leaders to follow in her footsteps."
"I am deeply humbled and thrilled to receive the joint endorsements of Equality California and LGBTQ Victory Fund," said Lisa Middleton. "Since launching my bid for State Senate, the profound, extensive support I've received from the LGBTQ community has been a tremendous honor and boost to my campaign. I remain committed to being a leader who helps to unify and proudly stands for respect, inclusion and opportunity and that my campaign can also show the transgender community that nothing is out of reach, and we can win at all levels of government. I look forward to hopefully partnering with both incredible organizations in Sacramento to continue being an unrelenting advocate for our community and fighting for full, lived equality."
As Mayor Pro Tem and a member of the Palm Springs City Council, Middleton ensured PPE and vaccines were available to residents, led efforts on solar requirements for all new homes and worked to address inequities in the city – including the unique challenges LGBTQ+ seniors face.

Middleton's primary will be held on June 7, 2022.