Nancy Pelosi: The famous Leader you may not know
With midterms looming, the former — and future? — House Speaker talks impeachment, Equality Act, AIDS and more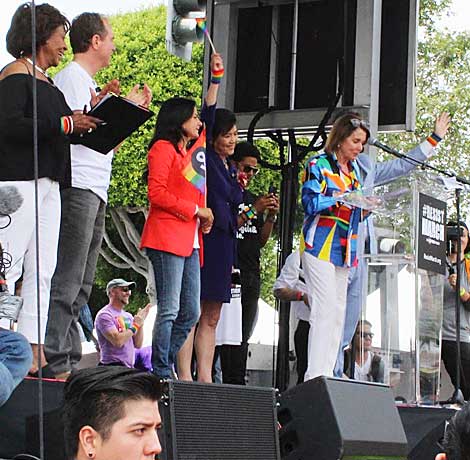 House Minority Leader Nancy Pelosi is the embodiment of the feminist adage "the personal is political." She celebrated part of her 78th birthday at an LGBT equality weekend in Palm Springs, which she declared a "fabulous" fundraiser for the Democratic effort to "take away" the House from the Republicans in the November midterm elections.
Pelosi is so confident of victory, she told the Los Angeles Blade that out Rep. Mark Takano will be the next chair of the House Veterans Affairs Committee come Jan. 2019. Naming names for leadership positions has rankled some Democrats who do not want Pelosi to assume she will be re-elected House Speaker. But with her track record as a strategic political thinker and vote-counter, a prolific fundraiser and one of the most recognizable leaders of the opposition to President Donald Trump and the conservative Republicans who bow his way, Pelosi is frank and assured.
"'We will win. I will run for speaker. I feel confident about it. And my members do, too," the Boston Globe reported May 1 on Pelosi's meeting with the Globe's editorial staff. "It's important that it not be five white guys at the table, no offense," referring to the president meeting with the top two leaders from the House and Senate. "I have no intention of walking away from that table."
Pelosi's track record includes passage of the profound change in healthcare. "The White House played a major role in getting the votes for ObamaCare, but it couldn't have passed without Pelosi," The Hill reported in February 2016. "Former White House deputy chief of staff Nancy-Ann DeParle called her 'a force of nature' in convincing Democratic members to vote yes."
After the Affordable Care Act narrowly passed on March 21, 2010, Pelosi noted that women would no longer be charged more because of their gender—women were no longer a pre-existing condition. But the year before, she also predicted "fire and brimstone" and "shock and awe" from across the aisle. "They're coming after us," Pelosi told House Democrats in 2009.
Many of the darts thrown at Pelosi over the years have been acid-tipped with LGBT-hatred. "One of the things the Republicans like to do around the country is to represent me as a LGBTQ first and foremost supporter. I represent San Francisco, which they caricaturize as being a gay haven and capitol. And that's something we're very proud of," Pelosi told the Los Angeles Blade in a 30-minute interview on April 27. "But the fact is the country is going to leave them behind because people have a different level of respect because of the work the LGBTQ community has done in many areas to end discrimination and in the fight against HIV/AIDS."
Pelosi says HIV/AIDS and passage of the Equality Act are top priorities. "The Equality Act is something that really should be appreciated in a very special way because it really is transformative," Pelosi says. "It just changes everything. It says whether it's credit or housing or job discrimination or you name it—you can no longer discriminate. Well, you shouldn't discriminate to begin with. But it makes it a part of the Civil Rights Act to protect [LGBT] people."
The strategy around the Equality Act is actually a good example of how Pelosi has worked with changing LGBT leadership over the years.
"We moved to Equality Act because we believe the discrimination went well beyond discrimination in the workplace.
"Certainly, ENDA [the Employee Non-Discrimination Act] was very important to us as a priority until we realized we need to do more than ENDA—we need to open the Civil Rights Act and to put equality issues in the Act. And this is a big step forward in our opposition to discrimination that permeates our discussion of the workplace, whether it's people of color, women, the LGBTQ community," Pelosi says.
Of course, "we're always talking about fighting for [LGBT equality] as we did when President Obama was president," Pelosi says. "This is a big part of what President Obama did, a big part of our priorities."
Pelosi says when she first conferred with LGBT leadership about what was legislatively possible to get done, they came up with three things: Hate Crimes legislation "which was beautiful—Matthew Shepard's mother came, [out then-Rep.]Barney Frank shared his personal story, it was really quite a lovely experience and it was not only good for the LGBTQ community, it was good for America."
The second LGBT legislative endeavor was supposed to be ENDA, ending discrimination in the workplace. "But the community came forward and said, 'No, our priority is the repeal of Don't Ask, Don't Tell. So do that second. And that we did. The repeal of Don't Ask, Don't Tell was a fabulous experience. It was again, expanding freedom," she recalls.
"And then the courts and the community and all the rest took us to marriage quality— that was something the courts had to speak to so that whatever happened would be sustainable. That was a tremendous victory. So that left one thing. I mean, of course funding for HIV/AIDS and the rest of that— but that is and has been happening. But in terms of new legislation, that left ENDA and as we were reviewing our prospects for that, it was determined that we had to go bigger."
But getting there was not as easy as snapping a finger. "What was really important about that was that the African American community has been very possessive of the Civil Rights Act. They're not inclined to open it up because they don't things to be subtracted from it and in this climate that could happen. But when David Cicilline introduced the bill, many of us were there but standing right next to him was [civil rights icon Rep.] John Lewis, with the imprimatur of the Black Caucus in the Congress." The late NAACP icon Julian Bond had also been a strong proponent, Pelosi added.
"It's a priority for us. A day doesn't go by that we're not speaking out against discrimination in the workplace and any other place," she says. "And we would hope that we could do something with the Republicans on that between now and January—but we know in January, we'll be able to go forth with an agenda that is not only proactive in what it does but also removes all doubt that we won't have any of these other bills that enshrine discrimination in our laws."
To be sure, enshrining discrimination into law seems to be a subtextual plan of the Trump/Pence administration with more information leaking out about Pence's behind-the-scenes machinations involving the ban on transgender service members serving openly in the military. The Human Rights Campaign is so concerned they recently published a report, "Meet The Real Mike Pence," with the subheadline: "Mike Pence is an extremist who is amassing power and exerting influence with less scrutiny than any vice president in U.S. history."
One way Pence is accumulating power and influence is by raising money for 2018 Republican candidates, including in California. After Pence popped down to Calexico to take a photo-op on the border, he got down to his real business. "Pence and House Majority Leader Kevin McCarthy of Bakersfield hosted a "roundtable discussion" at a five-star hotel in Beverly Hills, Calif. Monday. For a donation of between $10,000 and $100,000, some of the party's biggest donors got the chance to schmooze with two of the most powerful Republicans in Washington. And thanks to a special fundraising mechanism and increasingly lax campaign finance rules, most of that money will get funneled to nearly two dozen vulnerable House colleagues — including California Republican Reps. David Valadao, Jeff Denham and Steve Knight," the Sacramento Bee reported May 1.
From Beverly Hills, Pence headed to Arizona for a rally where he praised racist Senate candidate, Trump-pardoned former Sheriff Joe Arpaio who Pence called "a great friend of this president, a tireless champion of strong borders and the rule of law," adding, "I'm honored to have you here." As of April 19, Real Clear Politics shows out bisexual Democrat Rep. Kyrsten Sinema winning over all three Republican primary candidates. That could change if GOP voters consolidate after the primary.
Pelosi's focus is on winning the House. "We are going to be focusing on the economy in our debate," she says. "That is what elections are about across the board. And the success that we have had in recruiting candidates and we have the A-Team on the field, the very terrible numbers of President Trump means that they have over 40 retirements. The mobilization has never been bigger. People see the urgency. They want to take responsibility and that gives us opportunity."
While many of the energized youth are fans of Rep. Maxine Waters' call for Trump's impeachment, Pelosi thinks that is not a winning strategy. "Maxine and I go back well before we went to Congress. So count me as a Maxine fan. But I do say focusing on impeachment is a gift to the Republicans," she says. "What we have to do is focus on the economic insecurity of American families and people. It's about their apprehensions and their aspirations. And that's what we need to be talking about.
"If there's any movement to impeachment, it will have to come with data about what happened, vis a vis the law, and it will have to be bipartisan and we're a long way from that," Pelosi says. "So I do not think that talking about impeachment as our message for the election is a winning formula. Should people talk about it if they believe in it—that's up to them. But in terms of our unifying message, it's about the economy— our better deal. We think the American people have gotten a raw deal from the Republicans. We have a better deal—better jobs, better pay, better future. And we're very proud of that economic message. It's a message of unity in our party. It's a winning message and that's how we're going forward."
While impeachment may not be a winning electoral strategy, the concern about the erosion of democracy is. Pelosi says she was pleased to see some senators challenge new Sec. of State Pompeo during his confirmation hearing, pointing out that some of his negative LGBT public policy views "are not the views of the United States."
But, Pelosi notes with more than a hint of dismay, Pompeo is "an employee of the president of the United States. It's about the president. This president has been a great showman. He's done a good job in winning the election. He's the president. But what he is doing is harmful to our country and even if you voted for him, you would have to see that this is not constructive. And it's not unifying. Our founders gave us guidance. They said E Pluribus Unum—from many, one. They couldn't imagine how many that would be but we had to be one. And these Republicans in power—they can't say from many one, except some people we would exclude and discriminate against." Though Pompeo's record "is of concern," she hopes "with new responsibility, he will act responsibly. We'll see."
Pelosi also shares the concern of Rep. Adam Schiff, her appointee to the House Intelligence Committee, about the "dismantling of our democratic institutions that President Trump is so set upon, whether it is dismantling and discrediting the press, which I think is the greatest guardian of our freedom—freedom of press, dismantling of our Justice Department and law enforcement, in terms of the FBI, ignoring the system of checks and balances that exists in our Constitution, which is the strength of our country."
Pelosi is also concerned about Trump getting rid of regulations. "They're protections," she says. "If he has an objection to something, let's discuss that, make it better or not, if we think it's the best it can be." But it's critical to recognize that "he is destroying the protections for clean air, clean water, food safety, consumer protections," and the other protections, including the rollback of protections for LGBT people.
"The president is anti-governance. He doesn't really believe in the role of government in improving people's situations," Pelosi says. "So it's a comprehensive approach to dismantling democratic institutions. One of the reasons people should be very concerned is because the president is doing nothing to protect our electoral system, our democracy. The Russians have disrupted our election and he won't look into it at all. And that's a very, very bad course of action. Why not? We're concerned about how he's not dealt with sanctions on Russia," among other issues. "But how does he explain not protecting our electoral system? That is the basis of our vote, our vote is the basis of our democracy, and the president is not upholding his constitutional responsibility to protect and defend our Constitution and our democracy that goes with it."
While young people at the #ResistMarch in West Hollywood last year were stirred up by Leader Pelosi's rhetoric, it was clear they knew she was important—but not really who she was and why she was so passionate about LGBT equality.
Some of it is centered in Pelosi's Catholicism, which is not the set of beliefs the Catholic Church espoused during Prop 8 and other political-religious battles. "As a Catholic, I was raised to respect every person. We're all God's children. In my family, there was never any question about that," she says. "In Baltimore, we did have a growing LGBT community—we didn't call it that then but it was part of our lives and it was not any question that we would be any more respectful of one person than another. It wasn't even an issue with me and I didn't ever even describe it or associate it with Catholicism because Catholicism taught me something different. It didn't teach me discrimination. It taught me respect. And so it prepared me very well, my Catholicism, for being a representative in San Francisco."
During the 1980s, with the unchecked rise of AIDS, the Vatican came under intense criticism for sticking to its absolute prohibition against using condoms, coupled with Pope John Paul calling homosexuality "intrinsically evil."
Pelosi seems momentarily speechless. "I think the Church's position that people could not use condoms—it's so hypocritical, I can't even go to that place," she says. "The Church may make a proclamation but they make a proclamation that people should not be using any contraception or birth control at all—it's all about having a child. So while people are faithful to their religion, they are certain practicing what they need for the size and timing of their family, according to meeting their responsibility to the free will that God has given all of us."
Ironically, because San Francisco "took a very big bite of that wormy apple called AIDS," the Church "was more sympathetic to people when they had HIV/AIDS because they needed help then they were to people who weren't infected. It was the strangest, strangest thing," Pelosi says.
"It's a funny thing. The Catholics—and I'm surrounded by Catholics—but the Catholics that I grew up with and I lived with in California were always respectful of the Church, of the Pope, of our faith, and never thought it was in any way a barrier to us doing what we believed. And sometimes that was diametrically opposed to what their public statements were."
Not that she thinks the Church is immune to criticism. "There's no question the Catholic Church in California was a participant in Prop 8 in a negative way," Pelosi says. "We were on the other side of that. But to me—it was their problem. It wasn't anything that was any moral imperative to me for me to follow the Church in enshrining discrimination in the law in California."
Pelosi also does not concur with churches that pontificate about the "non-negotiable" – being gay, marriage equality, euthanasia, birth control, all generally lumped together. The commonality is the certainty that "all interactions between people are about producing a child. Then you cannot have birth control, family planning or any of that and you cannot have homosexual relations," she says. "I view that as kind of their problem. It's not the reality of life and it's not about respecting the dignity and worth of every person."
But, Pelosi adds, "I'm not making any judgments about how each of us honors our free will and our sense of responsibility that goes with it."
Pelosi is also guided by a moral imperative that young people may not understand today—the deep, personal impact of AIDS.
"Some people criticized me for talking about AIDS on my first day in Congress and I realized that it was not just about getting funding for AIDS research and prevention and care but it was about ending discrimination against people with HIV and AIDS," adding that California has been a "tremendous resource" throughout the years for intellectual, political and economic response to the disease.
Pelosi responds viscerally when asked about losing friends. "Oh, my gosh. Oh, my gosh. A little flower girl in my wedding. My dear, dear friends in the community in San Francisco. We were going to two funerals a day. I was visiting people in the hospital all the time and quite frankly, when I say losing people," Pelosi says, "I lost friends because I just walked away from them because they were not treating people with HIV and AIDS with respect. They would say to me, 'I don't know why you hire that caterer – don't you know that everybody there has HIV?' And I'd say, 'Don't bother to come to my house any more if that's your attitude.' It just changed my whole view of them."
Within the span of her life and political career, Pelosi has personally experienced the heartbreak of HIV/AIDS and the political battles to fund and find a cure.
"I'll never stop missing some of my dearest dear friends from then," she says. "Of course we went from funerals to people saying help me make out my will because this is going to end soon, to those very same people looking for a job and then wanting to get married. So everything has improved but I would never have thought 30 years ago when I started all this in Congress that we still wouldn't have a cure for AIDS. We've improved the quality of life, we've sustained life. Everything is better but it's not over, not finished."
It appears that the quality of simultaneously never forgetting while always looking forward is a key motivating factor for House Minority Leader Nancy Pelosi.
This article is an expanded version of the cover story for the commemorative first weekly print edition of the Los Angeles Blade. It is the featured story for the Washington Blade, as well.
Governor Hochul: New Yorkers can use "X" as a gender marker
"Every person, regardless of their gender identity or expression, deserves to have an identity document that reflects who they are"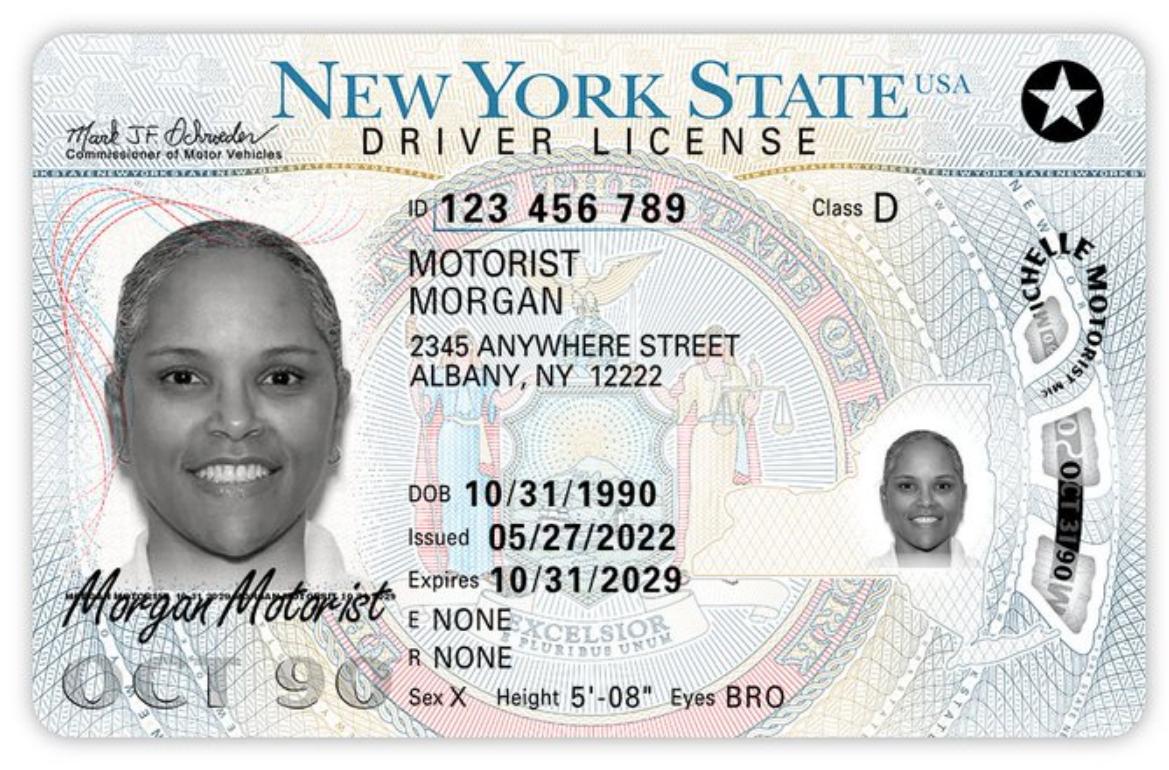 ALBANY – New York Democratic Governor Kathy Hochul announced Friday that New Yorkers will have the option to choose "X" as a gender marker on their driver license, learner permit, or non-driver ID card at all Department of Motor Vehicle offices statewide.
This change is being implemented in accordance with the State's Gender Recognition Act, which goes into effect on June 24.
This landmark legislation provides expanded protections for transgender and non-binary New Yorkers through this change at the DMV and by making it easier for people to change their names, change their sex designation and change their birth certificates to reflect their identity.  
"As we prepare to celebrate Pride Month in a few days, I am excited to announce this historic change that represents another victory in our fight to help ensure equality and respect for the LGBTQ+ community," Hochul said. "Every person, regardless of their gender identity or expression, deserves to have an identity document that reflects who they are. My administration remains committed to ensuring that New York is a place of value, love and belonging for members of the LGBTQ+ community." 
New York State Department of Motor Vehicles Commissioner Mark J.F. Schroeder said, "Perhaps more than any other state agency, New Yorkers directly engage with their government through the DMV, so offering identity documents that are representative of all New Yorkers is a significant milestone. We are thrilled to implement this new option that we know will have a positive impact on the lives of so many of our customers."   
NY Division of Human Rights Commissioner Maria Imperial said, "We applaud our state's important action to ensure that these essential ID documents accurately reflect and affirm who we are. We will continue working to advance dignity and eliminate discrimination against transgender and non-binary people in New York State."  
Deputy Chief Diversity Officer Priya Nair said, "As a transgender and non-binary New Yorker, this action means that I can now get a driver license that better reflects my identity. It's not only the correct gender marker, but it's also an action which demonstrates that New York State affirms and sees me for who I am. Thank you to Governor Hochul, the Department of Motor Vehicles, and all of the non-binary and transgender advocates who pushed for this important and inclusive change. As other states attack and roll back protections for transgender people, I am proud to live in a state that will continue to fight for our communities." 
New Yorkers who have an existing driver license, learner permit, or non-driver ID will have the option to change the gender marker on their photo ID from "M" or "F" to "X", and those who are applying for a NYS photo ID for the first time will have the option to choose "X". This can be done by completing the Application for Permit, Driver License or Non-Driver ID Card (MV-44).
Customers who do not want to visit a DMV office to change their existing ID document will have the option to change their gender designation through an online transaction beginning in July 2022.
This announcement comes as part of the major advancements in LGBTQ+ equity Governor Hochul fought for and secured in the Enacted Fiscal Year 2023 State Budget.
The Budget includes $13.5 million for the Department of Health to support the LGBTQ+ community and more than doubles annual LGBTQ+ Health and Human Services funding. In addition, the Budget includes legislation requiring state agencies to provide an option for individuals to mark their gender or sex as a non-binary "X" on all state forms that collect gender or sex information.
Agencies are also required to include that information in data collection. The Enacted Budget also enables transgender New Yorkers to change their names or gender designations on marriage certificates without leaving their dead names on them.  
Plea bargain: 7 month sentence in homophobic attack in Washington D.C.
"The U.S. Attorney's Office thoroughly investigated and analyzed the facts and provided what we determined to be an appropriate plea offer"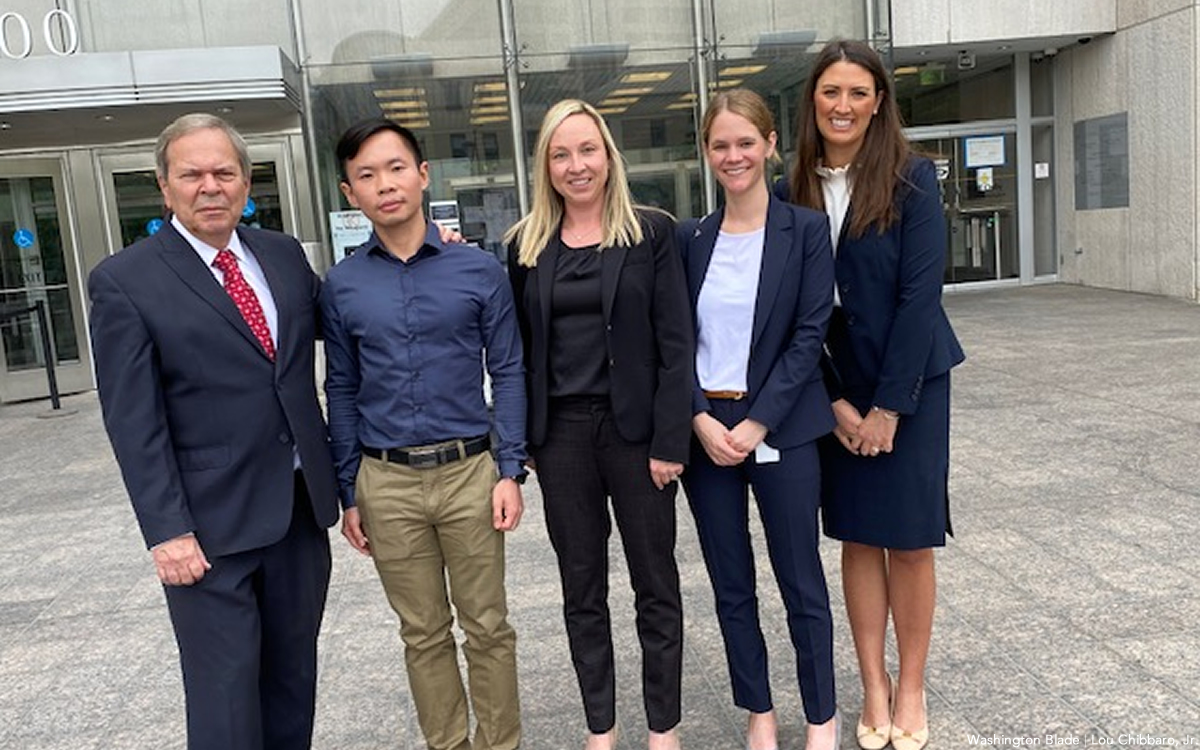 WASHINGTON – A D.C. Superior Court judge on Thursday sentenced District resident Patrick Trebat, 39, to seven months in jail following a dramatic court hearing in which a gay Asian man, Sean Lai, described how Trebat assaulted him and his parents while shouting homophobic and anti-Asian slurs in an unprovoked attack last August on a Northwest D.C. street.
The sentencing came after Trebat pleaded guilty during the same hearing to three counts of misdemeanor simple assault, with one of the counts designated as a hate crime based on the victim's ethnicity. The guilty plea was part of a plea bargain offer by prosecutors with the Office of the U.S. Attorney for D.C.
In exchange for Trebat accepting the plea deal, prosecutors agreed to drop two earlier felony charges of bias-related assault with significant bodily injury brought against Trebat in connection with the attack on Lai and his parents.
Judge Michael O'Keefe officially sentenced Trebat to 21 months of incarceration for the three charges, but suspended all but seven months of the sentence. O'Keefe also sentenced Trebat to three years of supervised probation upon his release, with the stipulation that he will be required to serve the full 21 months if he violates the terms of his probation.
Trebat, who had been released on a partial home detention order shortly after his arrest just under 10 months ago, was placed in immediate custody and escorted out of the courtroom by U.S. marshals after the conclusion of the sentencing part of the hearing to begin serving his sentence.
In delivering a victim's impact statement in the courtroom, Lai told O'Keefe that in addition to inflicting physical injuries on him and his parents that required emergency treatment at a hospital, Trebat's attack on his family caused deep emotional scars that continues to haunt all three of them.
He said he objects to the plea bargain deal on grounds, among other things, that it does not designate Trebat's violent attack as a hate crime based on Lai's sexual orientation, only on his and his parents' ethnicity.
Court records show that Trebat attacked Lai and his elderly parents, who are of Chinese ancestry, as they were walking on a street in the city's Observatory Circle neighborhood near where they were living and within sight of the Washington National Cathedral.
Police charging documents filed in court state that Trebat called the three victims "faggots" and shouted, "You are not Americans" as he approached them while they were walking along the 3700 block of Fulton Street, N.W. at about 9:30 p.m. on Aug. 7, 2021. One of the documents says Trebat punched and shoved the three victims, knocking each of them to the ground, after initially punching Lai's father in the head from behind while shouting, "Get out of my country."
"As painful as it is to relive this moment when this atrocious attack took place, I choose to be here today because I wanted you to hear my own voice and perspective, as well as the perspective from my parents," Lai told the judge. "The defendant attacked me and my elderly parents without provocation, motivated simply by his hatred toward our race and my sexual orientation," Lai continued.
"But what breaks my heart the most is what was done to my parents," he said. "I had to take them each to several orthopedics appointments over the following months. I secretly cried in my bed each night after seeing the pain that was inflicted on them and the psychological trauma that they experienced."
Gay D.C. Advisory Neighborhood Commissioner Mike Silverstein followed Lai by delivering an LGBTQ community impact statement before the court on behalf of the city's ANC LGBTQ Rainbow Caucus, the D.C. Center for the LGBT Community, and what Silverstein said was Lai's request that he speak on behalf of the Asian and Pacific Islander community.
"Thank you, Your Honor, for the opportunity to give this victim's impact statement," Silverstein said. "And please forgive me for the next 13 words, which were not mine," he said.
"'Fuck you bitch!' 'Faggot!' 'You are not Americans! Get out of this country!'"
"Those were the 13 words Patrick Trebat shouted at Sean Lai and his elderly mother and father just before Mr. Trebat physically attacked them without provocation," said Silverstein as courtroom spectators listened intently.
"As members of the LGBT+ community, we feel this was an attack on every one of us," Silverstein continued. "It was a direct attack on our right to exist and to live openly in the District of Columbia. We respectfully ask the court to issue the maximum jail sentence so that our community can feel that we are protected, and that we need not live in fear that those who would do us harm will get off easy," he said.
After asking Trebat to confirm that he fully understands and agrees to the terms of the plea offer, O'Keefe invited Trebat to give his own statement just prior to the sentencing.
Trebat, who was dressed in a suit and tie, offered his "deepest apologies" to Lai and Lai's parents, who were not present in the courtroom. Trebat said he was intoxicated on alcohol and drugs at the time of the incident and had no recollection of what happened.
"I was legitimately out of my mind that night," the told the judge. He said alcohol and prescription drugs caused him to engage in "stupid" acts. "I am sorry for the shame I brought to my parents, to American University, and to the victims," he added.
He was referring to his status as a graduate student at American University at the time of his arrest. The university later expelled him from his enrollment there after American University students protested that he had initially been allowed to continue his studies following a hate crime arrest.
"This event was not personal. I 'm not a racist," he said. "I take full accountability for what happened. I'm a changed person."
Trebat's attorney, Brandi Harden, asked O'Keefe to sentence Trebat to only a suspended jail term and a stringent term of probation rather than incarceration, saying that he suffers from and has long been treated for mental health issues, which would be worsened if he were to be sent to jail.
Assistant U.S. Attorney Robert Platt, the lead prosecutor in the case, expressed opposition to Harden's request, telling the judge that Trebat was already receiving a "significant benefit" from the plea offer.
"We don't dispute that the defendant was intoxicated," Platt said. But he added that the plea deal includes a provision for mental health and substance abuse treatment and that Trebat needs to be held responsible for his actions.
"This was part of hate crimes against Asians across the country," Platt told O'Keefe before providing statistics of the violent hate crime attacks against Asian Americans nationwide. "This type of attack will not be tolerated," he said.
Although Platt acknowledged that Trebat also hurled homophobic slurs at Lai and his parents during the attack, he did not explain why prosecutors chose not to include a hate crime designation pertaining to sexual orientation in the plea bargain offer.
"I believe he is remorseful," O'Keefe said in handing down his sentence. "But there has to be some punishment," he said. "You have been shamed, and that is part of the penalty," O'Keefe added. "It was your own actions that brought this on … I think this sentence strikes a good balance."
In response to a request by the Washington Blade for comment on why prosecutors decided to reduce the severity of the charges against Trebat through the plea agreement and did not include sexual orientation in the hate crime designation, U.S. Attorney spokesperson William Miller sent a brief statement to the Blade.
"The U.S. Attorney's Office thoroughly investigated and analyzed the facts and circumstances of this case and provided what we determined to be an appropriate plea offer," the statement says. "We extend a plea offer in almost every case charged in Superior Court," it says.
"The plea offer extended in this case included a bias enhancement," the statement continues. "Our office is committed to fully prosecuting bias-related crimes and held this defendant accountable for his appalling conduct."
The texts of the victim's impact statement delivered in court by Lai and the community impact statement given by Silverstein can be viewed below:
U.S. v. Trebat
Victim Impact Statement
By: Sean Xiangwen Lai
Your Honor,
Thank you for the opportunity to give my victim impact statement. I have gathered the courage to stand before you today at this hearing, to tell the court and my community about the defendant's assault on me and my elderly parents, and the suffering we have endured as a result of his horrific actions. As painful as it is to relive the moment when this atrocious attack took place, I choose to be here today because I wanted you to hear my own voice and perspective, as well as the perspective from my parents.
The defendant attacked me and my elderly parents without provocation, motivated simply by his hatred toward our race and my sexual orientation. We were walking on the streets of our neighborhood, enjoying our time outdoors during this unprecedented time when being outside of our home was a small joy of which we could take advantage. We were defenseless, feeling what we thought was secure so close to our home, when he assaulted us, beating up my parents and me. I am here today to tell the court in person that a man who would do this to an innocent family deserves the maximum prison sentence and does not deserve the leniency he has already received from the plea bargain offered by the prosecutors, which my family and I have expressed is very disappointing.
Last August, my parents and I were taking a walk in our neighborhood, very near our home. It was a beautiful Saturday night, but little did we know that our lives would be changed forever that night. "Fuck you bitch! Faggot! You are not Americans! Get out of this country!" were the words the defendant yelled at us before he punched my dad in his head with a closed fist from behind causing him to fall to the ground. When my mom and I hurried over to help my dad, the defendant attacked us as well. As a result of the fall my dad took when the defendant attacked him, my dad suffered a fracture to the bone of his left wrist and both of his knees were injured; my right pinky finger was fractured; and my mom's right shoulder muscle was torn. All of us had bruises and cuts on all over our bodies. He appeared to get scared as I started yelling loudly for help on our quiet neighborhood street. He stopped attacking us and attempted to leave. As he was trying to flee the scene, I yelled at him: "This is a hate crime. You are not getting away with this." He stopped, turned around and smirked at me saying "Oh, I will!"
This frightening image of his maliciousness and remorselessness has played repeatedly in my worst nightmares ever since. And he remained unrepentant, even after he was arrested. With blood dripping from my mouth, I tried to explain what happened to the responding police officer at the scene. Handcuffed and detained, this man was still yelling at me saying "Shut the fuck up. Drama queen!" right in front of the police officer.
Not a day goes by that what my parents and I suffered does not interfere with our lives. I had to take several weeks away from work and lost countless nights of sleep. I spoke to a therapist for several months and I am still working through the trauma inflicted on me. Even now I can feel the pain in my right pinky finger, which serves an enduring reminder I cannot ignore. I continue to live in fear for being who I am: An openly gay Asian man.
But, what breaks my heart the most is what was done to my parents. I had to take them each to several orthopedics appointments over the following months. I secretly cried in my bed each night after seeing the pain that was inflicted on them and the psychological trauma that they experienced. For a long time, my mom was afraid to even walk on the street in the middle of the day, still afraid an attack could happen at any time. My dad still has pain in his wrist and both his knees.
I strongly believe that the attacker thought that he could easily get away with what he did, avoiding any severe punishment, based on his unrepentant words and behaviors following the attack and his arrest. And the plea deal proves that it was just a slap on the wrist for the hate crime he committed against me and my elderly parents. We have repeatedly expressed the frustration on the plea deal to the prosecutors. Three counts of simple assault with only one hate crime enhancement on national origin are simply unacceptable.
Therefore, I respectfully request that the court serve justice and issue the maximum jail sentence, which I believe is the right thing to do and will show the community that unprovoked violence against defenseless members of the community will not be tolerated, and that no one in the District of Columbia should live in fear of being targeted simply because of who they are.
Thank you.
U.S. v. Trebat
Community Impact Statement
By: Mike Silverstein, ANC Commissioner
I am offering this on behalf of 16 other openly LGBT+ elected D.C. Advisory Neighborhood Commissioners, and on behalf of the DC Center for LGBT. Sean Lai has asked me to speak for our community, and the AAPI community. As someone who was Bar Mitzvah at Tree of Life Synagogue in Pittsburgh, this takes on a special urgency to me.
Thank you, Your Honor, for the opportunity to give this victim impact statement. And please forgive me for the next 13 words, for they were not mine….
"Fuck you bitch!"
"Faggot!"
"You are not Americans! Get out of this country!"
Those were the 13 words Patrick Trebat shouted at Sean Lai and his elderly mother and father just before Mr. Trebat physically attacked them without provocation.
As they were out for a walk, the Lai family was beaten for no reason other than their race and Sean's sexual orientation.
As members of the LGBT+ community, we feel this was an attack on every one of us. It was a direct attack on our right to exist and to live openly in the District of Columbia.
We respectfully ask the court to issue the maximum jail sentence so that our community can feel that we are protected, and that we need not live in fear that those who would do us harm will get off easy. The maximum sentence will deter others from committing this brutal crime on our community and it will show the community that it is never open season on Asian Americans or LGBT+ people or anyone.
What happened to Sean and his parents reminds our community that violence against us — for being ourselves — can happen anywhere at any time: San Francisco City Hall, the Pulse nightclub in Orlando, the Atlanta shooting targeting Asians, an arson fire at a queer nightclub in New York City a month ago and all those unprovoked attacks on streets and subways against Asian Americans in the past two years.
Violent hate crimes are a plague upon our nation. What's next? The defendants' assault on Sean and his family is part of this ongoing horror.
Despite the progress we have made as a community, the LGBT+ community is still at risk, especially minorities. Murders of trans people have reached epic proportions. And here, this unspeakable attack on an Asian American and his family began with homophobic slurs.
Sean Lai is openly and proudly gay. He is proud of his Asian heritage.
He was attacked because of who he is — and that is who we are: Members of a minority, supposedly protected by law against discrimination and violence.
This brutal attack has deeply impacted and harmed us in many ways:
What happened to Sean brought back bad memories to nearly all of us, and fear and nightmares to some of us. So many of us spent years hiding who we are for fear of rejection and out of fear for our safety. Those of us who were in the closet kept silent as members of our community were bullied or attacked.
Those who have been bullied or attacked will always remember what happened to us. It becomes a part of us. Some in our community — especially our trans siblings — often do not walk alone in parts of D.C. or at certain times of the day because they don't feel safe unless they are with someone else. Each of us must deal with the emotional harm individually — and attacks like this one — out of the blue, on a pleasant summer evening — in the shadow of the National Cathedral — triggers us in so many ways.
We are sickened and angered by the incidents of physical violence against our community and we are tired of being overlooked or silenced. We are especially angered by the process of the criminal justice system.
To begin, this was an irrational, unprovoked attack on Sean and his family – and the community is extremely disappointed that the defendant was not detained pending the outcome of this case.
Sean and the LGBT+ community have waited months for closure in this criminal case, only to be here today to listen to a plea deal on misdemeanor charges. A victim of another hate crime in DC several years ago may have put it best, when she said, "when you bargain away the hate crime enhancement, you bargain away part of my soul."
I also want to address the fact that, with respect to the crimes against Sean, the defendant was never charged with a hate crime enhancement with respect to sexual orientation; and, the crime that the defendant pled guilty to did not include any hate crime enhancement at all – just simple assault. Sean has repeatedly expressed to the prosecutors how important it is that the hate crime enhancements be included for both national origin and sexual orientation. Our community is disappointed that the defendant was not charged with a hate crime based on sexual orientation because a gay person was called "bitch" and "faggot," physically assaulted, injured. If that's not a hate crime based on sexual orientation, what is?
A sentence without significant jail time will leave members of the LGBT+ and Asian American community even more victimized, vulnerable and distrustful of the criminal justice system.
We are here today to implore the court to impose a sentence that will send a clear message that violence against people for who they are will not be tolerated.
We must stop Asian hate. We must stop violence against the LGBT+ community. We must stop violence against all people who are attacked because of race, religion, national origin, sexual orientation or whatever. This epidemic of hatred and madness and violence is tearing our nation and our community apart. We must not live in fear, one of another.
We request a long jail sentence that shows that this court affirms the right of every person in the District of Columbia to live honestly, openly, and without fear.
We ask that the court provide justice for Sean and his family, the Asian-Pacific community, and the LGBT+ community. Thank you.
Out New York City man dies after visit to gay venue in Hell's Kitchen
In the weeks following his mysterious death his family is trying to raise awareness as they wait for additional info from the NYPD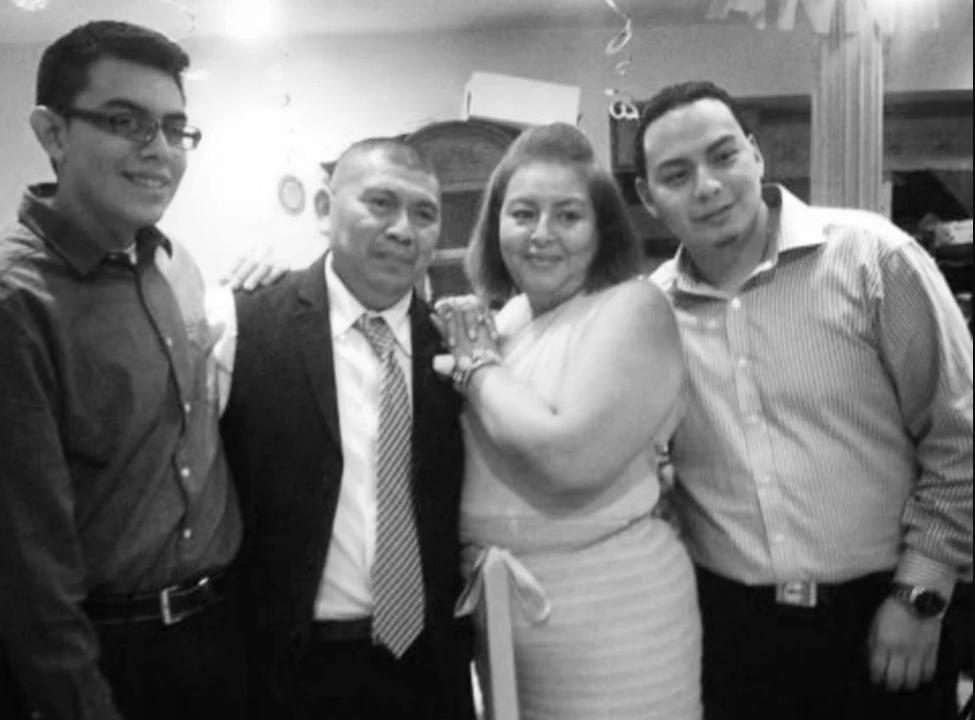 NEW YORK – A night out last month ended tragically when a gay 25-year-old social worker died in the back seat of a taxi in Manhattan's Lower East Side neighborhood. Julio Ramirez had earlier met up with his friend Carlos Camacho, a 24-year-old aspiring actor, who lives in the neighborhood of Hell's Kitchen, a Manhattan neighborhood near Times Square famed for a lively restaurant and bar scene.
NBC News reported that not long after Ramirez and Camacho stopped in at the Ritz Bar and Lounge, a popular, multilevel gay venue in the heart of the Hell's Kitchen restaurant row, surveillance footage from a nearby security camera shows Ramirez walking away from the venue with three unidentified men at 3:17 a.m., according to his brother, Carlos, who said he was briefed by investigators.
The four men then entered a nearby taxi, a police source said, but Ramirez was alone in the backseat at 4:10 a.m. when the taxi driver approached a police officer 3 miles away in Manhattan's Lower East Side neighborhood to say his passenger was unresponsive.
According to a source with the NYPD, Despite efforts to save his life by the officer and the Emergency Medical Services team, Ramirez was pronounced dead at a nearby hospital at 4:49 a.m. on April 21 NBC News reported adding that the initial cause of death was listed as a "possible drug overdose." Ramirez's official "cause and manner of death are pending further study," according to the medical examiner, who told NBC News in an email that this could take "at least a few weeks." 
Family members are also asking questions as they try to piece together what happened in his final hours. Who were the men who entered the taxi with him? Was he drugged? Are investigators prioritizing his case? Where are his phone and wallet? Who drained his bank accounts in the days following his death? He was initially listed as a 'John Doe' as his wallet, phone, and identification were missing at the time of his death.
Between April 21, the day Julio Ramirez died, and April 25, his checking and savings accounts were depleted through purchases and third-party applications like Apple Pay and Zelle, Carlos Ramirez said.
"They had literally taken every dollar that he had, all his savings and all of his money," Carlos Ramirez said, adding that approximately $20,000 was taken from his brother. He said he shared this information with investigators, though the NYPD would not confirm this detail to NBC News. 
In addition there are questions about text messages shared with NBC, and the timeline after his disappearance and events surrounding the draining of his bank accounts. NBC noted that Ramirez was buried at Pinelawn Cemetery in Farmingdale, New York, on April 30. Two weeks later, on May 14, his family and friends held a memorial service in Buffalo. 
In the weeks following his mysterious death, his loved ones have been trying to raise awareness about his story as they wait for additional information from the NYPD and the city's medical examiner. 
Read the full story at NBC News OUT here: (Link)